C'est pas que je veuille tourner au blog-souvenir de vacances ou au guide touristique, mais bon, ce sont les images que j'ai en tête et que j'ai envie de peindre... Et puis cela vous donnera une idée du pays où je vis.
It's not that I want this blog to turn into a touristic guide, but these are th images that I have in mind at the moment... And then it will help you get a better idea of the country we live in.
La première semaine a été consacrée à la plage (nous venons de Montpellier à l'origine, et la mer nous manque, et elle manque tout particulièrement à notre fils). Vous en avez eu un aperçu grâce aux croquis de ces derniers jours.
We spent the first week at the beach (we come from Montpellier in France and we miss the sea a lot).
La deuxième semaine, nous avons suivi la célèbre (ici en tous les cas) route 62 à travers le "Petit Karoo", une région aride, montagnes, défilés, fermes isolées, mais aussi parfois, des vallées transformées grâce à l'irrigation en vergers et champs de vignes ou autre...
The second week we drove in the Little karoo along the (locally) famous route 62, a dry region with mountains, passes, isolated (and sometimes derelict) farms, but also valleys transformed into orchards or vineyards thanks to irrigation.
Dans cette région, on traverse des villages endormis aux maisons adorables, avec des façades style Cape Dutch, ...
In this region you drive through forgotten villages with adorable houses in the traditional Cape Dutch style, ...
des façades aux lambrequins victoriens comme des dentelles surannées,
or victorian houses precious like old lace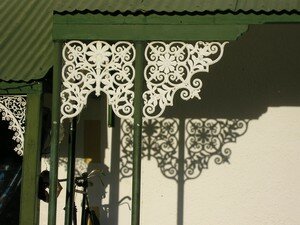 ou plus austères d'un style Géorgien.
or more severe Georgian Houses
J'ai très envie d'en peindre quelques unes... I really fell like painting them!