(English version below)
Toujours à Pretoria, une autre maison intéressante, l'autre côté de l'histoire dans la guerre Anglo-Boer, le côté Afrikaner avec la maison du Président Paul Kruger.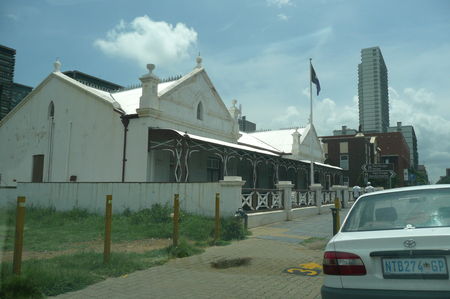 Le style change du tout au tout. Dernier vestige dans le centre qui se modernise et écrase son passé. Là, l'extérieur est moins intéressant, l'intérieur l'est beaucoup plus. Et quelle chance, les photos étaient permises!
Un intérieur beaucoup plus modeste que Melrose Place. On est loin du vaste victorien, et loin de l'idée qu'on peut se faire de la maison d'un président. Dans le jardin, ils ont conservé le wagon dans lequel il se déplaçait (je n'ai pas pu m'empêcher de penser très fortement aux Mystères de L'Ouest et à Gordon et James...) et dans un autre corps de batiment, tous les soutiens que la république sud africaine a reçu (dont la France) lors de la guerre anglo-boer... En gros tout le monde était contre les anglais, et du coup POUR ces pauvres et malheureux Boers qui se faisaient massacrer.
Oui, je sais, je suis un peu ironique, mais que voulez-vous, c'est un peu A CAUSE tous ces coups durs qu'ils ont subi au fil des annees, qu'ils se sont peut-etre senti le droit un beau jour de mettre en place l'apartheid. Les Boers ici s'apitoient sur leurs malheurs et glorifient leurs ancetres, ceux du Grand Trek et ceux de la guerre Anglo-Boer. Certes, les anglais n'ont pas le beau role dans cette guerre la, et les Boers aiment a rappeler que ce sont les anglais qui ont créé les premiers camps de concentration ou ils enfermaient les femmes et les enfants Boers. Mais cela n'efface pas pour moi ce que les Boers ont fait par la suite. Je caricature, je sais. Je m'exuse pour tous ces raccourcis, je ne pretend pas faire de l'histoire impartiale, je vous livre mon vecu, mon ressenti dans ce pays ou je vis.
---
In Pretoria still,here's another interesting house to visit, on the other side of History during the Anglo-Ber War; here's the Boer's side with President Kruger's house.
The style s totally different. It seems to be one of the last remnants of the past in a town centre (too?) quick to erect modern buildings. The inside is more interesting than the outside, and fortunately enough, photos were allowed!
The inside is much more humble than in Melrose House. We are miles away from the Victorian pomp, and far from our idea of a Preident's house. In the garden, they have kept the railway carriage in which Paul Kruger travelled 9 and I couldn't help but think of Gordon and James West); in another building you can get an idea of all the support the Boers received from all over the World. To cut it short, at that time, people were all against the British Empire, so they prefered to support these poor Boers who were seen as innocent victims.

Yes, I know I sound ironic, but it's BECAUSE of all the hardships they had to go through that they may have one day felt the right to create the Apartheid. The Boers here still glorify their ancestors, those of the Great Trek and those of the Anglo-Boer War. True enough, the British didn't have a very nice part in that war, and the Boers never miss an opportunity to remind people that the British were the first to crete the concentration camps where they kept women and children. But it doesn't make me forget what the Boers felt entitled to do later on. I know it's a caricature, and I apologize for all these shortcuts; I don't intend to present a unbiased History, I just give you what I feel from living in this country.