Mercredi 22 était un jour férié pour nous en Afrique du Sud, c'était le jour des élections. / Wednesday, 22nd was bank holiday for us in South Africa, it was the day of the elections.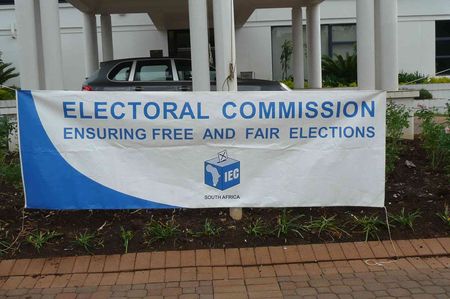 (voici le bureau de vote de notre résidence / here's the voting station in our residence)

Question: pourquoi est-ce un jour férié? Je pense que vu le temps qu'il faut à certains pour aller voter, il vaut mieux qu'ils ne bossent pas ce jour là (certains ont fait la queue pendant 4h), et en plus, je suppose que cela incite les gens à aller voter aussi.
Question: why is it a day off? I think that since some of them have to queue a long time before voting, they'd better not go to work that day (some have been reportd to queue for 4 hours), and also it's a way to encourage people to vote.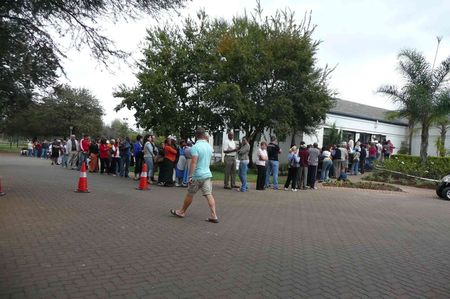 (et voici le file des votants / here's the queue of people waiting to vote in our residence)
Les gens votaient pour une liste, le parti majoritaire proposera son candidat. La liste majoritaire étant l'ANC, et son candidat Zuma, il y a peu de suspense, Zuma est considéré comme le futur président de l'Afrique du Sud.
People were voting for a list, the majority party will propose its candidate as president. The majority party being the ANC, and its candidate Zuma, there's hardly no suspense at all, Zuma has been considered the future president of South Africa for months.
En revanche, le suspense réside dans le nombre de voix que recueillera le nouveau parti le COPE. En effet, depuis 1994, les gens n'avaient en gros que le choix entre l'ANC ou le DA (Democratic Alliance). Depuis cette année, grand changement, à l'issue de luttes internes au sein de l'ANC, il y a eu cission et un nouveau parti est né, le COPE. Bien évidenmment, la question est 'ce nouveau parti va-t-il faire perdre des voix à l'ANC?'...
However, the suspense lies in the number of votes for the new party COPE.
Since 1994, people had mainly two choices : the ANC or the DA (Democratic Alliance). Since this year, big change, after intern struggle and disagreement, some people have left the ANC to create a new party : the COPE. Of course, the question is, 'will this new party be hramful to the ANC?'...
Visiblement personne n'a l'air convaincu par Zuma - accusé de multiples méfaits, blanchi, puis re-accusé, ni par les autres partis... Ces élections 2009 étaient donc un choix difficile pour nombre de sud africains...
Les résultats officiels devraient être donnés samedi.
Apparently, nobody seems to appreciate Zuma - accused of many wrongdoings, cleared, then accused again, nor the other paries... These 2009 elections were a difficult choice for many South Africans...
The official results should be given on Saturday.