L'Afrique du Sud est un pays immense (plusieurs fois la France), autant dire qu'il faut accepter de ne pas tout voir en une fois, et/ou prévoir plusieurs voyages plus ciblés. J'ai emmené un oncle et une tante au Cap. Ils n'avaient malheureusement que 3 jours, mais malgré tout, cela leur a permis d'avoir une belle idée de ce coin sublime. Voici notre programme serré, cela peut peut-être vous servir un jour qui sait? Mais je le répète, c'est un strict minimum, et cela ne vous donnera qu'une envie, revenir pour en voir plus.
South Africa is huge (twice or three times as big as France), so you may as well get used to the idea that you can't see everything, or you'll have to come back several times. I took an uncle and aunt to visit Cape Town, but they only had three days; however, their short visit was enough to give them a good idea of this stunning area. Here's our progam, it might come handy one day, who knows?
Dès l'atterrissage le matin, nous avons filé jusqu'à la montagne de la Table d'où nous avons admiré le splendide panorama sur le Cap en contre bas, et où nous avons vu des dassins
/ As soon as we landed, we drove to Table Mountain, and took the cableway to the top. From there, a marvellous view of Cape Town and around. We even saw dassies!: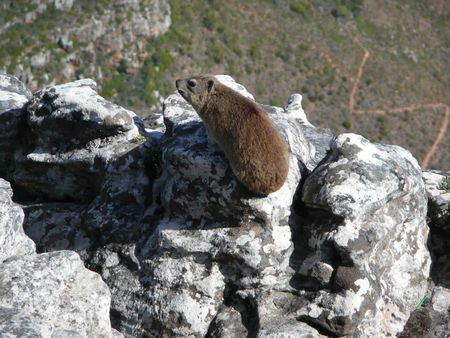 l'après midi, nous avons fait un tour dans la ville du Cap, / in the afternoon, we drove around town: long street, ...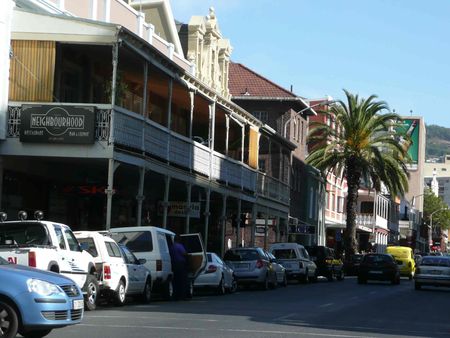 Bo-kaap (the Malay district)
puis longé la côte ouest vers le sud, / then we drove along the west coast south bound...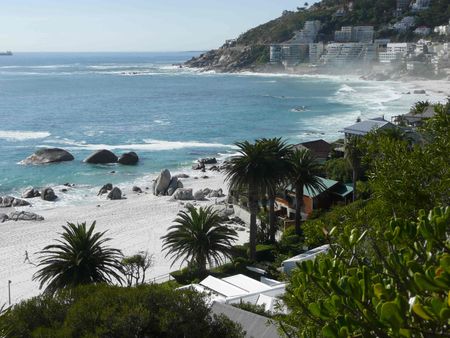 ... pour rejoindre notre B&B à Fish Hoek. / and got to our B&B in Fish Hoek.