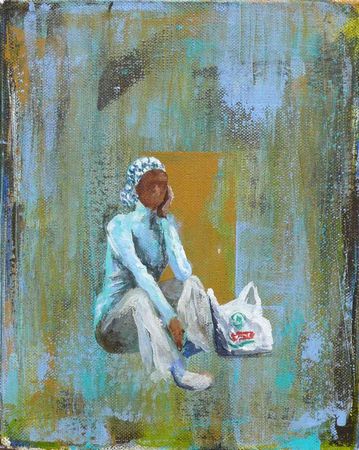 (acrylique sur toile 20,3 x 25,3 cm / acrylic on canvas 8"x10")

Celle-ci je l'ai tentée plusieurs fois à l'aquarelle - un vrai massacre que je n'ai jamais montré, mais à l'acrylique elle a bien voulu se laisser peindre. Le truc que je préfère? Le sac!! Je devrais peut-être me faire sponsoriser, non? ;-) On ne sait pas où elle est, ni où elle va, mais on sait d'où elle vient!
I tried to paint this girl with watercolour several times, and it's never come out right, but this time with acrylics, she's accepted to be painted. The thing I prefer? The plastic bag!! Maybe I should look for sponsors? ;-) We don't know where she is, nor where she's going but we sure know where she comes from!