... même s'ils restent parfois coincés à certains endroits; j'avoue, j'ai gardé ce carnet presque 6 mois, mais voilà, c'est chose faire, j'y ai croqué les trois maisons de ma vie en ce moment...
... even if they sometimes get stuck in some places; I must confess I kept this sketchbook for almost 6 months, but that's it, I've sketched the three houses of my life at the moment...
Le thème "Comment est ta maison?" m'a posé problème: quelle maison? Celle où je venais de passer 3 ans quand j'ai reçu le carnet? La maison où nous allions déménager mais qui ne représentait pas encore 'notre' maison? Ou bien celle que nous avons rénovée et aménagée avec amour en France, mais où nous n'habitons pas pour l'instant? Qu'à cela ne tienne, j'ai décidé de croquer les trois, les deux locations en Afrique du Sud et la nôtre en France!
The theme "How is your house" was a bit of a problem for me: which house? The one where we had just spent 3 years when I received the sketchbook? The house where we were just about to move but which didn't represent our home yet? or the one we renovated with love in France, but where we don't actually live for now? Oh well, why not sketch the three of them, the two houses we rented in South Africa and the one in France? That's what I did anyway!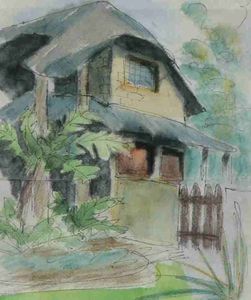 Si vous voulez voir les deux autres contributions, allez voir les carnets baladeurs
If you want to see the other two houses, go to the wandering sketchbooks