Voici le tableau que j'ai peint pour la chambre de mon fils / here's the painting I made for my son's bedroom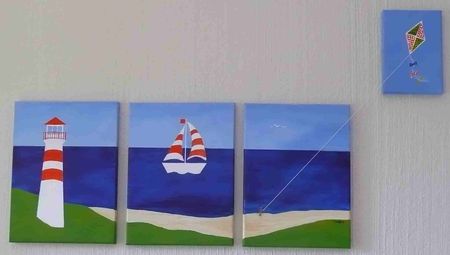 Oubliez les fonds travaillés, les ombres, les variations de couleurs: j'ai voulu faire simple, lumineux, et que cela aille avec les couleurs et le thème de ses rideaux (que je vous montrerai une autre fois).
Forget the elaborate backgrounds, the shadows, the colour variations: I wanted it simple, bright, and for it to go well with the theme and colours of his curtains (which I'll show some other time)
Et comme je suis toute gentille, je vous le donne en version tuto, des fois que... / and because I'm soooo nice, I'll show you exactly how to make it, just in case...
Achetez trois châssis, format feuille de papier A4, et un petit, format carte postale (10x15 à peu près). / You'll need three canvases as big as a sheet of paper A4, and a smaller one as big as a postcard more or less (10x15cm)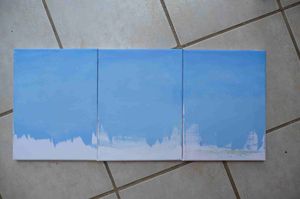 peignez le ciel en cobalt + blanc (ou tout autre bleu clair). / Paint the sky in cobalt + white (or any other light blue).
Peignez en même temps le petit cadre où il y aura le cerf-volant. / At the same time, paint the small canvas where the kite will be.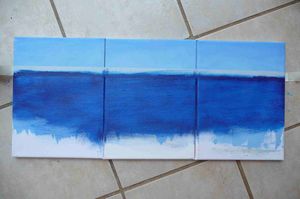 collez un ruban adhésif au niveau de la mer, et peignez la mer d'un bleu plus soutenu. ici, bleu de Windsor.
Put a piece of sello tape for the horizon, and paint the sea in a darker blue. I used Windsor blue.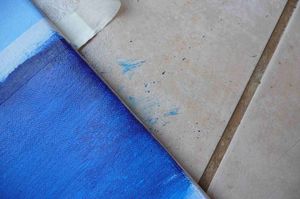 ne vous inquiétez pas des éclaboussures et tâches par terre, l'acrylique se lave très facilement avec une éponge grattante au besoin.
Don't worry about the stains on the floor, acrylic can be washed very easily with a scour pad if necessary.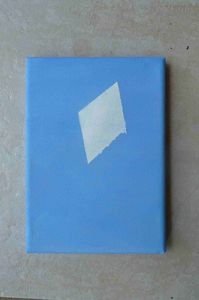 avec un ruban adhésif délimitez votre cerf volant et peignez l'intérieur en blanc.
with the sellotape, draw the shape of the kite, and paint the inside in white.
A main levée, peignez votre herbe en bas du paysage./ with some green, paint the hill at the bottom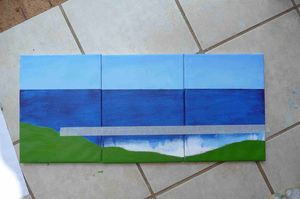 j'ai délimité la plage au ruban adhésif, mais vous remarquerez que plus tard je l'ai reprise à main levée car cela faisait trop droit./ I put some sellotape to draw the beach, but you'll notice that later on I painted it again with curves because it was too straight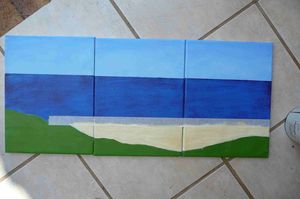 La plage en blanc + ocre. / Use white and ochre for the beach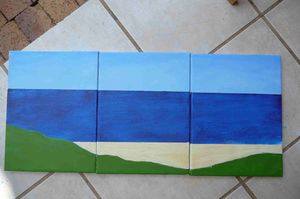 voici votre paysage à ce stade. Vous voyez la plage est trop rectiligne, je vous conseille de la faire directement à main levée, avec de légères courbures. Again, I advise you to paint the beach with curves instead of straight.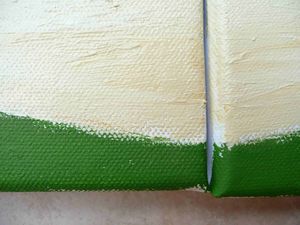 A ce stade, vos bords ne sont pas encore nets. Pas de panique, reprenez vos bordures herbe / sable à l'aide d'un pinceau plat. / At this stage, your lines are not very precise, but don't panic, you can draw over them with a flat brush.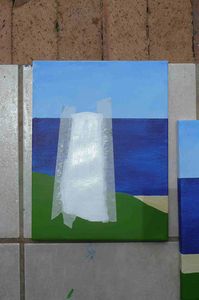 délimitez votre phare au ruban adhésif et peignez l'intérieur en blanc. 3 couches m'ont été nécessaires pour que ce soit couvrant. / Shape the lighthouse with the sellotape, and paint it in white. 3 layers were necessary to make it really opaque.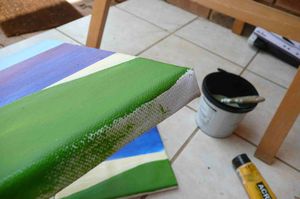 En attendant que vos couches de blanc sèchent, peignez les bords de vos tableaux / While your layers of white are drying, paint the edge of your canvases using the same colours.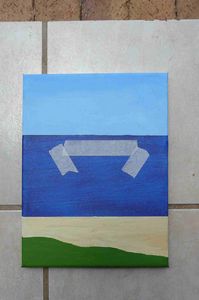 Délimitez le haut et les côté de la coque./ Shape the top and sides of the boat.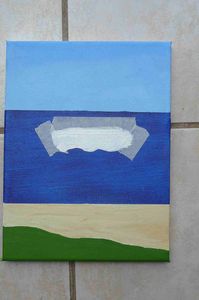 Pour le bas, pas besoin de ruban adhésif, vous peindrez des vagues. / For the bottom, no need to use sellotape, you'll paint waves
Pendant que cela sèche, reprenez les bords du phare qui ne sont pas nets./ While it's drying, correct the shape of the light house if necessary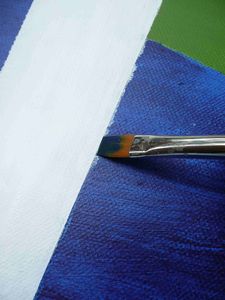 Je préfère un pinceau plat pour avoir un trait plus droit. / I like using a flat brush to have a straighter line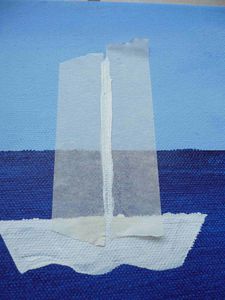 maintenant que c'est sec, placez deux morceaux de ruban adhésif à quelques millimètres d'écart pour le mât. Peignez en blanc. / Now that it's dry, put two sello tapes 1 millimitre apart for the mast. Paint it in white.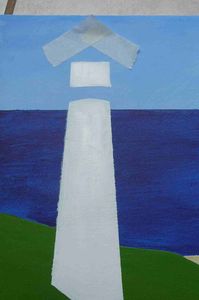 Placez deux morceaux de ruban adhésif pour le haut du phare que vous peindrez en blanc et deux autres pour le toit, que vous peindrez en rouge. / Shape the top of the light house with two sello tapes, and you'll paint it white, put two other pieces to shapes the roof, and you'll paint it red.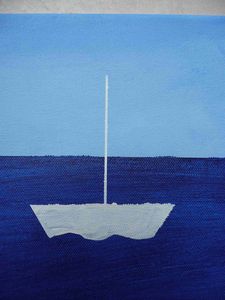 reprenez les bords du bateau au pinceau plat. / correct the shape of the boat if necessary with a flat brush.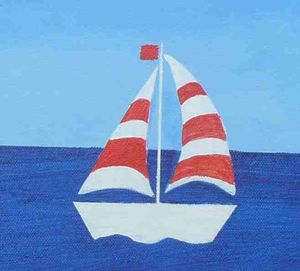 désolée dans le feu de l'action j'ai oublié de prendre en photo les étapes intermédiaires, mais vous êtes presque au bout de vos peines. J'ai peint les voiles en blanc à main levée, mais vous pouvez les peindre à l'aide du ruban adhésif posé en oblique. Puis peignez des bandes rouges en suivant (vaguement dans mon cas) les bords incurvés de la voile.
Sorry, everything got a bit too quick, and I forgot to take pictures of some steps, but you are nearly there. I painted the sails in white without using sello tape, but you can if you want, just shape triangles. Then you can paint red lines, following the shape of your sails.
Idem pour le phare, j'ai peint le haut à main levée.
Here's the top of the lighthouse which i also painted without sello tape.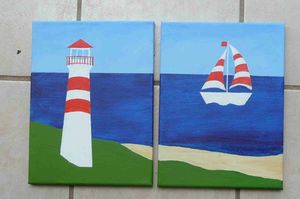 cela commence à avoir l'air de quelque chose, hein? / It's beginning to look nice, isn't it?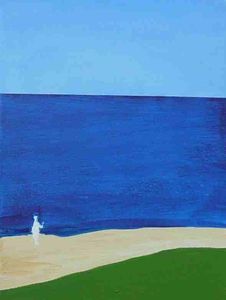 pour le troisième panneau, il vous suffit de peindre une petit silhouette. Même si c'est naïf, c'est pas grave au contraire, c'est encore mieux! Commencez par du blanc, puis quand c'est sec, passez par dessus en couleur. J'ai repris les couleurs utilisées, du rouge et du vert, un peu de noir pour la tête.
For the third pannel, just paint a silhouette, don't worry if it looks childish, that's the whole point anyway. Start with white, then when it's dry, you'll paint over it with some bright colours. I chose to use the same red and green, with a little black for the head.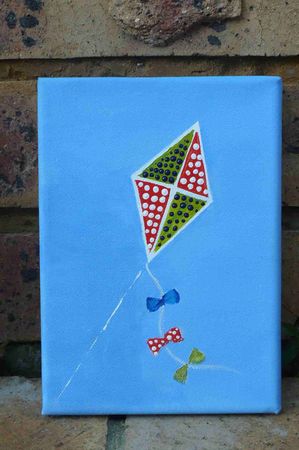 peignez votre cerf-volant comme vous le souhaitez / paint your kite the way you want, all in one colour, or with patterns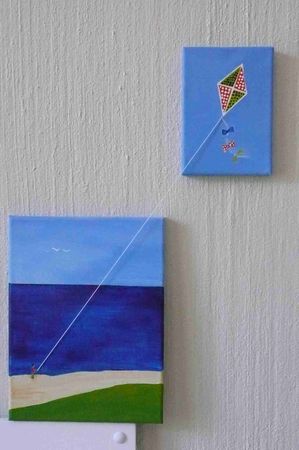 Vous pouvez peindre une ligne blanche symbolisant le fil du cerf volant, mais méfiance, il est difficile de garder la main légère pour faire un trait régulier. J'ai opté pour la solution vraie ficelle. Prenez une aiguille, fait un trou dans chaque toile, faites passer le fil. Faites un nœud derrière, et par sécurité, mettez un point de colle, pour éviter que le trou dans la toile ne finisse par s'agrandir...
You can try and paint a white line to symbolise the kite thread, but be careful, it's difficult to make it straight and neat. I chose to use some real thread. Take a needle, and go through your canvas. Tie a knot at the back, and just to be on the safe side, put some glue on the knot, so the hole in the canvas won't get any bigger.
Petit détail pratique, je n'ai pas percé ni mis de clou pour le petit tableau du cerf volant, c'est tellement léger que de la pata-fixe derrière, cela suffit.
Just so you know, I didn't put a nail for the kite canvas, it's so light, I just stuck it on the wall with some prestik or blue-tack, or whatever you call it.
Voili voilou.