J'ai envie de peindre des silhouettes, et pour m'entraîner un peu, voici ce que j'ai dessiné l'autre après midi. / I want to paint silhouettes, and to practise a bit, here's what I painted a couple of days ago.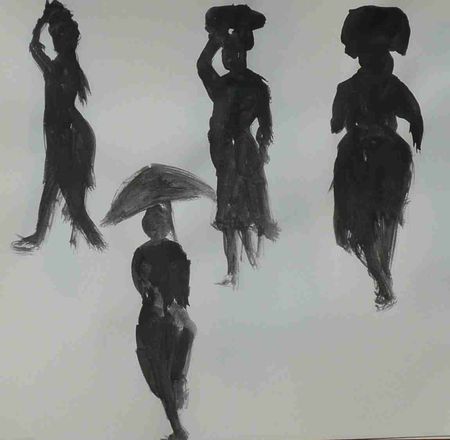 Bras tendu ou presque, à distance du chevalet, tenant le pinceau par le bout / standing as far as possible from the easel, arm stretched, holding the brush by the tip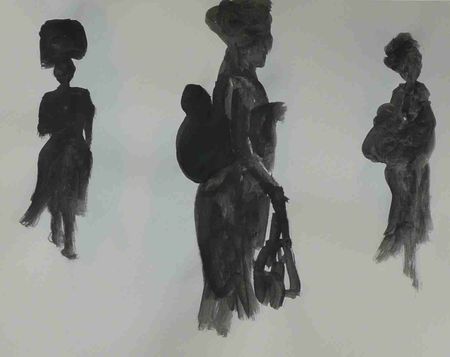 en tenant le pinceau ainsi, mes gestes sont malhabiles, certes, mais aussi plus souples, et plus libres / By holding the brush this way, my touches are awkward, but at the same time they are more free
pas de modèle, je me laisse guider par mes "tâches" et ce que j'y lis
No model, I follow what the "stains" tell me
j'ai tellement dessiné de femmes marchant sur le bord des routes, qu'elles viennent facilement marcher sur ma page... / I've painted and sketched women walking on the side of the roads so many times, that they now come and walk easily on my page...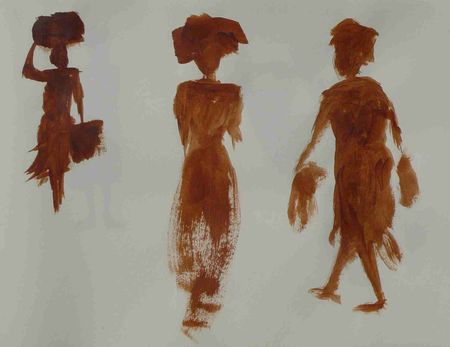 J'ai essayé avec un pinceau rond (en noir), avec un plat langue de chat, et un plat à bout carré pour tester les effets. Après avoir pleint pendant des années avec des pinceaux plats, depuis quelque temps je ne lâche plus mes pinceaux ronds.
/ I used a round brush (in black), a flat one with a round edge, and a flat one with a square edge just to test the different marks and effects. After having painted for years with flat brushes, I now always use round ones.