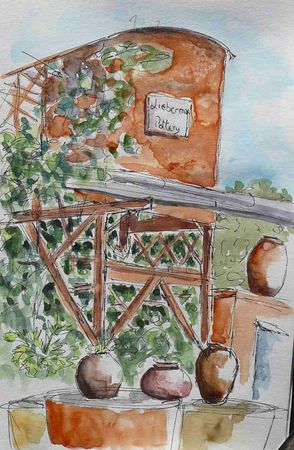 Samedi dernier, on a remis ça: on s'est retrouvés à Joburg pour une matinée de croquis. Le lieu choisi était Liebermann's Pottery, un entrepôt de céramique en tout genre, près d'une vieille usine de gaz à l'abandon. Batîments industriels rouillés, briques rouges, et des jarres et pots de toutes taille. Il y avait tant à croquer, que je me suis dit qu'il faudrait revenir!
Last Saturday, we did again: we met in Joburg for a great morning of intense sketching. The place chosen was Liebermann's Pottery, next to an old Gas Station. Derelict industrial buildings, red bricks, and pots of all size: there was so much to sketch I thought I would have to come back again!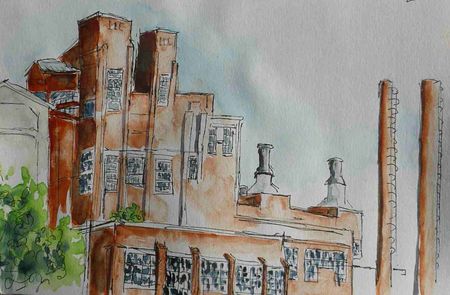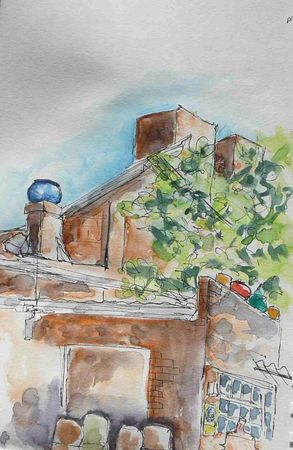 et manque de bol, j'avais oublié d'amener mon appareil photo qui me sert de référence après pour mettre des couleurs. Il a fallu faire travailler la mémoire...
Bad luck, I had forgotten my camera; I use it as reference for the colours I put when I get back home. I had to work from memory...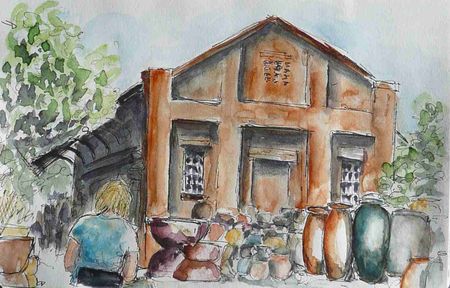 voici Cathy Gatland vue de dos, en train de croquer. Si vous voulez voir ses magnifiques croquis (et ceux d'autres talentueux croqueurs), allez sur Facebook, la page des Joburg Sketchers; vous pouvez aussi voir les croquis de Cathy sur son blog...
Here's Cathy Gatland sketching. If you want to see her stunning sketches (and those of other talented sketchers), go on face book, the Joburg Sketchers; you can also see Cathy's sketches on her blog too...
heureusement, Cathy a pris pour moi ces dernières vues en photo et j'ai pu mettre les couleurs plus fidèlement
Fortunately Cathy was kind enough to lend me her camera to take these last views, and she then sent them to me so I could put the colours in.