Une journée de croquis à Jo'burg fin mai. Rendez-vous au Second Cup Coffee Shop, un café-jardinerie à la ferme Weltevreden Farm sur John Vorster Drive.
We had an outing in Jo'burg on Saturday, May, 28th. We met at the Second Cup Coffee Shop, a café and a plant centre at the Weltevreden Farm on John Vorster Drive.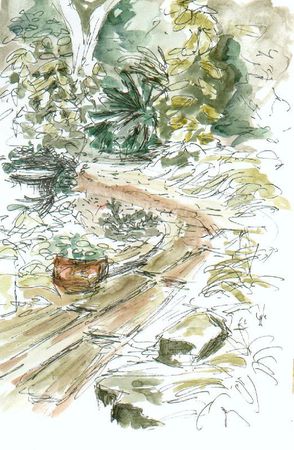 un fouillis de végétation, / a charming wild garden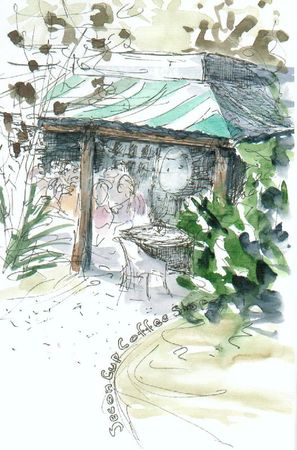 au milieu de laquelle le café est niché / with a tin-roofed café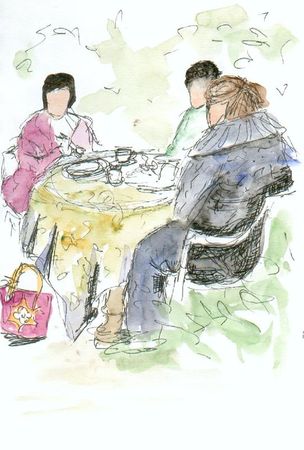 et au milieu de laquelle des tables sont disséminées / and everywhere in the garden tables for customers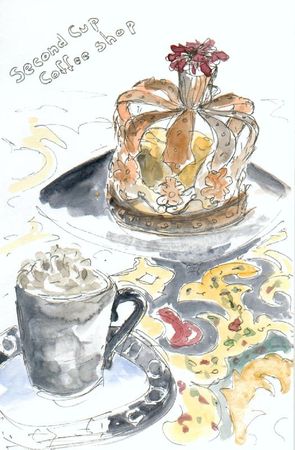 Il a fait si froid ce samedi là, que nous avons eu du mal à croquer et avons dû nous réchauffer le coeur et le corps à coup de cappuccino et de gâteau (présentés sous une magnifique couronne)! / It was so cold that Saturday, that we had trouble sketching, so we had to warm up our hearts and bodies with cappuccinos and cakes (presented under a stunning crown)!
Je n'étais pas contente de mes croquis, mais de retour à la maison je les ai un peu repris (les deux du milieu) et ça va un peu mieux... Le froid ne me convient pas! ;-)
I wasn't happy with my sketches, but I worked on them a little (the two in the middle) when I got back home and it's a little better... Cold doesn't suit me! ;-)
EDIT:
Allez voir les croquis de mes compagnons de cappuccinos du groupe Joburg Sketchers: Celui de Cathy du blog "A Sketch in Time" et l'huile réalisée en plein air ce jour là par John
Go and see my fellow sketchers' sketches of the day: Cathy's from "A Sketch in Time", and John's impressive plein air oil painting