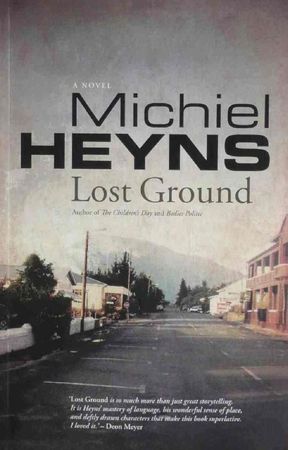 Voici le livre que je viens de finir. Il vient de sortir ici et n'est certainement pas encore traduit en français (certains de ses romans ont déjà été traduits), mais gardez le nom de l'auteur et le titre original en mémoire pour dans un an ou 2... Je me suis régalée et je vous le conseille fortement!
Here's the book I've just finished.I really enjoyed it and I recommend it strongly!
C'est un polar subtil, une ambiance, le tout dans un village perdu dans le Petit Karoo, région du Western Cape, sur la route 62. (Clic clic pour voir cette région ici ou là)
It's a detective story, an atmosphere, set in a small village in the Little Karoo, in the Western Cape, along route 62. (click click to see what this region is like here and there)

Un Sud af' (blanc) qui a quitté l'Afrique du Sud pendant l'apartheid et qui revient 20 ans après, et d'autres qui n'ont jamais quitté le coin ou le pays, les moeurs, les façons de penser des uns et des autres, les évolutions (ou pas) entre l'apartheid et maintenant dans les différents communautés, voici un peu ce qui vous attend. On ne s'ennuie pas une seconde, mais ce n'est pas pour autant un roman d'action, il s'agit plutôt de conversations au cours de rencontres, ou de retrouvailles.
A white South African who left for London during the Apartheid, and who comes back 20 years later, and others who have never left this region or the country, the habits, the way of thinking in the different communities, here's what you'll find. You won't get bored, but don't expect a lot of action, think more in the line of conversations, encounters and reunions.