Samedi le groupe de croquistes dont je fais maintenant partie (Joburg Sketchers), s'est retrouvé à Montecasino à Johanesburg
On Saturday the Joburg sketchers agreed to meet in Montecasino: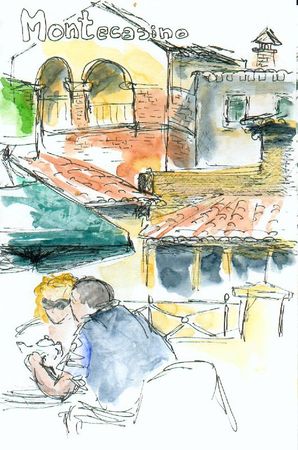 C'est en fait un complexe avec casino, salle de spectacle, restaurants et boutiques, avec un parfum résolument italien.
It is in fact a complex with a casino, a theater, shops and restaurants, all with a resolute italian flavour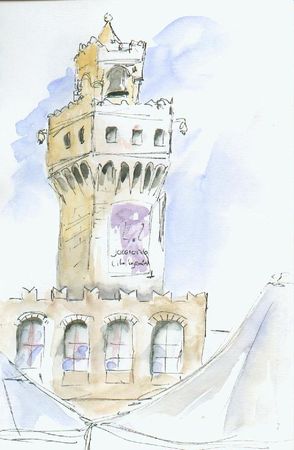 ... un air aussi résolument artificiel, surtout pour ces rues reconstituées en intérieur comme si c'était la nuit.
... it's also resolutely artificial, most of all these fake streets inside in a pretend night time.
mais samedi il y avait un festival italien avec des lanceurs de drapeaux, un petit marché, alors ce petit air italien tombait à point!
but on Saturday there was an italian festival, with flag throwers, and a food market, so the italian air suited it perfectly!
pas facile de croquer les lanceurs de drapeaux! J'ai essayé de croquer un peu tout, les costumes, la foule, les musiciens, ...
not easy to sketch flag throwers! I tried to sketch a little bit of everything, clothes, the crowd, the band, ...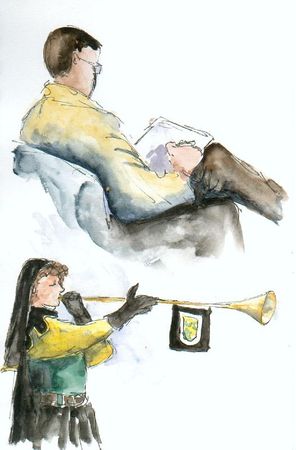 J'ai aussi croqué mes compagnons, ici John en train de croquer les serveurs que j'ai aussi croqués ci-dessous; la différence c'est que les siens sont super beaux!
I also sketched one of my fellow sketcher, John, sketching the waiters I also sketched below; the difference is that his are beautiful!
Allez voir les super croquis de Cathy G de A Sketch In Time. Et vous y verrez même un croquis de mon fils et moi!
Go and see the stunning sketches Cathy G did of that day on A Sketch In Time. And you'll even see a sketch of my son and I!