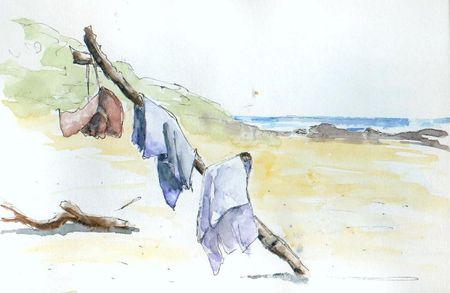 Un croquis fait pendant notre séjour à la plage à Southbroom (Kwazulu-Natal) en février dernier.
A sketch made during our stay in Southbroom (Kwazulu-Natal) last February.

... et il est parfait pour mettre ce blog en pause. Passez un excellent été (ou hiver)! Je serai dans le sud de la France pendant tout le mois d'août. Je rendrai certainement quelques visites à vos blogs, mais j'en profiterai pour me reposer, croquer, et recharger les batteries de l'inspiration. On se retrouve au mois de septembre!
... and it is perfect to announce a break. Have a great summer (or winter)! I'll be in the south of France for the whole month of August. I may visit some of my favourite blogs, but I'll mainly sit back, relax, sketch, and recharge my inspiration batteries. Hope to see you again in September!