Voici une série de croquis que j'ai réalisée après notre promenade à Cullinan; d'abord 3 croquis exécutés sur place
Here's a series of sketches I did after our walk in Cullinan; first 3 sketches I did on the spot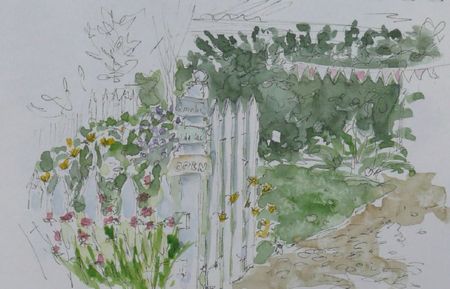 j'ai rajouté les couleurs à la maison
I added the colours back at home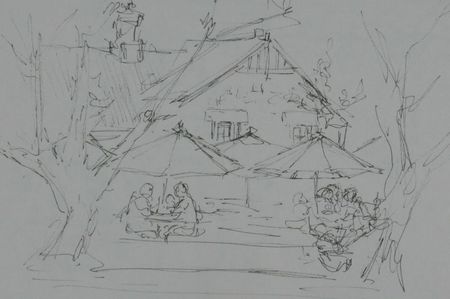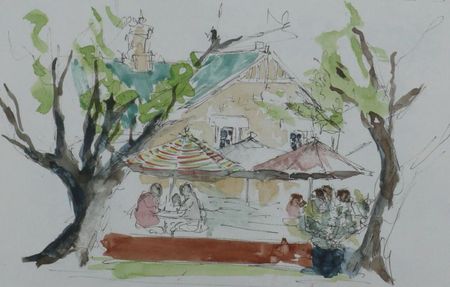 pour cause de match de rugby (histoire trop longue à raconter ici), je n'ai pas pu aller ce jour là à Johanesburg retrouver mes comparses des Joburg Sketchers pour la 33ème Journée Mondiale du Croquis...
because of the French playing a rugby match in the world Cup (too long a story to be told here), I couldn't go and meet my fellow sketchers (Joburg Sketchers) in Joburg for the 33rd World Sketchcrawl...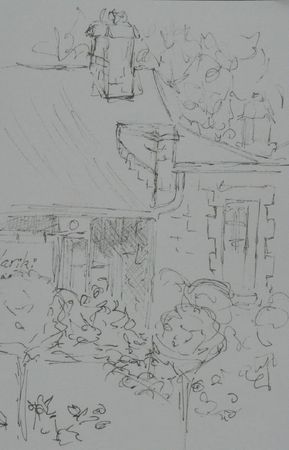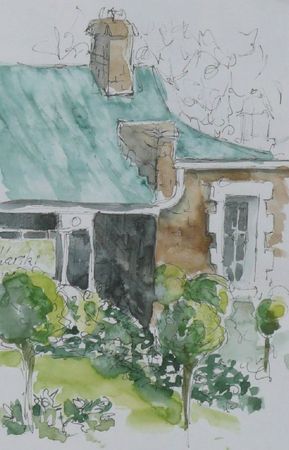 ... alors pour compenser, j'ai fait ces trois croquis, ma maigre participation à la Journée du croquis.
... so to make up for it, I did those 3 sketches, my poor participation in the Sketchcrawl.
Puis voici deux croquis faits à la maison à partir de mes photos prises dans la boutique Art in White de Cullinan.
Then here are two sketches done at home based on the photos I took in Art in White, that wonderful shop in Cullinan.
on sent que j'ai plus le temps, le trait est plus appuyé, j'ai même pu placer mes ombres
You can feel I had more time, my lines are stronger, I even had the time to place shadows
le risque quand on a le temps, c'est de devenir lourd, de vouloir trop en faire
when you have the time, the risk is to be heavy with the colour, to overdo it
ce croquis était déjà bien sans couleur...
this sketch was already good without colours...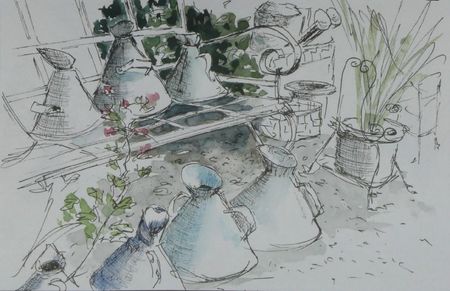 ... mais j'ai voulu prendre le risque, et j'ai dû bien contrôler mes pulsions et mon pinceau pour que la couleur reste discrète et ne gâche pas la délicatesse du trait. La difficulté était que les couleurs étaient très pâles et fondues, des variations sur les blancs et les gris, bien dures à rendre en aquarelle.
... but I decided to take the risk, and I had to control myself and my brushes so that the colours would stay discreet and light not to waste the delicate marks. The difficulty was that colours were very pale and soft, variations of whites and greys, quite tough to render with watercolour.