Et voici - toujours en vue de mon expo - un bord de route, que je crois ne vous avoir jamais montré. Et pour cause, il m'embêtait. Les personnages faisaient figés, comme dans une scène de théâtre, tous bien séparés...
And - still preparing my exhibition - here's another side of the road, that i had never showed. And you know why? Because I wasn't happy with it. The characters were too still, as if on a stage, all so neatly separate...
il me plaisait tellement pas, que je n'avais même pas pris de photo!!
I was so unhappy about it that I didn't even take a picture of it!
Cette fois-ci je n'ai pas mis tout le monde enceinte :-D, mais j'ai eu l'idée de rajouter des silhouettes en arrière plan, comme une foule.
This time I didn't make them all pregnant :-D, but I thought of adding some figures in the background, like a crowd.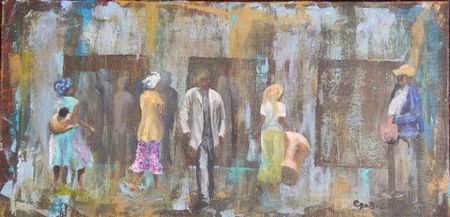 Et je suis maintenant satisfaite, la scène a l'air plus vivante. En rajouter encore? rendre les silhouettes plus proéminentes? J'hésite, mais je crois que je vais m'arrêter là... Il faut savoir dire stop.
Now I'm satisfied, the scene looks more lively. To add more? To make them more obvious? That is the question, but I think i going to call it quits. You have to know when to say stop.