On est parfois un peu perdu devant la quantité et variété des papiers.
We can easily get lost when confronted to the variety of papers.

Trop cher? Un débutant risque de bloquer. Mais prendre un papier moins cher, c'est parfois aussi travailler sur un papier de mauvaise qualité qui décevra beaucoup.
Too expensive? A beginner might be inhibited, too scared to waste the beautiful paper. But when choosing a cheaper one, you might risk working on a bad quality and end up disappointed and frustrated.
Je vous livre simplement mon expérience.
I just intend to share my experience.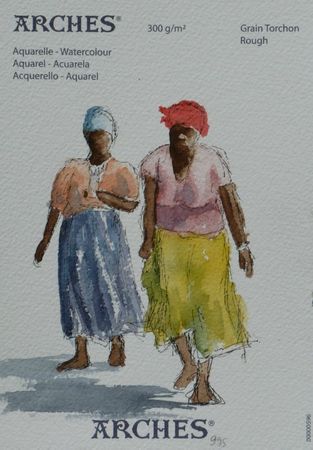 Arches 300g/m2 Grain torchon / rough
agréable, il est facile de laisser des blancs tout naturellement
nice paper, easy to leave whites

Arches 300g/m2 Grain fin
Un de mes préférés mais parfois les pigments deviennent ternes au séchage.
One of my favourites, but sometimes the colours become dull when drying.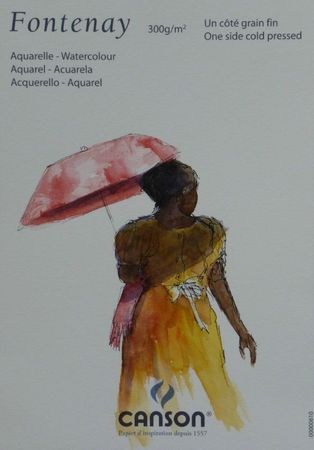 Canson - Fontenay 300g/m2 Grain fin
agréable / nice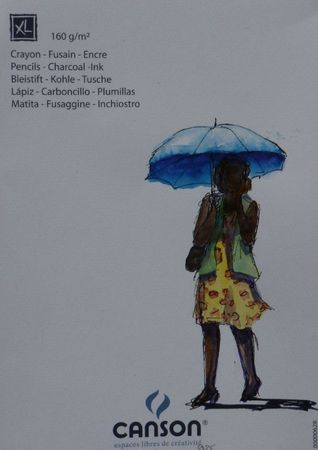 Canson - XL 160g/m2
pas assez épais pour jouer avec l'eau, mais peut convenir si on travaille presque à sec.
not thick enough to play with water, but ok when painting with almost dry colours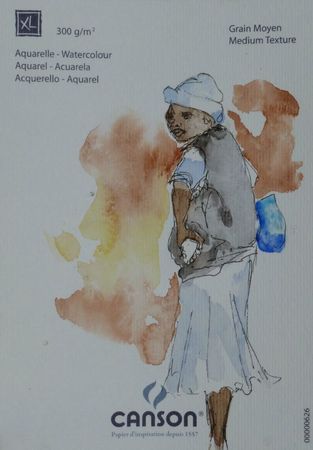 Canson - XL 300g/m2
je n'aime pas ses stries verticales
I don't like the vertical stripes of the texture

Daler-Rowney Bockingford - 300g/m2
pas mal mais un peu trop texturé à mon goût
Ok, but the texture is bit too strong to my taste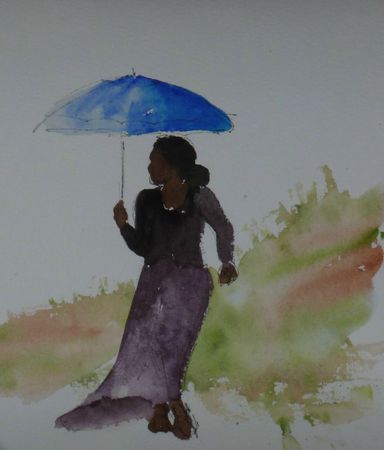 Fabriano - 300g/m2
Plus blanc que le Arches. De qualité équivalente à mon avis; en Afrique du Sud, il est moins cher que le Arches.
Whiter than the Arches. Similar quality in my opinion; in South Africa it's much cheaper than the Arches.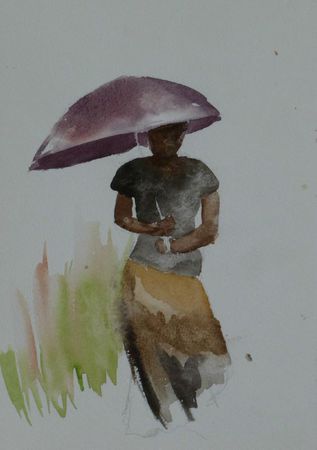 Moulin du coq - 200g/m2 - Grain torchon
Seulement 200g mais il se travaille très bien.
Only 200g but you can work quite nicely.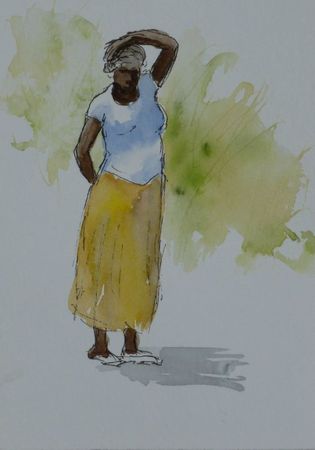 Moulin du Coq - 325g/m2
J'ai bien aimé celui là aussi.
I quite liked this one as well
Le mieux? Demandez à votre détaillant des échantillons de papiers que lui ont donné les fournisseurs. C'est gratuit, et y a pas mieux pour choisir!
The best thing is to ask at your shop if they have some paper samples like the ones I've used. The suppliers leave them for the customers, and they are totally free!

Le moins cher? Choisissez plutôt des feuilles à l'unité (format 50x60 plus ou moins), et vous les pliez, et coupez avec un coupe papier ou un couteau (répétez jusqu'au format voulu). Avant de couper, prenez soin d'écrire au dos au crayon papier de quel papier il s'agit, ou de faire un petit signe: cela vous indiquera quel est l'envers de l'endroit. Pensez aussi aux lots de grandes feuilles. Le plus cher sont les blocs.
The cheapest? Buy sheets of paper (50x60cm) then fold them and cut them with a paper-knife until you reach the size you want. Before cutting, make sure you write the type of paper at the back, or a small sign: it will help you spot the front and the back. They sometimes sell these big sheets in packets of 10. Remeber the most expensive are the blocks of ready-cut paper.


Voici maintenant trois mêmes croquis traités sur 3 papiers différents, et dont un sur papier YUPO.
Now here's the same three sketches on three different papers, the last of which is YUPO paper.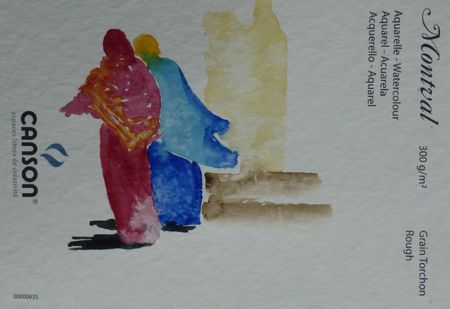 Canson - Montval 300g/m2 Grain torchon

Canson - Montval 300g/m2 Grain fin

Lanavanguard (YUPO) - 200 g/m2
Le papier YUPO (appelé ainsi aux Etats Unis) est un papier synthétique, produit en France par les manufactures de papier LANA sous le nom LANAVANGUARD. Il n'est pas encore très connu, et vous aurez peut-être à faire plus d'un fournisseur avant de le trouver. C'est un papier extrêment lisse, glacé, sur lequel l'eau glisse et joue de façon très surprenante. Ceci est mon premier essai avec ce papier. J'aime la brilliance des couleurs et j'ai bien envie d'apprendre à jouer avec le côté aqueux. Il est très cher, et il m'a fallu attendre d'être en France pour en trouver car en Afrique du Sud, il n'y en a pas (pour l'instant). Ce qui est dingue c'est la façon dont on peut complètement effacer ce qu'on a peint d'un coup d'eau!
YUPO paper is a synthetic paper. In France it's called LANAVANGUARD. It's not well known yet, and you might have to go to several shops before finding it. It's an extremely smooth paper on which water runs like mad! This is my first attempt; I already like the bright colours, and I'm looking forward to playing with water and colurs! It's very expensive in France and I couldn't find it in South Africa. The funny thing is the way you can just wipe out what you've painted with a brush and water!
Vous pouvez aller voir chez Izys qui a déjà longuement testé ce papier ici; elle donne même un tuto pour travailler ce papier si spécial.
I advise you to go to Izys's blog. She's already much tested it here; she even gives a demo showing how she works on this surprising paper.

Vous pouvez aussi aller voir là, chez Sue's "A Brush with color"; elle montre elle aussi deux mêmes croquis dont un est réalisé sur yupo; la différence est sidérante!!
You can also go there to see the two watercolours Sue did. One of them is on yupo. the difference is amazing!

Mais la première fois que j'ai entendu parler du Yupo, c'est chez Sandy Maudlin. Elle donne même maintenant des ateliers spécial-Yupo. Jetez un coup d'oeil ici, elle montre ce que 17 artistes ont produit sur ce papier. Elle a écrit plus de 100 posts sur ce papier (là).
The first time I heard about Yupo was on Sandy Maudlin's blog. She even now gives workshops on Yupo paper! Here she shows what seventeen artists did on this paper. She wrote more than 100 posts on this paper there.

Il y a, pour finir, un numéro hors série avec un dossier sur les papiers synthétiques tel ce papier Yupo-Lanvanguard:
To finish, for those who can get it, there's a French magazine with a file on synthetic papers like YUPO: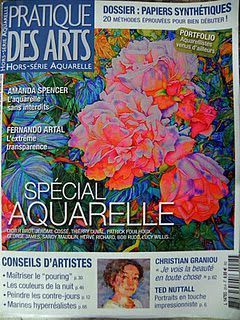 Et si vous voulez en savoir plus, il vous suffit de taper 'Yupo tuto', ou 'Yupo demo' sur google, et vous trouverez une liste infinie de site, et de vidéos, pour visualiser les effets produits sur ce papier. Bonne recherche, et surtout, bonnes expérimentations!
And if you want to learn and see more, just google Yupo, Yupo demo, or Yupo tuto, and you'll find a tremendous list of websites and videos. Experiment and enjoy!