Vous rappelez vous de ce tableau?
Do you remember this painting?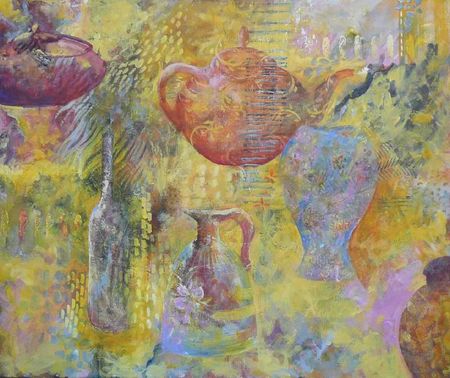 J'aimais les couleurs, j'aimais les éléments séparément, les motifs, les textures, les transparences, mais je ne sais pas pourquoi il ne fonctionnait pas. Alors j'ai fait ça:
I liked the colours, I like the elements each separately, the patterns, the textures, the transparencies, but I don't know why it didn't work. So i did this: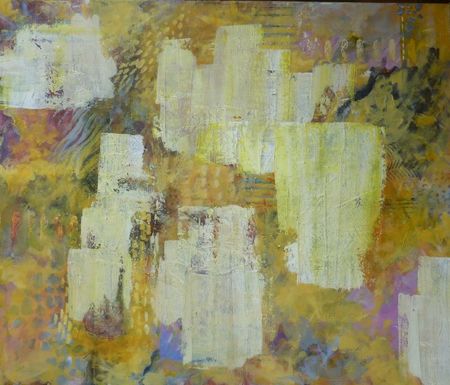 Eliminer ces éléments qui ne marchaient pas, et garder le fond. C'est un peu drastique comme mesure, mais au moins, on arrête de tourner autour du pot. S'il ne marche pas, on change.
Get rid of the elements that don't work, and keep the background. It's a little drastic, but at least I'll stop beating about the bush. If it doesn't work, change it.
Cela m'a fait penser à des bâtiments. Alors j'ai fait ça:
It made me think of buildings, so I did this:
mais la forme blanche sur la droite était trop présente, et il commençait à y avoir trop de formes rectangulaires, alors j'en ai enlevé quelques unes:
but I didn't like the white shape on the right, and the painting was becoming too busy, so I took away some of them: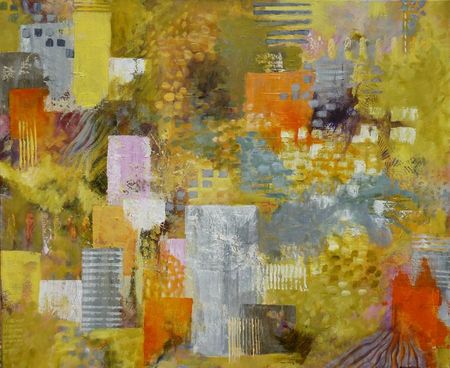 Il n'est encore pas fini, loin de là, mais déjà je trouve que cela fonctionne mieux. Voyons voir où il va nous amener celui là...
It's still not finished, far from it,but I think it already works better. Let's see where this one goes...