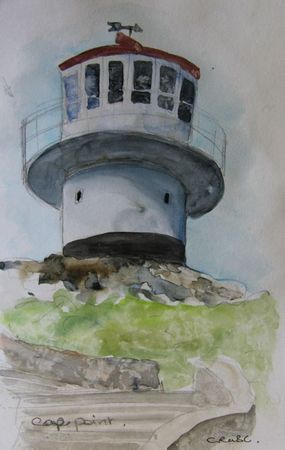 Je ne pense pas vous avoir montré ce phare; c'est celui de Cape Point
I don't think I've ever shown you that light-house; this is Cape Point light-house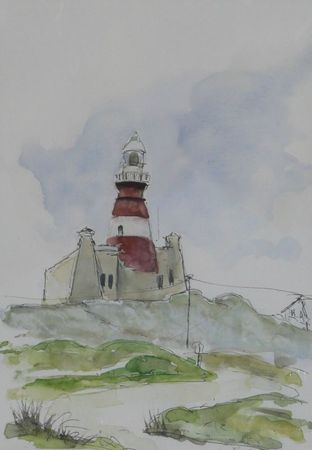 Celui-là, je vous l'ai déjà montré, c'est le phare qui se trouve à la pointe de l'Afrique, à Cape Agulhas
This one I've already shown you, it's the light-house that's at the southern most tip of Africa, Cape Agulhas

une autre version du même
another version of the same one

voici le phare de Cape Naturalist en Australie (côte ouest)
here's Cape Naturalist light-house on Australia West coast
oui, j'aime les phares!
Yes I love light-houses!
Donc ce n'est pas si étonnant si j'ai décoré la chambre de mon fils avec des phares:
So it's not so surprising if i decorated my son's room with light-houses: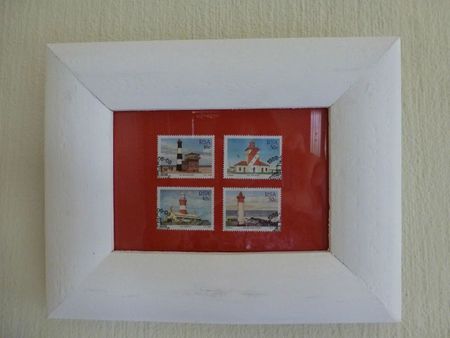 petit cadre avec quatre timbres représentant 4 phares d'Afrique du Sud
small frame with four stamps showing 4 light-houses in South Africa

et le dernier phare en date que j'ai montré l'autre jour. Il y en aura d'autres, c'est sûr!
and the latest light-house I showed you the other day. There will ne more that's for sure!
J'ai des problèmes de connection en ce moment, vous excuserez mes réponses tardives, et mon planning un peu décousu...
I have connection problems at the moment, so you'll please excuse my late answers, and my somewhat irregular postings...