Je vous ai parlé ici de la commande qu'on m'a passée. Voici les trois autres croquis que j'ai réalisés de cette maison à Johannesburg, peut-être les derniers, peut-être pas... N'ayant jamais réalisé ça, je n'ai pu au départ donner un prix ni un nombre de croquis (2 croquis pour tant,6 pour tant, et tant pour 10 croquis...). Maintenant je regrette de ne pas avoir précisé les choses.
I told you here about the commission I got. Here are three more sketches I made of this house in Johannesburg, maybe the last ones, maybe not... Having never made such a commission, I found it diificult to give a price right from the beginning, or even a number of sketch (2 sketch for that much, 6 for that much and that much for 10 sketches...). Now I wish I had been more specific about it all.
Ils m'ont laissé prendre des photos des pièces et coins de leur maison. J'ai aimé ce petit coin de la cuisine, calme, et chaleureux.
They let me wander around the house to take pictures of the rooms. I liked the corner of the kitchen, calm and welcoming.
J'ai essayé de respecter le côté dépouillé de leur salon, avec ses quelques touches de couleurs
I tried to respect the uncluttered look of their lounge, with only a few touches of colour here and there.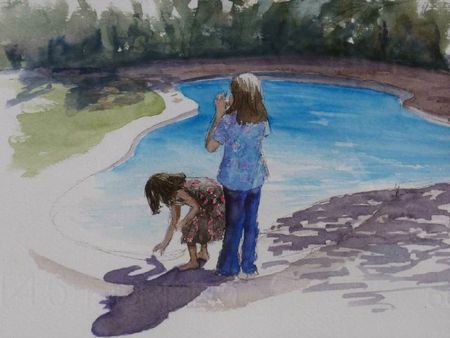 et pour finir un croquis des deux petites filles de la maison, jouant devant la piscine. Ce n'était pas dans le "cahier des charges" mais elles étaient si mignonnes...
and to finish, a sketch of the two little girls of the house, playing next to the pool.