Un titre un peu mystérieux, mais en fait très clair ...pour moi!
Quite a mysterious title, but it's actually quite clear ... to me!
Voici un des derniers tableaux avec lesquels je me suis battue
Here's one of the latest paintings I struggled with: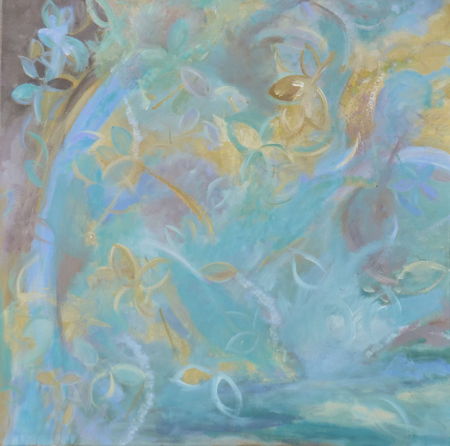 Un tableau plutôt abstrait qui invite à la rêverie.
An abstract painting that calls for daydreaming.
Mais pourquoi un tel titre? Eh bien le chemin pour aboutir à ce tableau est pour le moins étonnant. Voici ce qui m'a inspirée:
Why this title? Well, the path to come to this painting is quite surprising. Here's what inspired me: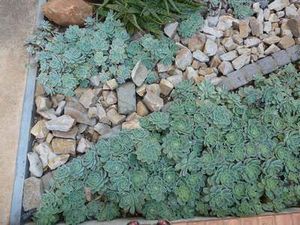 (y a des fois où j'ai du mal à me suivre moi même)
(sometimes, even I have trouble understanding myself)
Essayons de comprendre: J'ai aimé les lignes, les couleurs douces, la rectitude des bordures avec les plantes qui passent par dessus,... j'avais envie d'un tableau calme et paisible. Voilà pour les termes de référence.
Let's try and understand: I liked the lines, the soft colours, the stright borders and the plants that grow over them... I wanted a calm and quiet painting. These were the terms of reference.
Pourquoi je me suis battue? Parce que je voulais ces lignes, parce que je restais coincée sur mes positions, mes termes de référence. Et cela ne marchait pas. Jusqu'à ce que je lâche, que j'écoute le tableau, et voici ce qu'il m'a dit. "Les mystères de la création" m'a répondu une copine. C'est ça.
Why did I struggle so much? Because I wanted these lines, because I was sticking to my mine, my terms of reference. And it didn't work. Until I let go, until I listened to the painting, and here's what it said. "Mysteries of creation" said one of my friends. Exactly.