L'inspiration ça vient comment?
How does inspiration come?
Il n'y a pas une réponse mais des réponses, selon les personnes et selon les moments. L'inspiration, c'est quelque chose de tout à fait personnel.
There are no two answers alike, it depends on people and moments. Inspiration is something very personal.
Je peux parfois voir une forme, et garder ça en mémoire, y repenser, jusqu'au jour où il FAUT que je la transcrive à ma manière.
C'est parfois une lumière, ou des couleurs qui vont me pousser à prendre les pinceaux.
Sometimes I see a shape, and keep it at the back of my mind until one day I just HAVE to put it in my paintings, somehow. Sometimes it's a light, or colours together which are going to urge me to take my brushes.
Et parfois il n'y a rien. Rien que l'envie de peindre, sans savoir quoi.
And sometimes there's nothing. Nothing but wanting to paint, not knowing why.
Quand je peins, il me reste souvent des couleurs sur ma palette (une assiette en fait) que je n'ai pas envie de jeter. Je racle toujours conscienceusement ces couleurs et je les étale à la va vite sur une toile neuve, ou sur un tableau que je veux changer.
When I paint, I ofetn have peint left overs on my palette (a plate actually), and as I never feel like throwing them away, I scrape them onto new or old canvases.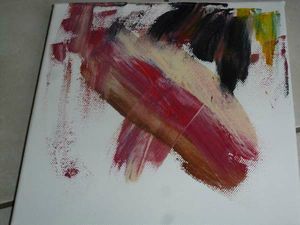 Et ces jours où il n'y a pas d'inspiration particulière, je prends ces toiles maculées et je commence à mettre des taches de couleurs, recouvrir, jouer avec les teintes.
And on these days when there's no particular inspiration, I take up those canvases with smears of paint and I start covering them with smudges of colours, just playing.
Voici trois départs; nous allons les suivre au cours des évolutions:
Here are three step ones, let's follow their evolutions:

Tâches A - version 1
j'aime les couleurs, et la diagonale qui divise le tableau, je vais essayer de garder ça
I like the colours, and the diagonal dividing the painting; i'm going to try keeping that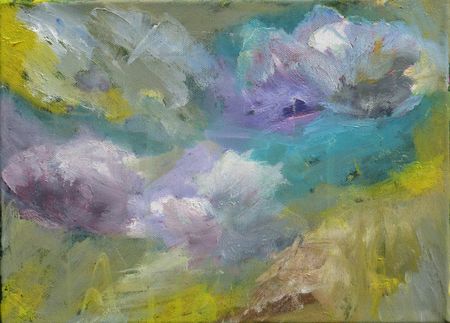 Tâches B version 1
j'aime le hasard de ces couleurs douces, je vais essayer de garder ça
I like the softness of the colours that just happened; let's try and keep that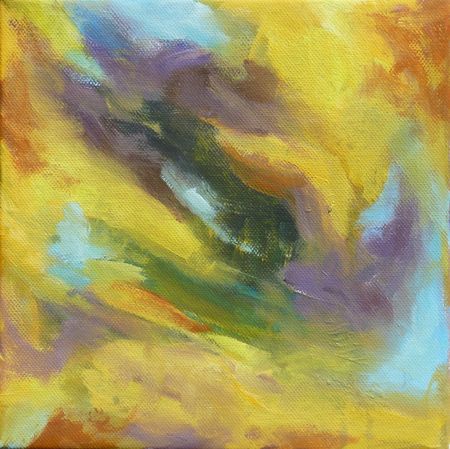 Tâches C version 1
Les couleurs, mouais... pour l'instant rien qui m'inspire vraiment pour celui là...
Mmmm, right, maybe the colours? Nothing very exciting for this one... let's keep trying...
A suivre...
To be continued...