Comment partir de tâches? Que garder, qu'éliminer? En gros, comment je fais?
How to start from smudges of paint? What to keep, what to cover? All in all, how do I do?
Voici l'étape 1 que je vous ai montré l'autre jour:
Here's the step 1 I showed the other day:
Etape 1 / Step 1
j'en aimais la diagonale, mais bien sûr fallait faire quelque chose. Quoi?
I liked the diagonal, but it sure needed something. What?
Etape 2 / Step 2: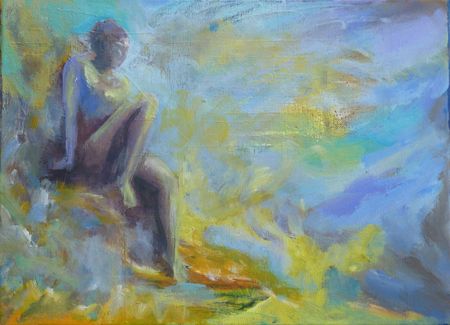 Il m'a semblé qu'il fallait rajouter quelque chose; et allez savoir pourquoi les tâches de la première version m'ont fait pensé à une personne qui regarderait une immensité de bleu...
It seemed to me I needed to add something; and, go figure, the smears on the first version made me think of somebody looking out on a huge expanse of blue...
+ : J'aime les couleur, la silhouette pas trop précise et détendue; je suis contente d'avoir conservé la diagonale
+ : I like this silhouette not too sharp and very relaxed; I'm happy to have kept the diagonal
- : J'ai perdu le Terre de Sienne brûlée dans le coin supérieur gauche, dommage, j'aimais bien... Je devrais essayer d'en remettre quelque part
- : Too bad I lost that nice Burnt Sienna in the top left hand corner... I should think of putting some back in somewhere
Etape 3 / Step 3: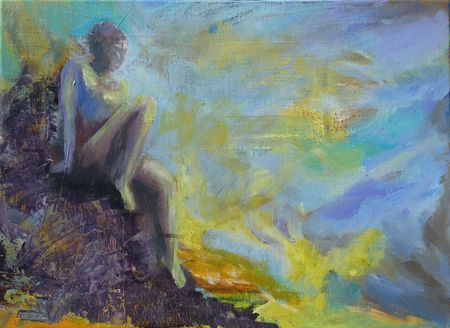 Oups, et voilà comment on perd des choses fraîches à trop vouloir en faire... l'étendue violette sous la personne, pas beau du tout, ça! Hmmm laissons reposer.
Oops, and this is how you spoil fresh things... I really don't like the purple smudge under the person. Let's stop there and wait for a while.
Faudra aussi voir à supprimer le clocher couché qu'on voit transparaître en dessous dans le quart supérieur droit (une vieille toile). Il apparaît même en épaisseur; faudra peut-être que je rajoute de la matière, mais cela risque de changer grandement cette partie de bleu-vert que j'aime bien...
I'll definitely need to erase that horizontal spire that can still be seen under the coat of paint in the top right quarter (it's an old painting). I'll even have to add some thick modelling paste, but I might change that nice blue-green I like...
A suivre
To be continued