Que peindre? Comment faire évoluer un tableau? Comment transformer un tableau? Comment partir s'un tableau qui ne vous plaît plus? Autant de questions que l'on se pose à un moment ou un autre quand on peint.
What to paint? How can a painting evolve? How to transform a painting? How to start from a painting you don't like anymore? One day or another, you will ask yourself one of these questions.
Le démarrage d'un tableau est toujours problématique. Tâches B est un vieux tableau que j'ai voulu recouvrir pour en faire autre chose. Je n'ai gardé aucune photo du tableau de départ (si criard) car je ne pensais pas avoir besoin d'y faire référence un jour, pensant faire quelque chose de si totalement différent que le premier tableau serait sans intérêt. Il s'agissait de fleurs roses et blanches sur un fond vert-jaune assez dur.
Starting a painting can be a problem. With Smudges B, I started with an old painting I didn't like. It used to be pink and white flowers on a horrible yellow green background. I didn't keep any photo of that painting, as I didn't think I would need it, thinking I would do something so totally different the first painting would be irrelevant.
Voici la première version que je vous avais montré:
Here's the first version i had shown:
Tâches B / Smudges B,
Etape 1 / Step 1
Par contraste avec les couleurs dures, j'ai bien aimé la douceur de ces tâches comme du coton.
By contrast with the harshness of the colours, I loved the softness of these smudges.
Voici l'étape 2 / Here's step 2:
Les fleurs sont revenues, mais plus légères, moins définies, plus parfumées...
the flowers are back, but lighter, less defined, more fragrant...
- : je suis retombée sur le même genre de tableau qu'il y avait au départ. Je n'ai pas réussi à me détacher de ces fleurs...
J'aime pas trop la fleur du haut, à droite
- : I ended up with the same style of painting. I didn't manage to forget those flowers...
I don't quite like the flower in the top right hand corner.
+ : il faut quand même admettre qu'elles sont bien mieux maintenant qu'elles ne l'étaient au départ.
Et j'ai réussi à conserver le côté cotonneux.
J'aime beaucoup les deux fleurs en bas à gauche.
+ : I must admit they are much better than they used to be. I managed to keep that soft cotton-like aspect I liked.
I like the two flowers in the bottom left hand corner.
Voici l'étape 3 / Here's step 3: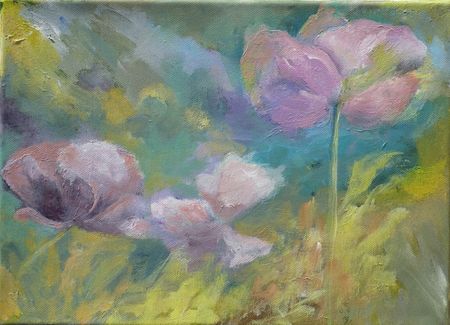 Bon, j'aime mieux la fleur de droite.
I like the right flower better now.
Je suis contente du résultat mais un peu méfiante des tableaux qui viennent trop vite, et surtout un peu déçue de ne pas m'être éloignée du sujet initial. J'aurais peut-être du le retourner? Passer du modelling paste pour en changer la structure?
I'm happy with the result, but a bit wary of paintings that come too fast, and most of all, I'm a little disappointed that I didn't stray far enough from the original painting. Should I have turned it around? Cover some parts with modeling paste to alter the structure?
Attendons un peu et laissons le mûrir.
Let's wait and see.