Ne pas être inspiré?
Ne pas savoir quoi peindre?
Ne pas savoir comment démarrer?
You're not inspired?
You don't know what to paint?
You don't know how to start?
Voici comment je fais:
Here's how I do:
Ne pas se laisser décourager par des tâches qui n'inspirent rien. Par exemple les "Tâches 3" que je vous ai montré l'autre jour:
You mustn't feel let down because the smudges you made on your canvas are just ... smudges. That's what they are, for now. Here's that one I showed the other day: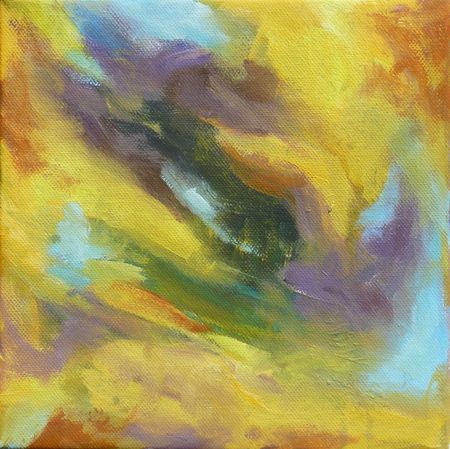 Tâches C version 1
Oui, bon, voilà. Rien de plus. Mais ne pas oublier que ce n'est qu'un fond, et il suffit parfois l'ajout d'un élément au premier plan pour que ce qui n'était sans queue ni tête prenne soudain une autre dimension:
You see it's not very inspiring; but don't forget it's only meant to be a background, and sometimes you only need to add something in the foreground and the whole painting takes on another dimension:

Tâches C version 2
Bon, ce n'est pas encore ça, mais c'est déjà mieux; et soudain le fond on s'en fiche un peu, hein? Maintenant c'est la composition qui coince. Une tasse, toute bête, ça ne raconte rien. Et si on rajoutait autre chose à côté? Une cuillère? un biscuit?
Ok, we are still not there yet, but it's already better; and suddenly you don't care about the background anymore, and you become obsessed with the composition! A simple mug is boring, it doesn't tell any story. How about I added something else next to it? A spoon? a biscuit?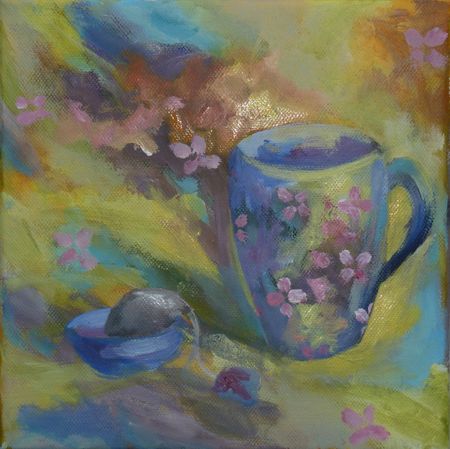 Tâches C version 3
... et pourquoi pas un sachet de thé utilisé? Et puis quelques fleurs sur la tasse pour qu'elle soit moins ... tasse.
... and why not a used tea bag? And then some flowers on the mug to make it less ... mug.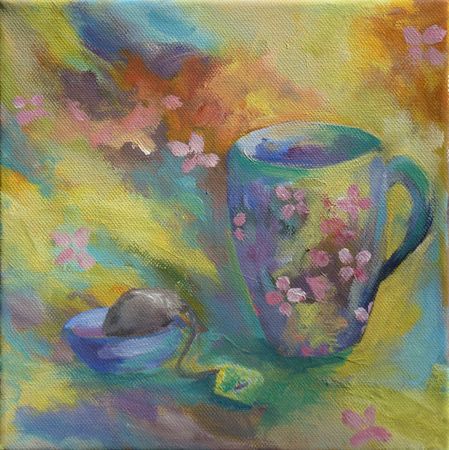 Tâches C version 4
... et puis les fleurs peuvent voler partout, même sur le fond. Reprendre les couleurs ici ou là.
... and then the flowers can fly anywhere on the background. Touch up the colours here and there.
C'est déjà nettement mieux, non? Attendons un peu avant de gâcher quoique ce soit. A ce stade, on en a plein les yeux et continuer pourrait nuire au tableau.
It's so much better, isn't it? Let's wait a little now. At this stage, your eyes have had enough and if you continued, you might spoil it all.