Voici plus d'un mois que je n'ai posté quelque chose; les fins d'années sont toujours survoltées! Et pourtant, je n'ai pas chômé! Copies, bulletins, réunions, ... et même une expo au milieu de tout ça, dont je n'ai même pas eu le temps de vous parler!!!
I haven't posted anything in more than a month: end of school year are often mad! I have done so many things: marking, reports, meetings, ... and I even did an exhibition in the mean time, and I didn't have time to mention it!!!
Les choses vont maintenant un peu ralentir, j'espère...
Things are going to slow down, hopefully...
Voilà où j'ai passé ma journée de hier et d'aujourd'hui:
Here's where I spent all day yesterday and this morning: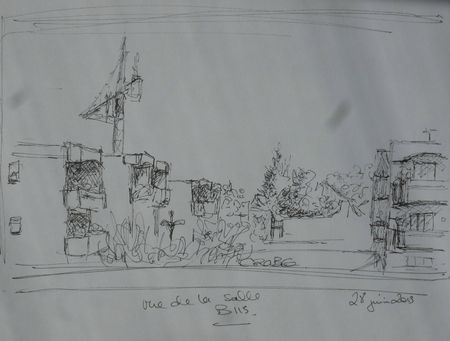 vue de la salle B115 de mon collège / view from room B115 in my school
Et comme en surveillance, on s'ennuie ferme, voilà comment j'ai passé le temps:
And because invigilating is dead boring, here's how i spent my time: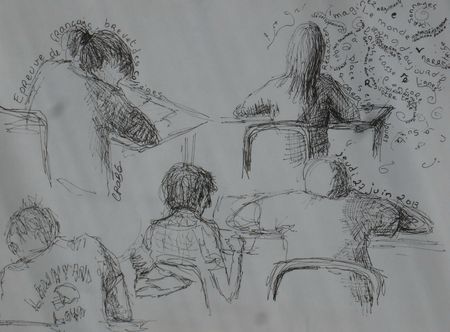 jeudi matin, français / thursday morning, French literature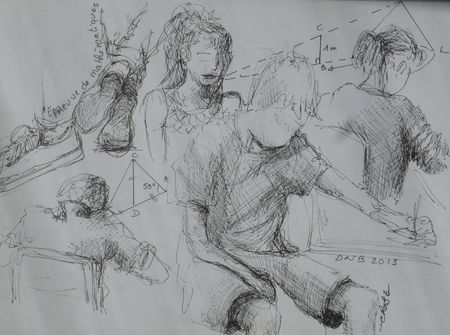 jeudi aprem, maths / thursday afternoon, mathematics

vendredi matin, pour varier un peu, des croquis sans regarder la feuille, puis les mêmes personnes de la main gauche (je suis droitière). J'en ai fait aussi deux autres feuilles de croquis, mais je les ai données...
Friday morning, to change a little, I sketched a first series without looking at the paper, then I sketched the same people but with my left hand (I'm right handed). I also did two other sketches, but I gave them away...