Comme je vous l'ai dit la dernière fois, j'ai été invitée à participer à une une expo au mois de juin. C'était un peu imprévu, et j'avoue que cela s'est fait dans une période un peu surmenée, du coup, je n'ai pas eu le temps ni de vous en parler, ni de faire une promo digne de ce nom... C'est dommage car c'était très chouette:
As I told you, I was invited to participate in an exhibition in June. It was quite unexpected, and i must say it happened at a very busy period for me, that's why I didn't have time to mention it here, and I didn't promote it as I should have. It's a pity because it was great:
Un lieu spécial, une soirée spéciale: "les artistes s'exposent" disait le flyer; jongleurs, musiciens, troupe de théâtre, sculpteur et peintres ont fait un mélange original et plein de charme
A special place for a special evening: jugglers, musicians, theatricals, sculptor, and painters made an origianl mix that was full of charm
mes toiles étaient rassemblées sur un grand pan de mur
my paintings were gathered on a huge expanse of wall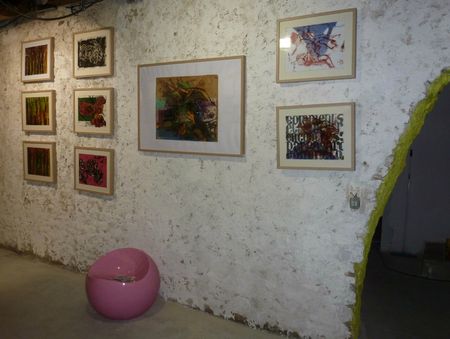 voici les oeuvres de Camille notre hôte, une amie bourrée de talent
here are the works of Camille our host, she's so talented!
dans un passage, quelques unes de mes femmes qui marchent
in a passage, my women on the roads were walking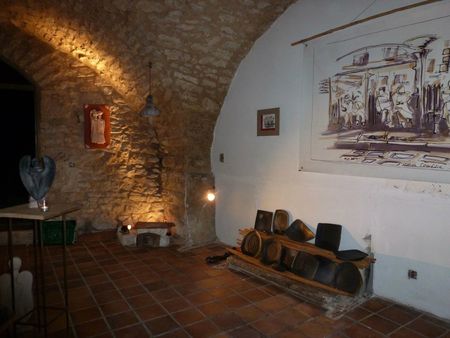 une salle dédiée à Talou, une sculptrice
a room for Talou a talented sculptor
j'ai adoré ses poissons frétillants
I loved her wriggling fish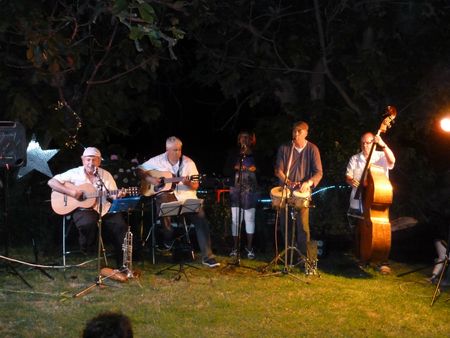 et dans le jardin magique, une pièce de théatre, un magicien-jongleur, et un groupe de musique cubaine donnaient le ton...
and in the magic garden, a theatre play, a magician-juggler, and a band playing cuban music...
Du bonheur.
Bliss.