Ces croquis ont été faits sur la plage à Bar, au Montenegro.
These sketches were done in Bar, Montenegro.
Ce monsieur là dormait si bien, si profondément! et au moins il ne bougeait pas trop, lui! ;-) contrairement à la femme qui bougeait tout le temps
That man was sleeping so nicely and so deeply! ... and at least he didn't move too much! ;-) contrary to the woman who kept moving

je trouve que j'ai bien réussi à rendre son côté relâché, malheureusement, son visage était en partie caché par un sac ou des serviettes je ne sais plus, et du coup cela fait un peu bizarre...
I think I managed to show how relaxed he was, but unfortunately there was a bag or a towel hiding part of his face, and it looks weird now.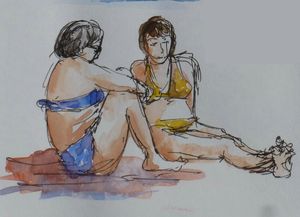 et ça papote, et ça papote... La mère et la fille? Deux amies? Belles-soeurs?
chat, chat, chat... Mother and daughter? Two friends? In-laws?