J'ai tourné le dos à la mer, et j'ai croqué les gens le long du muret qui bordait la plage...
That day I turned my back to the sea and sketched people along the wall that bordered the beach...
Et lui qui attend-il? Sa copine/ son copain? Un copain? Celle ou celui qu'il a rencontré hier? Il n'est même pas sûr de la/le reconnaître, il faisait si sombre dans cette boîte... ;-)
Who is he waiting for? His girlfriend/boyfriend? A friend? The girl/boy he met the previous evening? He is not even sure he will recognize her/him, it was so dark in that disco... ;-)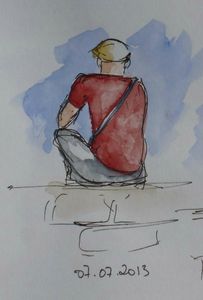 Alors lui, il m'a bien fait rire à manger son sandwich goûlument, comme si rien n'avait plus d'importance, concentré sur son sandwich, il n'a pas levé les yeux une seule fois! Il était 19h, il était encore en maillot, le sac à l'épaule; il n'a même pas pris le temps de rajuster sa chemise mal mise; pris d'une fringale, il s'est acheté son sandwich avant de rentrer se doucher.
That man made me laugh! He was so focused on eating his sandwich, nothing else seemed to matter! He didn't raise his eyes even once! It was 7pm, he was obviously on his way back from the beach, with his bag on the shoulder; he didn't even take time to straighten his shirt; he was starving and he had to eat a sandwich right there before heading home for a shower.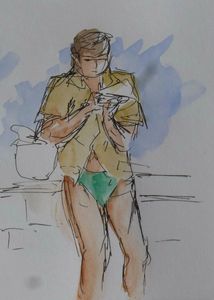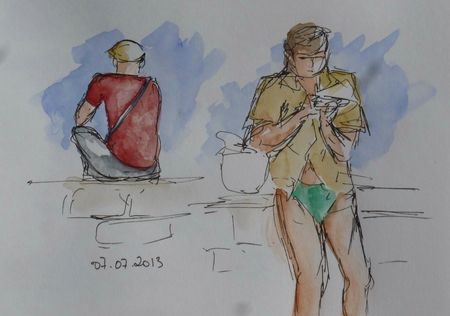 Ces croquis, comme les précédents (voir ici et là) ont aussi été faits sur la plage de Bar au Montenegro.
These sketches, just like the previous ones (see here and there), were done in Bar, Montenegro.