Une ballade à Corconne, un petit village pas très loin de là où j'habite.
A stroll in Corconne, a lovely village in the south of France, quite close to where I live.
un village tout en hauteur, perché près d'une falaise; le site est impréssionnant, les rues toutes de guingois et en pente!
the village is settled next to a cliff, and the sight is impressive, the street are all winding and steep!
un fouillis qui m'a attiré l'oeil, mais malheureusement, je n'ai pas réussi à rendre le charme, juste le fouillis ;-)
here the mess caught my eye, but I didn't manage to render the charm of it all, only the mess ;-)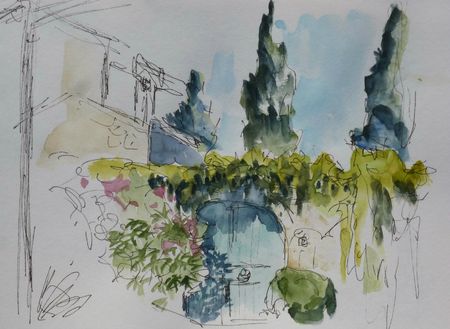 un croquis mal composé, mais j'ai au moins bien rendu la lumière écrasante du m ois d'août
there the layout is quite poor, but I managed to render the harsh afternoon August light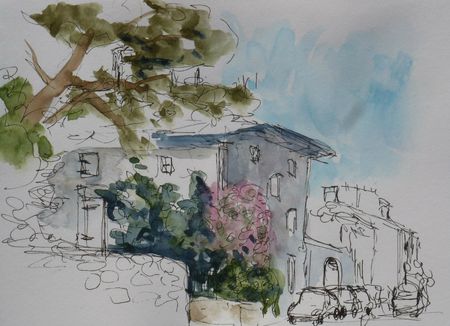 et là je me suis trompée en commençant mon croquis (je voulais le faire dans le sens portrait) et du coup je l'ai fait à contre coeur et à la va vite... Il y a des jours où rien ne va! ;-)
and finally there, I took my sketchbook on the wrong side (i wanted portrait and not landscape), and I realized it immediately, but it was already too late, so I sketched it half heartedly and too quickly. Some days every thing goes wrong!