Après la Polynésie, la Malaisie, et la Guadeloupe, retournons à nouveau faire un tour dans le passé, mais cette fois allons faire une petite promenade à Singapour:
After Polynesia, Malaysia, and the French West Indies, let's hop back again, but this time come with me for a walk in Singapour:
Singapour n'est pas une ville facile d'accès et je pense qu'on peut aisément passer à côté de son charme... Grande ville typique d'Asie, avec ses gratte ciels écrase-tout, il rest malgré tout des quartiers au style bien affirmé. (ok, mes gratte-ciels ne sont pas très droits...)
Singapour is not a city that's easy to appreciate, and one can miss its charm... It's a typical south eastern city, with its huge sky-scrappers that seem to squash everything, there are still some very distinctive districts. (I know, my sky-scrappers are not quite straight!)
cet édifice religieux est un petit bijou dans un quartier autrement assez terne
this religious temple was a gem in an otherwise quite ordinary district
le quartier chinois et ses alignements de rouge...
the chinese district with its rows of red...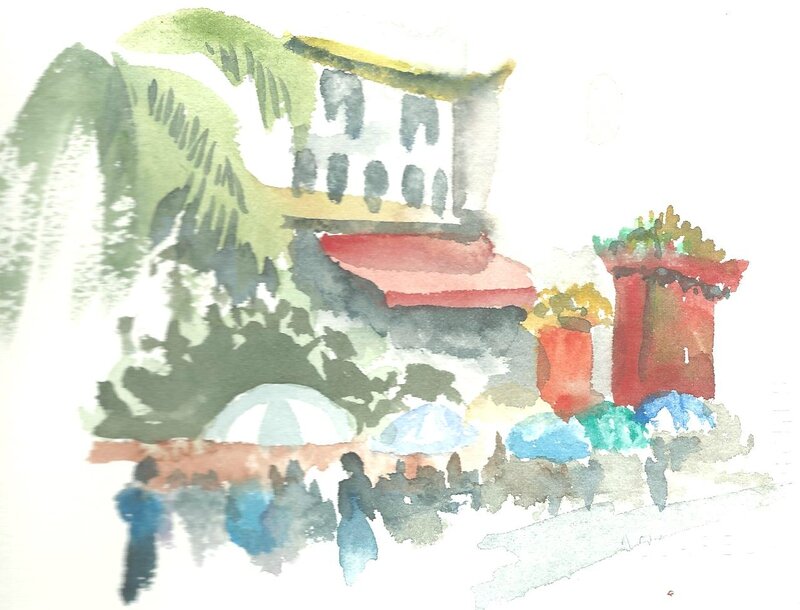 et les temples sur lesquels on tombe à chaque coin de rue, avec sur les trottoirs les vendeurs et la foule
(dans ce dernier ccroquis, j'ai enfin tenté ce qui me donne envie depuis quelques temps: croquer sans dessin préalable. Après avoir été passablement déçue du résultat, j'ai fini par être charmée par les contours flous et l'ambiance de la foule est finalement bien rendue.)
and the temples you stumble upon at every corner, with the hawkers and the crowd walking on the pavements.
(in this last sketch, I've at last got to do what I've been willing to do for a while: sketching without any drawing. After having been quite disappointed, I'm now thrilled by the impression and atmosphere of busy street that I've managed to recreate