"... and the living is easy"
pour une fois, le titre est facile à trouver, puisque c'est la chanson que j'ai eu en tête en peignant ce tableau
For once, the title was easy to find, since I had this song in mind while painting this: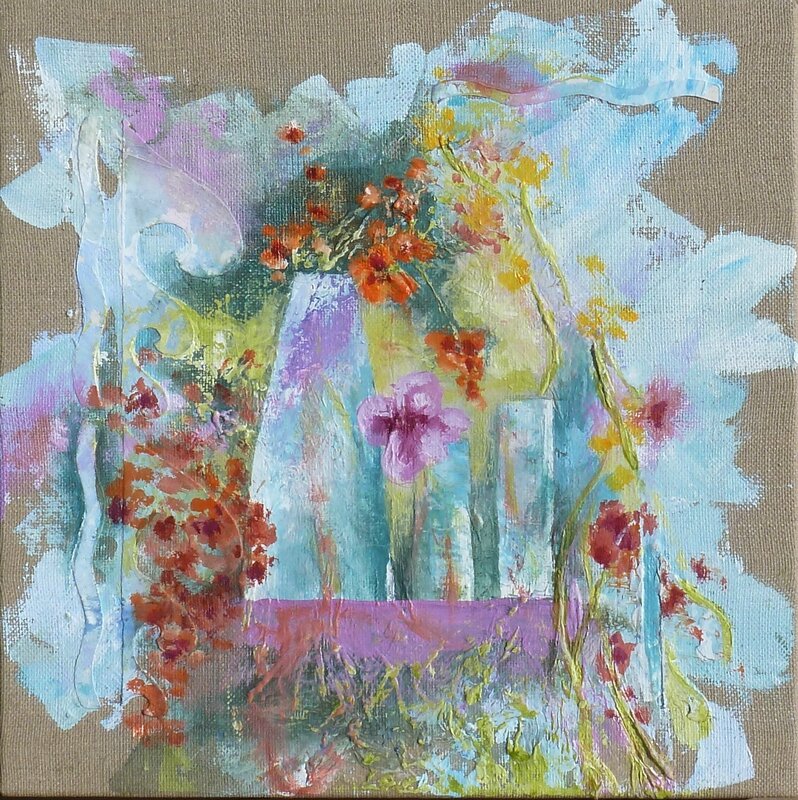 "...and the living is easy"
mixed media sur toile de lin brute / mixed media on raw linen canvas
Pourtant, contrairement à ce que le titre pourrait laisser penser, il n'est pas venu si facilement que ça, puisque, comme à mon habitude, je suis partie d'une ancienne toile sur laquelle j'avais collé du papier de soie et aussi fait des reliefs au modelling paste. Pas facile de créer quelque chose par dessus librement. On se sent obligé de respecter l'idée de départ (des vagues au modelling paste transparaissent).
However, contrary to what the title may imply, it wasn't easy to paint: as usual, I used an old canvas with a previous painting on it. There was some tissue paper glued on it, and some shapes with modelling paste. I wasn't free to create anything. I was stuck with the shapes that I couldn't erase (waves).
J'aurais peut-être dû partir sur une idée de poisson? En tous les cas les couleurs estivales sont venues facilement, elles, et puis des pots et enfin des fleurs sont venues pousser un peu partout. Pas de poissons donc. Faut pas croire mais l'artiste ne fait pas toujours ce qu'il/elle veut! ;-)
Maybe I should have painted some fish? The summery colours, at least, came easily, then some pots, and finally flowers crept in and started growing everywhere. So, forget about the fish. Artists aren't really free to create. ;-)