Un long cheminement pour ce tableau là. Je l'ai commencé avant notre départ en Afrique du Sud, en 2005 ou 2006! Je l'avais laissé en France. A notre retour, mon style et mes goûts ayant changé, je n'ai pas essayé de le reprendre, je l'ai recouvert à la va-vite de peinture, de ci delà, en gardant la texture très travaillée de l'époque (papier de soie collé au bindex).
This painting has come a long way! I started it before leaving for South Africa in 2005 or 2006! I left it in France. When we came back, my style and tastes had evolved, so I didn't try to finish it, I merely covered it with a few large strokes of colour, keeping the heavy texture of the first painting (tissue paper glued).

J'ai eu envie de peindre une rue de Zanzibar. Cela ne me plaisait toujours pas. Et puis l'autre jour, pif, paf, voilà ce qui est apparu, et là, cela me plaît.
I wanted to paint a street from Stone Town, Zanzibar, but I still didn't like it. Then, the other day, here's what happened. And now I like it.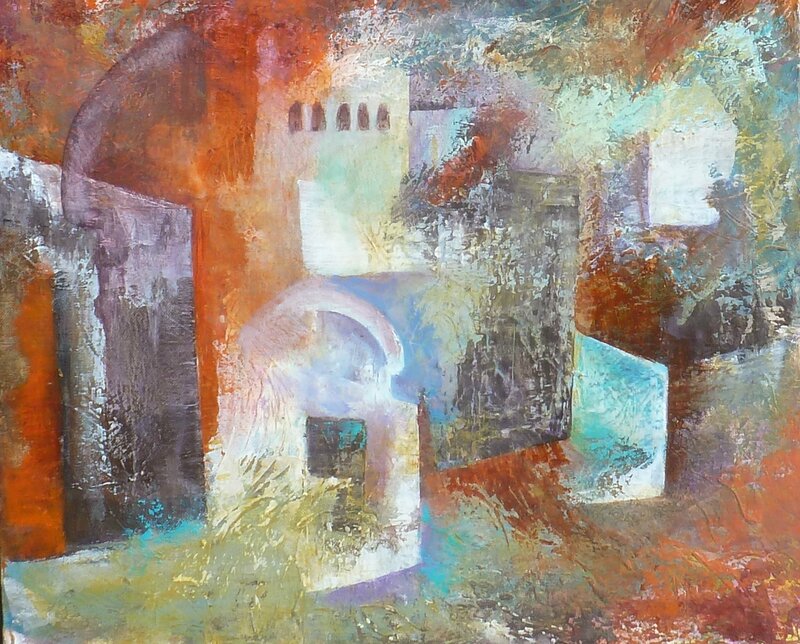 Maroc ou Zanzibar, on ne sait pas trop où l'on déambule et tout a l'air de s'entre-mêler: des souvenirs de pans de murs à la peinture écaillée, des fenêtres, des portes... J'espère que cette promenade vous plaira!
Morocco or Zanzibar, we don't really know where we are and everything seems to be floating and merging: memories of walls with years of peeling paint, windows, doors, ... I hope you'll like that walk!