Voici comment vous allez pouvoir suivre le nombre des créations que je vais montrer au cours de cette année, chacune sera numérotée.
Here's how you're going to follow the number of creations I'm going to show this year, each will be numbered.
Les + : J'aime ses couleurs chaudes et je le trouve plutôt gai et vivant pour ce qu'on appelle communément une nature morte. ;-)
On the + side: I like the warm colours and I find it rather lively for what is commonly called a still life! ;-)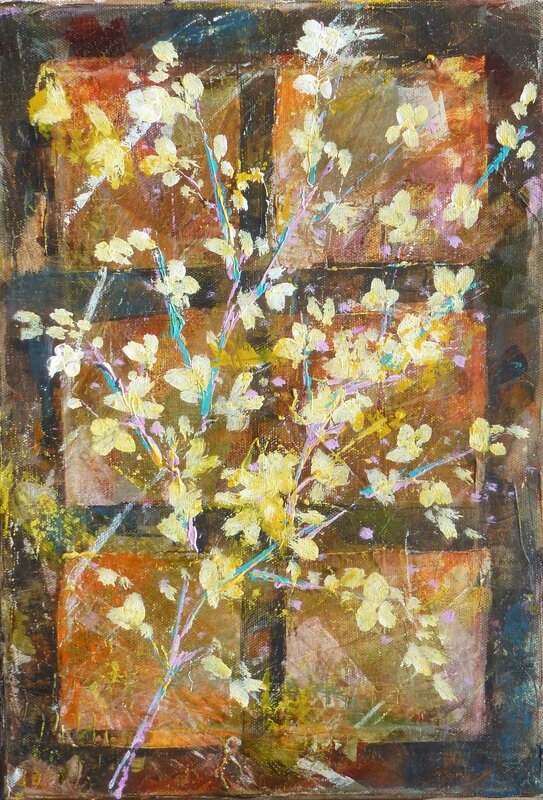 Les - : Franchement? Je ne suis pas arrivée à ce que je voulais; j'étais partie sur l'envie de faire des carrés texturés, et un motif dfférent sur chaque carré. Et puis je ne sais pas pourquoi j'ai fait une branche en plein devant, et les carrés maintenant font penser à une fenêtre. Zut. Pourtant la texture du fond était bien sympa... Et vous? Franchement? Vous en pensez quoi?
On the - side: Honestly? I didn't get to what I was planning; I was thinking squares with texture, and a different "pattern" or thing in each square. And then I don't know why or how, I painted that branch in the foreground and now the squares look like a window. Damn. The texture in the background was quite nice, it's a pity. And you? Honestly? What do you think?
Cela pourrait bien être un de ces tableaux que je fais disparaître sous une couche de peinture et qui devient quelque chose de totalement différent... On verra.
It might well be one of those painting that could disappear under a coat of paint and become something totally different... We'll see.