Vous avez peut-être remarqué que la dernière toile "Hush" a un nouveau style. J'en ai peint d'autres dans le même genre que je ne vous ai pas encore montrées. Pour l'instant - et comme toujours - je tâtonne, je ne sais pas si ces toiles sont le début d'une longue série, ou si elles sont simplement une pierre sur mon chemin. Dans tous les cas, elle laisseront une trace dans ma pratique. A suivre.
You may have noticed that my last painting "Hush" has a new style. I've painted a few others in the same manner but I haven't showed them yet. For now - and as always - I'm just experimenting, I don't know if these paintings are the beginning of a long series, or if they are just stepping stones on my path. In any case, they will undoubtedly leave their mark in my art.
Voila quelques temps que je m'aventure dans une nouvelle direction. J'ai découvert une artiste américaine Jane Davies, qui me plaît beaucoup: j'aime sa façon de chercher, d'essayer, d'expérimenter; je me retrouve dans ce tâtonnement perpétuel, ces essais; elle fait beaucoup de collages et j'aime sa façon d'intégrer le collage à sa peinture. Comme moi, elle est adepte des multitudes de couches, des transparences...
Lately I've been painting differently. I've discovered the American artist Jane Davies, and I love what she paints and the way she paints it: just like me she tries things out, paints over it, experiments; I just love the way she modestly admits that she never knows where she's going to end with a painting. I love the way she inserts collages in her painting, they are not just pieces of paper stuck there, they are really part of the process, even if in the end, you don't even see the piece she's carefully glued. It may get covered by layers of paint, because, just like me, she is an adept of layering and transparencies.
Je vais profiter de cet été pour explorer plus avant. Et je suis sûre que j'aurai des tonnes de nouveaux tableaux à montrer à la rentrée. L'été va être productif, je le sens! C'est pourquoi je préfère mettre ce blog en pause: priorité à la création !
These summer holidays will be a great opportunity to experiment and paint full time. I'm sure that by the end of August, I'll have tons of new creations to show. That's why I prefer to take a little break from posting on this blog : creation is my priority!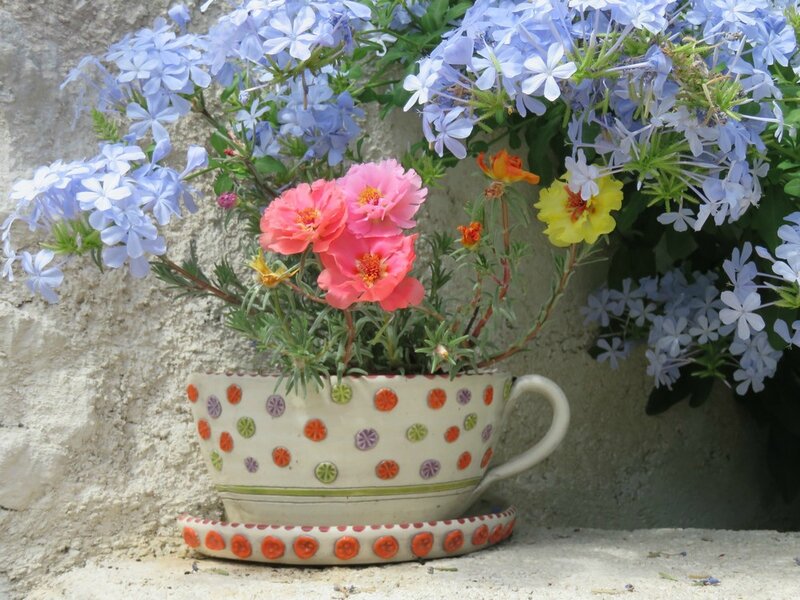 Passez un bon été, et on se retrouve fin août.

Enjoy your holiday and / or summer. See you end of August.