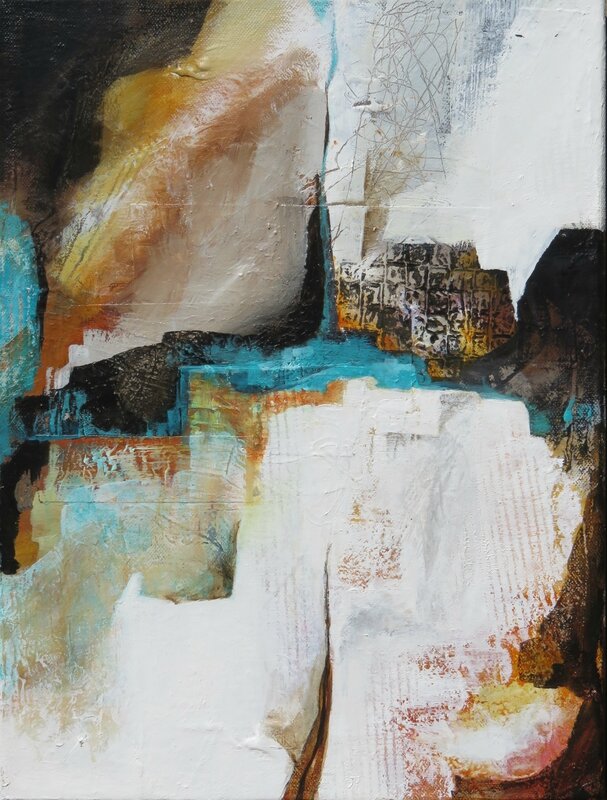 N°84
New Dawn
Acrylique et collages sur toile / Acrylic and collages on canvas

30,5 x 40,5 cm
Ce tableau là est une belle démonstration de ce qu'il faut lâcher quand on peint:
This painting is a demo of what you need to let go when you paint:
Je suis partie de collages, avec des marques intéressantes sur certains éléments collés, marques que j'ai essayé de conserver longtemps, sans que cela fonctionne. J'ai alors ajouté des formes, des cercles comme de belles planètes rondes, un début qui me semblait prometteur, mais je n'arrivais pas à "conclure". A vouloir conserver certains endroits à cause des collages ou à cause de ces belles "planètes", le tableau n'arrivait pas à se développer comme il le voulait.
I started with collages with interesting marks that I tried to keep for a long time,but it wouldn't work. I then added shapes, circles like big round planets, a promising beginning at first, but I didn't seem to be able to make it work. Because I wanted so much to keep some parts (the collages or the "planets"), the painting couldn't develop the way it wanted.
J'ai alors décidé de les effacer. Grand coups de peinture blanche et noire opaque sur les boules et sur les collages. Et tout de suite quelque chose de fort s'est dégagé. Le tableau est alors venu très vite, comme si tout coulait de source, une fois qu'on le laisse s'exprimer.
I then decided to cover them with big strokes of opaque black and white paint. And immediately something powerful appeared. From then on, the painting developped very quickly as if everything was so obvious once you let them express themselves.
La seule contrainte que je me suis alors donnée, c'est de me cantonner à une palette de couleur réduite.
The only constraint I imposed myself, was to stick to a limited colour palette.
J'aime la force qui se dégage et le côté un peu dramatique.
I like the strength and the drama that come out of it.
La leçon à en tirer, c'est qu'il faut savoir renoncer à certains points qui nous semblent primordiaux pour pouvoir aller plus loin, dans une direction qu'on n'aurait peut-être jamais prise.
The lesson that we must draw from it, is that we must learn to let go some points that seem important in order to go further in a direction that we might not have taken otherwise.