Pas de nouveaux monoprints aujourd'hui, je vais vous montrer comment à partir des hasards de la Gelli-plate, je travaille la composition, l'équilibre des couleurs ... autrement dit comment je m'amuse:
Today I'm not going to show you new monoprints, I'm going to show you how starting with the Gelli-plate's happy surprises, I work on the composition and the balance of colours... in other words how I have fun.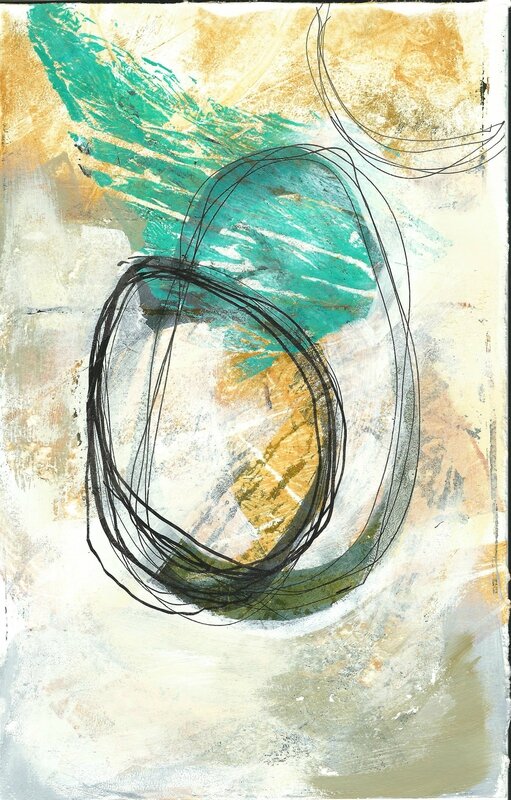 Pour commencer, celui-ci que je vous avais déjà montré il y a quelques temps (monoprint 10), mais je n'ai pas l'image du monotype brut, il est déjà retravaillé (les cercles d'encre noire, l'acrylique blanche)
This one is not really raw, I forgot to take a photo of it right at the beginning and I had already added some white acylic paint and the black circles in indian ink when I took the photo: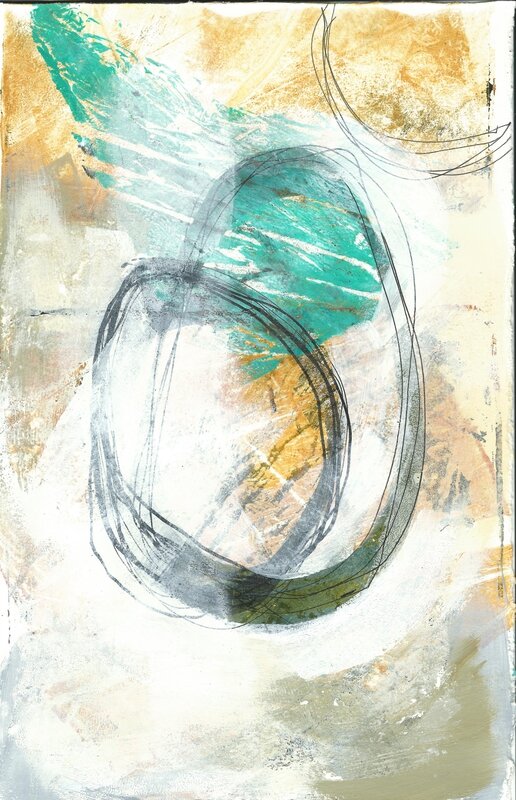 j'ai continué à jouer avec de la peinture en jouant sur les transparences / I added more acrylic paint playing on the transparencies
toujours pas satisfaite, j'ai ajouté ces gros cercles au feutre acrylique qui rappelaient la couleur turquoise déjà présente
still not satisfied, I added big fat circles with an acrylic pen of the same turquoise as the touches at the top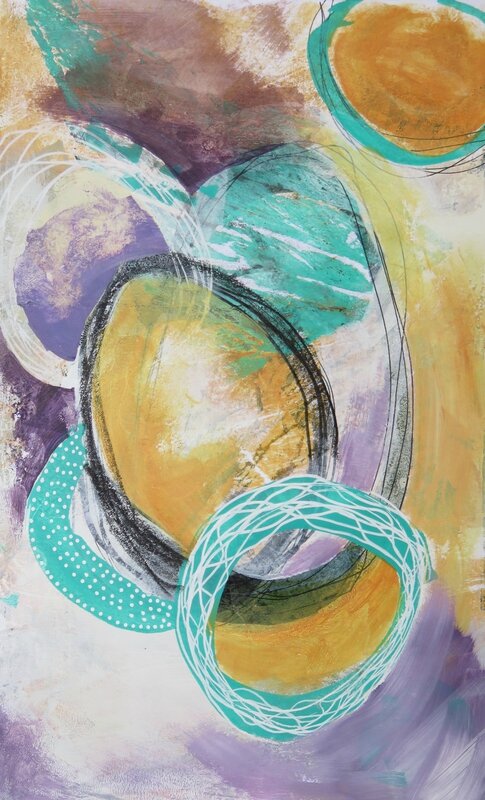 j'ai fini par rajouter de la peinture acrylique jaune (quinacridone gold and Jaune indien) pour réchauffer un peu le tout, et j'ai ajout un peu de mauve par endroit; marques au Poska blanc sur certains des gros cerces turquoise, ils sont plus vivants ainsi je trouve.
I ended up adding yellow acrylic paint (quinacridone gold and Indian yellow) to warm it up a little and I also added some purplish touches; white marks with a Poska pen on some of the fat circles, they look more lively this way I think.
Celui-ci aux contours un peu flous / In this one the overall pattern and shapes
... a pris de la force et de l'assurance avec des traits blancs.
... was strenghthen with the white lines and marks.
et pour finir ce beau coeur de la St Valentin / and finally this beautiful St Valentine's heart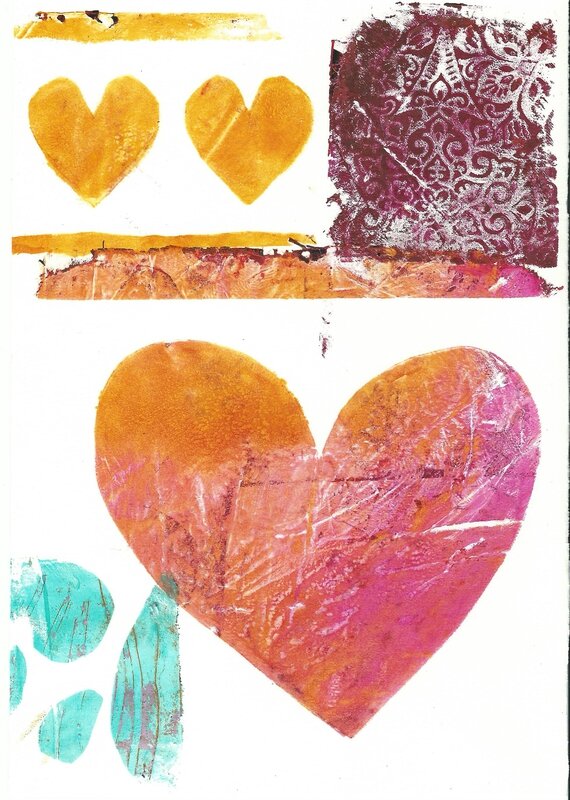 avec son blanc trop blanc / with its white too... white
... s'est légèrement teinté de vert, et je trouve que cela lui va mieux au teint. ;-)
I softened it a little with some light green, and it looks much better, don't you think?