Couleurs de saison pour les monoprints ! Ces trois monoprints m'ont tous donné du fil à retordre. Avec chacun, j'ai failli abandonner, et chez chacun il y a maintenant quelque chose que j'adore :
Season colours for the monoprints too! I had trouble with these three monoprints. Tough guys. With each, I almost gave up, and now, in each there's something I love:
N°148
Monoprint
Dans ce premier j'aime toutes les nuances de rouge chaud et ces boules blanches, j'aime les nuances de gris avec les touches chaudes ici et là.
In this first one I love the warm reds and the white dots; I love the grey hues with the warm touches here and there.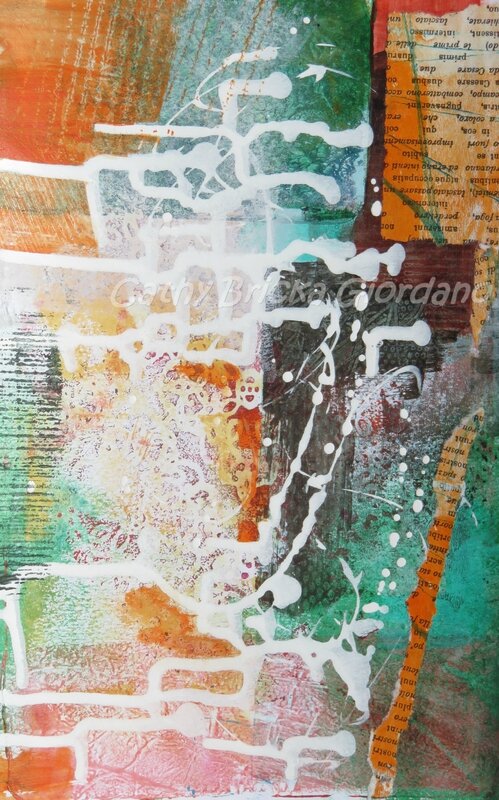 N°149
Monoprint et collages

Dans celui là, j'aime ces lignes blanches comme un réseau de tuyau ou un plan de métro ;-), j'aime les couleurs chaudes et particulièrement l'orange sur le turquoise. Ce n'est qu'après avoir rajouté quelques collages que le monoprint a commencé à chantonner...
In this one, I love the white lines; they're like a series of tubes or an underground map ;-) I love the warm colours and most particularly the orange on the turquoise. It's only when I added the collages that this monoprint started to sing to me.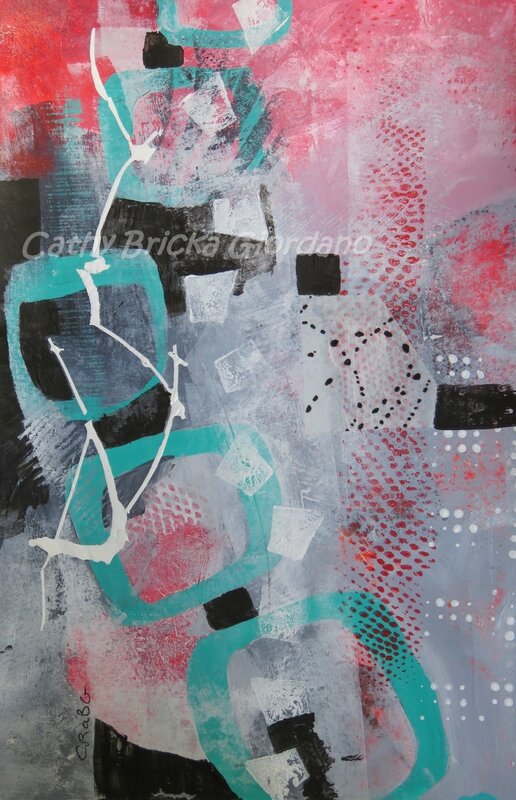 N°150
Monoprint et collages
Celui-ci m'a donné du mal avec ses couleurs, j'ai fini par accepter sa force et son énergie.
This one was the toughest, but I finally accepted its force and energy
Et comme à chaque fois, prenons un peu de recul pour imaginer ces monoprints dans un intérieur:
And, as usual now, let's step back a little to imagine these monoprints in an interior: