Quand la peinture a séché trop vite sur la Gelli plate, je passe une couche de peinture blanche et je fais une impression : cela soulève les pigments déposés et séchés. Les textures sont parfois étranges, très délicates, mais aussi très pâles.
When the paint has dried too quickly on the gelli plate, I just lay a layer of white paint and print that : it lifts the previous dried paint. The textures are often weird, very delicate and pale.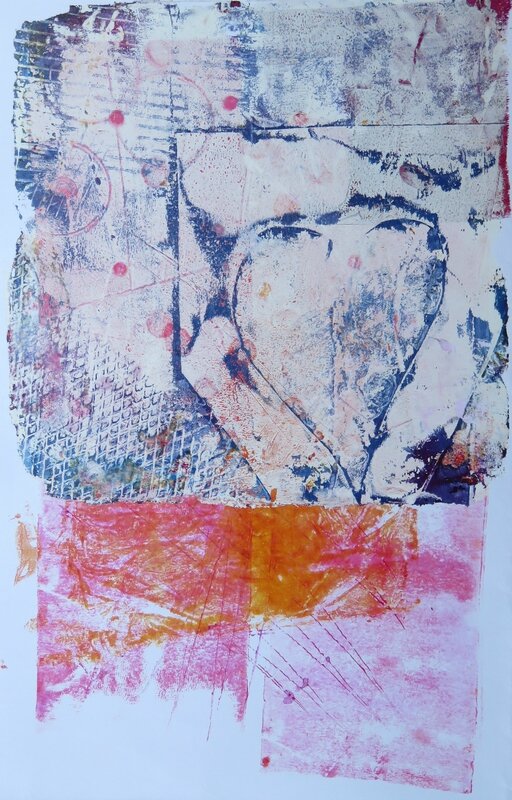 Dans cet exemple, j'ai imprimé sur une page où j'avais précédemment fait des marques roses et orangers (au rouleau) que l'on voit apparaître en bas, le reste des marques disparaissant sous le blanc opaque
In this example, I printed on a sheet where I had previously made some marks in pink and orange (with my brayer) that you can still see at the bottom, the rest disappears under the opaque white print.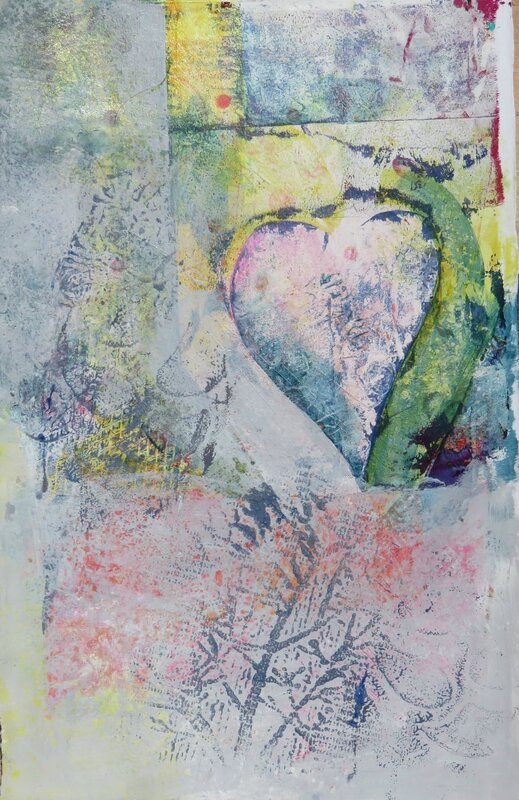 J'ai ensuite re-travaillé, mais ces couleurs très pâles m'ont un peu décontenancée
Then I worked on it but the colours unsettled me
pas très fan de ces verts et bleus très froids, j'ai voulu réchauffer le tout. Et là, ça a commencé à me plaire
I wasn't a big fan of the cold hue so I wanted to warm the whole thing up a bit. And that's when I started to like where it was going.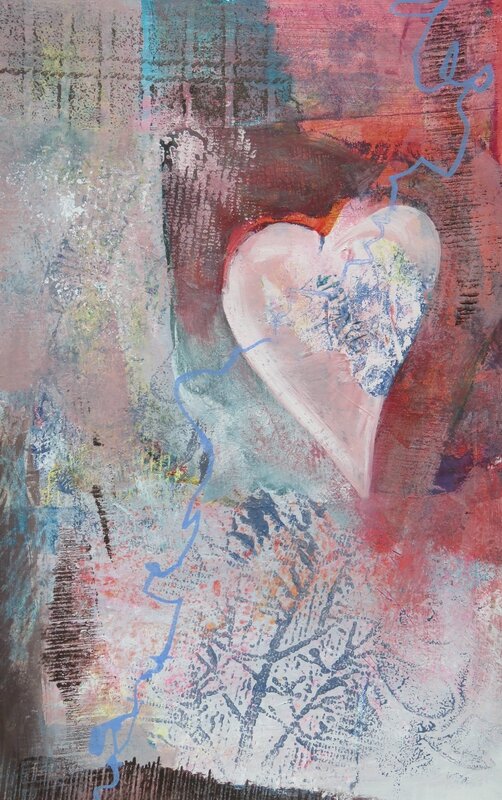 N°158
Quand on a fait une impression, on peut parfois aussi reposer une 2e feuille sur la plaque et faire ce quon appelle un "ghost print", une impression fantôme, avec les restes de pigments.
When you do a print, you can also lay a second sheet on the plate and do a ghost print with the left-over pigments.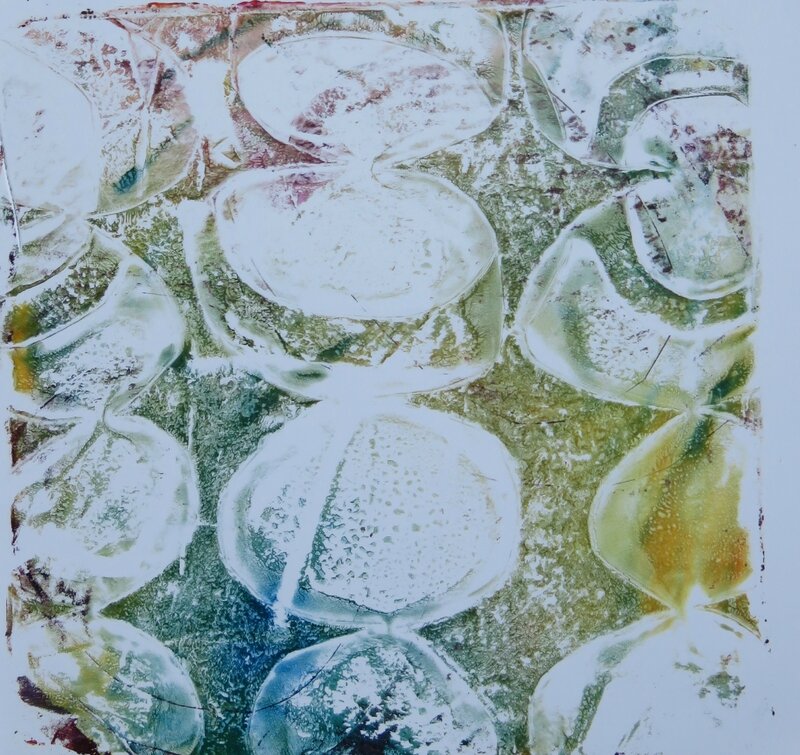 C'est une impression toute en délicatesse
it's very delicate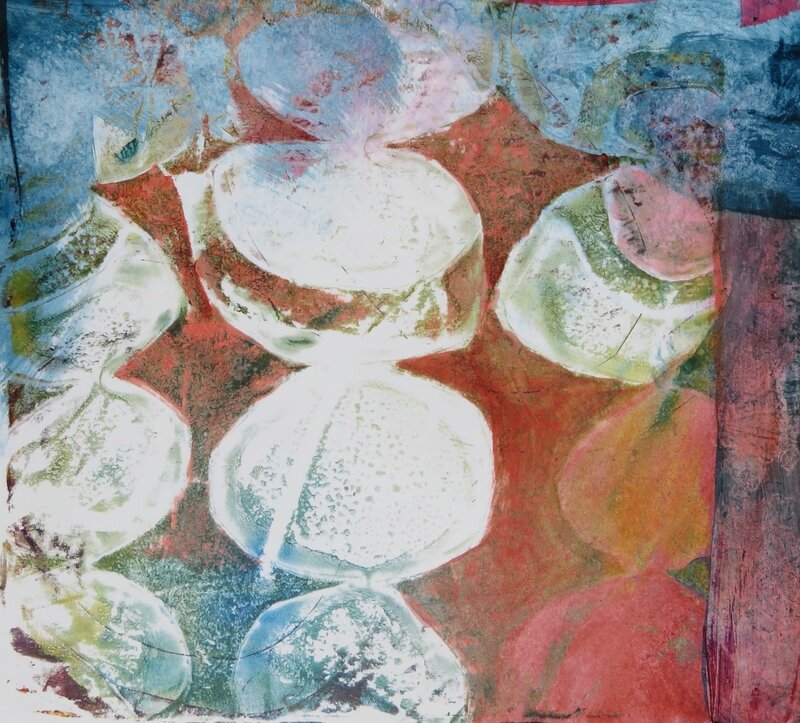 j'ai d'abord essayé de la re-travailler en utilisant uniquement des couleurs transparentes pensant laisser apparaître les textures, mais j'ai noyé la texture du fond
I first tried to work using only transparent colours to leav the nice textures apparent, but I wasn't happy with the way it came out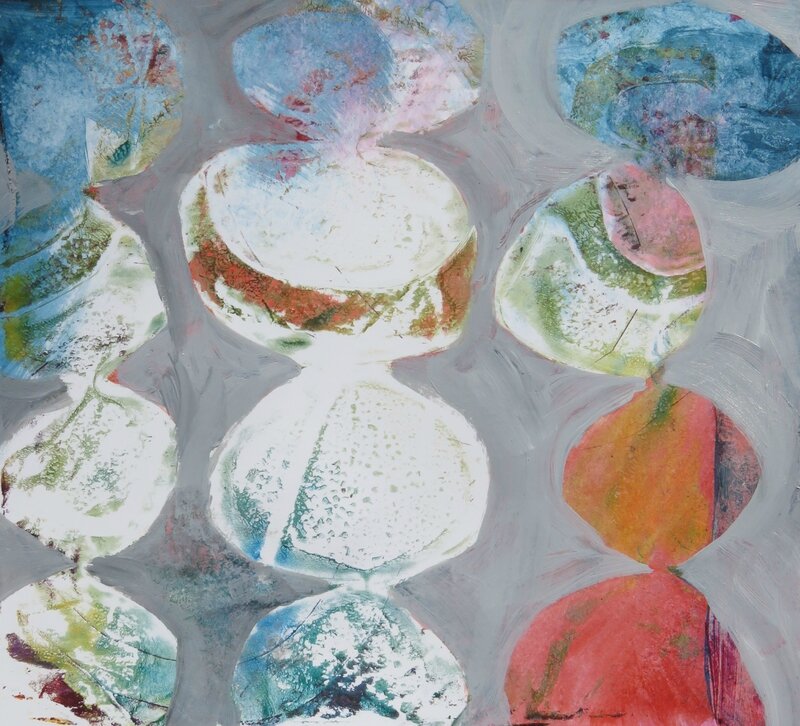 alors finalement, j'ai décidé de passer un gris opaque en fond, ce qui met en valeur la texture préservée des formes
so finally, I decided to lay an opaque grey on the background, which helps highlighting the texture of the shapes
N°159
les fines lignes et les tâches blanches ajoutent un peu de légèreté et de gaiété
the fine white lines and the whites dots add some joy and lightness.