C'est drôle comment on peut galérer avec un tableau, chercher une harmonie de couleur ou une composition qui ne vient pas, et puis un jour, souvent en désespoir de cause parce qu'on n'a rien à perdre, on tente quelque chose, on ajoute UN petit élément, on change une couleur et paf ! le tableau est né. Je ne me lasse pas de ces petits miracles. Voici l'évolution laborieuse de ce monoprint - le dénouement est heureux, je vous rassure :
It's funny how I sometimes struggle with a painting, I try to find some harmony with the colours or the composition, and then one day, often in a desperate attempt because I've got nothing to lose, I add ONE element, I change one colour, and bingo! the painting is born. I love these small miracles.
Here's the evolution of a monoprint - with a happy ending: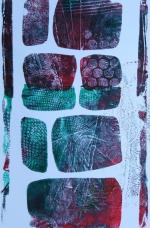 étape 1, le monoprint pur. Formes et textures intéressantes, mais l'ensemble est trop sombre et surtout trop froid
step 1, the pure monoprint. Interesting shapes and textures, but the whole is much too dark and cold to my taste.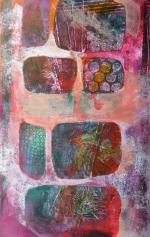 étape 2, j'essaie de réchauffer le tout en gardant les textures autant que possible; j'enlève les deux formes du milieu
step 2, I try to warm it up trying to keep the textures; I remove two of the shapes in the middle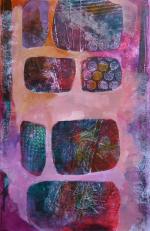 étape 3, je continue de travailler sur les couleurs, mais rien ne vient, je n'ose pas passer sur les formes de peur de perdre leurs textures
step 3, I keep working on the textures, but it just doesn't work. I don't dare to paint over the shapes, too scared to lose the textures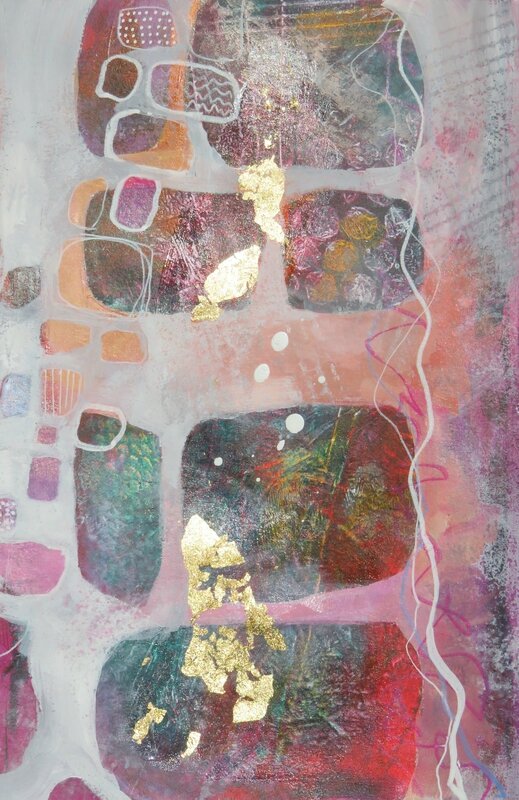 N°161
Monoprint retravaillé et feuille d'or / Monoprint, mixed media and gold leaf
étape 4 : j'ai ajouté du blanc, j'ai enfin osé passer sur certaines des formes, et du coup elles sont plus intégrées (le tableau commence à frémir). Ajout d'autres formes plus petites sur la gauche pour lier la composition (il palpite); ajout de feuille d'or, de tâches blanches et de fin traits de différentes couleurs (il frétille de joie - et moi aussi) .
step 4: I added white, finally daring to paint over the shapes, and now they feel integrated (the painting is stirring). I added other smaller shapes on the left to link the composition (it's vibrating); I added gold leaf, white dots and thin lines with different colours (and now it's dancing with joy - and so am I).
Prenons du recul / Let's step back