En janvier (comme en septembre d'ailleurs) on a comme une envie de repartir sur de bonnes bases, envie de faire du vide, propre, pour les jours nouveaux à venir.
In January (and in september too) I have a deep need to tidy up in order to start the year on a clean white slate.
Voici donc un peu de dépoussiérage et de rangement sur ce blog.
So I've been doing some tidying up on this blog.
J'ai ré-organisé tous mes albums-carnets de voyages, je les ai renommés aussi pour plus de clarté. Vous trouverez donc à droite les albums maintenant appelés par le nom du pays ou de la région concernées, avec l'année à titre indicatif.
I've re-organised all my travel sketchbook albums, I've renamed them too. On the right, you will now find them under the country they refer too.
Ils concernent ces pays où j'ai habité et que j'ai pu visiter tout à loisir :
They concern all the countries where I've lived and that I had ample time to visit:
Afrique du Sud de 1 à 5 (cliquez sur les vignettes pour y avoir accès)
/ South Africa 1 to 5 (click on thumbnails to view them)
France de 1 à 3 / France from 1 to 3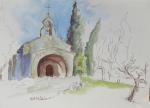 France n°1
(sur le sud de la France, classé par villes ou villages /
on the south of France, sorted by names of towns or villages)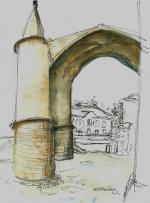 France n°2
(sur Montpellier, classé par nom de places ou rues /
on Montpellier, sorted by names of squares or streets)

France n°3
(sur les autres régions de France, classé par numéro de département /
on other regions, sorted by the number of 'département')
Notre nouveau pays d'adoption / our new country of adoption
Les autres carnets sur des pays qui m'ont marquée
/ other sketchbooks on countries that had a big impact (Zanzibar)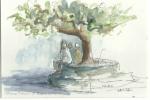 et où j'ai eu le temps de faire beaucoup de croquis
/ and-or where I had time to sketch (Maroc)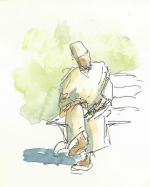 Dans les nouveautés, j'ai créé 3 albums "Autour du Monde" chacun classé par pays
I have created three new albums entitled "Around the World" each sorted by countries

Autour du monde /Around the world 1
qui rassemble les croquis dessinés au long de mes voyages-vacances (croquis dessinés sur place).
For the sketches I made during my travels/holidays (sketches made on the spot)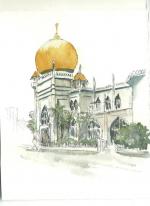 Autour du Monde / Around the World 2
pour tous les voyages que j'ai fait avant de savoir croquer; je reprends de temps en temps mes vieux albums photos et carnets de voyage écrits, et je croque telle ou telle photo.
for all the travels I did before knowing how to sketch; I sometimes browse through my old written travelbooks and photo albums, and I sketch this or that photo.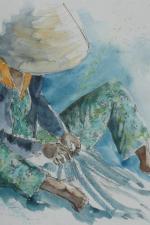 Autour du Monde / Around the World 3
pour tous ces voyages que j'aimerais faire, ces pays où je rêve d'aller, ces photos dont je ne suis pas l'auteur et qui m'ont fait de l'oeil.
for all those travels I would like to do, these countries that have me draming, these photos I haven't taken and which speak to me.
Bon voyage ;-)
Have a nice trip ;-)