Nous avons emménagé dans un nouvel appartement depuis mi janvier, et dans un nouveau quartier. Coup de chance pour moi, nous sommes juste à côté du Musée d'Art Contemporain de ROme : le MACRO.
We've just moved into a new flat and in a new district of Rome. As luck would have it, we are now opposite the Museum of Contemporary art : the MACRO
J'y passe devant 4 fois par jour, et enfin, enfin, j'y suis allée l'autre jour le visiter. Le bâtiment est super: il est installé dans les anciennes écuries de la brasserie Peroni (célèbre marque de bière).
I walk past it four times a day, and at long last I visited it the other day. The building is very special; it is set in the old Peroni brewery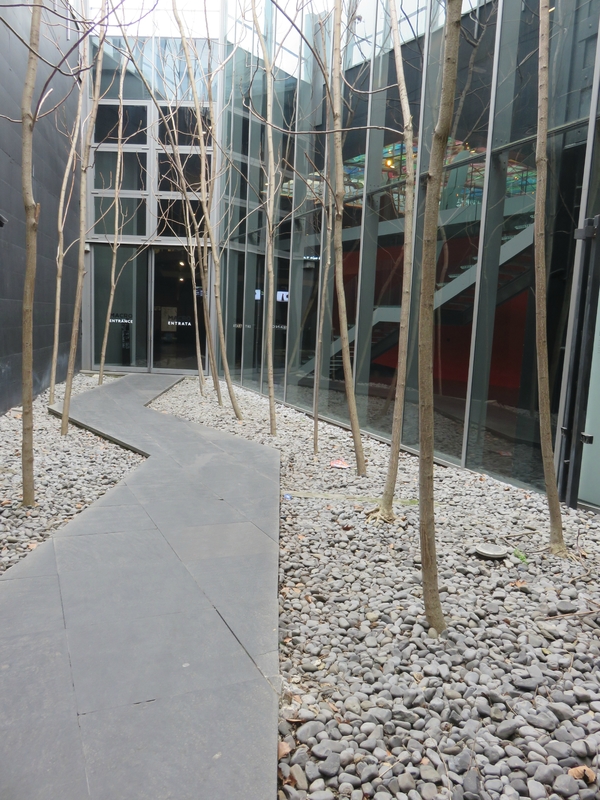 L'architecture mêle l'ancien et le moderne.
the architecture successfully mixes old and modern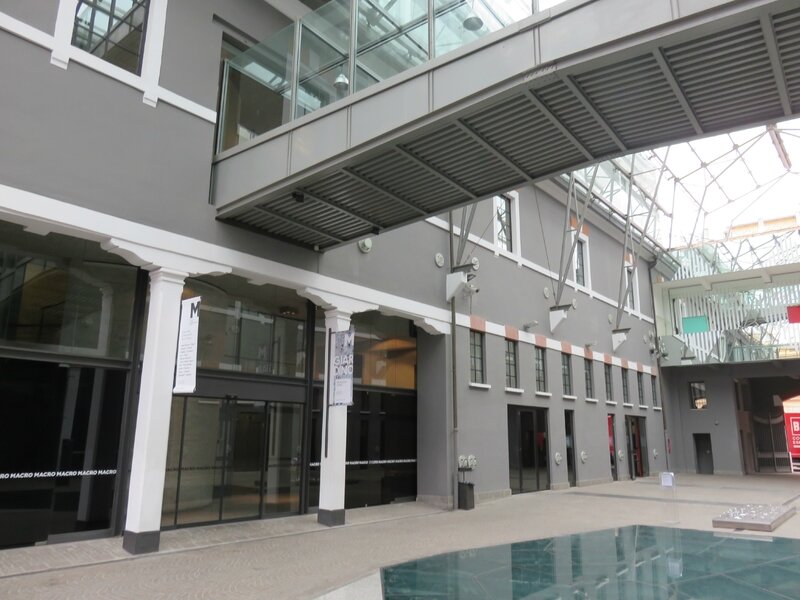 c'est une architecte française qui a réalisé cette belle reconversion : Odile Decq
The architect who made it is French : Odile Decq
j'ai beaucoup aimé la super verrière, on a l'impression que l'art est partout
I loved the glass roof, you kind of feel art is everywhere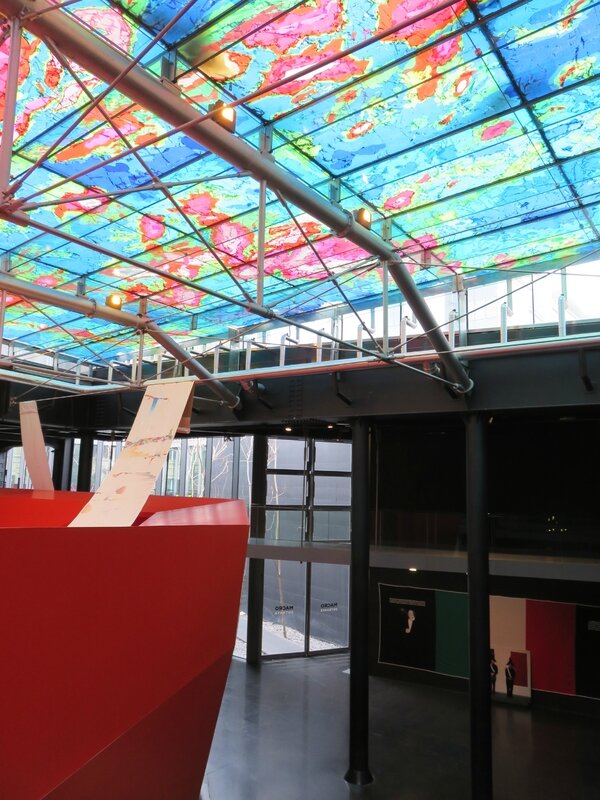 un seul reproche : pas de plan, de flêche ou d'indication ni des salles à voir, ni des artistes exposés, on se promène au hasard (avec toujours un peu la question : n'ai-je pas raté une salle?)
There's just one thing I didn't quite like : there's no map of the museum, no indication of the rooms to be seen, the number of artists, so you just wander around with the unsettling feeling you might have missed something vital.
Nous avons fait de très belles découvertes. Je vous propose de découvrir petit à petit ces artistes en majorité de nationalité italienne, mais pas que.
We've dicovered plenty of amazing artists. I'm going to present them to you little by little. They are mainly Italian, but there are also other nationalities.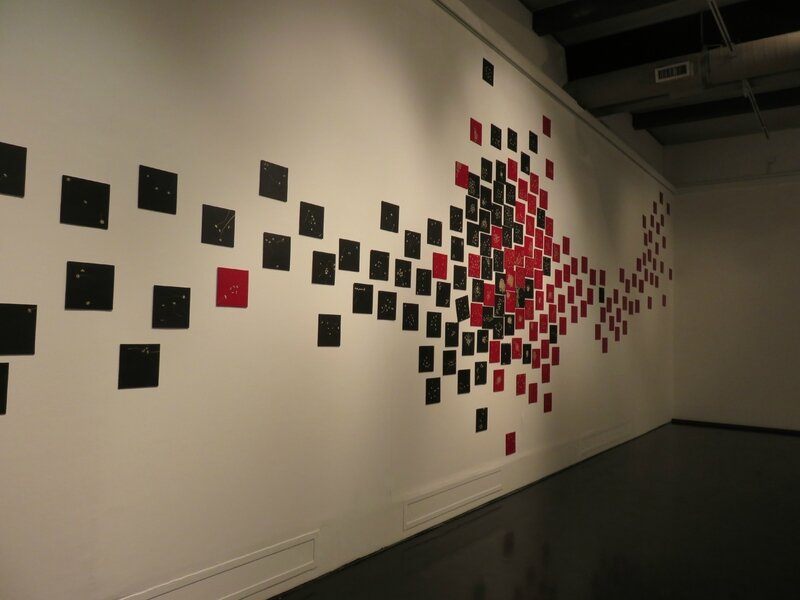 Commençons par Daniela Perego (artiste italienne). L'expo 'Arrivederci' dans une grande salle blanche. D'un côté une installation de carrés rouges et noirs qui semblent s'envoler et se rejoindre.
Let's start with Daniela Perego, an Italian artist. The exhibition entitled 'Arrivederci' is set in a huge white room. On one side, black and red squares drifting in the wind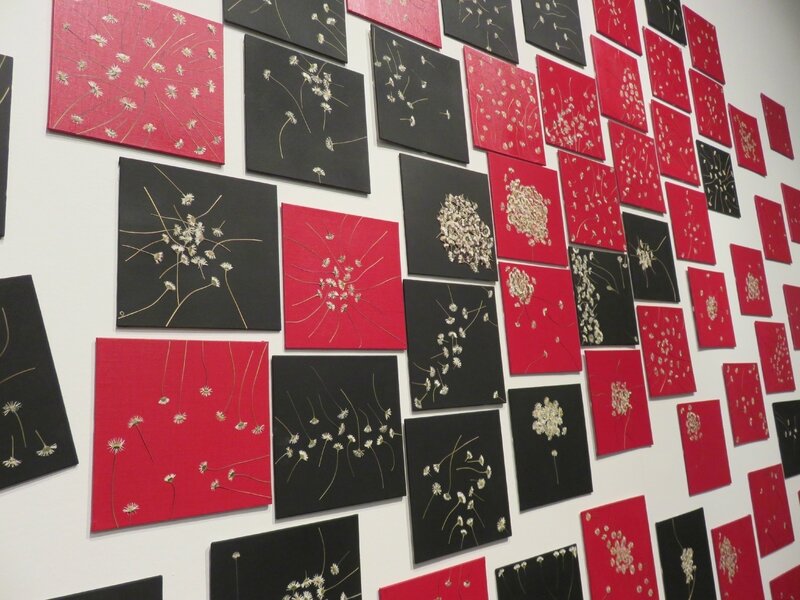 sur chaque carré, des paquerettes collées ou peintes
on each square daisies are stuck or painted
les paquerettes semblent elles aussi être emportées ou rassemblées de façon aléatoire par le vent
the daisies also seem to be drifting in the wind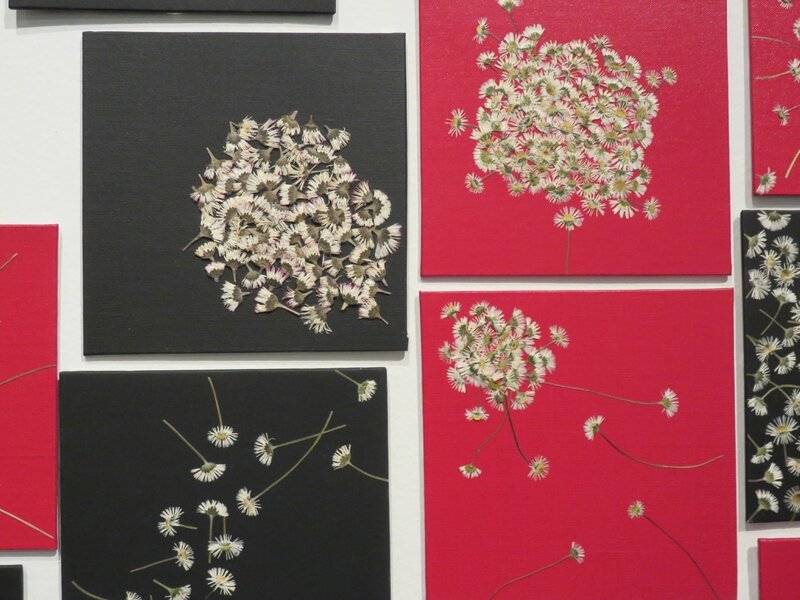 Sur le mur d'en face, un autre envol
On the opposite wall, big white daisies are also floating n the wind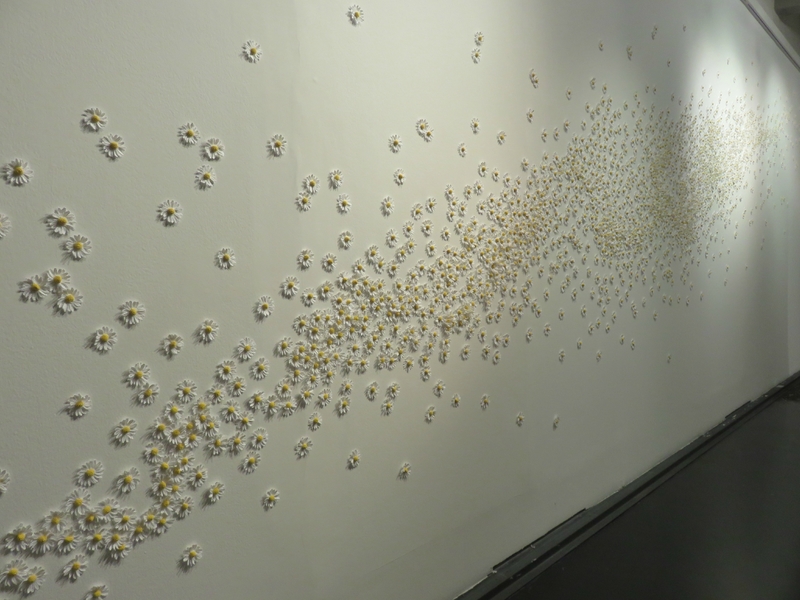 cette fois-ci ce sont des marguerites blanches collées à même le mur
this time the daisies are directly stuck on the wall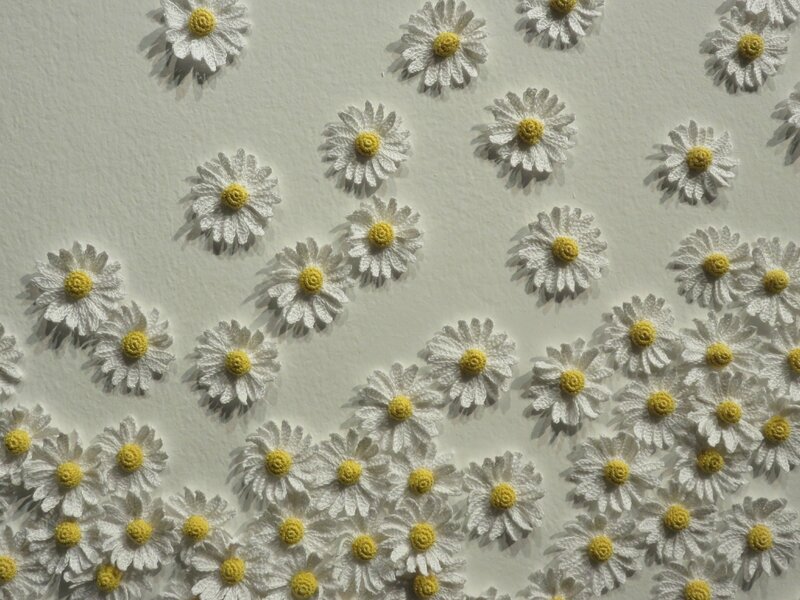 ce sont des marguerites en tissus (au crochet?)
they seem to be crocheted
Beaucoup de poésie pour cette première rencontre dans le musée MACRO. C'est léger, gai. Pas d'art obscur à la signification tordue. Un bol d'air frais.
We really loved this first exhibition in the MACRO museum. It's light, it's happy. No puzzling mind-twisting art. A breath of fresh air.