Vous savez tous combien j'adore faire des monoprints. Quelques rares pièces sont bien telles quelles, j'en retravaille d'autres, mais une grand partie s'entasse dans les tiroirs en attendant l'inspiration. Une petite partie me semble ratée, mais généralement je ne perds pas espoir. Que faire quand on a des monoprints ratés mais avec malgré tout des parties intéressantes? On coupe! Ces morceaux préservés peuvent finir en collage, mais parfois aussi ils finissent en marque page et entreprennent ainsi une reconversion en beauté.
You know how much I love the monoprinting technique. Some are just perfect as they are, I have to work on some others, but the rest just piles up in drawers waiting for inspiration. A few of them look really hopeless, but generally I try not to give up on any. What to do with the hopeless monoprints that still have some interesting parts? Well you just cut them! The parts that you like can then make perfect collage pieces, or sometimes also, they end up as bookmarks and enthusiastically start a new career.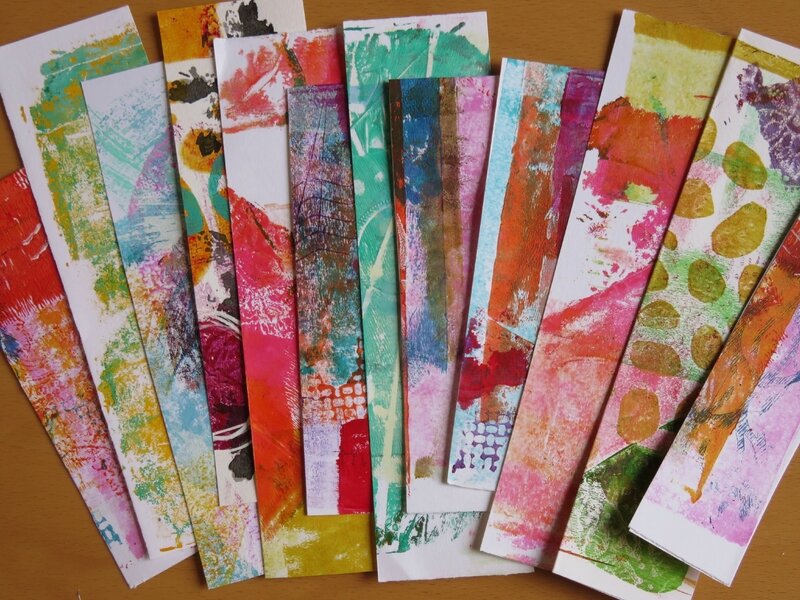 Voici des bouts de papiers repérés parmi les "ratés". Une belle moisson de couleur
Here are cuts from the hopeless bunch. Nice colours, don't you think?
Il m'arrive de les retravailler un peu comme par exemple là:
I sometimes work on them a little :
mais j'essaie de ne pas y passer trop de temps
trying not to spend too long
Le but étant juste de rajouter quelques touches pour ré-équilibrer la composition verticale
the aim being only to add a few touches here and there to balance the vertical composition
Cela me détend, et je m'amuse sans crainte de rater quoique ce soit, ils n'ont plus rien à perdre !
It's very relaxing, and I have fun without fearing to mess up anything - they've got nothing to lose!
Ce n'est d'ailleurs pas toujours réussi, mais je m'en fiche
it's not always nice, but ask me if I'm bothered!


c'est juste un autre terrain d'expérimentation
it's just another way of experimenting
Je les garde tels quels ou je les offre en rajoutant un petit mot derrière comme "Lire c'est rêver les yeux ouverts" ou autre jolie phrase autour du thème de la lecture.
I keep them as they are, or I give them away to family and friends something scribbled at the back such as "Reading is Dreaming with Open Eyes" or similar nice quotes on reading and books.