Pour les collages, on peut partir d'un feuille de papier blanc (clic clic ici), mais la feuille blanche peut bloquer certains, alors pourquoi ne pas essayer en partant d'un fond coloré? Il est bien évident que le choix d'un fond coloré va automatiquement influencer le choix des morceaux choisis pour le collage. Partir d'un fond coloré, c'est déjà donner le ton. Gardez à l'eprit que plus le fond est neutre et plus il sera facile d'assembler des pièces.
When you do collages, you can start with a white background (click here), but some might find the white challenging so why not try to start with a coloured background? Obviously that choice will influence the pieces you are going to use for the collage. Starting with a colourful background already orientates your work. Keep in mind the more neutral the background, the easier it will be to put pieces together.
Ceci étant dit, j'ai voulu tenter l'inverse. J'avais deux fonds carrés recouverts de bleus et de verts, assez durs et crus (un vieil essai) dont je ne savais pas quoi faire. Les couleurs étant horribles, j'ai décidé de les utiliser comme fond pour un collage, pour cela, j'ai dû d'abord adoucir un peu en recouvrant d'une couche de gris pour essayer de neutraliser tout ça. J'ai pu alors commencer mes collages.
That being said, I tried to do the opposite. I had that square background covered in harsh blues and greens (something I tried ages ago) and I had no idea what t do with it, and the mix of colours was horrendous so I decided to try some collage on it. So my first step was to soften the colours by adding a greyish layer to try and neutralize the whole thing. Only then did I start my collage.

Premier fond, premier collage :
First background, first collage: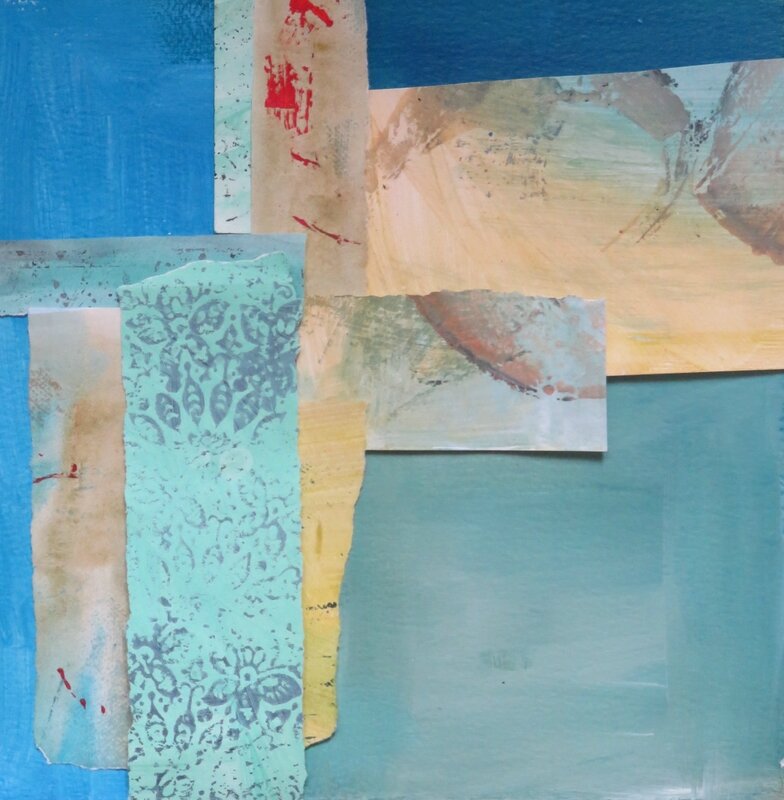 le choix des pièces et de la composition étant venu assez vite, mon travail a surtout consisté à intégrer le tout à ce fond (trop) bleu.
The choice of the pieces and the layout came rather quickly, so my job mainly consisted in integrating the whole thing to the background.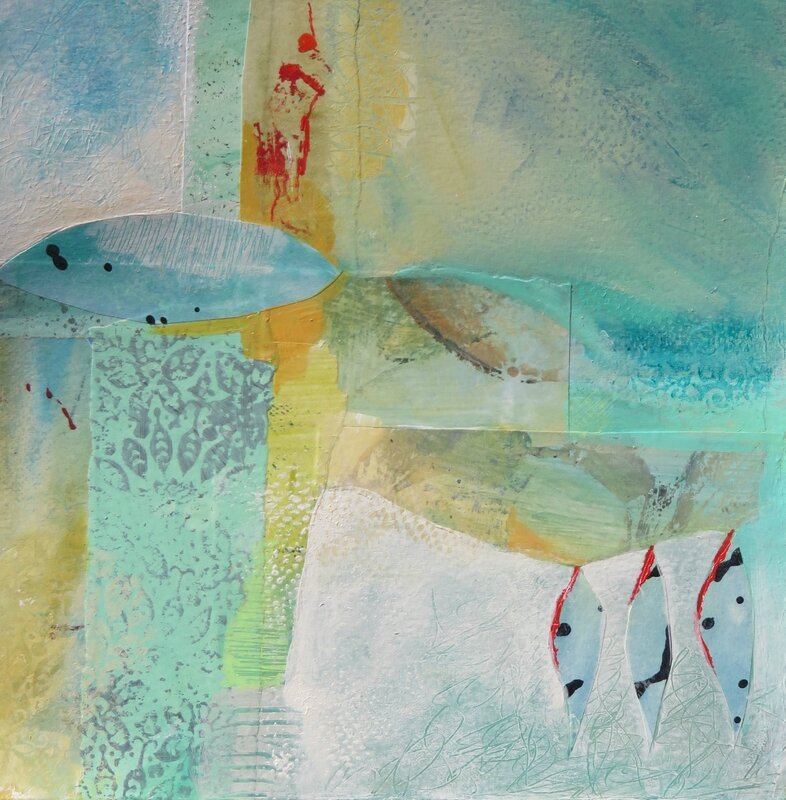 N°2
Intégrer, adoucir, neutraliser : voici les mots clefs de ce jour là. Et finalement, ça a marché.
Integrating, softening, neutralizing: here were the key words for that day. And well, I must admit, it worked.
Le deuxième a été plus difficile
The second was a little tougher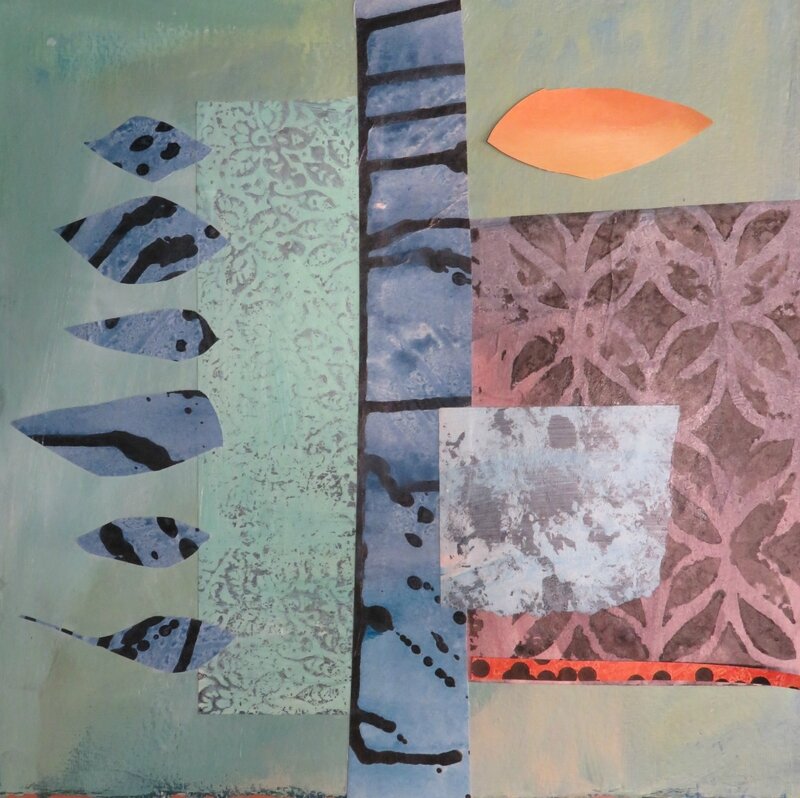 Vous remarquerez à nouveau la couleur gris neutre passée sur les verts et les bleus durs du départ
Again you'll notice the grey background wash on the harsh blues and greens that were there.
Le collage était bien parti et semblait prometteur
The collage started out fine and looked promising.
MAIS / BUT
Je n'avais pas remarqué ce morceau vertical qui séparait l'oeuvre en plein milieu. Notez bien cette règle d'or : pour la compo, le milieu, faut éviter. Genre absolument. Et là j'ai commencé une longue bataille (avec moi même) parce que j'aimais bien le morceau (couleurs et marques noires) mais elle était toujours trop forte (et toujours en plein milieu)
I had not noticed that unlucky dark piece spearating the work right in the middle. Read my lips: right in the middle is no go. So then I struggled because I liked the piece (colour and black marks) but it was always too strong, and always right in the middle.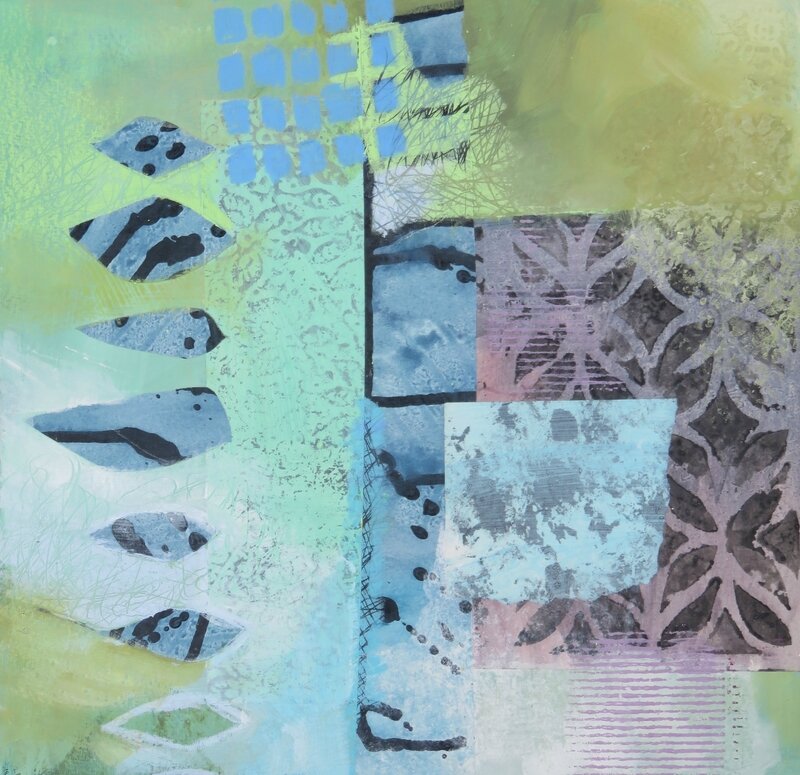 d'abord c'est devenu trop chargé (et toujours cette séparation au milieu)
first it got way too busy (and the separation in the middle was still there)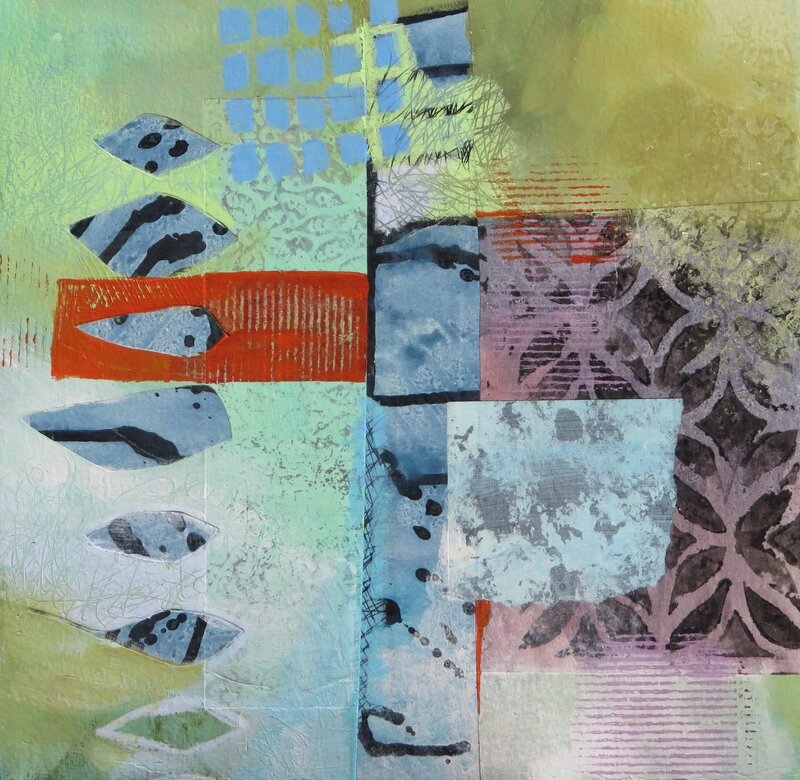 Puis j'ai décidé d'ajouter une ligne orange forte horizontale. Non, toujours pas bon. Et là, c'est généralement à ce stade que je deviens méchante: ça marche pas? eh bien je change tout. Oublié la séparation du milieu, fini la ligne orange, laissez tomber les gribouillis et autres petits dessins. On le tourne dans un autre sens. Et voilà :
then I decided to add some orange horizontal strong mark. Nope. Ddn't work either. That's usually when I get nasty. It doesn't work? Well, I just change everything. Forget the middle separation, forget the orange stripe, forget all the doodling. Turn it around. And there you go :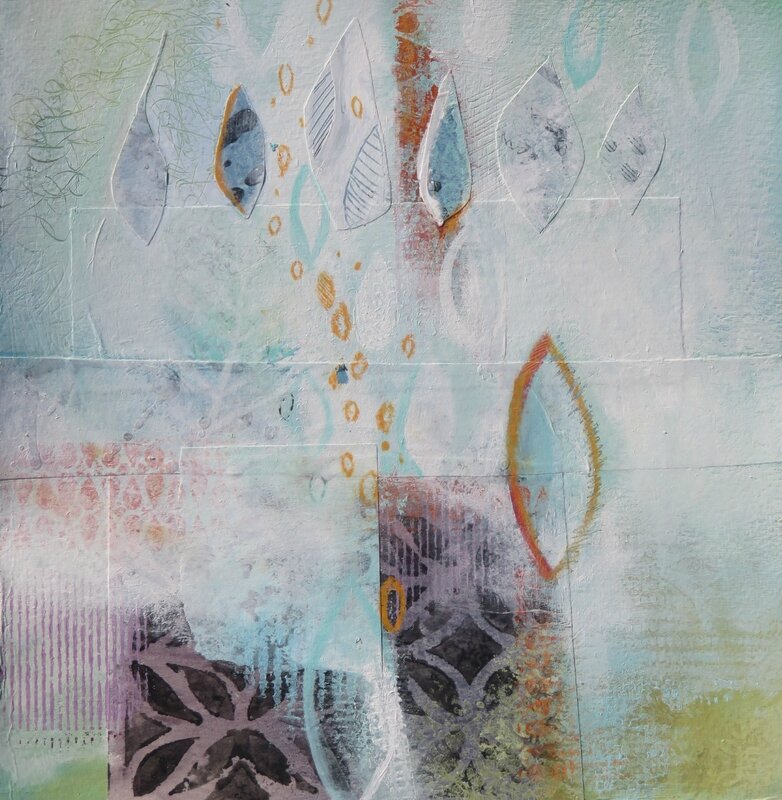 N°3
Et j'aime mieux. And I like it better.