Cela fait plusieurs fois que je vous parle des avantages des collages : l'immédiateté du résultat, la souplesse qui permet de bouger les formes à l'infini jusqu'à ce qu'on soit satisfait d'une composition. Mais je n'arrive pas à laisser un collage tel quel car ce qui me gêne toujours dans les collages, c'est que ce n'est pas de la peinture, et même si je les ai créés moi-même, je ne les sens pas faisant partie de moi ou moi d'eux. J'ai besoin d'intégrer les morceaux assemblés, d'y mettre ma touche en quelque sorte pour qu'ils viennent véritablement de moi.
I've been talking quite a lot about the advantages of collages: The immediate result, and the easy way you can move the pieces around indefinitely until you are satisfied with a composition. However, I can never leave a collage as is because what bothers me with collages, is that it's not painting, and even if I made them myself, I don't feel part of them, or them part of me. I need to integrate the pieces glued together, in order to make the whole piece "mine"
J'ai fait ces 3 collages en 2017 et je les avais montrés bruts; voici comment je les ai retravaillés :
I made these collages in 2017 and showed them "raw" at the time. Here's how I worked on them: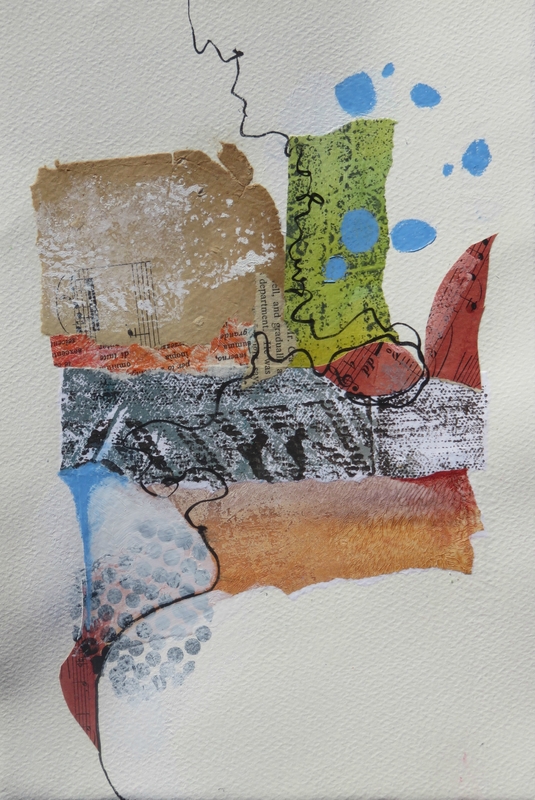 N°50
Je suis contente de son côté un peu fou-fou; et je suis contente aussi d'avoir réussi à garder du blanc, c'était mon challenge. Il est difficile d'intégrer sans couvrir le pourtour blanc. Mais je réalise qu'on peut aussi intégrer une forme, simplement en rajoutant par dessus des motfs, ou une ligne.
It looks kind of wild, and I like it. I'm glad I managed to keep the white all around, that was a challenging. It is difficult to integrate without covering the whole thing with a layer of paint; I've realised that I could aso integrate the shapes simply by adding a pattern or a line over them.

N°51
Les changement sont plus subtils; j'ai retravaillé les couleurs des différentes bandes, fondu les deux plus basses, et rajouté ces motifs à cheval sur les trois bandes.
The changes are more subtle; I worked the colours of the different stripes, merged the bottom ones, and added a pattern over three stripes.
le 3e m'a causé plus de problème pour intégrer ses formes. J'ai failli trop le charger, mais en floutant certaines parties, je suis revenue au calme qui me plaisait au départ.
The third one was a little tougher. I almost made it too busy by overworking it, but then I blurred some parts and managed to get some peace back.

N°52
J'aime beaucoup ces flous qui donnent du mystère et de la douceur, et les quelques accents colorés qui donnent de l'énergie.
I like the blurry parts that give some mystery and softness, and the colourful accents that give some energy.
Prenons un peu du recul avec des encadrements virtuels:
Let's step back by virtually framing them:

encadrement carré / square frame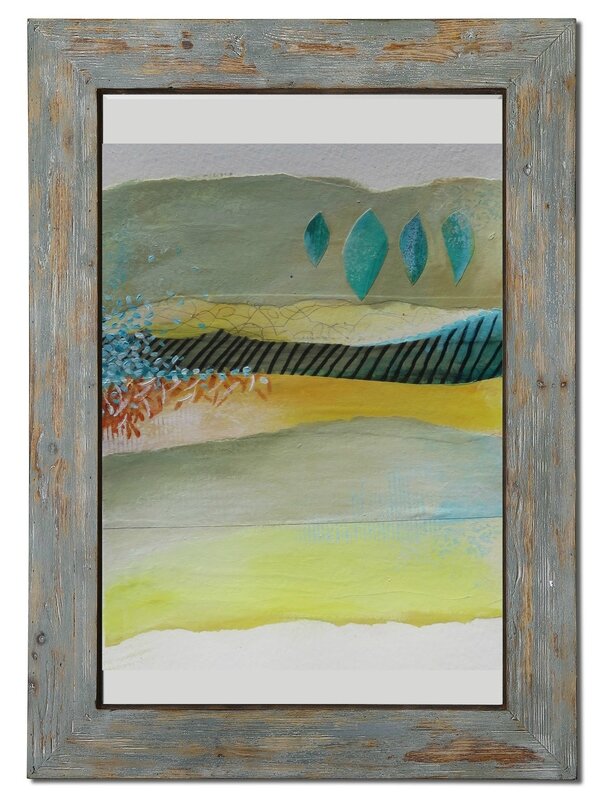 mais je l'aime encore davantage avec le format rectangle, en laissant du blanc en haut et en bas. Comme si les strates se perpétuaient à l'infini:
I like it better in a rectangle because it leaves white at the top and bottom. As if the stripes went on and on.
encadrement plus classique / classic white frame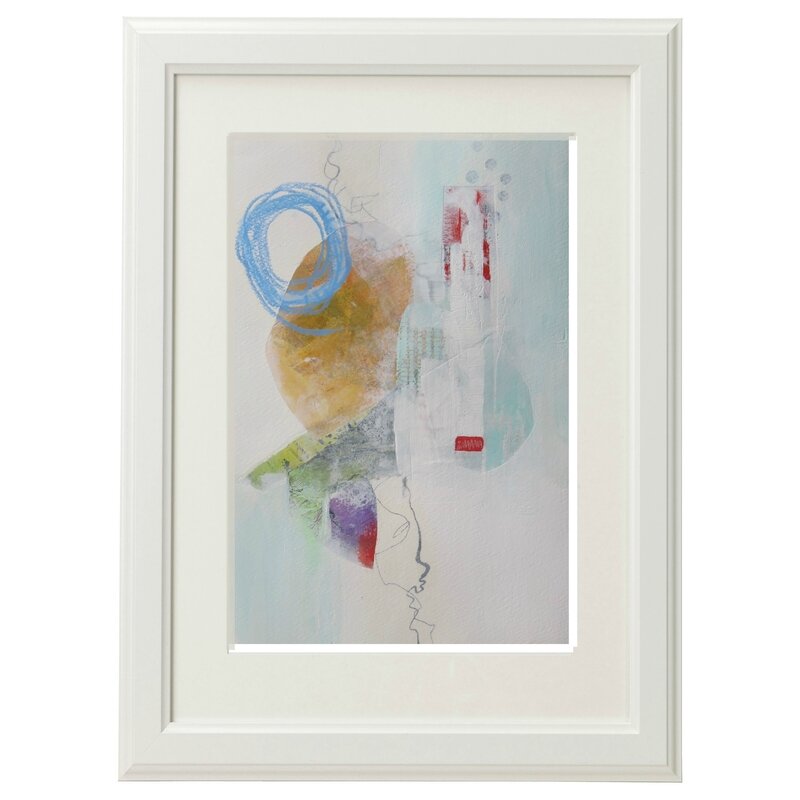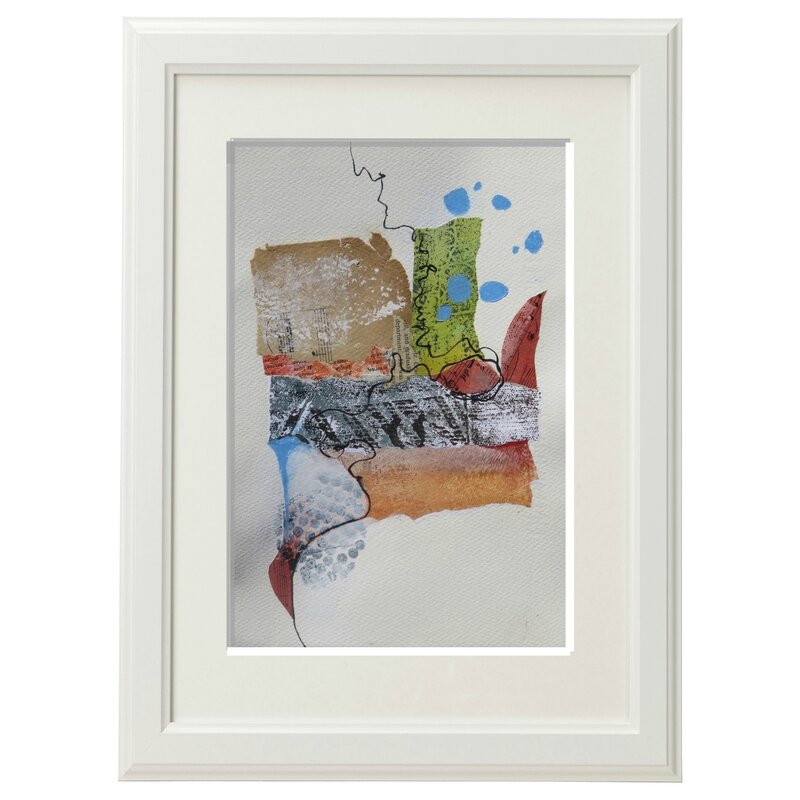 pour moi ce type d'encadrement est trop classique pour ce collage là / I find that classic frame doesn't suit this collage very well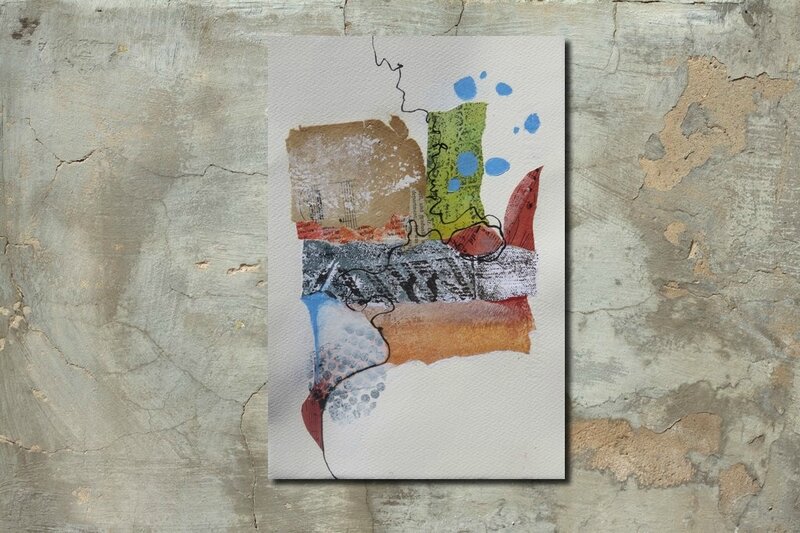 Je le verrais mieux simplement marouflé sur un panneau de bois
I'd prefer it simply glued on a wooden pannel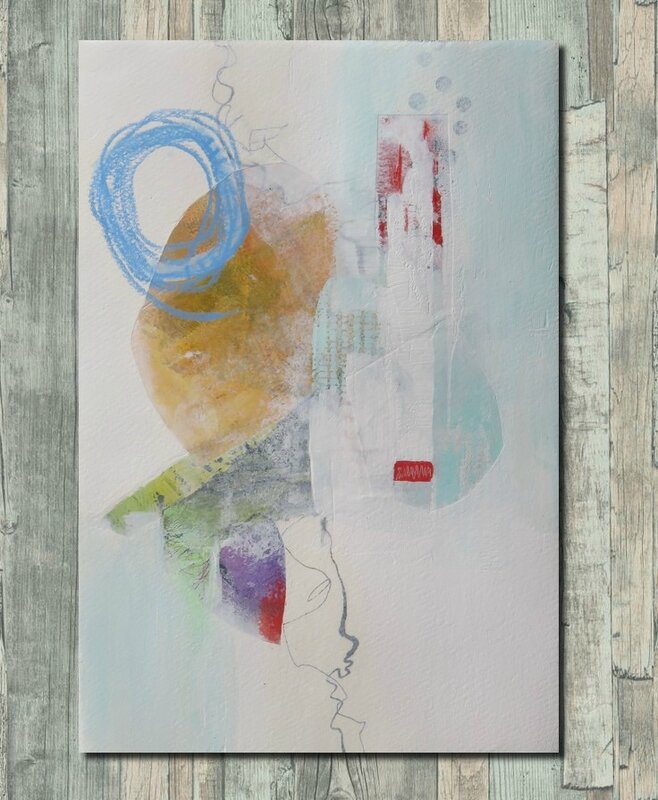 et celui-là aussi peut-être
and this one as well maybe.