14 février 2018
La Saint Valentin fête de l'Amour, beau prétexte pour s'amuser avec des coeurs
Valentine's Day is a lovely pretext to have fun with hearts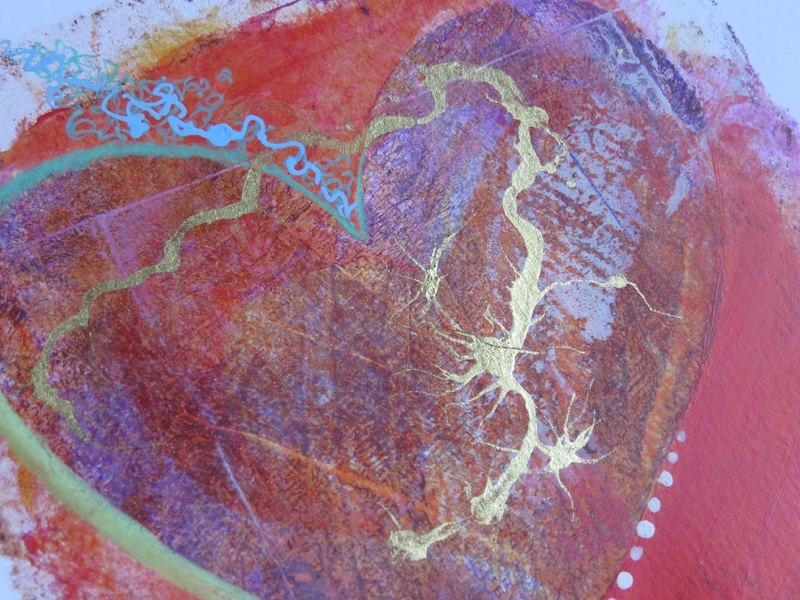 N°33
N°34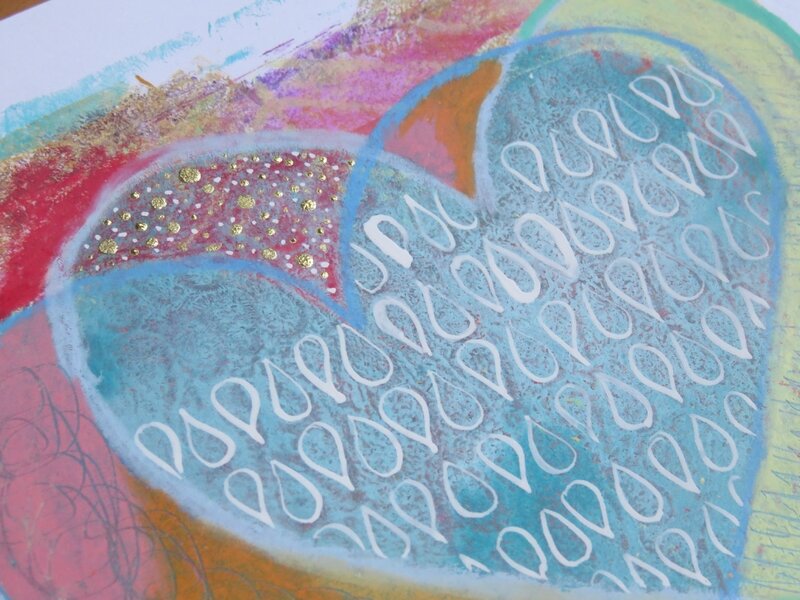 N°35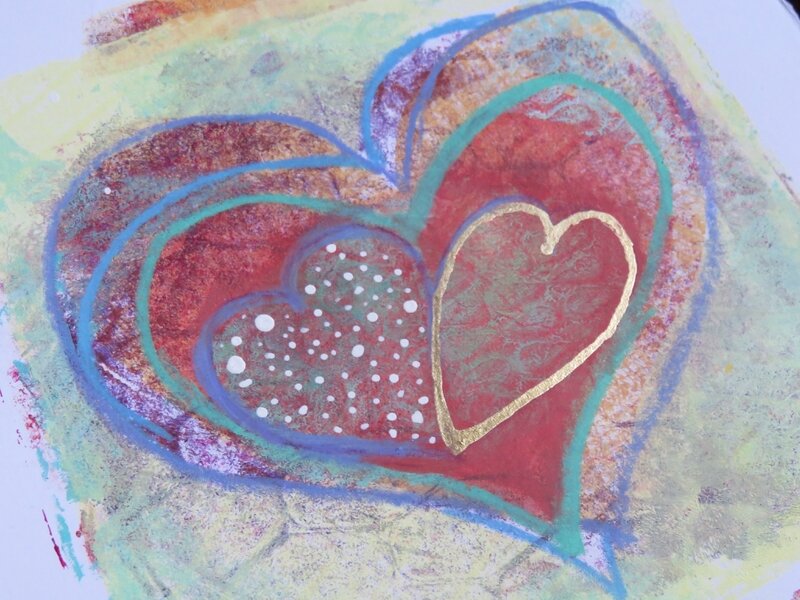 N°36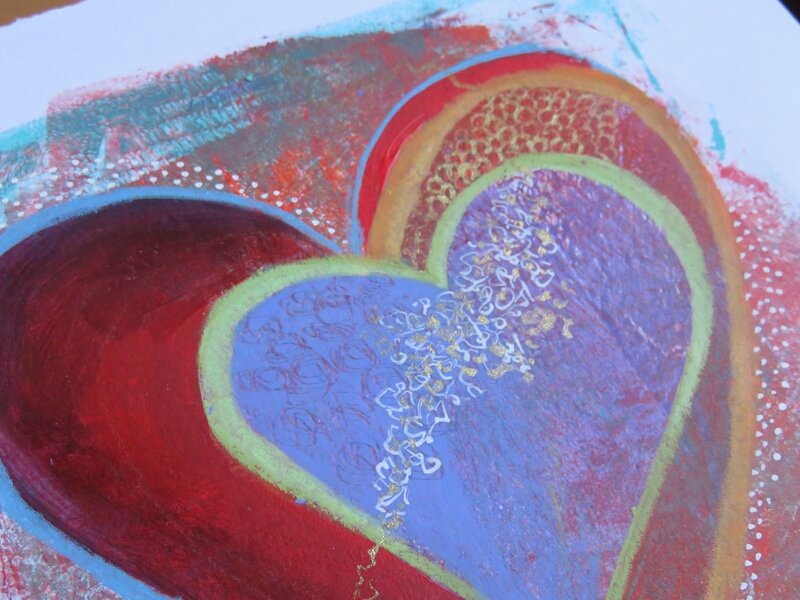 N°37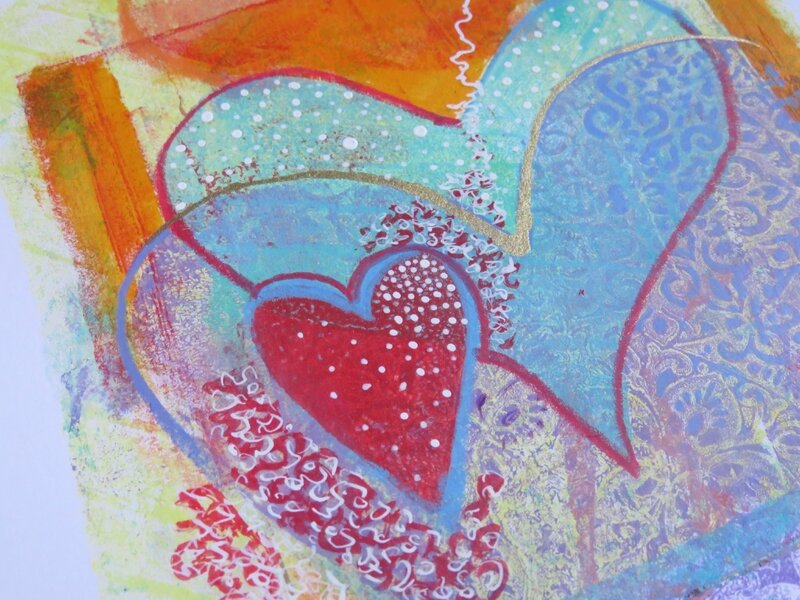 N°38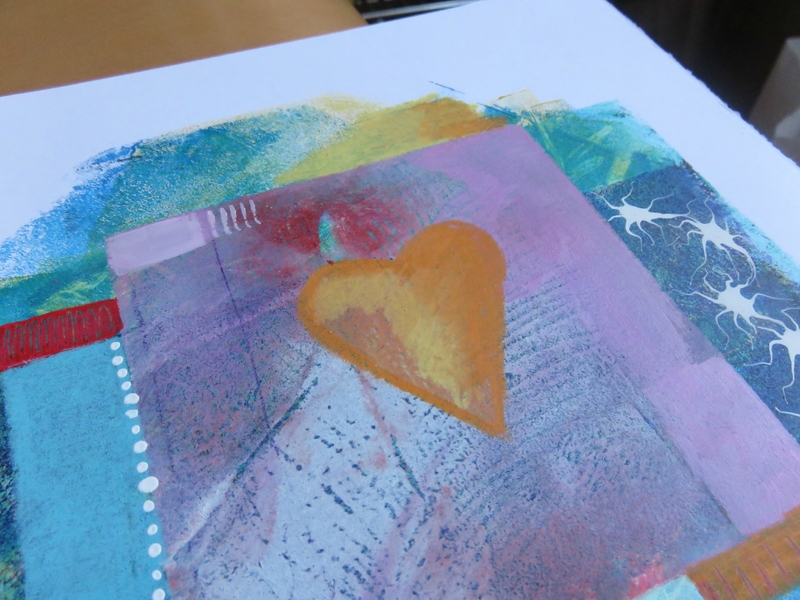 N°39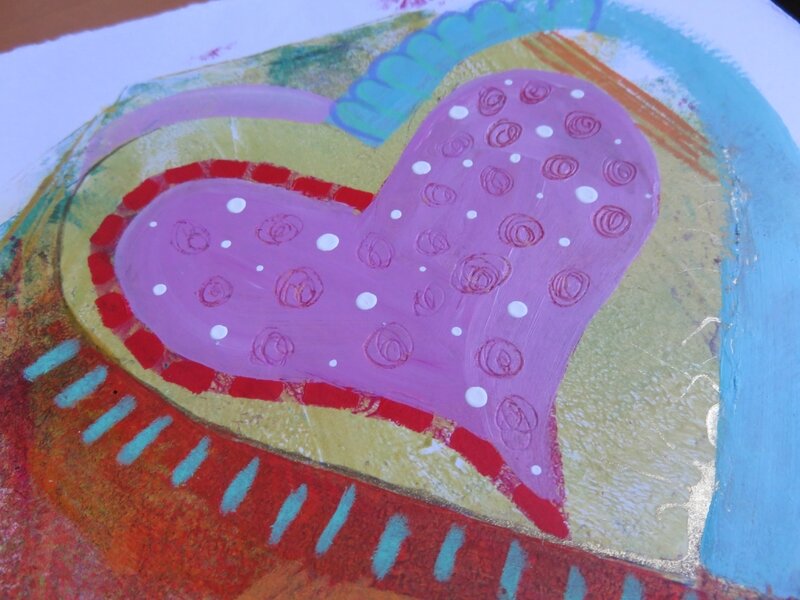 N°40
09 février 2018
Qu'est ce qu'on fait des monoprints qui coincent? On change leur format. Et soudain, on réalise que c'est le format carré qui leur va le mieux :
What can we do when you are stuck with a monoprint? You change the format. And you suddenly realise that square is what suits them best: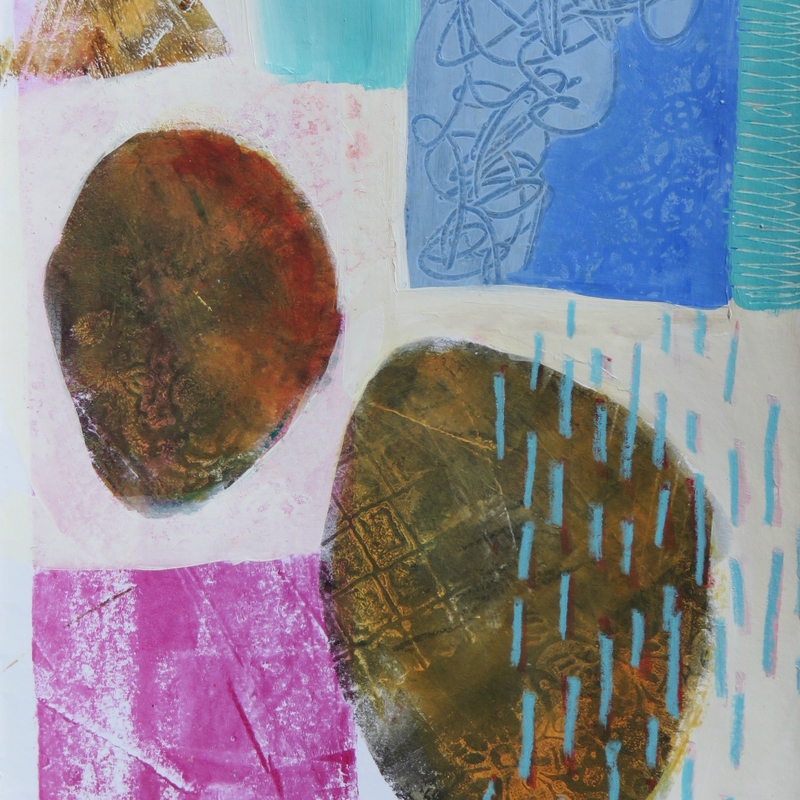 N°23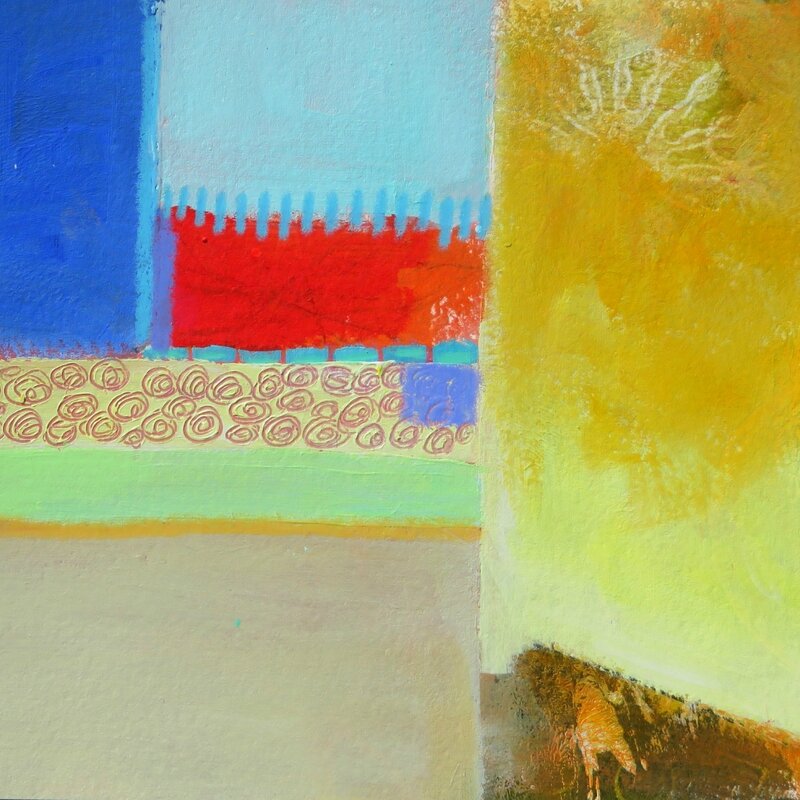 N°24

N° 25
Je vous le dit sans arrêt, ne désespérez pas et soyez patients: ce monoprint a été réalisé parmi mes premiers (il y a 2 ans!) et le voici enfin sorti de l'ombre! Il n'avait besoin que de quelques feuilles d'or, des accents chauds plus forts et des petites touches froides mates, ... et un format carré.
I'm always telling you the same thing: be patient; this monoprint as one my first and it took me nearly 2 years to pull it out. What it needed was some gold leaves, a few warmer accents and one or two cold matt hues... and a square format.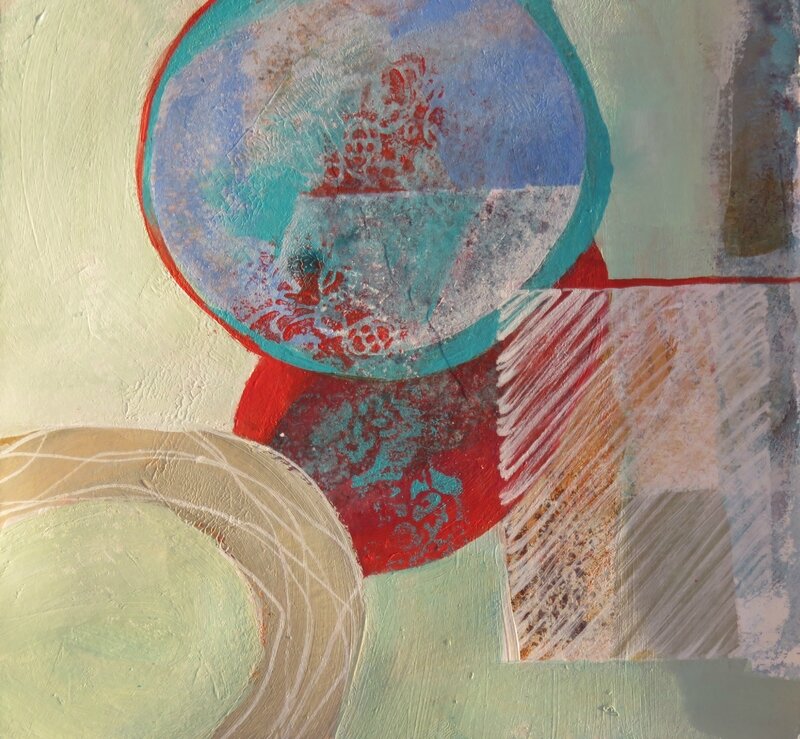 N°26
Lui aussi a attendu longtemps. Il avait besoin de ces plages de couleur neutre mate pour se calmer un peu. Le rouge n'en ressort que davantage.
This one has been waiting for a long while too. It needed some quiet space to calm down.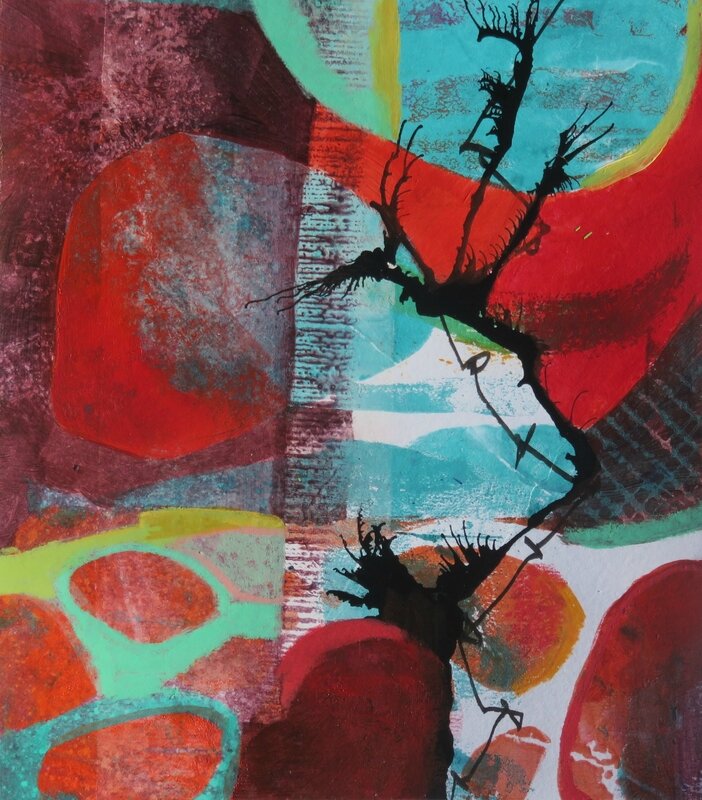 N°27
j'aime tellement cette association de rouge et de vert - celui-ci était lumineux et clair (vous l'aviez vu quand j'avais montré mon travail de traits à l'encre de Chine), et je lui ai donné un côté un peu plus tourmenté, mais cela me plaît beaucoup.
I love this green and red together. This one was luminous and light (I showed it when dealing with lines made with Indian ink) and I gave it a more troubled feel but I like it.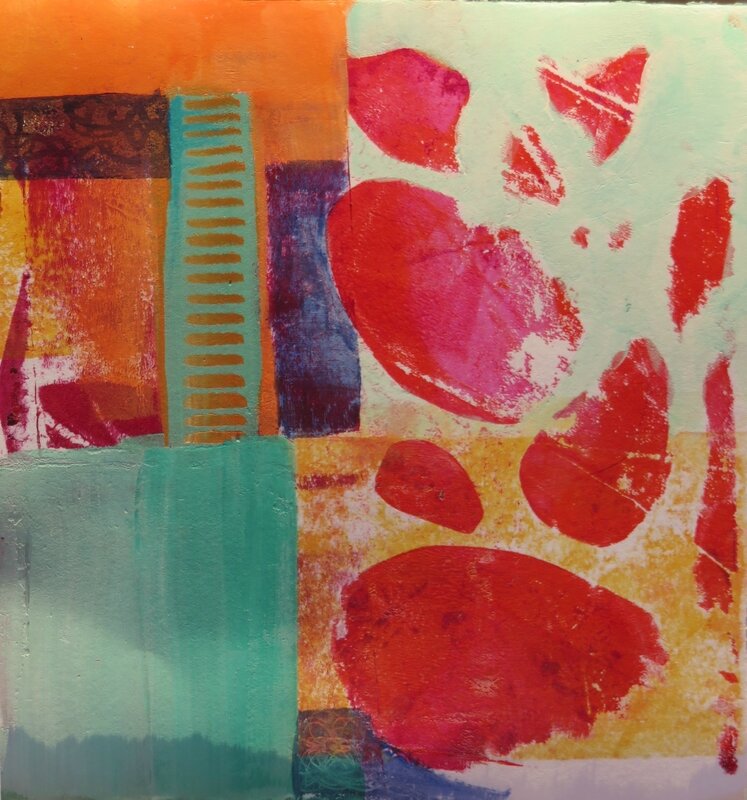 N°28
J'aime le contraste entre la transparence et la luminosité de certaines parties avec d'autres parties opaques comme ce carré vert.
I like the contrast between the transparent and luminous parts with opaque parts like this green square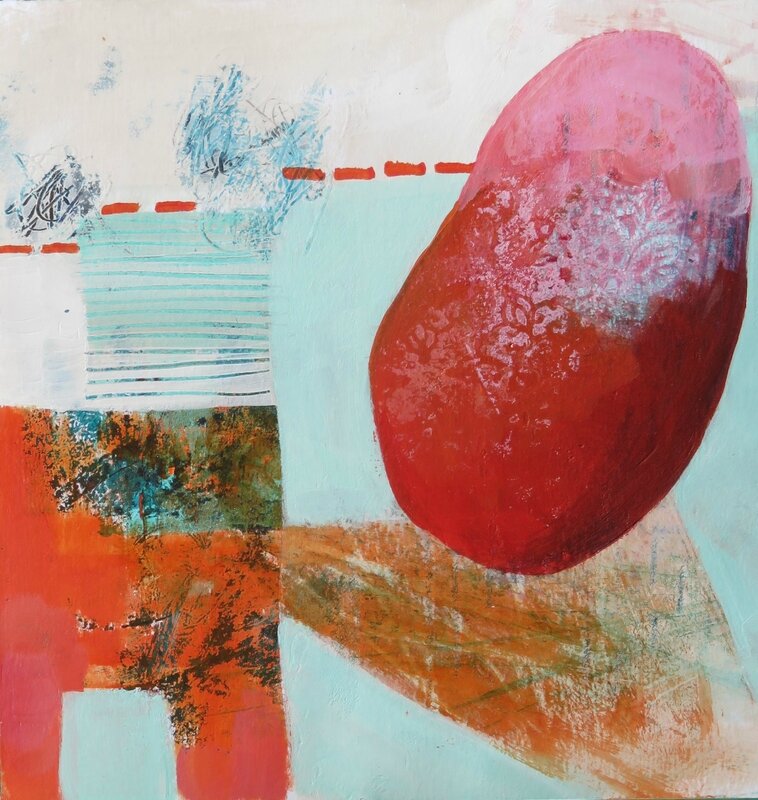 N°29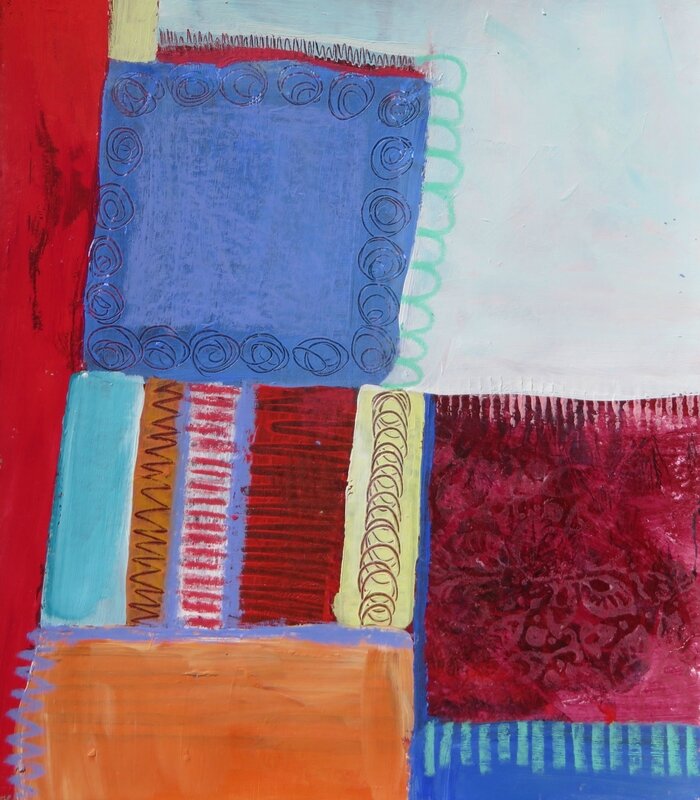 N°30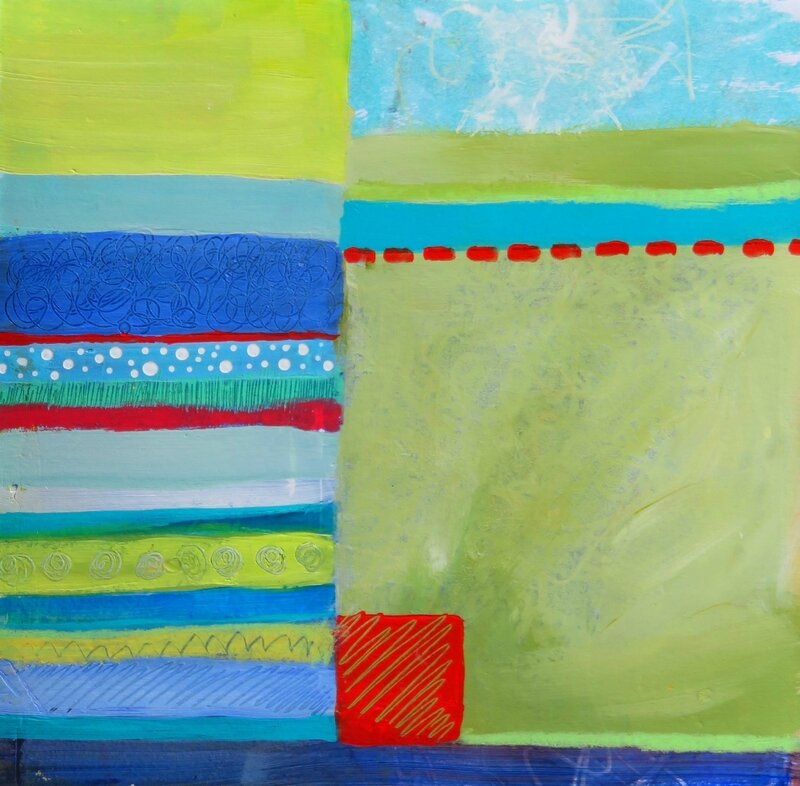 N°32
Certains ne sont pas finis et vont encore évoluer, mais j'adore déjà la variété de composition et les couleurs.
Ils sont quasi tous d'à peu près 15x15 cm.
Some aren't quite finished yet and might still evolve, but I already love the various composition and the colours.
All of them more or less 15x15cm.

Dans tous les cas, c'est le format carré qui leur a donné un nouveau boost.
Le carré c'est génial!
For all of them, the square format was a real boost.
Square is fun!
07 février 2018
Le brouillard s'épaissit
Les mots se troublent,
Les lettres s'effacent,
Les notes s'étouffent dans le silence cotonneux
La neige se met à tomber,
sans bruit.

Les strates s'accumulent,
puis le soleil illumine tout ce blanc,
l'espace d'un instant.

Des fissures naissent,
des couleurs ré-apparaissent,
le temps s'écoule.
The fog is thickening
Words are blurring
Letters are disappearing
Sounds all muffled in the padded silence
Snow has started to fall,
noiselessly.

Layers are piling up,
and the sun briefly lights up the whiteness.

Cracks get wider,
colours reappear,
as Time ticks by.


N°17 Sign of the Time 1
Collages, acrylique et encre sur papier / collages, acrylic and ink on paper
Ce n'est pas la photo qui est flou c'est le tableau qui joue sur les flous, j'ai recouvert tout ou partie des bandes par de la peinture acrylique blanche, puis j'ai frotté pour rendre certaines parties plus apparentes et d'autres plus noyées dans le brouillard.
The photo isn't blurred, I just blurred some parts of the painting by covering it with white acrylics then wiping out some parts.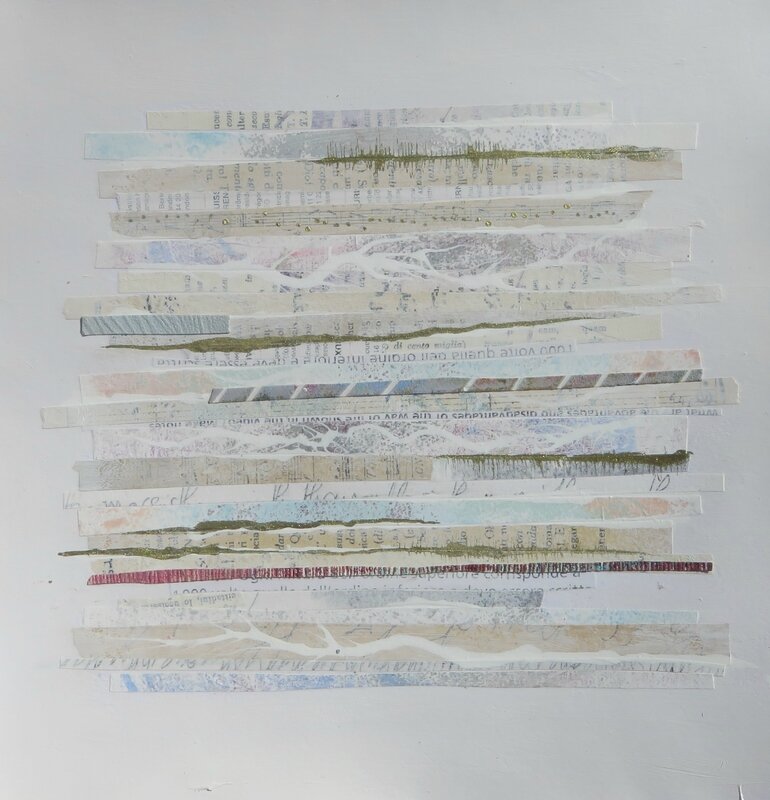 N°18 Sign of the Time 2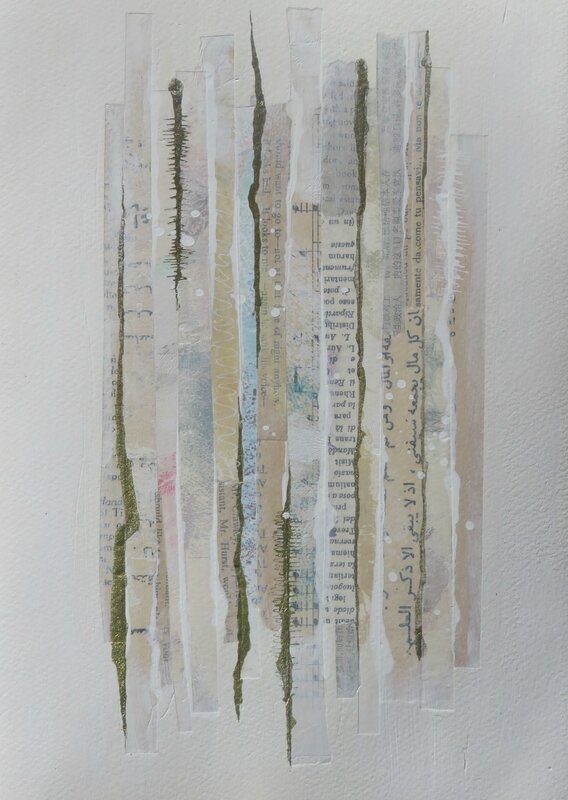 N°19 Sign of the Time 3
Cela pourrait être une écorce et ces lignes du temps gravées
it could also read as bark with lines of time deeply engraved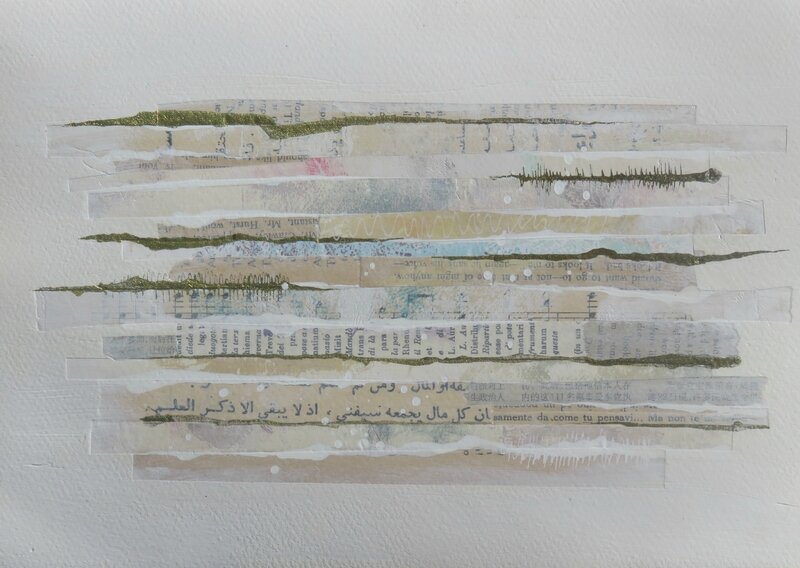 ou bien le préférez-vous horizontal?
or do you prefer it horizontal?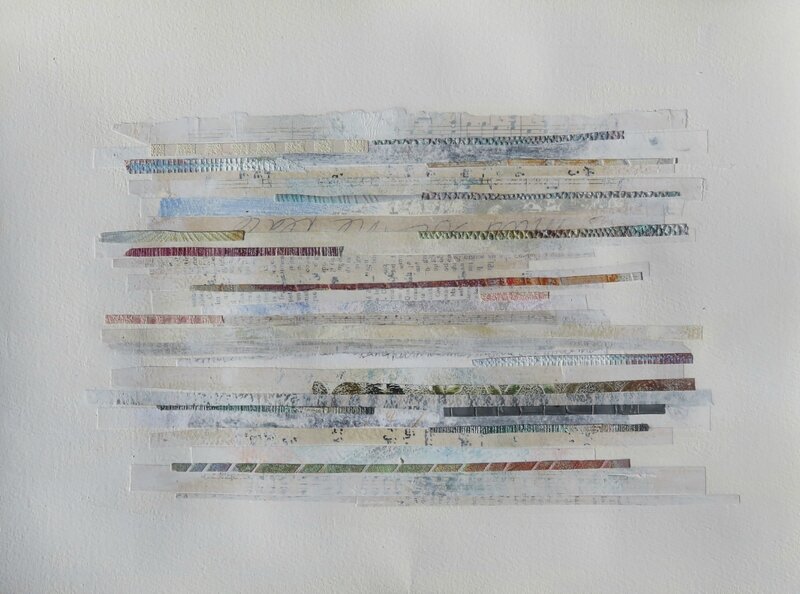 N°20 Sign of the Time 4
des accents de couleurs et de la texture
colour and textures slowly seeping in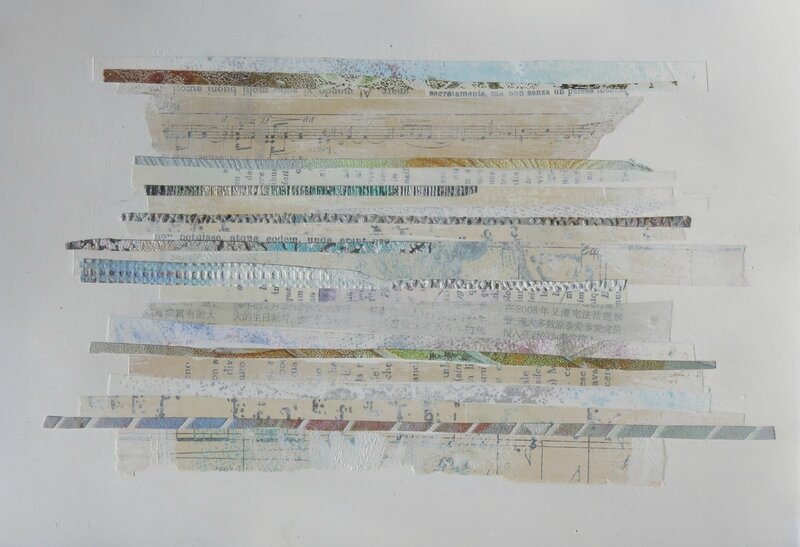 N°21 Sign of the Time 5
horizontal?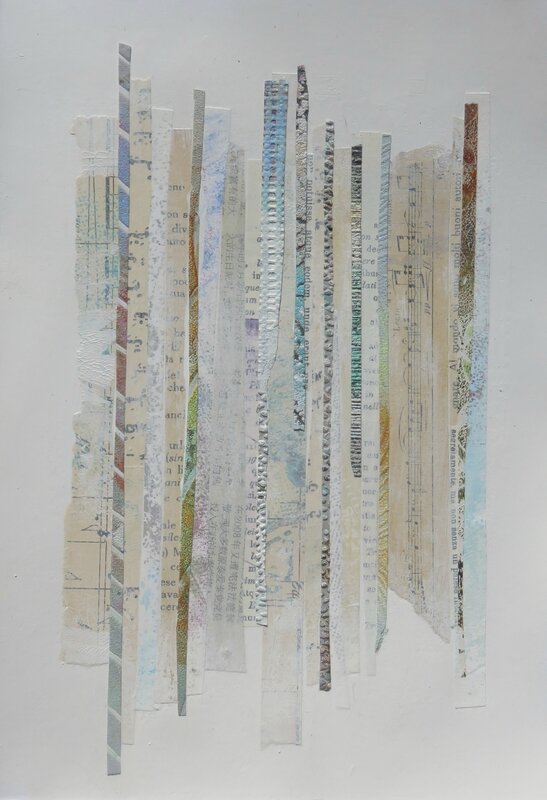 ou vertical? or vertical?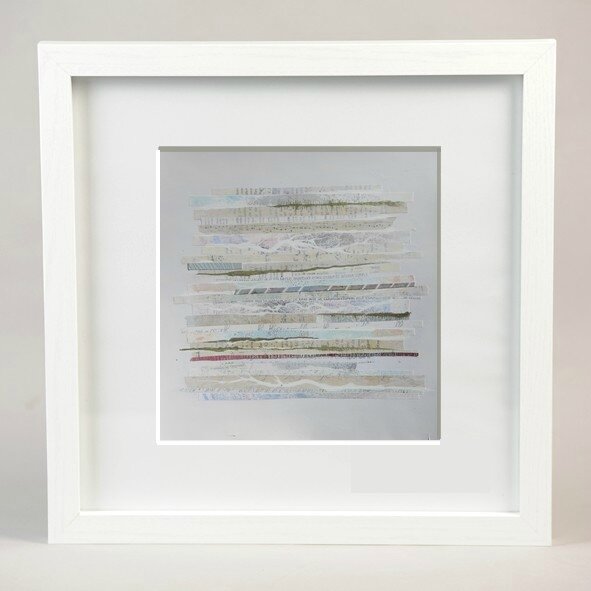 Sign of the Time 2
Je ne suis pas sûre qu'un cadre blanc soit la meilleure façon de vous le montrer
not sure a white frame is the best way to show it to you on screen
Sign of the Time 2
En tous les cas, je vois bien quelque chose de dépouillé et simplissime
All I can think of is something simple and bare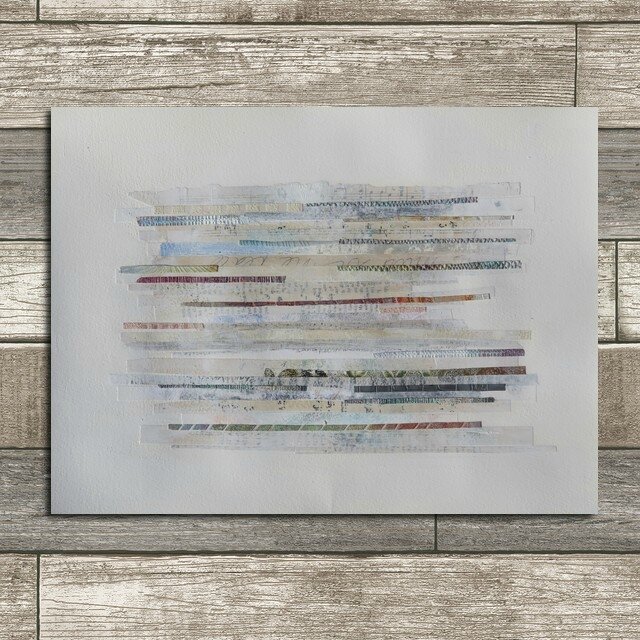 Sign of the Time 4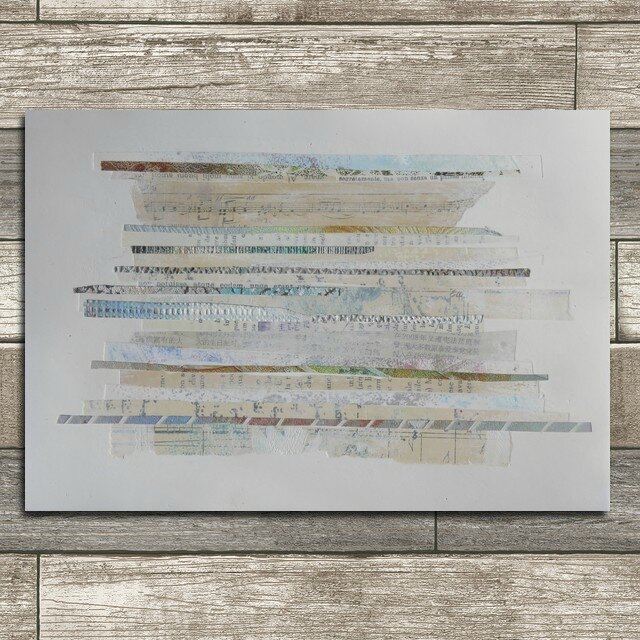 Sign of the Time 5
Une nouvelle série délicate - et super dure à photographier. Comment rendre ces nuances sans rester fade? Ces transparences subtiles? Les touches d'or qui miroitent selon où on se trouve? Je ne suis pas experte en photographie, j'ai fait de mon mieux pour donner une idée.
This is a delicate new series - pretty tough to photograph. How can you render these nuances without being dull? The subtlety? The gold touches that shine depending where you stand? I'm no photo expert, so I did my best to give you an idea of my work.
31 janvier 2018
J'ai peint des arbres colorés avec de l'encre, des collages et de l'acrylique. Et automatiquement, je me suis dit qu'ils feraient super dans une chambre d'enfant parce que j'ai toujours lié les enfants et les arbres.
I've painted colourful trees using ink, collages and acrylic paint. Automatically, I thought they would look great in kiddies rooms, because I've always linked trees and kids:
N°13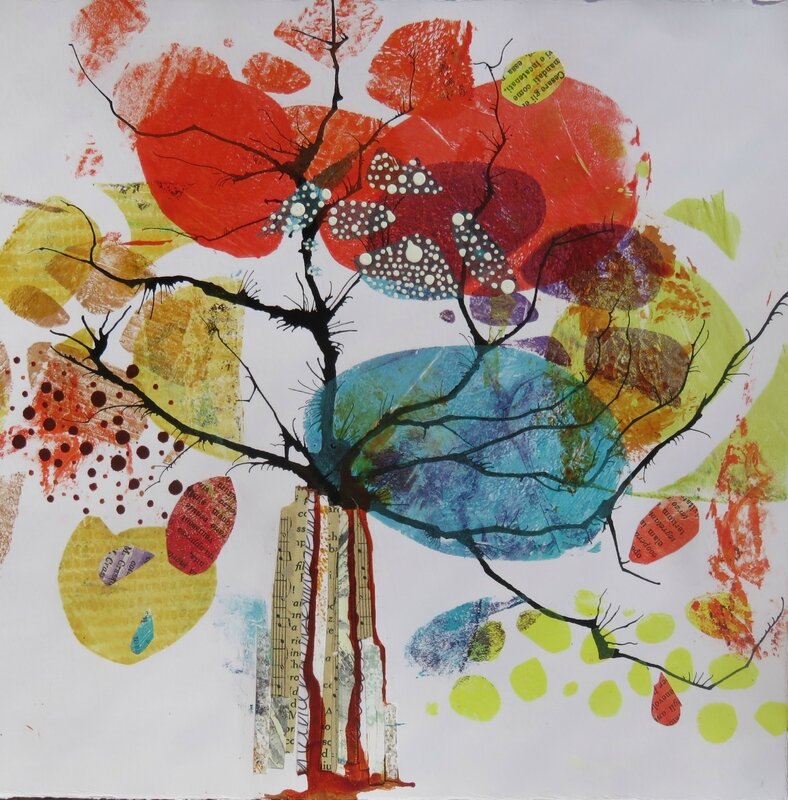 N°14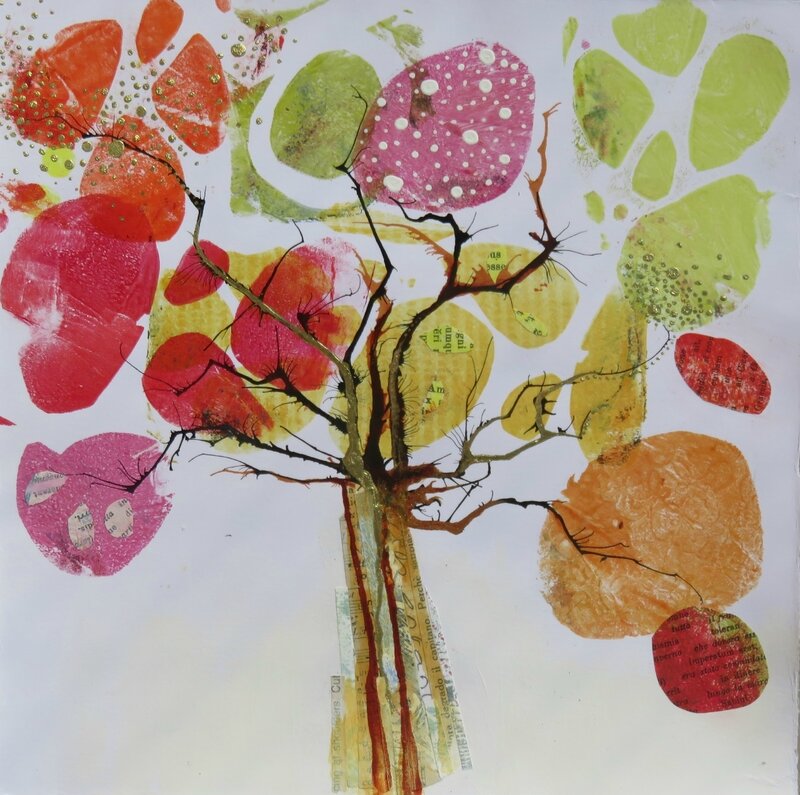 N°15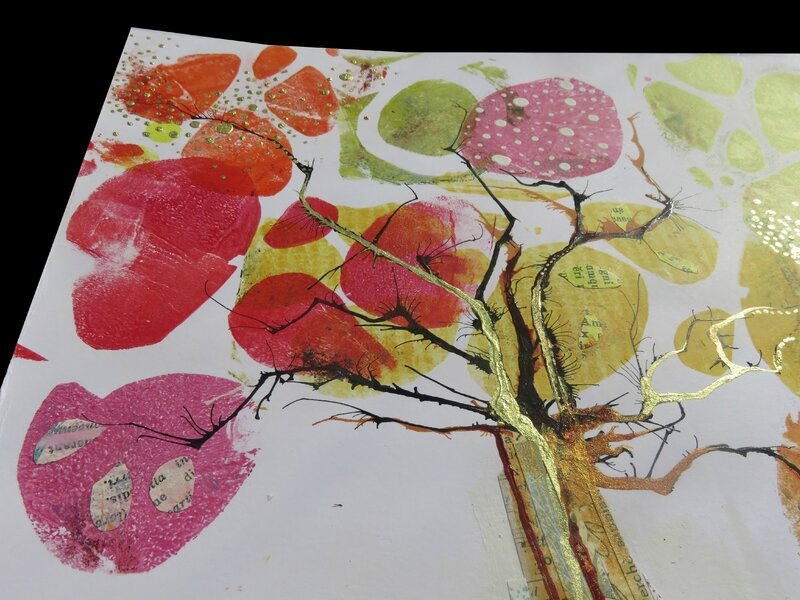 N°15 (détail / detail)
N°16 (encore en cours / still in progress)
En fait, les arbres sont devenus un thème récurrent chez moi. Cela a commencé il y a des années quand une amie proche m'a demandé de peindre quelque chose pour son bébé. Quand je lui ai demandé quoi, elle m'a dit de peindre ce que je voulais. La seule chose qui me venait sans arrêt à l'esprit, c'était des arbres (Des Arbres pour Jonathan). Peut-être pour symboliser les racines de ce petit garçon? Et plus j'y réfléchissais, plus j'aimais l'idée. L'arbre de vie, les jeunes branches se tendant vers le ciel, le tronc solide et rassurant, l'écorce qui fait de drôles de dessins, l'ombre fraîche, les feuilles magiques, le refuge,... quand on y pense, les arbres font vraiment partie intégrante des heures de jeu aussi: grimper, sauter, se balancer, construire des cabanes, ...
Actually, trees is a recurrent theme for me. Years ago, a very close friend of mine asked me to paint something for her baby. When I asked what, she just said I was free to paint whatever I wanted. The only thing that I kept thinking about was trees (Trees for Jonathan). Maybe to symbolize that litte boy's roots? And the more I thought about it, the more I loved the idea. Tree of life, new branches shooting high, reassuring solid trunk, funny textured bark, cool shade, magic leaves, shelter, ... When you come to think about it, trees are always part of kids' playtime too: climbing, building tree-houses, swinging, jumping, ...
Les années suivantes, j'ai peint trois autres tableaux pour des enfants mettant en scène des arbres (Arbres 2, Pour Jules 1, Pour Jules 2)
In the following years I painted three other works for kids including trees (Arbres 2, Pour Jules 1, Pour Jules 2).
Dans les tableaux plus récents, L'éléphant amoureux d'une girafe, et les amis de Robin, les arbres sont toujours là, même s'ils n'ont plus la première place.
In more recent paintings, the Elephant in Love with a Giraffe and Robin's Friends, they still play an essential role even if they aren't centre stage.
Symbole de vie, symbole de protection, symbole de famille, symbole de racines...
Oui, les arbres sont vraiment parfaits pour décorer une chambre d'enfant.
Symbol of life, symbol of protection, symbol of family, symbol of roots...
So yes,I do think trees are perfect to decorate kids' rooms.
26 janvier 2018
J'aime travailler par séries, et particulièrement quand je travaille avec la gelli plate. Mais parfois, il y a ce tableau qui ne cadre pas avec le reste, qui refuse obstinément de faire partie d'un groupe. Un individualiste. En voici un:
I like working in series, and particularly when I work with the gelli plate. But sometimes, I don't know why, there's this one painting that stands out, that stubbornly refuses to be part of whatever series. A one-off. Here's one of them: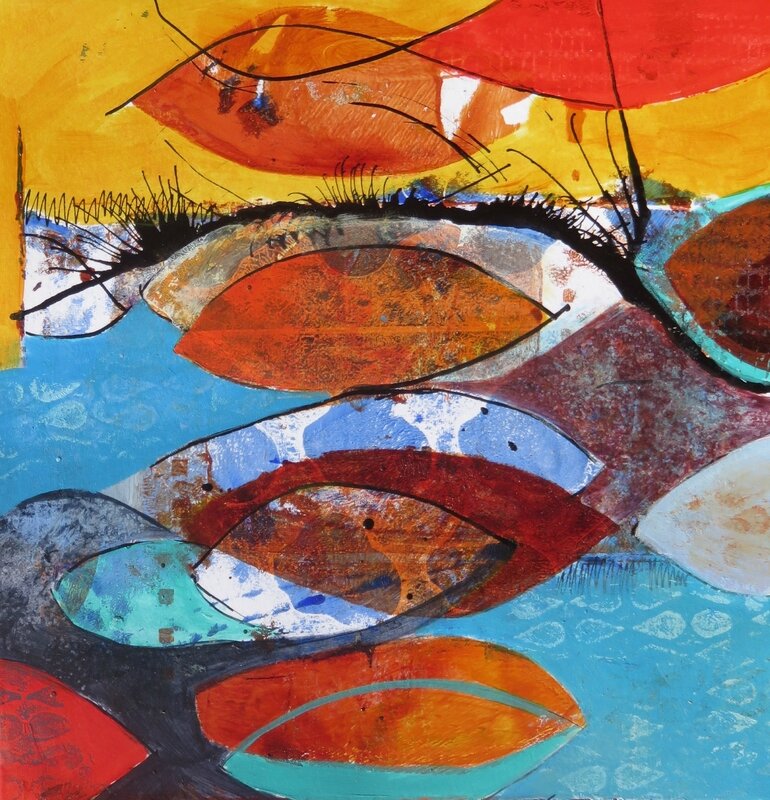 N°12 Coup de soleil, 17 x 17 cm
acylique sur papier / acrylic on paper
Les couleurs pâles et froides que je travaillais dans cette série là ne lui allaient pas du tout. Il s'est soudain enflammé quand j'ai posé ce jaune indien et ce beau bleu manganèse. Une belle surprise, un beau coup de soleil.
The cold pale blues and browns of the series I was working on didn't suit it at all. When I put that warm Indian yellow and that nice manganese blue, it suddenly woke up and shone. What a nice suprise!
24 janvier 2018
Il était une fois un tableau qui commença (en avril 2016)...
Once upon a time a painting began (in April 2016)...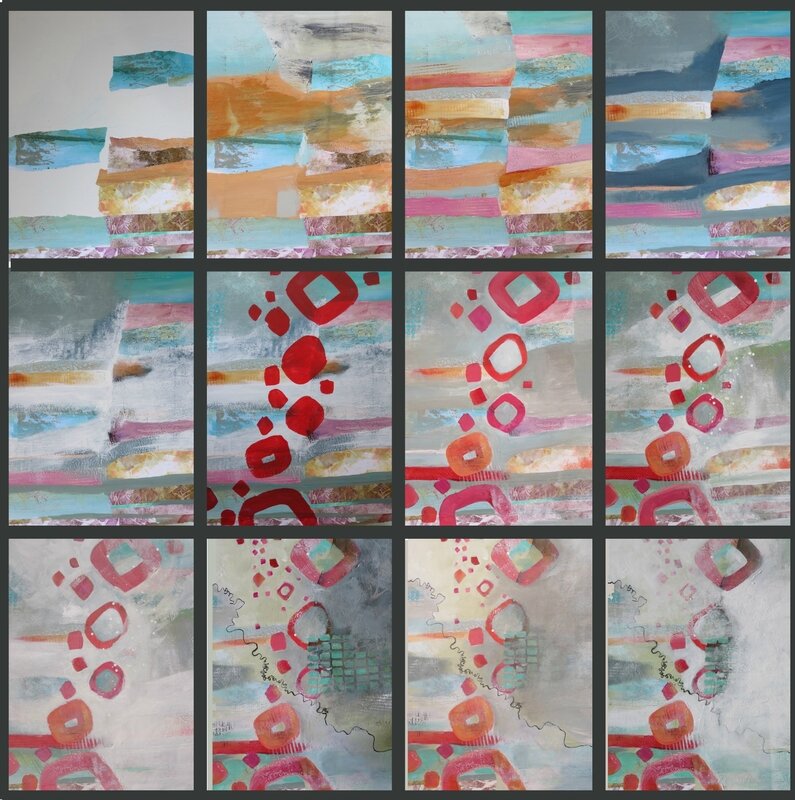 ... Et il n'est toujours pas fini !!
... and it's still not over!!
Il y a parfois des tableaux qui sont lents à venir, croyez moi! Je pense que je vais l'intituler "Etc..." ou bien "à suivre..." ou "encore et encore..." ou peut-être même "Courage, on y est presque!" ;-)
Believe me, some paintings are really coming slowly! I think I'm going to entitle it "Etc..." or "To Be Continued..." or "Again and Again and Again..." or maybe "Are We There Yet?" ;-)
21 janvier 2018
On dit souvent que quand on peint, on voit mieux les choses, ... mais ensuite on voit trop. Après un moment, on ne voit même plus rien, seulement les détails qu'on n'aime pas, et on a tendance à oublier l'impact général.
It is often said that when you paint you see things better, ... but then you see too much. After a while you don't see anything, only the details you don't like, and you tend to forget about the general impact.
Mes trucs pour voir un tableau avec un regard neuf :
My tricks to see a painting with fresh eyes:

a) Distance : reculez aussi loin que possible pour voir votre tableau, cela vous aidera déjà à ne plus voir ces petits détails qui vous embêtent. Si vous le pouvez, sortez et essayez de voir le tableau par la fenêtre.
Distance: step as far back as you can to view your painting; this will help you forget about those details you get obsessed with. If you can, you can also get out in the garden and view your painting through the window.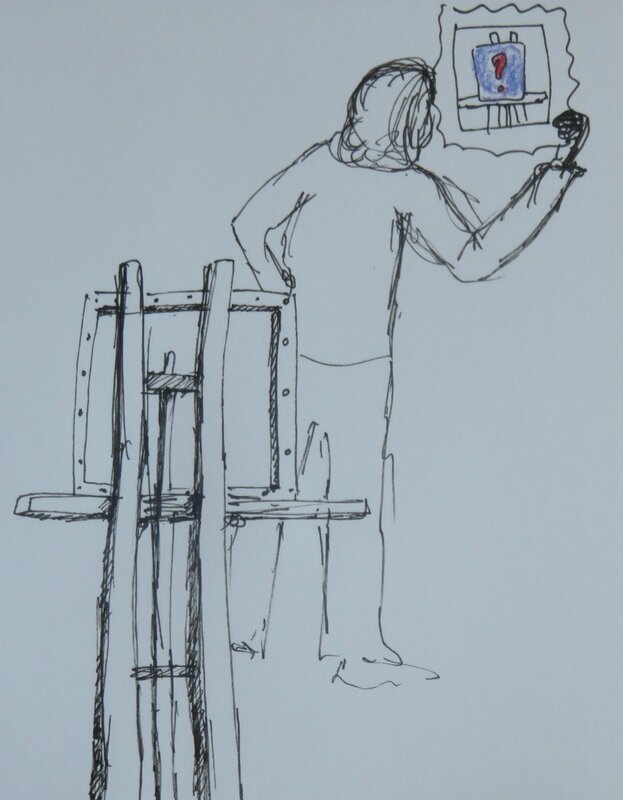 b) Miroir : retournez-vous et regardez votre tableau dans un miroir.
Mirror: turn round, take a mirror, and then look at your painting in the mirror.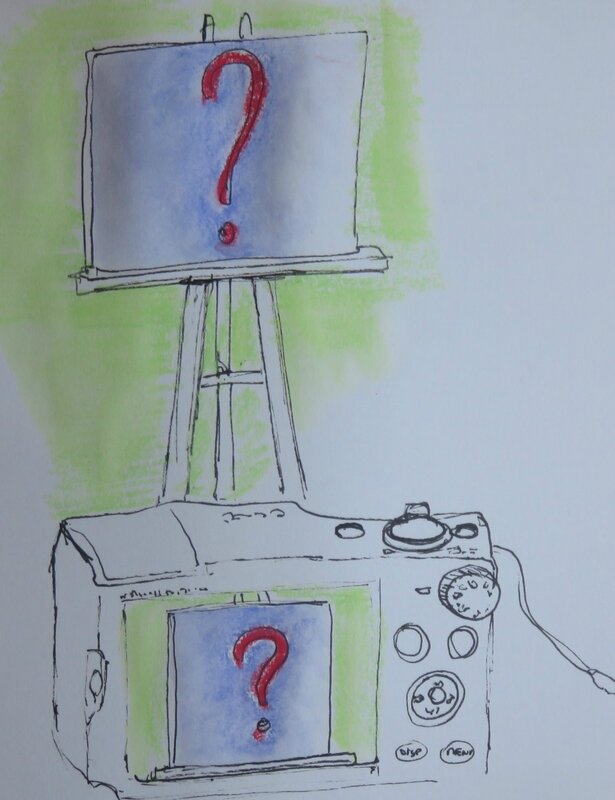 c) Appareil photo: prenez une photo et regardez votre tableau sur un écran : soit sur l'écran de l'APN ou sur celui de votre ordinateur. J'ajouterais même plus il est petit et mieux c'est. Cela m'aide davantage de voir mes tableaux en vignette qu'en plein écran.
Camera: Take a picture, and look at your painting on a screen: either on the camera screen, or the computer screen. I would add, the smaller, the better: it helps me more to view my paintings as thumbnails than full sreen.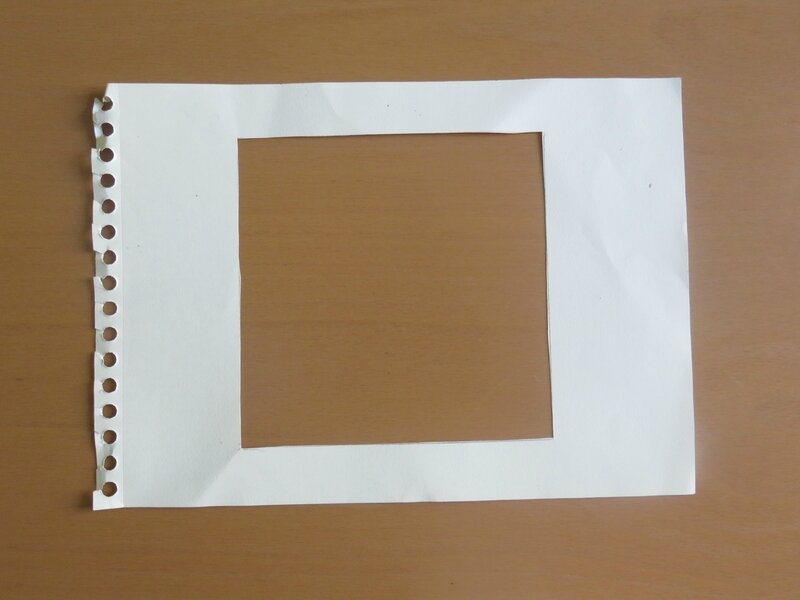 d) Cadre : faites un cadre avec du papier et mettez le sur votre tableau
Frame: make a mock frame with paper and put it over your painting.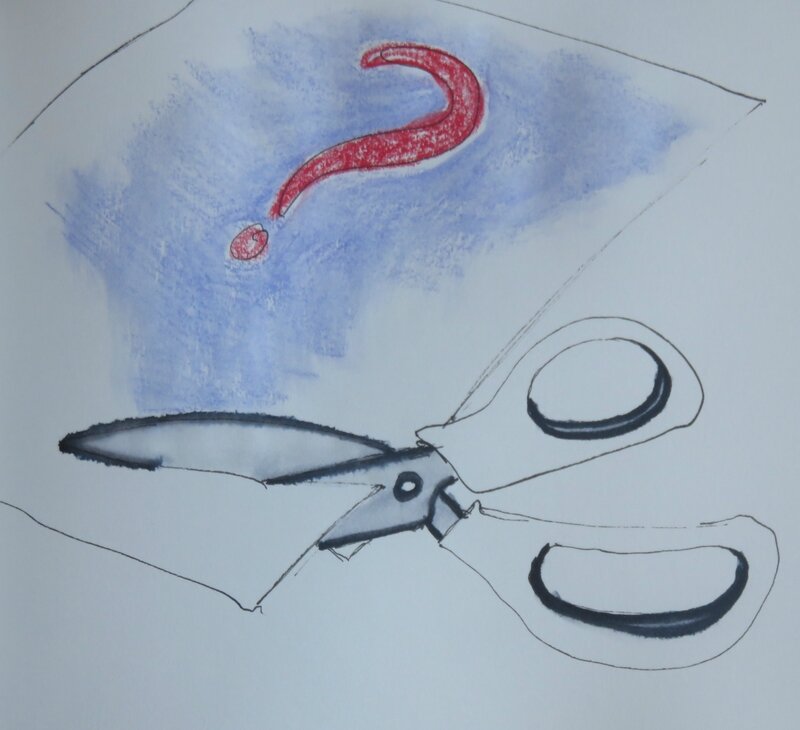 e) Recadrez : avec les peintures sur papier, essayez de faire un cadre plus petit ou d'un autre format que votre tableau, cela peut vous aider à repérer des parties intéressantes, quitte à couper le reste.
Crop: With paintings on paper, try to make a mock frame of a smaller size than your painting, or even of a different shape, it may help you select nice parts, and you can crop out the rest.
Un exemple pour vous aider à comprendre :
Here's an example to help you understand:
J'avais ces monoprints qui ne me satisfaisaient pas vraiment. Ils étaient tous en format rectangle.J'ai décidé de leur poser dessus un cadre carré. Regardez combien cela les a changés :
I had these monoprints I was not really happy with. They were all rectangle. I decided to put a square frame on top of them. Look at how much it changed them :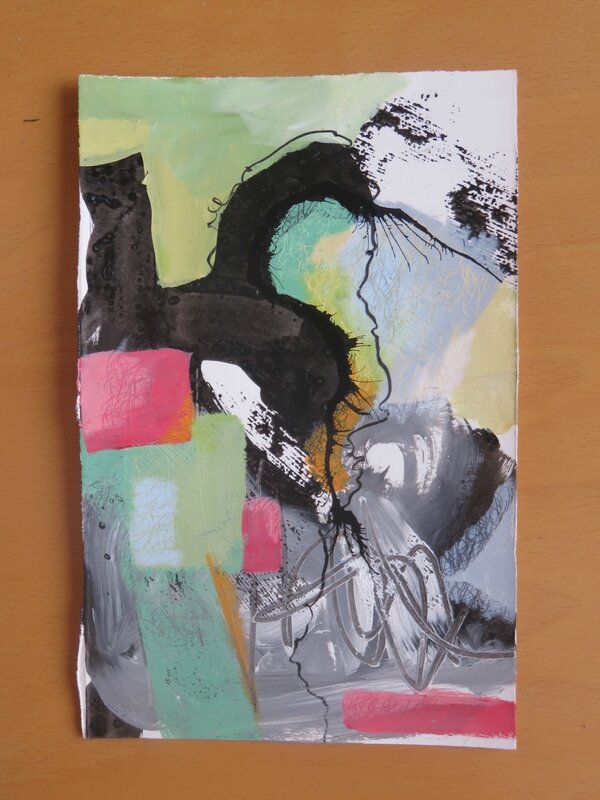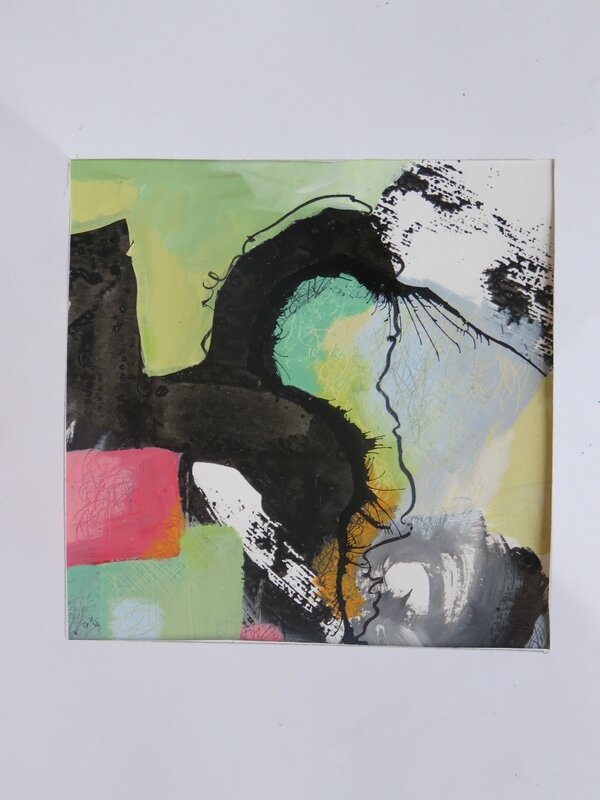 c'est tout particulièrement évident avec cet exemple je trouve: regardez combien l'ensemble était brouillon, trop chargé. Avec le cadre, on élimine les parties moins intéressantes du bas, on focalise un peu plus sur les parties calmes du haut et la masse noire est plus équilibrée par rapport au reste.
It's so obvious with this monoprint: look how messy the whole monoprint was, too loud too. With the frame, you get rid of the less interesting parts at the bottom, and you focus a bit more on the calmer parts of the top. The black mass is more balanced too compared to the rest.
Voici d'autres exemples, observez ce qui disparaît et ce qui est mis en valeur avec le changement de format et le cadre:
here are other examples. Please note what disappears and what is enhanced due to the change of format and the cropping.
Cette technique m'a permis de repérer la valeur de ces deux monoprints :
This technique has helped me notice these two lovely monoprints: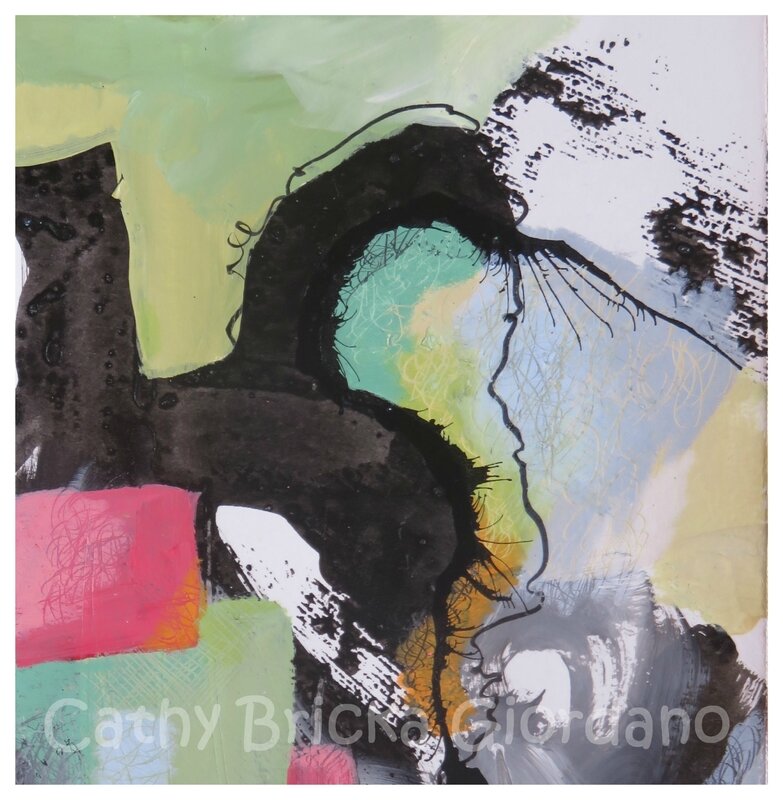 N°10

N°11
Vous pouvez aussi combiner certains des trucs ci dessus (regarder un tableau de loin dans un miroir ou sur l'écran ...)
You can also combine some of these tips above (look at a painting from far away in a mirror or on a screen ... )
Mais si aucun de ces trucs ne vous aide à avoir un regard neuf, alors il vous reste une ultime solution:
if none of these tips are of any help, there's one last solution to help you see with fresh eyes:
f) ATTENDRE: Mettez le tableau de côté et oubliez le. Dans quelques jours, semaines, mois voire dans un an ou deux, vous le verrez totalement différemment.
WAIT. Put the painting aside, and forget about it. In a few days, weeks, months or even in a year or two, you'll see it in a totally different way.
18 janvier 2018
Vous savez combien j'aime tracer des lignes sur mes monoprints et mes toiles. Bien que souvent fines, elles ont un impact indéniable. Elles se promènent, tournoient, volètent, papillonent comme des pensées, entourent, gribouillent en vitesse ou traînent, prenant leur temps pour visiter le tableau, et ce faisant elles attirent votre regard ici et là.
You know how I love drawing lines on my monoprints and canvases. Though often very thin, these lines definitely have an impact. Wandering, meandering thoughts, circling, scribbling, hurrying or taking their time to visit the painting, they irresistibly draw your eyes here and there.
Mais j'aime aussi chercher de nouvelles façons de tracer ces lignes et exprimer d'autres émotions. Dessiner avec une main, puis l'autre, tenir le crayon par le bout du manche, fermer les yeux, utiliser un pinceau fin, une plume, changer de couleurs, ...
But I'm also always looking for ways to change those lines to express different moods. Drawing with one hand, then the other, holding the pencil from the very tip, closing my eyes, using a thin brush, a sharp pen, changing colours, ...
Cette fois, j'ai décidé d'utiliser de l'encre de chine noire, et de souffler pour faire glisser la goutte qui dégouline. Voici ce que cela donne:
This time I've tried to use black Indian ink, blowing on the dripping drop along the way. And here's what it looks like: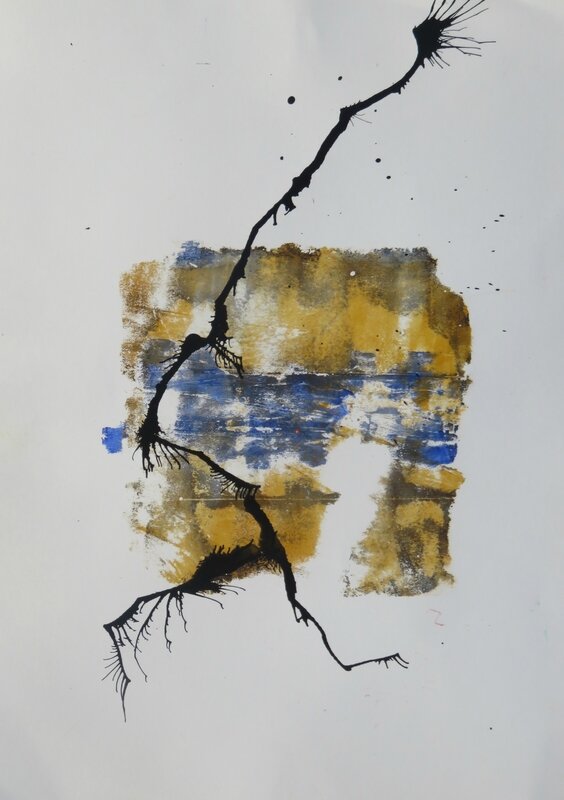 N°5
J'adore le côté imprévisible et végétal qui se dégage
I love the unexpected and vegetal aspect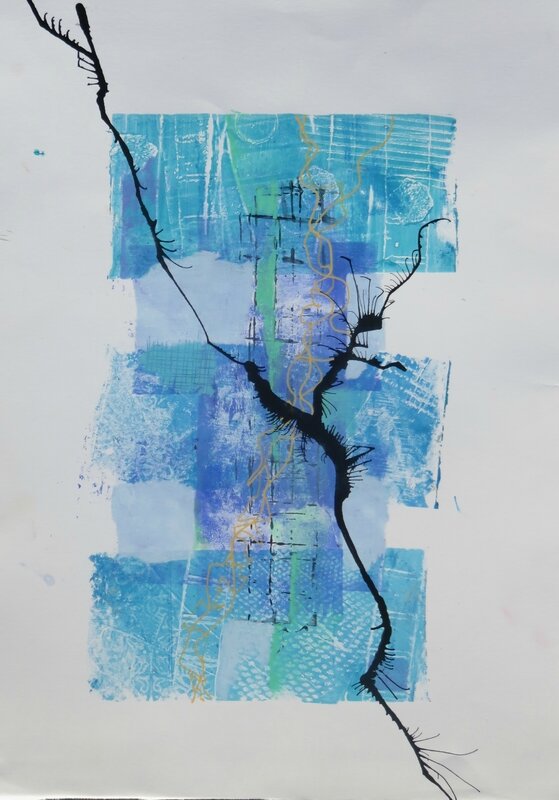 N°6
Comme une déchirure ou une fissure qui s'agrandit
Like a gash or a crack getting bigger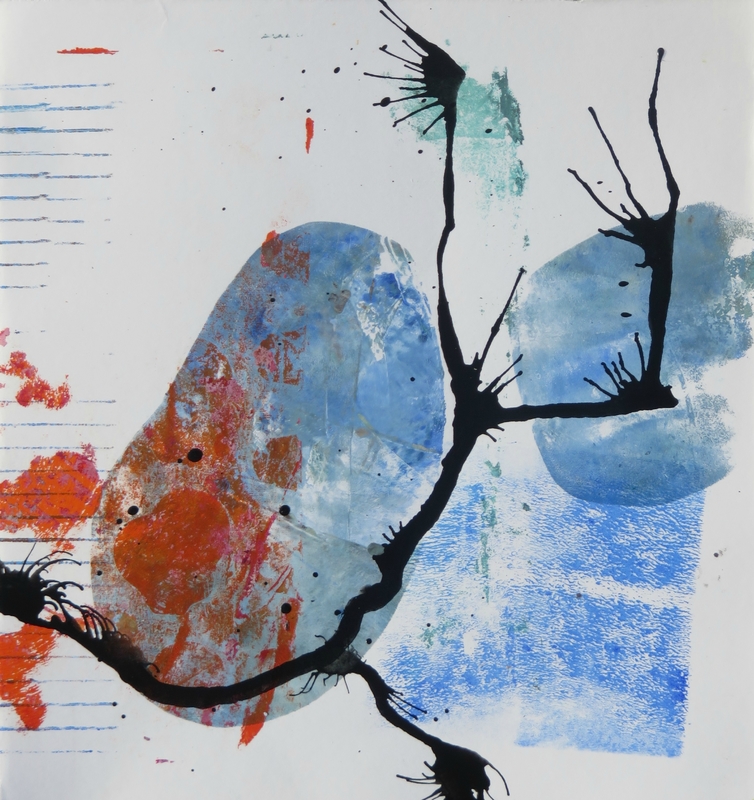 N°7
Le choix de l'encre de chine noire offre de beaux contrastes parfois
I love the beautiful contrast between the very black Indian ink and the colours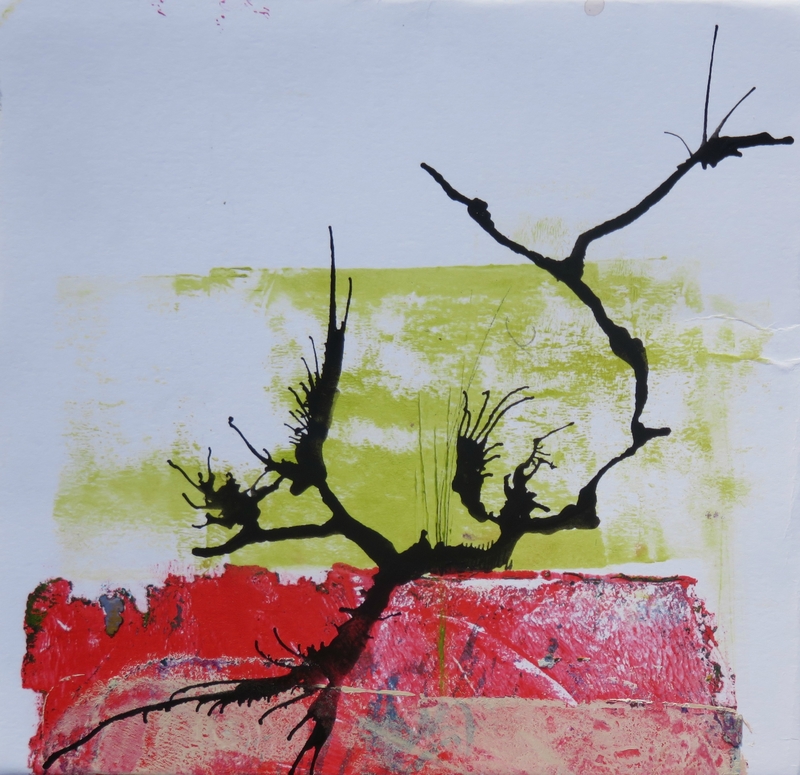 N°8
J'aime particulièrement celui-ci. Un monoprint "pur" (non retravaillé) dont je ne savais qui faire. J'aimais le hasard de cette touche de vert et de ces nuances dans le rouge. Et j'aime la façon dont le noir s'étire jusque dans le blanc. Il permet de lier les trois parties : le rouge, le vert et le blanc.
I particularly like this one. I didn't know what to do with this "raw" monoprint (not worked upon). I liked the uneven green mark and the different hues seeping through the red. I love the way the black stretches in the white. It links the three parts: red, green and white

N°9
Ici vous reconnaîtrez un collage très minéral qui était resté en plan en attendant quoi ajouter ou peindre. Ces lignes et fils noirs à l'esprit végétal étaient à mon goût la petite touche qui manquait.
You may recognize a very mineral monoprint that was in wait until now. The black lines and threads with a marked vegetal feel were exactly what was needed.
15 janvier 2018
(Non, je ne me suis pas reconvertie en couture)
(No, I haven't converted to sewing)
Parmi toutes les formes, mes préférées sont l'ovale et le cercle, mais le carré tient une place spéciale.
Among all shapes, the oval and round shapes are my favourite, but the square holds a special place.
Deux expositions vues l'an dernier m'ont donné envie de tenter une petite expérience à base de carrés. J'ai été fascinée par l'exposition de François Rouan que j'ai vue à Montpellier. Il tresse/tisse des bandes de toiles et peint par dessus. Et puis j'ai vu une exposition à Rome où Nanni Balestrini avait découpé deux reproductions d'oeuvres en carrés et les avaient ré-organisées pour créer une sorte de patchwork. Dans les deux cas, le carré est à l'honneur.
Two exhibitions I saw last year made me want to try some experiment based on squares: I was fascinated by François Rouan I saw in Montpellier. He weaved canvases then painted over the result. Then I saw another exhiiton in Rome where Nanni Balestrini cut two reproductions of work of art into squares then mixed them up in some sort of art patchwork. In both cases square is king.

J'ai adoré ces deux idées alors je les ai expérimentées l'autre jour:
I loved the two ideas, so I experimented them the other day:
Expérience 1 / Experiment 1: Tissage/ Weaving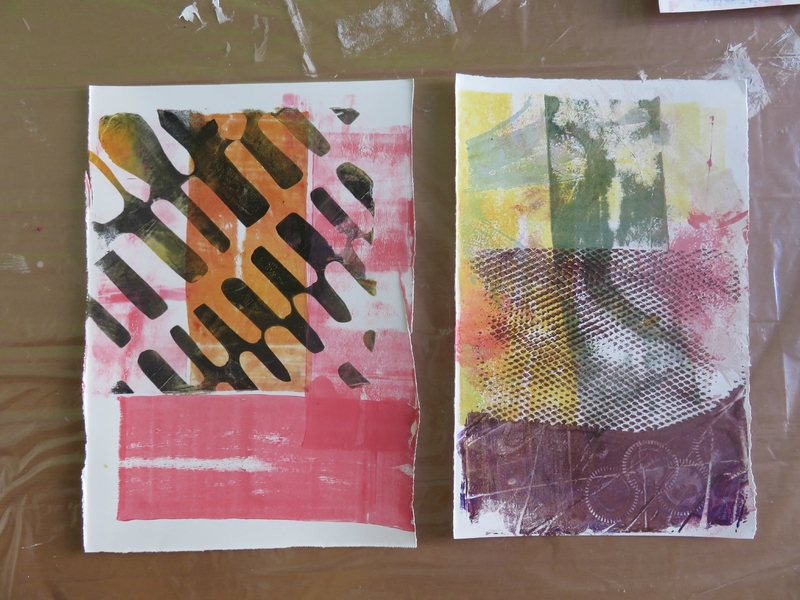 Prendre 2 monoprints (photos, images, ...)
Take two monoprints (photographs, prints, ...)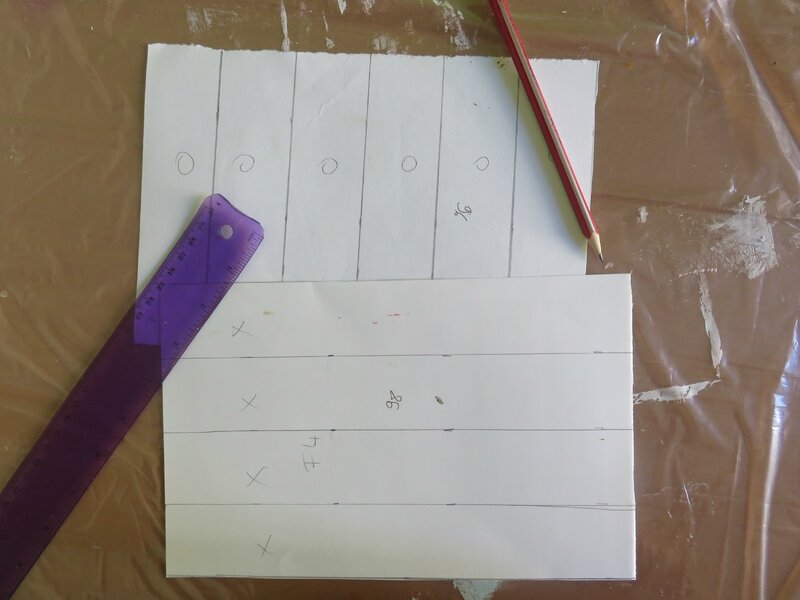 tracer des lignes tous les 4 cm / draw lines every 4 cm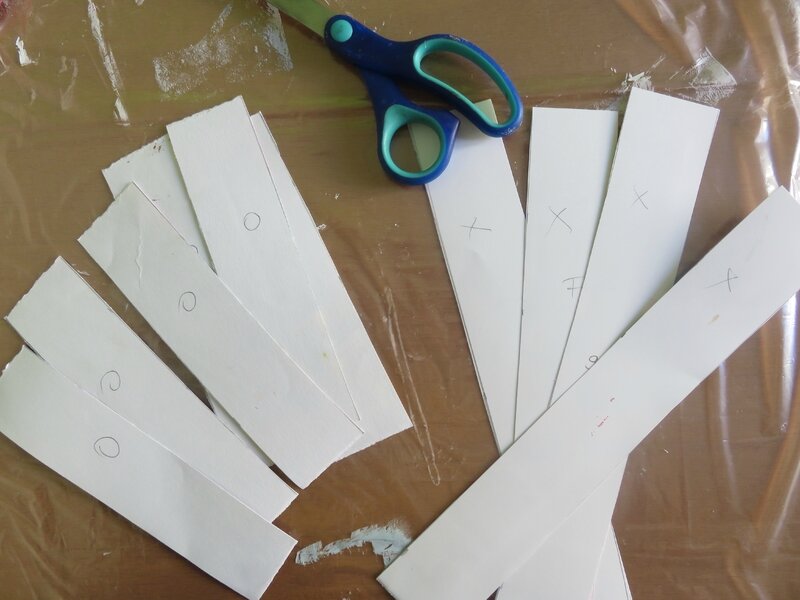 Couper les bandes / cut out the strips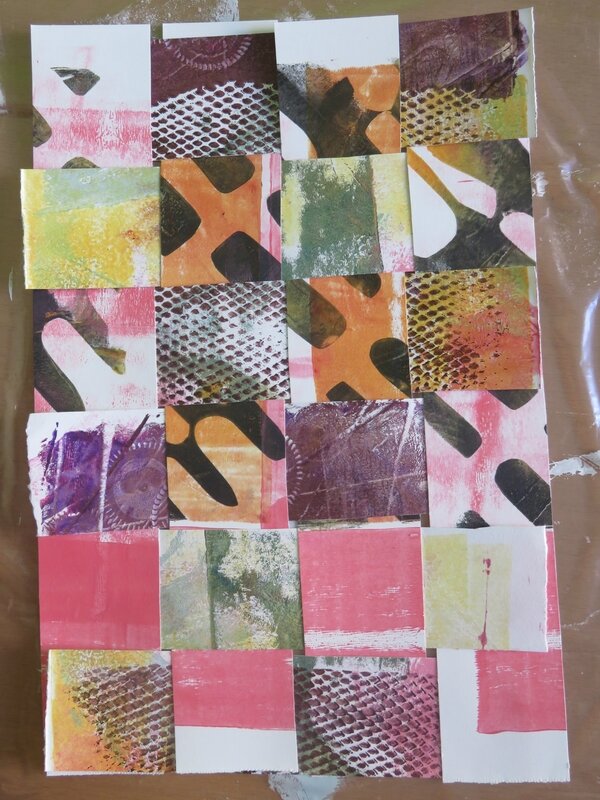 les tisser / weave (intertwine) them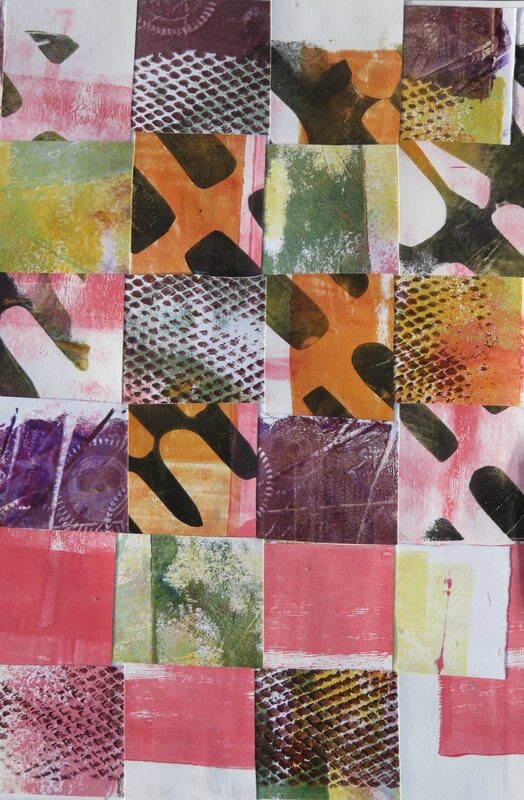 ... et essayer de les coller sur une feuille de papier
... then somehow try and glue the lot on a piece of paper.
Le procédé n'est pas satisfaisant / Not a satisfying process:
J'ai essayé de coller les bandes déjà tressées, et de fait, je n'ai pas réussi à les coller correctement. J'aurais dû coller les bandes tout en les tressant au fur et à mesure, mais c'est super dur. Même pas sûre que ce soit possible.


I tried to glue the stripes already woven and I didn't manage to glue them nicely, some strips are still loose. Maybe I should have glued stripes and weave them at the same time, but it's very tricky. Not sure it's possible.

De plus, on en peut pas choisir quelle parties ou quels carrés on cache ou on révèle.


What's more, you don't get to choose what part/square you hide or you reveal.

Je n'aime pas bien toutes ces épaisseurs par endroit.


I don't like the way it's much too thick in places

J'aime l'effet "tissage", voir les bandes disparaître les unes sous les autres et réapparaître.


I like the weaving effect, seeing the strips of paper disappearing under the others
Expérience 2 / Experiment 2: Patchwork
J'ai pris deux autres monoprints (vous pouvez prendre des photos ou des images quelconques, ...)
I took two other monoprints (you can take photographs, prints, ...)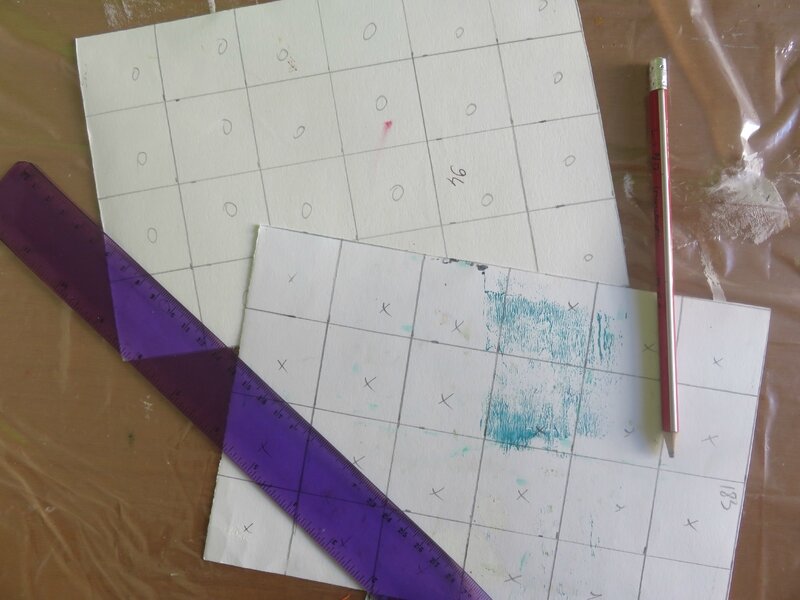 J'ai dessiné de carrés de 4 x 4 cm à l'arrière - en prenant soin de marquer chaque carré d'un signe distnctif (une croix ou un rond) au cas où je n'arrive plus à savoir s'ils sont de l'un ou de l'autre
I drew squares on the back 4x4 cm making sure I marked each square with a distintive sign (cross or circle) in case I can't tell what original they belong to.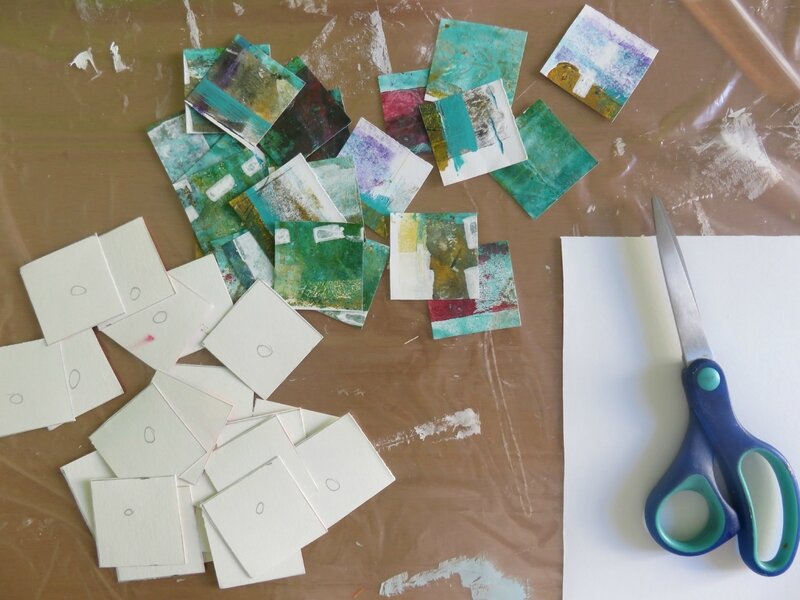 J'ai découpé / I cut them up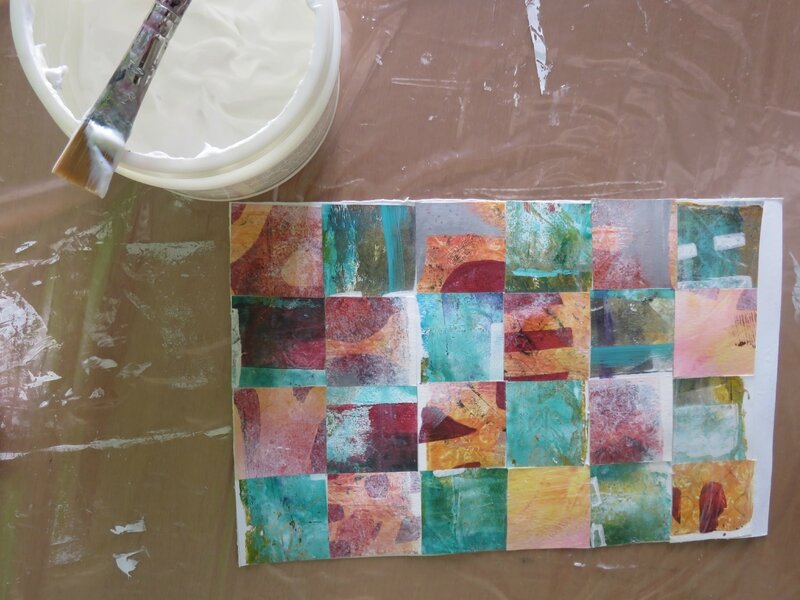 Je les ai collés sur une feuille / I glued them on a white piece of paper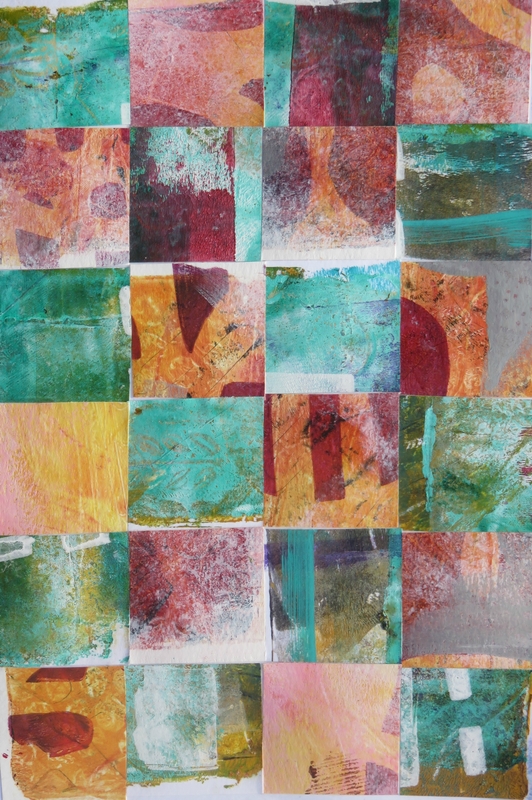 Je préfère ce procédé / I prefer this process:
J'ai pu choisir comment placer mes carrés et quels carrés ne pas utiliser


I could choose how to place my squares and which squares I would discard

J'ai pu prendre le temps de coller une ou deux lignes à la fois, essuyer le surplus de colle tranquillement, et les coller correctement.


I could take the time to glue one line or two, wipe the extra glue off, and glue them nicely

Le tout n'est pas trop épais et je suis sûre que cela peut me servir de base à quelque chose d'autre.


the whole collage is not too thick, and I'm sure I can use it as a base for something else.

On n'a pas l'effet tissage des bandes de papier passant dessus puis dessous. Ce sont juste des carrés alignés.


You don't have the "weaving effect" of strips of paper going under and above one another. It's just squares put next to each other.

J'aurais dû les coller sur une feuille au format carré.


I should have glued them on a square piece of paper
Notez combien deux monoprints (photos, images) horribles coupés en carrés et réorganisés peuvent constituer un fond abstrait vraiment super :-)
Please note how two perfectly terrible monoprints (photos, prints) cut up in squares and re-organised can create some exquisite abstract background. :-)
Globalement une expérience sympa que je re-tenterai.
All in all, it was fun, and I'll sure try the patchwork experiment again.
12 janvier 2018
Voici un revenant de la série montrée ici.
Here's a ghost from the series I shown here.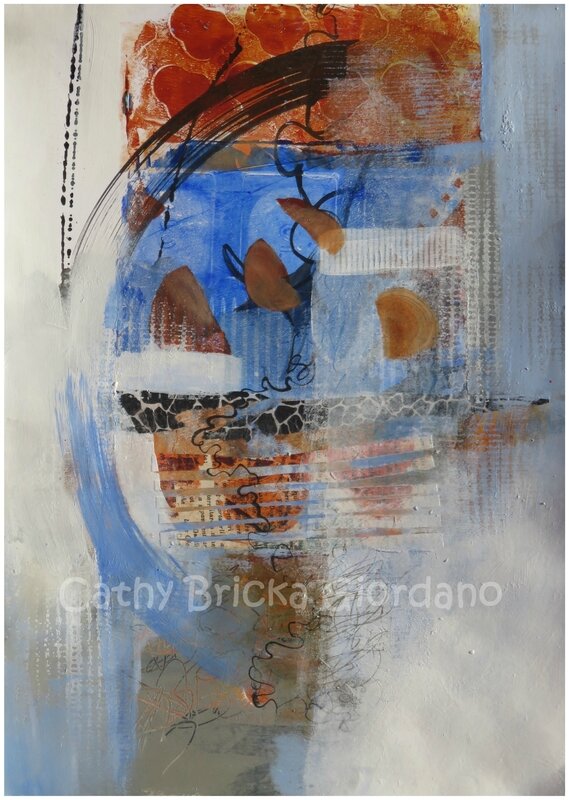 N° 4
Mixed media sur papier / Mixed Media on paper
Certains se demandent encore ce que c'est le "Mixed Media"? C'est, pour faire simple, quand on utilise plusieurs mediums pour créer une oeuvre. Elle n'est pas simplement peinte à l'huile par exemple, mais à l'huile, à l'acrylique et à l'encre. Je ne sais pas si j'ai raison, mais pour moi, c'est aussi le mélange des techniques: peinture, collage, impression, ...
Some of you may still wonder what exactly is "Mixed Media"? Well, to keep it simple, it's when you use not just one medium but different ones to create a work of art. It's not simply painted with oil for example, but with oil, acrylic, and ink. I don't know if I'm right, but for me it also means you've used different techniques: paint, collage, print, ...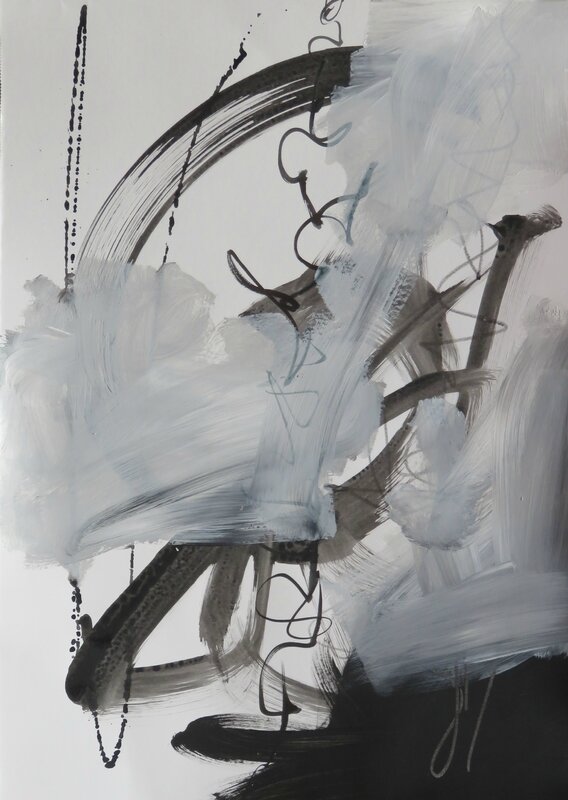 J'ai donc commencé avec un travail en noir et blanc (acrylique et encre),
So I started with some work in black and white (paint and acrylic)


Après ça, j'ai décidé d'imprimer en couleur par dessus à l'aide de ma Gelli plate,
After that, I decided to print some colours and textures with my gelli plate,

puis j'ai rajouté des collages, puis des collages de monoprints sur un papier imprimé,
then added some collages, then added some collages of monoprints on some printed text,
puis pour finir de l'acrylique par dessus le tout. Si ça c'est pas du "mixed media!" !
then painted with acrylic over it all. A true mixed media work!

J'aime bien l'ambiance qui se dégage, les transparences et textures.
I quite like the feel, the transparencies and the textures.
Ce qui m'a posé le plus de problème c'est la composition. Et encore je ne suis pas très sûre (convaincue) de l'ensemble, il y a encore une démarcation en plein milieu qui me dérange. Mais en recadrant, il y a du bon.
What I found the most difficult, was the composition. And i'm still not quite convinced. Some line in the middle is still bothering me. But if you reframe it differently, then there are some interesting parts.

A

B

C