01 octobre 2017
Avec le mois de septembre, on a repris nos promenades régulières au parc de la villa Borghese
We've again taken up our regular strolls in the park of Villa Borghese.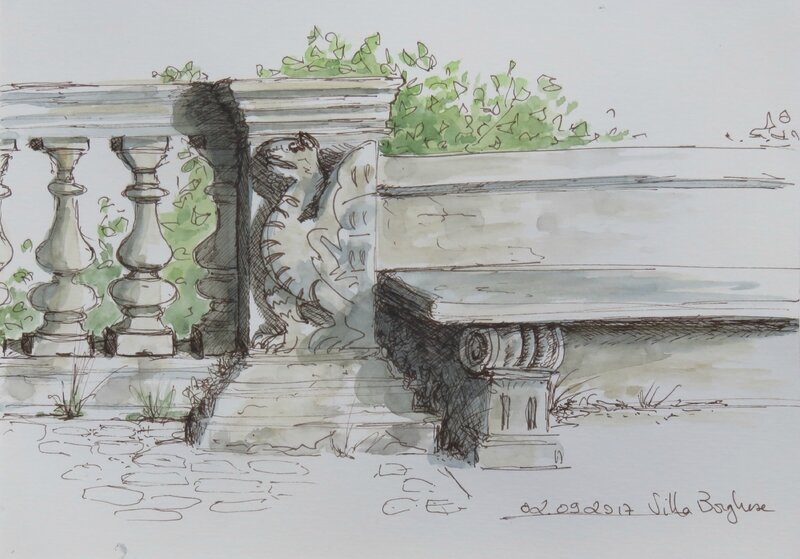 N°129
détail d'un banc. Le dragon un des emblêmes de la famille Borghese
/ detail of a bench. The dragon is one of the heraldic symbol of the Borghese family.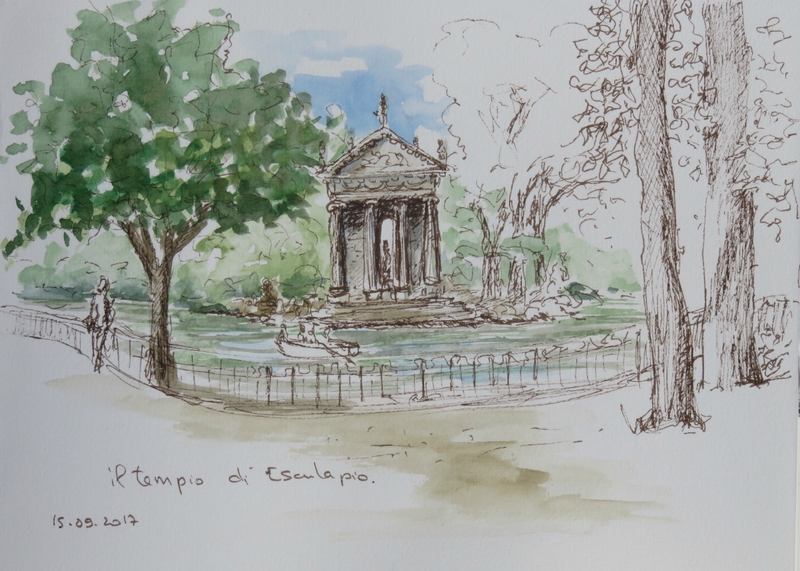 N°130
le temple d'Esculape / Temple of Esculapio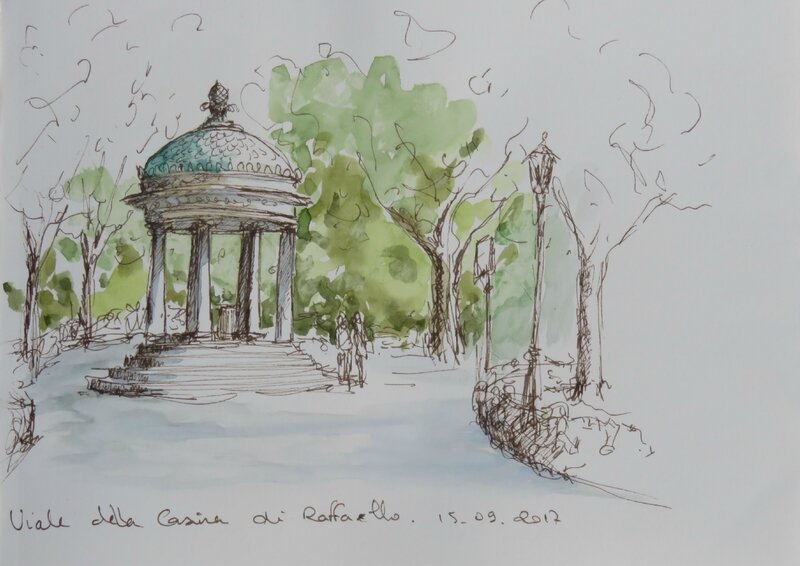 N°131
Viale della Casina di Raffaello (1)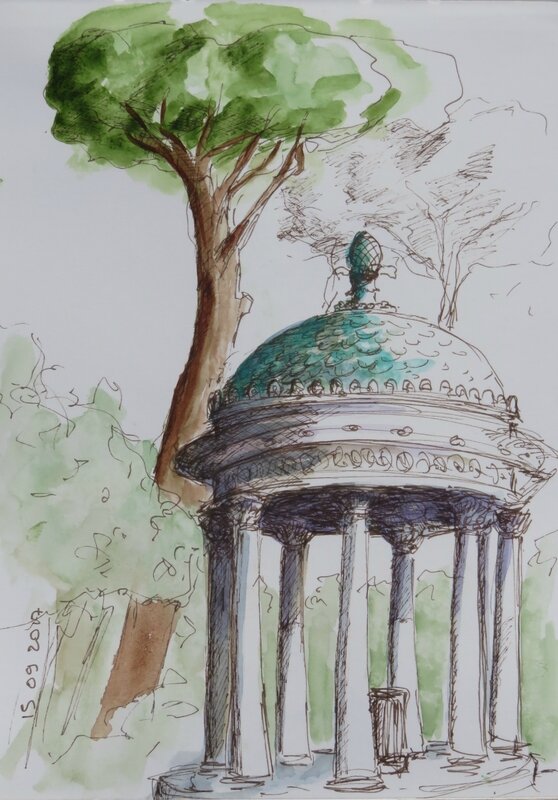 N°132
Viale della Casina di Raffaello (2)
28 septembre 2017
Fort et doux
Ondulé et raide,
Clair et sombre,
Chaud et froid,
Transparent et opaque.
Strong and Soft,
Wavy and Straight,
Light and Dark,
Warm and Cold,
Transparent and opaque.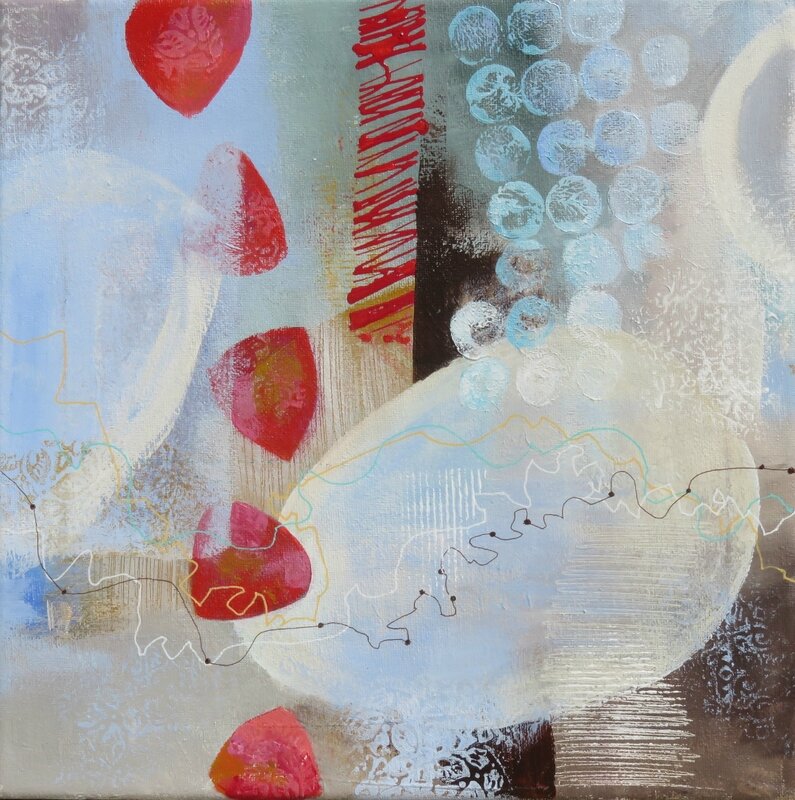 N°128 Equilibre
acrylique sur toile / acrylic on canvas
30 x 30 cm
Tout comme cet autre tableau montré l'autre jour, j'ai commencé celui-ci en juillet et je l'ai fini il y a peu. Le revoir après quelques temps aide vraiment à savoir quoi faire, les parties à adoucir, les parties à accentuer, les lignes à rajouter.
just like the other one, I started it in July and finished it the other day. It was good to see it again after all this time, it really helps to know what's good and what' should be done about it, what part to soften, what part to strengthen, what line to add.
peut-être plus lumineux sur fond blanc:
maybe better on a light background: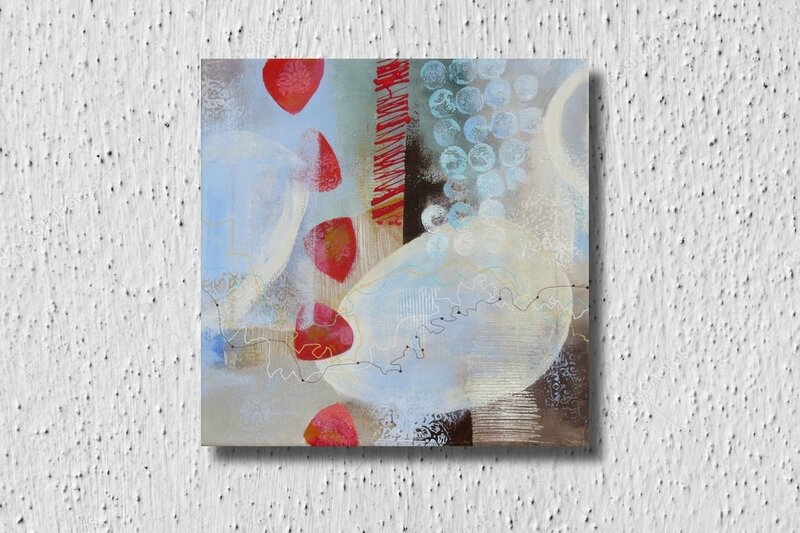 texturé? textured?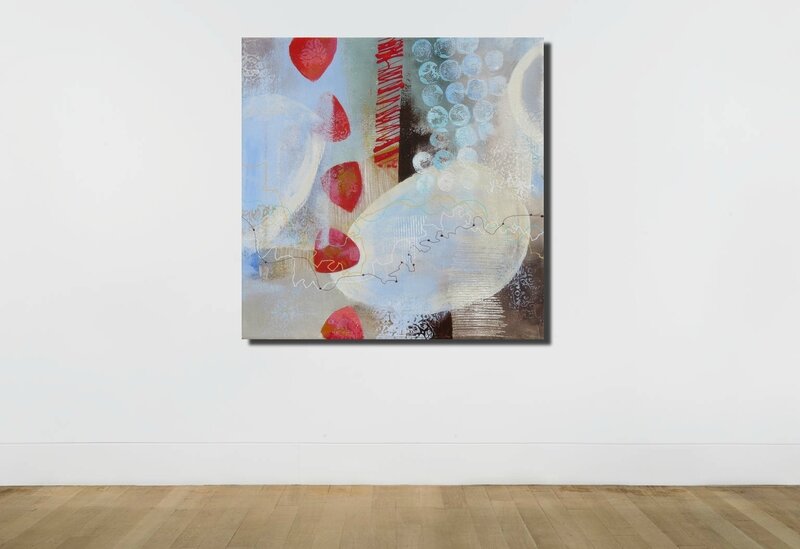 Ou lisse? Or smooth?
24 septembre 2017
Une semaine à Arles fin août, et pour moi l'occasion de faire deux petits croquis
A week in Arles end of August, time for two quick sketches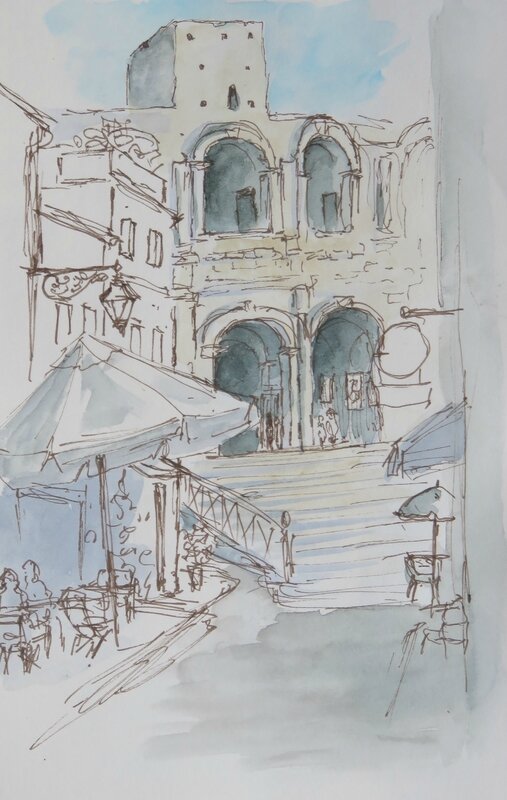 N°126

N°127
Si vous voulez voir davantage de croquis du sud de la France, n'oubliez pas qu'il y a à droite les différents albums réalisés au fil des années; j'ai remis le lien ci-dessous. (les croquis sont classés avec le n° du département.) Bonne balade !
If you'd like to see more sketches of Southern France, don't forget the albums on the right or below. Just click on the thumb nail and enjoy!


3) France (sauf le sud / except south)
20 septembre 2017
Cela faisait longtemps que je ne vous avais pas emmenés faire un tour dans le monde imaginaire de mes toiles abstraites
It's been a while since I last took you for a trip into the imaginary world of my abstract paintings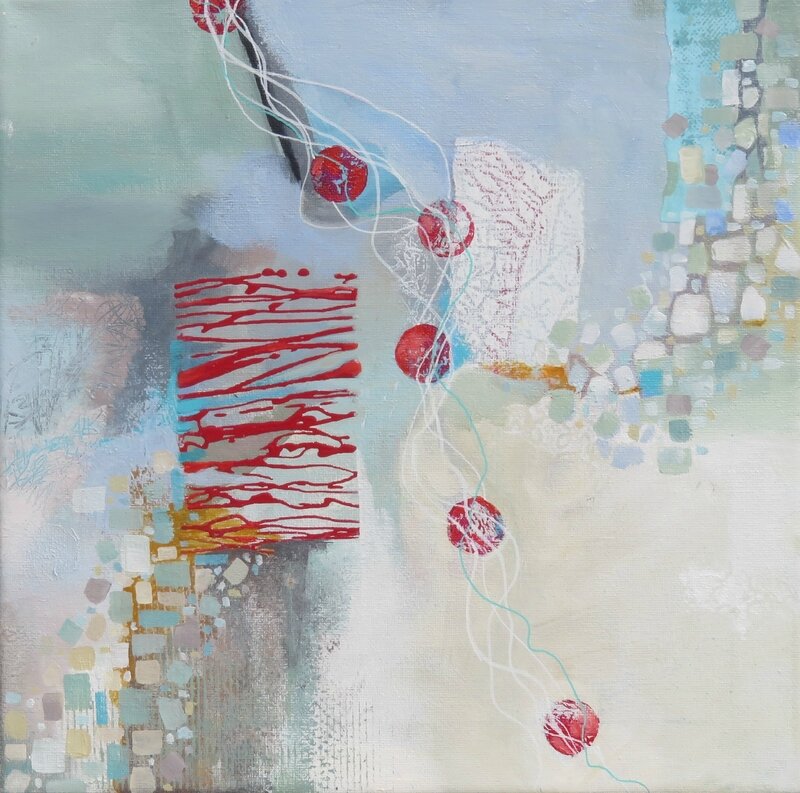 N°125 Sans titre pour l'instant / Untitled yet
Mixed media et collages sur toile / mixed media and collages on canvas
30 x 30 cm
Commencé en juillet, je l'ai fini l'autre jour en rajoutant quelques touches ici et là. Euh, un peu plus de quelques touches, pour être honnête avec vous, mais bref, maintenant il est fini.
I started it in July, then went away on holiday, and finished it the other day by adding a few touches herer or there. Well, more than a few touches really, but now it feels completed.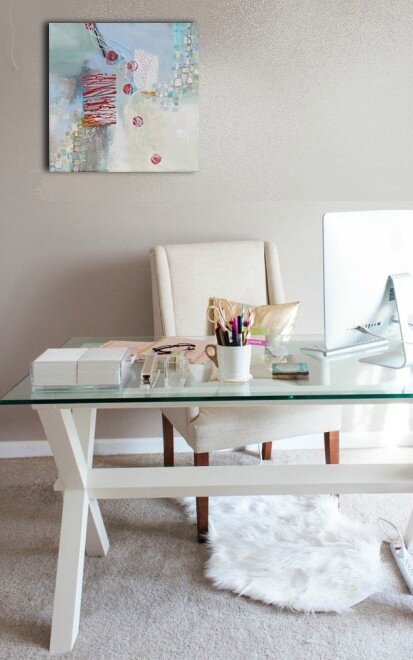 16 septembre 2017
Les 'Trabucchi' sont des constructions en bois sur pilotis qui surplombent la mer. C'est un système de pêche traditionnel avec de grands filets accrochés à de longs piquets suspendus au dessus des eaux. On en trouve principalement le long de la côte du côté du Gargano et dans les Abruzzes. J'ai adoré ces formes étranges, mi insecte géant, mi machine en bois comme celles inventées par Michelange.
'Trabucchi' are fishermen wooden huts on stilts. It's a traditional way of fishing with nets hanging out from those long poles jutting out above the sea. They mainly dot the Adriatic coastline of Gargano and Abbruzzi. I fell in love with their weird shapes, part gigantic insect, and part wooden machine, like those invented by Michelangelo.
N°121
J'ai dessiné celui là de la plage où nous passions l'après midi. Le jour suivant, j'ai décidé de m'approcher pour le croquer sous un autre angle.
I sketched this one from the beach where we were spending the afternoon. The following day I decided to get closer to find another point of view to sketch it some more.
N°122
En s'approchant, nous nous sommes aperçus que nous pouvions monter dessus, il était ouvert au public. Mon fils a insisté pour que je montre mon croquis au vieux monsieur. Je l'ai fait, et le gars était si content qu'il m'a demandé si je pouvais lui en faire un autre et le lui vendre.
As we got closer, we realised that we could indeed come in and step onto the platform, it was open to public. My son insisted I showed the old guy my sketch. I did, and the old man was so thrilled, he asked me if I could sketch another one for him and maybe sell it to him.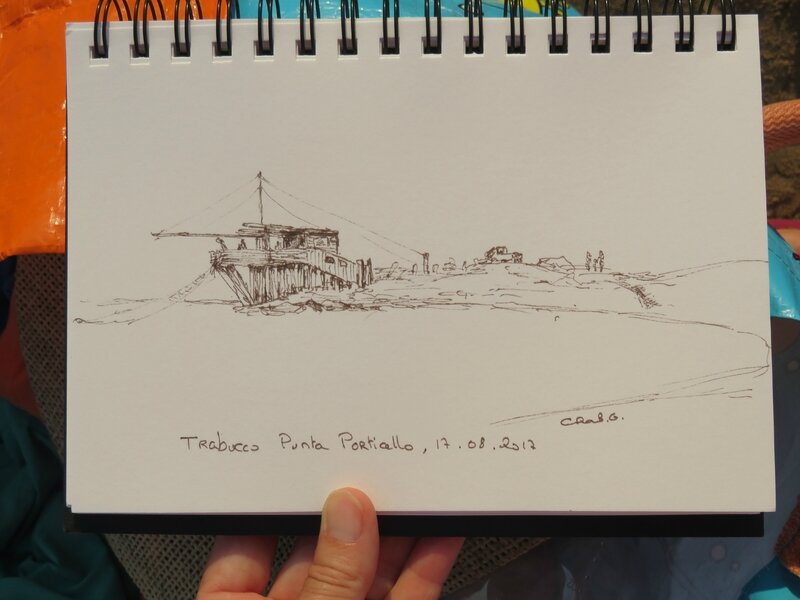 N°123
alors j'ai croqué le même point de vue de la plage, juste à l'encre de chine et je le lui ai offert. Il m'a remerciée avec effusion.
so I did, and I gave it to him as it is, without any colour. Of course I didn't make him pay. He kept thanking me effusively.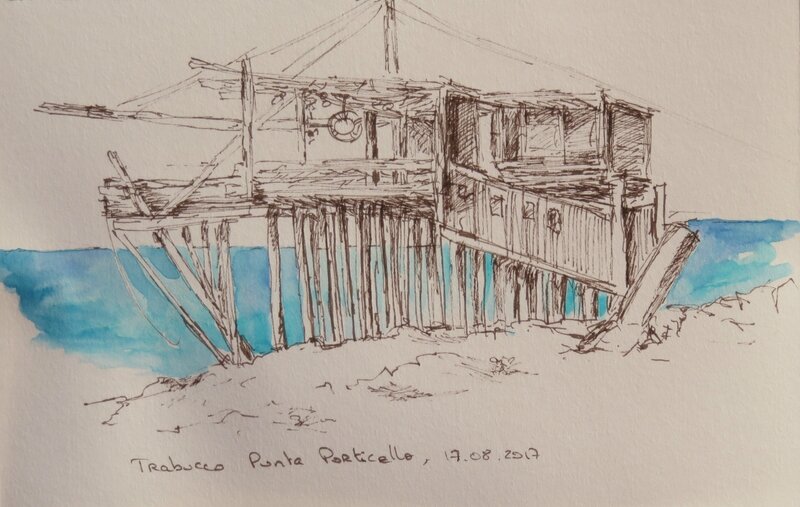 N°124
en repartant, je me suis assise sur un bout de rocher et je l'ai croqué une dernière fois. Si nous en avions eu le temps, j'aurais croqué tous les trabucchi de la côte! ... Tiens, ça c'est une idée! ;-)
on my way back I sat on a rock and sketched it once more. Had we had time, I think I would have stopped to sketch all the trabucchi along the coast! Well that's an idea... ;-)
D'autres Trabucchi vus le long de la côte:
Other trabucchi seen on the coast: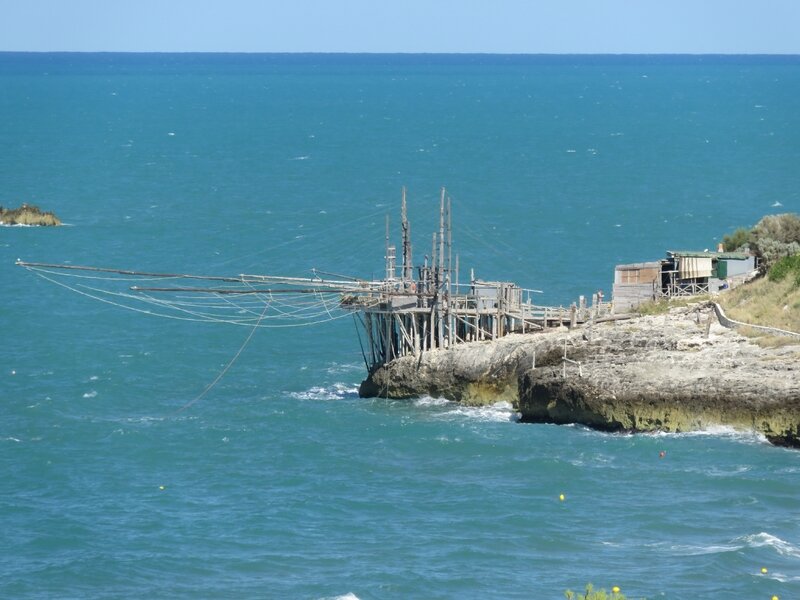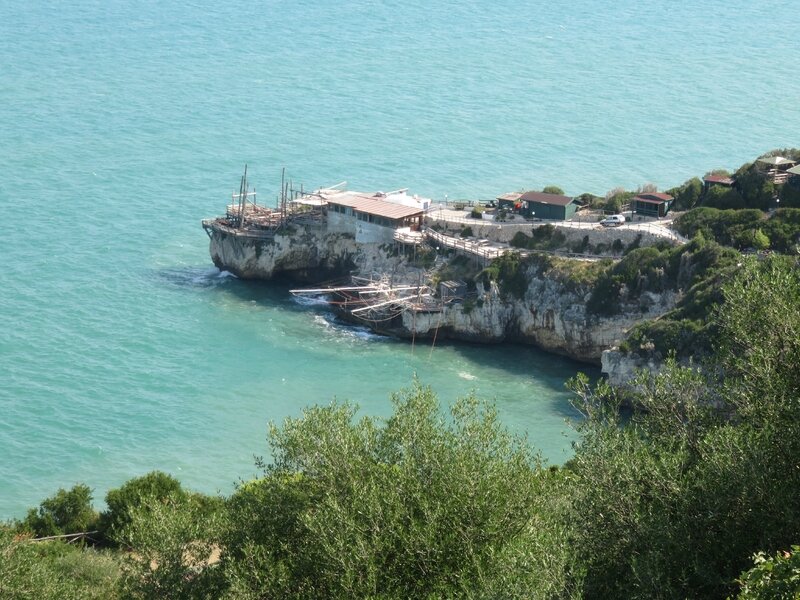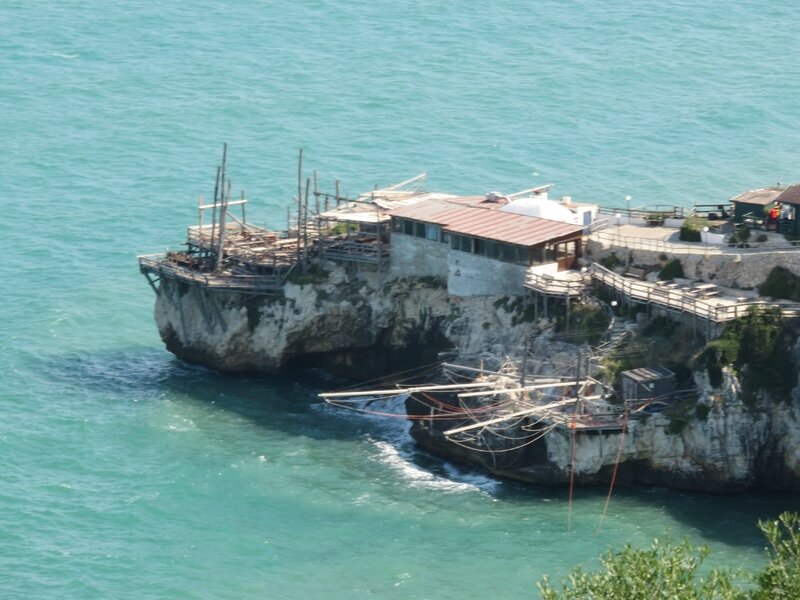 12 septembre 2017
C'est avec la péninsule du Gargano que nous avons conclu notre périple dans le sud de l'Italie. Imaginez des oliviers à perte de vue, et des falaises d'un blanc éblouissant; imaginez des criques isolées et des routes tortueuses au milieu des collines douces couvertes de pins; imaginez le chant des cigales et le parfum musqué des aiguilles de pins chaudes et des feuilles d'euclyptus qu'on écrase sous les pas; imaginez des villages aux maisons blanches perchés sur des falaises. Eh bien c'est ça le Gargano.
We ended our trip with the Gargano peninsula. Think olive tree groves and blinding white cliffs; think secluded beaches and winding roads in the middle of soft pine trees clad hills; think cicadas and the musty fragrance of warm pine needles and eucalyptus leaves crushed under your feet; think white-housed villages huddled on cliffs, well that's Gargano.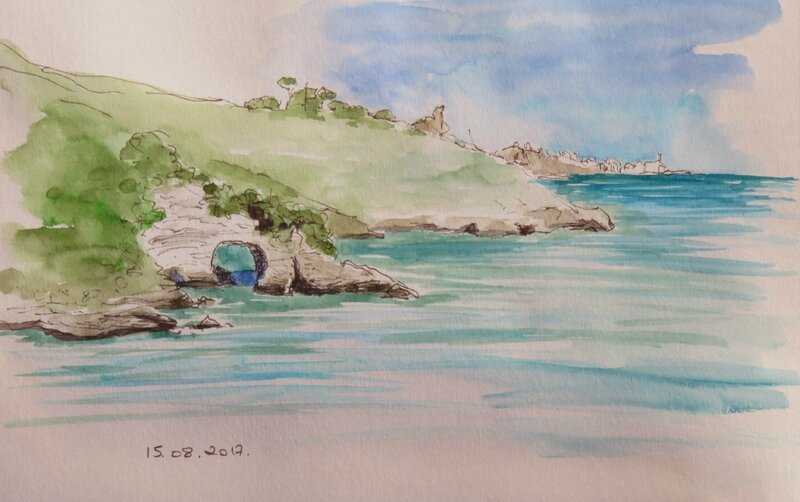 N°115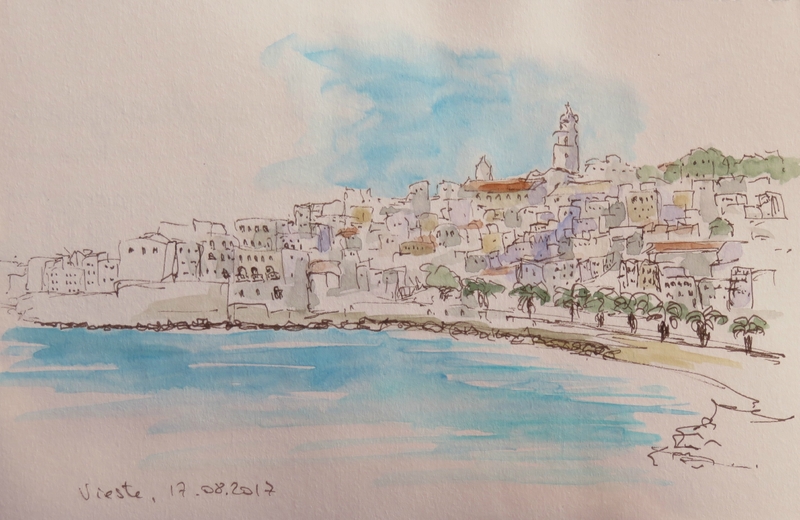 N°117
Vieste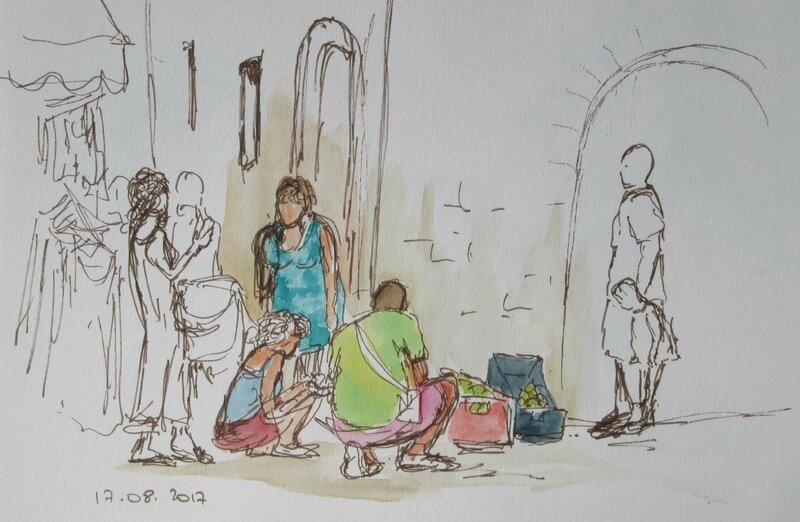 N°118
Cet homme accroupi près de deux cagettes vendait des figues de barbarie. Il les tenait délicatement dans ses énormes mains et les pelaient habilement pour la dame à côté de lui; elle plaçaient les fruits juteux avec précaution dans un tupperware.
this man crouching next to two boxes was selling prickly pears. Holding the fruits in his huge hands, he was gently peeling them for the woman next to him, and she was cautiously putting the juicy fruits in a tupperware box.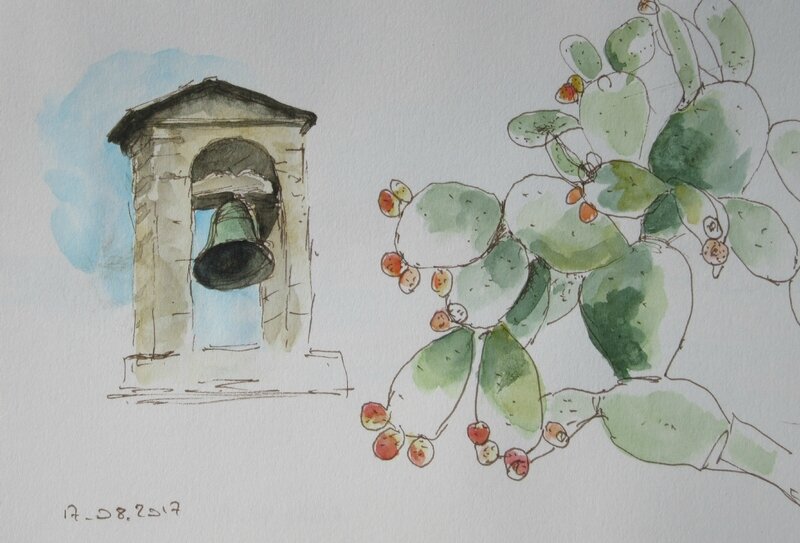 N°119
un clocher aperçu dans Vieste et les figues de barbaries en face de chez nous
some church bell and the prickly pears that were right in front of our small flat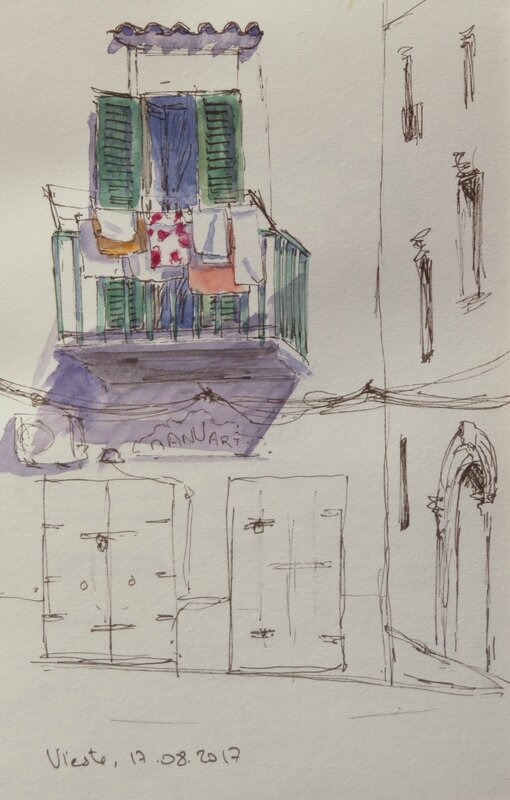 N°120
Dommage, j'étais là trop tôt et le magasin en dessous n'a ouvert que quand j'ai eu fini le croquis!
Pity, I was there early and the shop at the bottom opened just as I had finished the sketch


Et quelques photos pour clore le tout
And a few snapshots to finish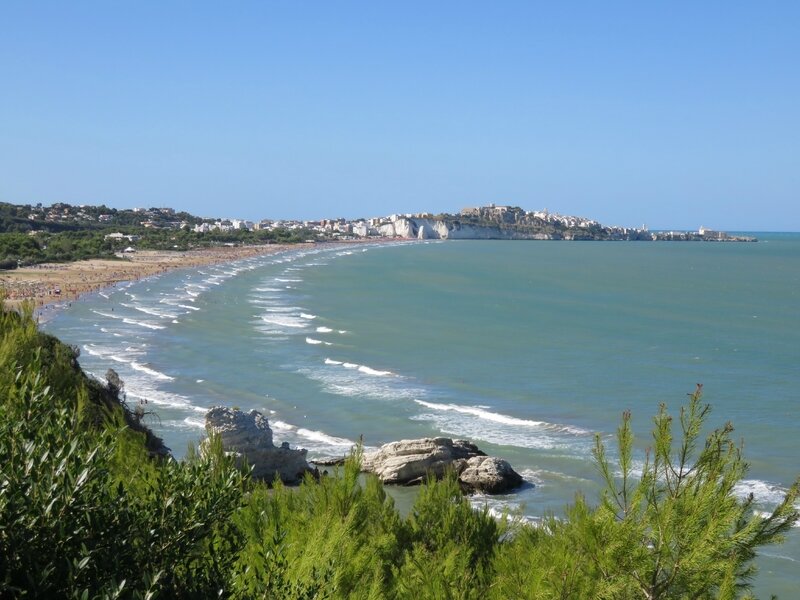 Vieste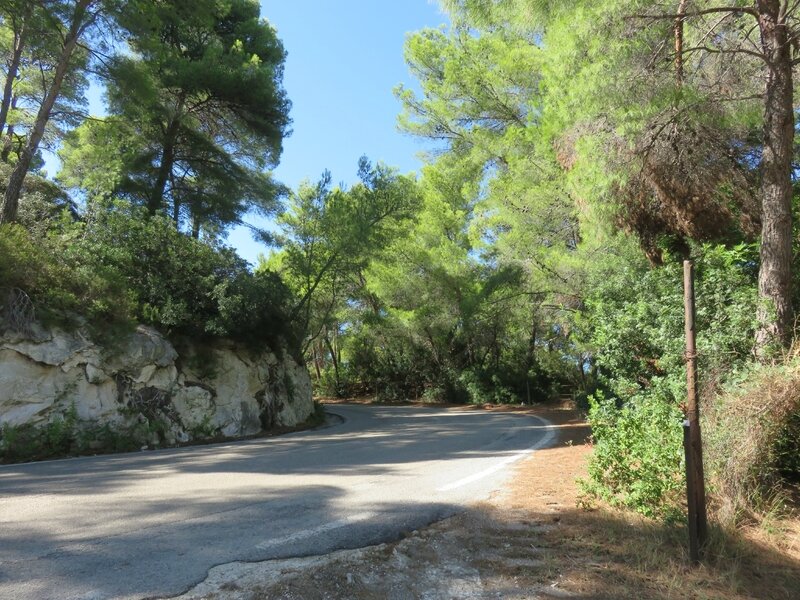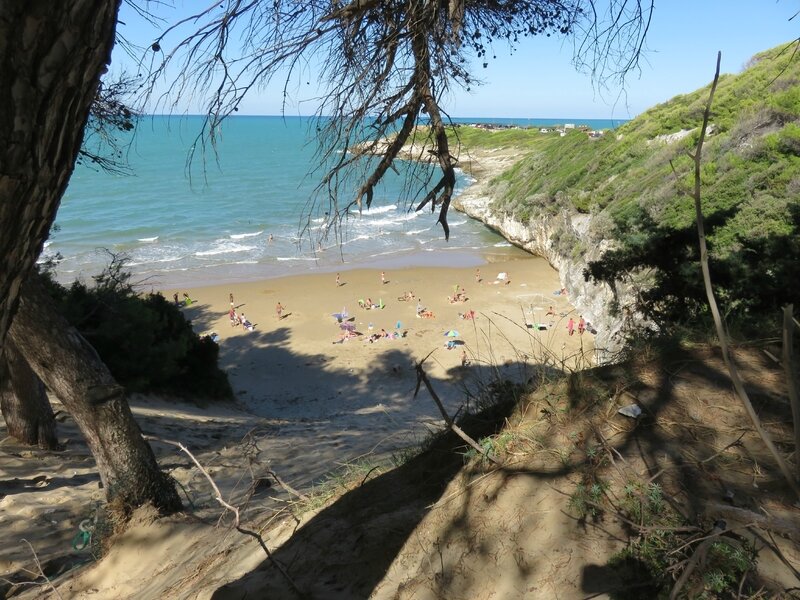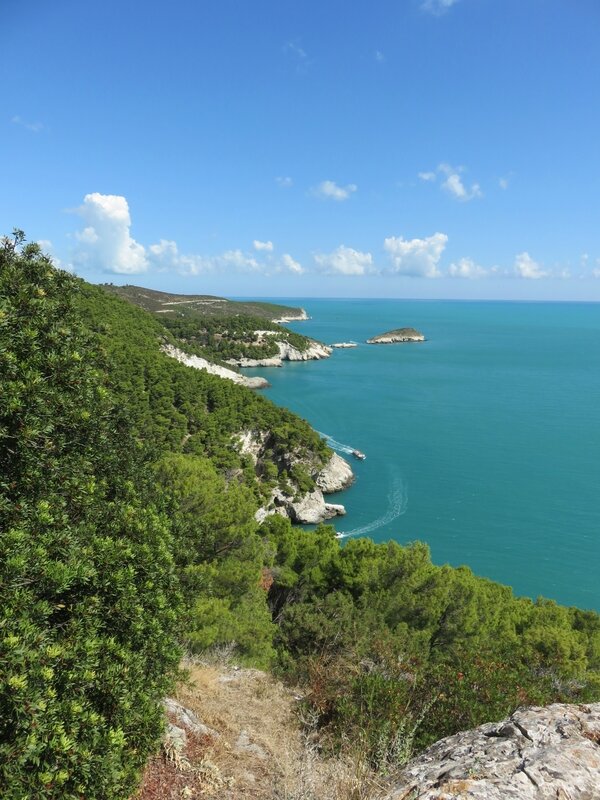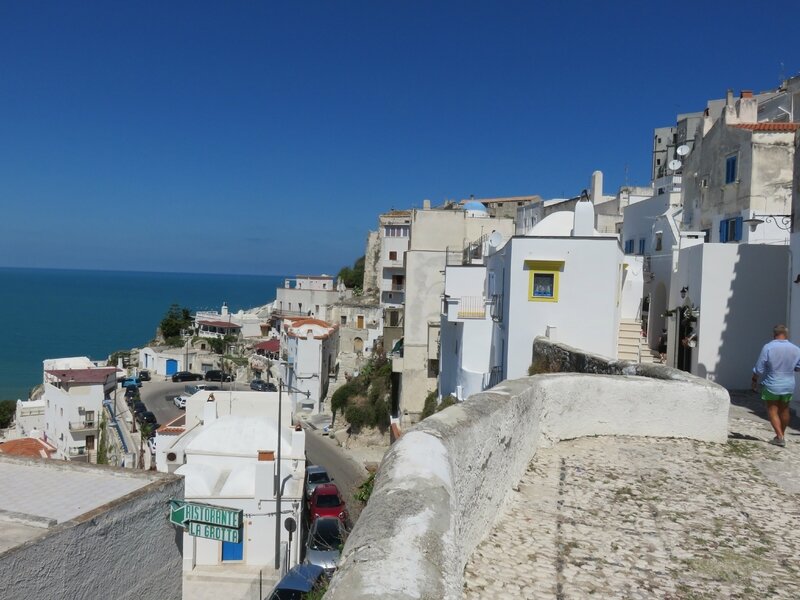 Peschici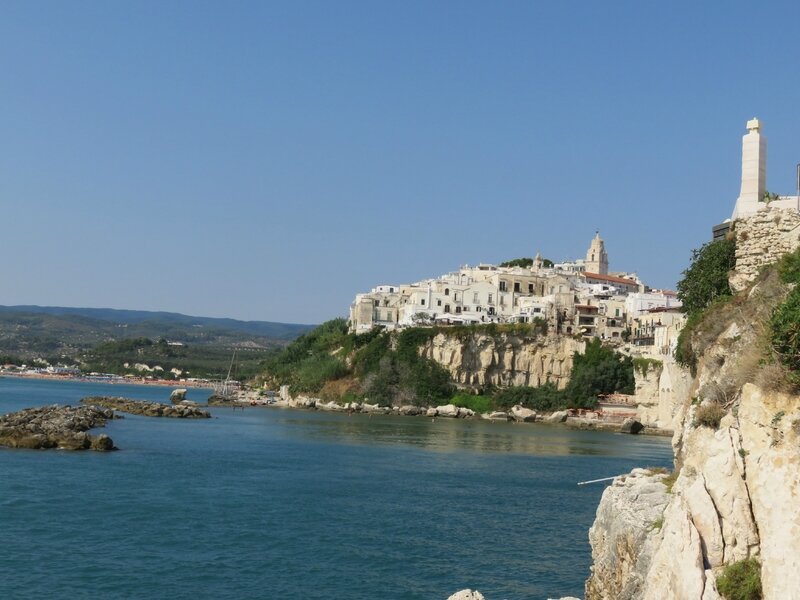 Vieste
Vieste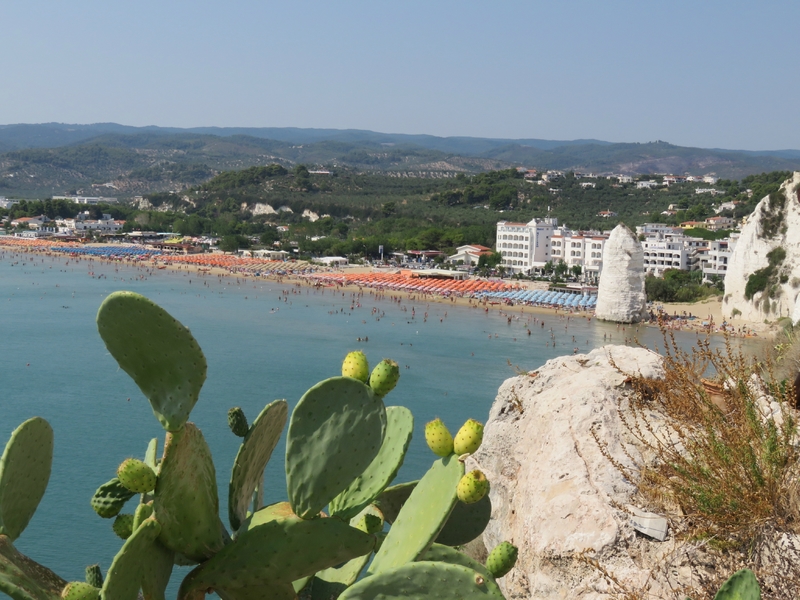 Vieste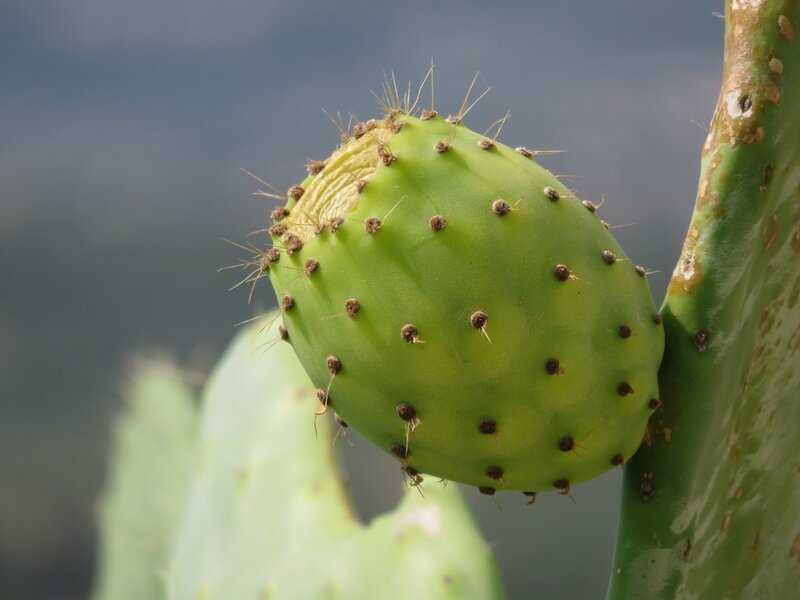 08 septembre 2017
Après Gallipoli, direction Polignano a mare sur la côte Adriatique. J'ai eu un coup de coeur pour cette petite ville blottie sur une falaise.
After Gallipoli, we headed to Polignano a mare on the Adriatic coast. I fell in love with the small town huddled on a cliff.

N°106
des rues calmes, et des maisons plutôt modestes
quiet streets and mostly modest houses

N°107
une mini (et du coup bondée) plage de galets entre deux falaises
the tiny (implying very crowded) pebble beach between two cliffs

N°108
de vieilles cabannes de pêcheurs
the old fishermen's cottages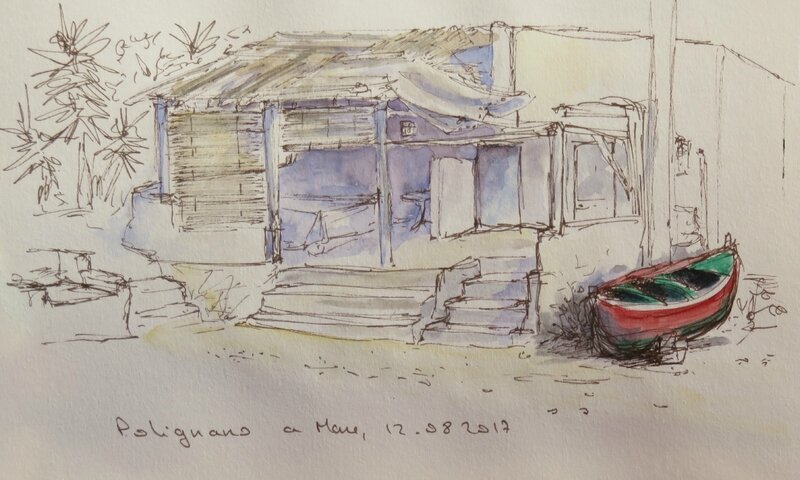 N°109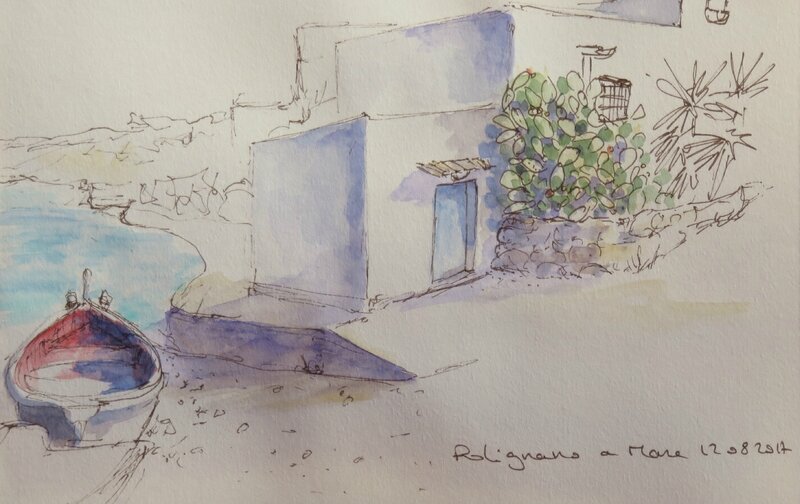 N°110
Nous avons aussi visité Alberobello, un village au milieu des oliviers de l'arrière pays, célèbre pour ses maisons appelées 'Trulli'
We visited Alberobello, a quiet village set among olive trees with the famous old houses called 'Trulli'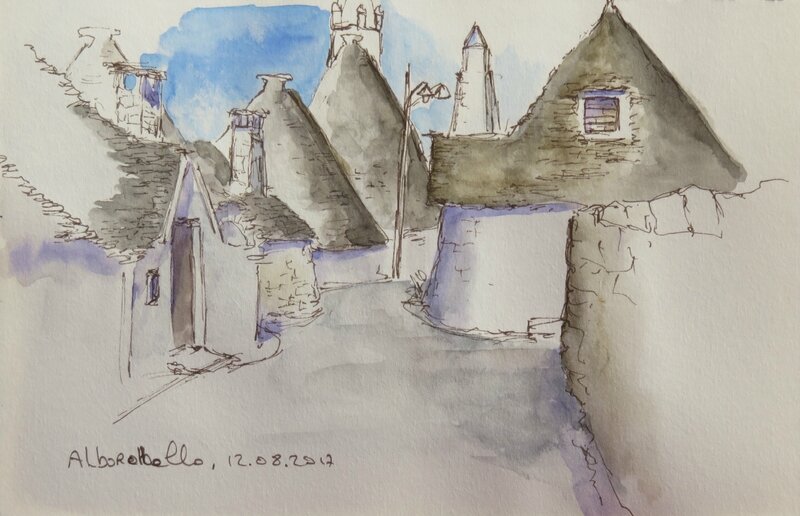 N°111
bien sûr nous avons préféré le quartier plus calme des Trulli habités
of course we much prefered the quiet lived-in district
au quartier plus touristique et plus animé. Il sonne faux, si vous voyez ce que je veux dire. Trop parfait.
to its touristic counterpart. Busier but hollow, if you see what I mean. Almost too picture perfect.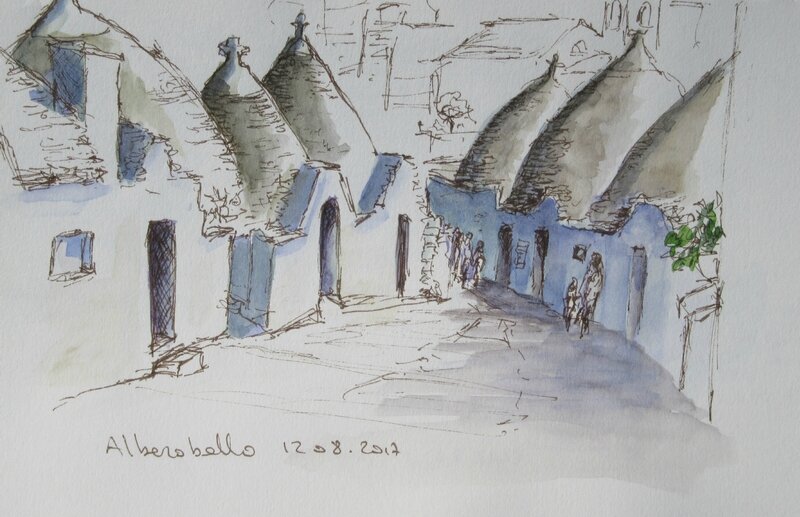 N°113
Bien que étant originaire d'une région d'oliviers dans le sud de la France, je n'ai jamais vu d'oliviers aussi vieux, aussi énormes et aussi tordus que dans le sud de l'Italie.
Eventhough I come from an olive tree region in the south of France, I've never ever seen such old and huge and gnarled olive trees as those we saw in Southern Italy.
Quelques clichés pour finir
a few snapshots to round off this post.
Polignano a mare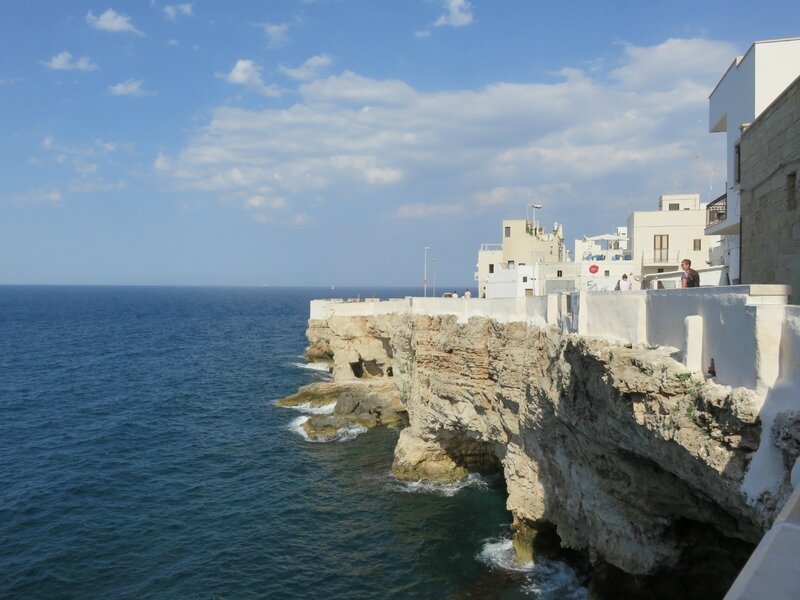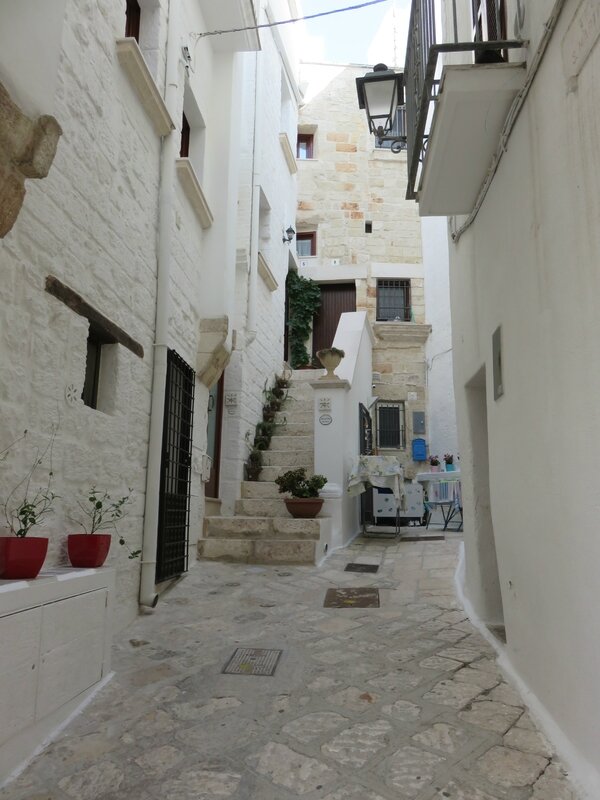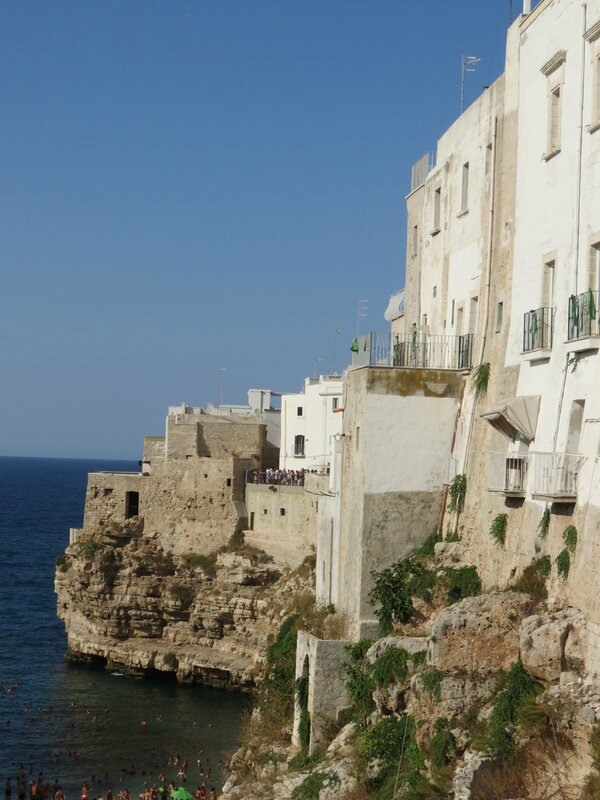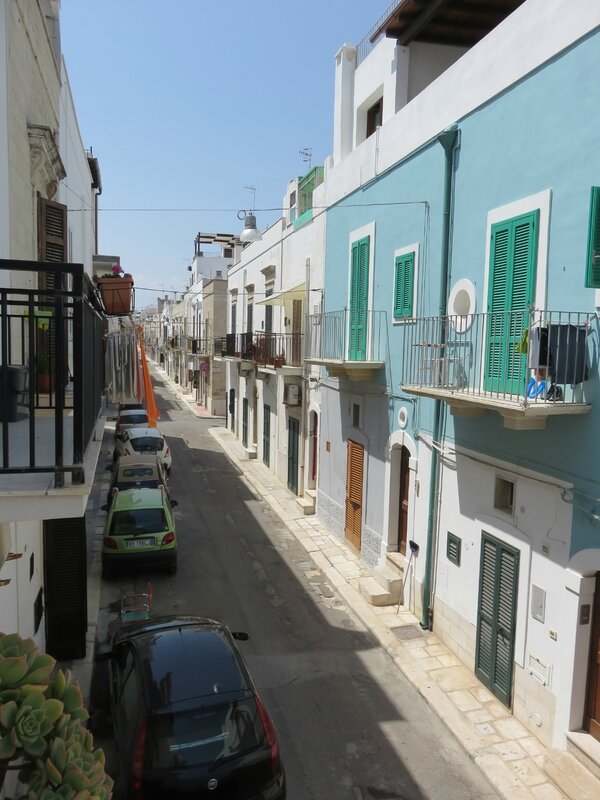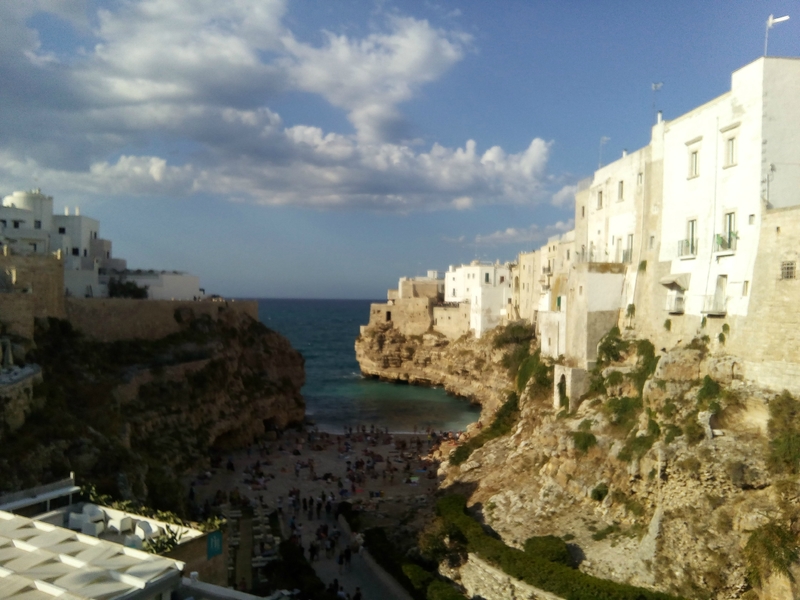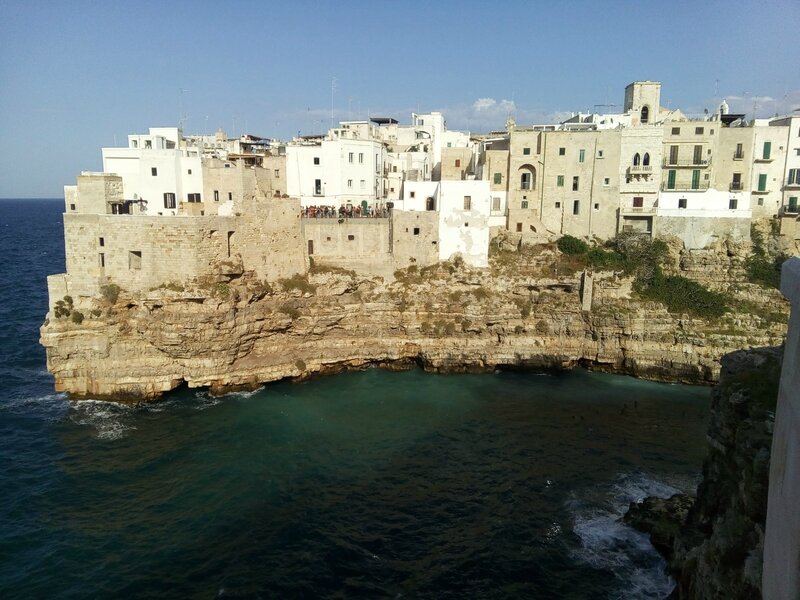 Alberobello: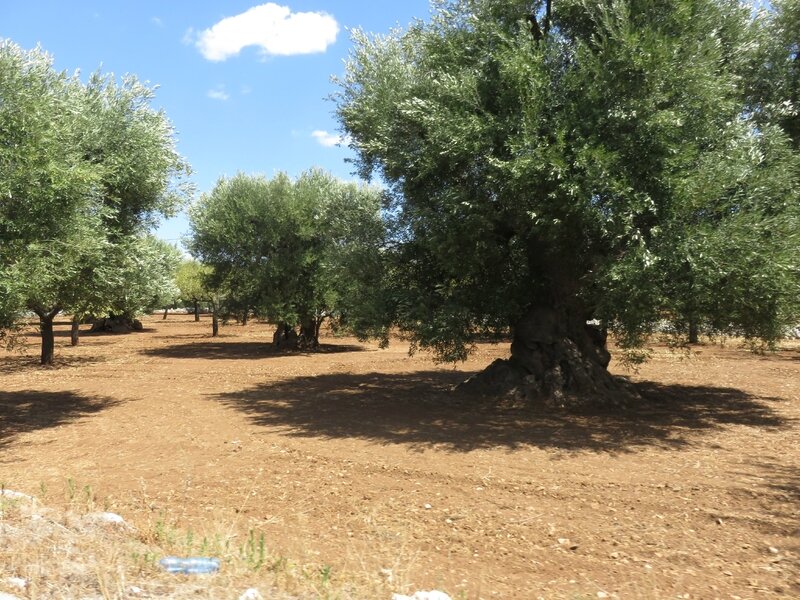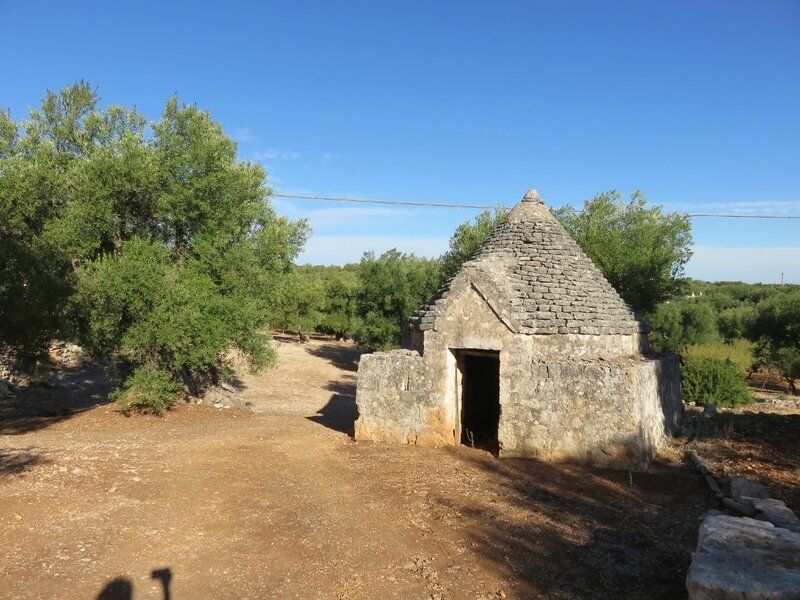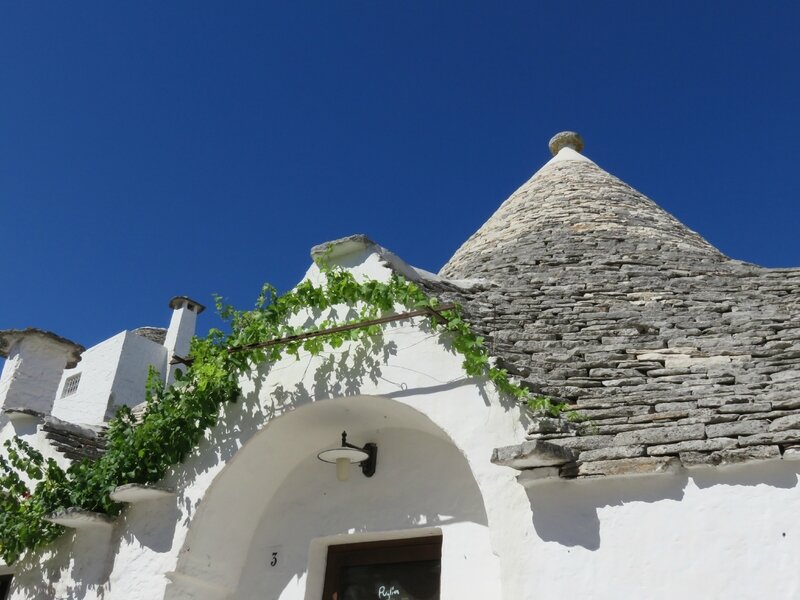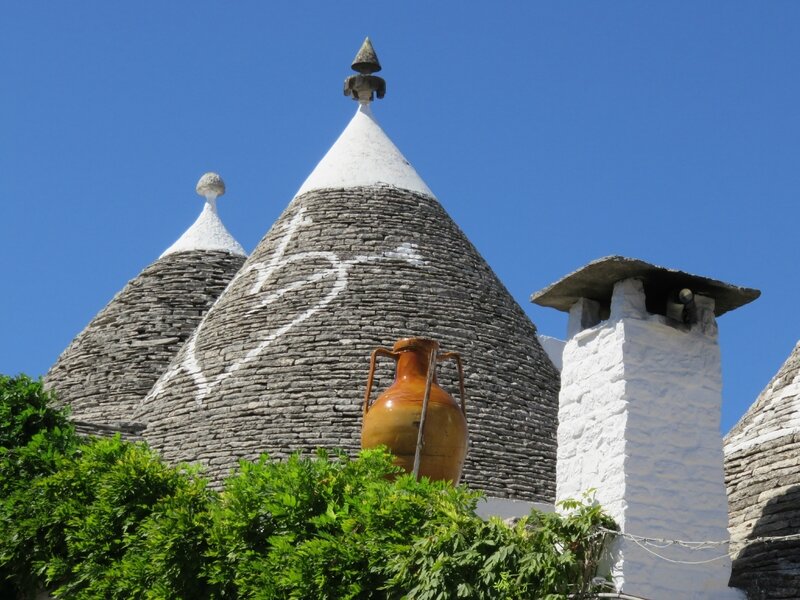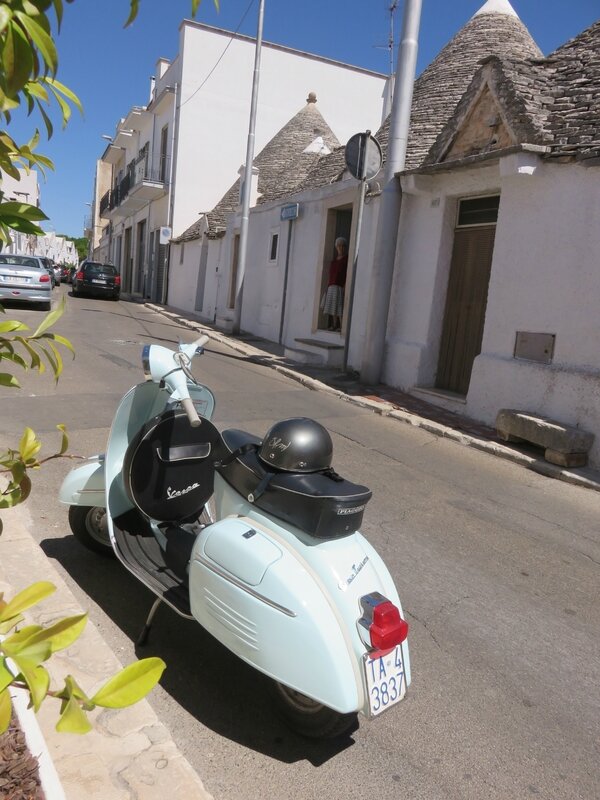 04 septembre 2017
Il est de toutes les plages, et tout particulièrement en Italie où le bleu de la mer se prolonge en vagues douces sur la côte
It's on every beach, but most particularly in Italy where the blue of the sea stretches to the beach in soft waves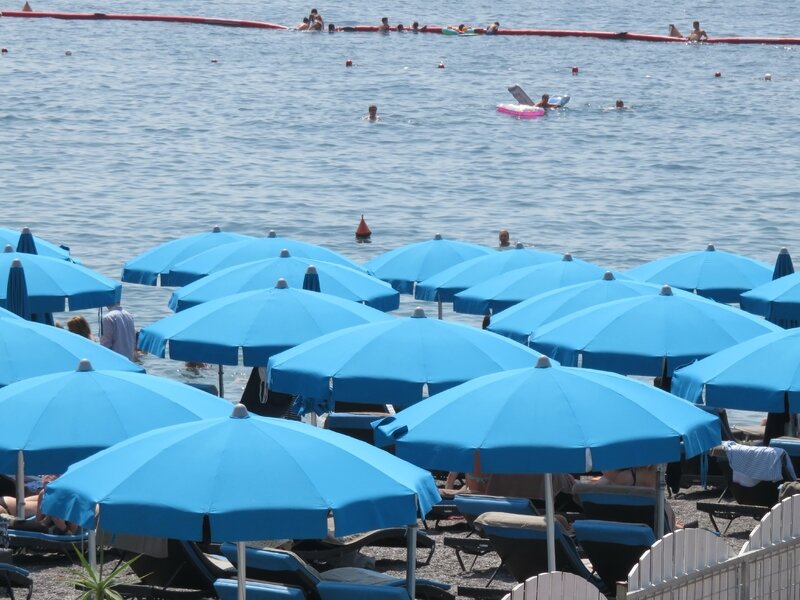 Du calme des isolés / from the calm of the lonely one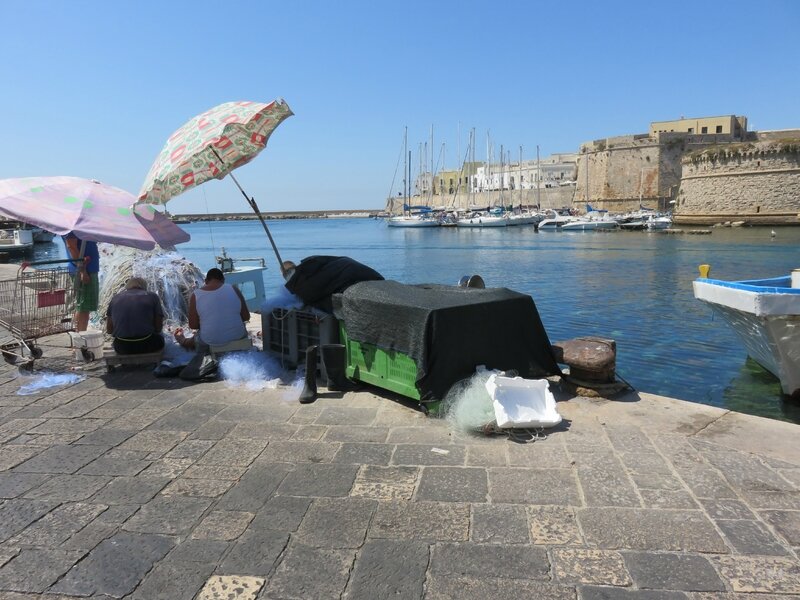 (Gallipoli)
à l'animation des plages surpeuplées. / to the liveliness of crowded beach.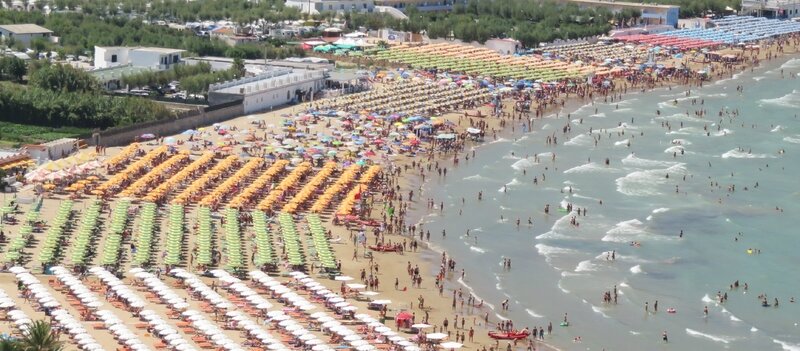 (Peschici)
Des alignements rigoureux / from thorough aligning,
(côte amalfitaine)
à la joyeuse désorganisation des plages libres. / to the carefree random of public beaches.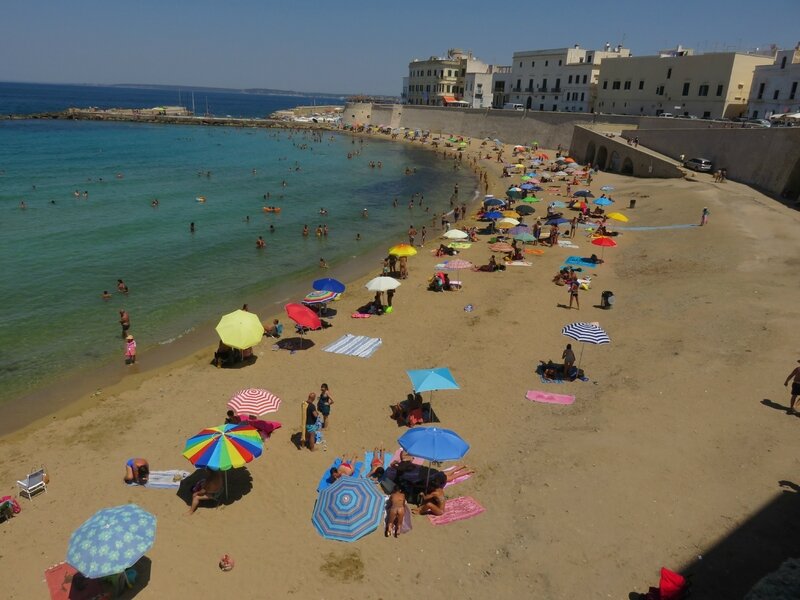 (Gallipoli)
Des arcs en ciel bruyants / from loud garish rainbows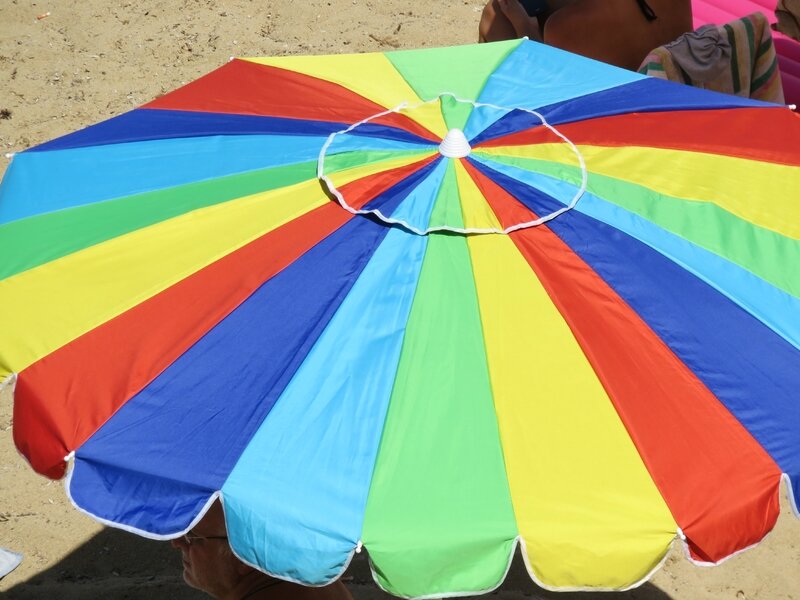 aux élégances rafinées. / to refined elegance.
(Amalfi)
Du graphisme des courbes et rayons déployés en masse, / from graphic curves and segments all spread out en masse,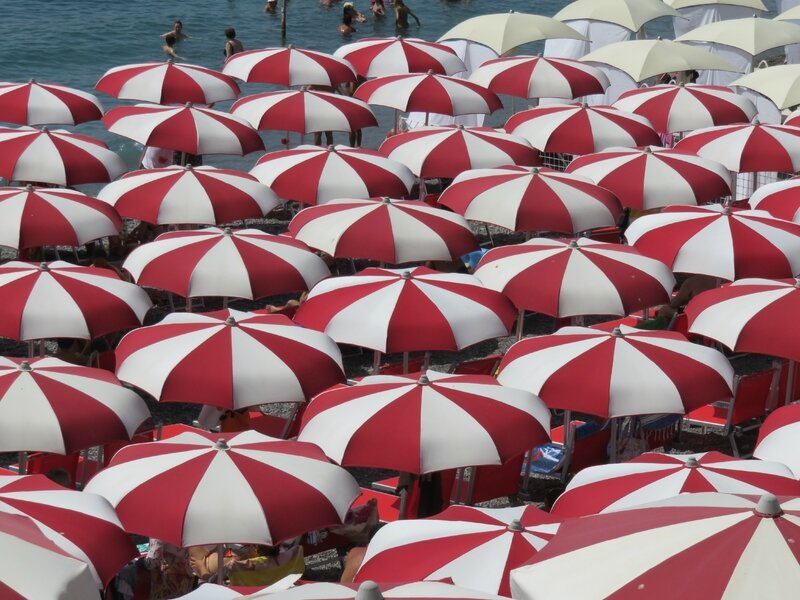 (Amalfi)
ou en ligne, / or lined up,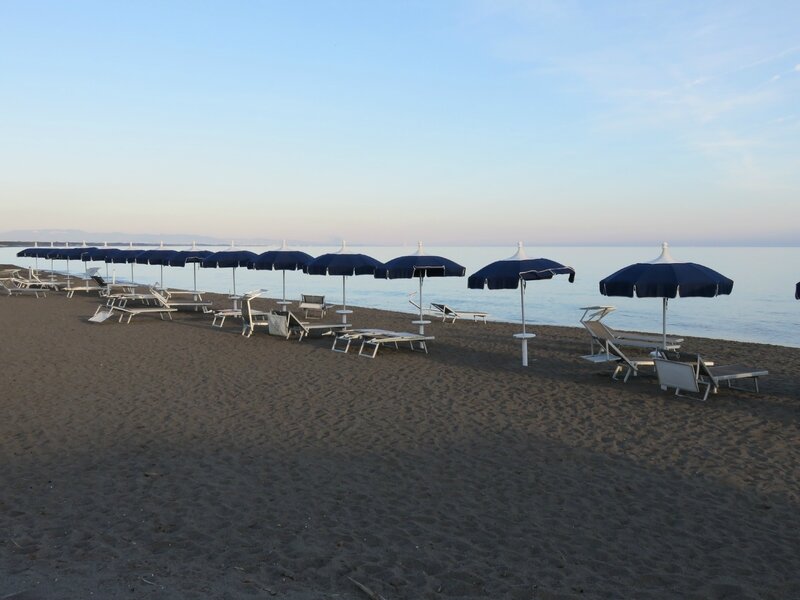 (Montalto Marina)
au garde à vous des fins d'après midi. / standing to attention at dusk.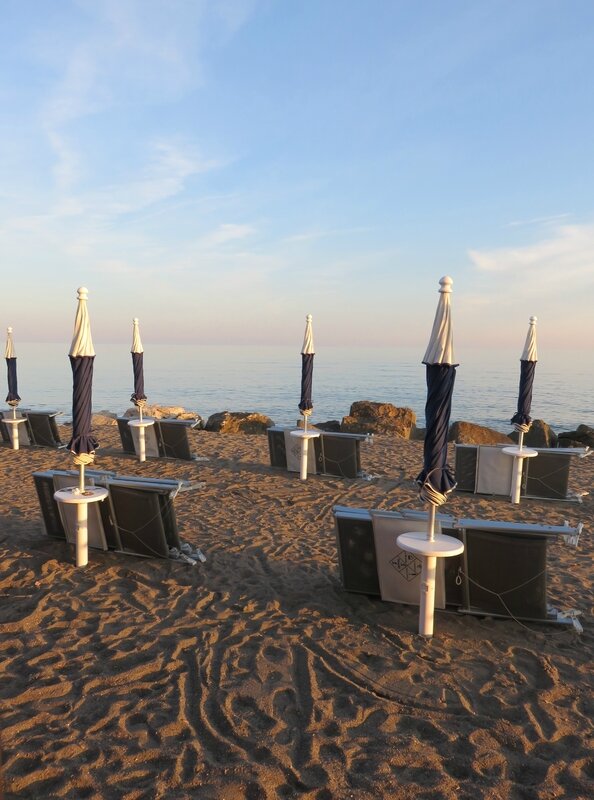 La conclusion est incontestable, non? C'est le roi de l'été.
The conclusion is indisputable: it's the king of summer
Vous ne serez pas étonnés de le voir apparaître sur quelques unes des pages de mon carnet :
So you won't be surprised to find some scattered on the pages of my sketchbook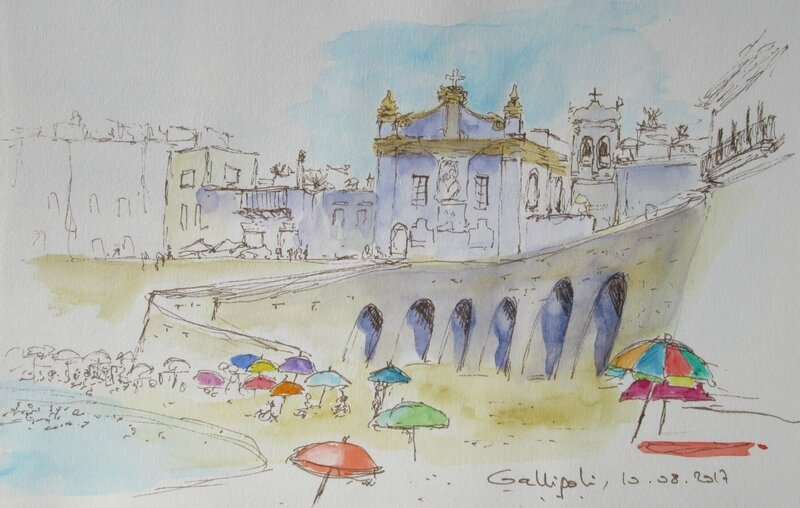 N°103
Gallipoli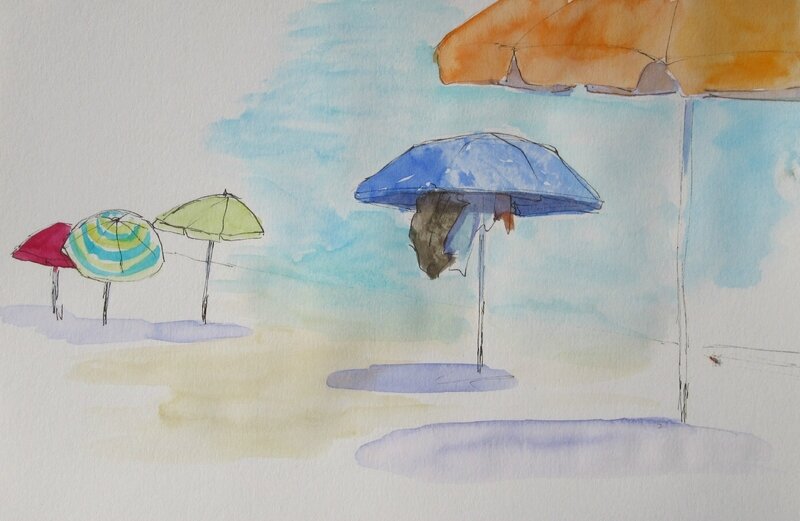 N°105
01 septembre 2017
Un été ressourçant à aller de mer en mer, de côte en côte, parcourir les autoroutes, les routes, ... et quelques chemins perdus entre de vieux oliviers tordus. Un été ressourçant dont voici la substantifique moelle, enfin, quelques croquis quoi.
I had a very revitalizing summer, going from sea to sea, coast to coast, driving along motorways, roads, ... and a few winding paths lost in the middle of ancient olive trees. Here's a brief summary in a few sketches.
N°95
Un petit tour sur la côte Amalfitaine pour commencer. Voici une belle plongée dans les eaux de la mer Tyrrhénienne
We started with a little stroll along the Amalfi coast and a breathtaking view over the Tyrrhenian sea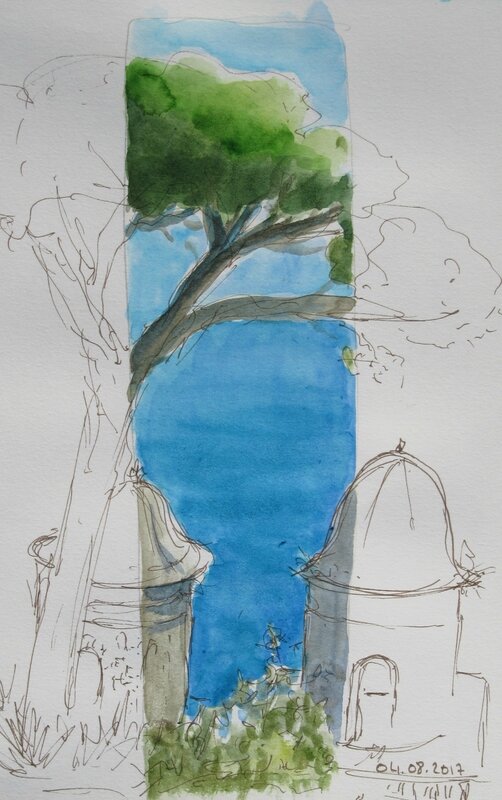 N°96
Nous sommes tombés sous le charme de la villa Ruffolo : d'incroyables points de vue et des jardins d'une grande sérénité
we were enchanted by the Villa Ruffolo: stunning viewpoints and serene gardens;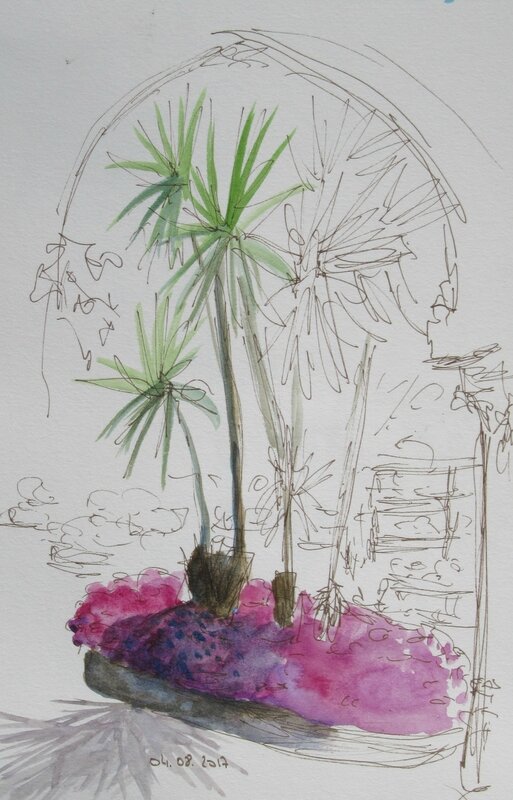 N°97
un lieu qui a beaucoup d'âme
a place with a soul.
Puis nous nous sommes dirigés vers la mer Ionienne
Then off we went to the Ionian Sea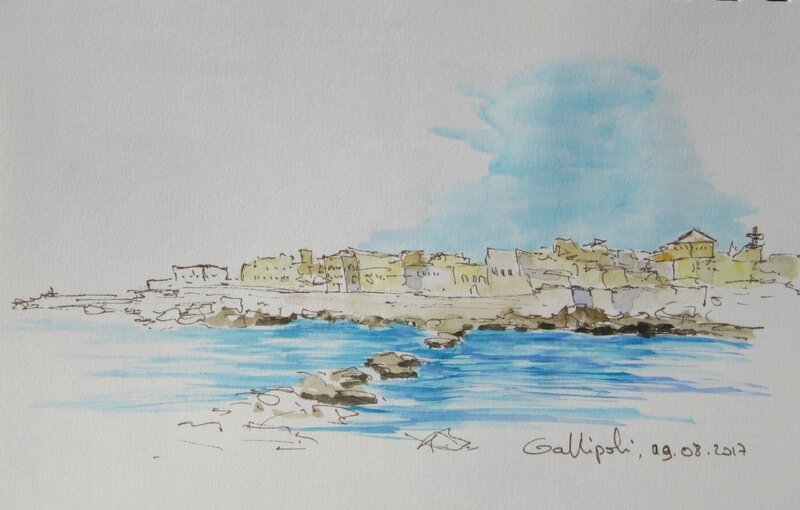 N°98
J'ai adoré le vieux Gallipoli avec ses maisons couleur beurre frais (jaune de Naples)
Gallipoli (not the same one as the famous WW1 battlefield) has a charming historical center with butter yellow walls (Naples yellow)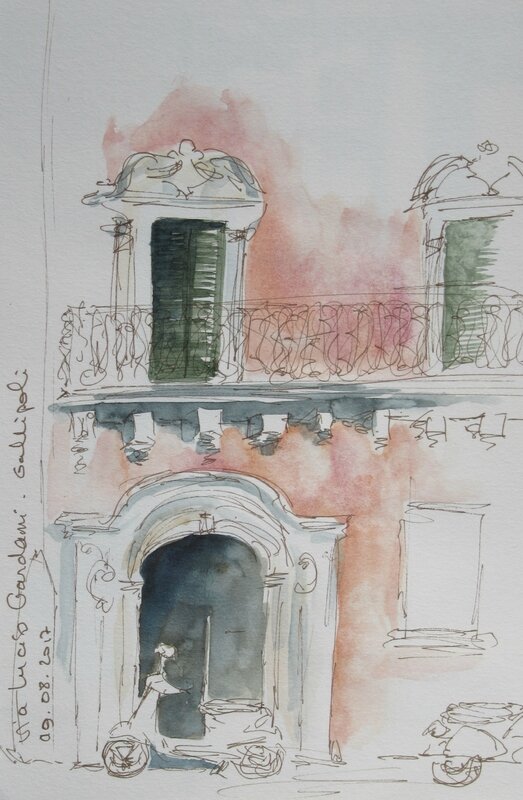 N°99
des rues calmes ou la vie semble arrêtée
quiet streets, where life stands still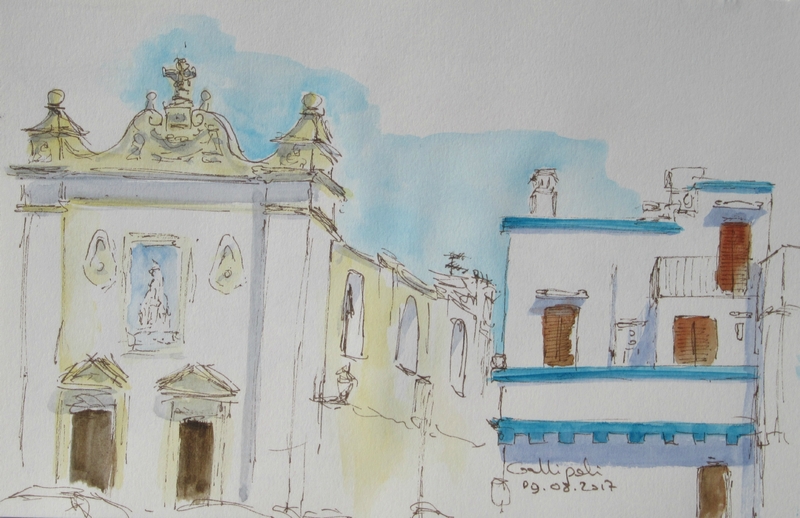 N°100
de vieux bâtiments historiques jouxtent des maisons plus modestes
Historical building next to more modest houses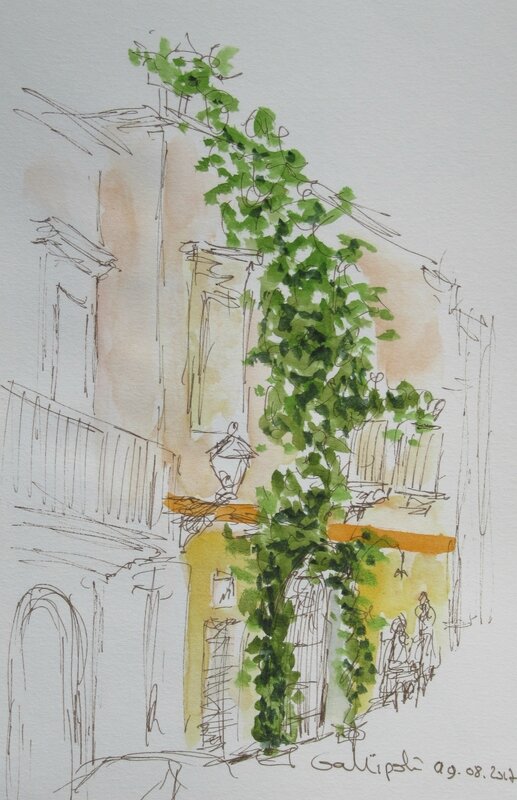 N°101
la chaleur écrasante, l'ombre si bienvenue
the stifling heat, the welcome shade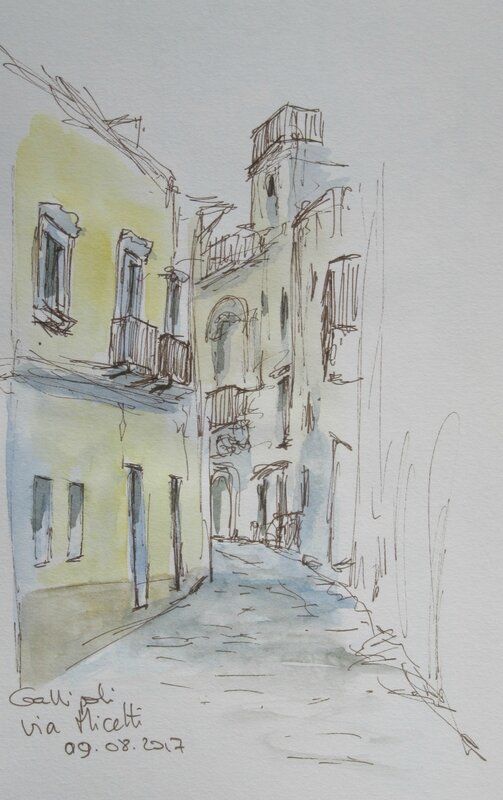 N°102
des rues tortueuses que l'on suit au petit bonheur jusqu'à une plage en croissant de lune jaune pâle. Mais cela sera pour la fois prochaine. En attendant, voici quelques clichés:
winding streets that you follow haphazardly until you end up on a butter-yellow crescent of a beach. But that will be for next time. Meanwhile enjoy the few snapshots:
Côte amalfitaine / Amalfi Coast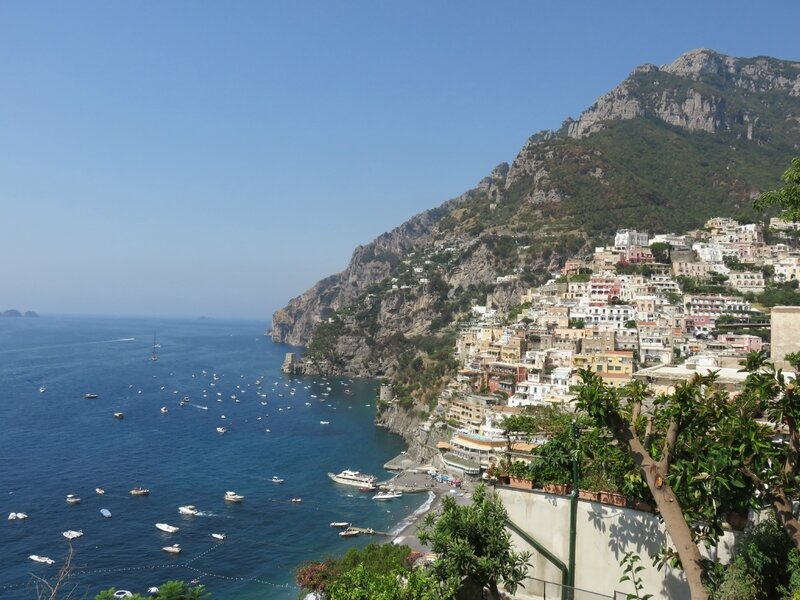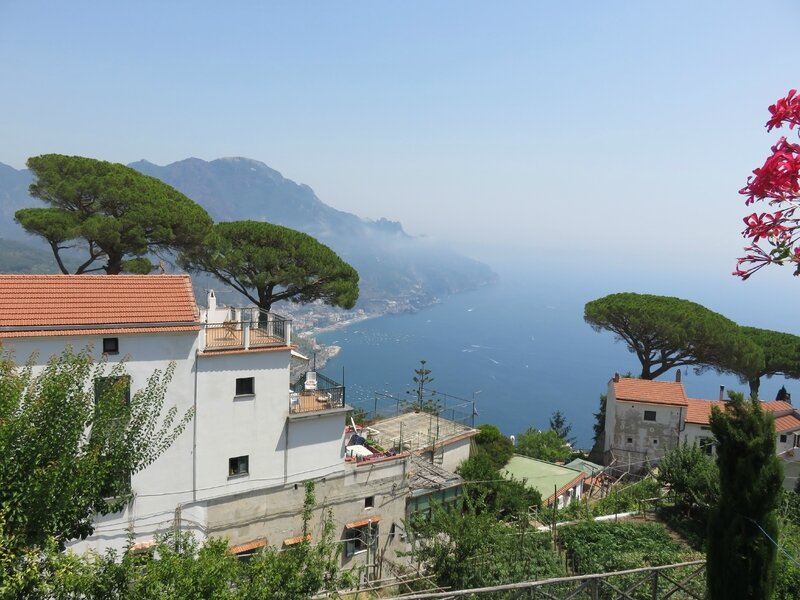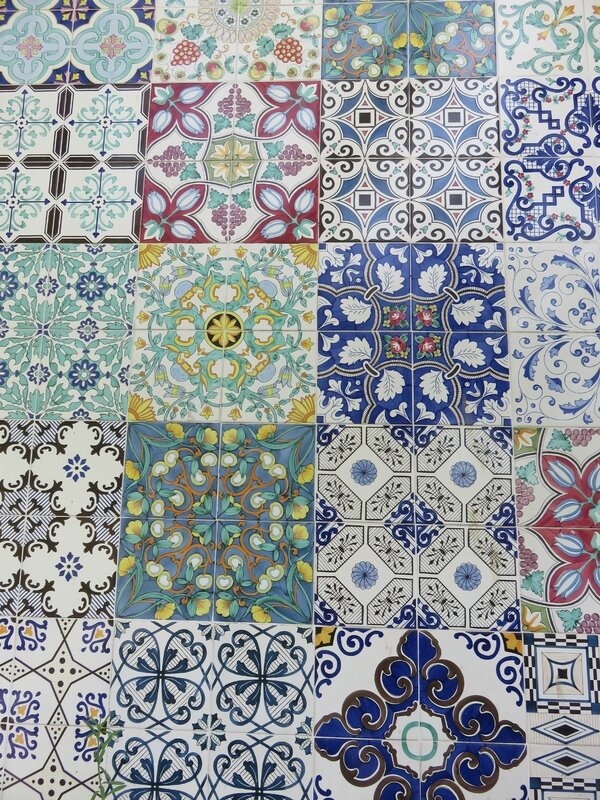 Gallipoli: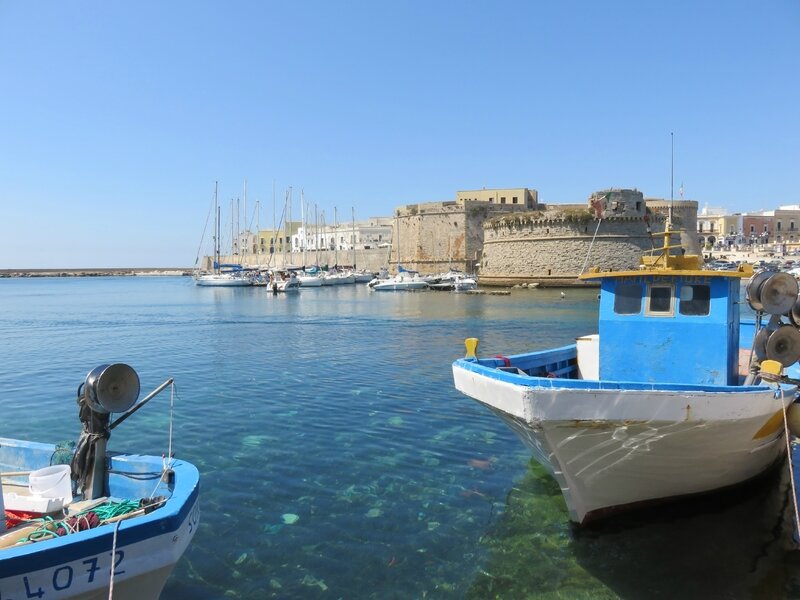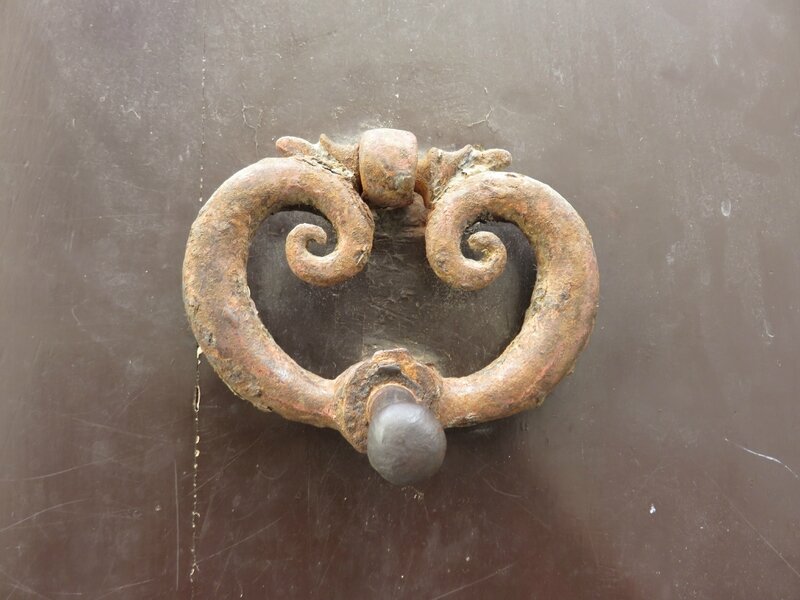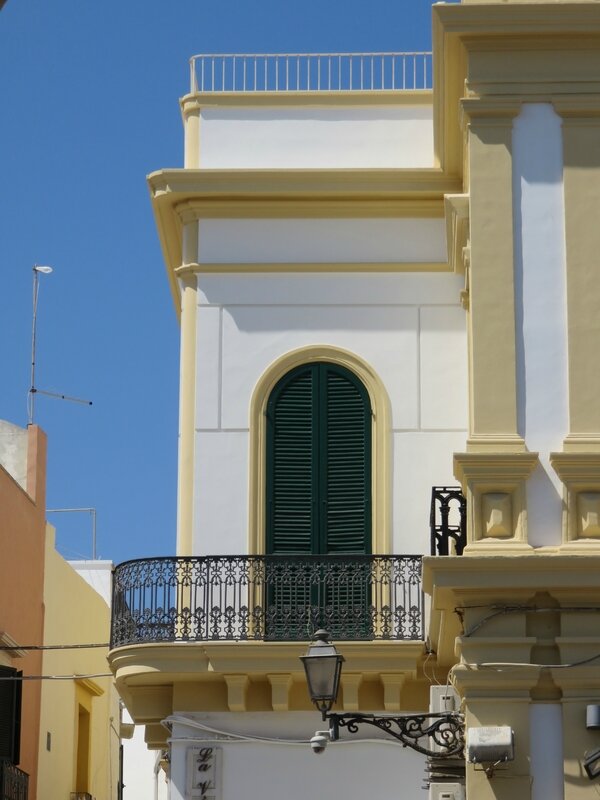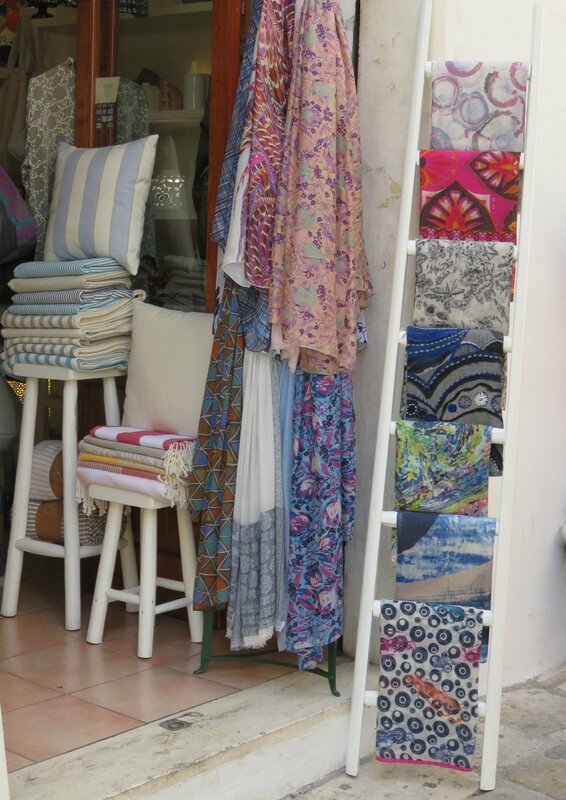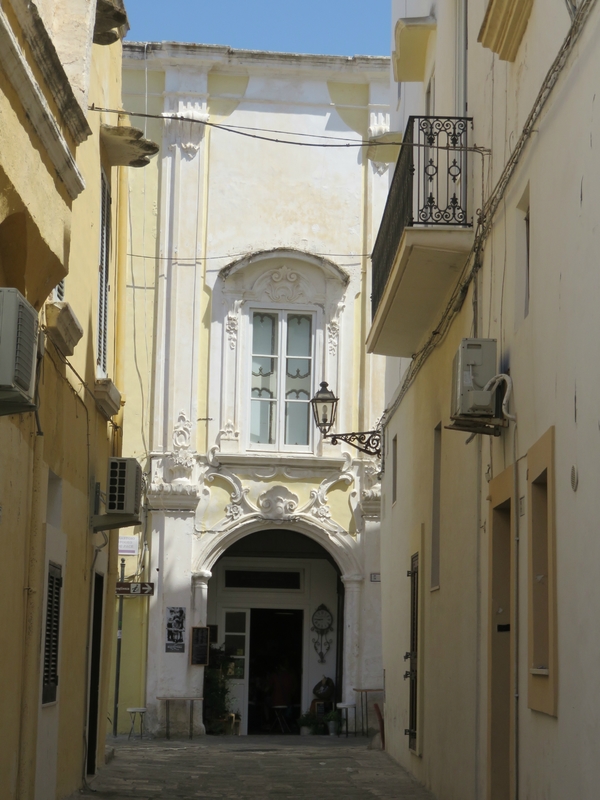 13 juillet 2017
Une acrylique toute simple. Pourquoi chercher compliqué?
A very simple acrylic. Why try complicated?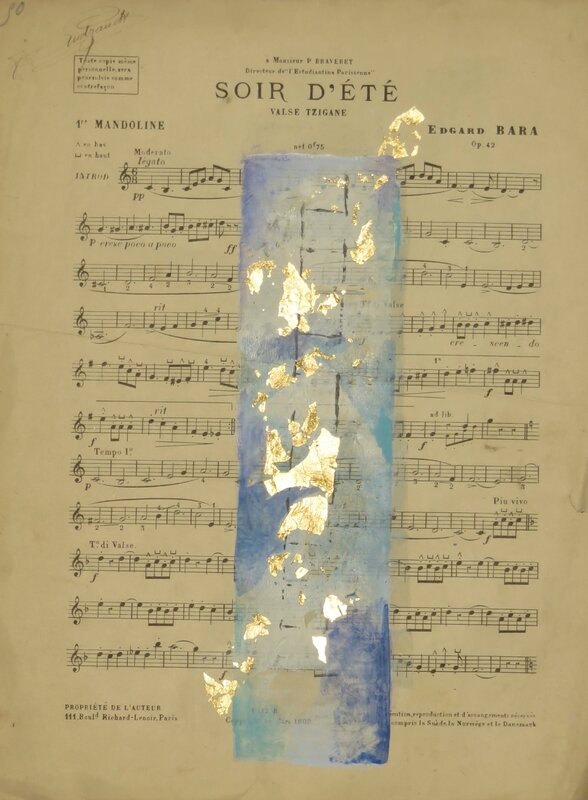 N°94 Soir d'été / Summer evening
mixed media sur papier / mixed media on paper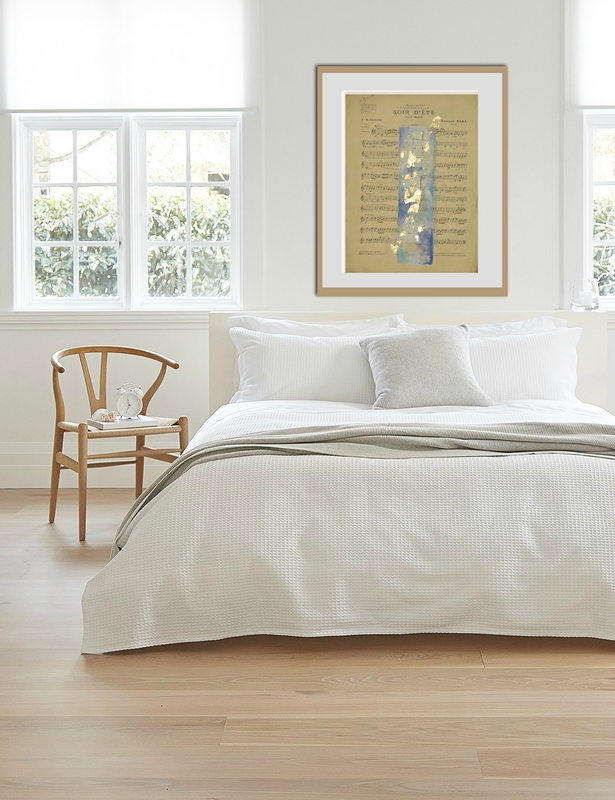 J'avais fait, il y a plusieurs mois, une autre acrylique toute simple dans le même style; vous rappelez-vous? Cela s'appelait Plaisir d'Amour :
A few months back, I made another acrylic in much the same style, remember? It was called Plaisir d'Amour: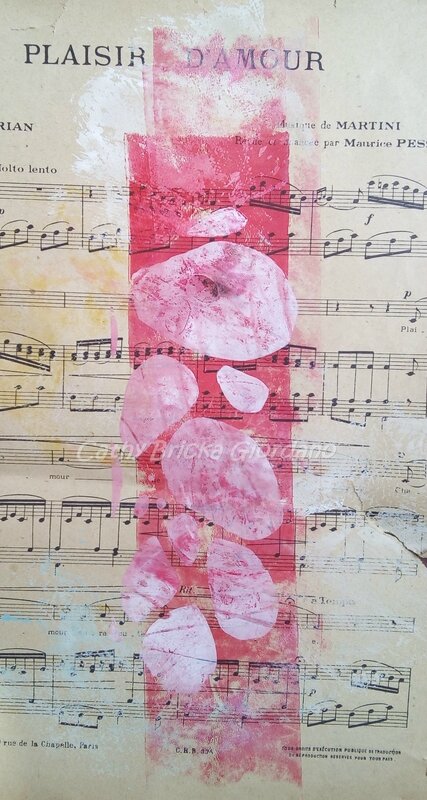 Je crois que voilà une bonne façon de mettre ce blog en pause pour l'été.
I think it's a nice way of calling it a day. The summer break is needed!

Je vous souhaite de douces soirées d'été et des journées ressourçantes.
I wish you all sweet summer evenings and revitalising days.

A très bientôt!
See you soon!