29 mars 2017
De la douceur, de la légèreté, un monde poétique, avec même un petit air rigolo...
Soft, light, poetic, ... and somehow funny.
Reaching Out
Mixed media et collages sur toile / mixed media and collages on canvas
30 x 40 cm
Un tableau sympa qui ne se prend pas trop au sérieux. J'aime bien. Et vous?
A nice painting that doesn't put on airs, don't you think? I quite like it.
Reculons un peu / Let's step back a little: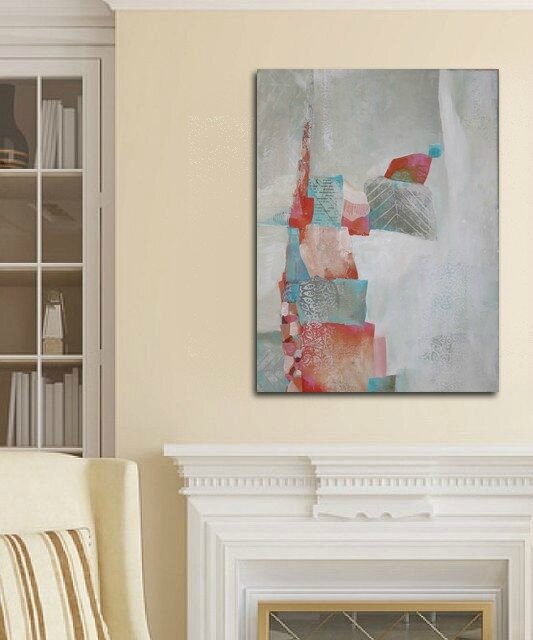 28 mars 2017
Jusqu'au 17 avril, une des expositions phare du MACRO (Musée d'Art Contemorain de ROme) c'est celle les oeuvres de Anish Kapoor, artiste Britannique.
Until April, 17th, British artist Anish Kapoor is one of the top exhibitions of the MACRO (museum of Contemporary art of Rome).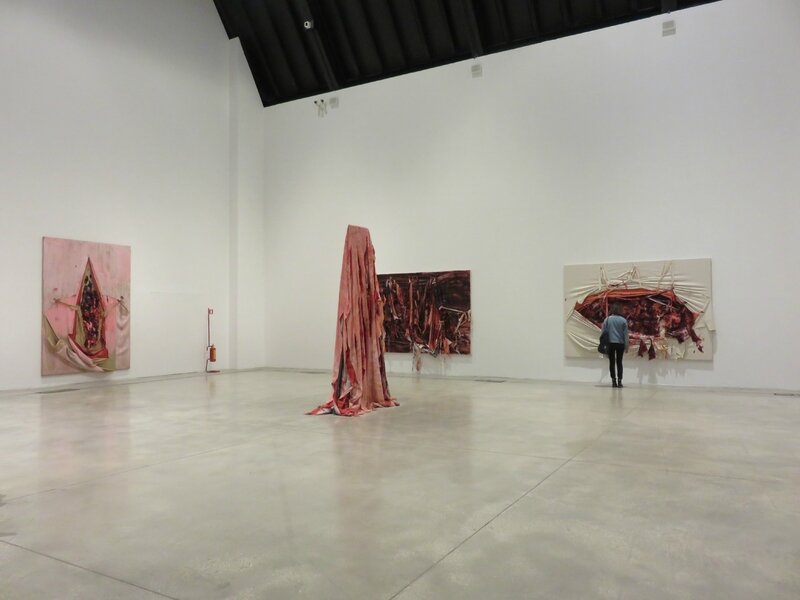 gigantesque salle pour de gigantesques installations rouges / huge room for huge red installations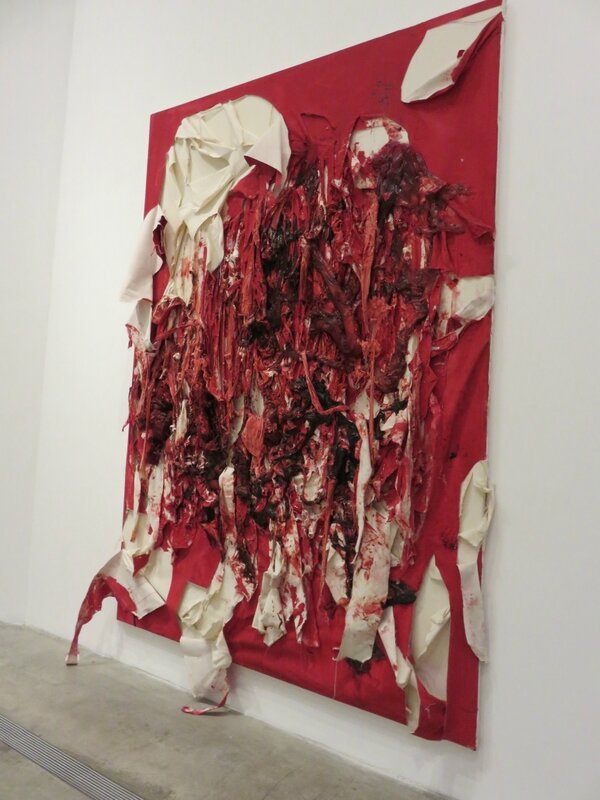 des lambeaux de tissus, des chairs sanguinolentes, des viscères coupés, des champs d'opératoires...
gauze, bloody flesh, cut viscus, surgical areas, ...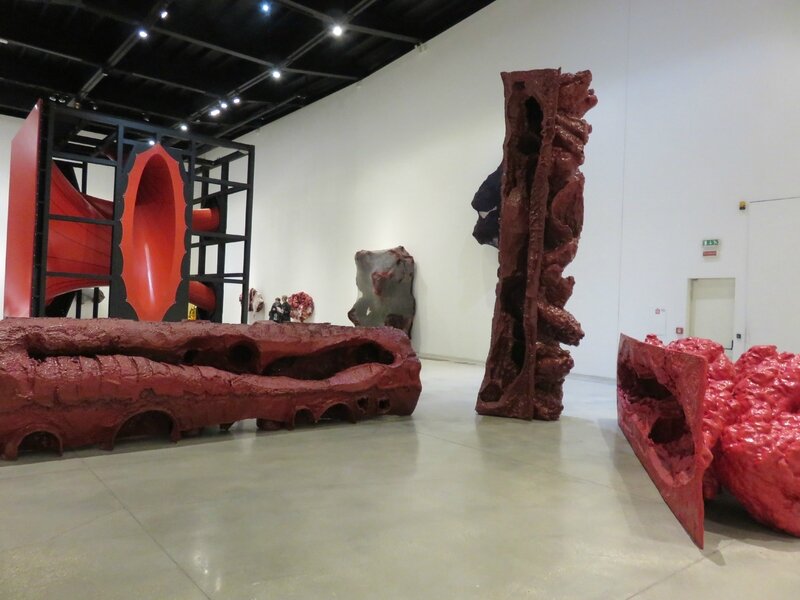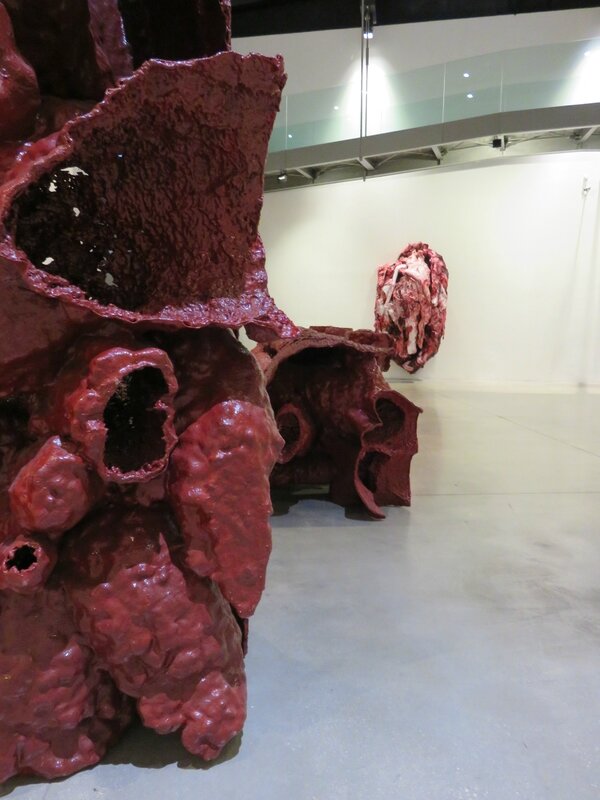 J'avoue ne pas être très sensible à ce genre d'oeuvres là. Ce n'est pas que je n'aime que l'art "évident", mais il y a des oeuvres qui me touchent (me surpennent, m'émeuvent, ...) et d'autres pas. Celles-ci m'ont laissé froide, sans même la curiosité de comprendre ce que l'artiste voulait exprimer ! Alors je ne pourrai pas vous en dire plus sur leur signification, alors libre à vous de vous faire une opinion.
I must admit this didn't appeal to me at all. It's not that I like 'obvious' or easy-looking art, but some pieces surprise me or move me, and others, well, just don't. These left me totally cold, a little amused maybe, without even the curiosity to understand what the artist wanted to express. So I'll leave you to it, although of course the photos will not be as shocking as the full scale thing.
Trois oeuvres sympas quand même dans le lot qui ont attiré notre attention probablement parce qu'elles étaient si différentes du reste
In the room, there were three pieces that attracted our attention though (probably because they were so different from the rest)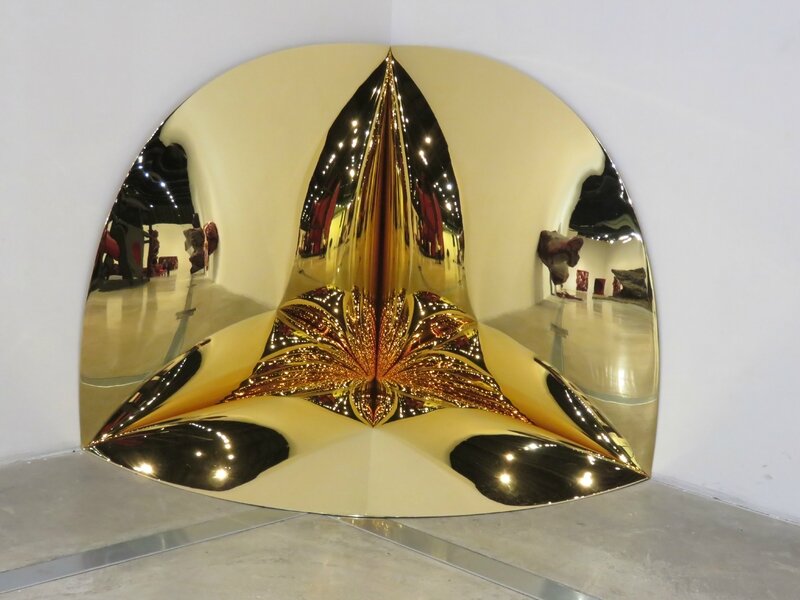 Corner Disappearing into Itself
des miroirs où on passe du temps à observer les reflets et jeux de lumières
mirrors where you enjoy spending time looking at the reflections of lights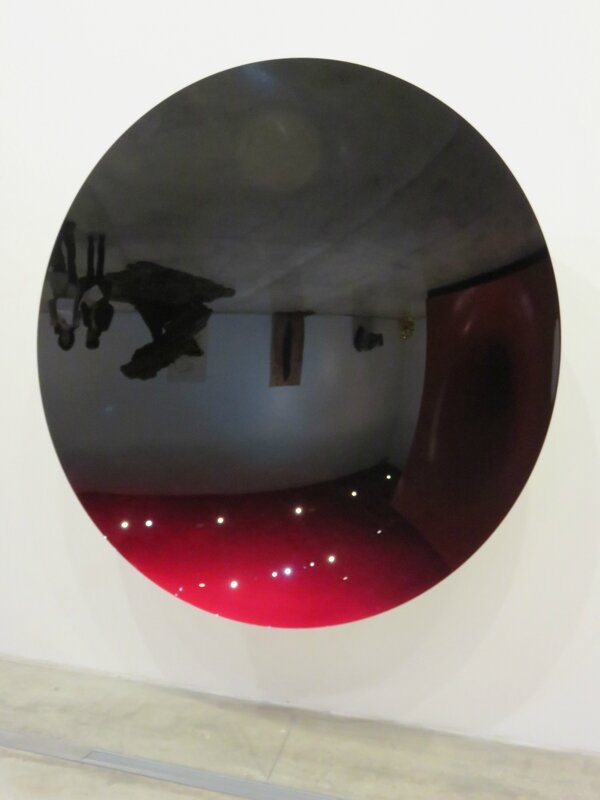 Black to Red
et cet énorme pavillon rouge / and this huge red bell.
26 mars 2017
Voici un tableau qui revient de loin. J'y travaille depuis plus d'un an.
Here's a painting that's coming from quite far away. I've been working on it on and off for more than a year now.
C'était au départ un exercice fait lors d'un stage sur la composition, mais en respectant les critères de composition en croix, il n'a jamais vibré. Le jour où j'ai effacé cet aspect "croix", il a commencé à mieux me plaire. Gros travail sur les transparences, il est certainement mieux en vrai qu'à l'écran, mais bon...
At first it was a composition exercise made during a workshop, but while it respected the given cross composition, it never vibrated. The day when I erased that 'cross', I started to like it. Big work on the transparencies, it is certainly better in real life than on the screen, but hey ho...

Sailing Away
Mixed media sur toile / mixed media on canvas
30 x 30 cm
Prenons du recul pour l'imaginer en situation
Let's step back
les proportions vaguement gardées
more or less in proportion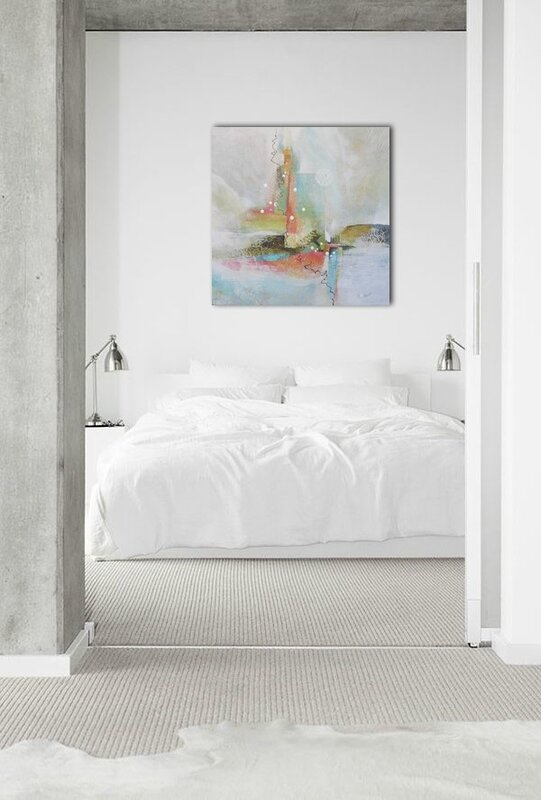 ou en carrément grand format, pourquoi pas?
or why not try going big?
En tous les cas, je le verrais bien dans une chambre, pas vous?
In any case, I'd quite picture it in a bedroom, don't you agree?
24 mars 2017
Quelques suprises lors de la visite du MACRO,
We had a few surprises during our last Macro visit
D'abord cette expo appelée Giardino (jardin) de l'artiste itlienne Francesca Leone
Quand vous voyez le nom à l'extérieur de la salle et que vous entrez en vous attendant à des fleurs etc, on est d'abord séduit par les couleurs gaies, et puis le sourire se crispe et on réalise ce qu'on a sous les yeux :
first this exhibition called Giardino (garden) by Italian artist Francesca Leone
When you see the name of the exhibition outside the room, and then you step in expecting flowers and stuff, you are at first seduced by the merry colours, and then your smile freezes and you realize what you're staring at:
On trouve ces grilles partout dans les rues de Rome. Et elles sont pleines de mégots et autre détritus. J'avais déjà remarqué leur alignement parfait. On dirait que les grilles ont été faites pour ça. Mais oui, c'est le jardin des rues de tous les jours.
You find these grids everywhere in the streets of Rome. And they are full of cigarette butts. I had already noticed their neat alignments. The grid seem to be made exactly for that. But yes, this is the garden we walk through everyday.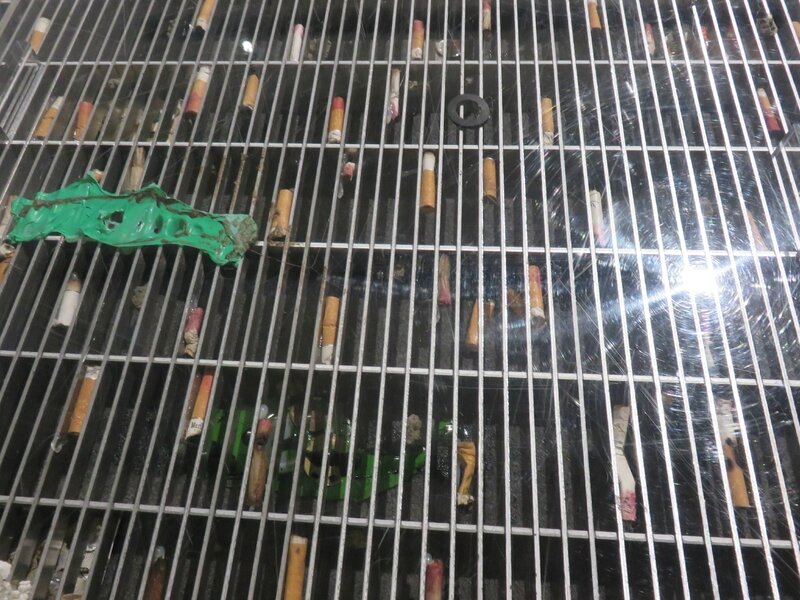 Puis ces 3 oeuvres de la collection permanente :
Then thee three pieces from the permanent collection:
j'ai bien aimé cette valise banche avec les mots qui en tombent,
I quite liked that white case with the words tumbling down,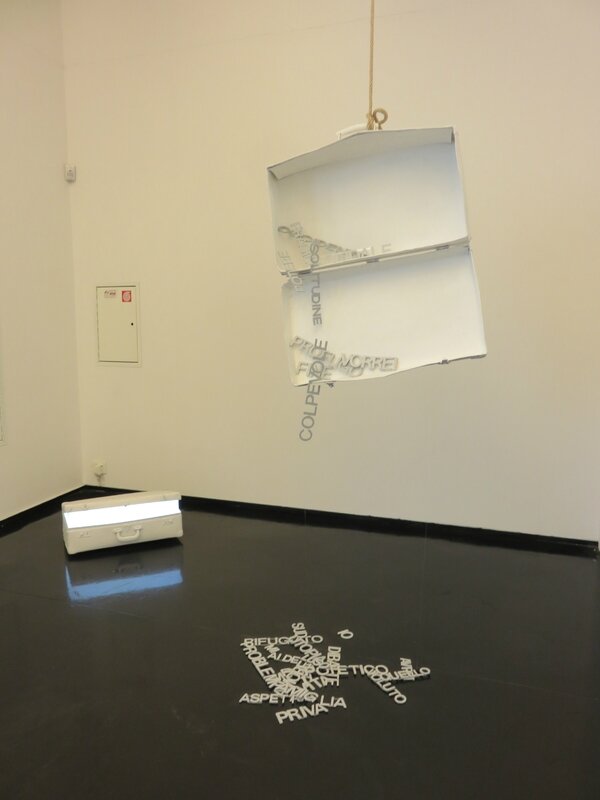 mais j'ai oublié de noter le nom de l'artiste. Honte sur moi.
but I forgot to write the name of the artist. Sorry.
Red Perpex - Alberto Zanazzo :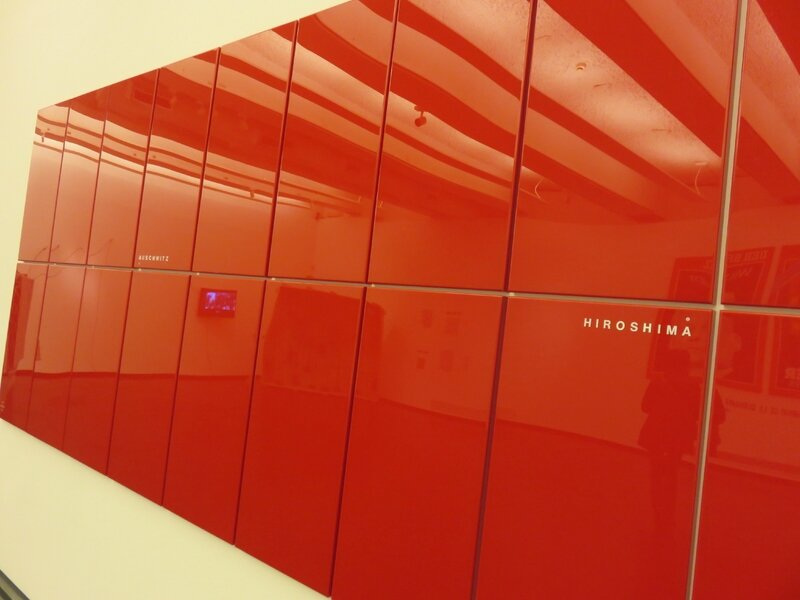 C'est le genre d'oeuvre qui d'habitude me laisse froide, ou en tous les cas ne m'attire pas, mais j'ai été intriguée et j'ai lu l'étiquette. L'artiste a voulu exprimer la distance qui sépare ces deux évènements meurtriers de l'histoire de l'humanité (Auschwitz / Hiroshima). La couleur bien sûr rappelle le sang, mais j'ai bien aimé l'idée de cette surface lisse, froide et moderne et les mots en petites lettres blanches qui contrastent si fort avec l'émotion qu'ils ont provoqué dans le monde.
This is the type of work of art that don't appeal to me, but I was intrigued and read the label. The artist wanted to express the distance between these two deadly events in human history (Auschwitz / Hiroshima). The colour of course reminds of blood, but I quite like the idea of this shining cool and smooth modern surface, and the two words in small white letters in total contrast with these shattering and deeply emotional landmarks.
Closed this Week - Perino e Vele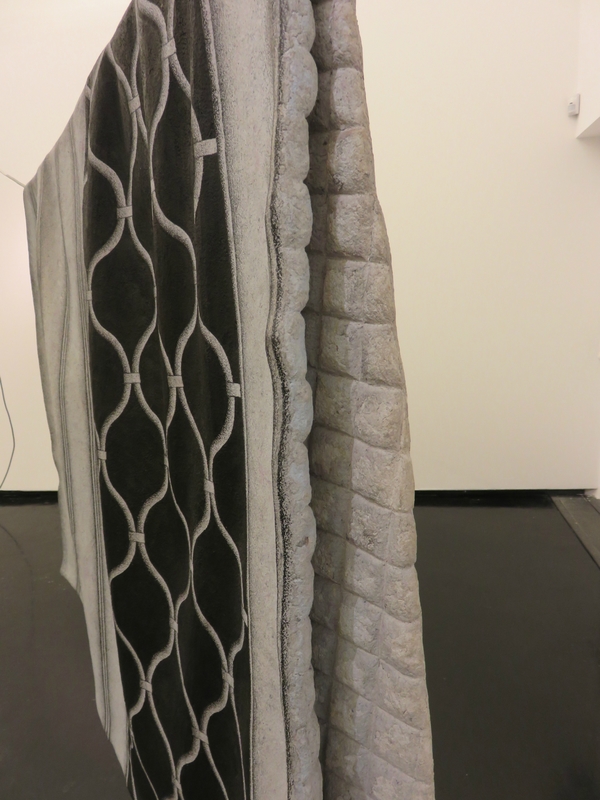 Cette oeuvre aussi m'a intriguée. Mais sans lire l'étiquette, on ne peut savoir l'enchainement d'idées qui se cachent la dessous. Ces lourdes couvertures qui semblent oubliées sur une corde sont en fait faites à partir de notice de fermetures et faillites de magasins et entreprises. Les artistes ont fait les couvertures à partir de cette pâte épaisse de papier.
That work of art puzzled me too. But without reading the label, yet again, you just have no idea of the chain of thoughts leading to it. These blankets looking like old forgotten blankets are actually made of discarded notices of business going out of business. The artists made a thick paste and with it they made these blankets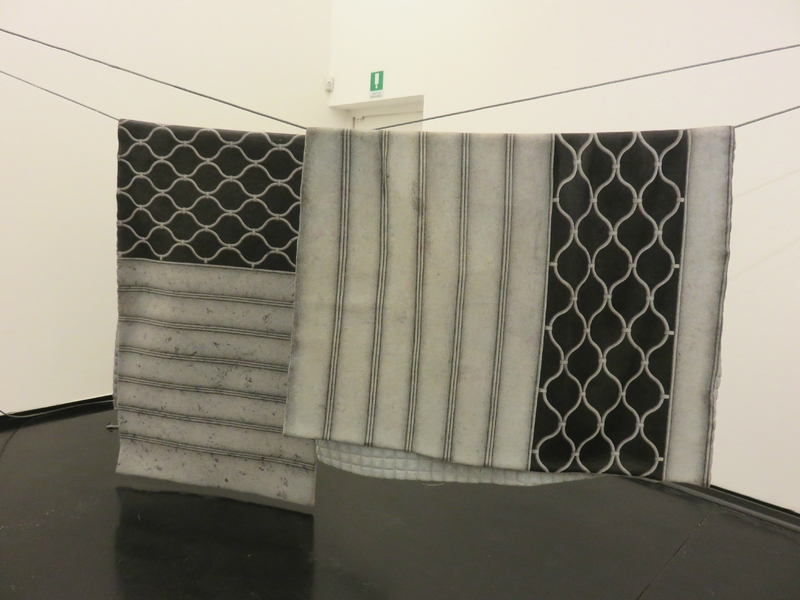 they symbolize all the shops and business going out of business, useless shop grids rolled down for good.
Elles symbolisent tous les magasins et les grilles des devantures baissées à jamais.
Pour finir, mon coup de coeur pour Nanni Balestrini (artiste italien) et son exposition "Tempesta Perfetta".
To finish, here's Nanni Balestrini's exhibition "Tempesta Perfetta" (Perfect Tempest). He's an Italian artist.


L'idée est très intéressante : c'est une déclinaison autour des vers de La Tempête de Shakespeare, et d'un tableau classique (La Tempête de Giorgione)
I loved the idea : it's a declination around verses from Shakespeare's Tempest and around a classic painting (Giorgione's Tempest).
Les deux oeuvres sont découpées, et comme tissées pour former de nouvelles oeuvres toutes à base de carrés, comme une sorte de patchwork.
The two works of art have been cut and woven to create other works of art all based on square. Like a kind of patchwork.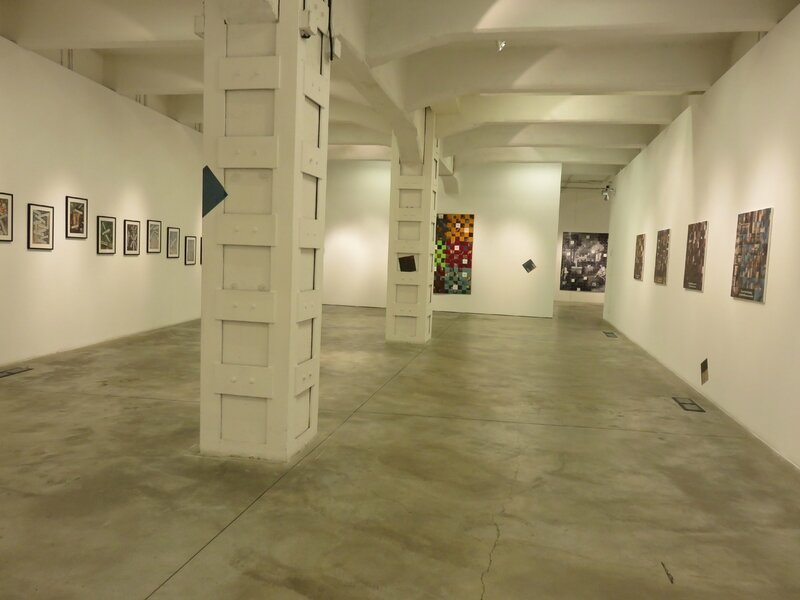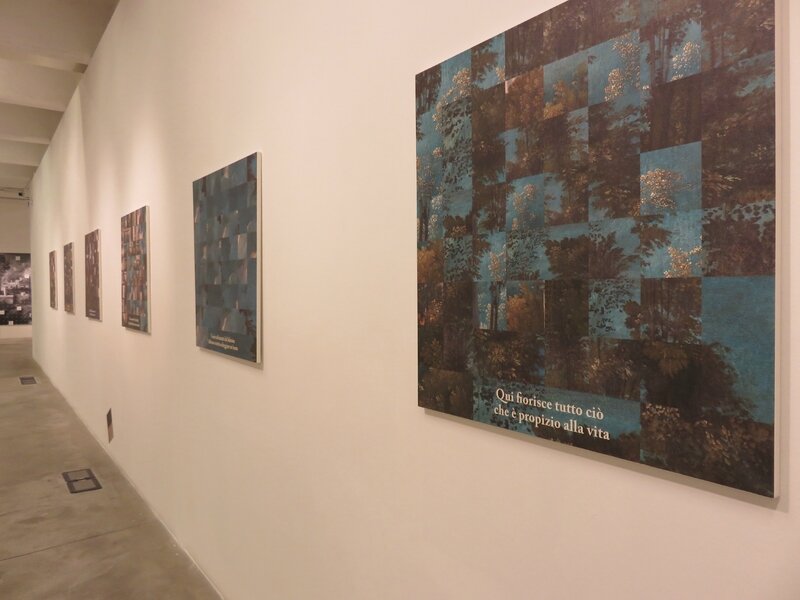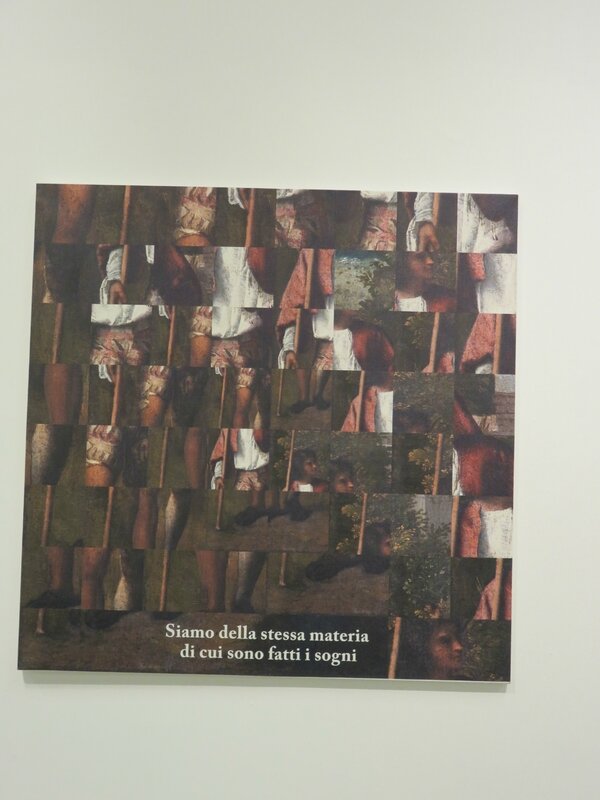 répétition et grossissement de parties du tableau classique
repetition of parts of the classic painting, and zooming on some others
des vers se retrouvent, et se répètent sur chacune de ces explorations
the verses keep coming back, repeated over and over on each of these works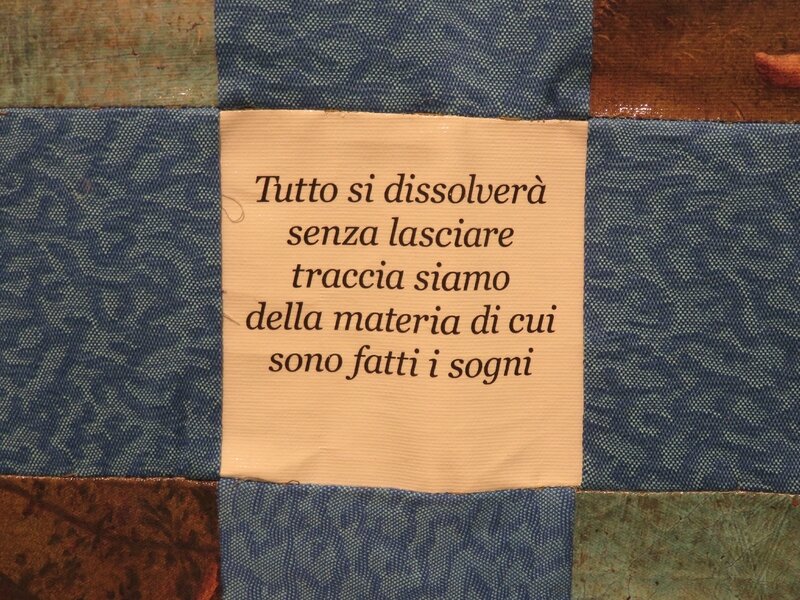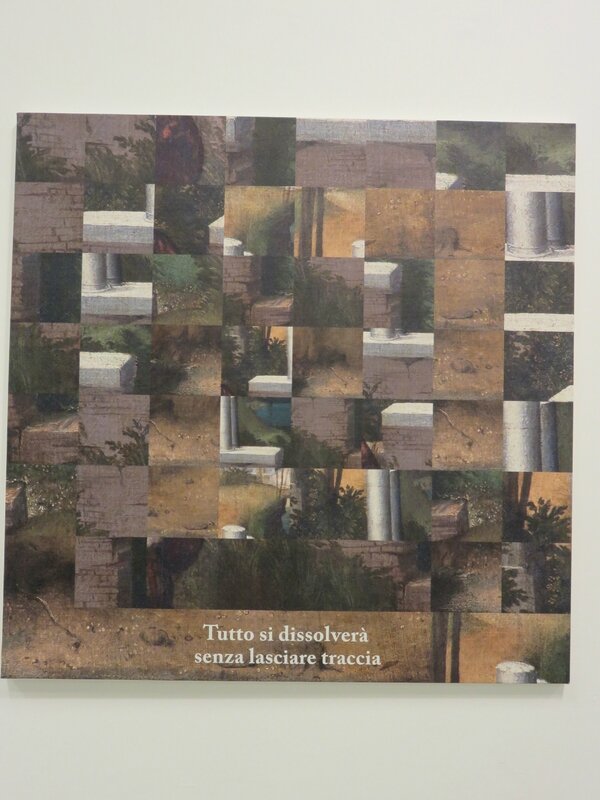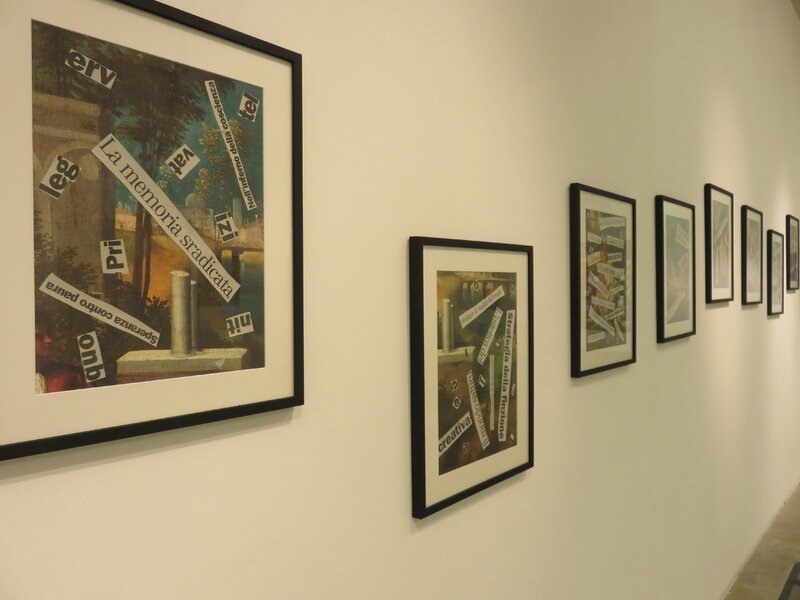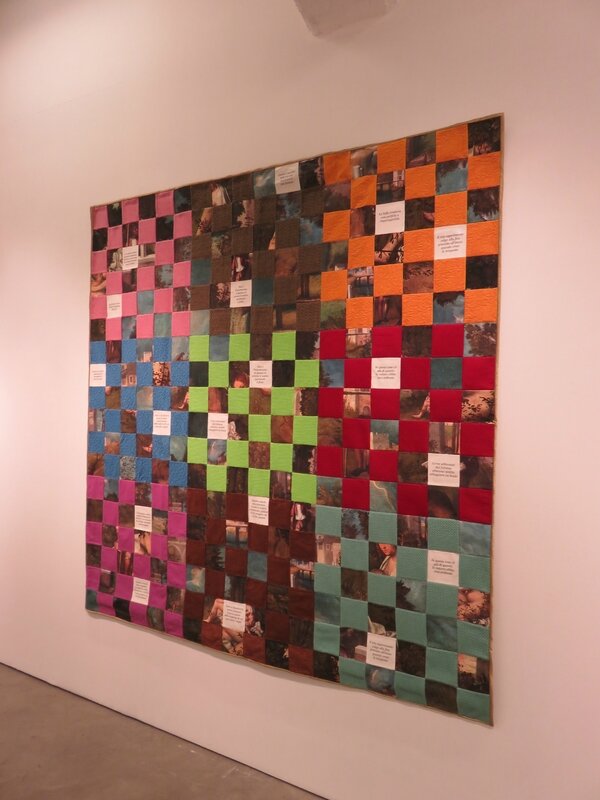 Une très belle idée
a beautiful idea
et là, contrairement aux autres oeuvres, pas la peine de lire quoique ce soit. On est intrigué, on essaye de comprendre, et le processus de création se déroule tout seul.
and there, contrary to the other artist, no need to read anything. You're puzzled, you try to understand and the whole process just unwinds all by itself.
22 mars 2017
Me revoici après une pause non prévue pour raison de santé, mais on tourne la page et on continue d'avancer.
Here I am, after an unexpected break, but let's turn the page and keep going forward.
Je suppose qu'on connaît tous ces moments où on se lasse de son propre style, où on a l'impression de ronronner, et où l'on voudrait changer, évoluer, et redonner un peu de souffle à son travail. Mais on ne sait pas toujours comment s'y prendre.
I guess we all feel these moments when we get bored with our own style, when we feel would like to dust up the routine, change, evolve and give some life back to one's work. But we don't always know where to start.
Dans ces moments là, je vous conseille d'aller voir ailleurs : voir des expos, se promener mais aussi observer le travail d'autres artistes. Essayez de définir un ou des aspects que l'on aimerait changer, trouver ce qu'on aime chez les autres (plutôt que de passer des heures à descendre son propre travail).
My advice is just to go and see something else. Go places. Go to see exhibitions. Delve into other artists' work. Try and see what appeals to you, what are the things you love in their pieces, rather than spend ages criticising what you don't like in your pieces.
Mon constat : j'en ai assez de ma routine (croquis à l'encre de chine, puis aquarelle posée ensuite). Je ne peux me contenter de répéter ad vitam eternam les mêmes gestes, outils, supports. J'ai envie que mes traits d'encre soient plus légers, voire qu'il n'y en ait plus du tout. J'ai envie que la couleur soit plus franche aussi, moins contrôlée, plus liquide. Je suis loin encore d'être arrivée à ce que j'attends, et j'ai encore beaucoup d'envie d'essais en tête - le fait d'être clouée au lit m'a forcée à attendre un peu.
My assessment : I'm fed up with my routine sketches (indian ink sketch followed by some watercolour). It's not in my nature to keep repeating the same tricks. I want my ink lines to be thinner, or even to disappear, I want the colour to be bolder, less controlled, more liquid. I'm far from having reached any sort of satisfying stage, I've got tons of things I would like to try out, but being sick forced me to wait a little.
DCommençons par cette petite série de croquis faits le même jour début mars dans et aux alentours du parc de la villa borghese
Let's start with a short series of sketches made at the beginning of March in and around the park of Villa Borghese.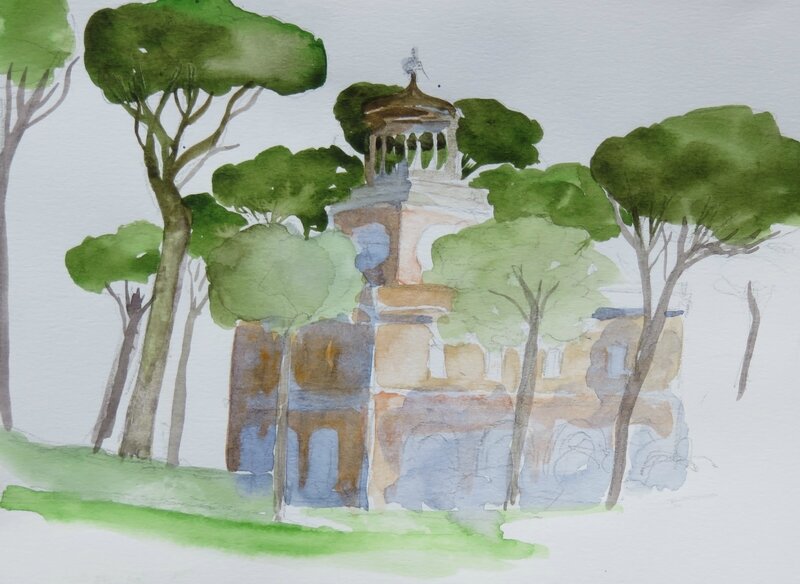 N°25
J'ai fait le croquis entièrement au crayon graphite, puis posé l'aquarelle. Ce qui me plaisait particulièrement là c'était les pins, la maison venant plus en décor qu'autre chose. Je n'ai pas eu envie de la travailler plus que ça; j'aurais peut-être même dû la laisser non peinte pour qu'elle se perde mieux dans cette masse de verdure.
I sketched it with graphite, then touched up with some watercolour. What appealed to me in this scene were the mass of pines, the house being secondary. I didn't want to overwork it; but I shoud maybe have left it untouched so that it disappeared even better in the pines.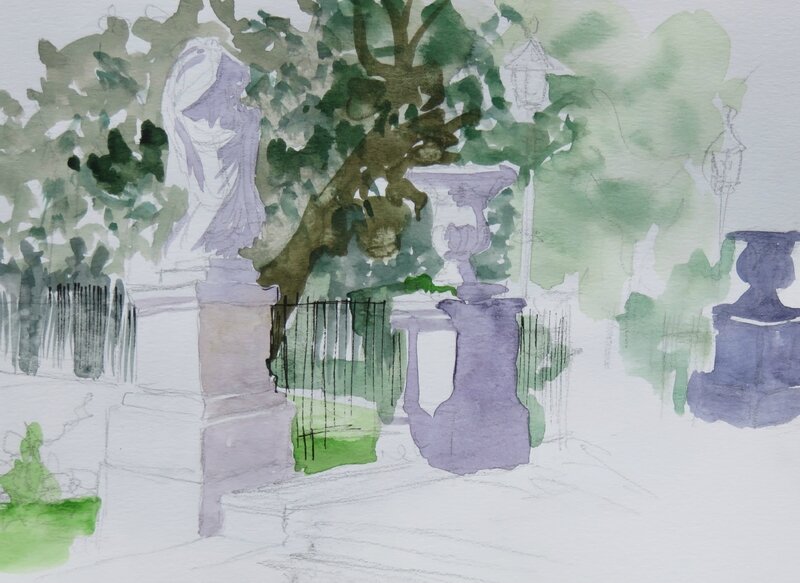 N°26
Autre croquis tout au graphite, autre erreur : cette fois-ci j'ai perdu mon point focal : ce qui m'intéressait c'était ces statues, mais en trop développant les feuillages en arrière plan, elles ont été noyées. Par la suite j'ai rajouté les barreaux à l'encre de chine pour donner un peu de struture à ce croquis trop "mou"
Another graphite sketch, another mistake: this time I lost my focal point. What appealed to me were the statues, but by developping the green foliage in the background, I've drowned them. Then I had second thoughts and added railing with indian ink to give a little structure to this boneless sketch.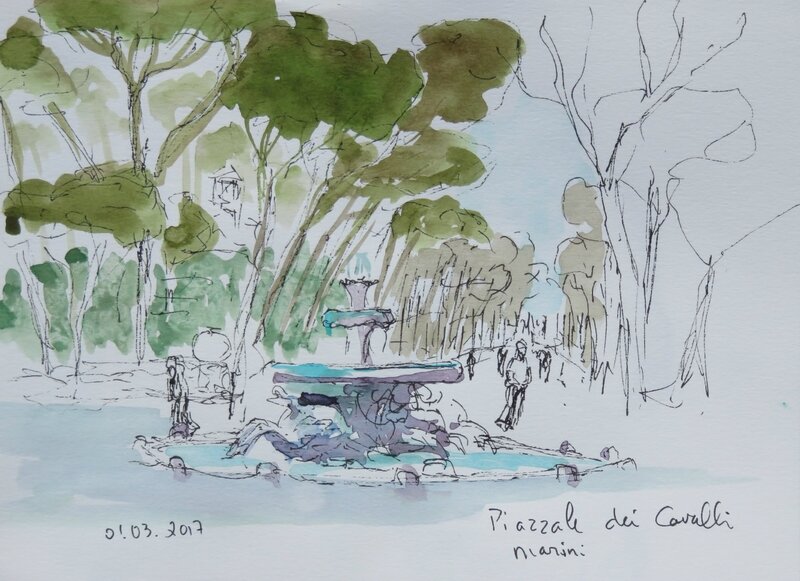 N°27
C'est la belle perspective de l'allée au fond avec la fontaine au ras du sol au 1er plan qui m'ont plu. Une touche de soleil rendait l'eau si bleue! Mais j'ai bien peur d'avoir un peu trop noyé le tout. Rien en ressort vraiment. Cela arrve souvent quand je ne prend pas le temps de définir clairement ce que je veux croquer : la fontaine? la perspective? l'eau?
I was attracted by the lovely perspective and the fountain in the foreground. A ray of sun ade the water so fantastically blue! But I'm afraid I've drowned the whole thing. Nothing really stands out. This often happens when I don't properly define what I want to sketch: the fountain? the perspective? the water?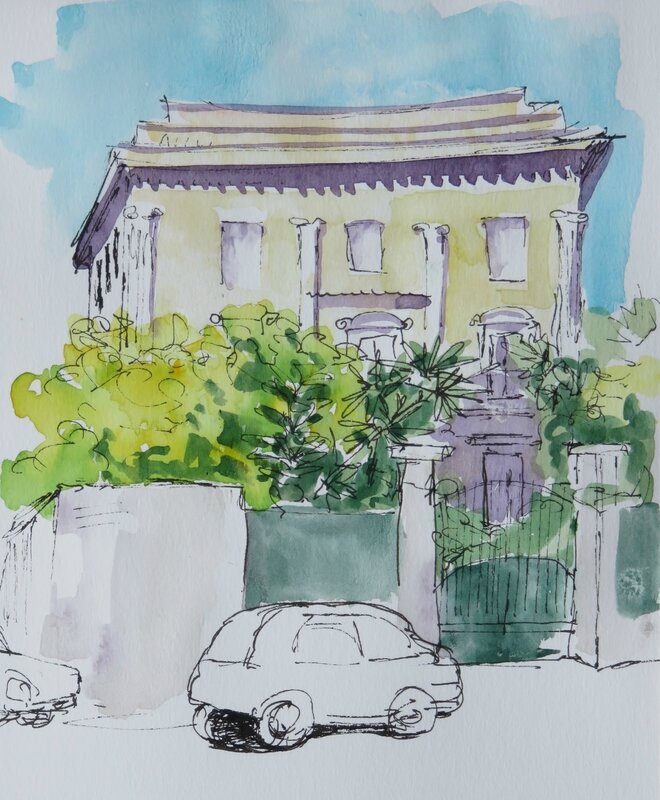 N°28
Pour le dernier croquis de la journée, j'ai procédé comme à mon habitude (j'atis un peu crevée), croquis à l'encre et aquarelle par la suite. J'ai réussi à rendre cette magnifique masse du mimosa, mais pourtant le croquis manque d'une touche de "Wouah", si vous voyez ce que je veux dire. Et puis il me rappelle aussi qu'il faut que j'arrête d'ignorer ces voitures qui ne m'intéressent pas, et qu'un beau jour je leur consacre un peu de mon temps et attention pour croquer leurs formes plus fluidement.
For the last sketch of the day, I resorted to my routine, ink first, then watercolour. I was tired, I guess. I just loved this fantastic mass of yellow mimosa that I had been admiring over the past few days. But the sketch lack a wow factor. It also cruelly reminds me that it is high time I practised sketching cars, even though they are of no interest to me, some fluid lines wouldn't have spoiled the sketch so much.
Et, si aucun de ces 4 croquis ne me satisfait vraiment, chacun a pourtant contribué à me faire avancer. L'important n'est pas le résultat mais le chemin et le plaisir qu'on a à le parcourir et à aller de l'avant.
And, although I'm not entirely pleased with none of these sketches, they each helped me to go a little forward. What matters is not the result, but the path we follow to reach it and the pleasure we have going along this path and moving forward.
08 mars 2017
Nous avons emménagé dans un nouvel appartement depuis mi janvier, et dans un nouveau quartier. Coup de chance pour moi, nous sommes juste à côté du Musée d'Art Contemporain de ROme : le MACRO.
We've just moved into a new flat and in a new district of Rome. As luck would have it, we are now opposite the Museum of Contemporary art : the MACRO
J'y passe devant 4 fois par jour, et enfin, enfin, j'y suis allée l'autre jour le visiter. Le bâtiment est super: il est installé dans les anciennes écuries de la brasserie Peroni (célèbre marque de bière).
I walk past it four times a day, and at long last I visited it the other day. The building is very special; it is set in the old Peroni brewery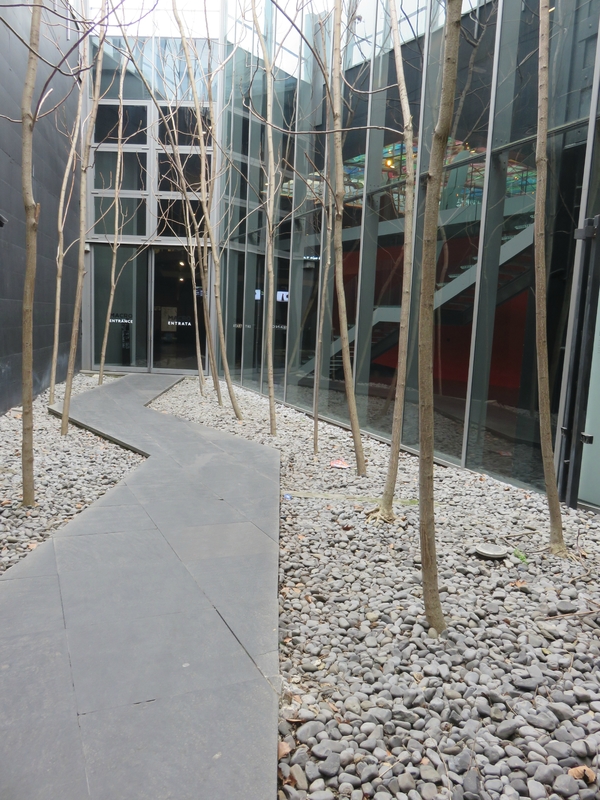 L'architecture mêle l'ancien et le moderne.
the architecture successfully mixes old and modern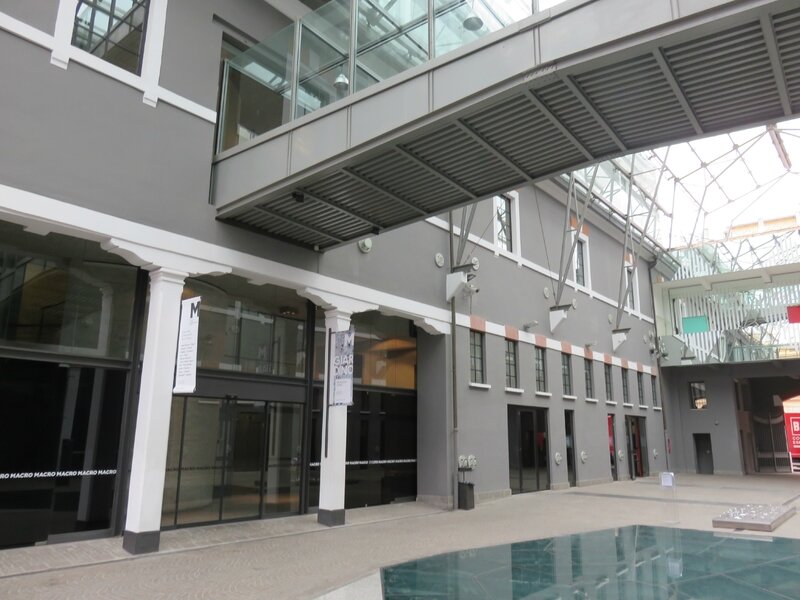 c'est une architecte française qui a réalisé cette belle reconversion : Odile Decq
The architect who made it is French : Odile Decq
j'ai beaucoup aimé la super verrière, on a l'impression que l'art est partout
I loved the glass roof, you kind of feel art is everywhere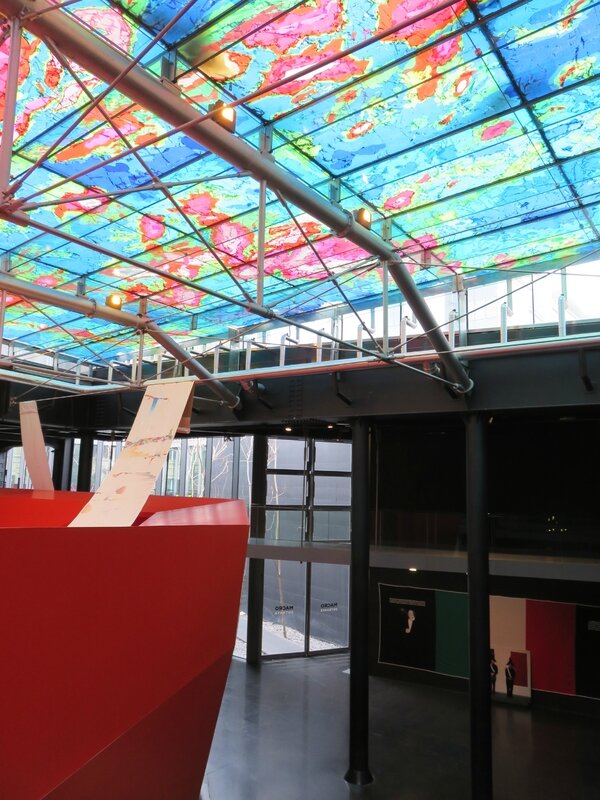 un seul reproche : pas de plan, de flêche ou d'indication ni des salles à voir, ni des artistes exposés, on se promène au hasard (avec toujours un peu la question : n'ai-je pas raté une salle?)
There's just one thing I didn't quite like : there's no map of the museum, no indication of the rooms to be seen, the number of artists, so you just wander around with the unsettling feeling you might have missed something vital.
Nous avons fait de très belles découvertes. Je vous propose de découvrir petit à petit ces artistes en majorité de nationalité italienne, mais pas que.
We've dicovered plenty of amazing artists. I'm going to present them to you little by little. They are mainly Italian, but there are also other nationalities.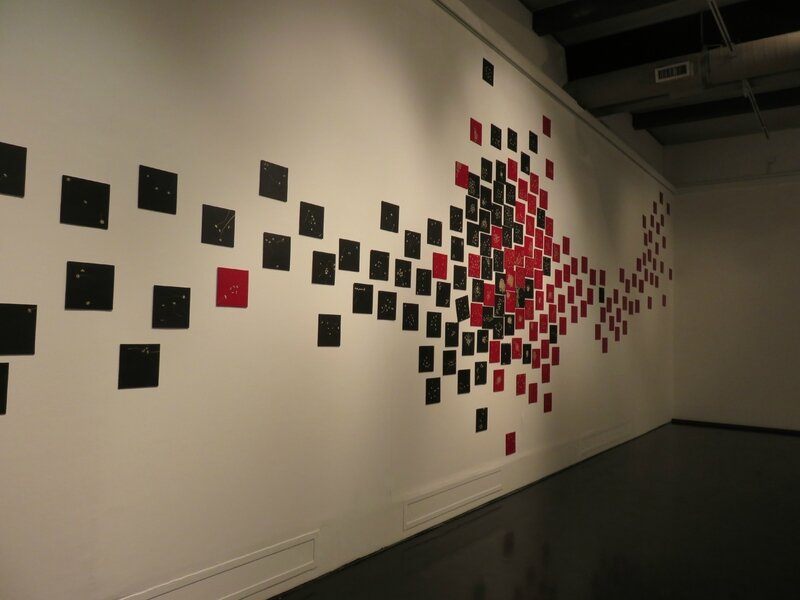 Commençons par Daniela Perego (artiste italienne). L'expo 'Arrivederci' dans une grande salle blanche. D'un côté une installation de carrés rouges et noirs qui semblent s'envoler et se rejoindre.
Let's start with Daniela Perego, an Italian artist. The exhibition entitled 'Arrivederci' is set in a huge white room. On one side, black and red squares drifting in the wind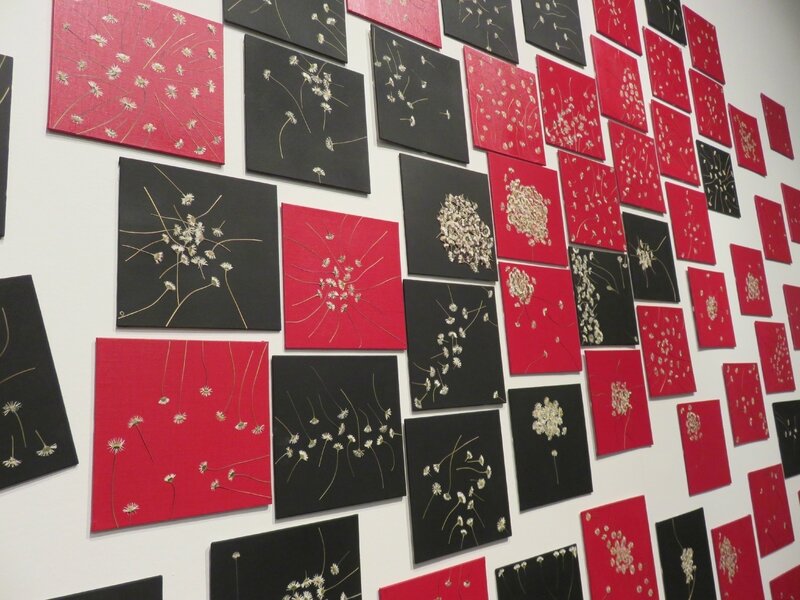 sur chaque carré, des paquerettes collées ou peintes
on each square daisies are stuck or painted
les paquerettes semblent elles aussi être emportées ou rassemblées de façon aléatoire par le vent
the daisies also seem to be drifting in the wind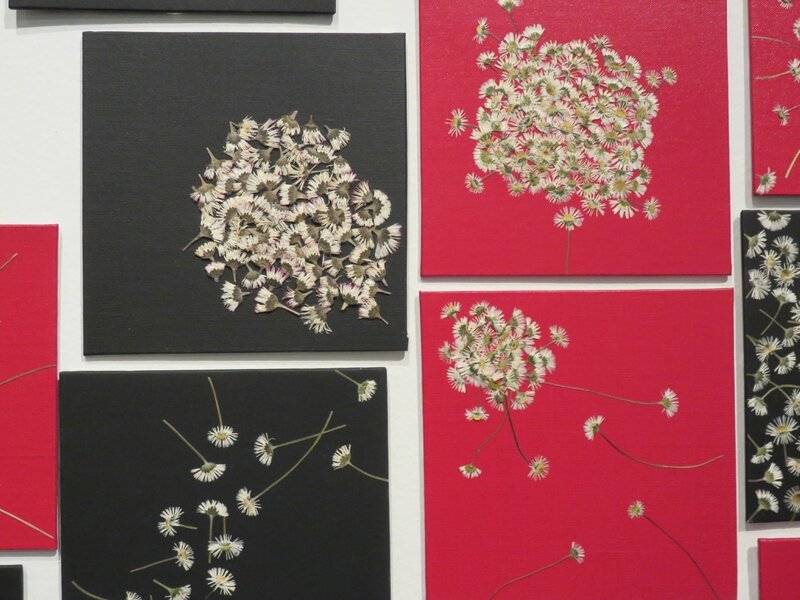 Sur le mur d'en face, un autre envol
On the opposite wall, big white daisies are also floating n the wind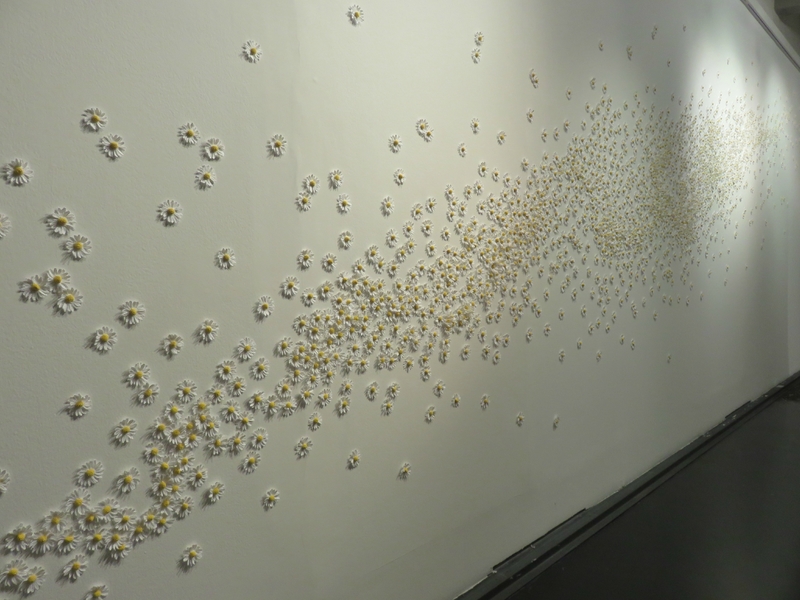 cette fois-ci ce sont des marguerites blanches collées à même le mur
this time the daisies are directly stuck on the wall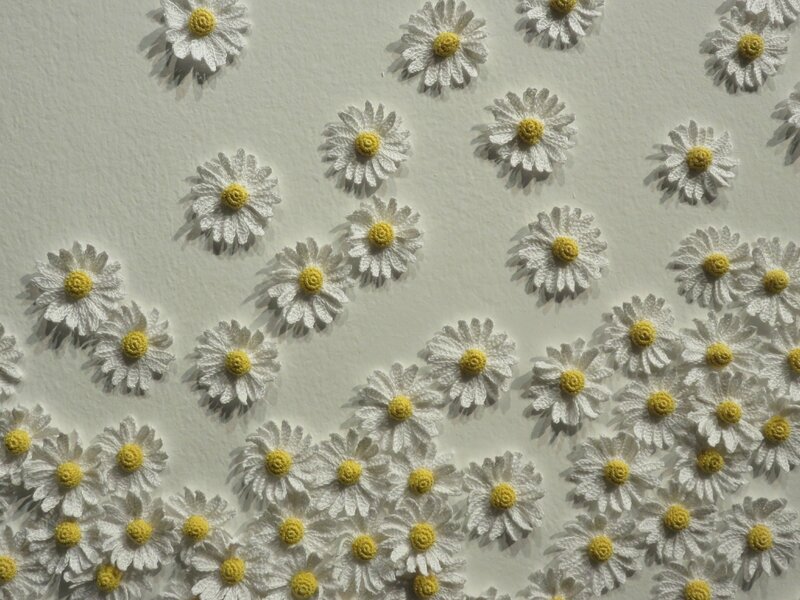 ce sont des marguerites en tissus (au crochet?)
they seem to be crocheted
Beaucoup de poésie pour cette première rencontre dans le musée MACRO. C'est léger, gai. Pas d'art obscur à la signification tordue. Un bol d'air frais.
We really loved this first exhibition in the MACRO museum. It's light, it's happy. No puzzling mind-twisting art. A breath of fresh air.
02 mars 2017
Vous avez vu l'autre jour le produit d'une expérimentation. Mais depuis que sont-ils devenus? Tiroir? Poubelle? Transformation? Inspiration? Les reconnaitrez vous?
The other day I showed you an experiment with mainly black and white. But what happened to them? Have they been kept? thrown away? transformed? Were they a source of inspiration? Will you recognize them?
Je vous les mets en petit pour pouvoir voir plus lisiblement l'évolution, mais libre à vous de cliquer dessus pour les voir en plus grand.
I show them in a rather small scale to be able to view the before and after side by side, but feel free to click on each picture to enlarge it.
Etape par étape, voici les transformations avec à chaque fois, mon avis : ce que j'aime, ou pas, dans ces gribouillis; comment j'ai transformé ou ce que j'ai en tête.
Step by step, here are the transformations; each time, I'll be telling you what I do and don't like, how I changed them, and what I plan to do.

n°10 quasiment pas changé, j'aime la force des traits, et leur variété (larges aplats, fins tracés presque secs, chemins de goutelettes, arabesques, traits plus raides du graphite :
n°10 hasn't changed much. I like the strength and variety of the different lines (large, thin, dry, straight, curling, drops, ...)
n°10 étape/ step 1 n°10 étape/step 2
n°11, peu de changement aussi, mais ces pastilles arrivent à point nommé je trouve...
n°11, very little change; these three dots are right on cue. Just right.
n°11 étape/ step 1 n°11 étape/step 2
n°12, même traitement, j'aime les filets de blanc et de noir qui descendent au centre. Et décidément, je suis fan de ces pastilles...
n°12, same kind of work; I like the thin white and black lines winding their way down. And I'm decidedly a big fan of dots.
n°12 étape/ step 1 n°12 étape/step 2
n°13 a eu beaucoup de changements. J'ai rajouté des marques avec des papiers texturés, renforcé le quinacridone gold, joué avec des pastels aquarellables (oranger et noir), et rajouté une petite ligne au pinceau pinceau encre de chine. J'aime cette touche de turquoise (acrylique) qui vient bien contraster le quinacridone gold et j'aime les différents motifs, mais ils manquent peut-être un peu de répétition...
n°13 had a lot of change. I added marks with textured paper, I ade the quinacridone gold stronger, I played with watercolour pastels (orange and black), I added a thin line with my indian ink brush. I like that turquoise (acrylic) touch that nicely contrasts the quinacridone gold, and I like the different patterns, but I think they would need some repetition...
n° 13 étape/ step 1 n°13 étape/step 2
Il reste encore un peu trop agité, une étape 3 sera nécessaire.
A step 3 will be needed to calm some parts down.
n°14 a beaucoup changé aussi, mais je crois que ce n'est pas fini... J'aime les effets de textures obtenus, mais ces gros ronds noirs sont un peu trop forts, il faudrait en éloigner certains en rendant le noir moins ... noir.
n°14 also changed a lot, and I think this is not even over... I like the textures I got, but the black round shapes are a little too overpowering. I should soften some by making the black less ... black.
n°14 étape/ step 1 n°14 étape/step 2
n°15 est passé de "bof" à "petit chouchou"; j'aime son côté "propre", j'aime ses larges masses de blanc, noir ou rouge. Et la petite touche de turquoise. Yes!
n°15 has gone from "er... yeah, well..." to "ooh yes!"; I think it's 'clean'; I like the thick puddles of light grey, deep black and rich red. And the nice turquoise touch. Oh yes!
n°15 étape/ step 1 n°15 étape/step 2
n°16 était loin d'être satisfaisant à la fin de l'étape 1. J'aimais les petits volutes noirs en haut à droite, et c'est à peu près tout.
n°16 was far from satisfying. I liked the thin curvy lines in the top right hand corner, and that's about it.
Etape 2, essai de pastille : raté, ajout de turquoise : moyen. Non, décidément, celui-là est un exemple qui montre que cela ne marche pas à tous les coups.
Step 2, everything I tried, failed: the dot, the turquoise... This is clearly an example that painting is not a simple recipe and it doesn't work all the time.
n°16 step 1 n°16 step 2
alors j'ai laissé mijoter un petit peu et je l'ai repris un autre jour. Etape 3 : une fois définie(s) la ou les parties que j'aime, j'ai enlevé tout ce qui ne me plaisait pas avec de l'acrylique opaque (turquoise + blanc).
I let it rest for a few days then worked on it some more. Step 3 : once I had defined what I liked (the top right hand corner) I simply covered the parts I didn't like with opaque acrylic (turquoise + white) .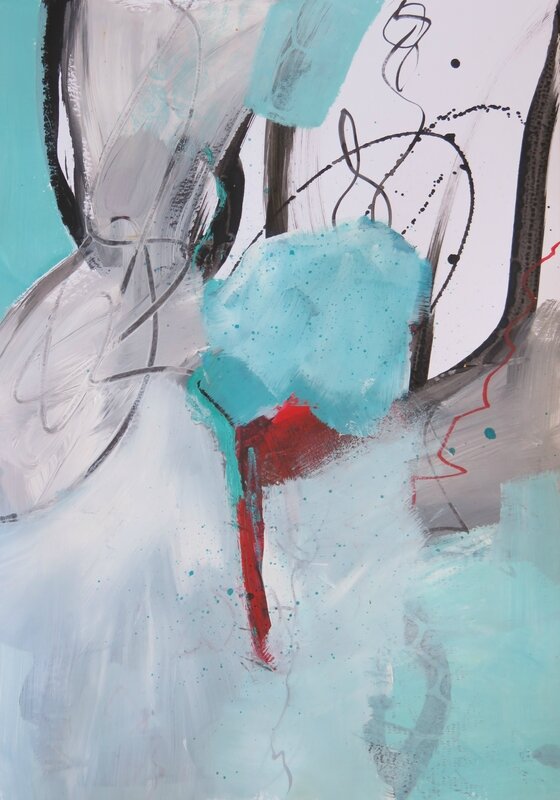 n°16 step 3
Maintenant la construction commence à devenir intéressante. Je ne sais pas encore comment et jusqu'où il va évoluer, mais il a du potentiel, c'est sûr, il y aura une étape 4.
The layout now looks interesting. I don't know where it's going to end, or how it's going to evolve, but it's got potential, that's for sure, so there will definitely be a step 4.
N°17 est aussi un exemple qui n'a pas marché tout de suite. Etape 1, j'aimais la nervosité des traits à gauche. Etape 2 j'aimais le contraste du noir et du turquoise (en bas à droite) et du motif noir sur le rouge (en haut à droite), mais il est devenu beaucoup trop chargé.
n°17 is yet another example of things that didn't work out at once. Step 1, I liked the nervous lines on the left. Step 2 got much too busy but I liked the contrats between rich black and turquoise (bottom right) and the pattern, black on red, (top right).
n°17 step 1 n°17 step 2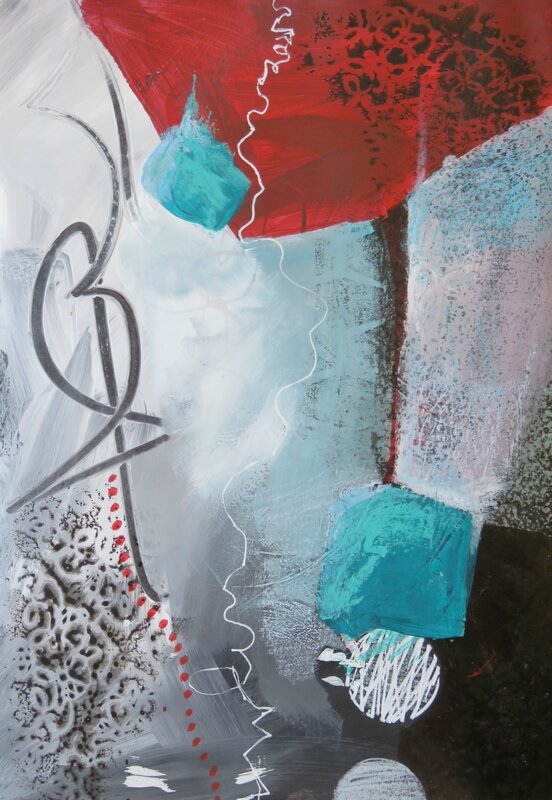 n°17 Step 3
Etape 3 est vraiment mieux, mais je crois que je vais me débarrasser de cette pastille blanche en bas. J'adore le carré turquoise.
Step 3 is much, much better, but I think I'm going to get rid of that white dot at the bottom. I just love the turquoise square.
n°18 est un exemple qui montre bien qu'il ne faut pas trop en rajouter : à l'étape 2 il est devenu trop chargé, agité, il manquait une plage de calme pour reposer l'oeil. Il avait besoin d'être allégé.
n°18 is a clear case of 'more is too much' : step 2 made it too busy and agitated, I needed to add some calm space for the eye to be able to rest. I needed to lighten it up.
n°18 étape/ step 1 n°18 étape/step 2
étape 3, quelques touches de peinture opaque et il ne la ramène plus ;-) Sans rire, il a un côté flottant qui n'est pas mal...
step 3, I did just that, calmed it down. There are calm areas now and I quite like its floating quality


n°18 step 3
Il y aura encore une étape 4 (et peut-être même une 5 ou 6), mais j'ai bien fait de ne pas abandonner.
There will be a step 4 (and maybe even a 5 or 6), but it' a good thing I kept working on it.
n°19 étape 2 a perdu et gagné selon les points de vues : j'aime le petit filet noir qui descend à gauche, mais il devenu trop chargé lui aussi. Besoin d'évacuer un peu certains de ces motifs. J'ai perdu le beau rouge des ronds et leur transparence, ils sont devenus trop noirs.
n°19 step 2 has lost some and gained some depending how you look at it : I like the thin black winding line on the left, but it also got too busy. I need to erase some patterns. I've lost the beautiful transparent reds, they've become too dark.
n°19 étape/step 1 n°19 étape/step 2
Etape 3, j'ai réussi à le calmer, mais je n'ai toujours pas réglé le problème des gros cercles. Il y aura une étape 4 (au moins).
Step 3, I managed to calm it down, but I still haven't solved the big circles. There will be a step 4 (at least)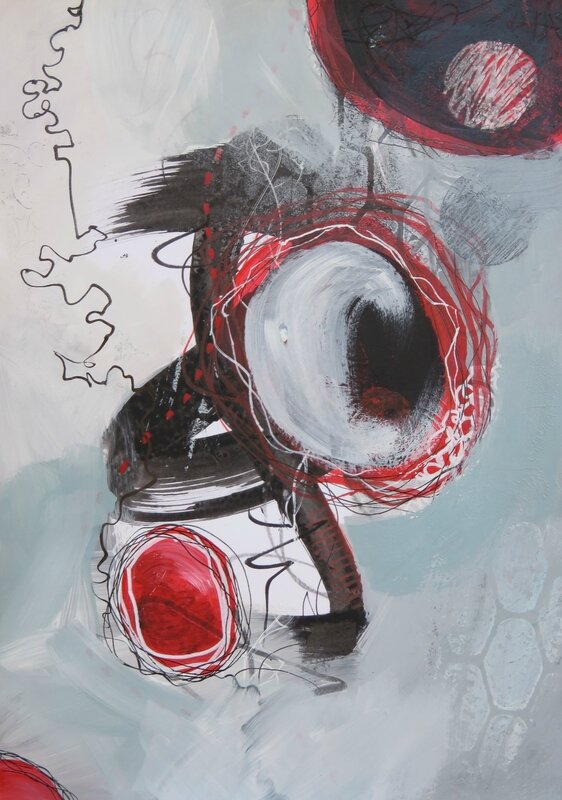 n°19 étape/step 3
n°20 était un tel cas désespéré, qu'il a subi un énorme lifting à l'étape 2 ;-) c'est amusant de voir que l'on retrouve la structure. La pastille pour moi est trop présente, il faut que je l'estompe un peu. J'aime l'ajout du turquoise et les motifs serrés noirs en bas à gauche.
n°20 was so hopeless it underwent some huge work in step 2 ;-) it's funny the big patches of colour follow the same structure though. The dot is way too strong, I need to soften it. I like the turquoise touch and the tight black pattern (bottom left).
n°20 étape/ step 1 n°20 étape/step 2
Etape 3, j'ai fait reculer le rond, j'aime mieux ainsi, je ne pense pas qu'il y ait une étape 4
Step 3, the dot has been knocked back and I like it better like this. I don't think there will be a step 4.
n°20 Etape/step 3
n°21 était déjà chargé à l'étape 1. L'étape 2 a agravé le problème. J'aime le motif noir qui court sur le trait rouge.
n°21 Was too busy, and step 2 made it even worse. I like the black pattern on the red line.
n°21 étape/ step 1 n°21 étape/step 2
L'étape 3 a réussi à calmer l'ambiance et à conserver ce que j'aimais. Il y a du potentiel. Il y aura encore d'autres étapes...
Step 3 managed to calm the atmosphere and keep the parts I liked. There is potential, but other steps are definitely needed.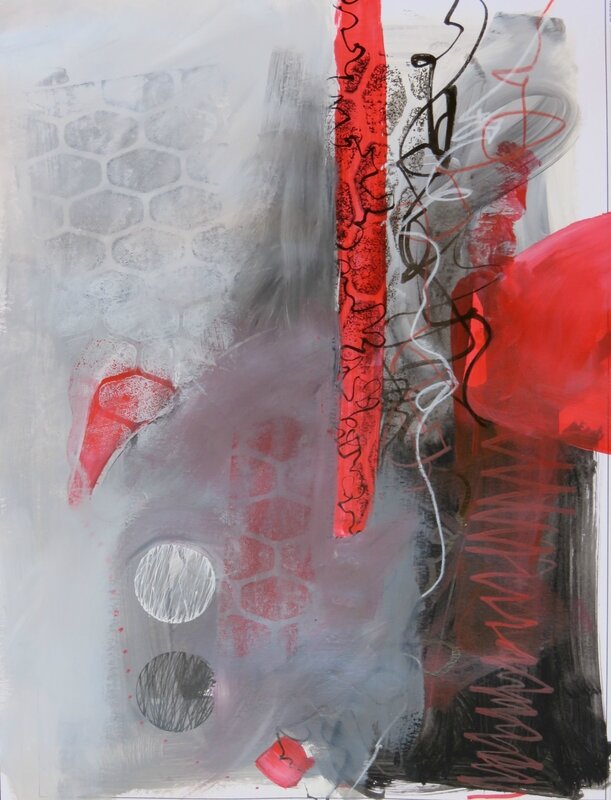 n°21 Etape/Step 3
n°22 était l'essai sur papier Yupo, et à part vaporiser et gratter certaines parties, je ne suis arrivée à rien. Exit.
n°22 was the yupo paper, and apart from spraying some water and trying to scrape the paint away, I got nowhere exciting.
Et pour info, j'ai déjà refait une autre série de 10 autres essais en noir et blanc.
FYI, I've already done another series of 10 more experiment in black and white.
28 février 2017
Vous rappelez vous de ce château au bord de la plage? Je vous l'avais fait découvrir ici.
Do you remember that castle on the beach? I showed you some photos here.
Ce jour là, j'avais rapidement eu le temps de croquer une fois le château, et une fois la maison orangée. Je ne suis pas très satisfaite des croquis, mais on ne peut pas réussir à tous les coups, n'est-ce pas?
That day, I only had the time for two quick sketches. I'm not really satisfied of what came out, but you can't always win, can you?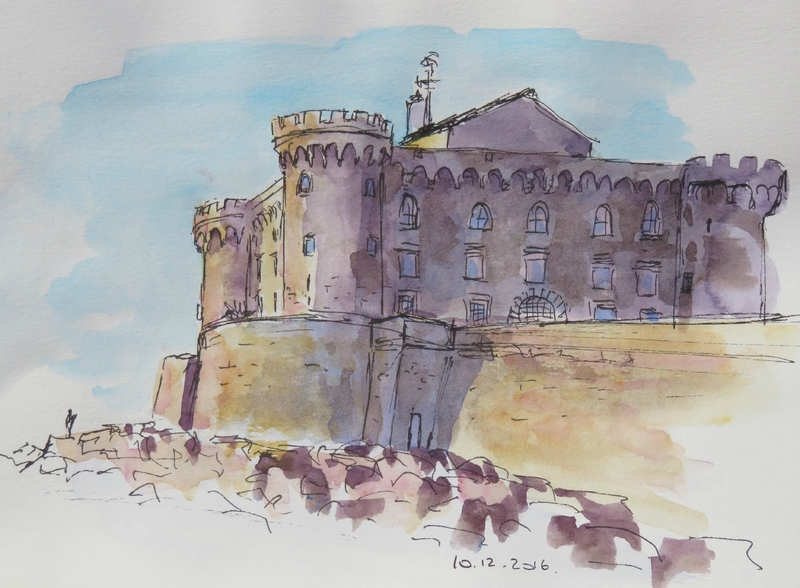 N°23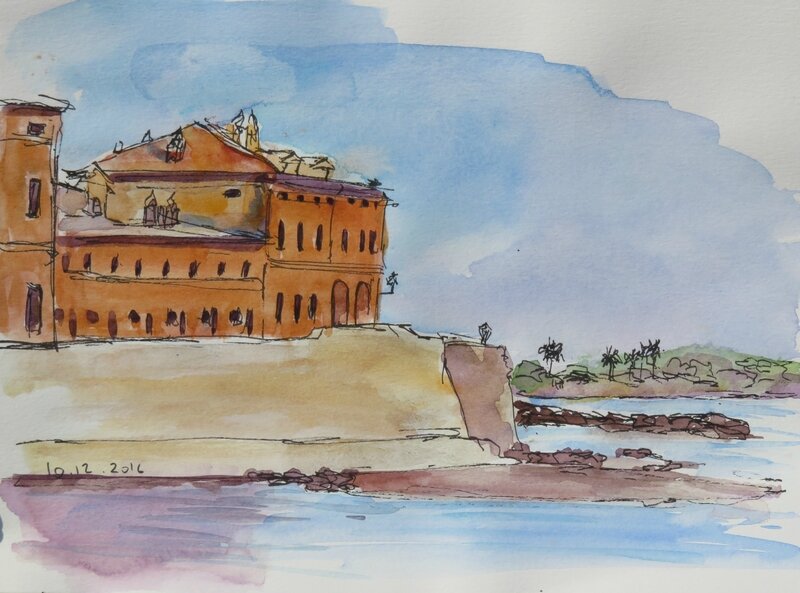 N°24
24 février 2017
Expérimenter, essayer, ne pas réfléchir, aller vite, tester différents outils, se limiter à peu de couleurs, travailler le geste, et surtout ne pas réfléchir.
Experiment, try, do not think, be quick, test different tools, limit yourself to very few colours, work with your body, and most of all, do not think.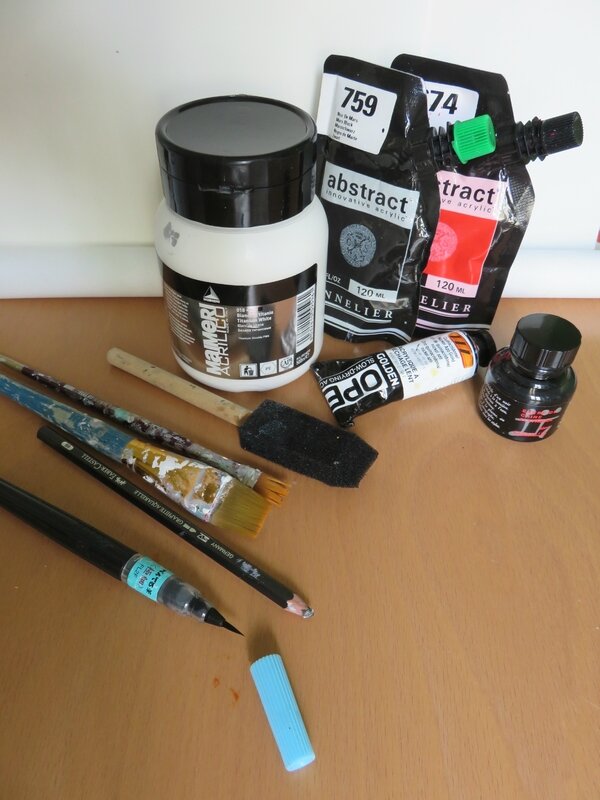 Voici les outils que j'ai utilisés, en essayant de les prendre dans le même ordre, d'abord le noir acrylique et/ou encre de chine (appliqué au pinceau mousse) puis le blanc (appliqué au pinceau), puis le graphite, puis parfois le pinceau encre de chine. Dans une deuxième phase seulement j'ai rajouté 2 couleurs. Pourquoi le même ordre? Pour essayer de créer une sorte de ryhtme, un mouvement presque mécanique et éviter les hésitations et la pensée.
Here are the tools and colours I used: black (acrylic paint and/or indian ink, white acrylic paint, graphite, indian ink fine paint brush; I tried to use them in the same order so as to get into some kind of rhythm, some mechanc movement and avoid hesitating and thinking. In a second step I added two colours.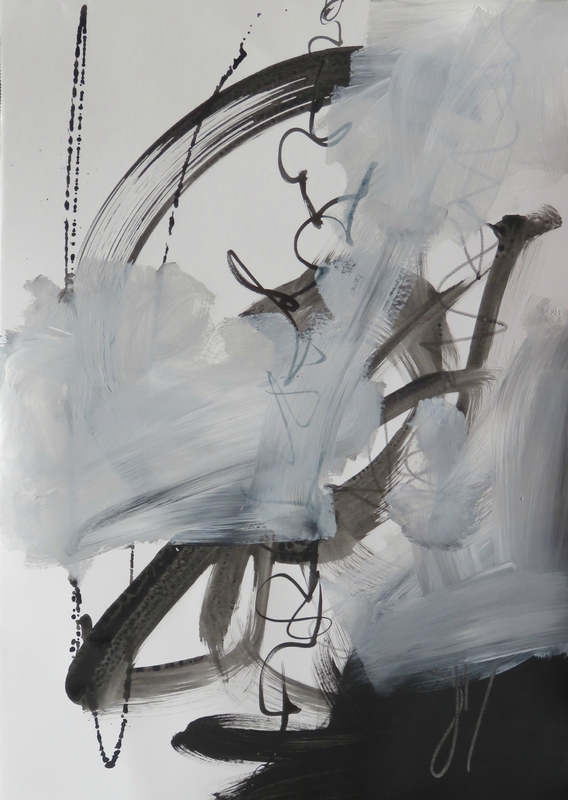 n°10
Le but ici n'était pas de produire des oeuvres finies, mais plutôt d'expérimenter des gestes, des effets, ce qu'on appelle aussi le "vocablulaire" du peintre. Certains de ces essais resteront en l'état, dans un tiroir, d'autres seront peut-être retravaillés, d'autres donneront des idées, des envies pour encore et toujours expérimenter sur d'autres chemins.
The aim here was not to produce finished works, but more to experiment gestures, effects, what we also call the artist's "vocabulary". Some of these experiments wil stay like this, in a drawer, others may be worked upon, others will give ideas, the will to keep experimenting on and on and take up new paths.
n°11 n°12
J'aime ces effets de "dissolution", comme si on regardait des volutes d'encre teinter un verre d'eau pur
I like these dissolving effects like seeing curls of ink in a glass of clear water
J'ai parfois rajouté une autre couleur (quinacridone gold)
I sometimes added another colour (quinacridone gold)

ou du rouge vermillon
or vermillon red

J'ai aussi essayé parfois de faire d'autres types de marques en appliquant du papier texturé sur la peinture fraîche
I sometimes tried to make other marks with textured paper applied on the fresh paint
n°19 n°20
J'ai essentiellement travaillé sur du papier Fabriano Liscio 200g/m
I essentially worked on Fabriano paper 200g/m
n°21
mais aussi une fois sur du Lavanangard / Yupo. Pas convaincue par le yupo (ci-dessous)
but also once on Yupo paper, but I didn't much like it (below)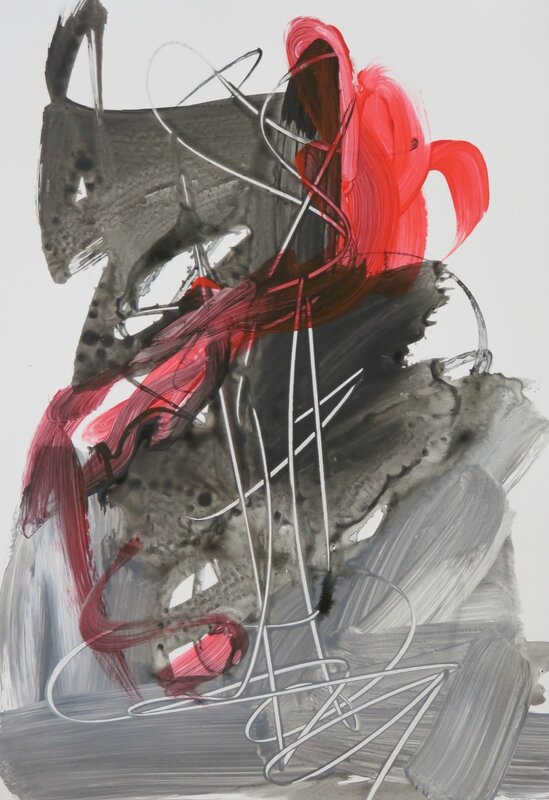 n°22
Des gribouillages? Oui, c'est une autre façon de voir ça, mais des gribouillages utiles pour un artiste ;-)
Messy scribbles? Well, yes, that's one way of seeing it, but scribbles are very useful for artists ;-)
A suivre
To be continued
20 février 2017
Comment peut-on partir d'un monoprint tout pâle comme celui-ci
How can you start from a pale monoprint like this
... et arriver à des couleurs aussi vibrantes que ça?
... and end up with colours as vibrant as these?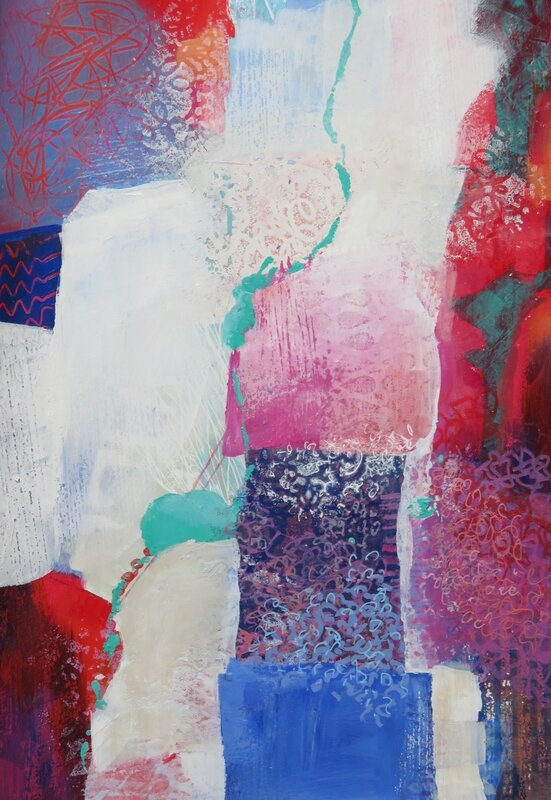 N°9
Mixed media sur papier, sans titre pour l'instant
Mixed media on paper, yet untitled
La vie n'est qu'un cheminement mystérieux dont la logique m'échappe parfois totalement ! :-D On ne retrouve rien du monoprint de départ, ne cherchez pas.
Life is but a mysterious winding path whose logic totally escapes me sometimes! :-D There's nothing left of the previous monoprint, don't even bother looking for traces.
Les non amateurs d'art abstrait vont avoir du mal, désolés pour eux, mais moi, j'adore le résultat et plus ça va et plus je l'aime. Je serais bien embêtée pour expliquer ce qui me plaît dans cette oeuvre résolument abstraite. Peut-être déjà les couleurs fortes ? Les rouges qu'on voit poindre par transparence sous le bleu? La pointe de turquoise? Les rouges mêlés aux roses et oranges? Les formes? Les motifs? La verticalité de la composition?
Those who are not so keen on abstract art will find it hard to take it in, sorry for them, but the more I look at it and the more I love it. I find it very hard to explain what I like in this definitely abstract work. Maybe the strong colours? The reds you can see through the blue? the turquoise touch? The reds mixing with the pinks and oranges? The shapes? The patterns? The vertical layout?