15 avril 2019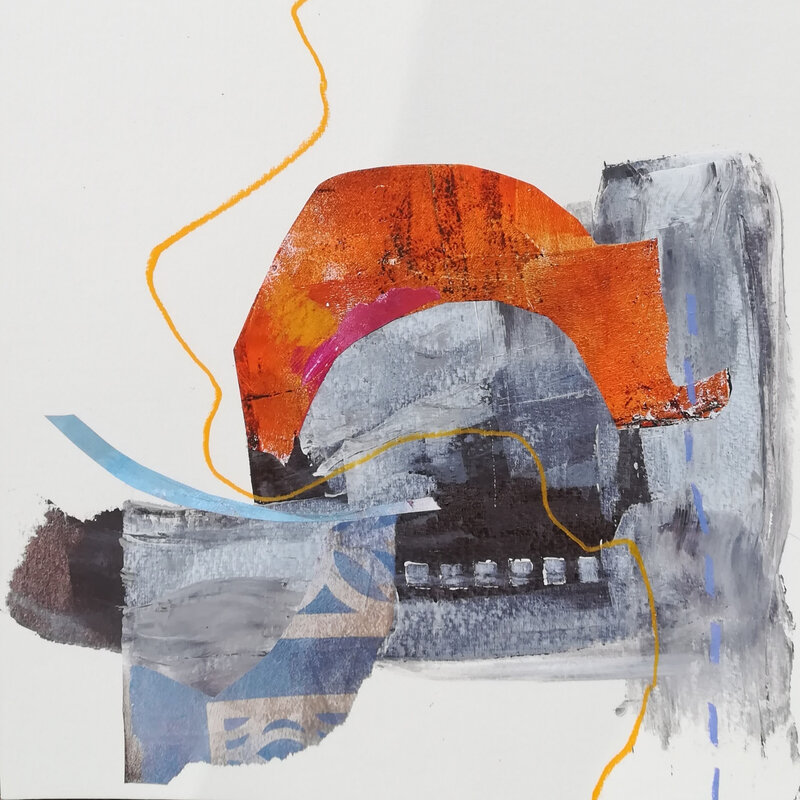 N°17
Monoprint collage on paper 25 x 25 cm
10 avril 2019
Qu'est-ce donc? C'est un challenge comme j'aime: rien à gagner, on fait ça juste pour le fun! Il s'agit de créer et poster chaque jour pendant 100 jours une création. A chacun son projet, à chacun son outil ou support. On peut décider de tricoter 100 pulls (!) ou écrire un poème de 100 vers, faire 100 pliages, 100 photos du même arbre ... bref le choix est vaste. J'étais tentée l'an dernier, mais je n'avais pas su me décider sur le type de projet. Cette année je me suis lancée. 100 carrés. Mais comme j'aime la variété, ces 100 carrés seront divisés en 10 séries: 10 petits formats, 10 grands, 10 collages, 10 monoprints, ... le défi étant de produire et montrer ces créations au rythme de 1/jour. C'est un défi qui se fait principalement sur Instagram (mais pas que).
What's that? It's the type of challenge I love: nothing to win, you just do it for the pleasure! You have to create and post 1 creation a day for 100 days. Each can decide on his/her project. You can decide to knit 100 jumpers,, write a 100 verse-long poem, take 100 photos of the same tree... whatever. You just pick. I was half tempted last year, but couldn't make up my mind on which project. This year, I decided to create 100 squares. Becasue I like variety, these 100 squares will be divided into 10 mini series of 10: 10 small formats, 10 big, 10 collages, 10 monoprints, ... the challenge being to produce, show and create everyday for 100 days in a row. It's mainly followed on Instagram, but not only.
Le défi a commencé le 2 avril et se poursuivra donc pendant 100 jours. La forme étant libre, on peut aussi décider de commencer quand on veut. Certains ont tellement aimé ce défi et ce rythme, qu'ils ont continué au-delà des 100 jours. Si on ne gagne rien, tous ceux qui se sont essayés à l'exercice ont apprécié le fait d'être poussé à aller toujours plus loin dans la création: comment se renouveler?
It started on April 2nd, but you can decide to start whenever you feel like it. There's nothing to win, but all those who tried the experience said they enjoyed the fact that the challenge forces you to create and do things you would never have imagined: how can one find inspiration?
Je poste sur Instagram tous les jours sauf le weekend ;-) mais je vais aussi poster mes productions ici, par séries et non quotidiennement. Voici les 6 premiers carrés postés:
I post everyday (almost) on Instagram, but I'm going to show my creations here too, not daily but every now and then. Here're the first 6 I posted:
N°11 1/100 N°12 2/100
N°13 3/100 N°14 4/100
N°15 6/100 N°16 7/100
Alors, qui est tenté?
So who's tempted?
26 mars 2019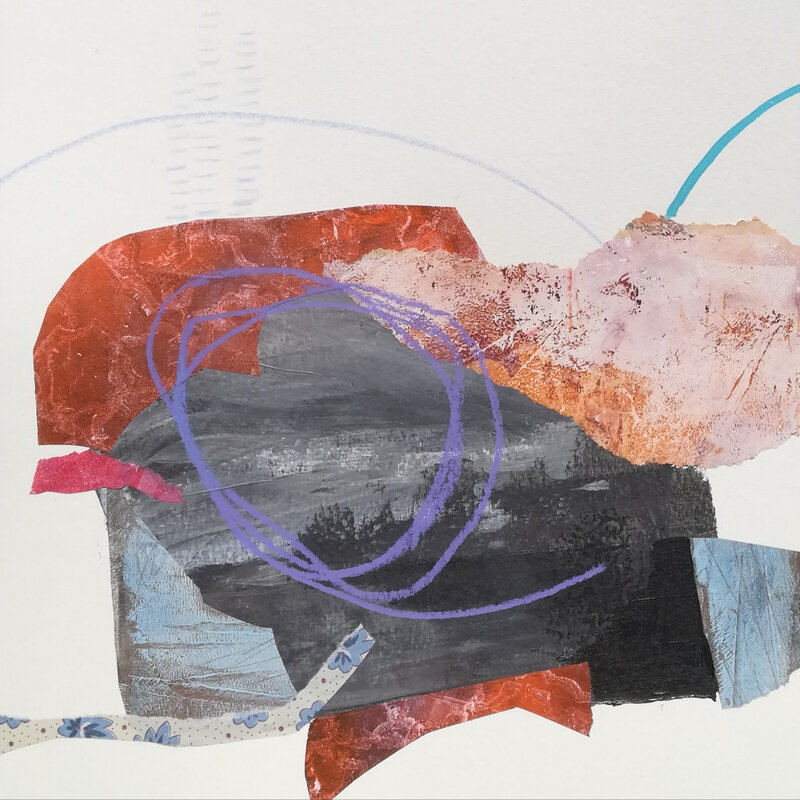 N°10
Mixed media on paper
25 x 25 cm
23 mars 2019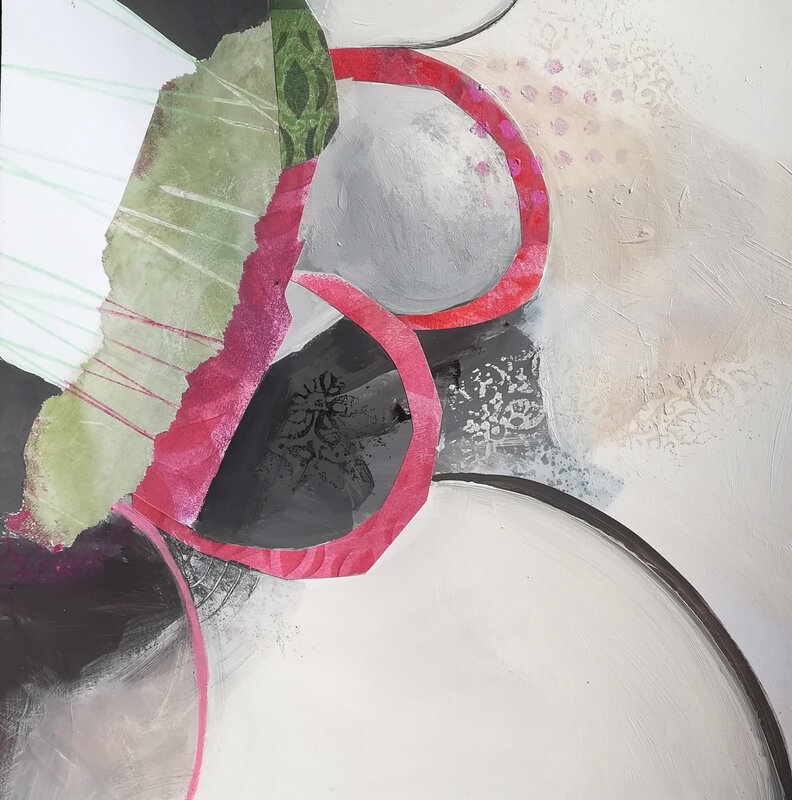 n°9
Mixed media on paper
04 mars 2019
The other day I cut up the sheets of paper to make some square formats, and I ended up with weird formats (20x38 cm). At first I was planning to cut them up to make some 20x20, but then I decided to first try them out to see what would come out of these vertical rectangles.
L'autre jour j'ai coupé mes feuilles de papier pour faire des formats carrés, et je me suis retrouvée avec des papiers aux formats peu conventionnels (20x38). Au départ je pensais les redécouper pour faire des carrés 20x20, mais finalement je me suis décidée à d'abord les essayer tels quels pour voir ce qu'il ressortirait de ces feuilles verticales.

N°6
It's a well known fact that it's not easy to go from big to small sizes (or the opposite), but it's not easy to go from square to rectangle (or vice versa) either.
Il est bien connu que ce n'est pas facile de passer de grands formats à des formats plus petits (et vice versa), mais ce n'est pas facile non plus de passer de fomrats carrés à des formats rectangles (et vice versa).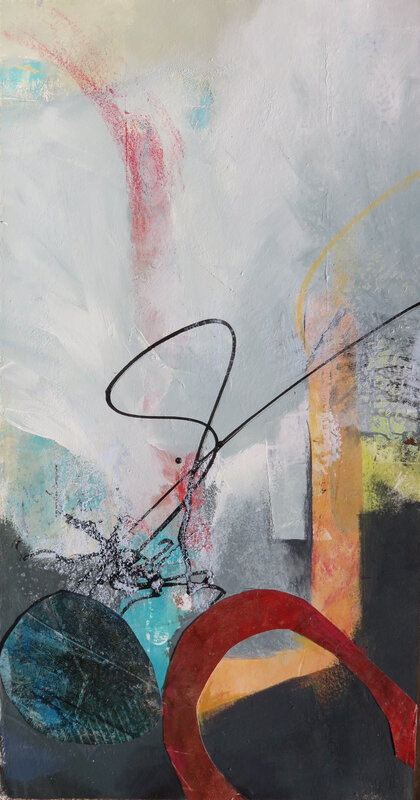 N°7
One gets (too much) used to size and format. Hence the need to change.
On finit par (trop) s'habituer à la taille et au format. D'où l'envie de changer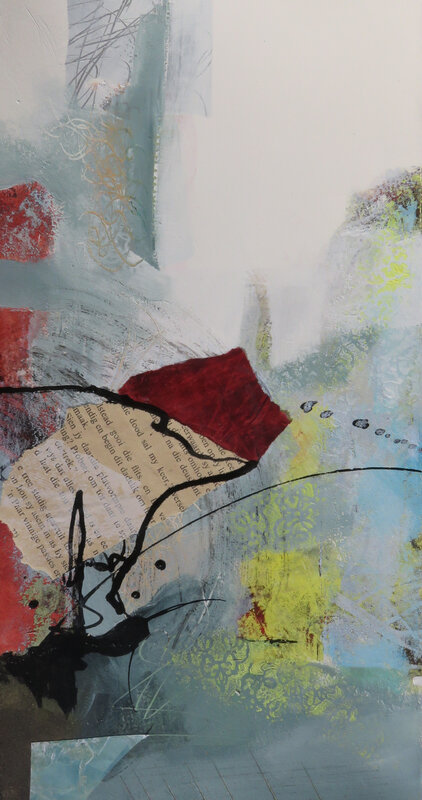 N°8
The good thing is, I can still cut them up to make some 20x20 squares now.
Le point positif, c'est que je pourrai toujours les découper plus tard pour revenir à des formats 20x20cm
Out of curiosity, here's what some of them would look like in squares:
par curiosité, regardons un peu ce qu'ils donneraient en format carré: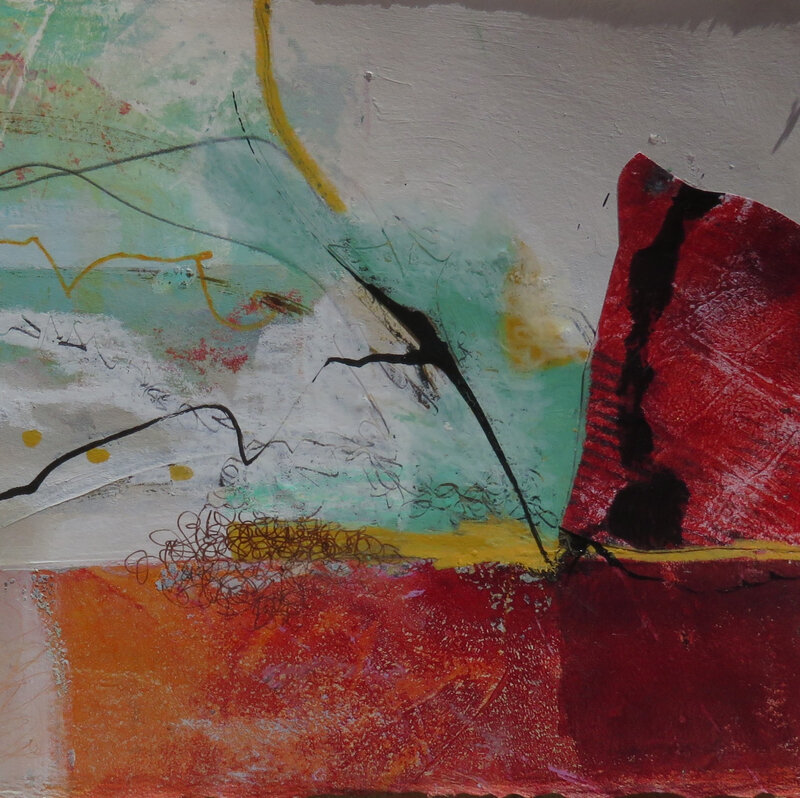 N°6a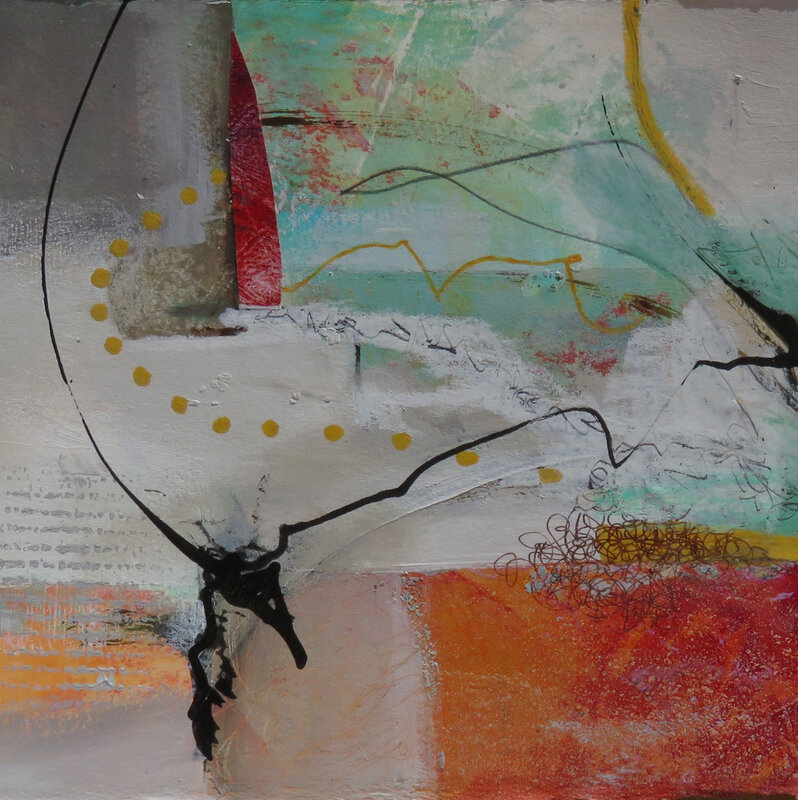 N°6b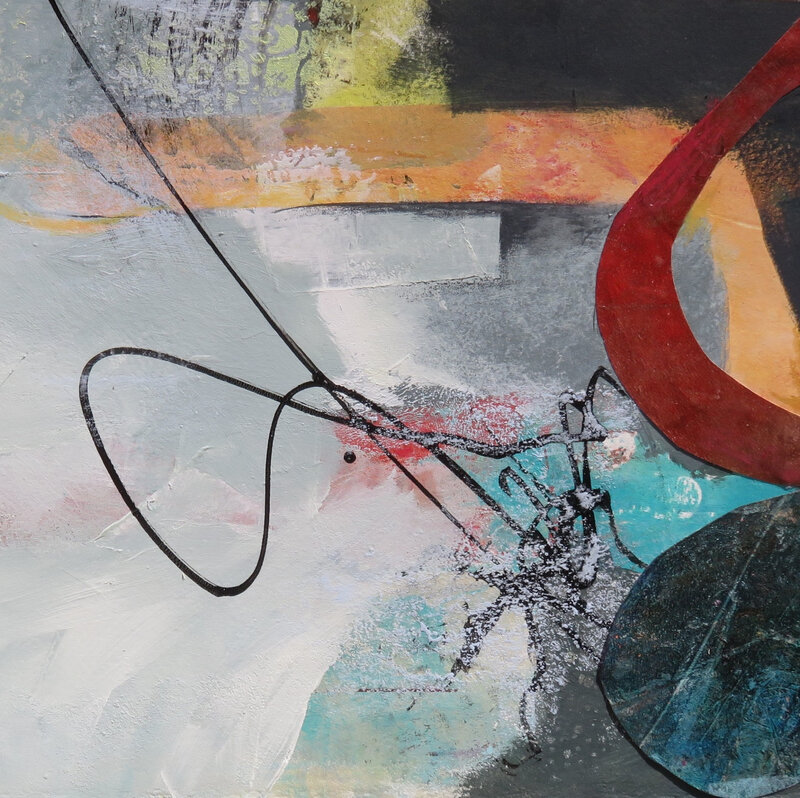 N°7a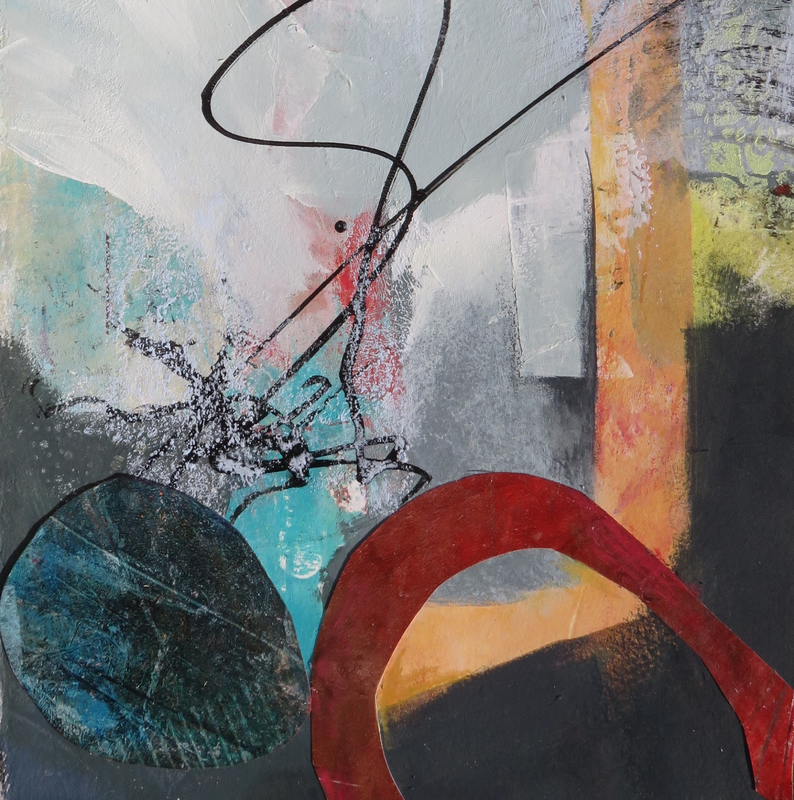 N°7b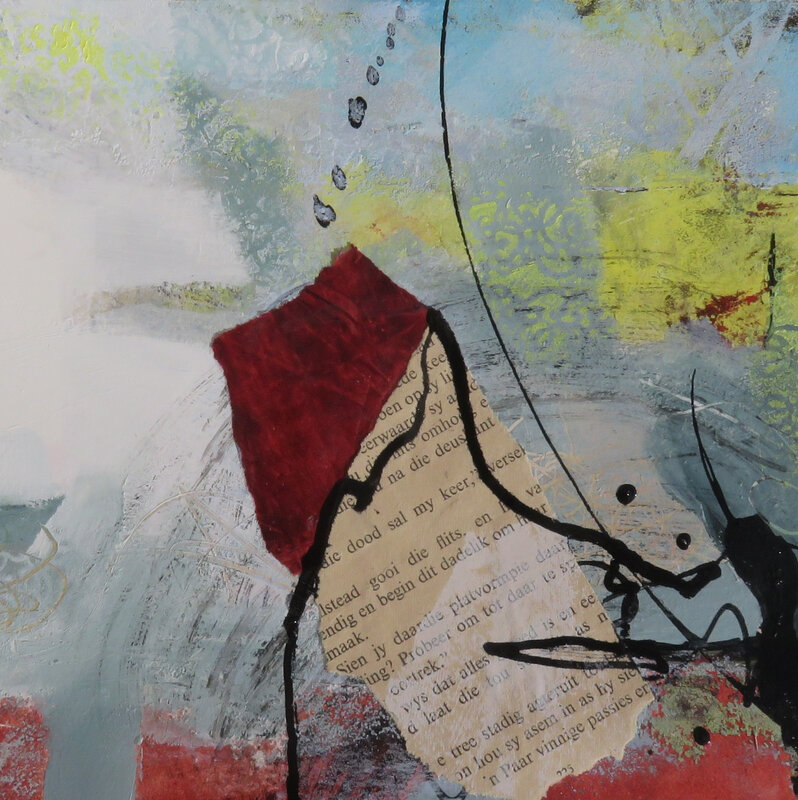 N°8a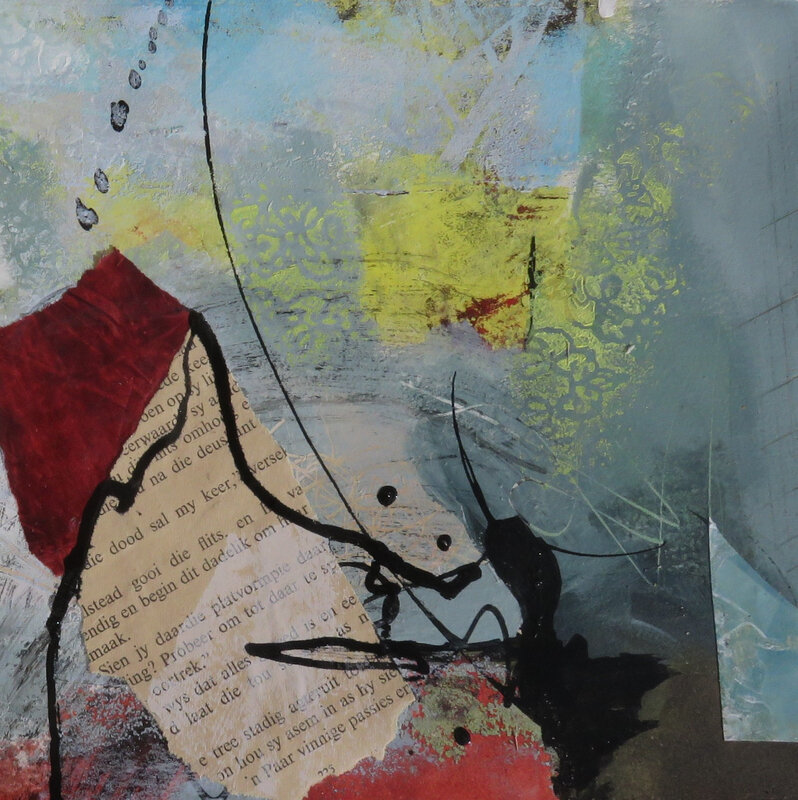 N°8b
It's funny how the composition gets balanced or unbalanced depending on the format.
C'est amusant de voir combien une composition peut être équilibrée ou déséquilibrée selon le format.
What do you think?
Qu'en pensez-vous?
08 février 2019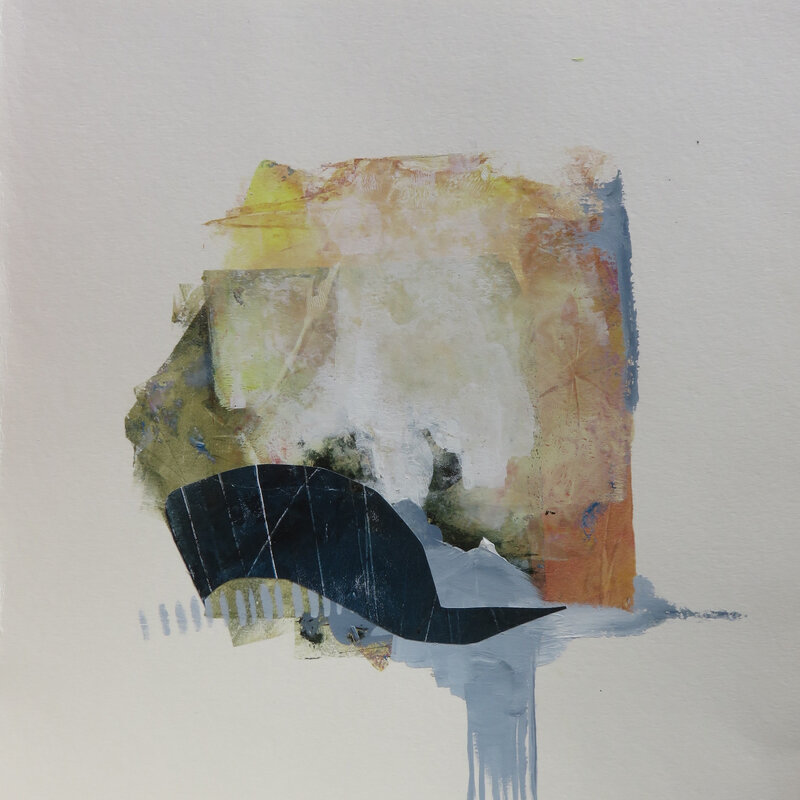 This time again I worked on the concept of tranparencies, with everything massed together in the middle But it all took shape thanks to that very dark collage piece I added in the end at the bottom left. It was probably the contrast that was needed.
Cette fois-ci encore, j'ai travaillé sur l'idée de transparences avec cette masse groupée au centre. Mais il a pris son envol seulement quand j'ai rajouté ce collage très foncé en bas à gauche de la masse. C'était le contraste qu'il manquait.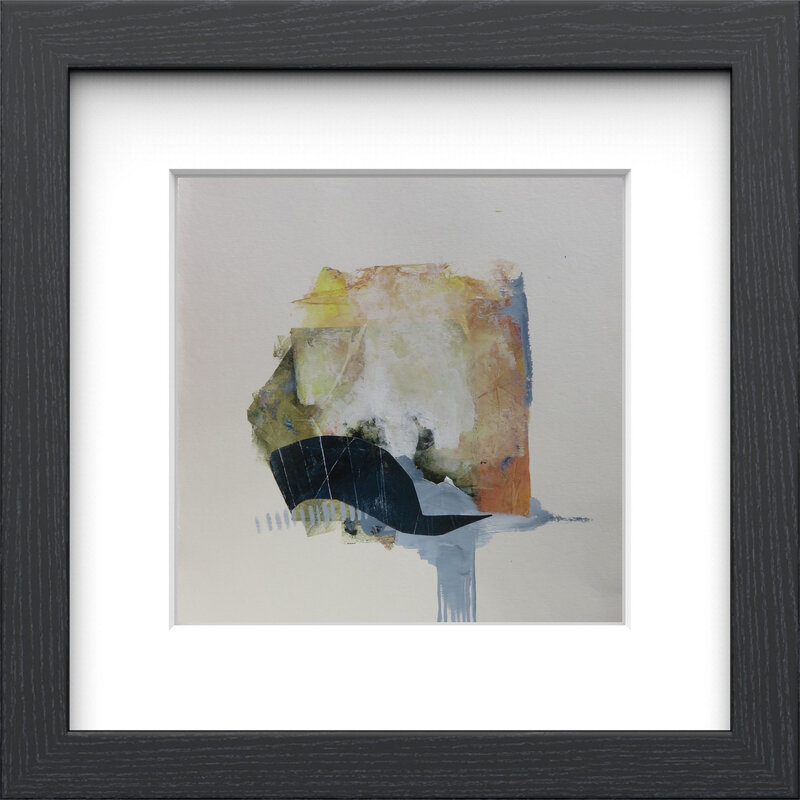 It's funny it's the type of composition I didn't dare a few months back, and now I'm quite enjoying this center effect.
C'est marrant, c''st le genre de composition que je n'osais pas trop faire il y a encore quelques mois, et maintenant j'aime plutôt pas mal cet effet de centre.
04 février 2019
Working on layers and transparencies using two gelli plates of different size and printing directly on the paper.
The collage only adds a touch of bright colour.
Travail sur les transparences et les couches. J'ai utilisé deux plaques d'impressions en gélatine directement sur le papier.
Les collages ajoutent seulement une touche de couleur vive.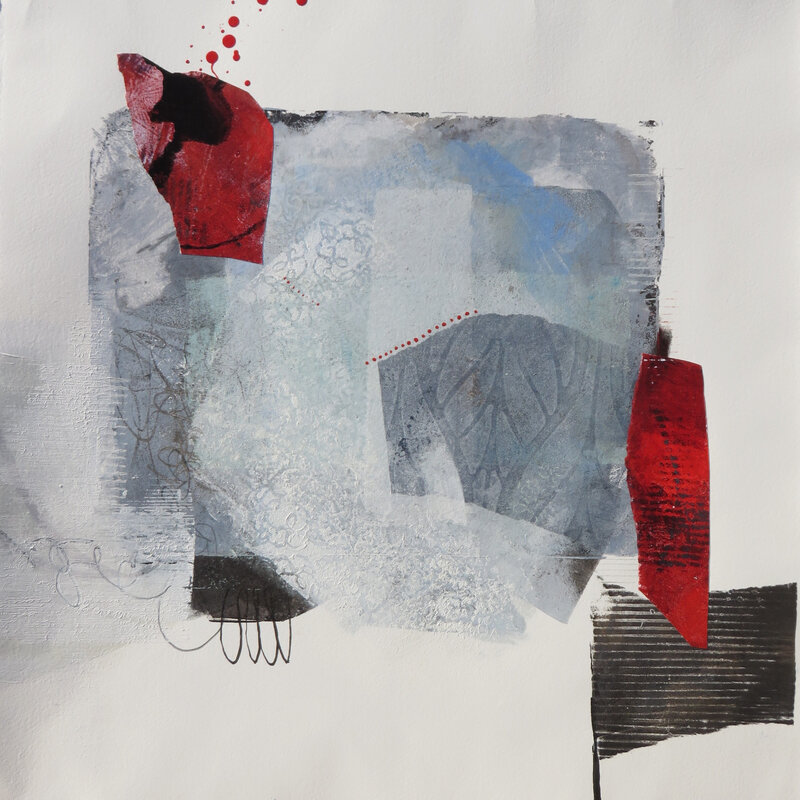 I like the transparencies, and the deep dark red.
J'aime les transparences et ce rouge si profond.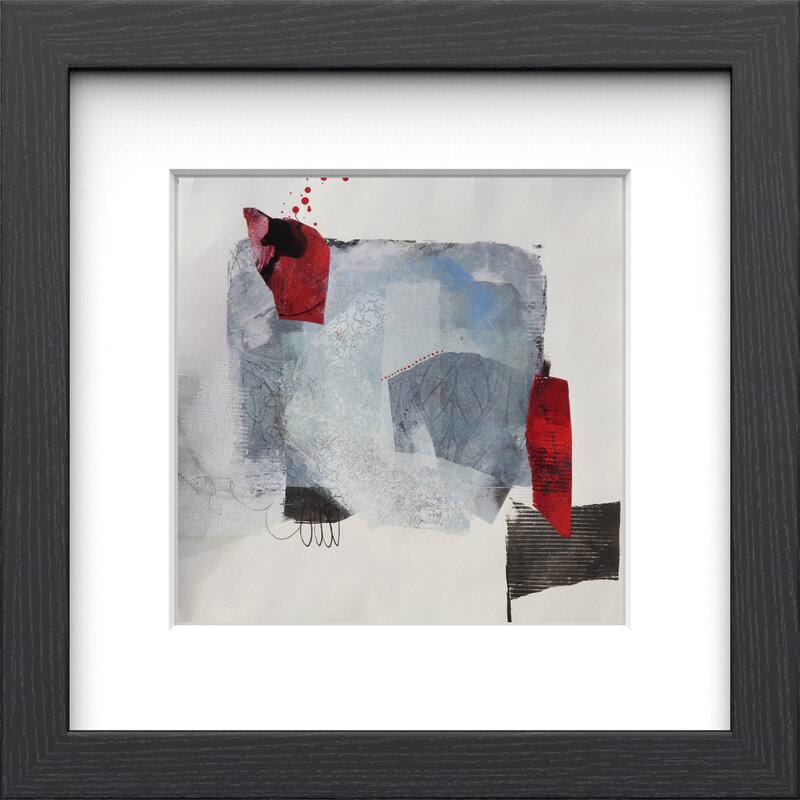 I also like it this way:
Je l'aime aussi dans ce sens là:
This is the other halfd of the set I showed you the other day:
Voici l'autre moitié de la paire que je vous ai montrée l'autre jour:
I wouldn't hang them together though, I'm just mentionig it to explain the process (they were made in the same idea) but the collage of red in one case and orange in the other has made them too different to be put next to each other. My opinion.
Je ne les accrocherais pas ensemble toutefois; je le précisais juste pour expliquer le processus (ils ont été faits dans le même esprit) mais le collage de rouge dans un cas et d'orange dans l'autre les a rendus trop différents pour qu'ils soient accrochés côte à côte. C'est mon avis.
31 janvier 2019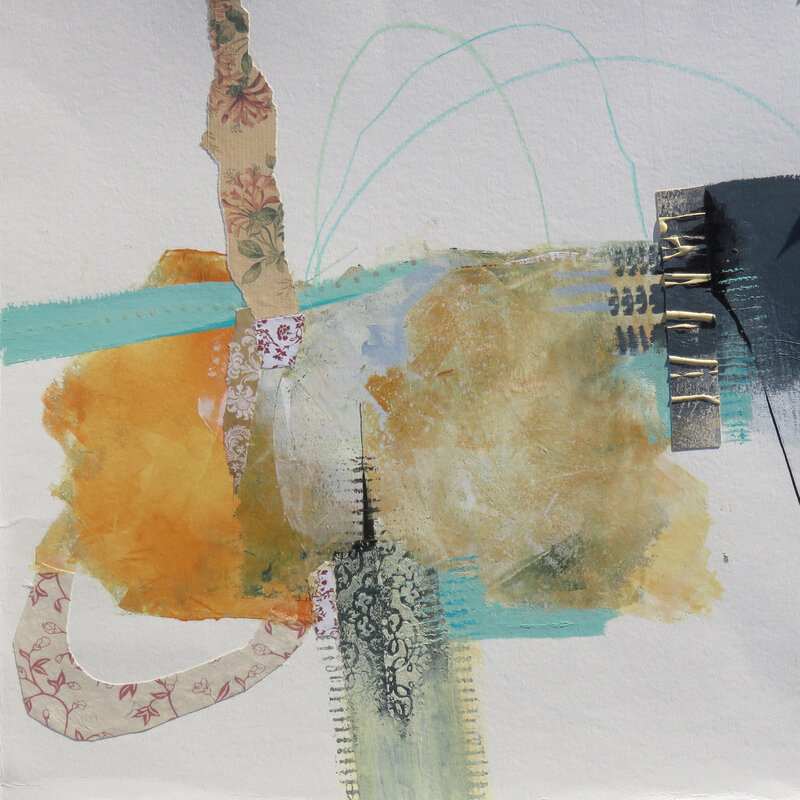 The composition is balanced, I like the textures, but I just can't seem to fall in love with it...
What is missing? Do you feel it missing?
La composition est équilibrée, j'aime les textures, mais je n'arrive pas à être satisfaite, comme s'il manquait quelque chose.
Ressentez-vous la même chose?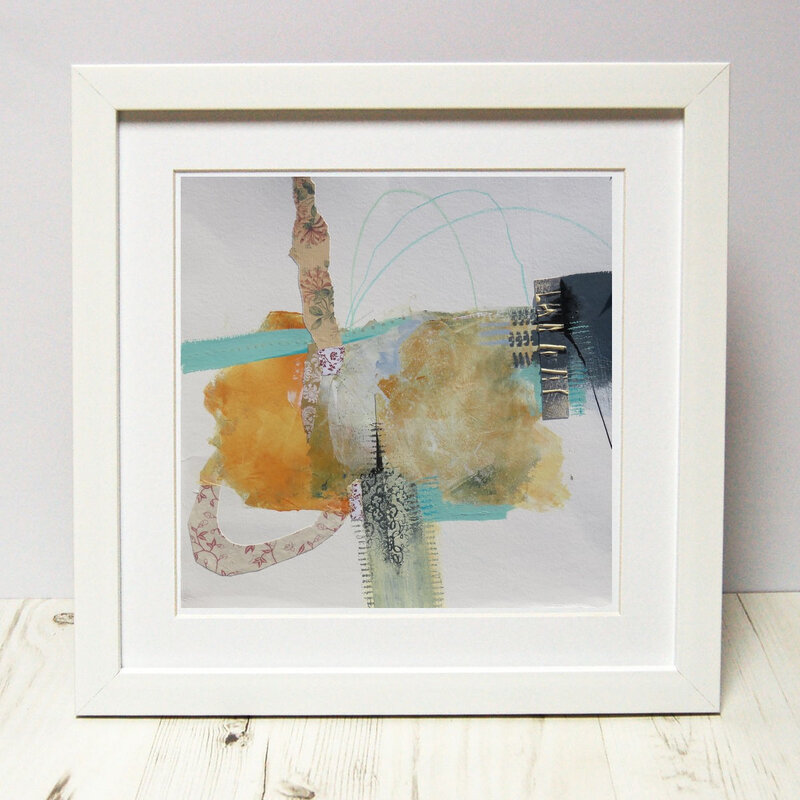 28 janvier 2019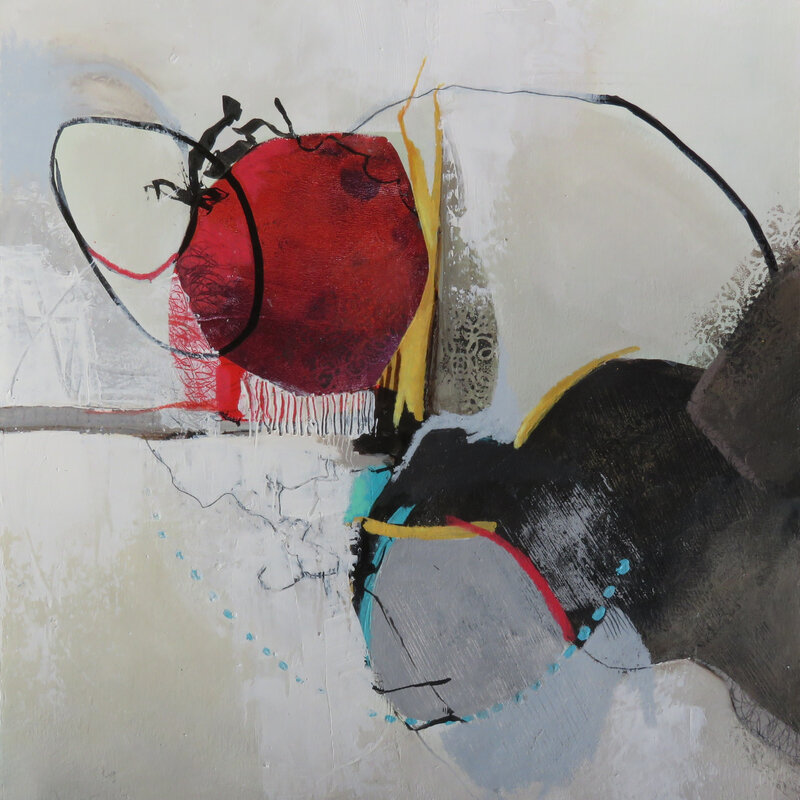 This is a painting in progress which is probably going to stay as is because it seems it has reached its goal.
Voici un tableau en cours qui va probablement rester en l'état car je trouve qu'il a atteint son but.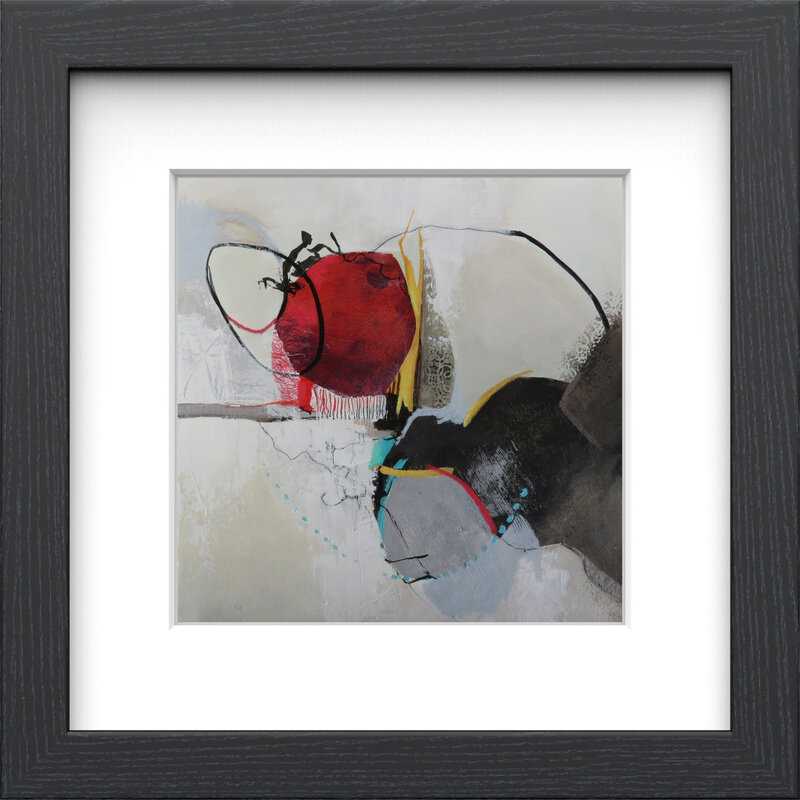 22 janvier 2019
Every new year a new challenge. This year, mine is going to be pretty simple: I've had troubles keeping up with this blog what with being back at work full time again since September, AND trying to maintain a regular painting practise; so this year, I'll try and keep up with regular posting on the blog too!
A chaque année son nouveau défi. Le mien va être simple: j'ai eu du mal à m'occuper de ce blog depuis que j'ai repris le travail à plein temps en septembre tout en maintenant une pratique artistique régulière. Alors, cette année, je vais poster plus régulièrement sur ce blog aussi.
I know lots of you are interested in the hows and the whys and the whats, and it's so enriching to be able to have some kind of a dialogue with people out there.
Je sais que beaucoup sont interessés par le pourquoi du comment et c'est si enrichissant d'avoir une sorte de dialogue par commentaires interposés.
To be realistic though, I'll have to keep the posting simple and short. Let's go straight to the core and cut the chase: I'll post my latest painting(s) with a minimum of words.
Pour rester réaliste, il faudra que je garde les posts simples et courts. Aller à l'essentiel et éviter les blabla : je posterai mes tout derniers tableaux avec un minimum de texte.
I also know some of you are keen on trying out new games and challenges and experiences, so once in a while we'll indulge!
Je sais que certains sont friands de jeux, de défis et d'expériences, alors de temps en temps on se fera plaisir avec un post plus long.
Are you ready for this new plan? So let's go!
Prêts pour cette nouvelle formule? C'est (re)parti!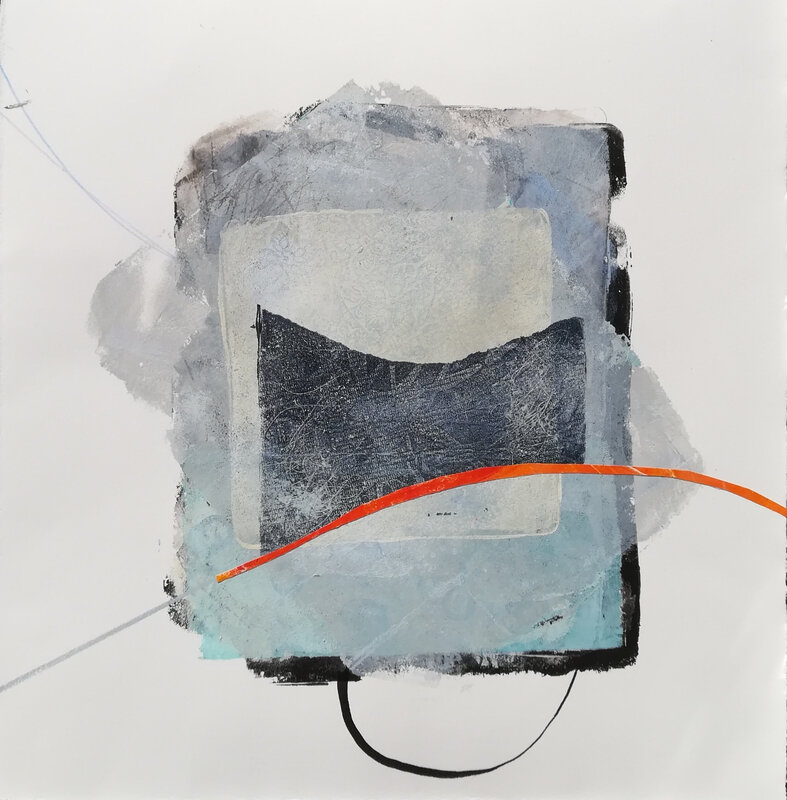 N°1
and this painting is pretty appropriate to illustrate my words, don't you think?
et je trouve ce tableau plutôt approprié pour illustrer mon propos, vous ne trouvez pas?