20 mai 2016
De belles couleurs chaleureuses pour ce monoprint retravaillé.
Warm colours for this monoprint I worked on.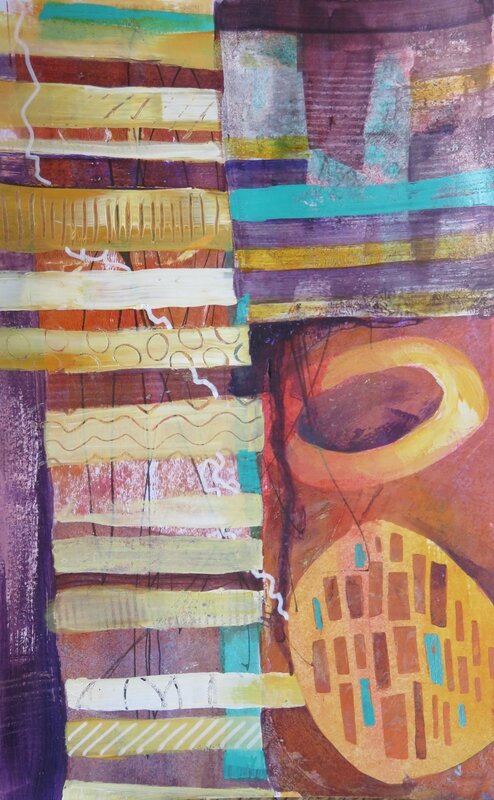 cliquez dessus pour le voir en entier / click on it to see it as a whole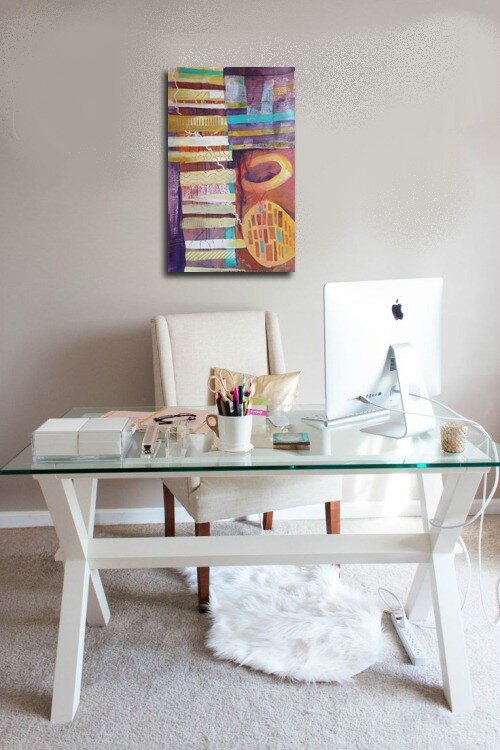 Soyez fidèles, et ne loupez pas mon prochain post :
J'offrirai un croquis à l'occasion de mon 1000ième message sur ce blog. :-)
Don't miss my next message:
it will be message number 1000, and I will give out a free sketch! :-)
16 mai 2016
Leçon 1: oser s'attaquer au lourd
Lesson 1 : you must tackle huge buildings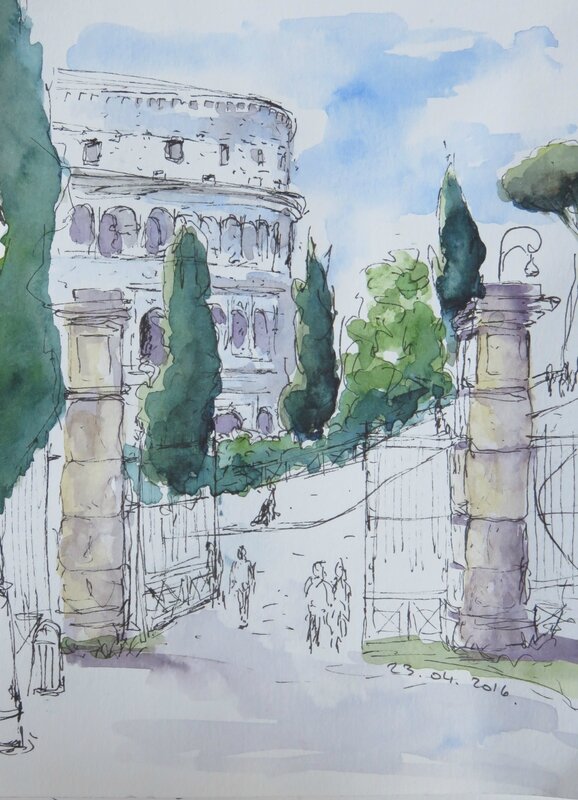 N°76
Le Colisée vu du parc de la Domus Aurea
Colosseo seen from Domus Aurea park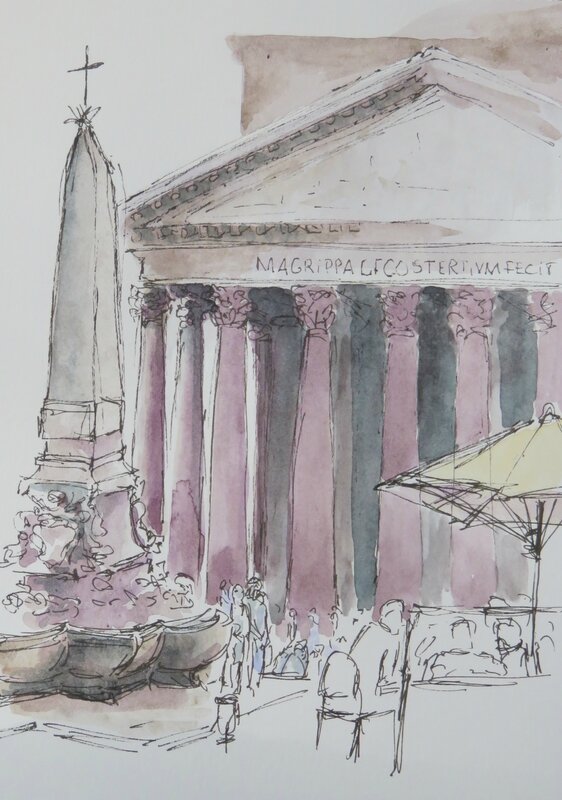 N°77
Le Panthéon / Pantheon
Leçon 2 : même en ville, ne pas négliger les verts:
Lesson 2: even in town, you must work on your greens:
N°78
Circo Massimo et le forum
Circus Maximus and the forum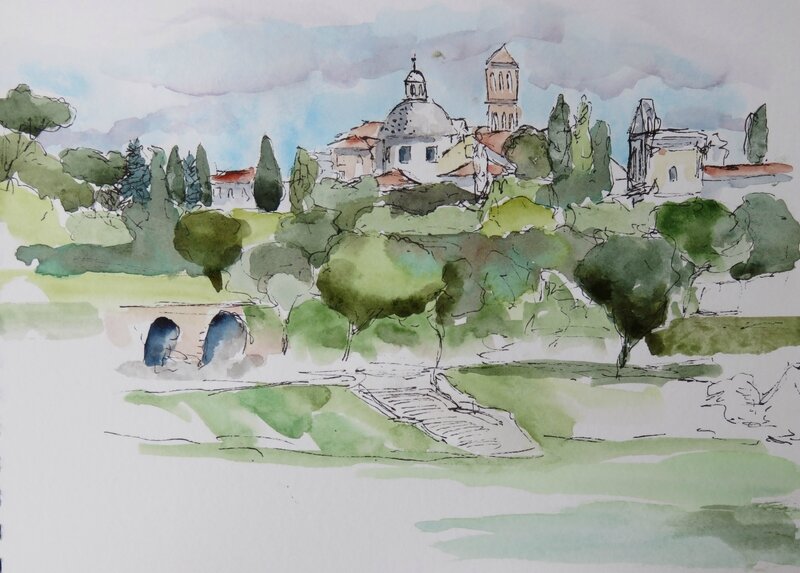 N°79
Circo Massimo au premier plan
Circus Maximus in the foreground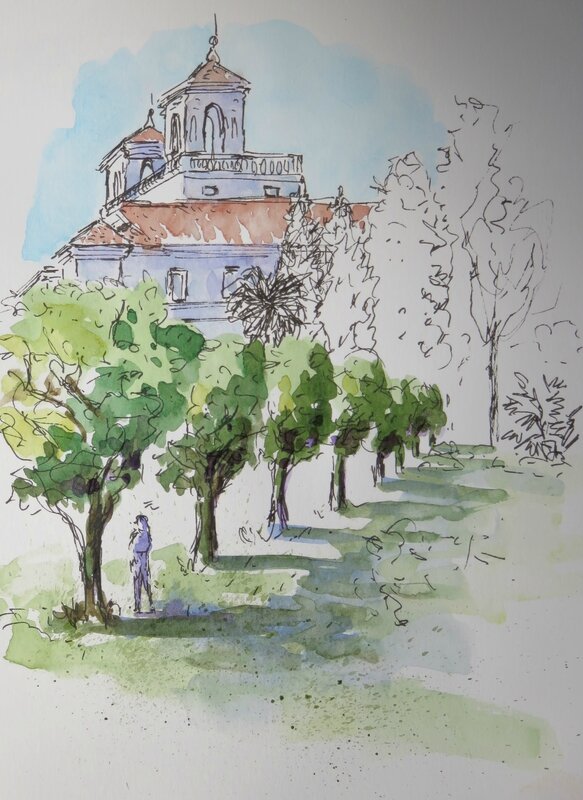 N°80
Villa Medicis au fond, vue des jardins de l'institut Sacro Cuore
Villa Medici in the background, seen from the Sacro Cuore Institute
10 mai 2016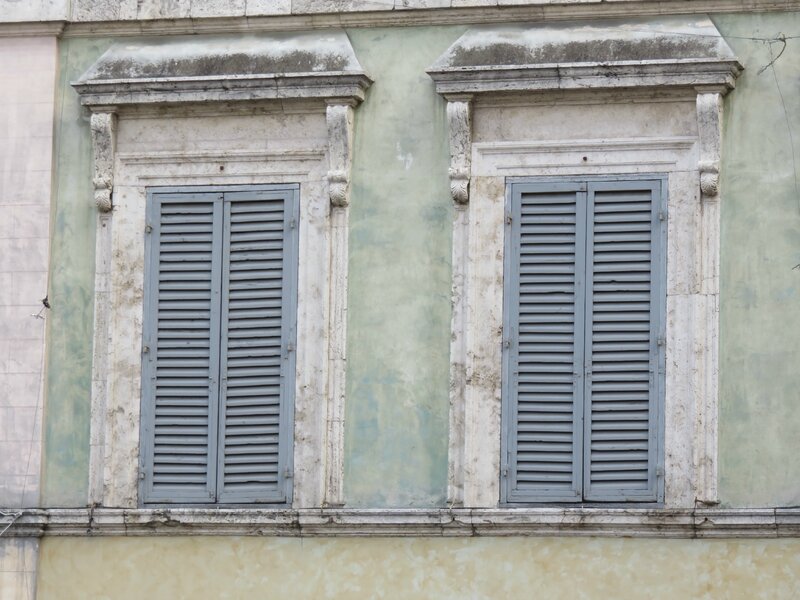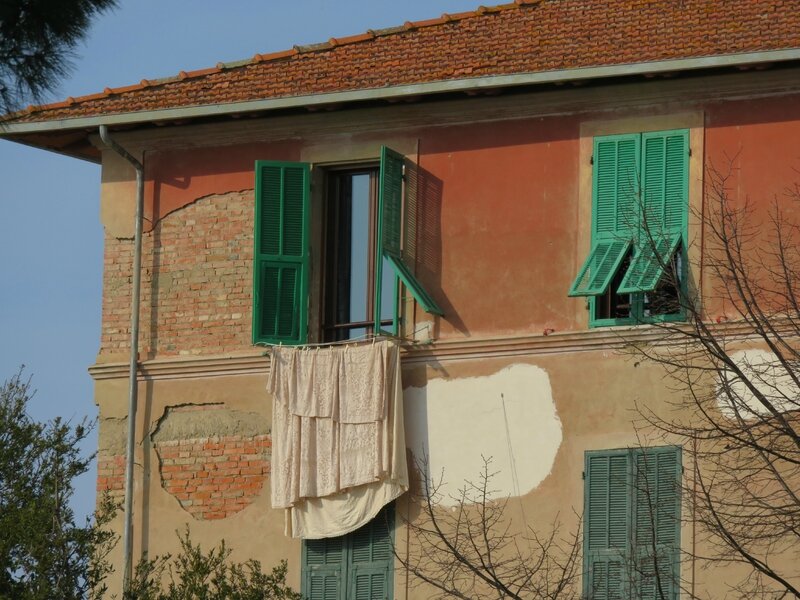 Saluteremo dalla nostra finestra
il tempo che passa
e se passando ci riconoscerà
anche il tempo perduto
anche il tempo sbagliato
ci risponderà
Saluteremo dalla nostra finestra
e non sarà una canzone
che tutto il tempo finito ci ritornerà
ma saranno gli occhi
questi nostri occhi senza più parole
e un altro tempo sarà
(Gian Maria Testa, Canzone del Tempo)
Traduction approximative en français (aide bienvenue!)
Nous saluerons de notre fenêtre
le temps qui passe
et si en passant il nous reconnait
même le temps perdu
même le temps qui s'est trompé
nous répondra
Nous saluerons de notre fenêtre
et ce ne sera pas une chanson
le temps fini qui nous reviendra
ce seront les yeux, ces yeux sans plus de mots
et un autre temps qui viendra.
(Gian Maria testa, Chanson du Temps)
Translation (very approximate, help welcome)
We'll say hello from our window
to the time that passes by
and if while passing by it recognizes us
even lost time
even the time that went wrong
will answer us
We will say hello from our window
and it will not be a song
finished time will come back to us
they will be eyes,
these eyes without any words
and another time will be
(Gian Maria Testa, Song of the Time)
06 mai 2016
Un petit tour au Vatican
Let's go to the Vaticano
N°74
Je suis contente d'avoir su réduire ma palette pour que les lignes soient en valeur
I'm glad I managed to stick to a limited palette to make the lines stand out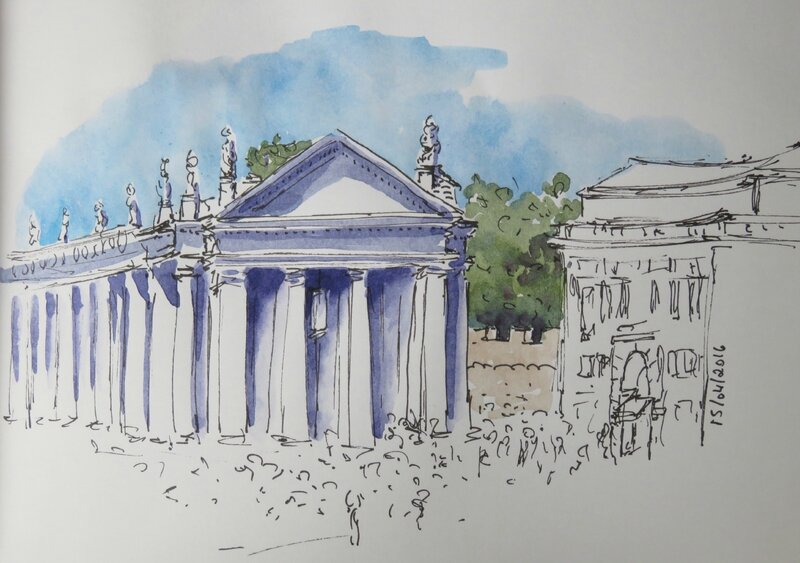 N°75
et là je trouve que j'ai bien rendu cet éclat et la pureté des lignes
and in this one I like the brightness and the pure lines.
04 mai 2016
On me l'a demandé plusieurs fois, alors le voici: un tutoriel pour vous apprendre à insérer vos tableaux dans des décors.
I've been asked several times, so here it is: a tutorial to teach you how to insert your paintings in a setting.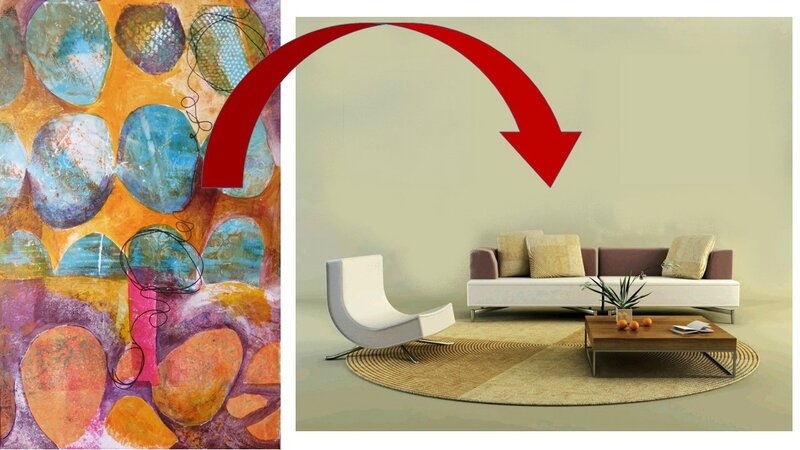 Utile pour les artistes qui veulent mettre en valeur leurs oeuvres, cela peut aussi servir aux personnes qui veulent aquérir une oeuvre et qui voudraient d'abord se rendre compte de si elle irait dans leur intérieur.
It can be useful for artists who want to showcase their works, but it can also be useful for people who would like to check before purchasing some painting that it will suit their home.
Tuto : comment inserer un tableau dans un decor / How to insert a painting in a setting
J'espère que cette video vous sera utile
Hope this video will come useful. I recorded it in French, but there are English subtitles.

30 avril 2016
Si j'y vais tous les jours, ce n'est pas parce que c'est mon endroit favori à Rome (bien que j'aime beaucoup ce coin), c'est juste que j'y vais chercher mon fils à l'école (Trinité des Monts) ! J'ai du coup tout le loisir de le croquer sous toutes les coutures !
If I go there every week day, it's not because it's my favourite place in Rome (although I like it a lot), it's just to fetch my son from school (Trinità di Monti) ! So that gives me plenty of opportunity to sketch this part of Rome.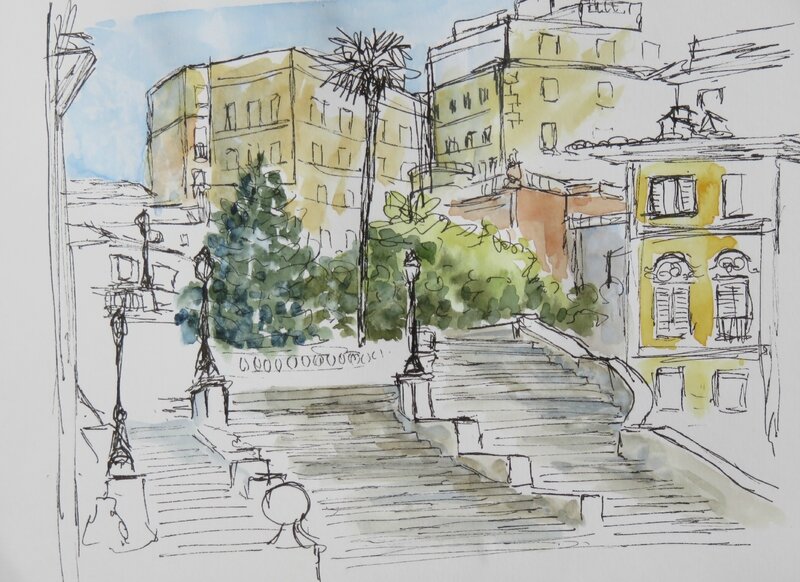 N°68 Scalinata Piazza di Spagna
Les escaliers de la Piazza di Spagna, en ce moment en travaux, du coup j'ai laissé en blanc vers le milieu tout ce qui est caché par les travaux / The Piazza di Spagna stairs; they are renovating them at the moment so I couldn't see the middle (I left in white) it was hidden by planks and things.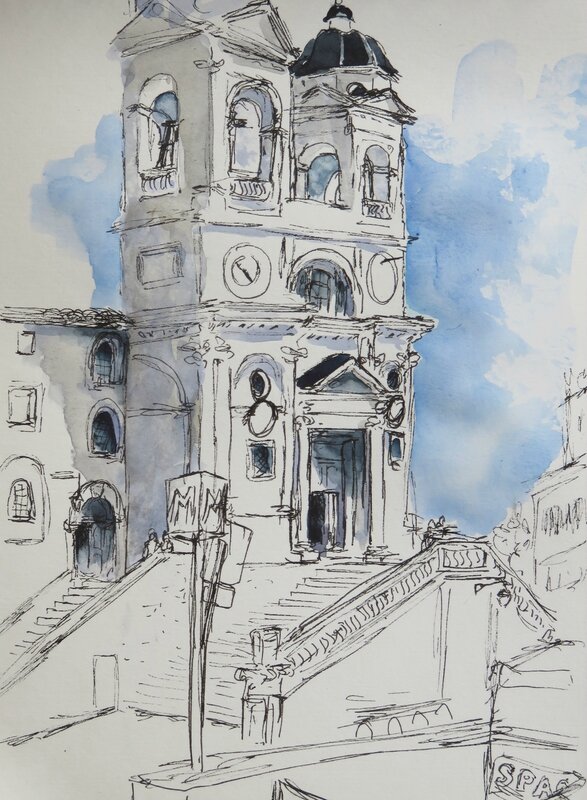 N°69 Trinità dei Monti
Eglise et couvent de la Trinité des Monts, église en haut des escaliers. Pour entrer dans l'école, on prend la petite porte à gauche / Church and convent at the top of the stairs (to get in the school we use that small door on the left)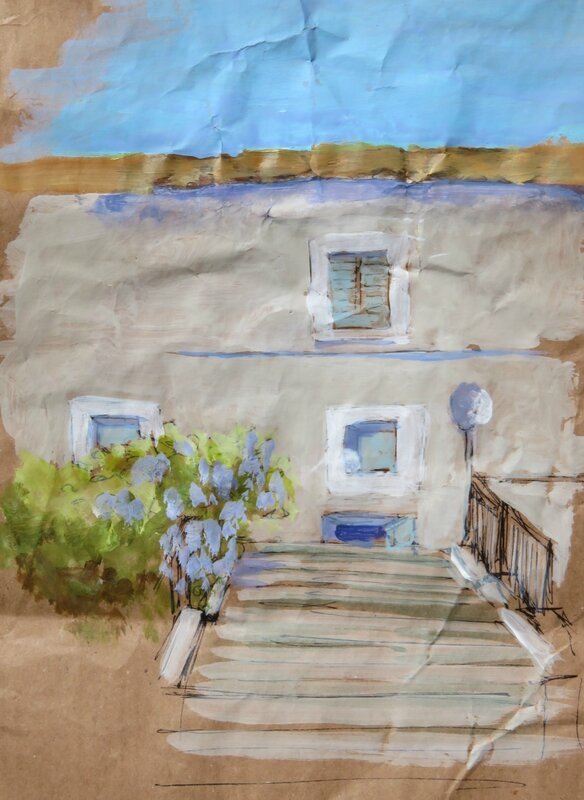 N°70 les escaliers par lesquels descend la classe de mon fils. Cela faisait plusieurs fois que je me disais qu'il fallait que j'apporte mon carnet pour croquer ces marches avec la glycine en fleur. Ce jour là, pour une fois j'étais en avance, mais j'avais oublié mon carnet de croquis, alors j'ai pris le sac en papier dans lequel j'avais mis son goûter :-)
Everyday, my son's class walks down these steps. I had been meaning to sketch the steps with the lovely blooming wisteria for days.That day, for once I was early, but I had forgotten my sketchbook, so I used the brown paper bag where I had put his snack :-)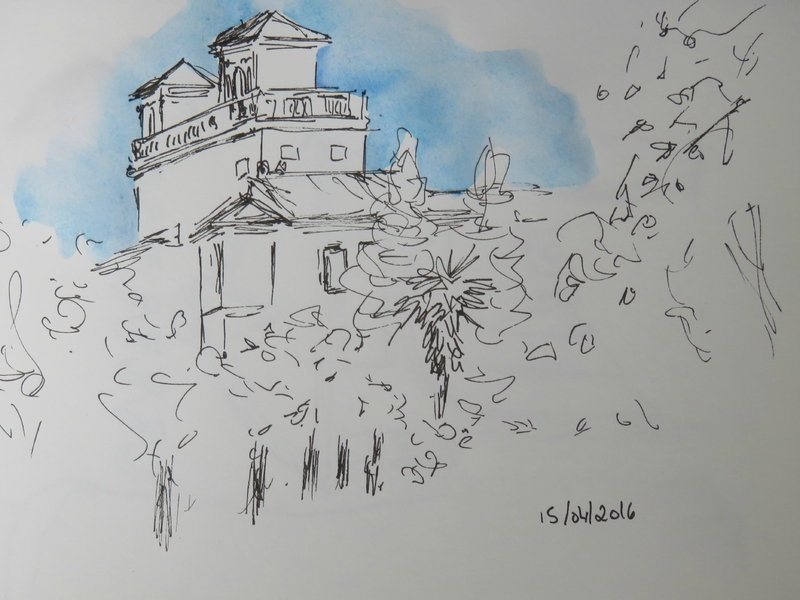 N°71 la villa medicis vue des jardins de l'école
the villa Medici seen form the school's gardens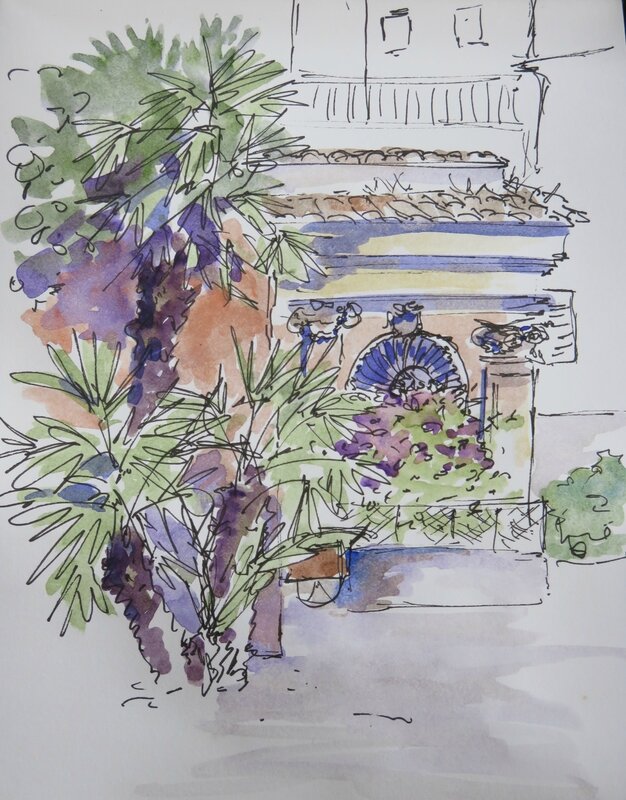 N°72 dans les jardins de l'école / in the school gardens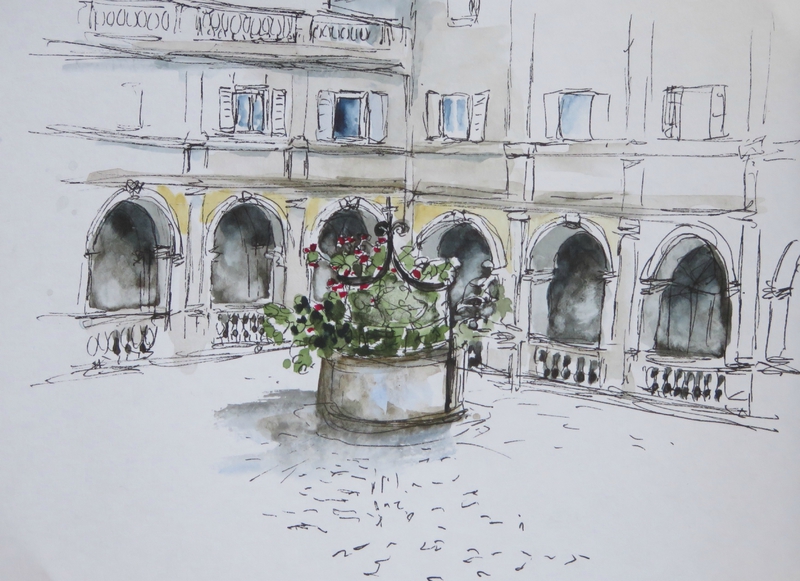 N°73 Cloître dans le couvent (par lequel nous passons tous les jours)
Cloister inside the convent (we go through there every single day)

26 avril 2016
Je suis le stage de Jane Davies sur la composition à mon rythme.
Little by little I follow Jane Davies's workshop.
La leçon 3 se focalisait sur l'intégration d'une forme par la texture sur un fond neutre.
Lesson 3 was focused on the integration of a shape with the use of textures on a neutral background.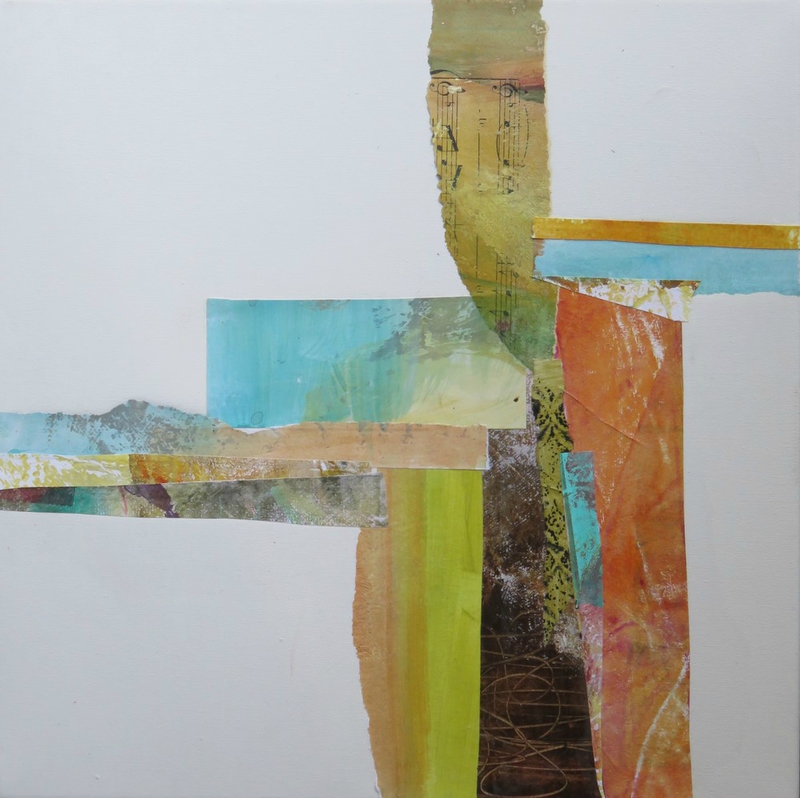 le collage initial en croix. Les 4 parties blanches devaient être de dimensions différentes
I started with a collage in a cross shape. Th four white shapes had to be of different sizes.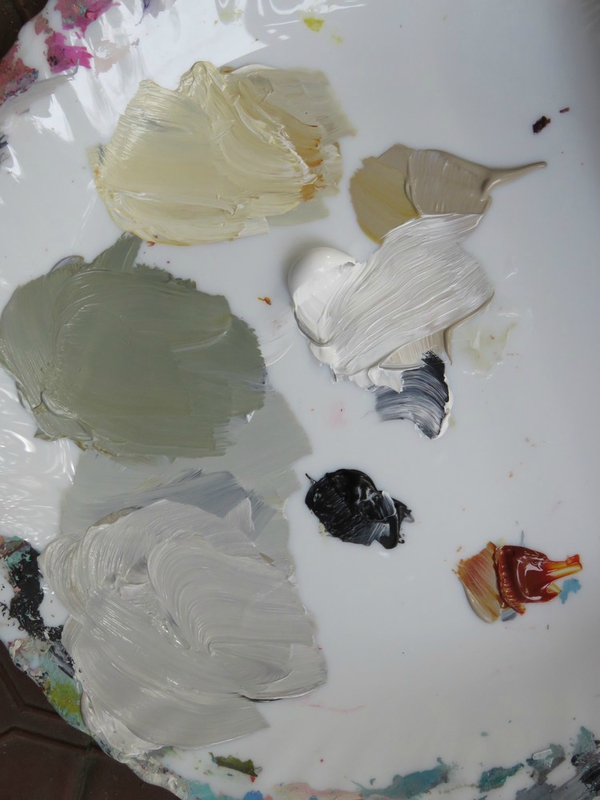 couleurs neutres pour le fond,
The white shapes had then to be painted in neutral colours to make the background,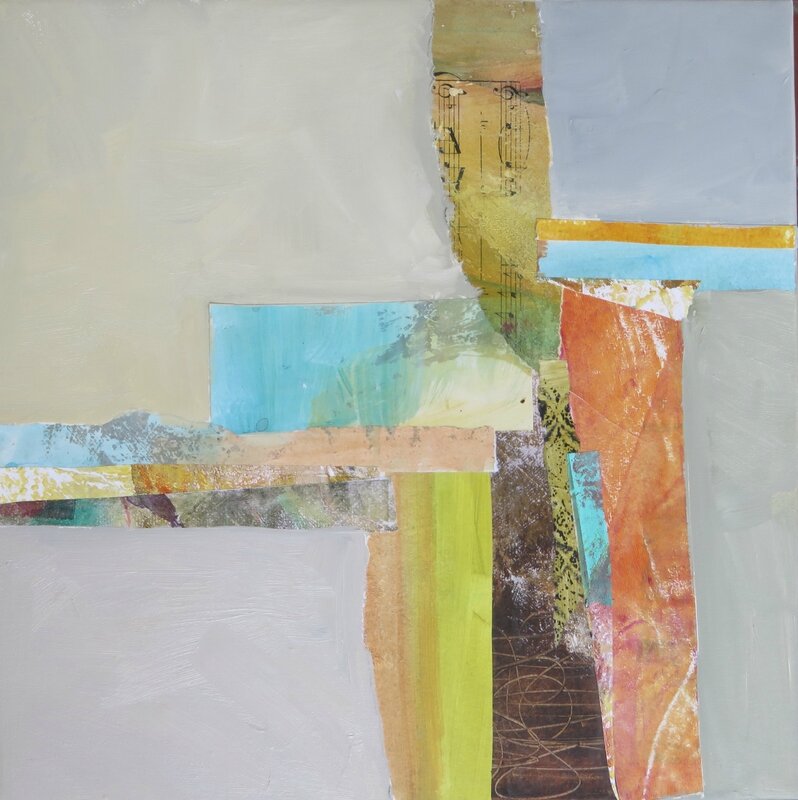 les 4 parties devant être de tonalités différentes
the 4 shapes had to be painted in different tones.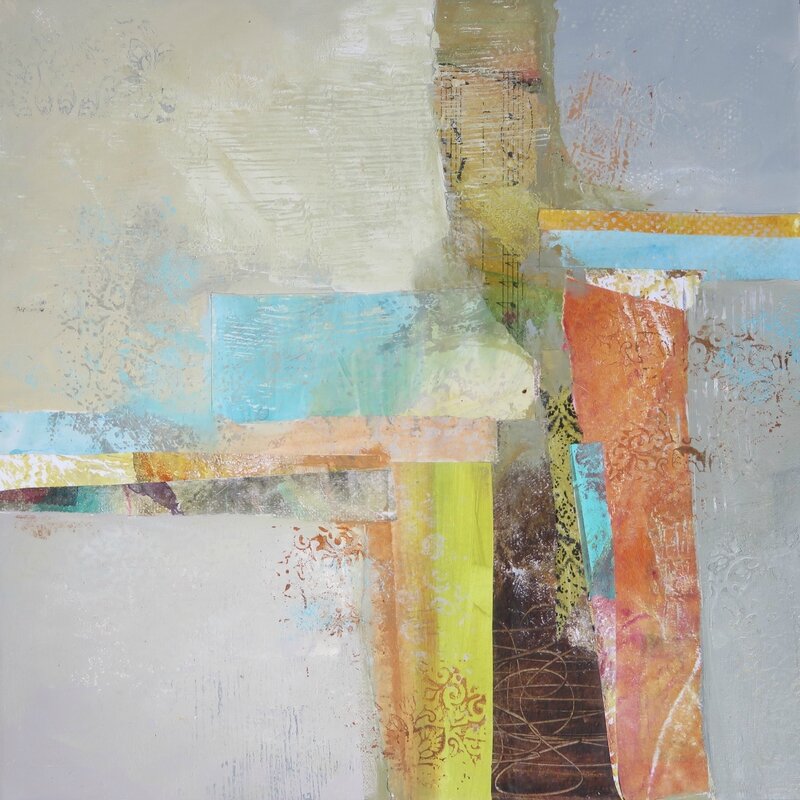 j'ai commencé à intégrer ma forme en croix par des textures, mais les tonalités de fond étaient trop différentes alors j'ai essayé de les rapprocher
I started integrating my cross-shape with textures, but the tones of the background were too different to my taste to I tried to make them closer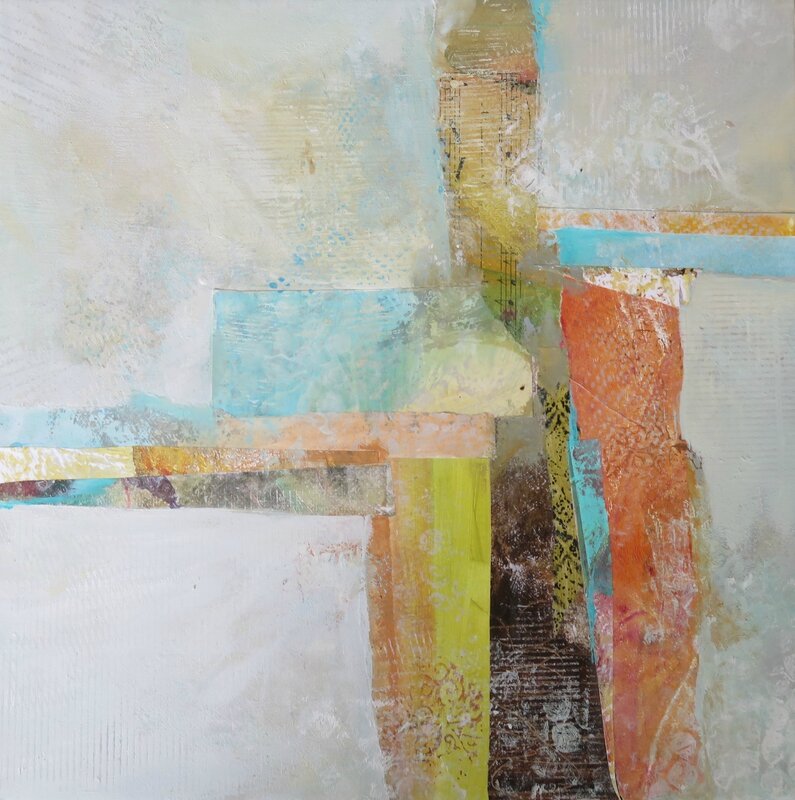 N°67
les tonalités sont plus proches, peut-être trop; j'ai continué l'intégration par les textures, mais je ne suis toujours pas satisfaite pour l'instant... A suivre.
the tones are closer, probably too much; I went on with th textures, but I'm still not satisfied yet... To be continued.
Vous pouvez revoir la leçon 1 ici, ou revoir les paysages abstraits de la leçon 2 là.
You can check lesson 1 here, or the abstract landscapes from lesson 2 there.
21 avril 2016
Perugia a été l'heureuse surprise de notre escapade pascale.
Perugia was a big surprise
Nous savions que la ville était renommée, mais nous y sommes allés sans guide, le nez au vent et les mains dans les poches.
We knew the city was famous, but we went there without any guidebook, hands in your pockets.
Nous nous sommes garés au hasard et sommes tombés sur la première surprise: des ruelles souterraines, la Rocca Paolina
We parked at random and had our first surprise of the day : a maze of covered streets, Rocca Paolina
Rocca Paolina
tout un réseau de petit commerces et maisons vides, très étranges: et mille questions bien sûr. Nous avons fini par apprendre qu'un pape avait construit un palais au dessus de ces ruelles, puis on avait rasé ce palais papal pour construire autre chose, je vous passe toutes les histoires de victoires et vengeances qui motivent tout cela.
Empty shops, and houses, all very weird : we didn't know why but ended up learning that some Pope had built his palace on top of the streets, then later on that palace had been destroyed to build something else. Very complicated story of revenge and victory and salt wars and building and destroying. Anyway.
Et puis au fil de notre balade, nous avons pu constater qu'en fait ces ruelles couvertes, ou partiellement couvertes étaient légion dans la ville,
then as we walked the streets, we realized that these covered or partly covered streets were very common in the city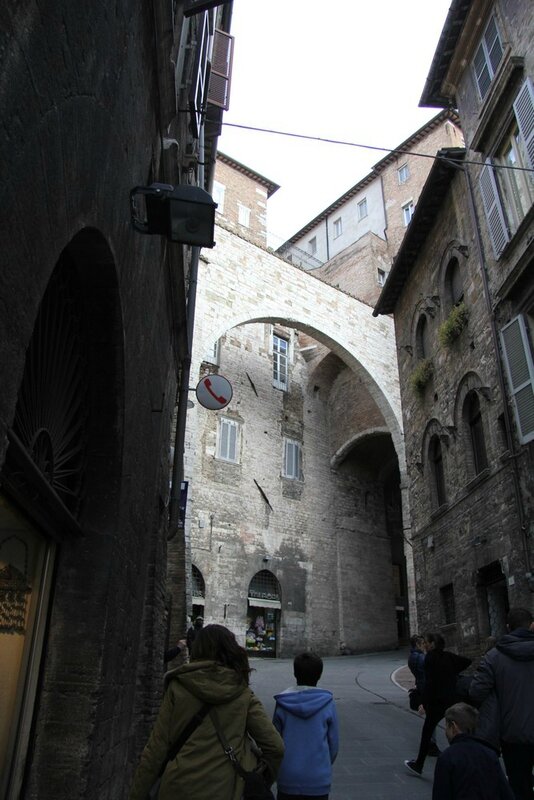 mais il s'agit à chaque fois d'une rue, pas d'un quartier entier!
but then it's only a street, not a whole district!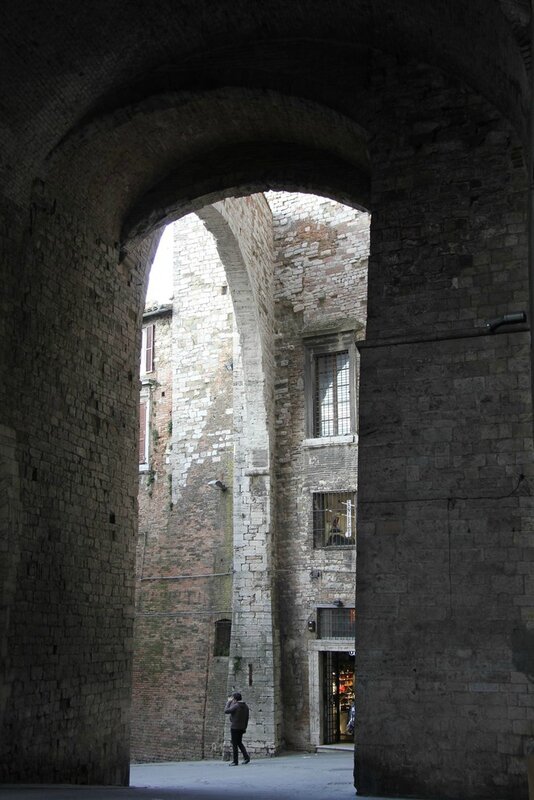 Elles sont bien sombres ces ruelles couvertes,
They are very dark.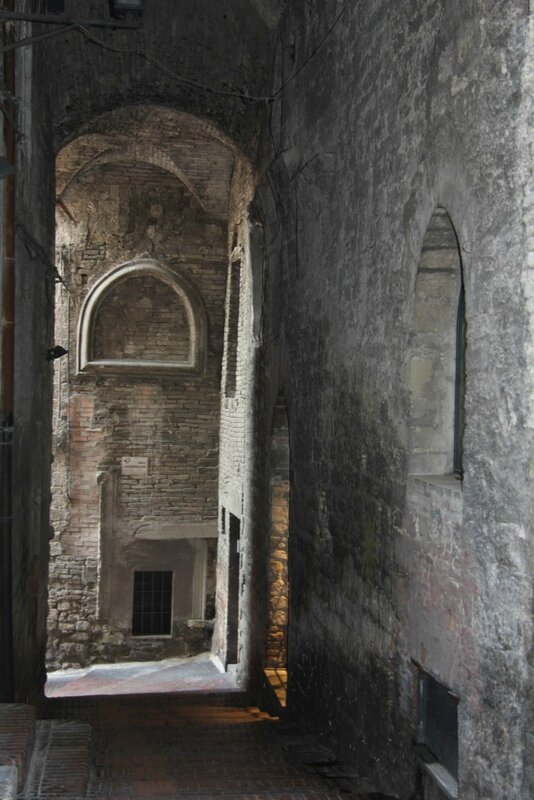 mais elles doivent être bien fraîches et agréables aussi au mois d'août !
Probably very useful to find some cool shade in summer
Des arches, encore des arches,
arches and more arches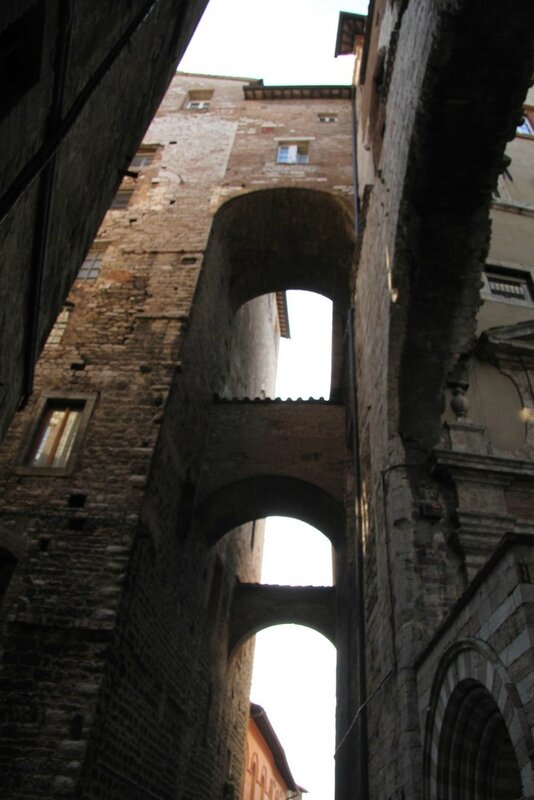 et aussi marcher le nez en l'air,
you'll have to look high up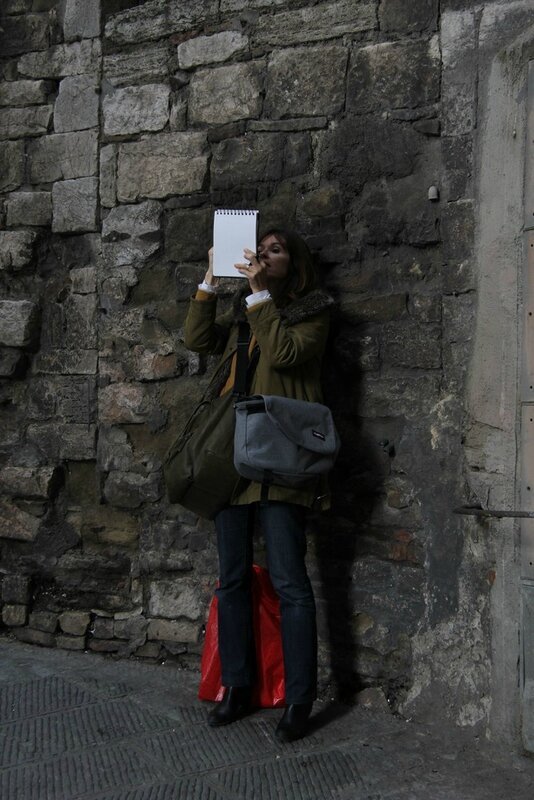 et se casser le cou. Un vrai casse tête pour les persectives!!
and crane your neck. A real brain-teaser for perspectives!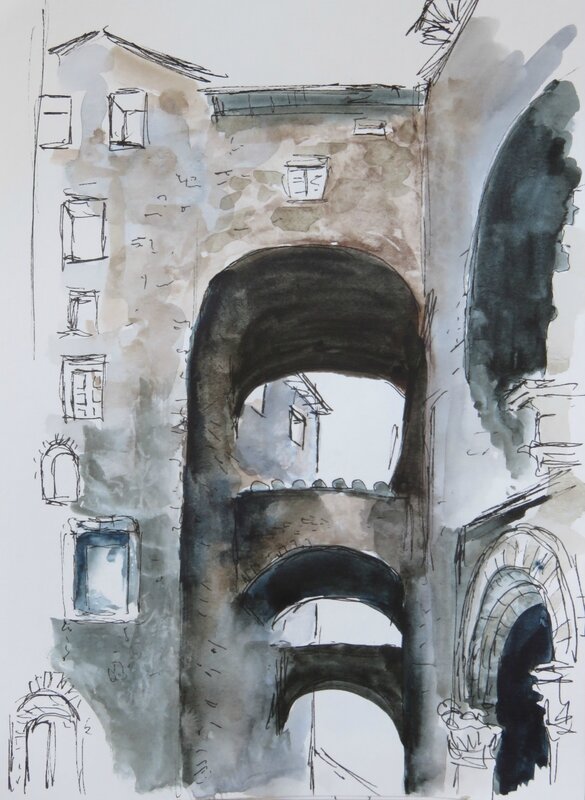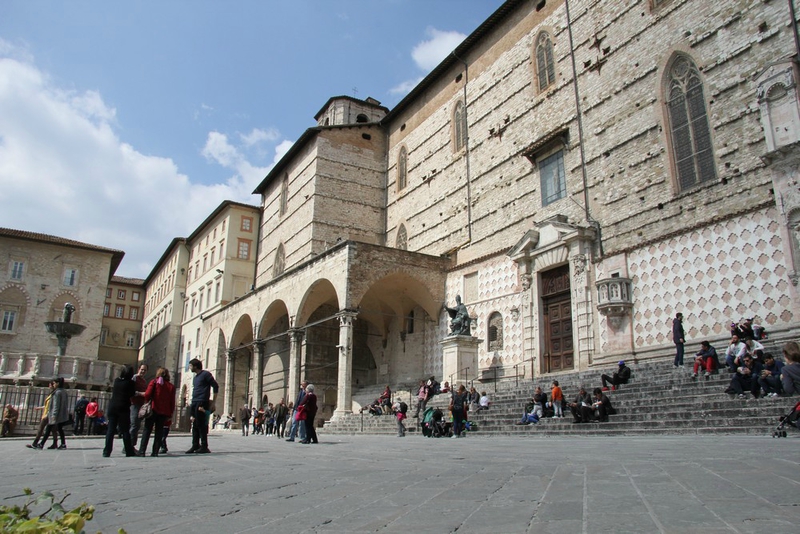 Et quand on sort de ces ruelles, les places semblent gigantesques et lumineuses
and when you come out from these dark streets, the piazzas look so wide and bright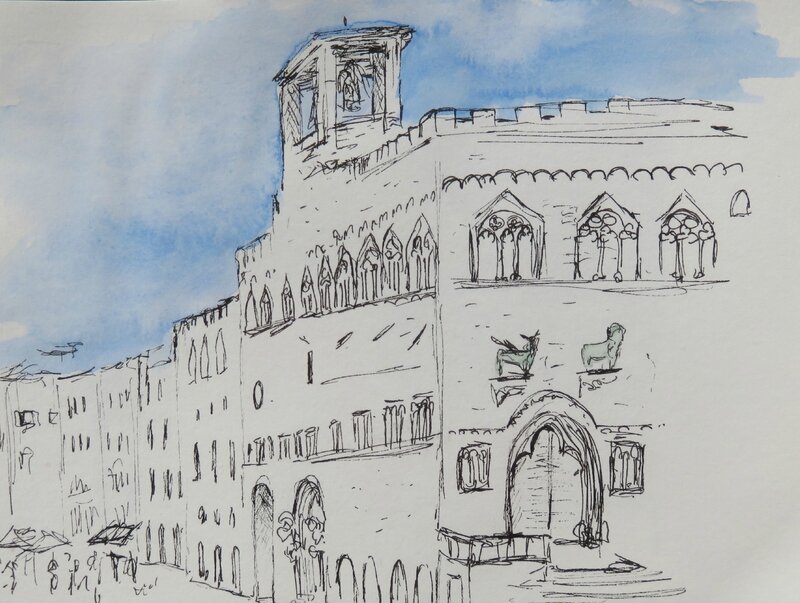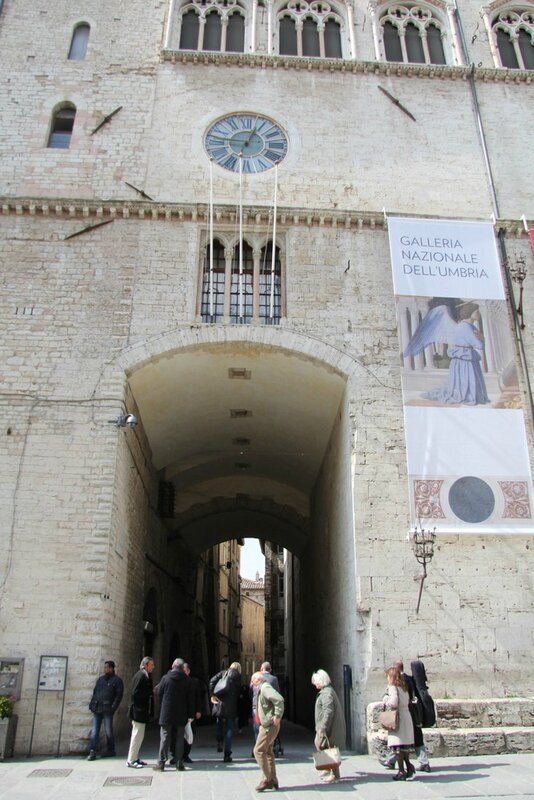 les palais riches, blancs et découpés
the palaces are white, with rich and intricate scultpures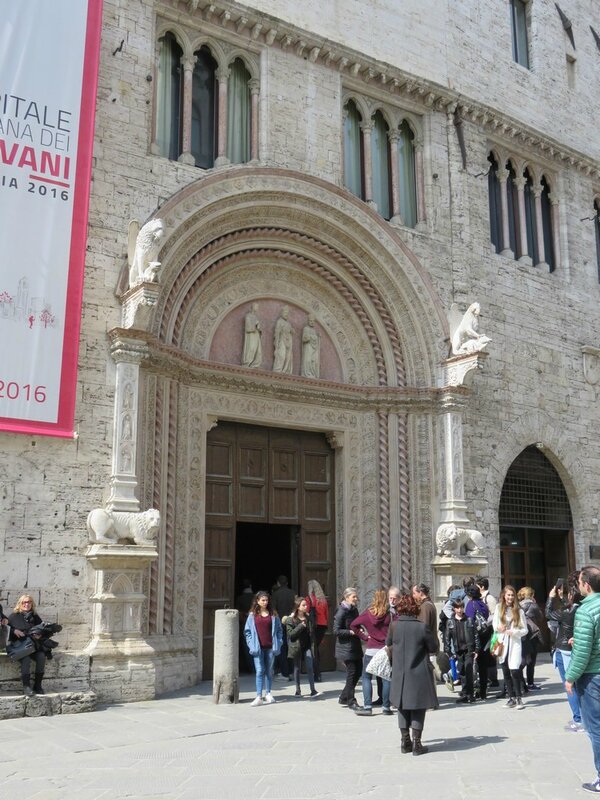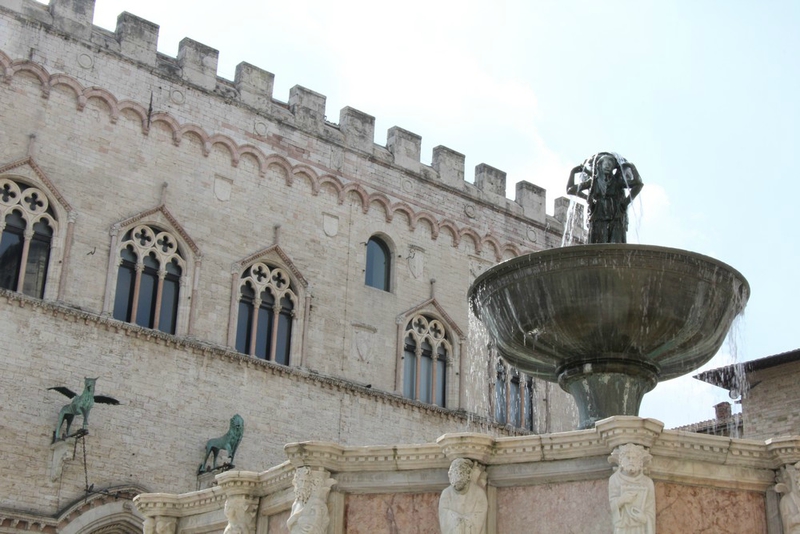 précieux et délicats comme de la dentelle
precious and delicate like lace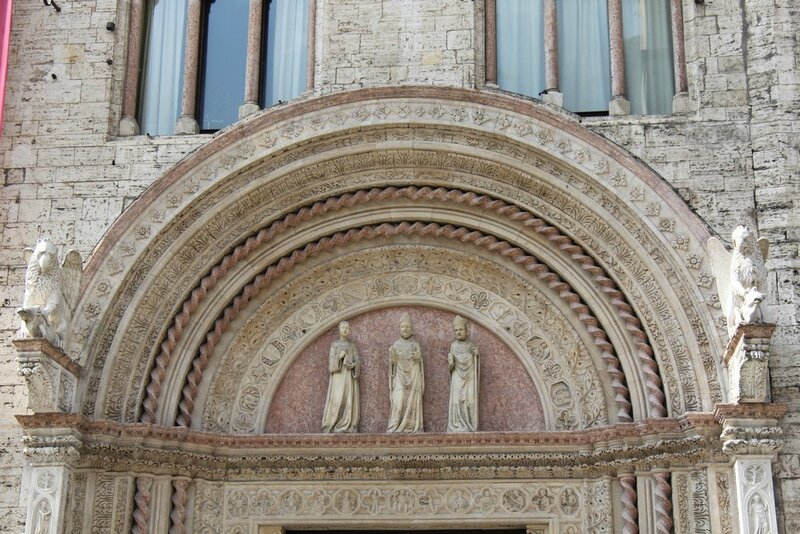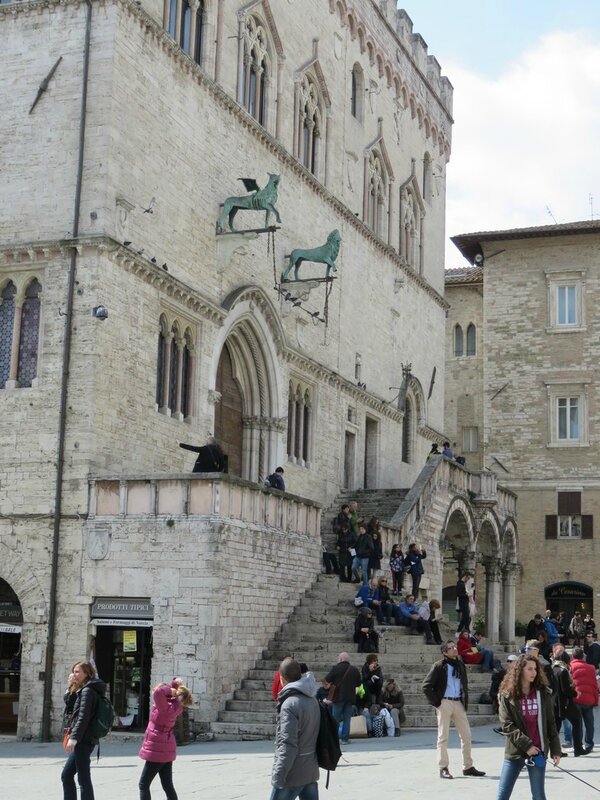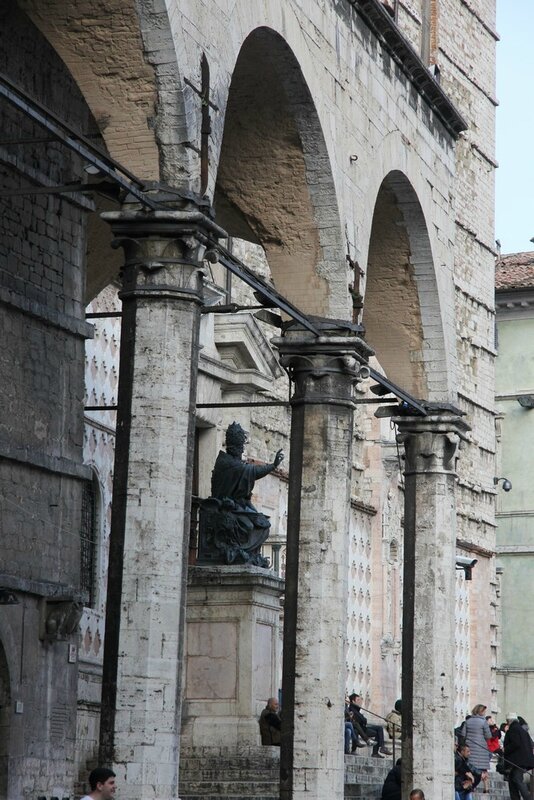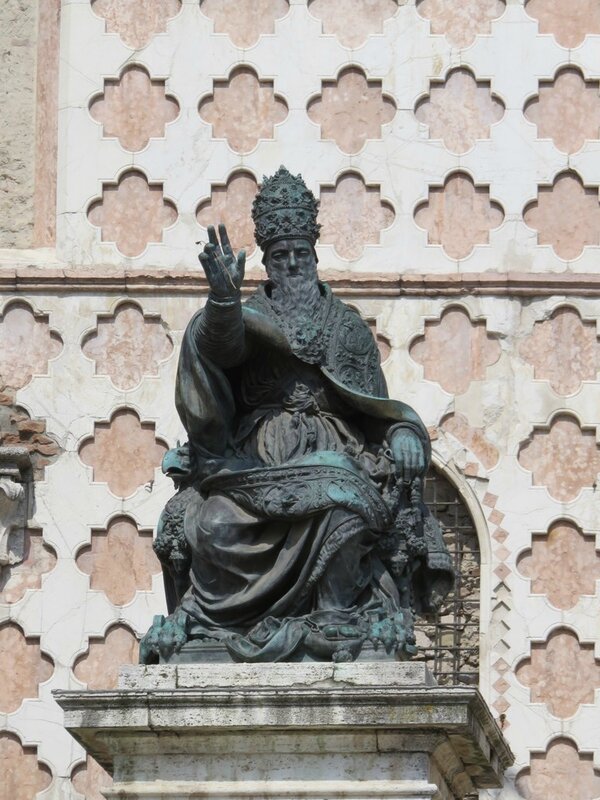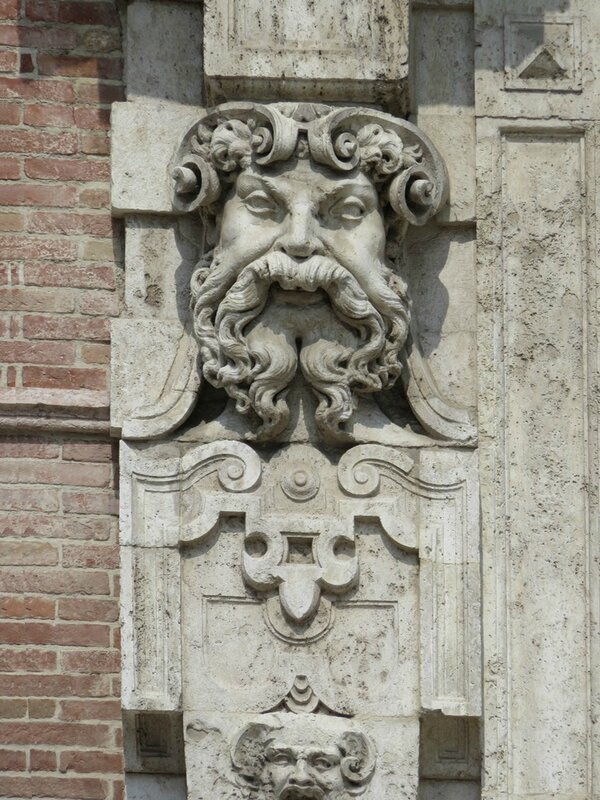 Les intérieurs sont tout aussi riches et majestueux:
Inside, those palaces and churches are just as sumptuous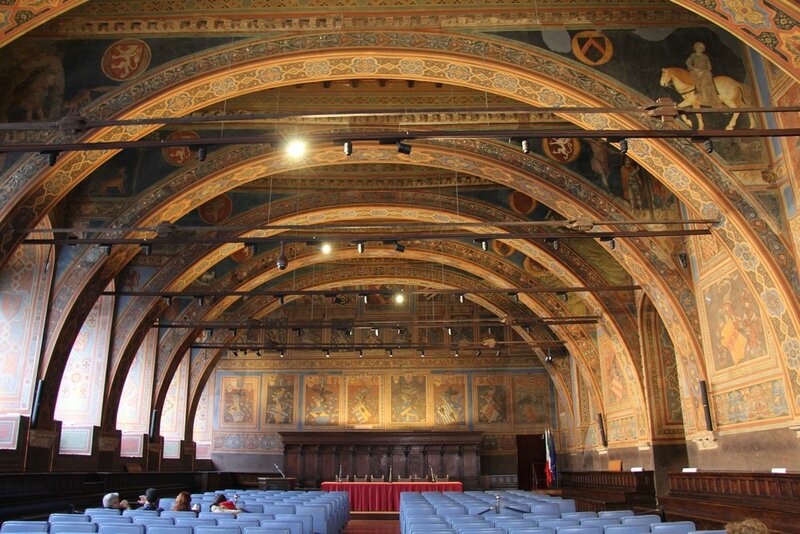 (salle des mariages de la mairie)
(wedding room of the town-hall)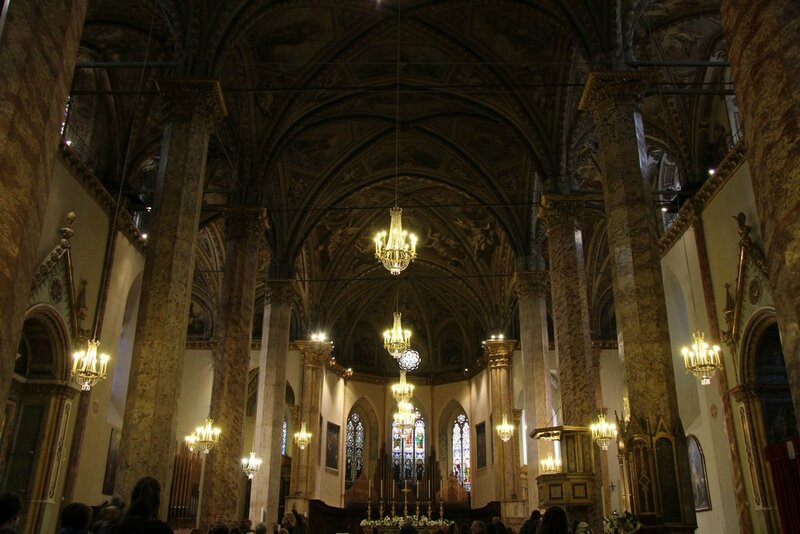 Cathédrale San Lorenzo
San Lorenzo Cathedral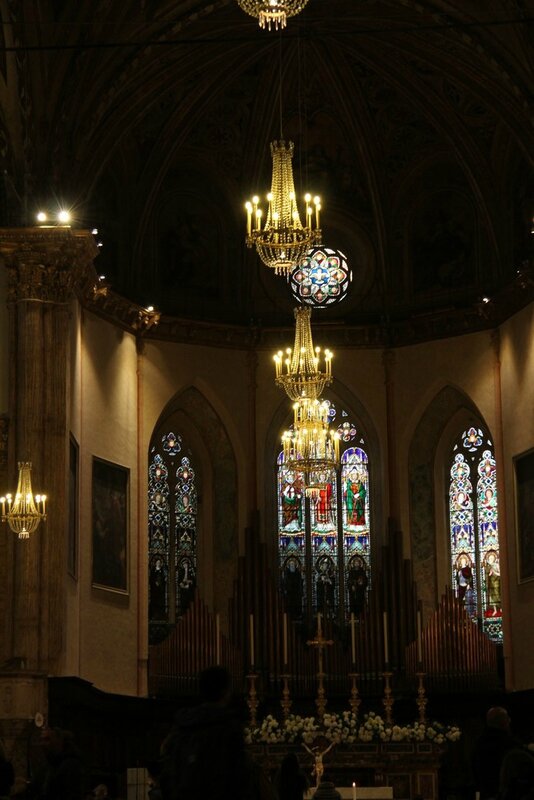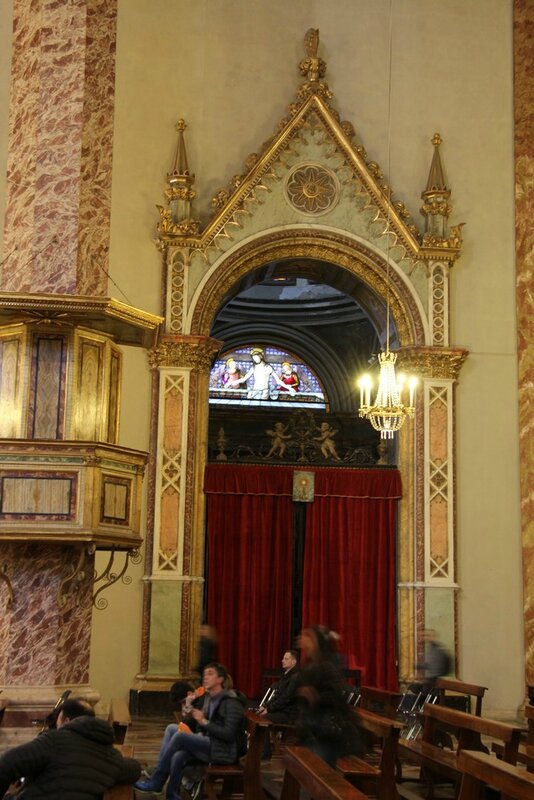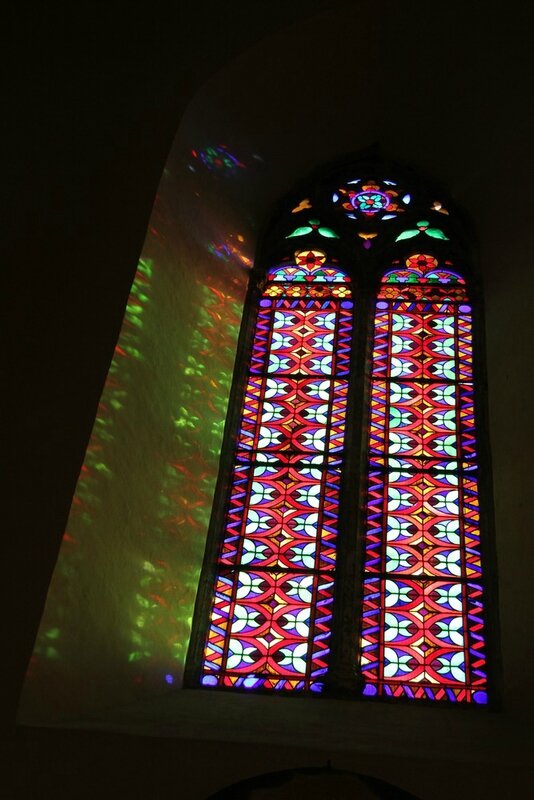 mais s'il faut savoir regarder en l'air, il faut aussi savoir baisser les yeux et regarder la ville plus contemporaine en contrebas
but if you need to look up, you also have to lower your eyes towards the more modern city down below.
Perugia est construite en hauteur. Les palais et cathédrale sont construits au point le plus haut, puis la ville s'étale tout autour en descendant, et sur les collines avoisinantes:
Perugia is built on top of hills. The palaces and cathedrals are at the top, then the city spirals down and around on the surrounding hills.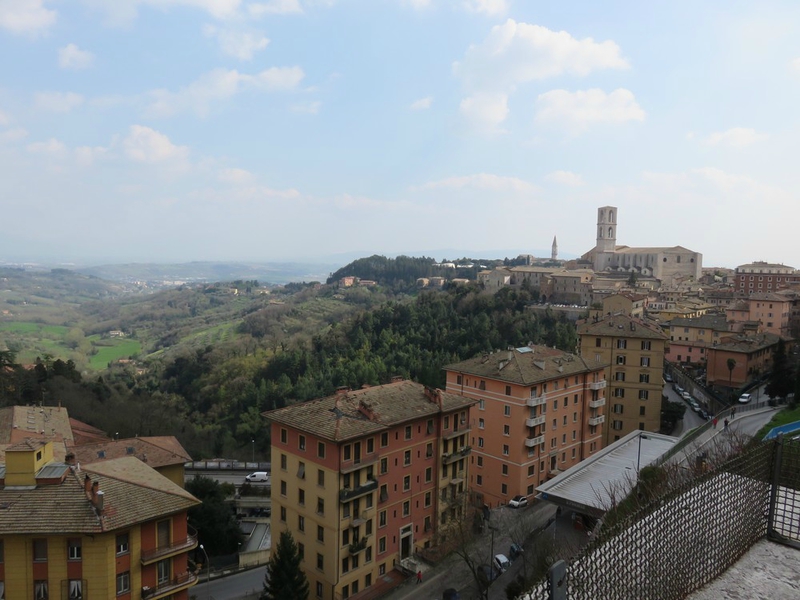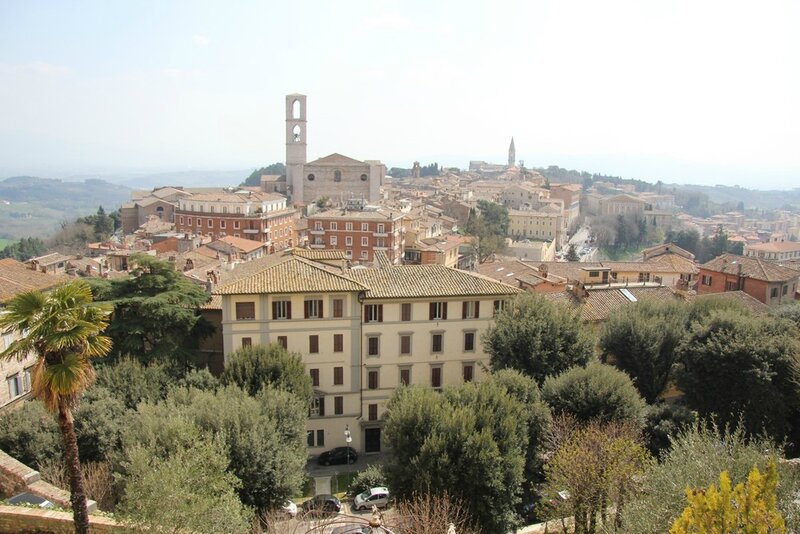 Il y a quelque chose de frappant, et cette photo en est représentative:
this photo really symbolizes what struck me there:
les maisons les plus anciennes couleurs pierres d'un côté et les couleurs des maisons plus récentes de l'autre,
the oldest houses with stones on one side, and more recent colourful houses on the other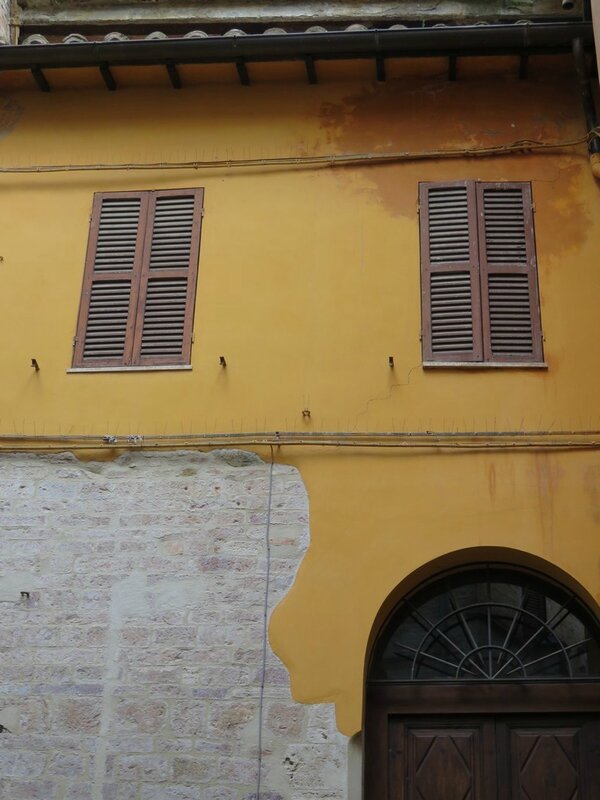 ou plus récement restaurées.
or more recently renovated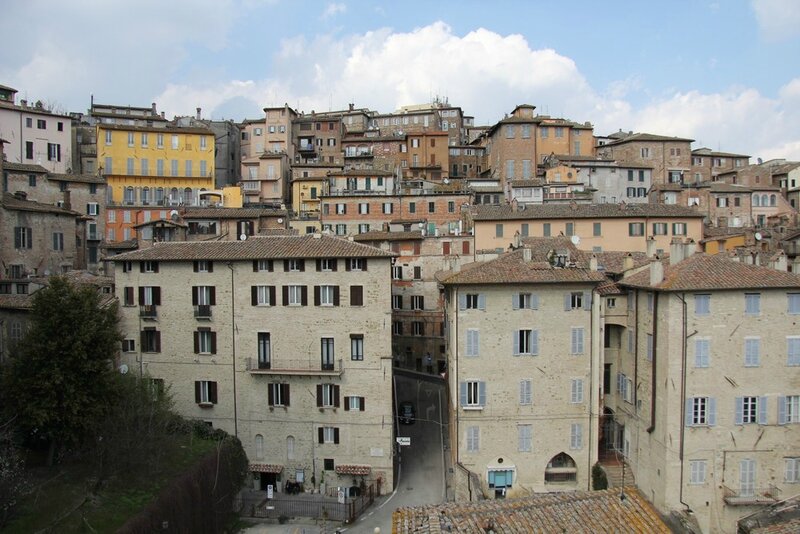 comme si la ville était en noir et blanc avec des touches de couleurs vives çà et là
it's as if the city was grey with touches of colours here and there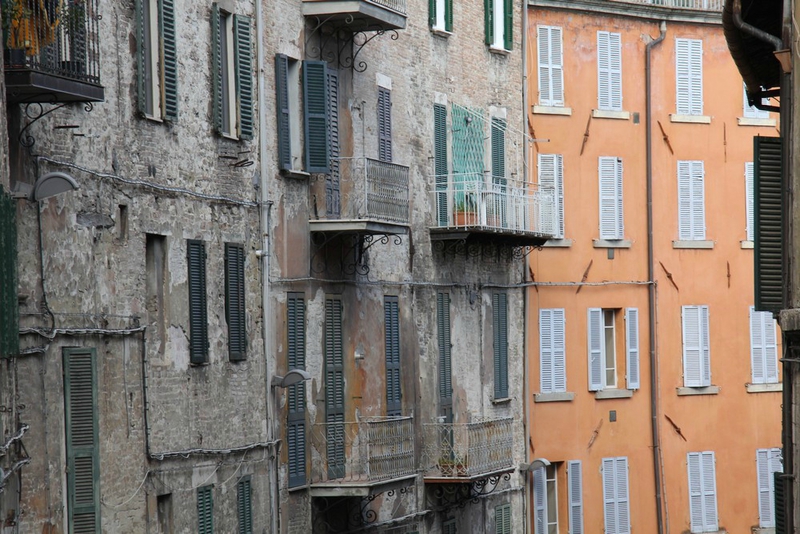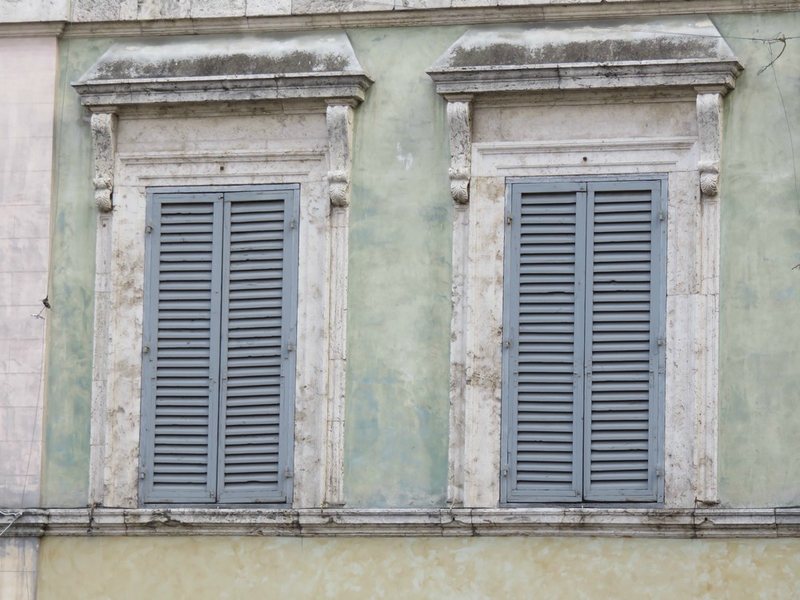 les couleurs douces et poudrées
soft hues
opposées aux couleurs vives et gaies
as opposed to brighter colours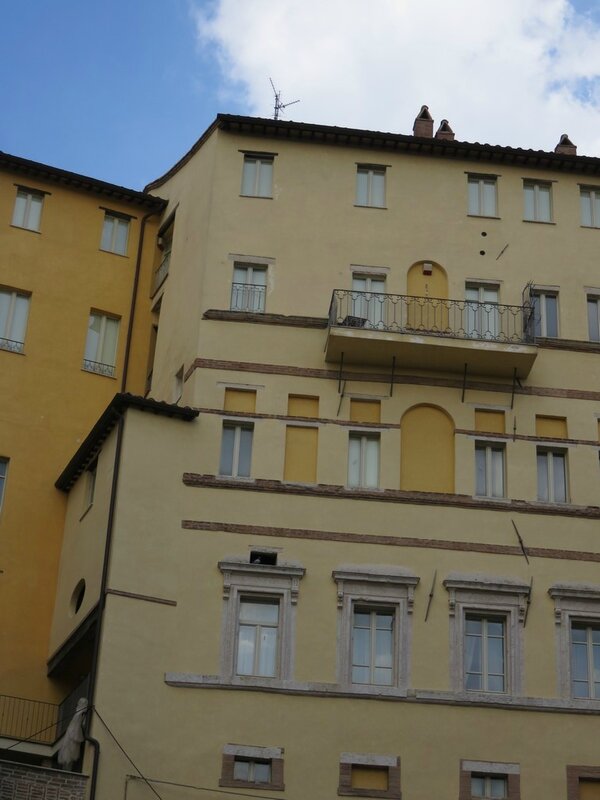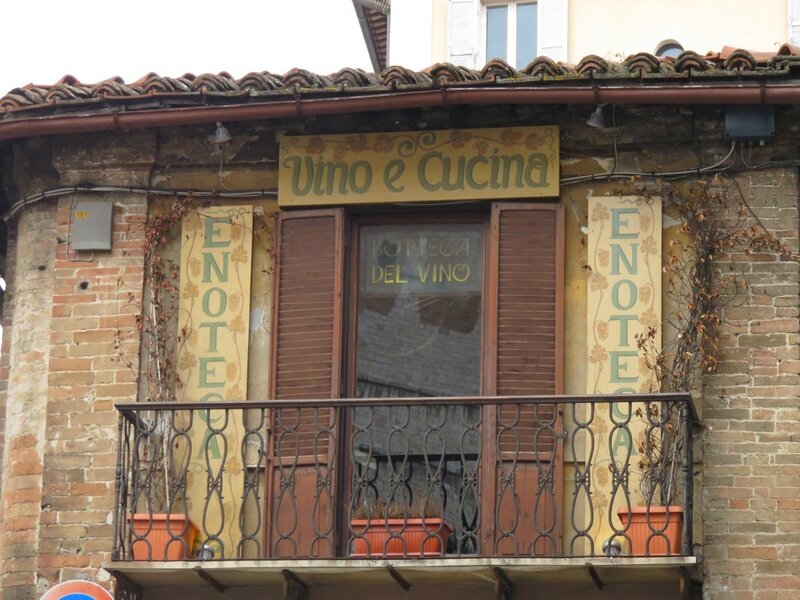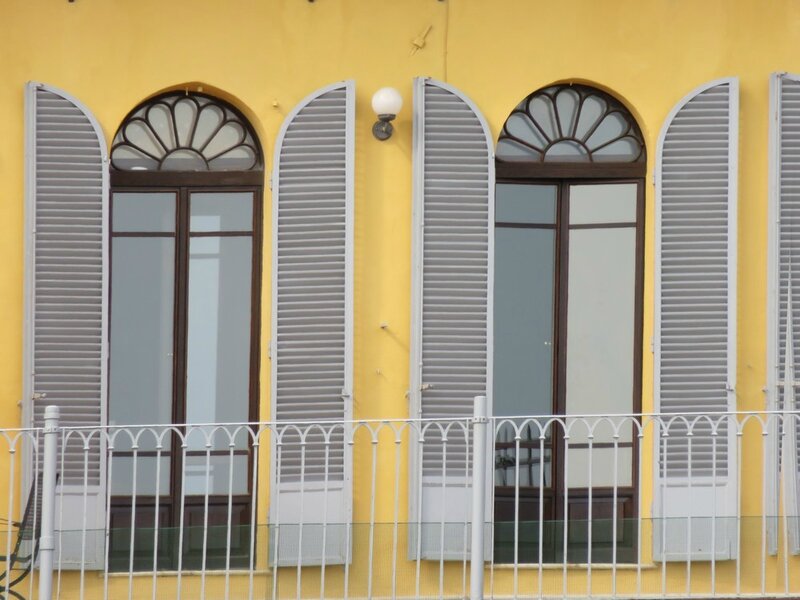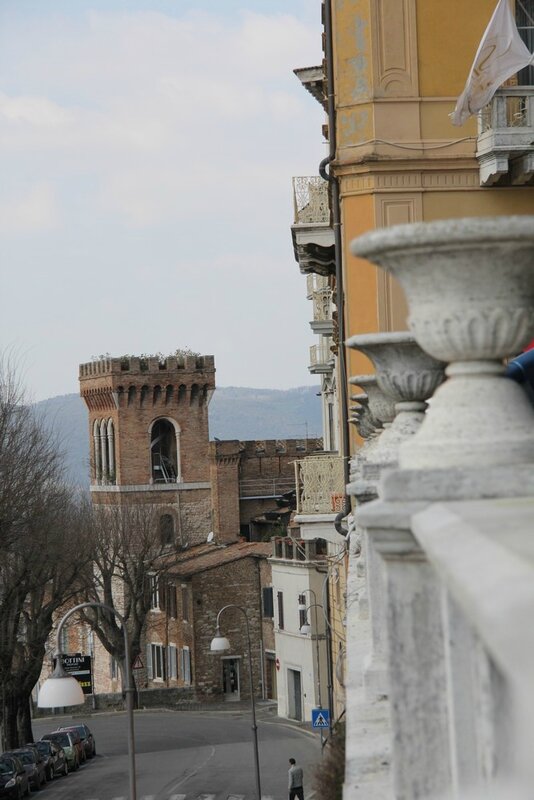 Et par hasard, encore, nous sommes tombés sur un petit bijou, l'aqueduc:
and, by chance again, we found another beautiful surprise: the aqueduct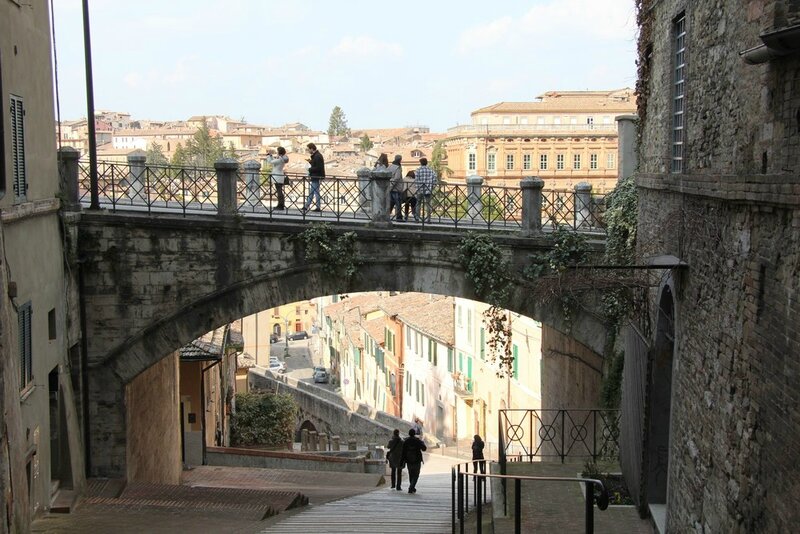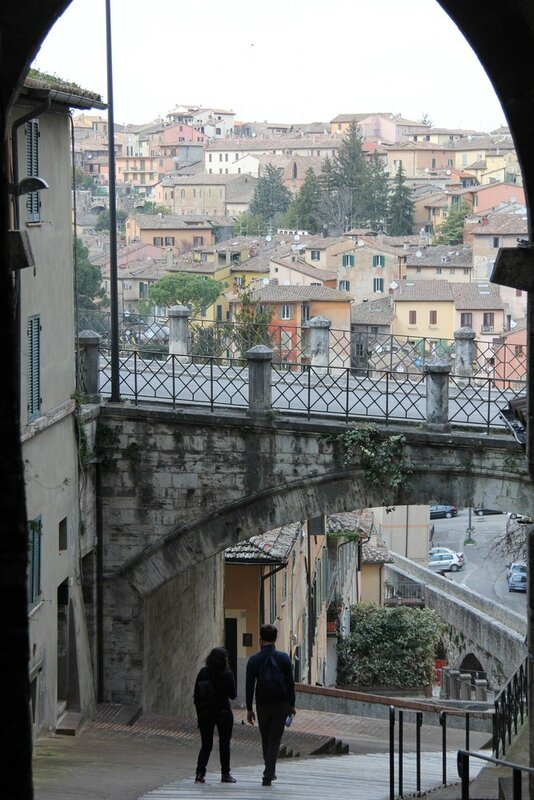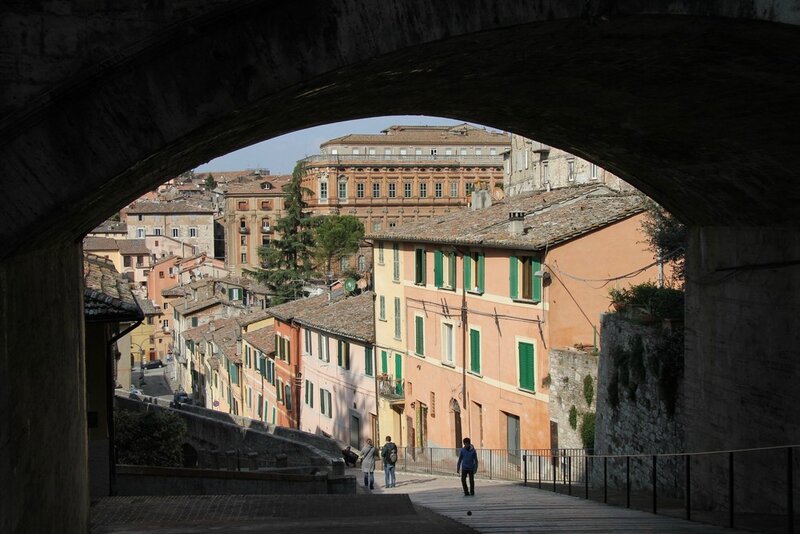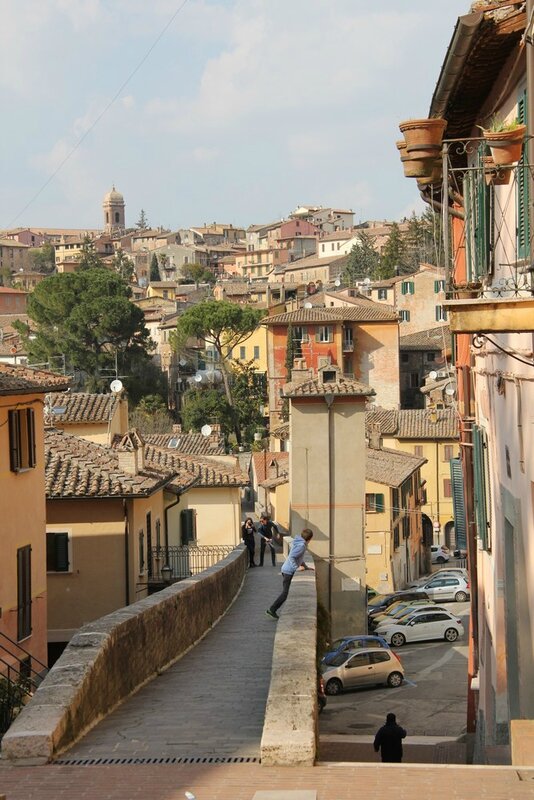 un acqueduc transformé en rue
an aqueduct that had become a street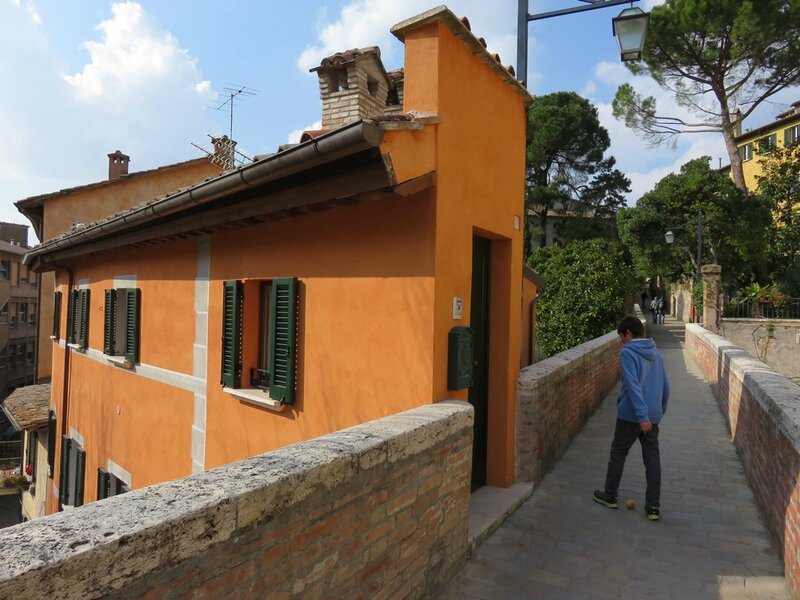 qui serpente au dessus et à côté des jardins et maisons colorées
winding above houses and gardens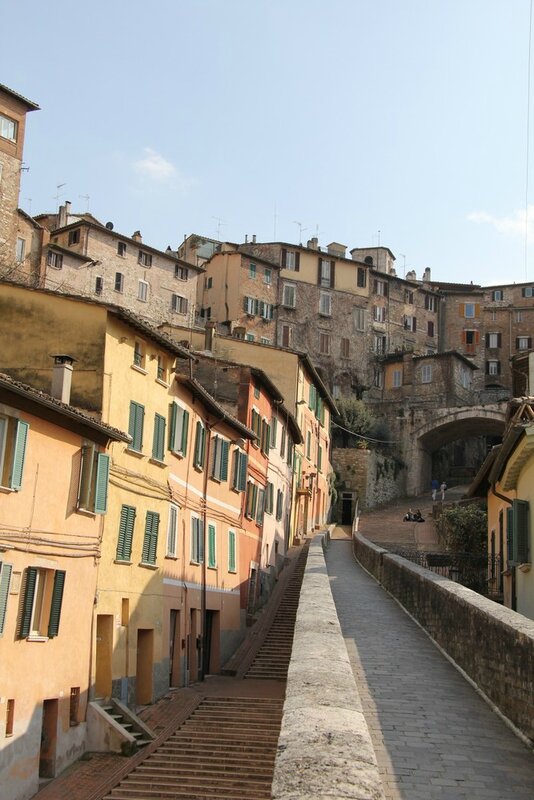 un super terrain pour observe la ville d'un autre point de vue
a great place to get another point of view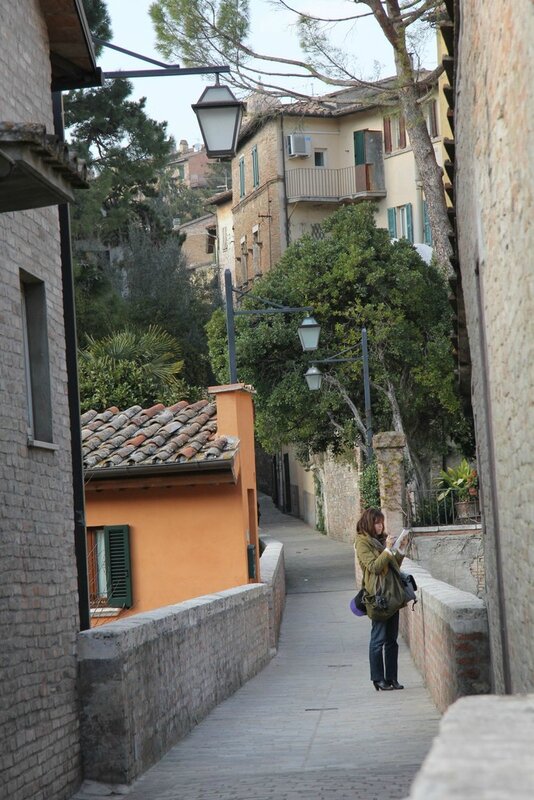 faire un croquis...
or sketch...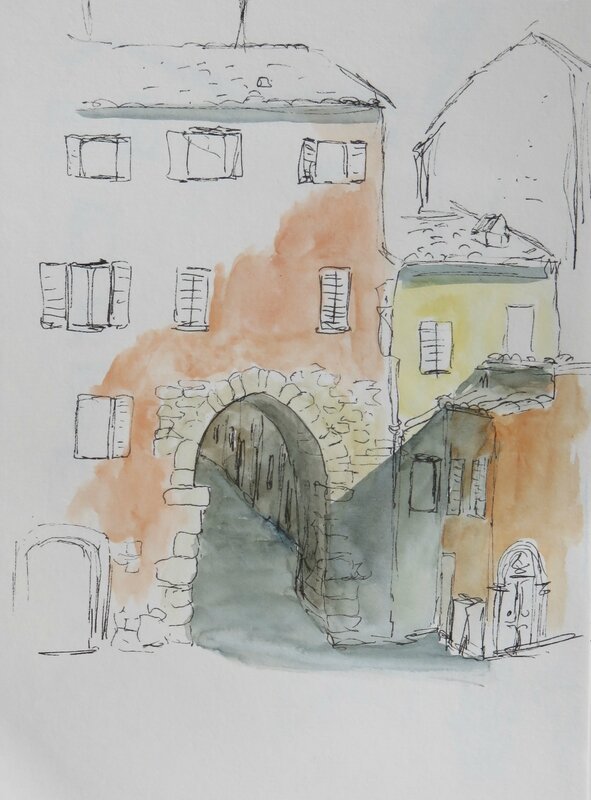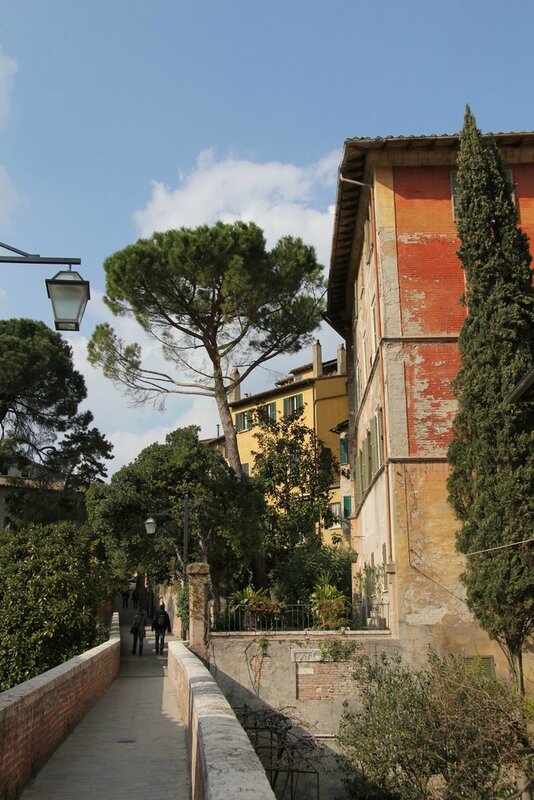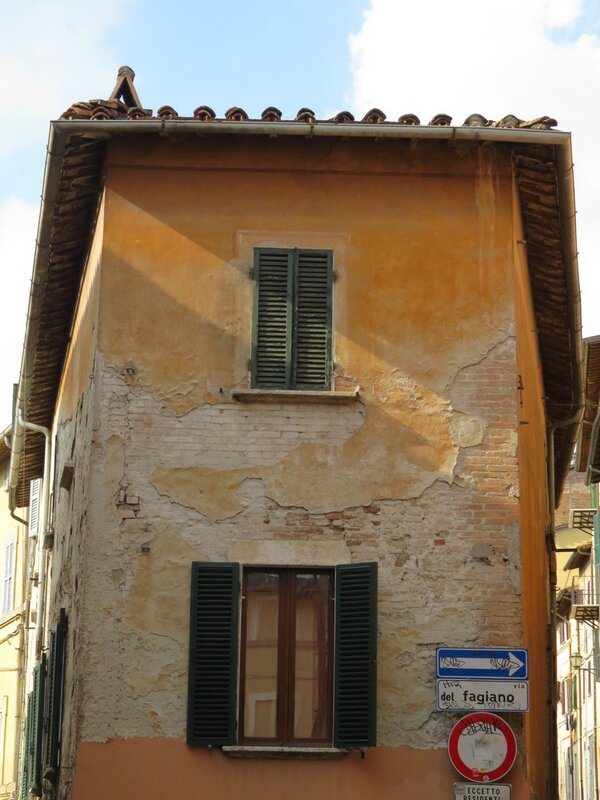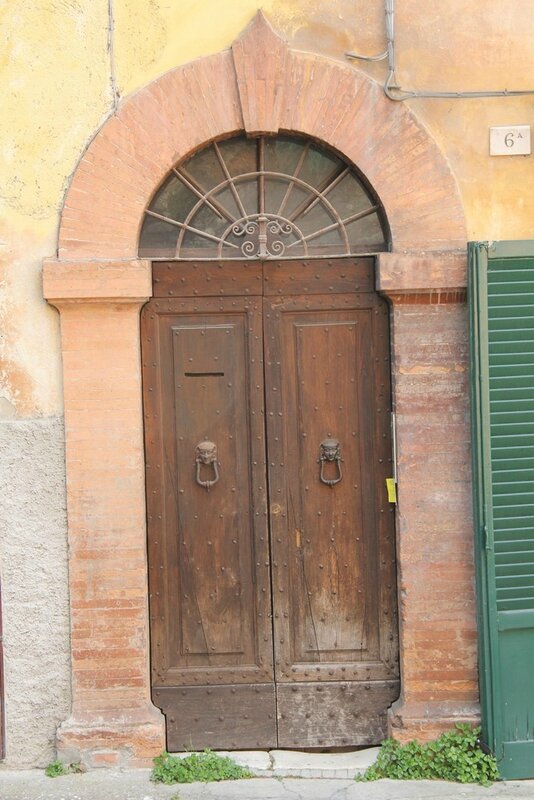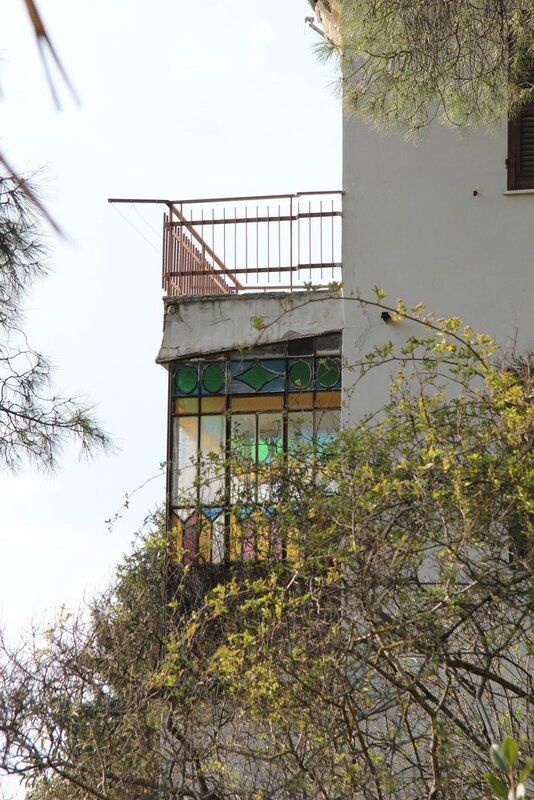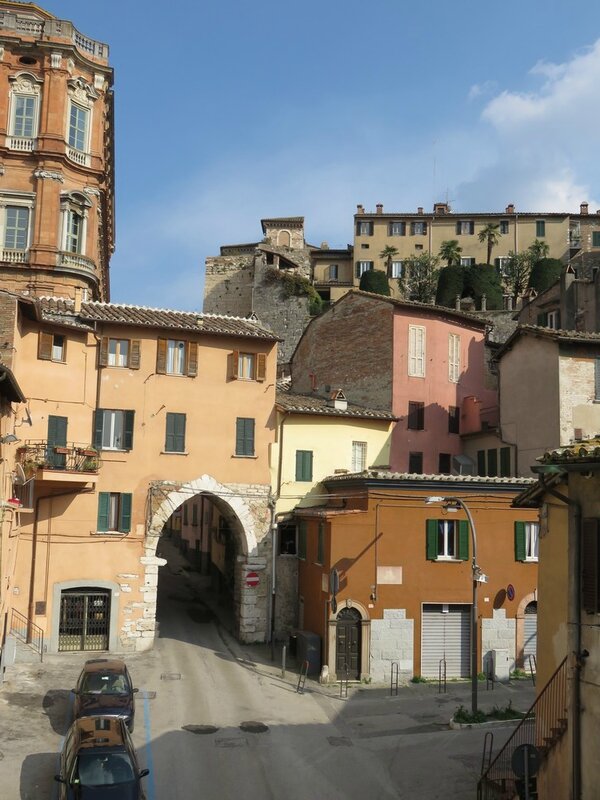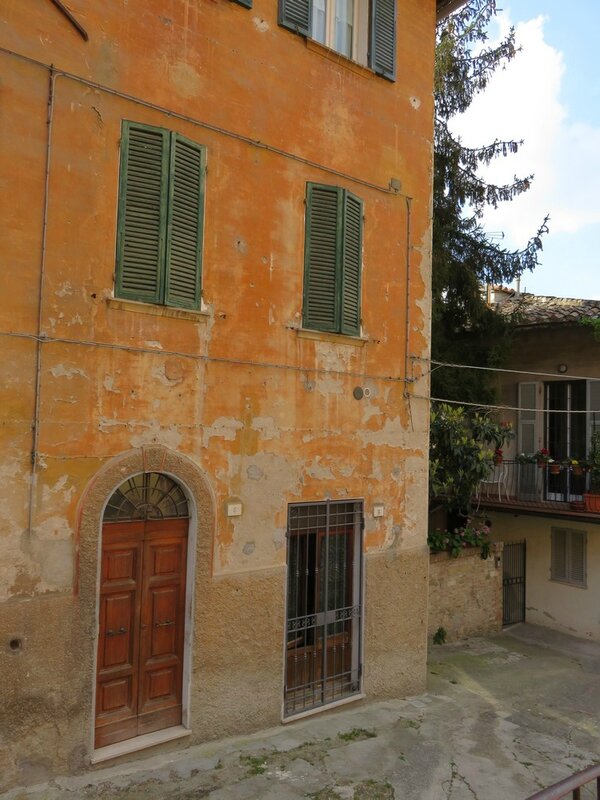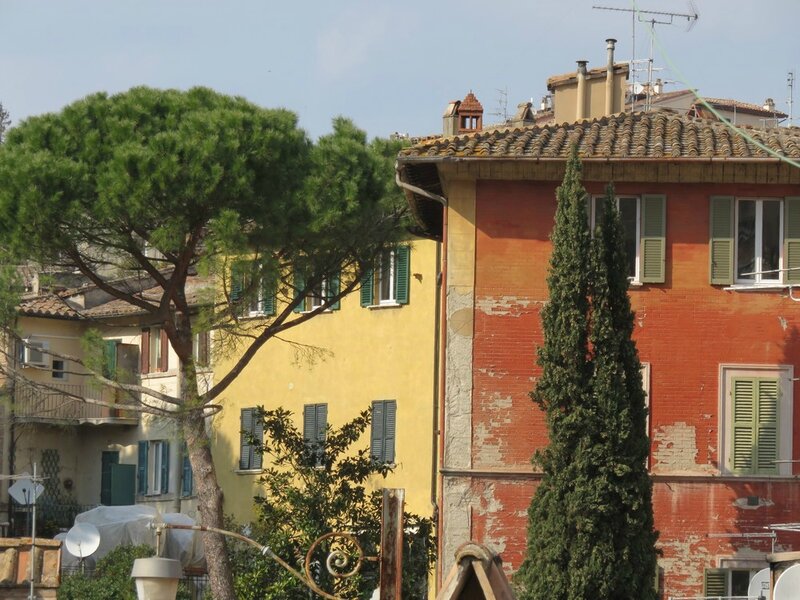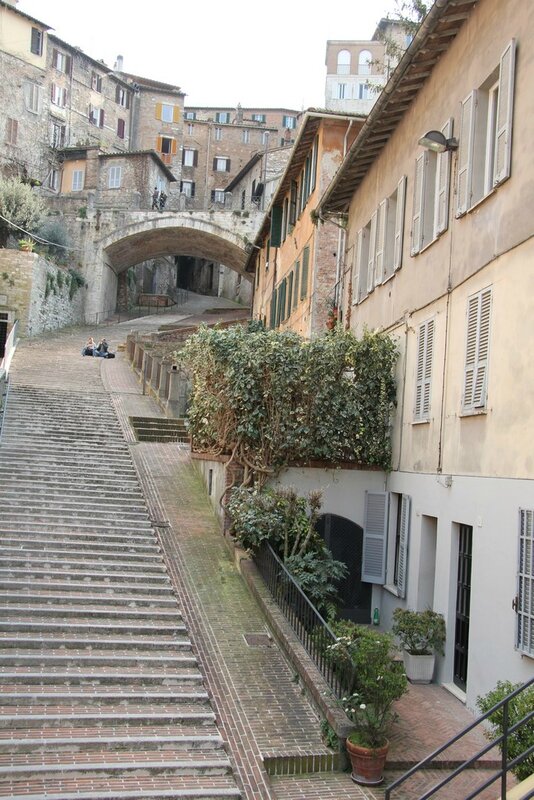 Mais n'oubliez pas qu'une fois en bas... il faudra tout remonter pour aller retrouver la voiture garée quelque part de l'autre côté!
But don't forget that once you are at the bottom, you'll have to climb all the way back up to try and find the car you've parked somewhere on the other side!
Vous comprenez maintenant pourquoi nous avons passé une si belle journée à Perugia.
Now you'll understand why we loved our day in Perugia.
12 avril 2016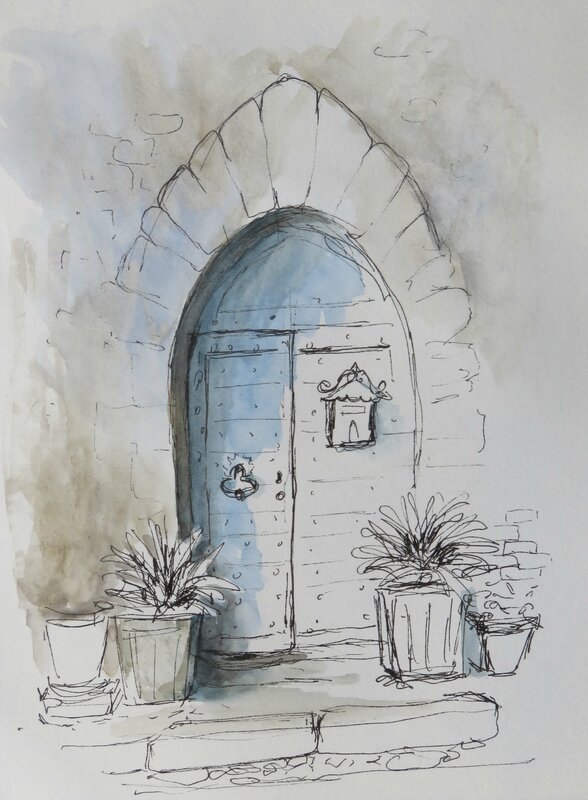 N°62 Castel Rigone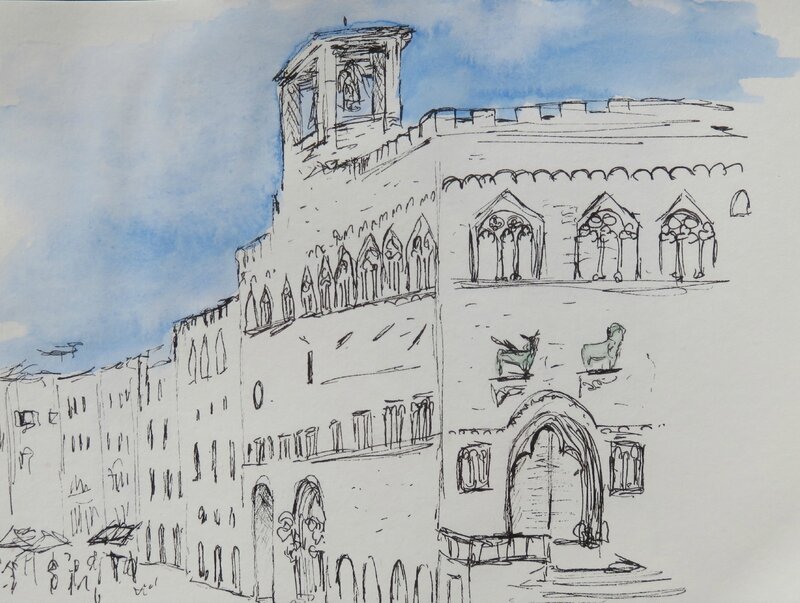 N°63 Perugia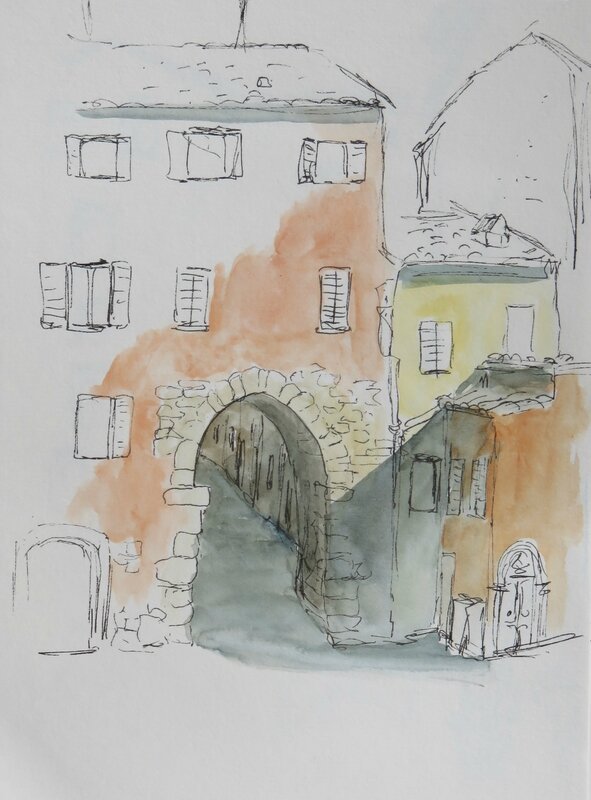 N°64 Perugia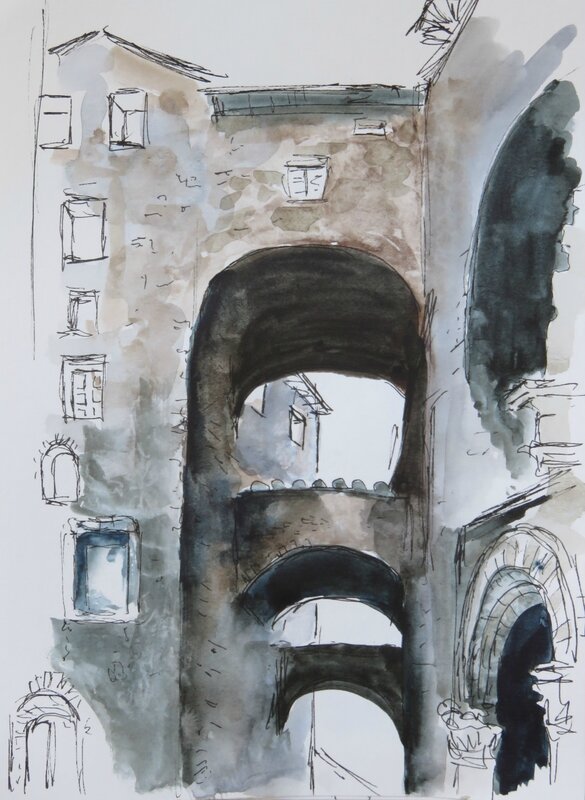 N°65 Perugia
N°66 Assisi
08 avril 2016
Et il y a ceux en qui on ne croit pas, ceux qu'on a presque envie de déchirer, ceux qu'on met de côté... jusqu'au jour où, sans trop savoir pourquoi on se lance et on y retravaille. Et mystérieusement, ceux-là qu'on avait presque abandonnés soudain se révèlent et donnent toute leur âme: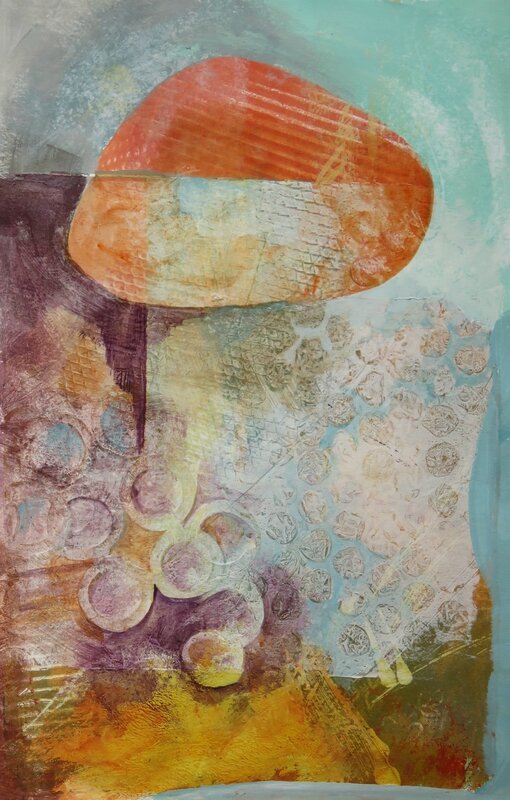 N°61