26 septembre 2016
Petite promenade dans Trastevere, un quartier très pittoresque de Rome.
Let's go for a walk in Trastevere, a very picturesque district in Rome.
Oubliez les palaces, les statues, les églises et les parcs : il s'agit de maisons modestes, de batiiments beaucoup plus bas, des ruelles tortueuses, bref un petit bonheur pour aller croquer :
Forget the palaces, the statues, the churches and the parcs: Trastevere is all about more modest houses, lower buidings, winding cobbled streets, a real heaven for sketchers:
N°151
via della lungaria
N°152
via del cipresso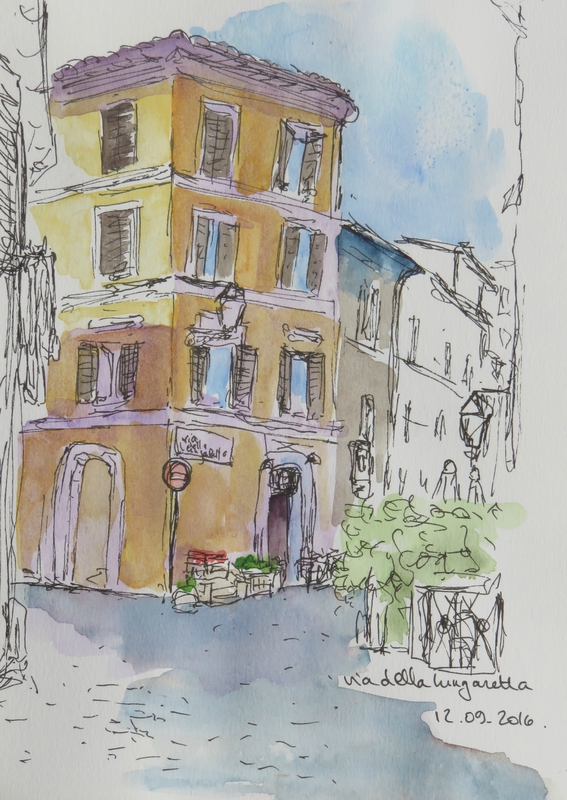 N°153
via della lungaretta
22 septembre 2016
Couleurs de saison pour les monoprints ! Ces trois monoprints m'ont tous donné du fil à retordre. Avec chacun, j'ai failli abandonner, et chez chacun il y a maintenant quelque chose que j'adore :
Season colours for the monoprints too! I had trouble with these three monoprints. Tough guys. With each, I almost gave up, and now, in each there's something I love: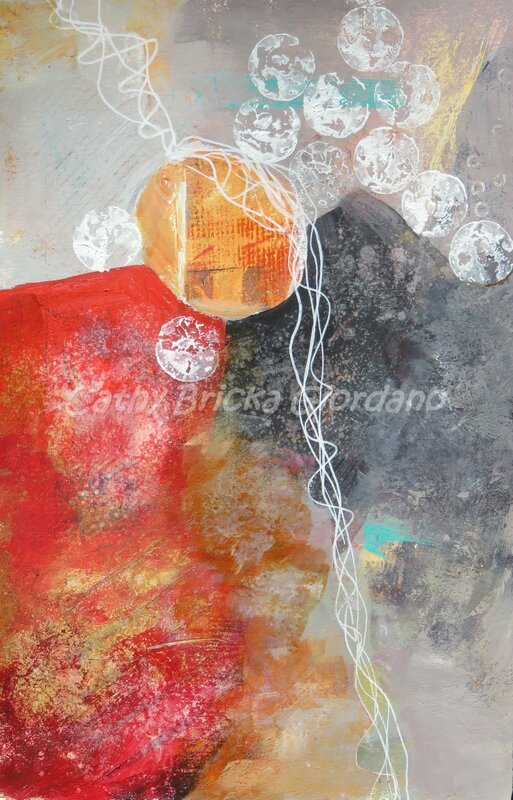 N°148
Monoprint
Dans ce premier j'aime toutes les nuances de rouge chaud et ces boules blanches, j'aime les nuances de gris avec les touches chaudes ici et là.
In this first one I love the warm reds and the white dots; I love the grey hues with the warm touches here and there.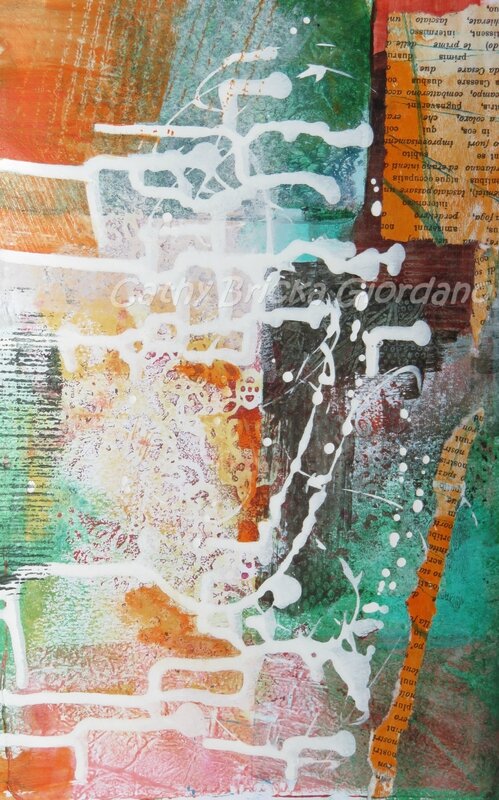 N°149
Monoprint et collages

Dans celui là, j'aime ces lignes blanches comme un réseau de tuyau ou un plan de métro ;-), j'aime les couleurs chaudes et particulièrement l'orange sur le turquoise. Ce n'est qu'après avoir rajouté quelques collages que le monoprint a commencé à chantonner...
In this one, I love the white lines; they're like a series of tubes or an underground map ;-) I love the warm colours and most particularly the orange on the turquoise. It's only when I added the collages that this monoprint started to sing to me.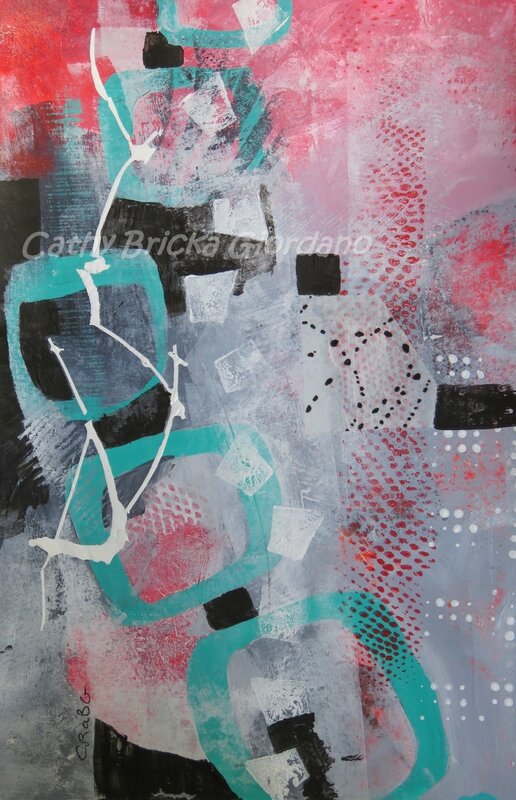 N°150
Monoprint et collages
Celui-ci m'a donné du mal avec ses couleurs, j'ai fini par accepter sa force et son énergie.
This one was the toughest, but I finally accepted its force and energy
Et comme à chaque fois, prenons un peu de recul pour imaginer ces monoprints dans un intérieur:
And, as usual now, let's step back a little to imagine these monoprints in an interior: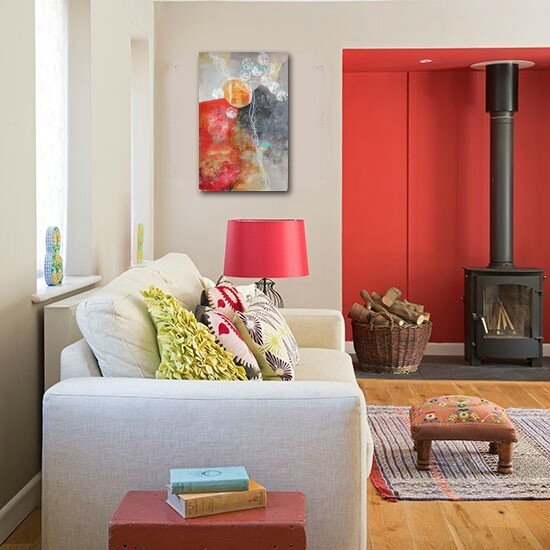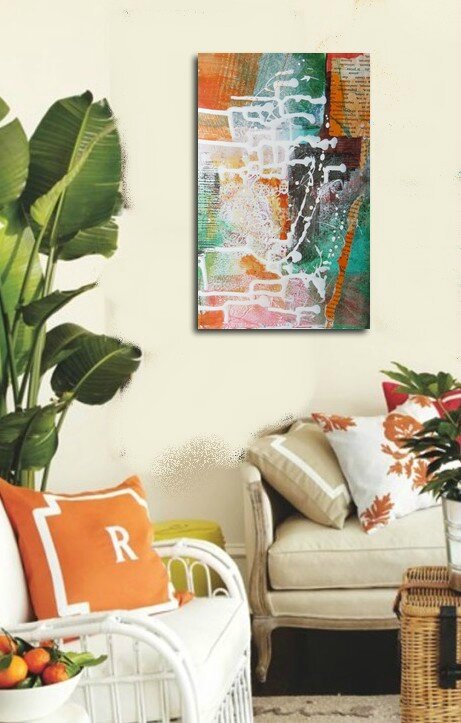 18 septembre 2016
Beaucoup de sur-impressions et de couches pour celui-là, et au final je ne sais pas si c'est à cause des couleurs délicates, mais je lui trouve un petit côté asiatique vous ne trouvez pas?
Prints over prints and lots of layers for this work; and I don't know if it's because of the delicate colours or what, but I think it's got some tiny asian influence, don't you think?

N°147
en tous les cas, je le verrais parfaitement dans un décor de ce type:
in any case I would quite picture it in such a setting: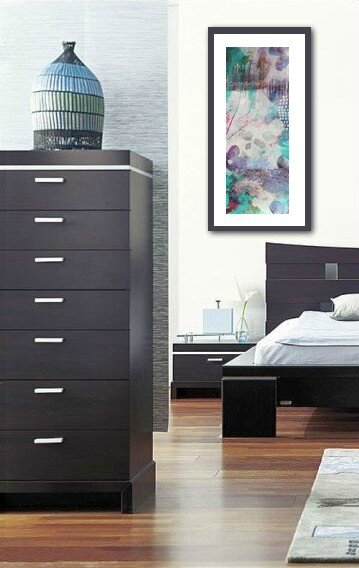 14 septembre 2016
Deux monoprints retravaillés qui me parlent de beaux ciels d'été étoilés...
These two monoprints I worked on talk to me about beautiful summer skies full of stars...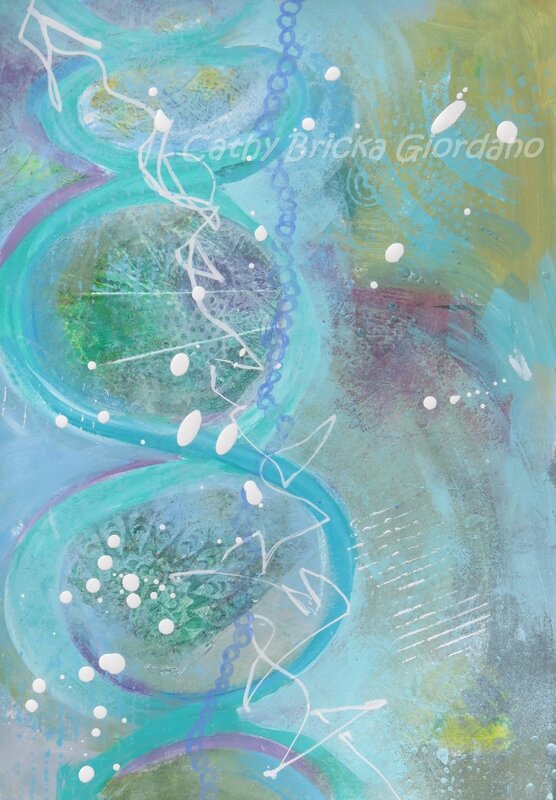 N°145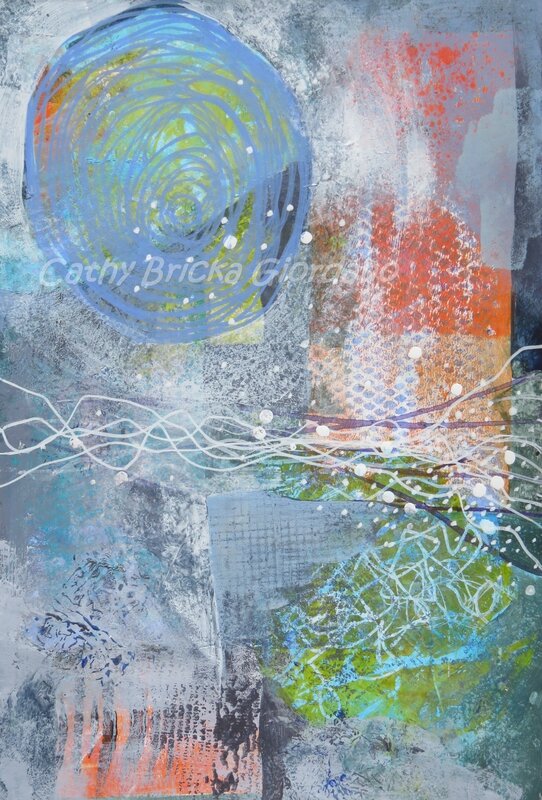 N°146
Reculons un peu / Let's step back a little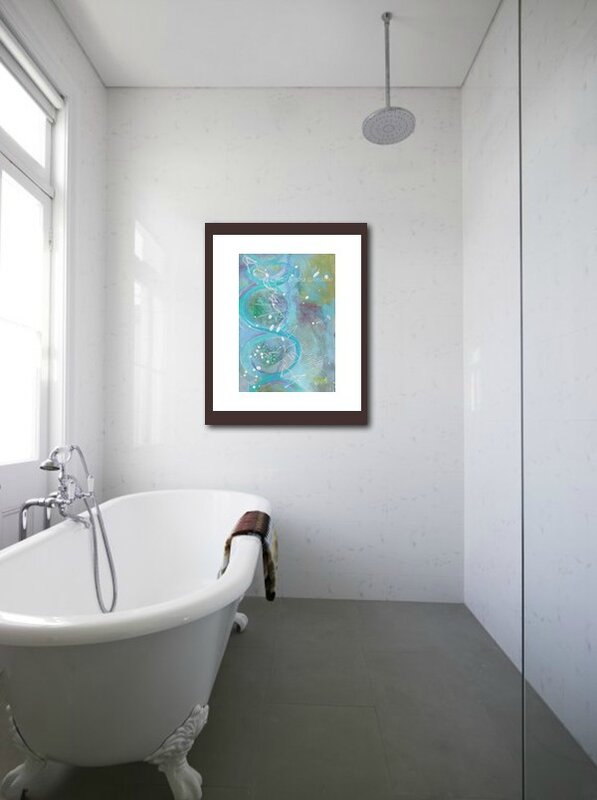 dans un décor très épuré / in a minimalist setting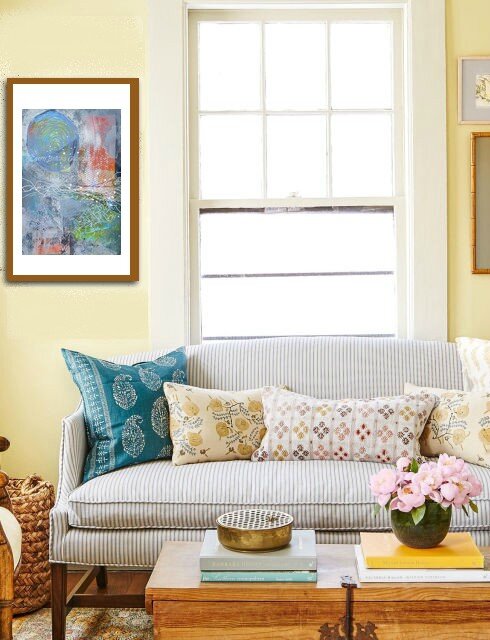 ... ou plus cozy / ... or a cozier one.
Et vous ils vous disent quoi? Vous les verriez où?
What do they tell you? Where would you see them?
09 septembre 2016
Je n'ai pas trop l'habitude de ces couleurs, mais j'avais envie de changer. J'ai fermé les yeux et pris au hasard trois tubes dans ma boîte, plus du blanc et du noir. Et voila ce que cela a donné :
I'm not really used to these colours put together, but I wanted to change. I closed my eyes and took three tubes in my paint box, then added some white and some black. Here's what happened: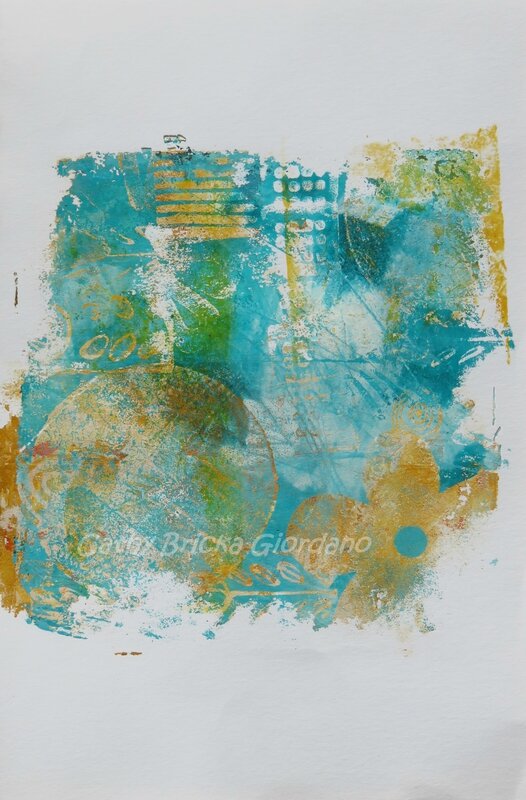 N°139
Un "monoprint pur" c'est quoi? C'est comme ça que j'appelle les impressions non re-travaillées. J'ai juste imprimé une ou plusieurs fois sur la même feuille, sans rien rajouter d'autre. Tout est dans les transparences, ... et le hasard.
What is a "pure monoprint"? That's what I call the prints I didn't work on. I just printed once or several times on the same sheet, without adding anything else. It all deals with transparencies, ... and chance.
Ce premier monoprint me semble abouti, mais en voici d'autres fait le même jour avec ces mêmes couleurs. Je ne sais pas encore si ils vont rester en l'état ou si (et comment) je vais les travailler.
This first monoprint feels complete, but here are a few others done on the same day with the same colours. I don't know if they are going to remain like this or if (and how) I'm going to work on them.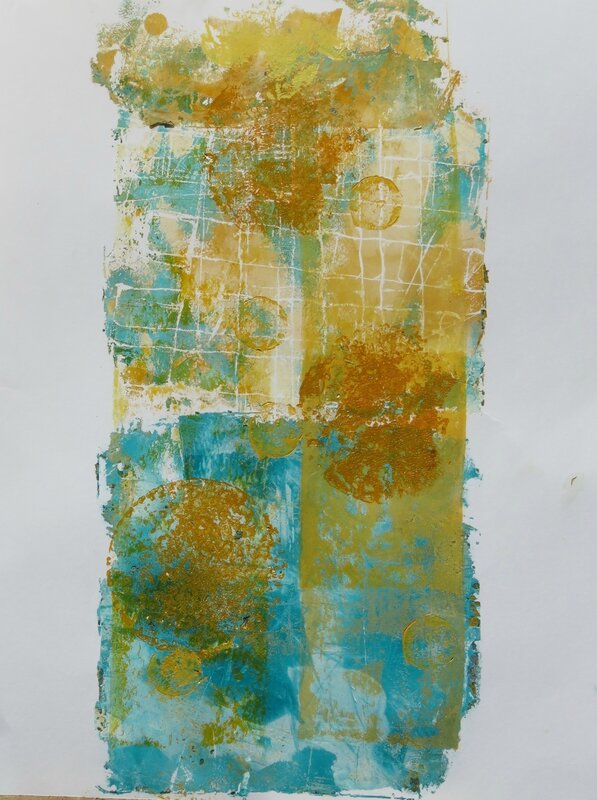 N°140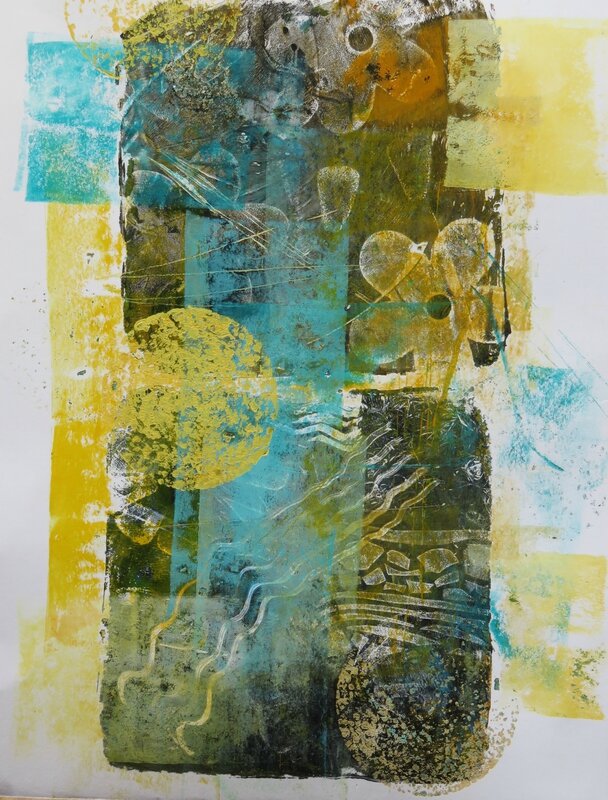 N°141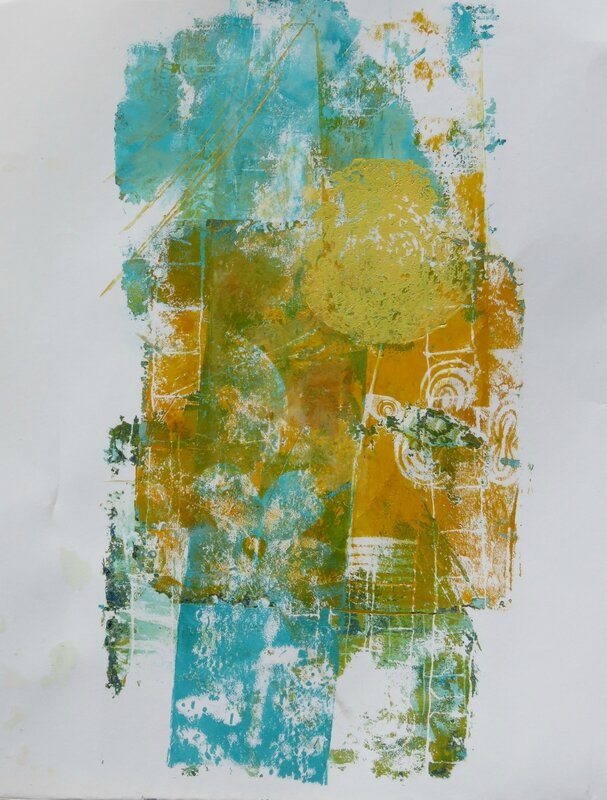 N°142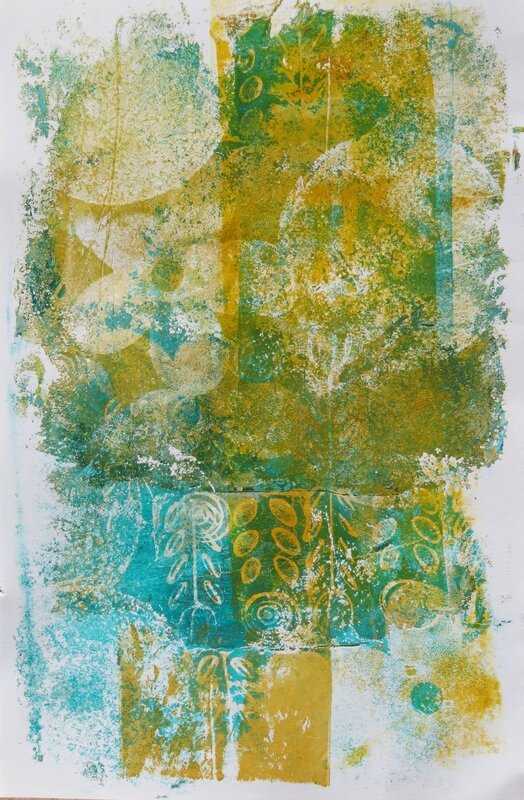 N°143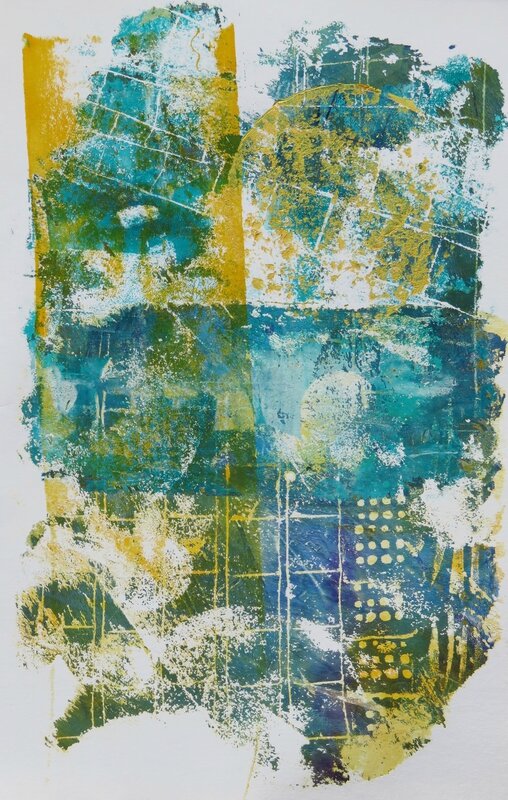 N°144
A suivre (peut-être)
To be continued (maybe)
05 septembre 2016
Dans le sud de la France et à Rome, c'est encore l'été:
In the south of France and in Rome, it's still summer:
N°136
un monoprint "pur" - simples superpositions d'impressions et transparences
this is a pure monoprint: prints over prints allow transparencies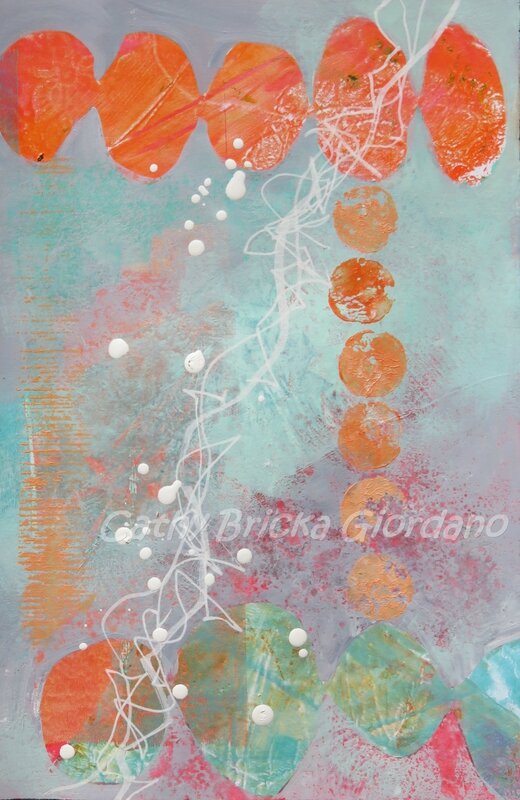 N°137
un monoprint retravaillé : j'adore les nuances que j'ai obtenu par les différentes couches de peinture, et les traits blancs et les points qui donnent de la gaieté
I worked on this monoprint quite a lot, and I love the different hues I got from the many layers I applied. The white dots and thin lines lifts the mood.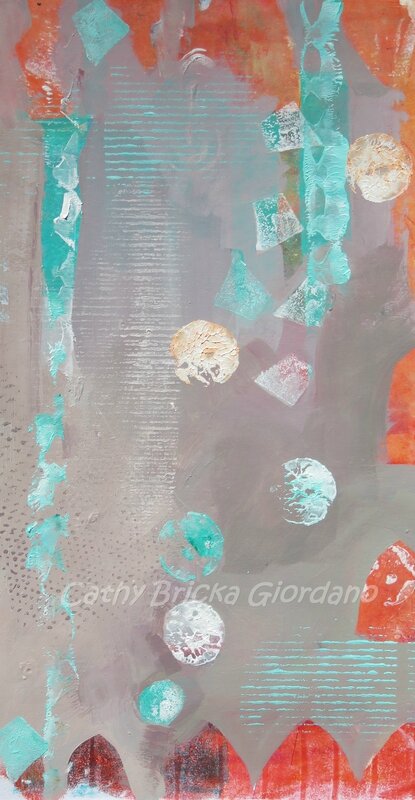 N°138
j'aime la sobriété du gris et les bulles qui ont l'air de remonter vers la surface
I love the sobriety of the grey and the bubbles seem to be slowly drifting upwards.
Reculons un peu
Let's step back: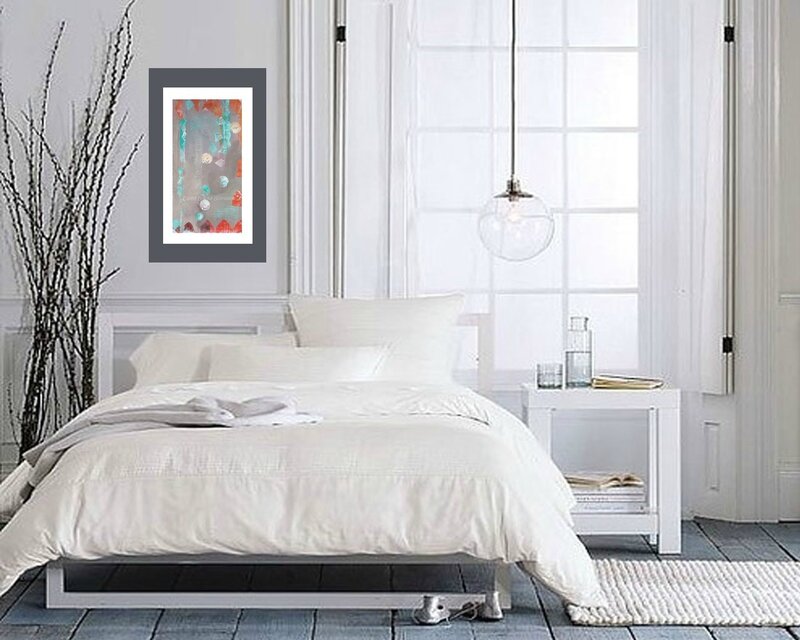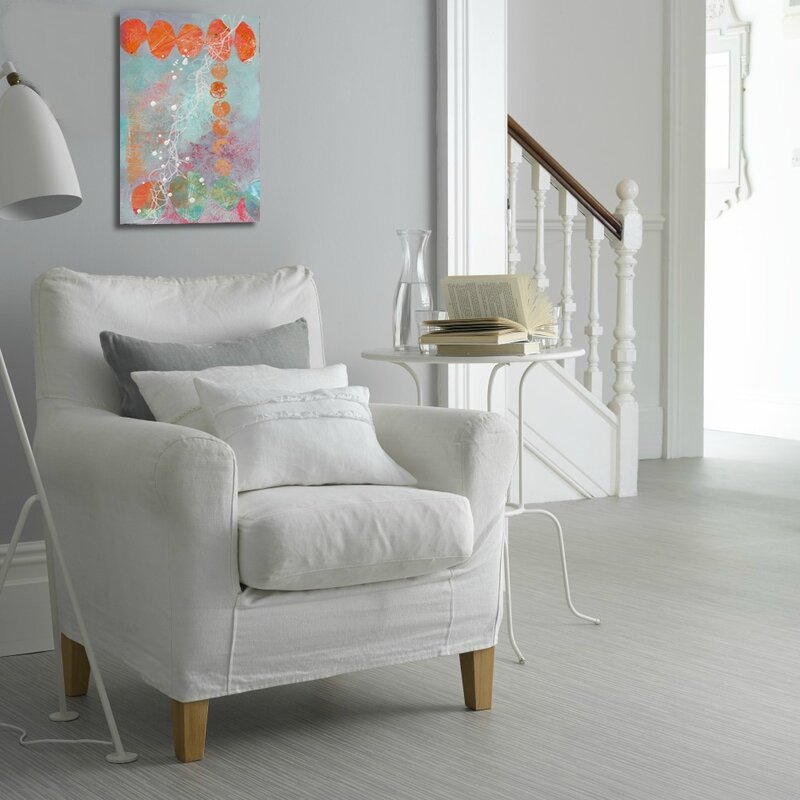 Je suis contente de vous retrouver ici
et j'espère que vous avez passé un bon été.
I'm so happy to see you again around here.
Hope you had a refreshing summer.
J'ai plein de belles choses à vous montrer: j'ai bien travaillé cet été. Je pensais peindre davantage sur toile, mais au final je n'en ai pas fini une. Les monoprints s'accrochent à ma créativité, pourquoi résister?
I have plenty of gorgeous things to show you: I've worked quite a lot over the last few months. I thought I was going to paint on canvass more, but in the end I didn't even finish one. The monoprints cling to my creativity, why resist?
14 juillet 2016
Il ne faut pas désespérer: j'ai fait ce monoprint il y a plusieurs mois, mais c'est seulement récemment qu'il a enfin trouvé sa voie:
You must never despair: I did this monoprint months ago, but only recenty did it find its way: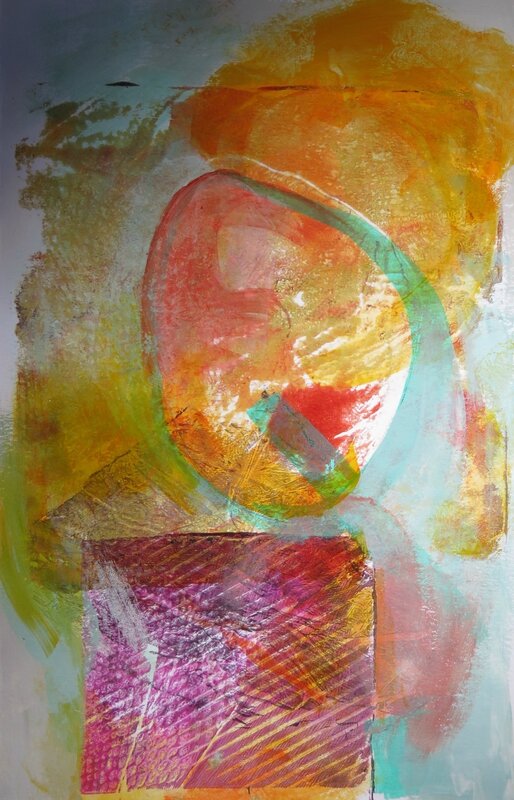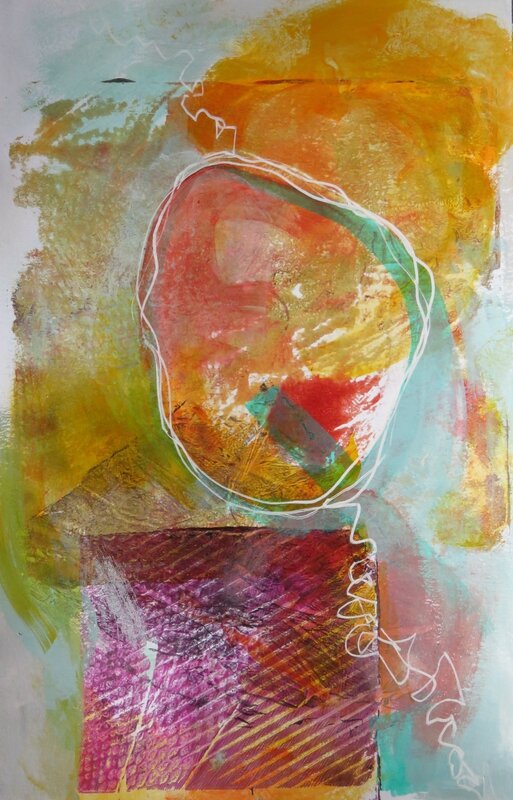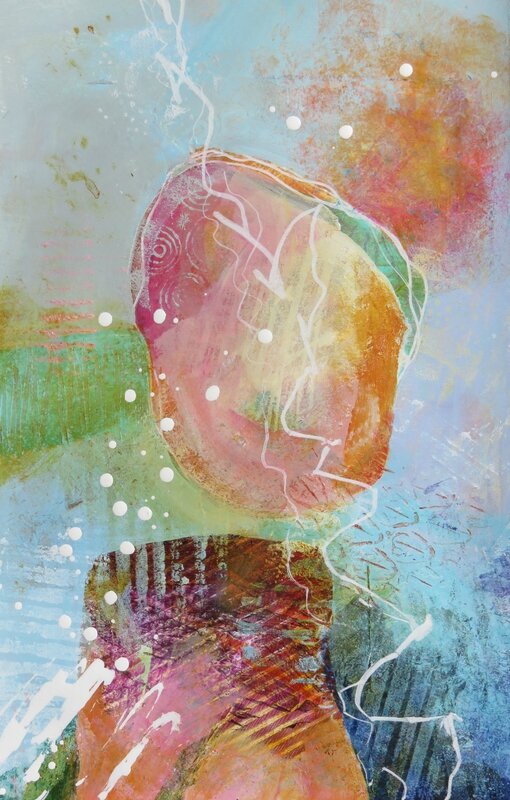 N°135
Il est temps de mettre ce studio virtuel en pause - mais rassurez-vous les vrais pinceaux ne vont pas faire de break. C'est avec ces belles couleurs que je vous laisse donc et que je vous souhaite de passer un excellent été, reposant et ressourçant.
This is my summer break, a break from this virtual studio, but not from my real brushes and paint. I hope to see you all at the end of August, but in the meantime, I wish you a wonderful and relaxing summer.
10 juillet 2016
Un peu de douceur
Sweet and soft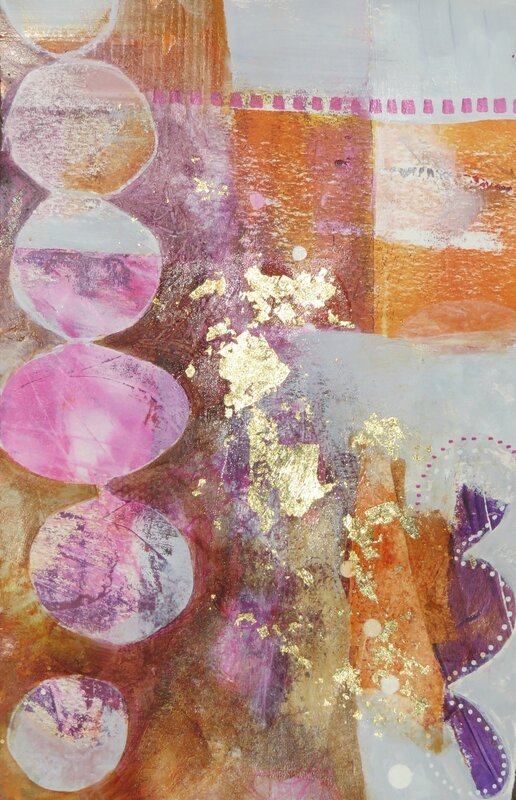 N°131 - acrylique et feuille d'or / acrylic and gold leaf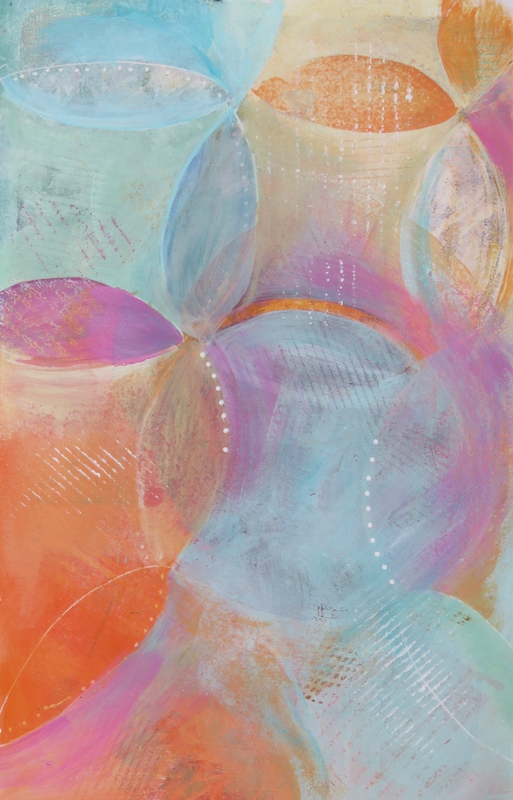 N°132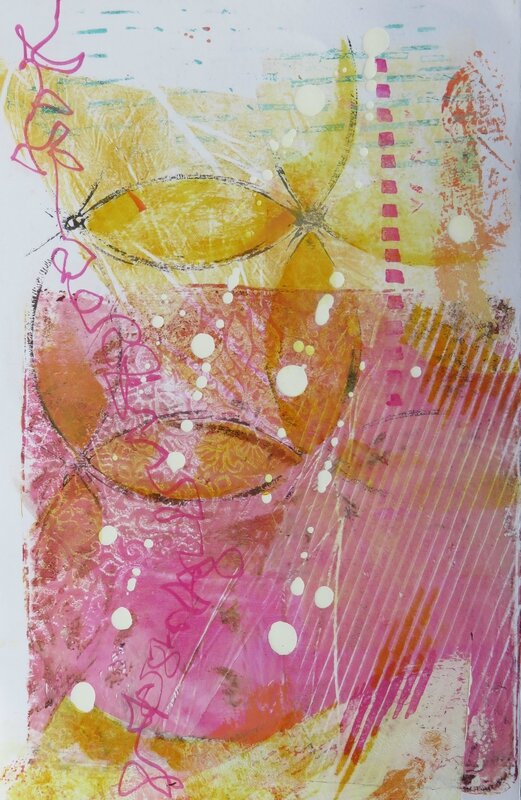 N°133
N°134 - acrylique et feuille d'or / acrylic and gold leaf
Encore une fois, ces monoprints ont peu en commun, peut-être juste cette douceur
These monoprints have no points in common apart from their soft tones
Prenons un peu de recul pour les imaginer dans un décor
Let's step back and imagine them in a setting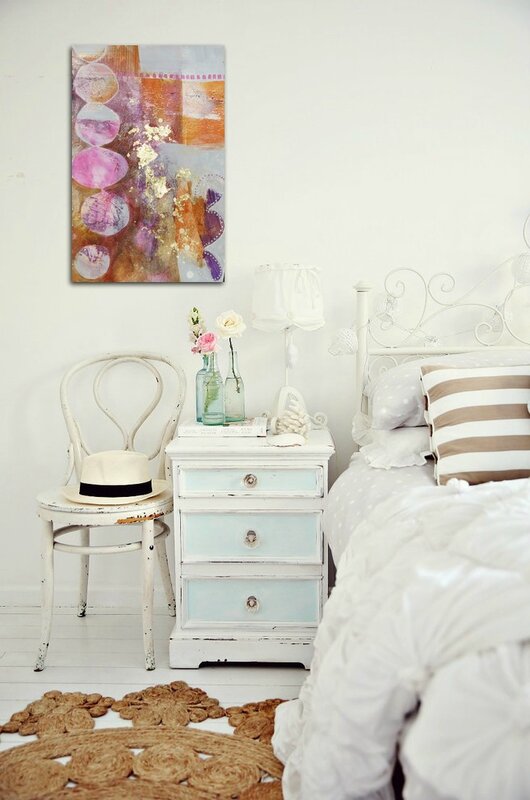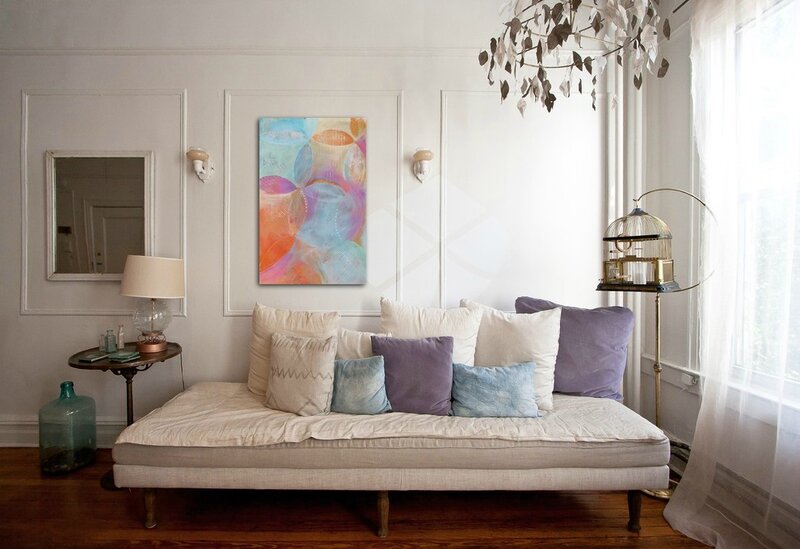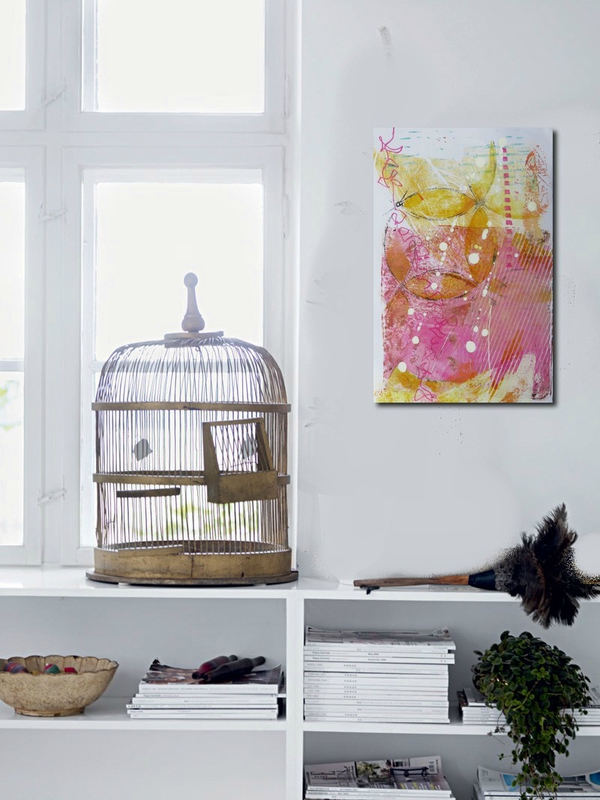 06 juillet 2016
De la gaieté, de la vitalité
happy and lively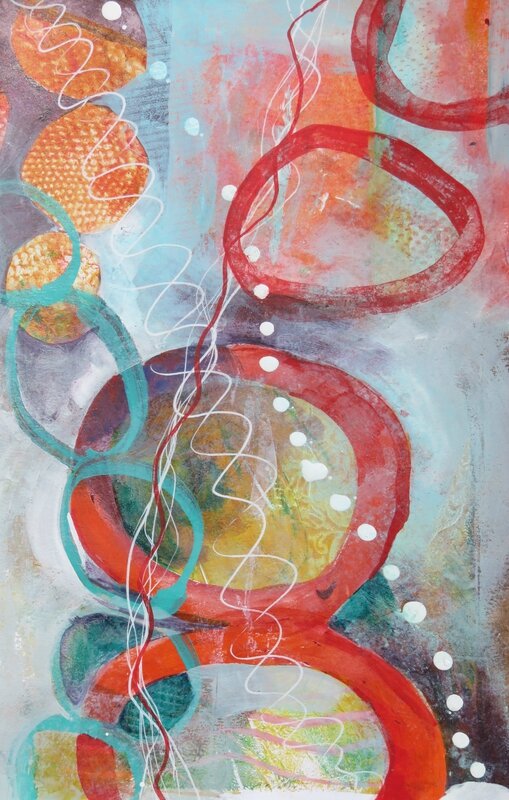 N°125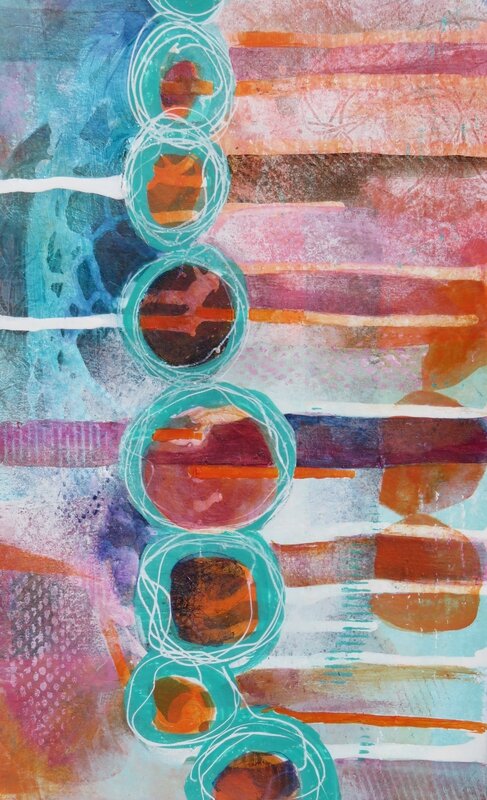 N°126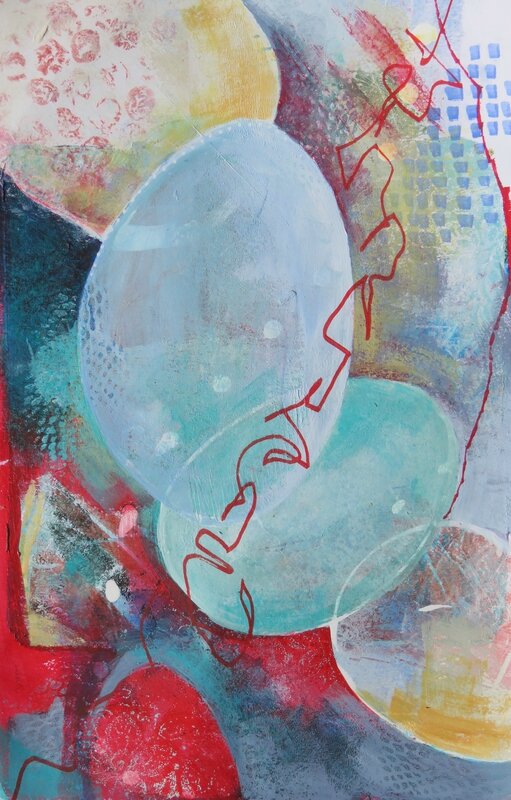 N°127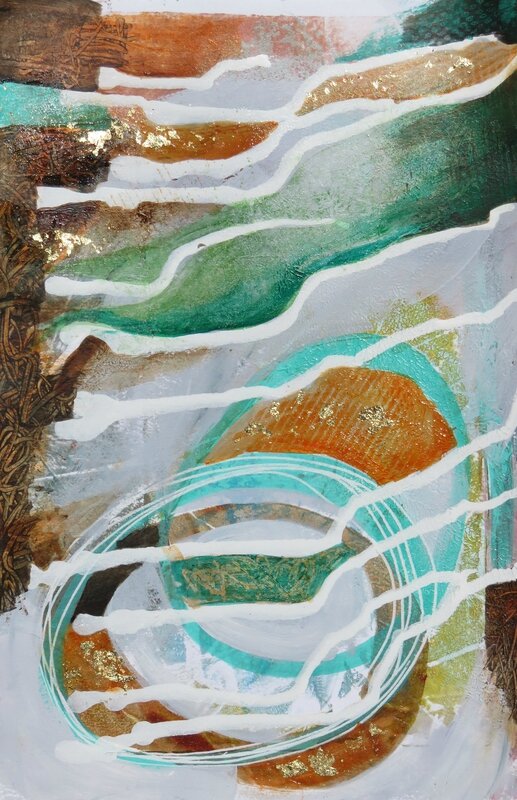 N°128
N°129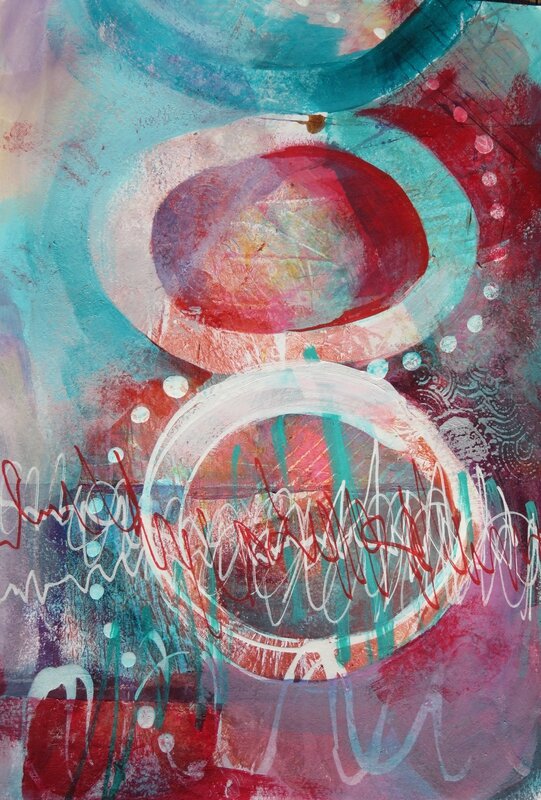 N°130
Ces monoprints n'ont que leur énergie en commun.
These monoprints don't have much in common, apart from their energy
Prenons un peu de recul pour les imaginer en contexte
Let's step back to imagine them in a setting: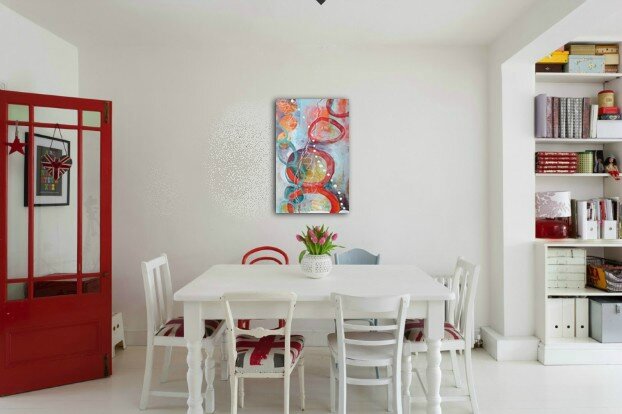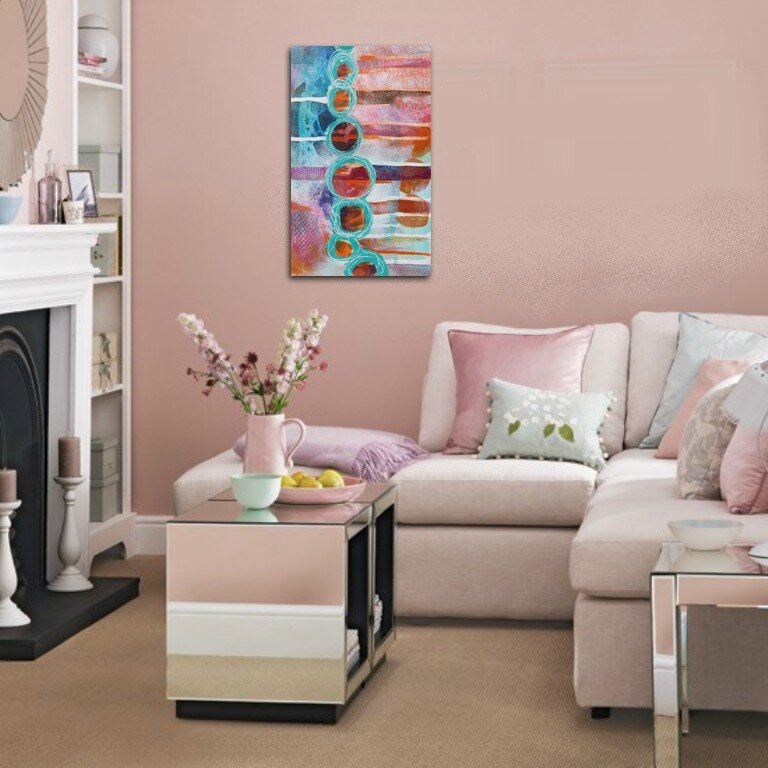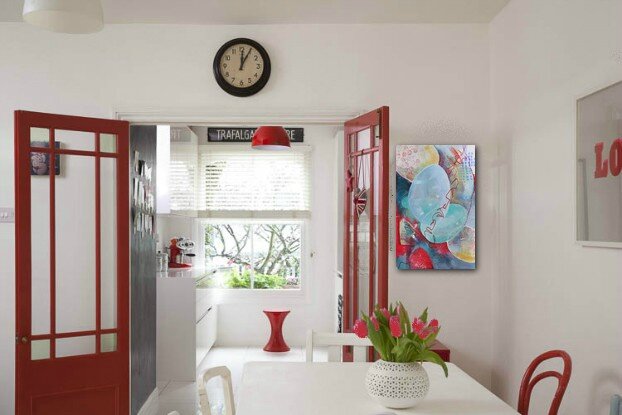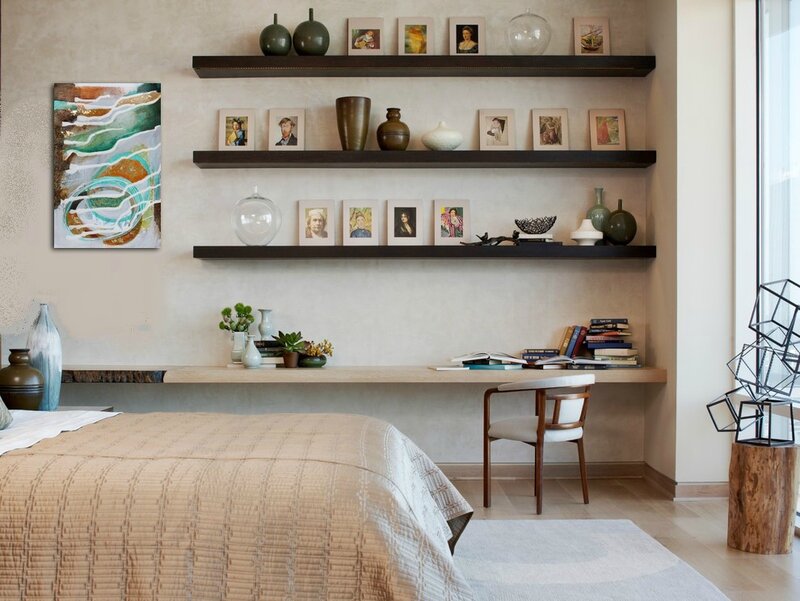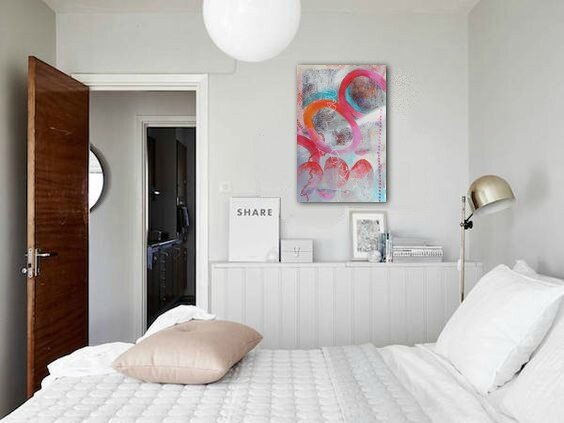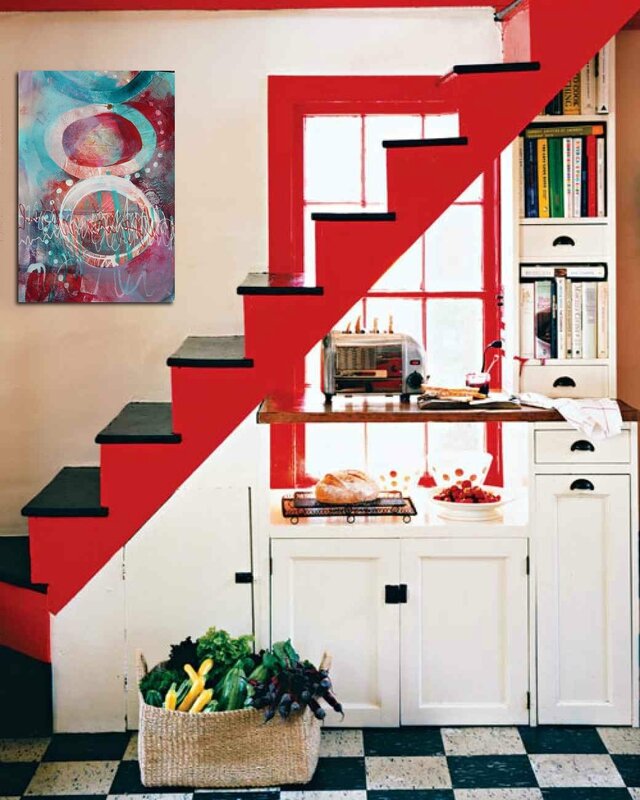 02 juillet 2016
Quand l'été s'approche, tout n'est plus que jeu d'ombres et de lumière. Voici quelques croquis réalisés à Rome début juin...
When summer is upon us, everything is but a matter of light and shadow. Here are a few sketches made in Rome at the beginning of June...
... à l'heure où la douce lumière pointe et réchauffe
... when the sun warms up the skin so delicately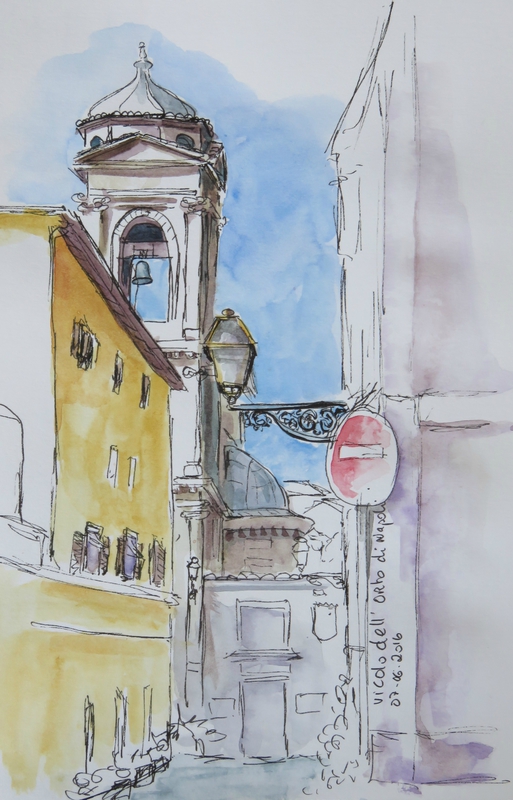 N°118 - Vicolo dell' Orto di Napoli
une rue tranquille, un voisin qui salue tout le monde, des ouvriers qui arrivent, un homme qui attend un taxi, la vie qui s'éveille
a quiet street, a neighbour who greets everybody, workers who arrive, a man waiting for a taxi, wake up time in Rome.
... à l'heure où la lumière se fait plus crue,
... when light gets harsher,
N°119 Piazza di Spagna
Les escaliers en train d'être restaurés par une équipe de femmes travaillant en plein soleil sous d'élégants parasols blancs
The steps are being renovated by a team of women working in bright sunshine with some elegant white umbrellas for protection
... où tout n'est que blancheur et brûlure,
... when everything is blindingly white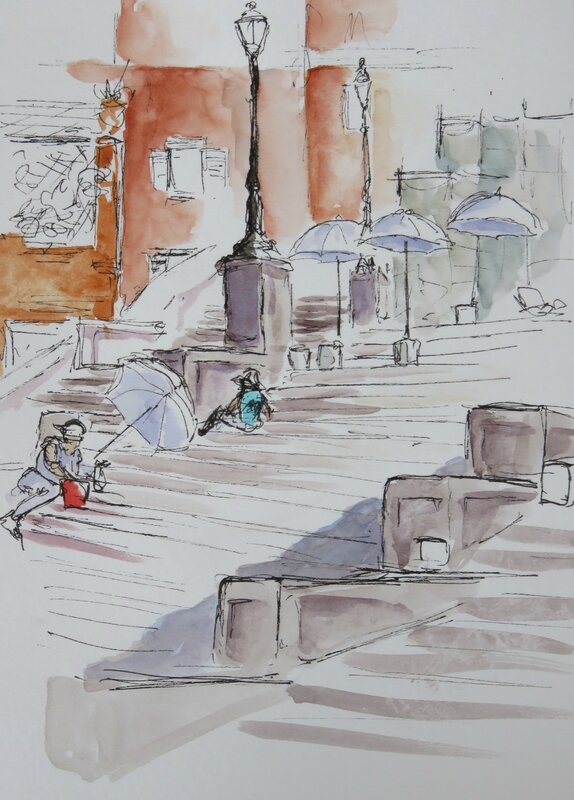 N°120 Piazza di Spagna
J'aurais pu rester des heures à croquer ces femmes travailler sous le soleil, mais il y avait déjà trop de touristes bruyants qui me bousculaient, j'ai fui.
I could have spent hours sketching the women working under the sun, but there were already too many loud tourists bumping into me. I went away.
... où l'on cherche l'ombre apaisante
... when you try to find some cool shaded spot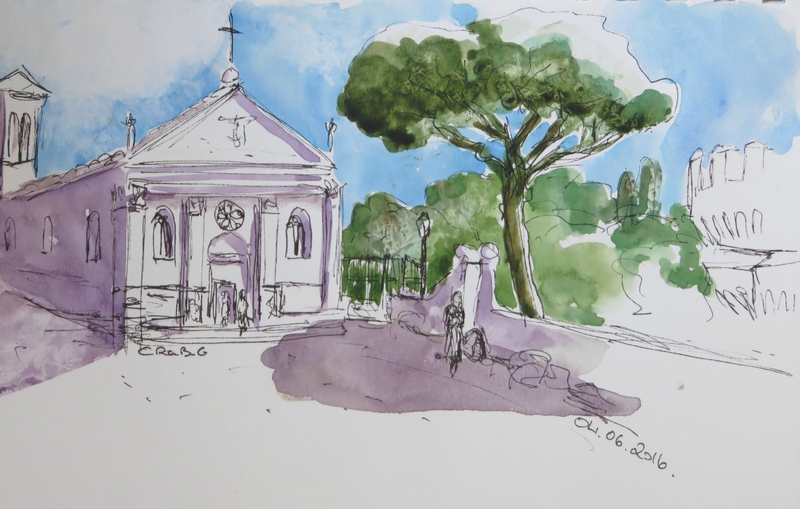 N°121 Ostia Antica village medieval / medieval village
un petit tour dans le village médieval avant d'aller voir le port antique de Rome.
a stroll in the medieval village before going to the ancient harbour of Rome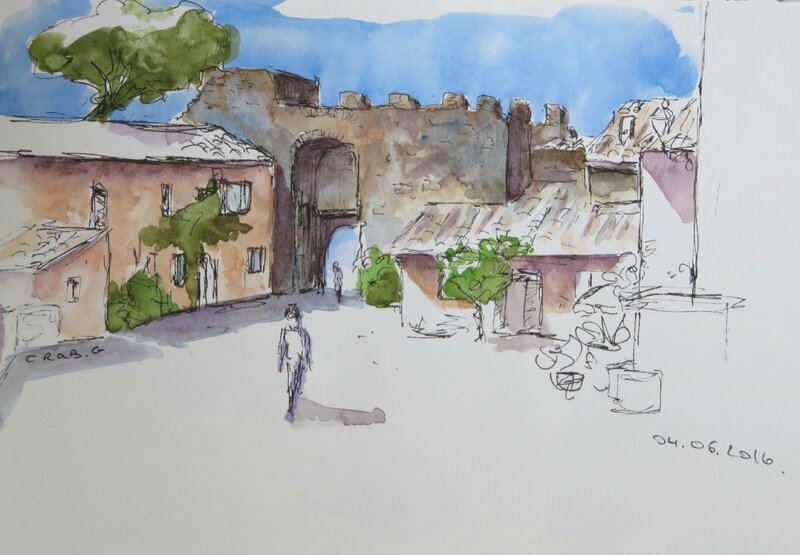 N°122 Ostia Antica village medieval / medieval village
et là encore j'aurais pu rester des heures à croquer chaque fenêtre, recoin, fontaine, ...
and there again, I could have spent hours sketching every nooks and cranies, windows, fountain, ...
... à l'heure où les ombres s'allongent
... when shadows stretch lazily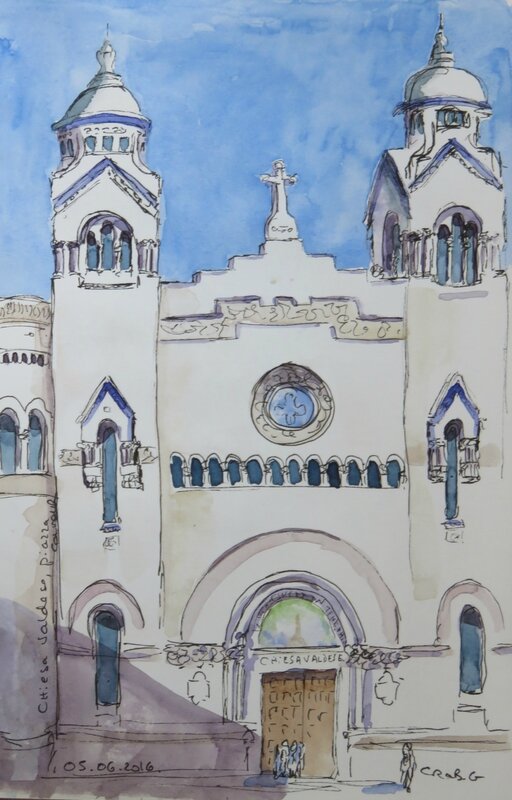 N°123 Chiesa Valdese, Piazza Cavour
dimanche après midi, la place étrangeent calme
Sunday afternoon, the piazza is unusually quiet
... et la lumière dore et réchauffe.
... and when the golden light warms up the skin so lovingly.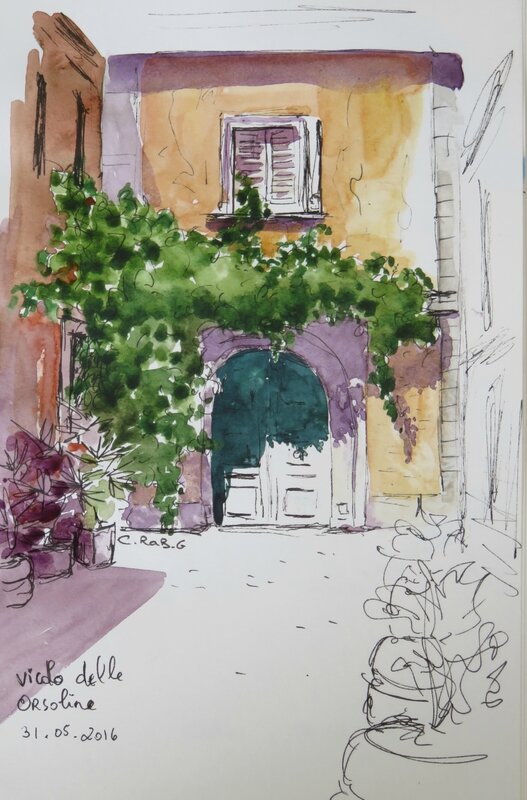 N°124 Vicolo delle Orsoline
Bribes de répétition d'un chanteur puis d'une chanteuse d'opéra qui s'échappent d'une des fenêtres avoisinantes.
opera singer rehearsing in a nearby house