03 décembre 2017
De vieux monoprints, de nouvelles idées, de grands changements, et des résultats satisfaisants:
Old monoprints, new ideas, big changes, and satisfying results:

N°177
Comme un souvenir de parfum au creux d'un pull en cashemire
Like the memory of a perfume nestled in a cashmere jumper

N°178
comme un après midi enveloppé chaudement dans un plaid dans l'orangerie d'une vielle maison, à regarder le froid dehors. (Cherchez pas)
Like spending a cosy winter afternoon wrapped in a blanket in a greenhouse, watching the frost outside. (Don't ask)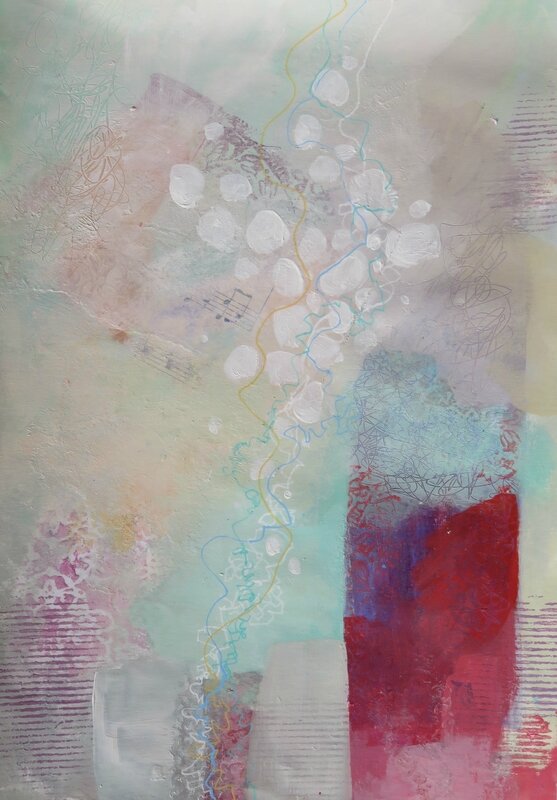 N°179
Comme une chambre aux tapisserie fleuries, un air d'opéra sur un gramophone, un léger parfum de poudre de riz qui flotte encore
Like a bedroom with quaint flower wallpaper, some opera tune playing on a gramophone, a faint perfume of rice powder still lingering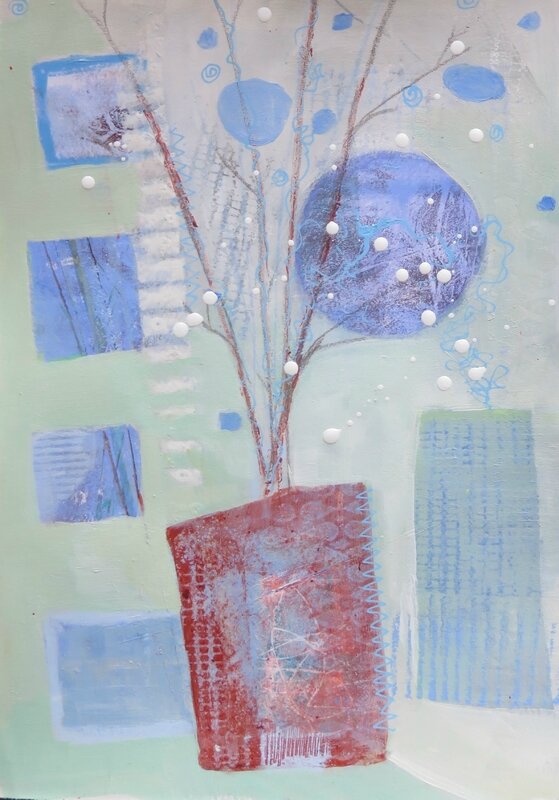 N°180
Comme une couverture encore tiède à l'endroit où le chat a dormi
Like the blanket still warm where the cat has slept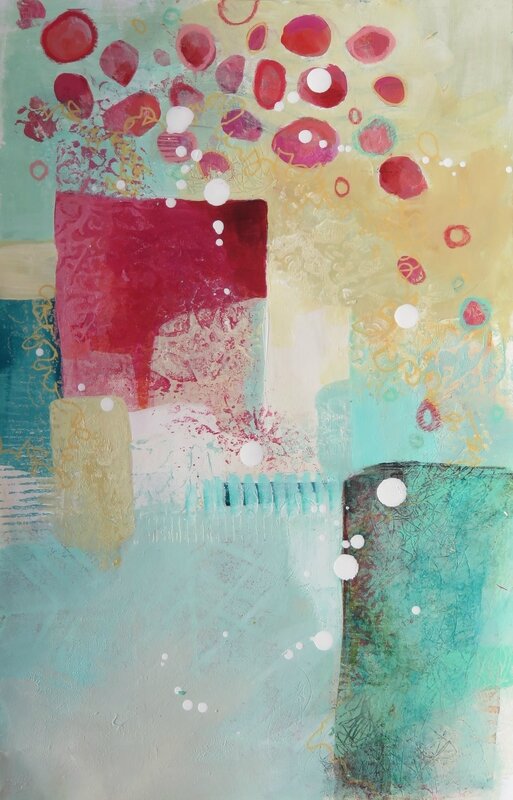 N°181
Comme un peignoir de soie brodée oublié sur un fauteuil
Like a silk embroidered robe forgotten on an armchair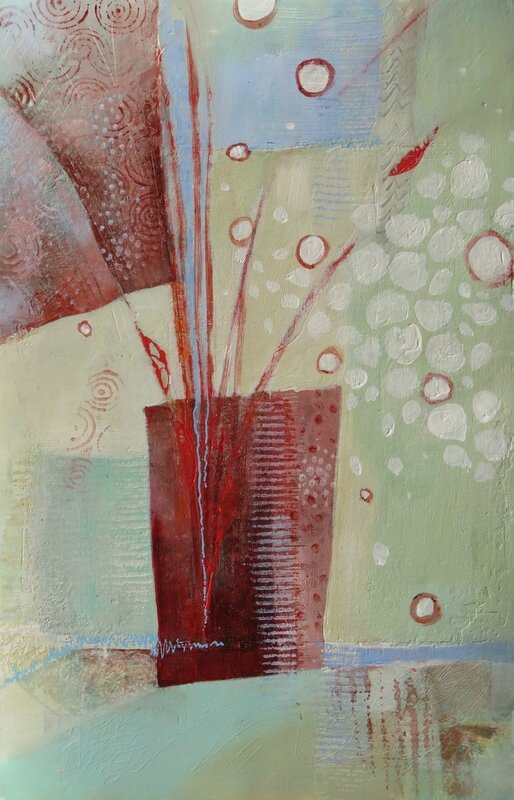 N°182
Comme l'odeur des crêpes dans une cuisine toute chaude un jour de ciel gris
Like the smell of crepes in a warm kitchen on a wet and miserable day

J'aime cette série d'ambiances aux tons doux!
Et vous, laquelle préférez-vous?
I love this series of atmospheres with soft tones!
What about you, which one do you prefer?
30 novembre 2017
Quand je peins, j'applique parfois une feuille de brouillon sur les parties peintes afin de retirer un peu de peinture et faire des effets. Et j'aime ces marques laissées sur le papier.
When I paint, I sometimes use drawing paper to lift paint a little. I love the marks it makes.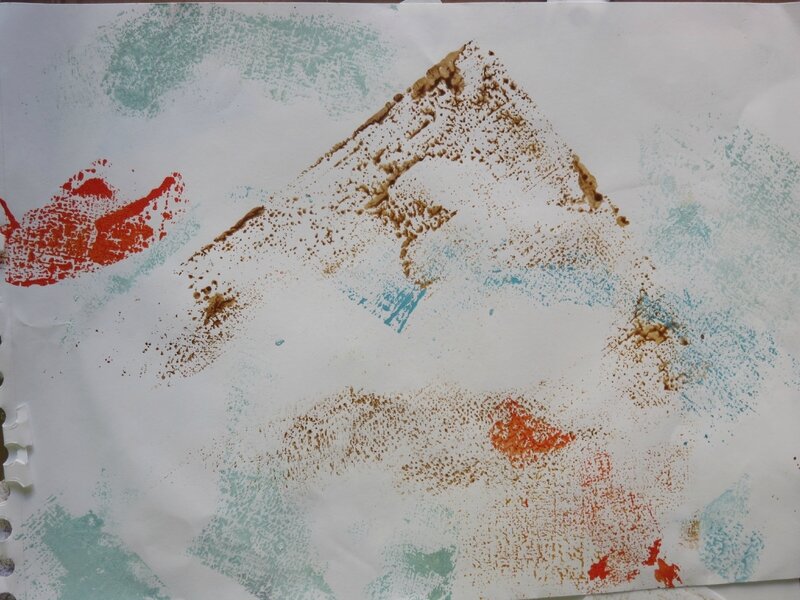 Je ne les jette jamais.
And I never thow any away.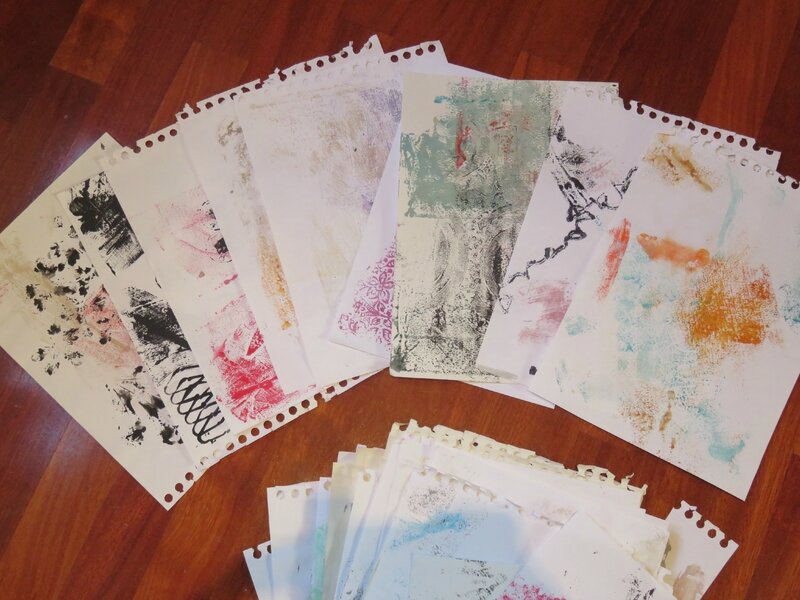 Parfois je peins dessus avec des peintures transparentes et cela me sert pour les collages.
Sometimes I paint them over with some transparent colours and use them for collages.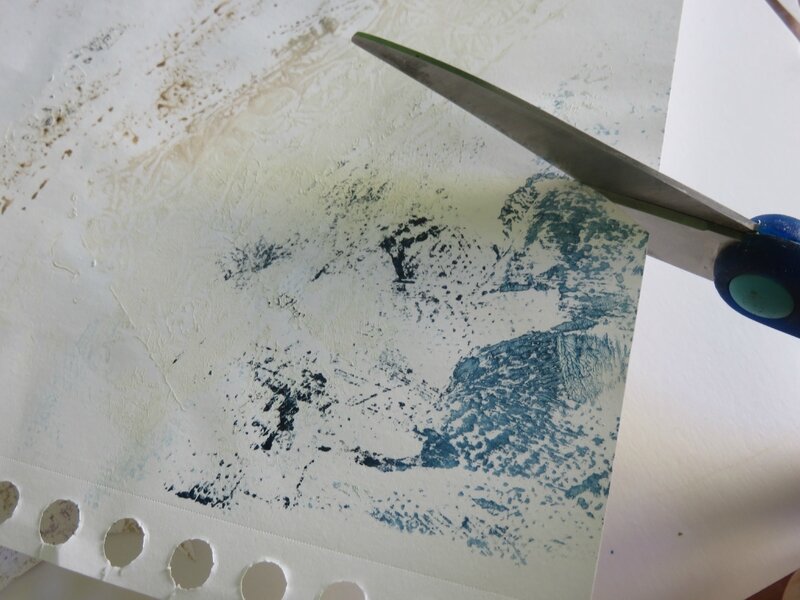 Cette fois-ci, parce que les marques étaient vraiment sympas, j'ai décidé de les découper.
This time, because there were some really nice marks, I decided to cut the marks out.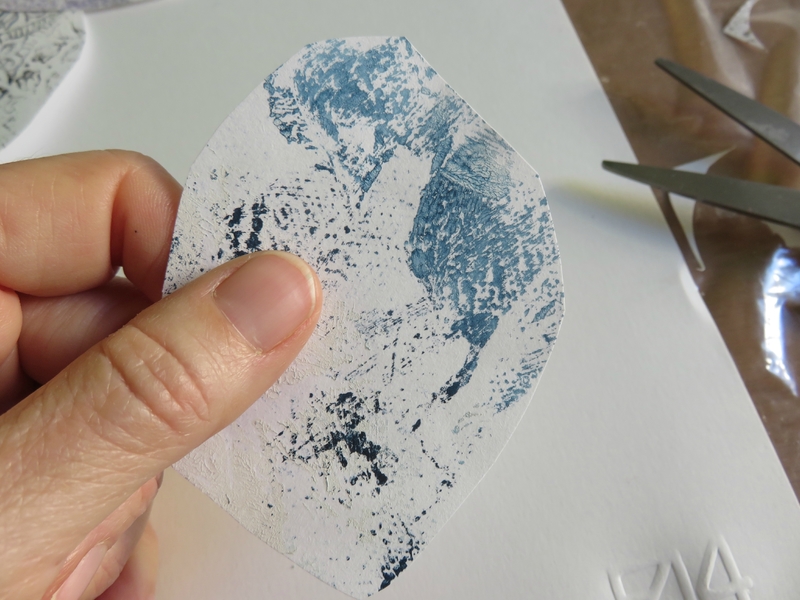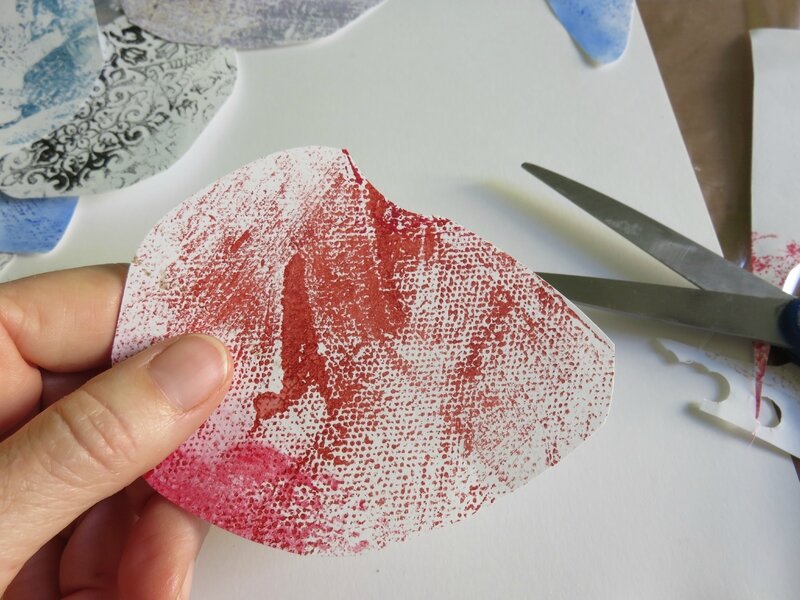 je n'ai pas coupé droit mais j'ai suivi vaguement la forme des tâches
I didn't cut straight but kind of followed the shape of the marks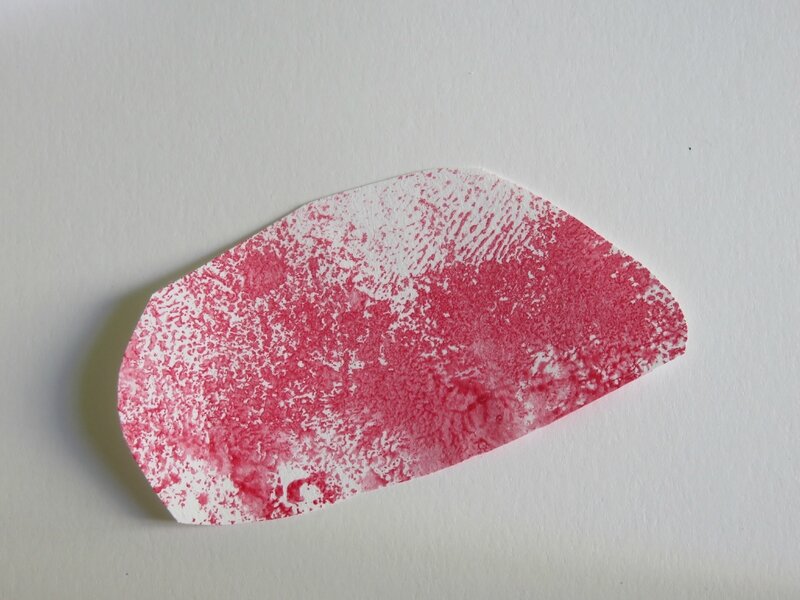 J'ai fini avec une petite série de formes avec de super textures
I ended up with a series of shapes with lovely textures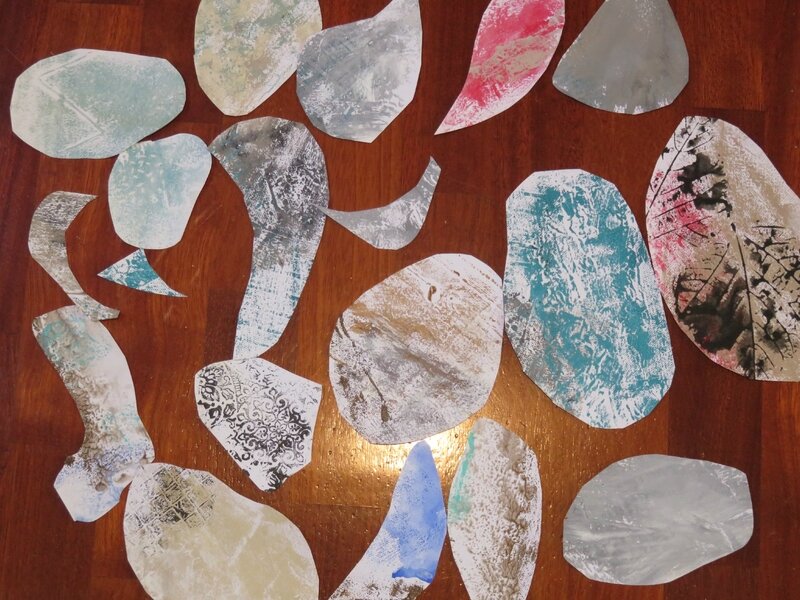 toutes n'étaient pas ovales
not all of them were oval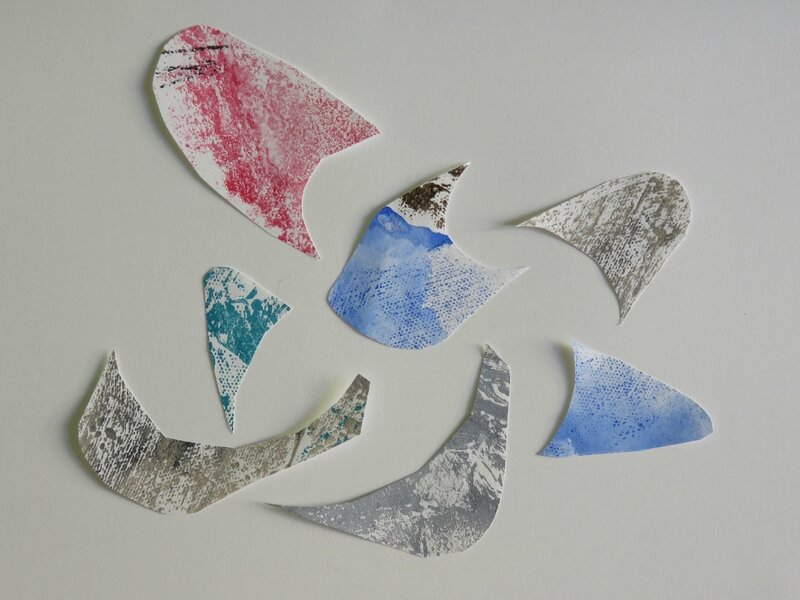 Je n'ai pas jeté les petits bouts non plus, cela peut toujours servir :
I can't throw away the scraps, and they can be useful too: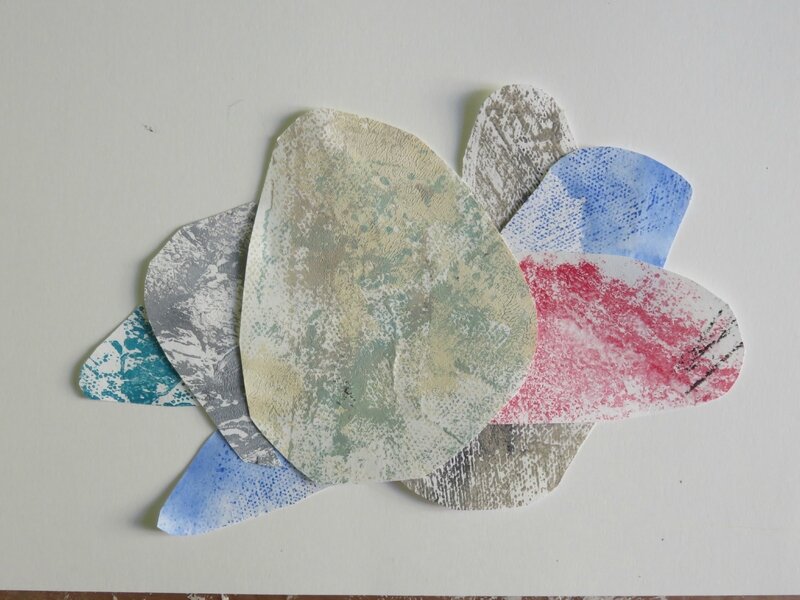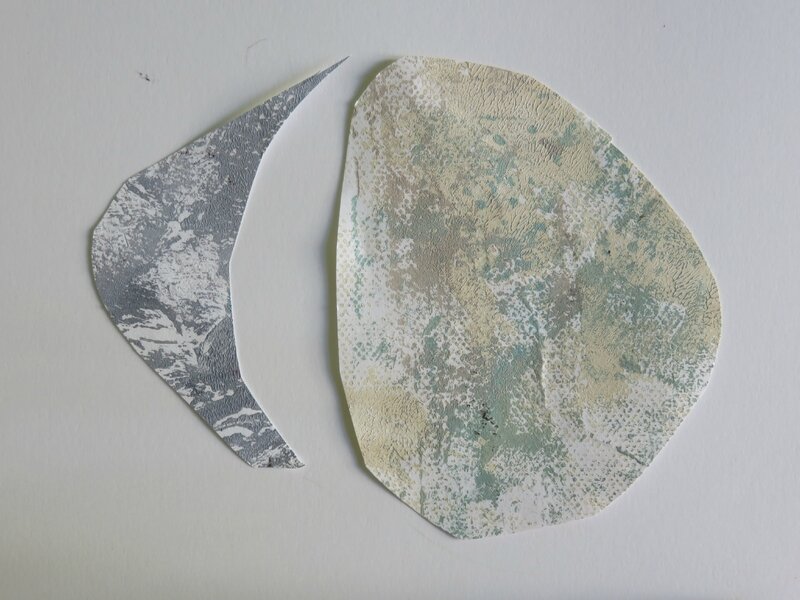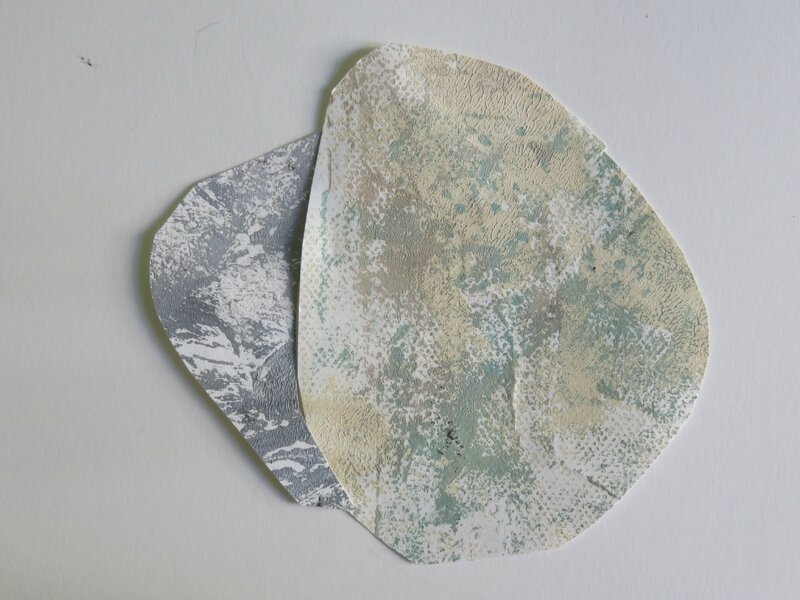 Allez, créons quelques compositions "temporaires"
Now let's put together some 'temporary' compositions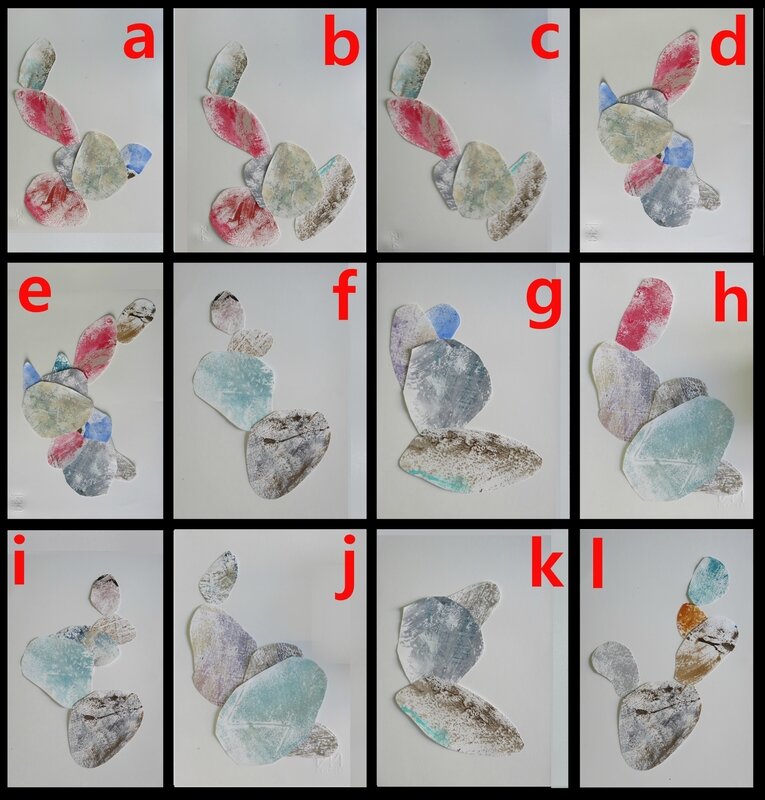 Le(s)quel(s) préférez-vous?
which one(s) do you prefer?
Voici ceux que j'ai collé :
Here are the ones I glued:
N°173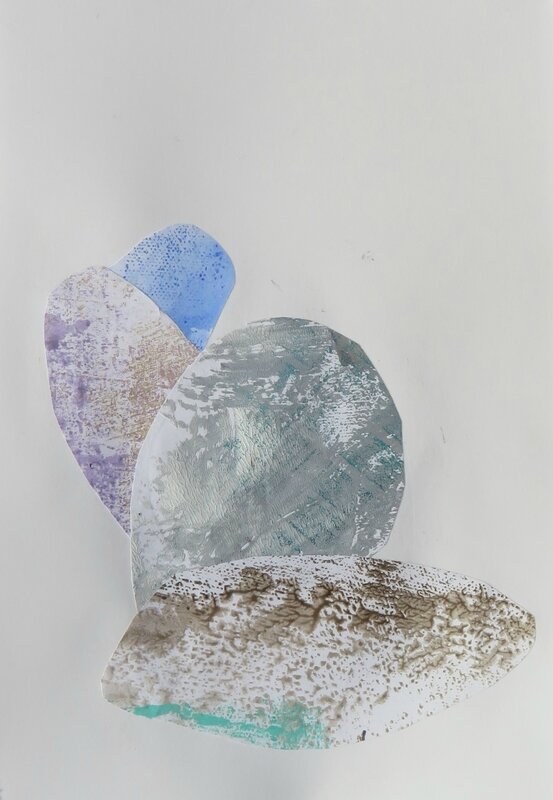 N°174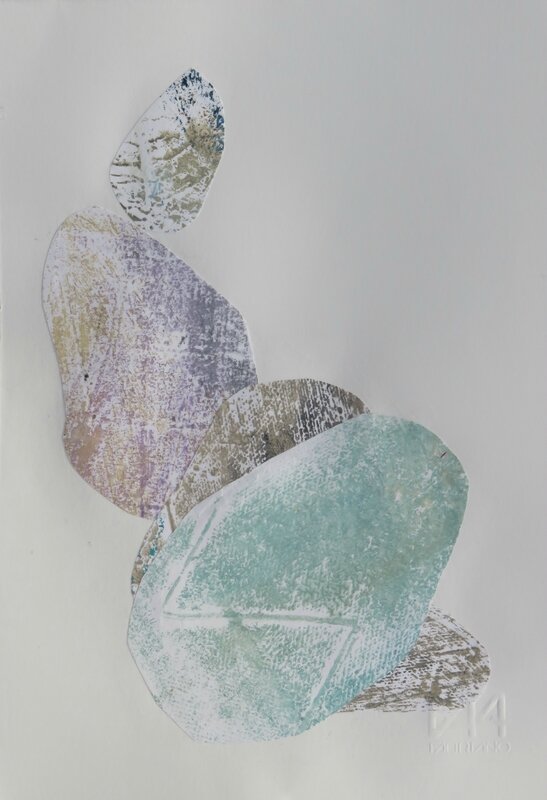 N°175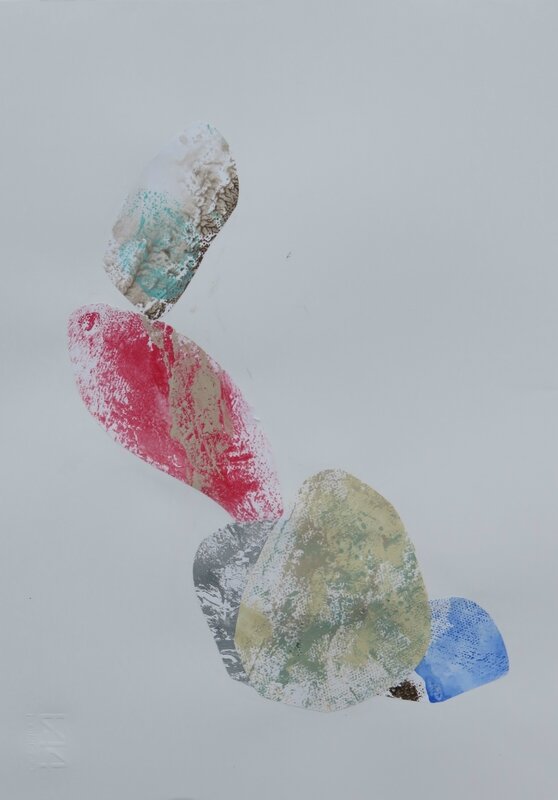 N°176
Ce sont des travaux en cours. Je ne sais pas vraiment comment je vais continuer mon travail même si j'ai plusieurs envies, mais j'aimerais bien garder ce côté frais et doux.
These works are in progress. I don't really know what they are going to look like after I've worked on them, but I'd love to keep the fresh look, somehow.
26 novembre 2017
Voici cinq travaux finis. Trois que vous n'avez encore jamais vus, et deux que vous avez vus en cours. Tous ont été commencés il y a longtemps.
Here are five finished works. Three you've never seen, two you've seen in progress. All of them started a long time ago.
Vous rappelez-vous de celui là? Nous étions d'accord que le haut devait être allégé. Eh bien c'est chose faite. J'aime beaucoup plus le calme qui s'en dégage maintenant.
Remember that one? We all agreed the top needed to go. Well here it is. What do you think? I personally find it calmer so much more to my taste!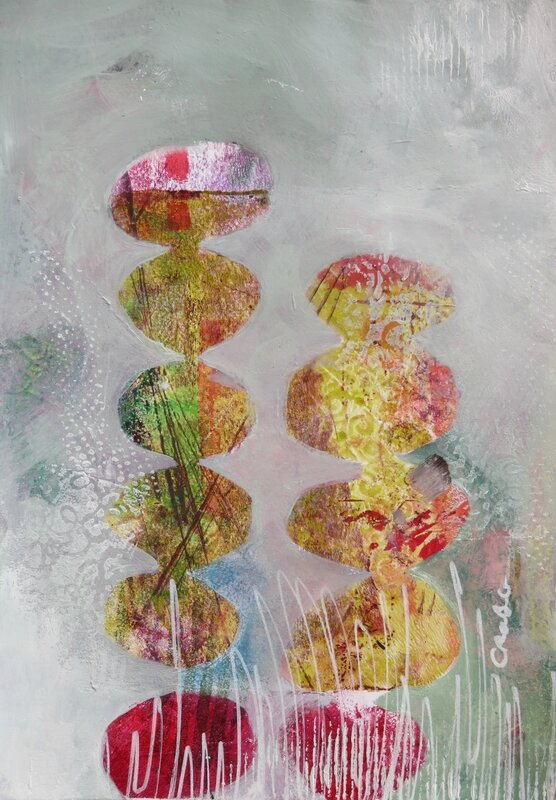 N°134 (que vous aviez vu ici / you saw it here)
Pour mémoire, voici ce à quoi il ressemblait avant et les changements
For the record, here's what it looked like and the changes:
Etape 1 / Step 1 Etape 2 / Step 2 Etape 3 / Step 3 (now)

Etape 1 / Step 1: plusieurs impressions et des marques de rouleau encreur / several prints and brayer marks
Etape 2 / Step 2: cherche à trouver une unité / trying to find some unity
Etape 3 / Step 3: va à l'essentiel / gets to the essential
Voici un nouveau-vieux (vieux nouveau?) monoprint.
Here's a new-old (old-new?) monoprint.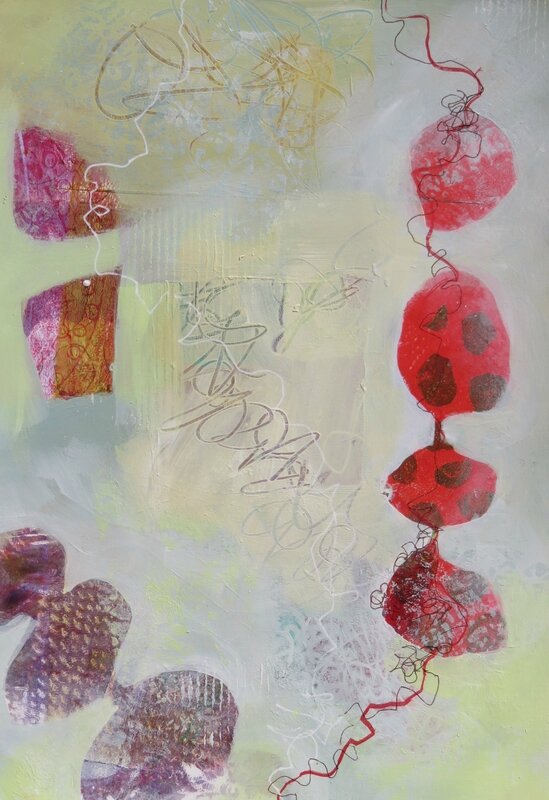 N°170
Pour info, voici à quoi il ressemblait au tout départ : un monoprint brut fait avec plusieurs impressions et quelques marques de rouleau.
for the record, here's what it looked like in the very first stage : a raw monoprint made with several prints and a few marks with the brayer.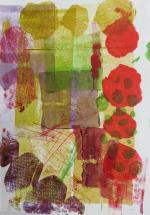 C'était beaucoup trop chargé, et je le préfère maintenant, tout tranquille et paisible.
It was much too busy, and I prefer the way it looks now, and all peaceful and quiet.
Voici une pièce commencée il y a très longtemps, et que j'ai finie il y a quelques jours. C'était une telle catstrophe que je n'ai même pas pris de photo au départ! Peut-etre parce que justement je n'avais rien à perdre, j'ai commencé à recouvrir des parties, à crayonner, gratter, ... en un mot à m'amuser, et le miracle s'est produit :
Here's a piece I started a very long time ago, and which I finished only a few days ago. It was such a hopeless mess that I didn't even keep a picture of it at the beginning! Maybe because I had absolutely nothing to lose, I started covering parts, doodling, scraping, ... in one word having fun, and the miracle happened: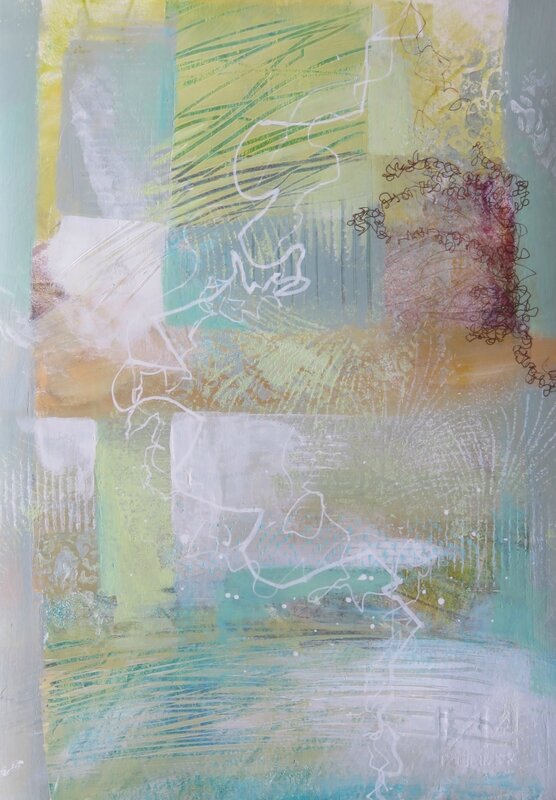 N°171
Voici une pièce commencée il y a longtemps et sur la quelle j'ai galéré trèèès longtemps. Maintenant ça va mieux, même si je lui trouve encore un petit côté "raide". De l'avoir trop travaillé peut-être? Qui sait.
Now here's a work I started a while ago. I struggled with it for a loooong time. Now it looks much better, even if I still find it a bit "stiff". From over-working it? Who knows.
N°172
Flash back en février. Certains se souviendront peut-être de l'expérimentation à laquelle je m'étais livrée, en limitant les couleurs et en utilisant les outils dans le même ordre (cliquez ici, là ou là pour revoir l'expérimentation et es résultats)
Flash back to February. Some of you might remember the experiment I tried limiting colours and using the same tools in the same order (click here, here and there to see the full experiment and results)
Certains ont été finis il y a longtemps, mais d'autres ont attendu (et attendent encore). Ce N°14 vient juste d'arriver à maturation :
Some of them were finished a long while ago, but some have waited (and some are still waiting). This N°14 has finally come to fruition:
N°14
... et j'en suis très fière / and I'm very proud of it.
Revoyons les étapes, cela vous permettra de mieux comprendre comment je travaille.
Let's review the steps, it will give you more insight into my way of working:
Etape 1 / Step 1 Etape 2 / Step 2 Etape 3 / Step 3
Etape 1 / Step 1: un cercle trèèèès noir et lourd / Veeery heavy black circle
Etape 2 / Step 2: Réduction du cercle et ajout de 2 de plus pour équilibrer la composition. Ajout de quinacridone gold. Il est resté ainsi très longtemps.
I reduced the black circle and added two more to balance the lay-out. I added quinacridone gold.
It stayed that way a looong time.
Etape 3 / Step 3: j'ai réduit les cercles initiaux encore plus, et j'ai effacé celui en bas à droite pour laisser un espace pour respirer. J'ai recouvert le jaune quinacridone de blanc ce faisant, et ai ajouté une touche turquoise qui me semble tomber pile poil.
I reduced the initial black circles even more, then erased the bottom right one to create some breathing space. I covered the quinacridone with more white in the process and added a much welcome turquoise.
22 novembre 2017
Nous voici à notre 3e volet de la série "comment faire un collage abstrait".
Here we are in our third chapter of the series 'how to make an abstract collage'
Aujourd'hui je vais vous parler de composition et je vais vous aider à créer entre 20 et 30 compositions en une séance!!
Today, I'm going to talk about composition and I'm going to help you compose between 20 and 30 layouts in one session!
Vous aurez besoin de / You will need :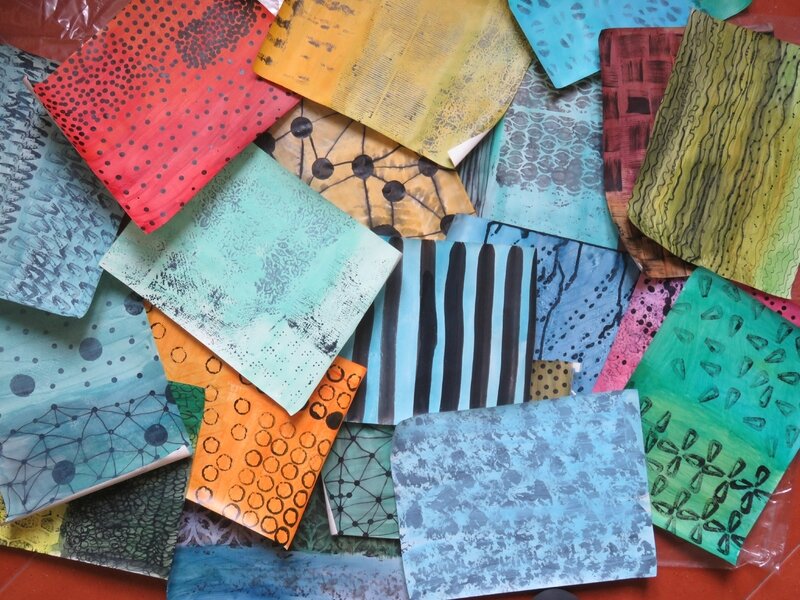 papier avec motifs / papers with patterns
(cliquez ici pour savoir comment les créer / click here to learn how to create them)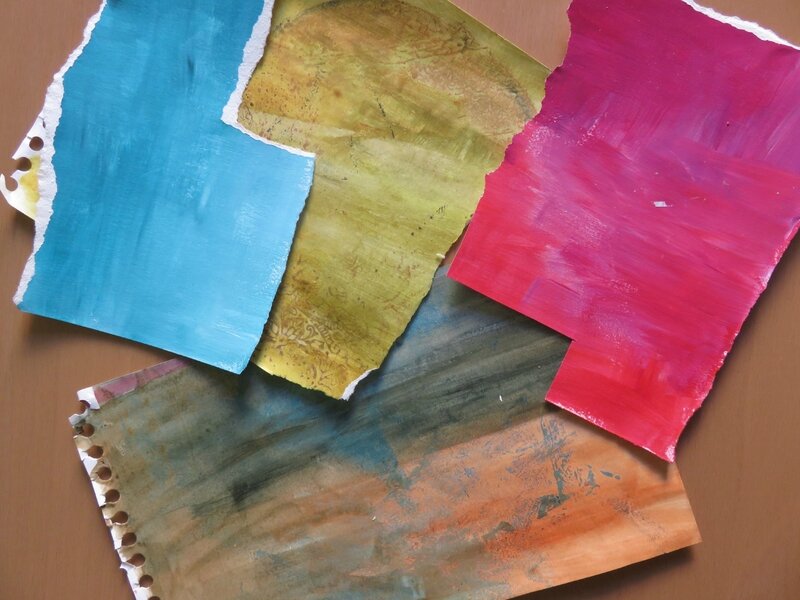 Vous aurez aussi besoin de quelques feuilles de papier brouillon peintes de façon unie, sans motif.
You will also need to have a few sheets of drawing paper painted in one plain colour, without any pattern. (too much pattern would be too busy)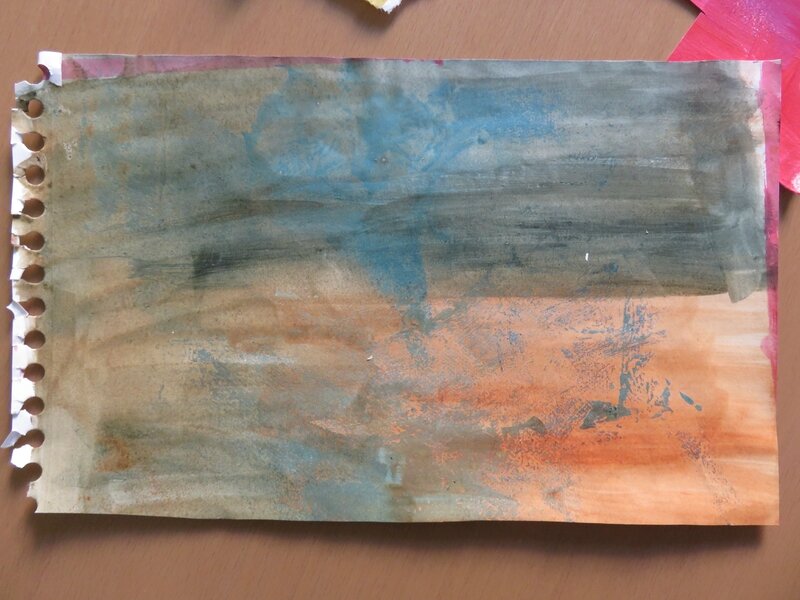 CONSEIL: Ne pensez pas qu'aux couleurs vives. C'est aussi important d'avoir des couleurs ternes ou neutres, elles sont très utiles pour équilibrer les compositions.
TIP: Don't stick to bright colours. It's also nice to have dull or neutral colours, they will sometimes be very useful to balance the composition.


Bien sûr vous aurez besoin de ciseaux pour couper les morceaux
Of course you will need scissors to cut pieces
mais pensez aussi à les déchirer, les bords seront plus variés.
Faites attention à votre façon de déchirer : parfois on voudra un bord blanc, ou pas.
but also think of tearing them up, the edges will vary.
Think of the way you tear : sometimes you will want a white edge, or not.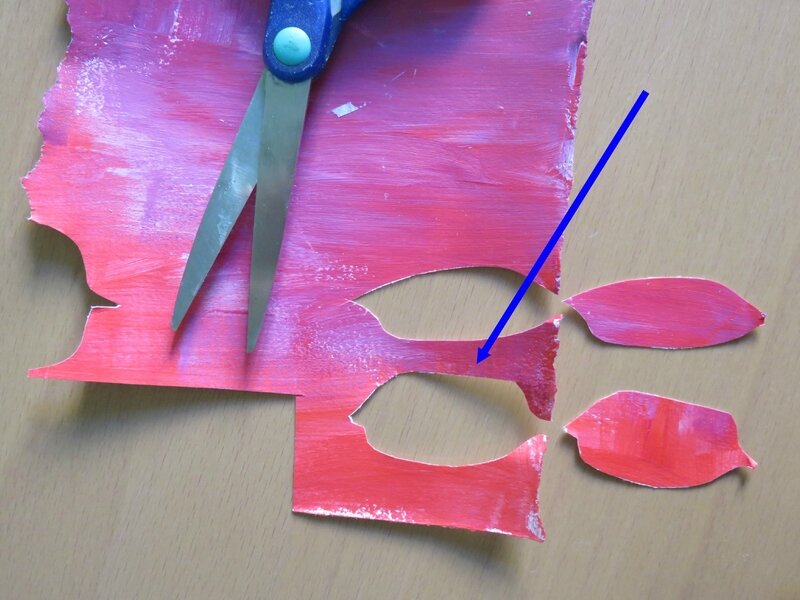 CONSEIL: Quand vous coupez vos morceaux, regardez aussi les formes que vous avez créées sans le vouloir
TIP: When you cut pieces, you must also look at the shapes you have unwilingly created in between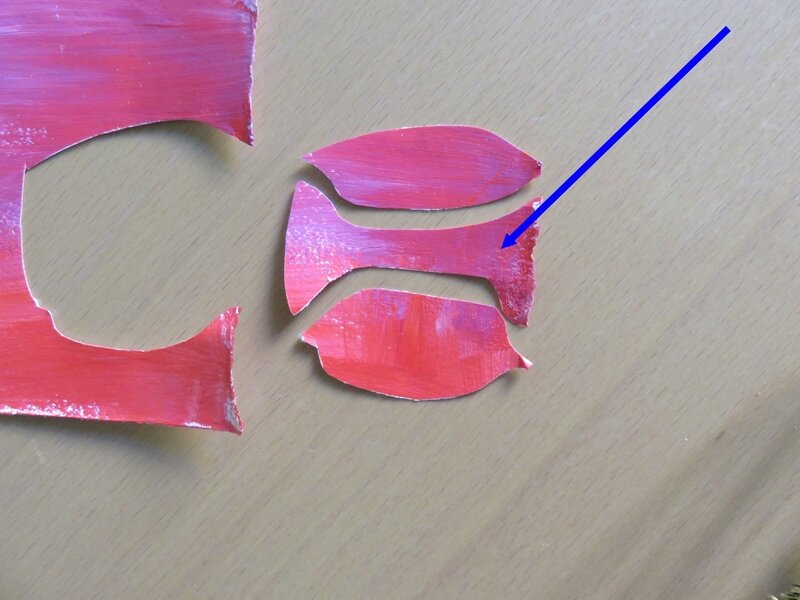 elles peuvent faire des morceaux intéressants / they can also make interesting pieces
Bizarrement peut-être, vous n'allez pas avoir besoin de colle, ... enfin pour commencer; juste votre appareil photo
Strangely enough, you won't need any glue for a start. Just your camera.
Mais vous avez besoin d'un fond pour délimiter vos compositions.
Aujourd'hui contentez-vous d'un fond blanc : prenez 4 feuilles de dessin épaisses (200g minimum, ou mieux, 300g) ou bien 4 toiles.
La taille de ces feuilles ou de ces toiles est au choix.
Mettez ces feuilles sur la table, ou même par terre.
CONSEIL: ne vous asseyez pas, le fait d'être debout libèrera vos mouvement et vous donnera plus de recul pour visualiser les effets des compositions. C'est pourquoi placer les compositions par terre peut se révéler utile.
You are going to need a background to delimit your compositions.
Today we will stick to a white background: take four sheets of white paper (200g minimum, 300g better) or canvases.
The size is up to you.
Put them on the table or even on the floor.
TIP: I advise you not to sit: standing up will free your movements and will give you a better perspective to judge the effects of the different compositions. That's why putting the compositions on the floor can be useful.
Commencez à arranger vos morceaux sur le fond blanc : placez pour commencer les morceaux les uns contre les autres.
Remarquez la combinaison des motifs et couleurs.
Ne collez rien, bougez les morceaux dans un sens et un autre et essayez de trouver la meilleure composition.
Start arranging your pieces on the white background: first put pieces close to each other.
Notice the combination of patterns and colours
Don't glue anything, just move the pieces around this way and that, and try and find the best composition.


Au début il vaut mieux grouper vos morceaux. Ensuite vous pouvez ajouter éventuellement des morceaux qui touchent le 'bloc' mais s'en éloigne ou qui ne touchent pas le 'bloc' principal. Il suffit parfois de rajouter un petit morceau pour que la composition fasse de l'effet.
Vos yeux vous diront celles qui sont agréables ou pas, celles qui sont trop compactes ou celles qui sont trop éparpillées. Il n'y a pas de vrais règles de composition, seulement quelques conseils :
Pensez à varier la taille des morceaux, et leur forme (rond/ovale - carré/rectangle)
pensez à alterner les morceaux à motifs et les unis
pensez à varier les bords (déchirés ou coupés)
pensez à varier les lignes (droites, courbes, obliques)
pensez à l'agencement des couleurs (vif contre terne, nuances voisines ou opposées sur la roue des couleurs)
First try to group your pieces together. Only then you can add pieces that touch the main 'block' but point away from it, or that don't touch the main 'block'. Sometimes just adding a small piece will make the whole thing come together.
Your eyes will tell you which ones are pleasing or not; which ones are too compact and which ones are too scattered. There are no real rules to composition, just a list of advice:

Vary the size

of the pieces and

their shape (round/oval - square/rectangle)

alternate pattern and plain

vary the edges (torn or cut)
vary the lines (straight, curved, slanted)
combine your colours (dull-bright, close or opposed colours on the colour wheel)
Quand vous êtes satisfait d'une composition, prenez une photo. Prendre une photo vous libèrera de la 'peur' de perdre vos idées. Prenez si besoin une photo à chaque étape de chaque ajout.
Et continuez, ajoutez d'autres morceaux, une autre couleur, tournez, échangez, inclinez, ... etc.
When you are satisfied with a lay-out, take a picture. Taking a picture will free you from the fear of 'losing' your good ideas. You can even take a picture at each step.
Then move on, add more pieces, add another colour, turn, switch, slant, etc...
Prendre des photos a aussi un autre advantage: cela vous aidera à choisir : un peu plus tard, vous regarderez les photos des compositions que vous avez créées et les voir sur votre écran d'ordinateur vous aidera à les voir soudain avec un oeil neuf. Ce que je trouve souvent utile, c'est les regarder non pas en plein écran mais au contraire sous forme de vignette.
Taking pictures will also help you choosing: a while later you will look at the pictures of compositions you have created and seeing them on your computer will help you see them with fresh eyes. What I often find very helpful, is look at them not on full screen but as a thumbnails.
Voici quelques exemples des compositions que j'ai faites. Vous repèrerez aisément les mêmes morceaux qui ont été utilisés dans plusieurs compositions et qui ont bougé (a-b-c-d,j-k-l, n-o), ou bien les compositions qui ont graduellement évolué (p-q-r, s-t-u, v-w-x).
Here are a few examples of the compositions I made. You will easily spot the same pieces that have moved around (a-b-c-d,j-k-l, n-o) , or the compositions that have gradually evolved (p-q-r, s-t-u, v-w-x).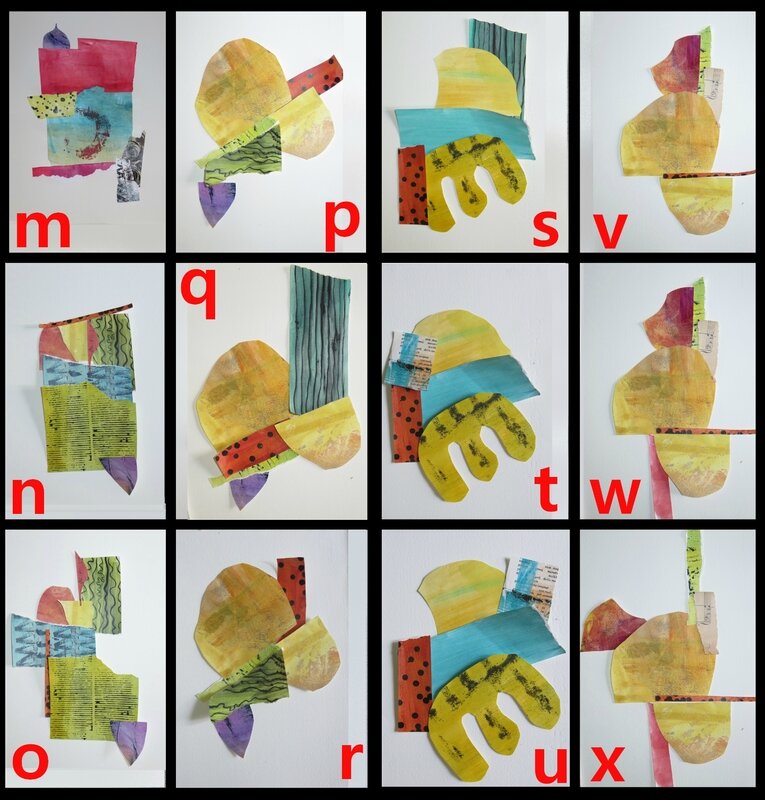 Quand vous aurez choisi les compositions que vous préférez, vous pourrez alors les coller.
When you've chosen the compositions you prefer, you can then proceed and glue them.
L'exercice d'aujourd'hui est un excellent entrainement :
Today's exercise is an excellent training:
vous avez créé des tas de compositions sans avoir peur de bouger les formes /

you have created loads of lay-outs without being afraid of moving shapes around;

vous avez remarqué l'impact quand on ajoute un morceau (même petit) /

you have noticed the impact of adding one (even small) piece

;
vous avez réalisé les effets des différentes combinaisons de motifs et de couleurs /

you have realised the effects of different of combinations of patterns and colours.
De plus, vous avez maintenant un catalogue de composition que je vous conseille de garder précieusement.
What's more, you now have a huge catalogue of compositions that I advise you to keep preciously.
Voici les compositions que j'ai décidé de coller / Here are the compositions I've decided to glue: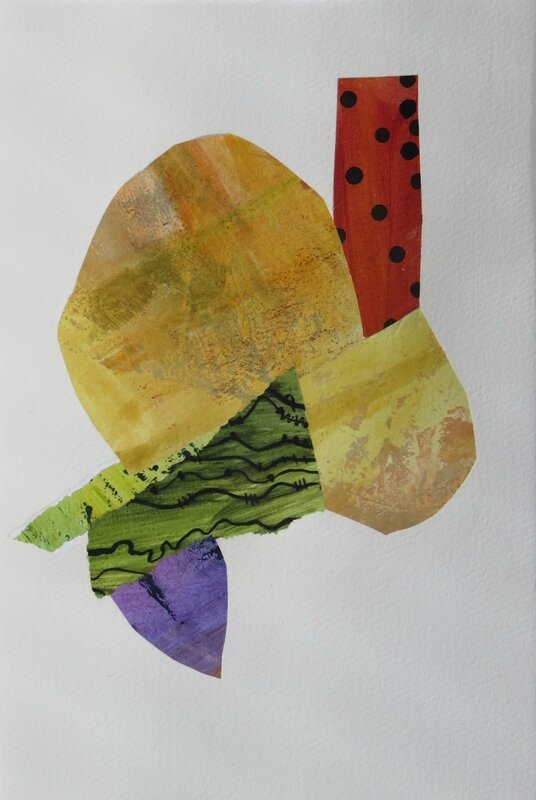 N°166
N°167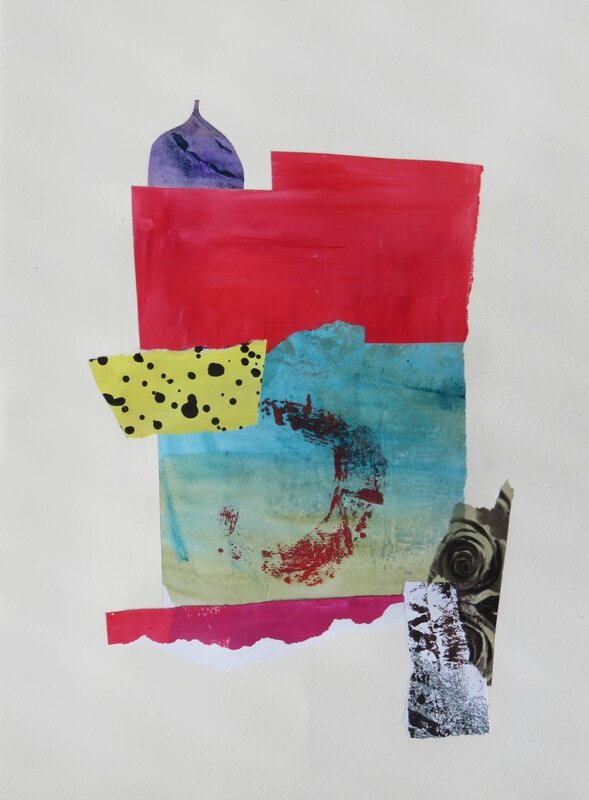 N°168
J'ai aussi fait ce collage / I also did that piece: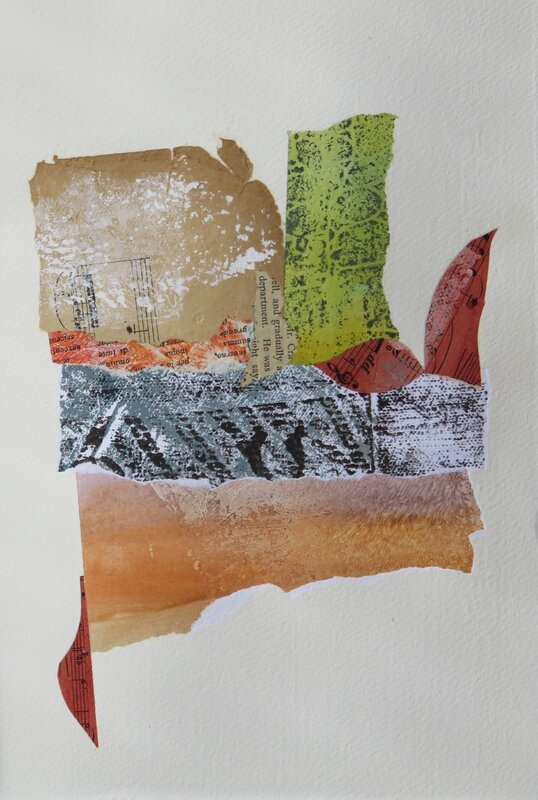 N°169
mais il n'apparaît pas dans le catalogue car j'ai décidé de coller un morceau après l'autre (en commençant par celui du bas) sans pré-arranger la composition globale. ¨Pas de regret possible dans ce cas là. C'est aussi un bon exercice qui aide à prendre des décisions (et s'y tenir!).
but this one doesn't appear in the "catalogue" as I decided to glue one piece after another starting with the bottom one, without pre-organising the overall composition. No turning back there. It's another good exercise, and it helps you stop dithering.
N°166, 167, 168 and 169 sont tous des travaux en cours, je vais les retravailler bien sûr. Le temps nous dira ce qu'il vont devenir.
N°166, 167, 168 and 169 are all work in progress, I'm going to work on them of course. Time will tell us what happens to them.
Attention!! Les collages créent une dépendance ;-)
Beware!! Collages are highly addictive ;-)
19 novembre 2017
Le weekend, lorsque le temps nous le permet, nous aimons aller nous promeneer autour de Rome pour une marche, une visite, ou les deux.
At the weekend, when the weather permits, we like to go around Rome for a nice walk, a visit or both.
En septembre, nous sommes allés faire une courte ballade au départ du village Isola Farnese. A notre retour, nous avons traversé les deux ruelles du hameau. Deux coquis pour deux rues, pas mal, non?
In September we went for a short walk starting from the village Isola Farnese. On our way back we went through the two streets of the hamlet. Two sketches in two street, not bad eh?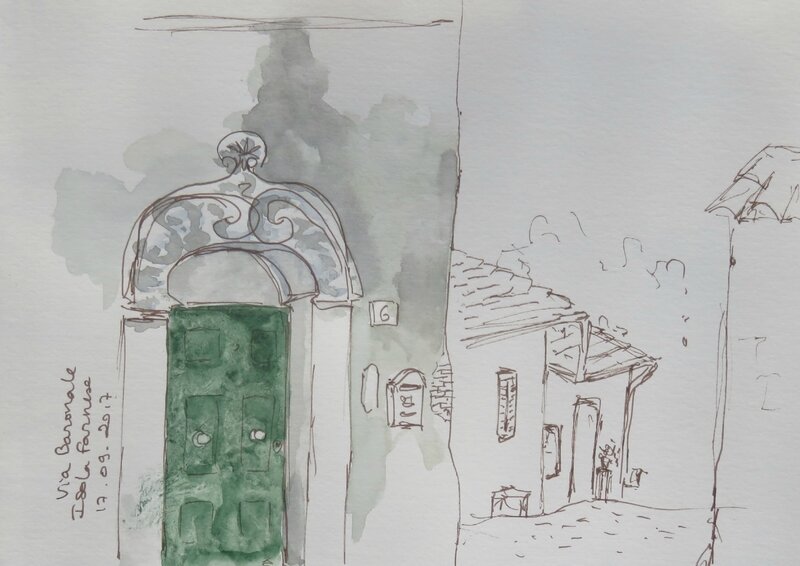 N°161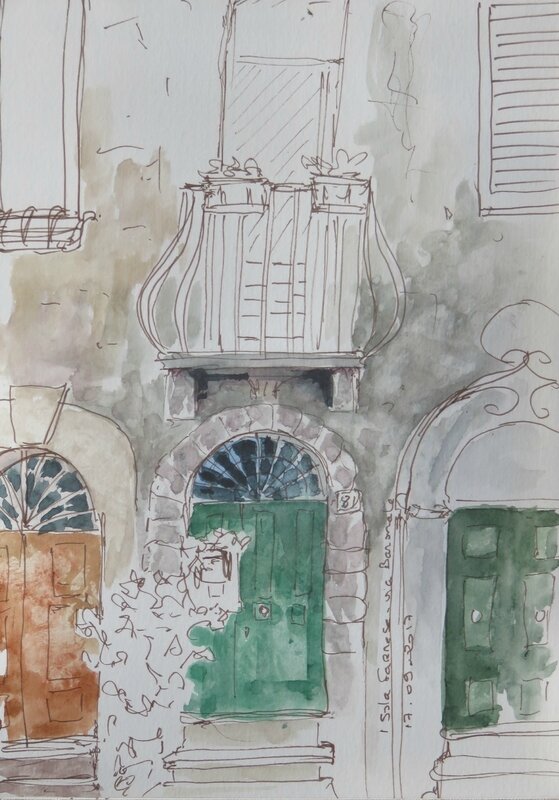 N°162

Le weekend suivant, nous sommes allés nous promener plus longuement le long d'une ravissante rivière. A notre retour, nous nous sommes arrêtés dnas un petit village très animé ce jour là: Calcatta. Nous n'avions pas assez de temps pour explorer cet adorable village médieval alors nous nous sommes promis d'y revenir un jour. Je me verrais bien y passer un après midi entier à croquis les maisons et les ruelles!!
The next weekend we went for a longer walk along a lovely river. On our way back we stopped in the busy village of Calcatta. We didn't have enough time to explore this lovely medievl village so we promised ourselves we'd go back some day. I could easily see myself spending a whole afternoon sketching the streets and houses!!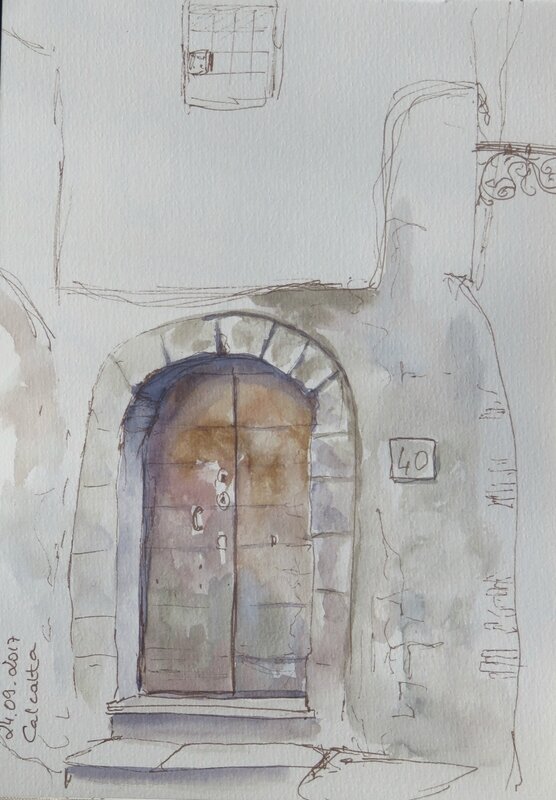 N°163
Le premier weekend d'octobre, nous sommes allés faire une autre balade, mais cette fois, nous avions prévu un pique nique. A peine sommes-nous arrivés qu'il s'est mis à bruiner, mais malgré le mauvais temps, nous avons décidé de nous arrêter à cet endroit superbe. Presque trop parfait pour y croire!
The first weekend of October, we went for another walk, but this time we had planned to have a picnic. As soon as we arrived it started to drizzle, but despite the weather, we decided to stop next to this stunning spot. Too idyllic to believe!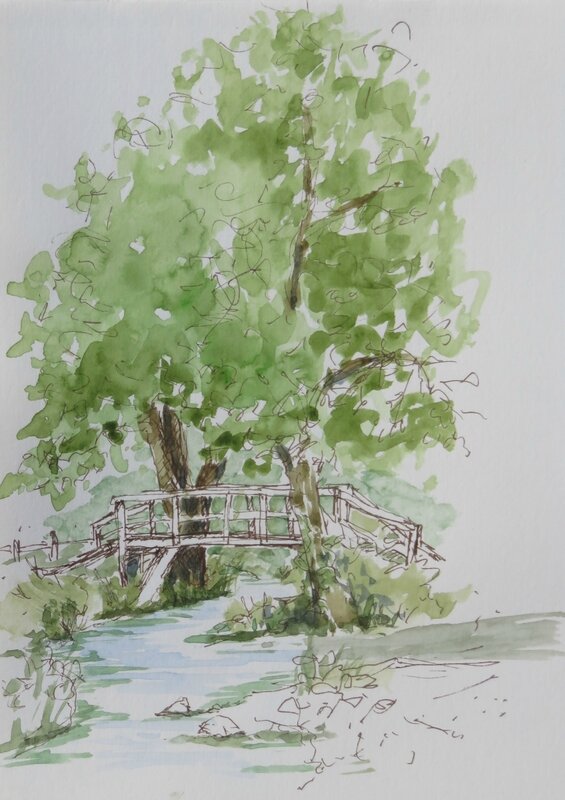 N°164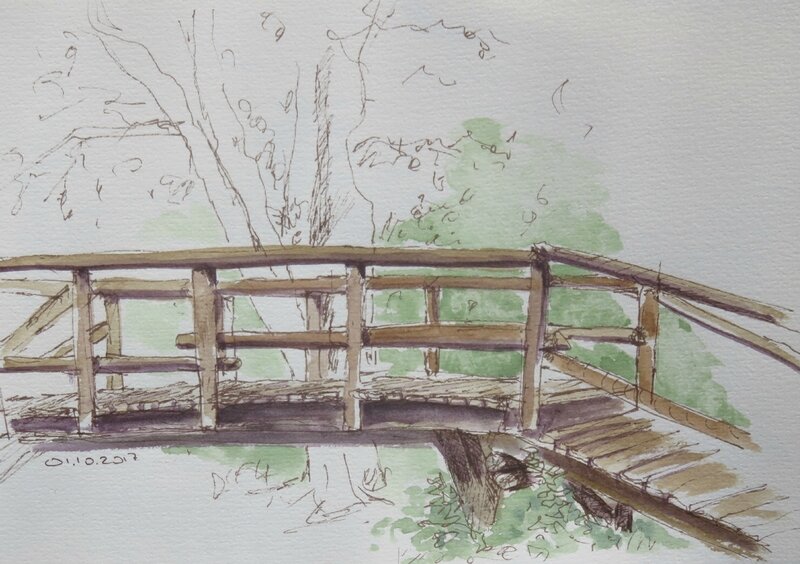 N°165
17 novembre 2017
Hier vous avez vu comment peindre différents motifs. N'oubliez pas que vous pouvez les laisser en noir sur fond blanc, cela peut faire des effets saisissants dans des collages. Mais si vous êtes décidés à les colorer, voici quelques conseils.
Yesterday I showed you how to make marks and paint patterns. Don't forget you can leave them like that in black on a white background, it can create some striking effects in collages. But if you want colour, here are a few tips: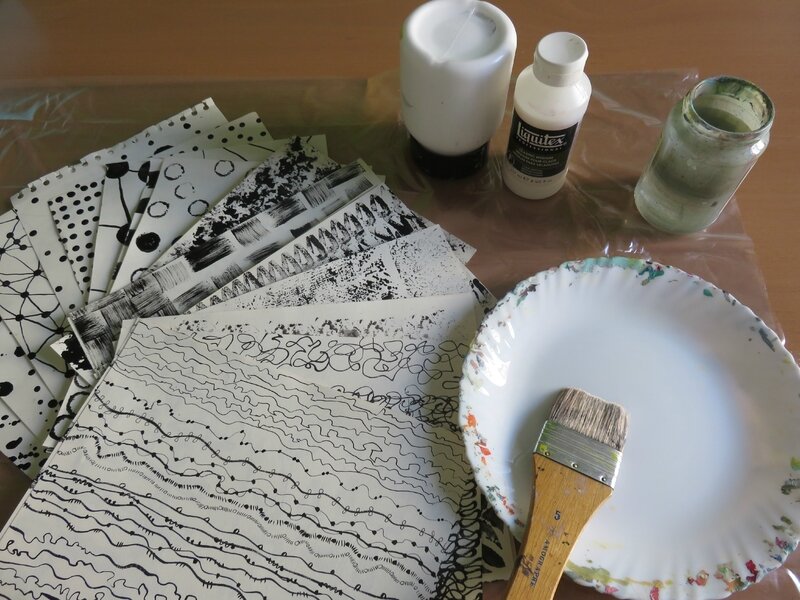 préparez votre pile de papiers à motif, un pinceau large, et vos couleurs (acryliques).
Prepare your stack of paper, a large brush and your colours (acrylics)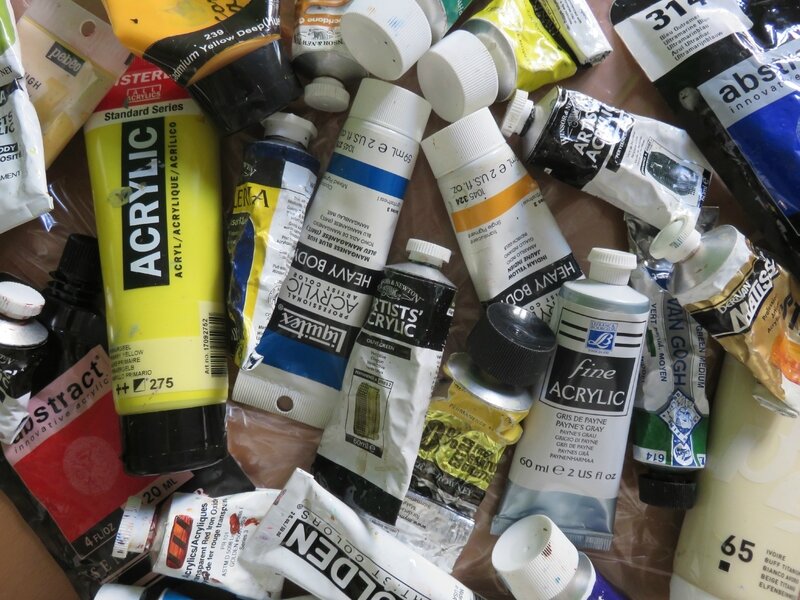 Profitez-en pour faire des mélanges avec des couleurs que vous utilisez peu. Vous aurez parfois d'agréabes surprises
Grab this opportunity to mix unlikely colours, or to use colours you don't often paint with. You'll have some nice surprises.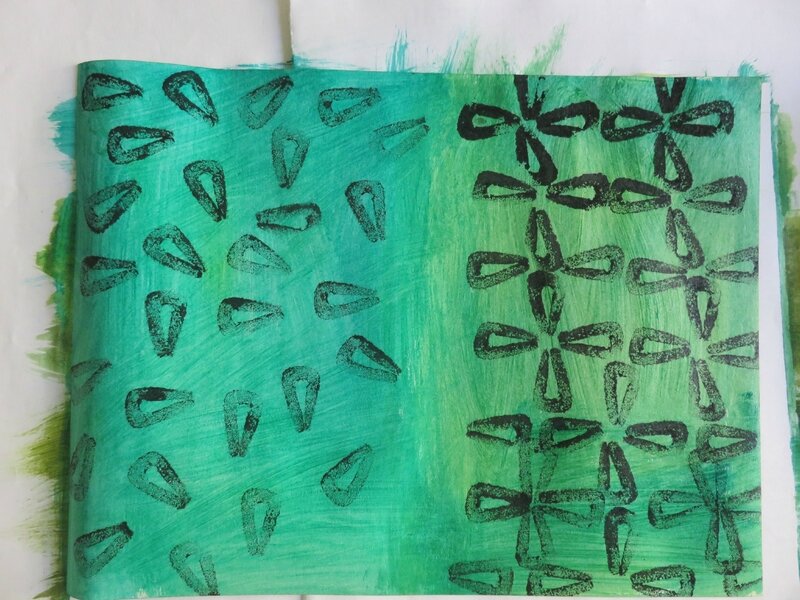 Préférez les couleurs transparentes qui laisseront transparaître les motifs
Take transparent colours, your patterns will show through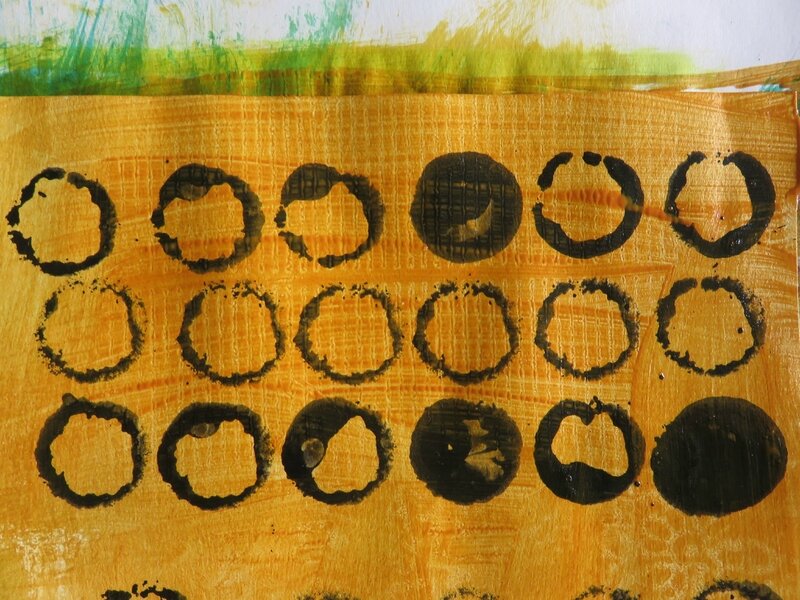 vous pouvez aussi rajouter des effets en appuyant du papier texturé
you can also add some more effects by pressing some textured paper on your fresh paint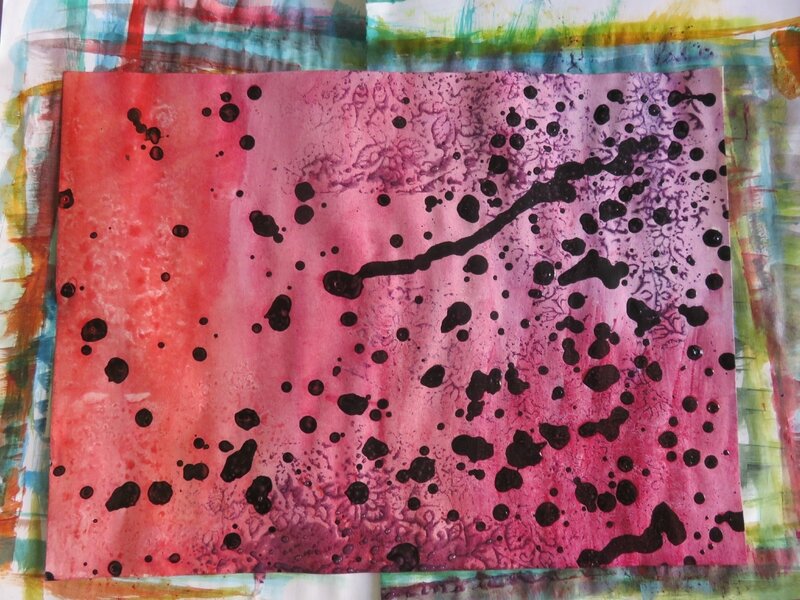 ou du gros sel, pourquoi pas? or even salt, why not?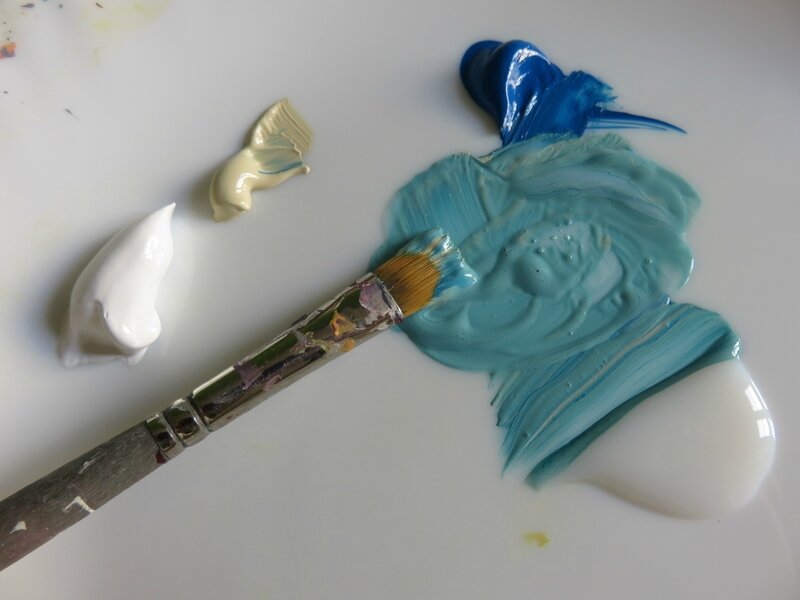 Pour donner de la transparence aux couleurs opaques, rajouter du medium (ici glazing medium) :
If you want to use opaque colours, just add some glazing medium:
à droite couleur opaque avec un peu de medium, à gauche avec davantage de medium. La couleur est beaucoup plus transparente.
on the right opaque colour with a little glazing medium, on the left with more medium. The colour is much more transparent.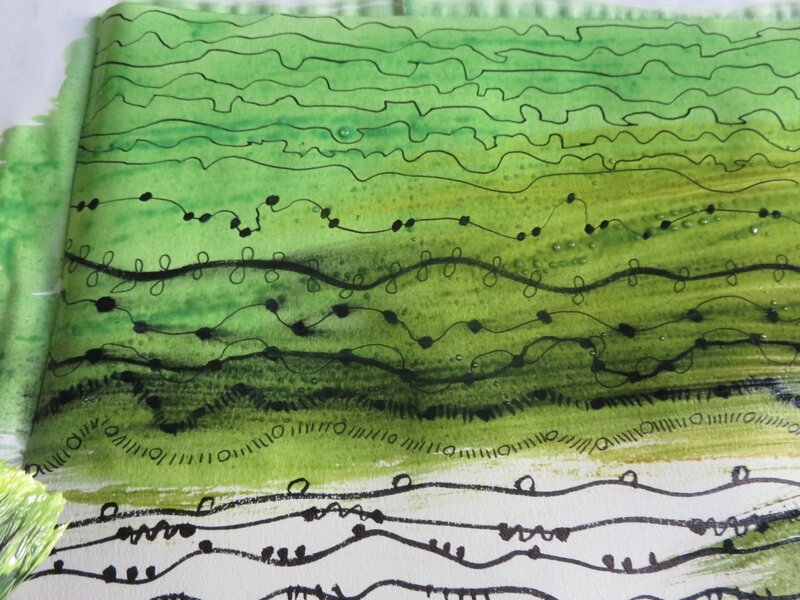 Et même s'il vous arrive, comme à moi, que vos motifs bavent, continuez malgré tout. Vous n'êtes pas à pour faire du "beau". Ces accidents donneront peut-être une ambiance, ou une couleur inattendue, mais qui ira parfaitement dans un collage un jour.
If the ink of your patterns starts to bleed, don't panic, just keep going. You're not there to make something "beautiful". These accidents may create some edge, some surprise,some unexpected colour that will just be the perfect touch to a collage one day.
Au final on a une belle pile colorée avec plein de motifs. A vos ciseaux!
And now, you have a whole pile of colourful papers with lots of different patterns. Get your scissors ready!
La semaine prochaine, je vous parlerai de la composition des collages.
Next week, I'll talk about the lay-out of collages.
16 novembre 2017
Faire des collages, c'est sympa; mais utiliser ses propres papiers à motifs pour faire des collages, je trouve que c'est encore mieux, cela les rend plus uniques. Mais comment faire des motifs ? En gros, il suffit de répéter une forme ou ligne! Voici un tuto tout simple:
Collages are great fun, but f you use home made patterned paper, then it's even better, it makes them so much more unique. But how do you make patterns? Well basically, you only need to repet a shape or line. Here's an easy tutorial:

c'est une excellente façon de s'entraîner /

it's an excellent way of practising

vos papiers pour les collages seront uniques

/ your collage papers will be totally unique

vous ferez marcher votre imagination pour faire des marques de toutes sortes

/ you will use your imagination to make marks of all sorts

vous vous détendrez et en serez encore plus créatif(-ve)

/ you will loosen up and be even more creative

!
Préparez une pile de papier à croquis bon marché / Just pepare a stack of cheap drawing paper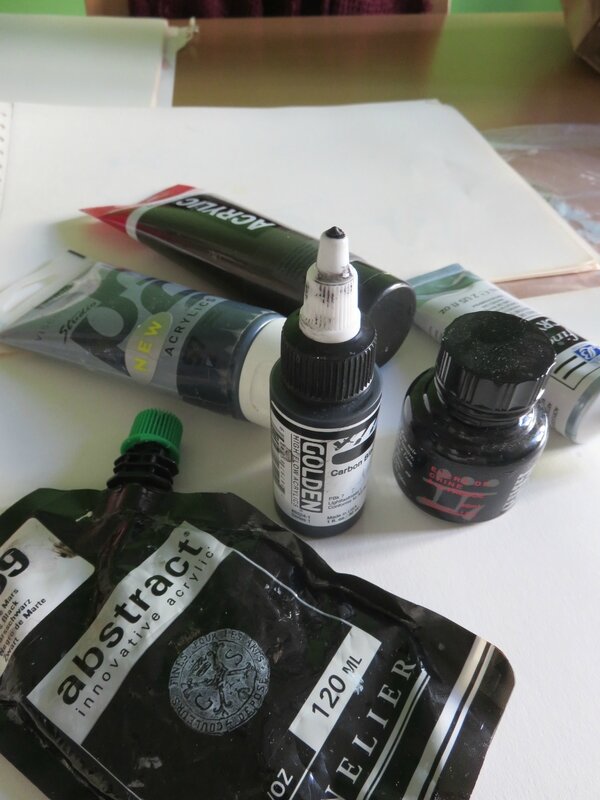 Préparez vos couleurs : j'ai préparé de la peinutre acrylique épaisse (Indigo, gris de Payne, terre d'ombre brûlée, noir), de l'acrylique liquide (noir), et de l'encre de chine (noir). Mais finalement, je n'ai utilisé que l'acryique fluide et l'encre de chine.
Prepare your colours: I prepared thick acrylic paint (Indigo, Payne's grey, some dark brown, black), some fluid acrylic paint (black) and some indian ink (black), but in the end I only used the indian ink and the fluid acrylic.
Préparez vos outils : pinceaux larges et fins, des objets-maison pourfaire des impressions (bouchons en liège, coton tige, ...), des papiers texturé, des pochoirs, tout ce qui vous vient à l'esprit.
Prepare your tools: Thick and thin brushes, markers, different brushes, home made stamping tools (old corks, q-tip, ...), textured papers, stencils, ... anything you can think of.
Et c'est parti, ne pensez plus, détendez-vous / There you go, just don't think, relax: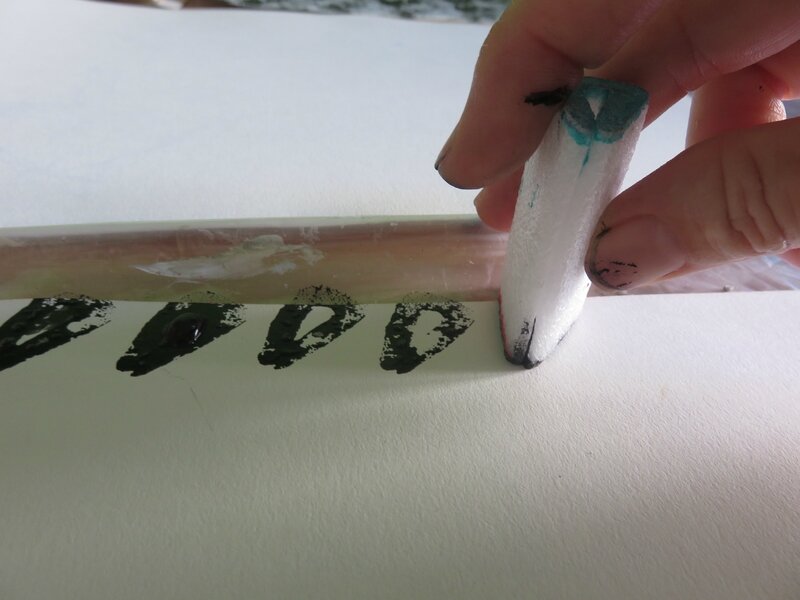 n'oubliez pas de peindre jusqu'aux bords - et de protéger votre surface de travail!
don't forget to go over the edges - and cover your work top!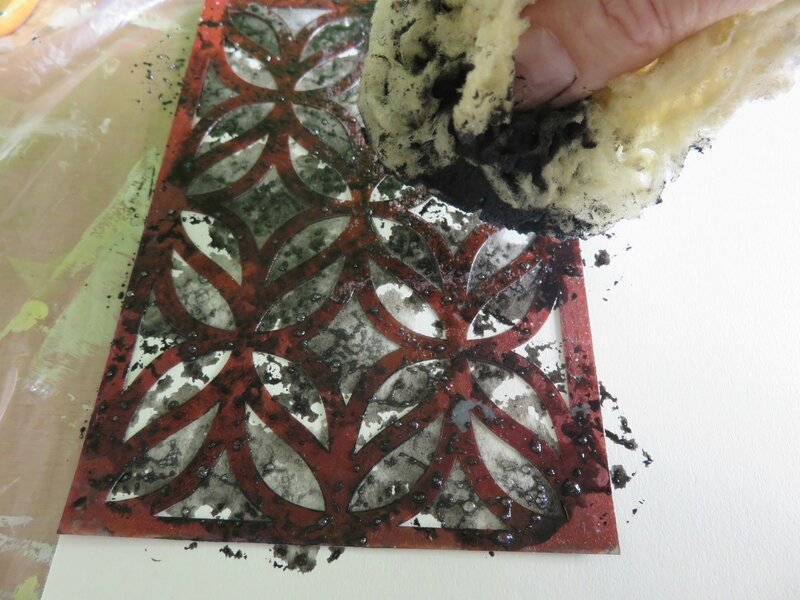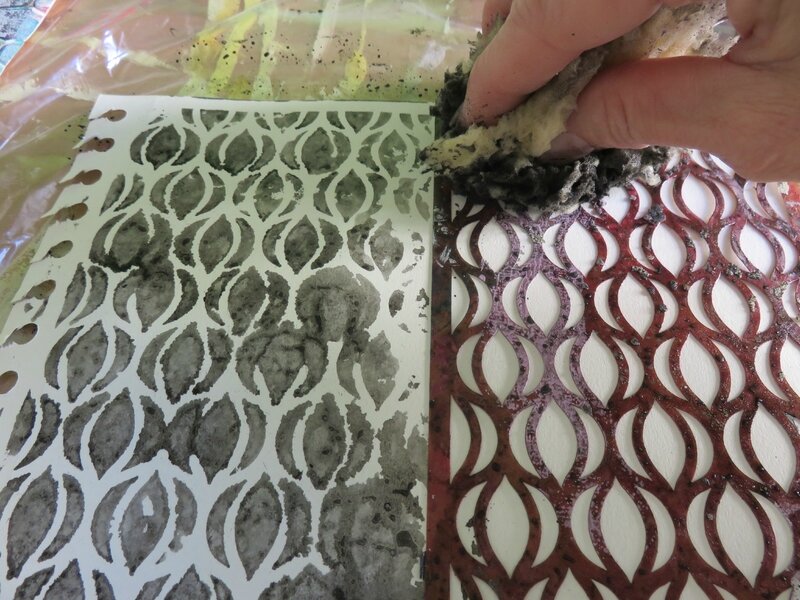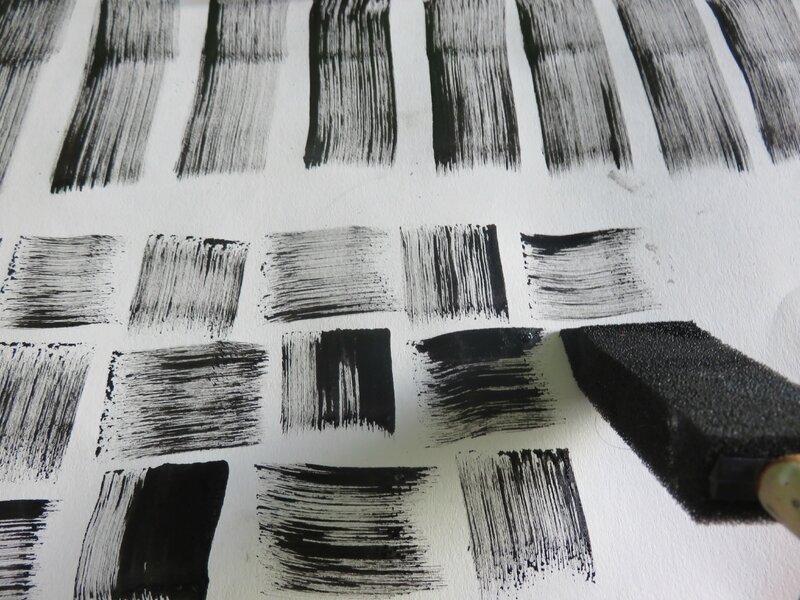 Selon le motif, vou aurez envie de couvrir une feuille entière, ou juste une partie. Ne laissez pas d'espace libre, finissez la page avec un autre motif si besoin.
depending on the pattern, cover the whole page or parts of it. Don't leave empty spaces, finish the page with another pattern if necessary.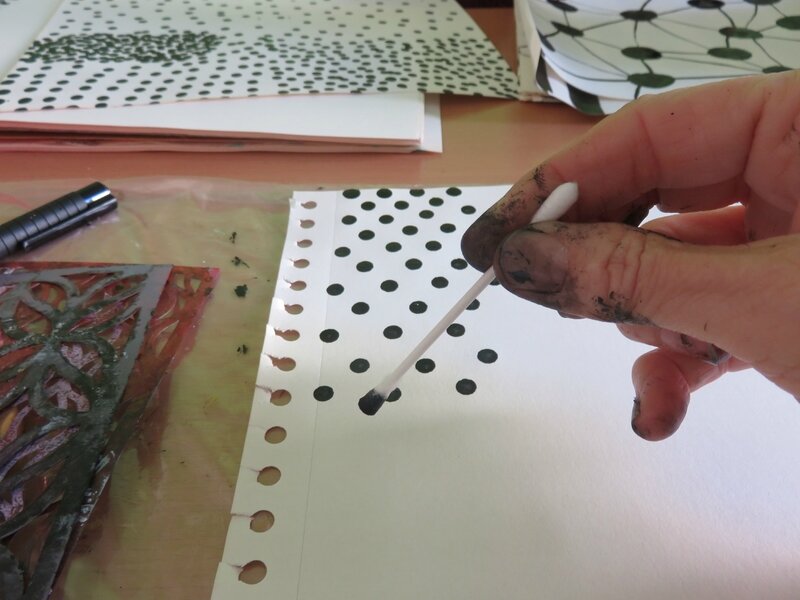 Peignez des motifs en rang serré ou au hasard / Paint motifs in tight rows, or at random
a - Lignes avec pinceau large / lines with thick brush
b - gouttes avec l'acrylique liquide en ligne / drops with fluid acrylic in lines
c - gouttes avec l'acrylique liquide au hasard / drops with fluid acrylic at random
d - éclaboussures à la brosse à dent / spatters with toothbrush

CONSEIL: Ne jouez avec les gouttes qu'à la fin de votre séance, c'est très salissant
TIP: only play with drops of fluid acrylic or ink in the end: it can get veeery messy)
e - motifs faits avec du papier texturé (tapisserie) - selon le papier et la texture, cela peut créer des effets intéressants
patterns made with textured paper (wallpaper) - depending on the paper and the texture, it can create interesting marks
f - pochoir, encre et éponge / stencil, ink / sponge
g - motifs tracés à la main - pochoir, encre et éponge / handmade pattern with marker


Peignez aussi des lignes de toutes sortes / Paint all sorts of lines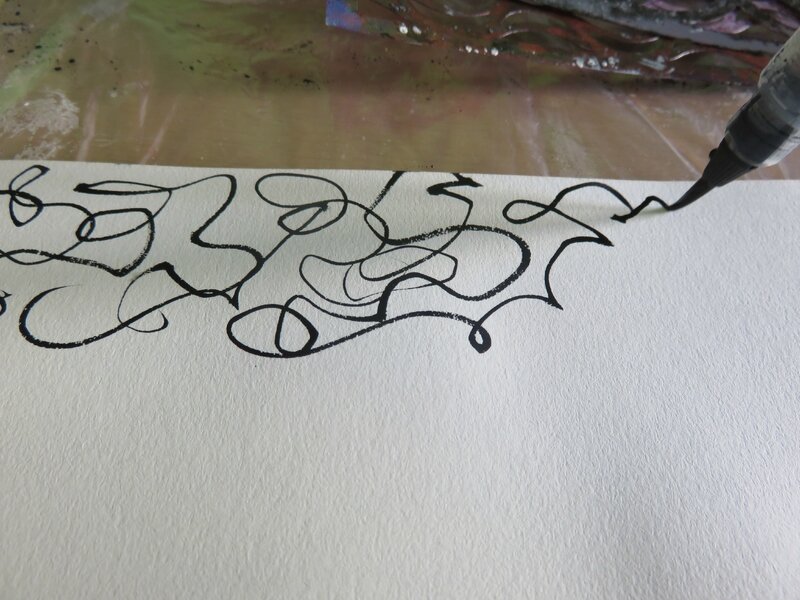 Lâchez-vous ! / Loosen up!
CONSEIL: Pourquoi ne pas utiliser une main, puis l'autre, vos marques seront différentes!
Pourquoi ne pas tenir le pinceau/feutre par le bout? Vos marques seront plus légères!
TIP: Why don't you use one hand, then the other? The marks will be different!
Why don't you hold the brush/pen from the very top? Your mark will be lighter!
Et maintenant, vous avez une belle pile de papier à motif.
Vous pouvez les utiliser tels quels, ou les recouvrir d'une couche de peinture transparente, demain je vous montre ça.
And now you have a nice little bunch of papers with patterns.
You can use them as is, or cover them up with a transparent layer of colourful paint. Tomorrow I'll show you how.


Et une fois qu'on a des motifs, on peut créer de merveilleux collages, cliquez ici pour apprendre à composer des collages abstraits.
Once you have your patterns, you can create wonderful collages, click here to learn how to lay-out abstract collages.
14 novembre 2017
Inspiration : pendant les vacances, nous avons fait l'aller-retour Rome-Montpellier en voiture. 10h de trajet pour traverser l'Italie et le sud de la France quand les vignes d'octobre-novembre roussissent, et que les arbres se parent d'or.
Inspiration: during the half term holiday, we drove back to France. A 10-hour drive through Italy then across Southern France with October and November red vineyards and golden yellow trees.
Envie de jaune.
I feel like painting yellow now, only yellow.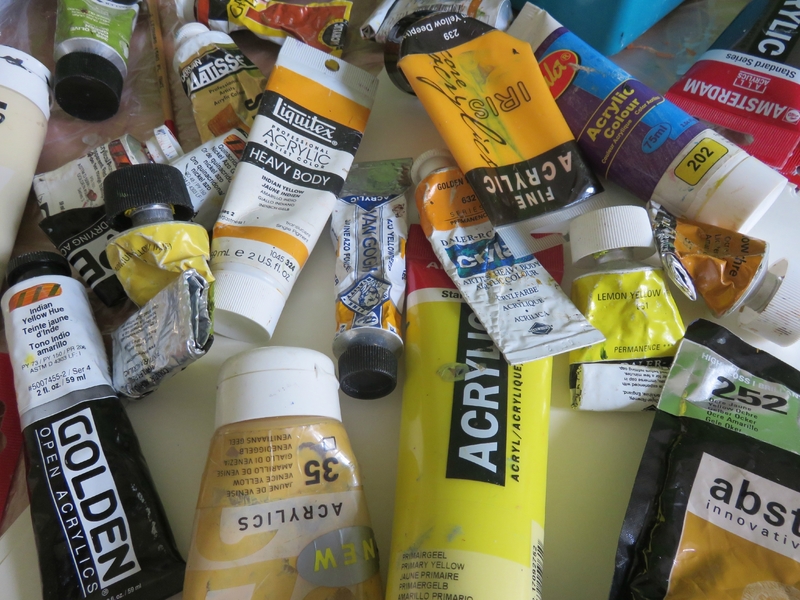 on sort tous les jaunes de la boîte
so let's get all the yellows out of the box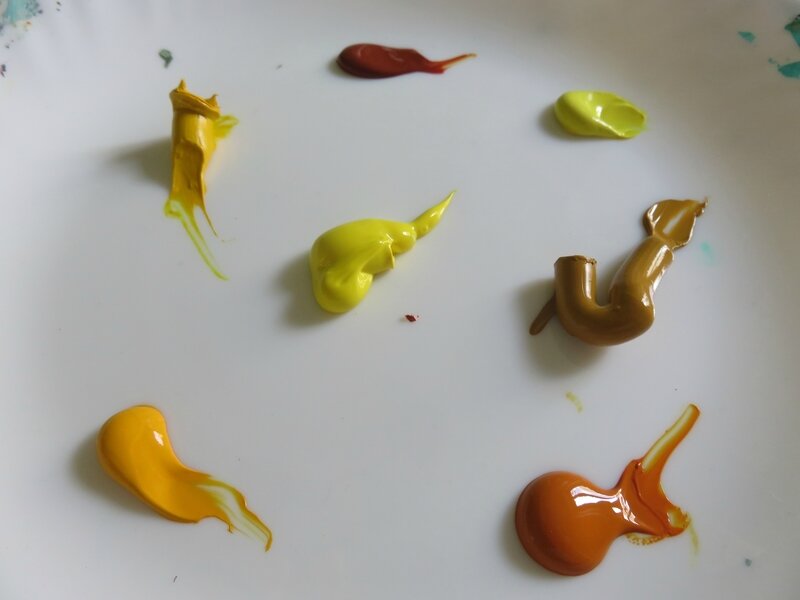 Jaune citron, jaune primaire, jaune Indien, jaune de cadmium, jaune azo foncé, jaune de venise, et j'y ai ajouté ocre jaune et quinacridone gold
Lemon yellow, primary yellow, cadmium yellow, Venice yellow, Azo yellow deep, Indian yellow, and I added Quinacridone gold, Yellow Ochre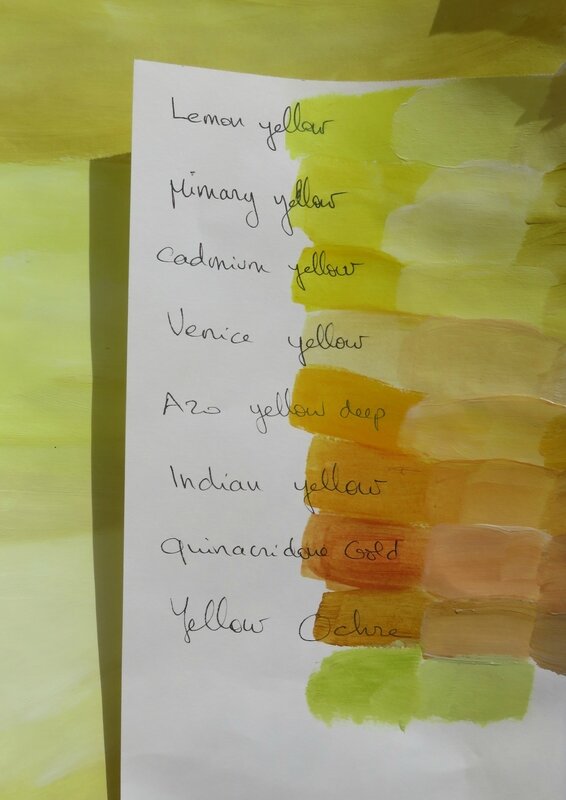 je les mélange successivement à du blanc, du gris, du beige. Le but est de voir toutes les subtiles nuances, parfois très proches, et d'habituer son oeil
I mix them up successively with white, warm grey and buff white. The aim is to see all the subte hues, most of the times very close, and train your eye to distinguish them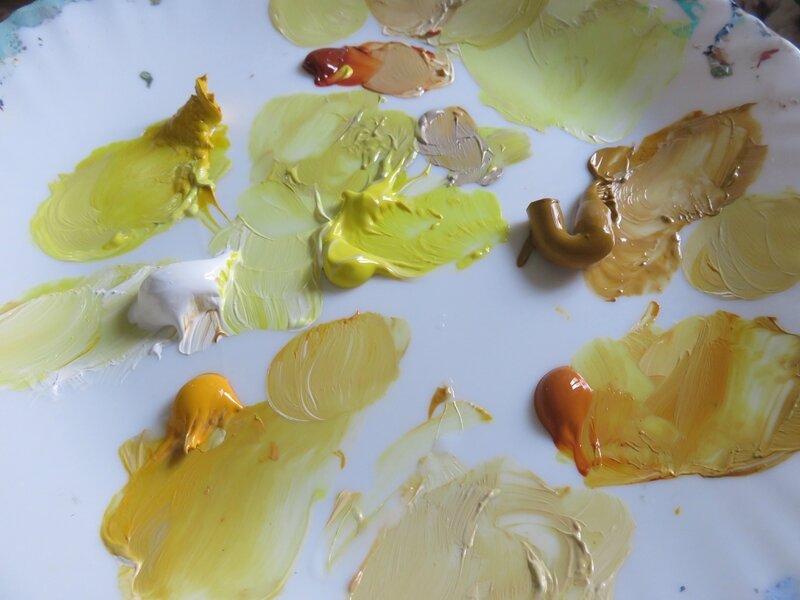 puis je mélange à d'autres couleurs plus fortes: vert olive clair, gris de Payne, vert de Pérylène, ...
then I mix them up with stringer colours: light olive green, Payne's grey, Perylene green, ...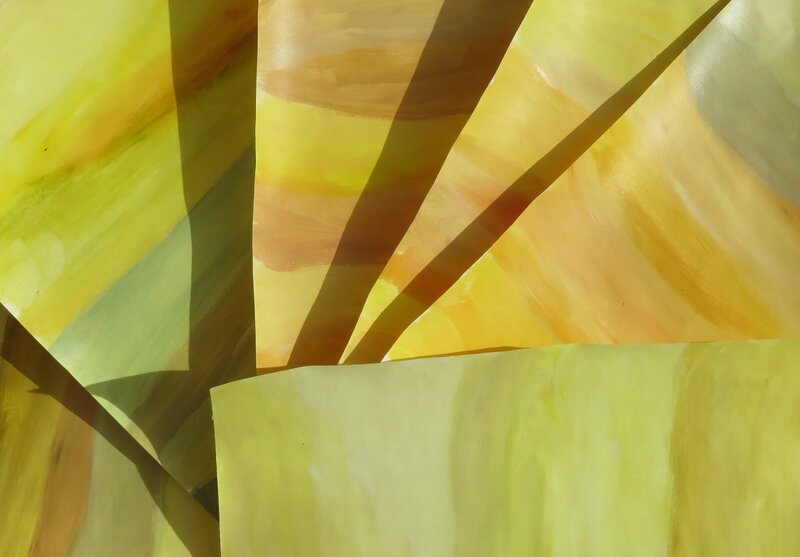 En peignant vos jaunes mettez en rapport les différentes nuances : observer combien un jaune si pâle devient si acidulé quand on le met près d'un jaune éteint. Faites des expériences, tentez les mélanges, et badigeonnez vos feuilles sans réfléchir. Soyez juste au plaisir d'étaler les couleurs les unes à côté des autres.
Put the different hues next to each other: notice how pale yellow becomes vibrant when put next to a dull yellow. Experiment, try mixing unlikely colours, cover your papers without thinking. Just enjoy the pleasure of mixing and painting colours next to one another.
Conseil: Ne faites pas des rayures trop petites (comme moi!!)
Tip: Don't paint small stripes (like I did!)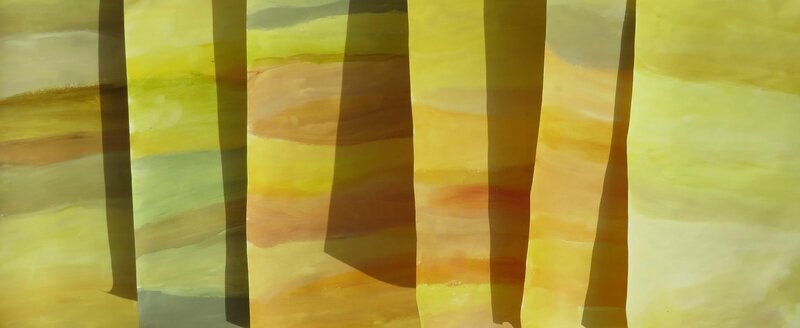 Et cela donnera une série de feuilles avec des dizaines de nuances de jaunes-vert-brun.
And that will give you a stack of papers with tons of yellowish hues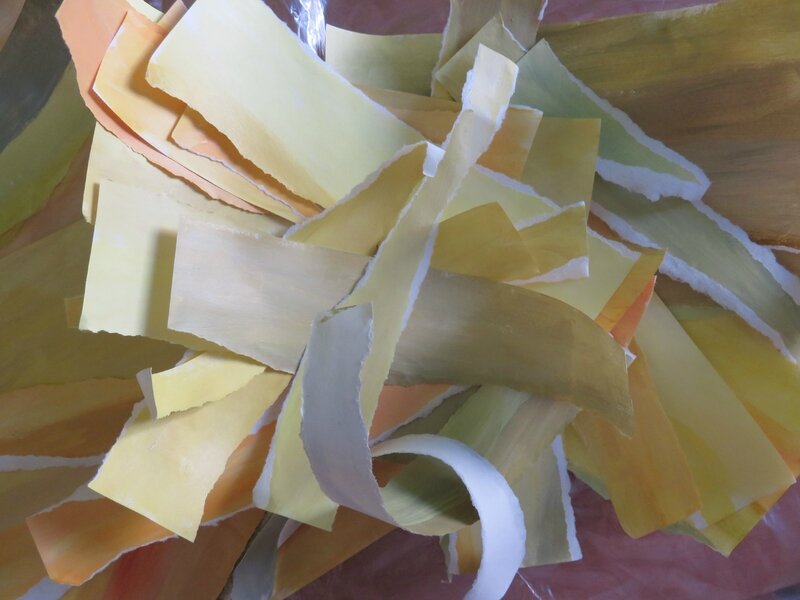 Le lendemain, j'ai découpé ces papiers en bandelettes
The following day I tore them up in stripes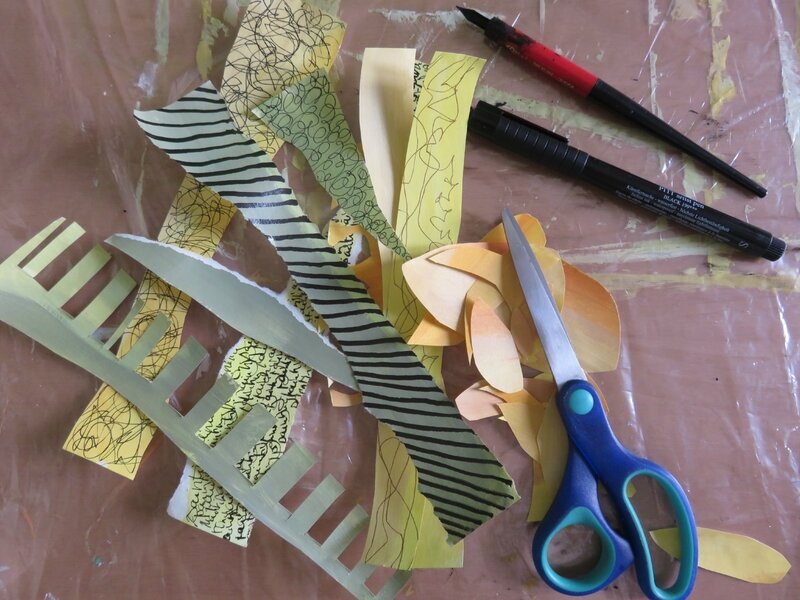 puis j'ai fait des motifs sur certaines bandelettes, découpé d'autres avec diverses formes
then I drew some patterns on some stripes, and cut others in different shapes
j'ai pris 5 feuilles blanches (200g minimum, c'est mieux avec du 300g) et je me suis amusée à faire des collages.
I took five sheets of white paper (200g minimum, better with 300g) to make some collages.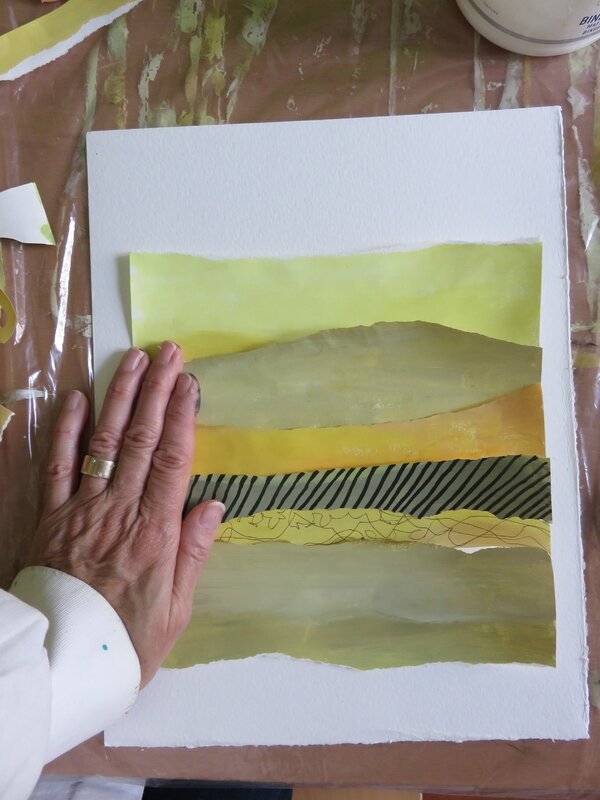 L'avantage du collage c'est qu'on peut avoir très vite et sans rien fixer, une idée de ce que cela peut donner
The good thing about collages is that you can immediately get an idea of what it would look like, without even glueing anything
on peut arranger les bandelletes dans tous les sens.
you can arrange the stripes in different ways.
Je prends souvent des photos pour garder une mémoire de ces compositions qui n'ont pas forcément abouti.
I usually take pictures to keep some memory of the different layout which don't all "happen"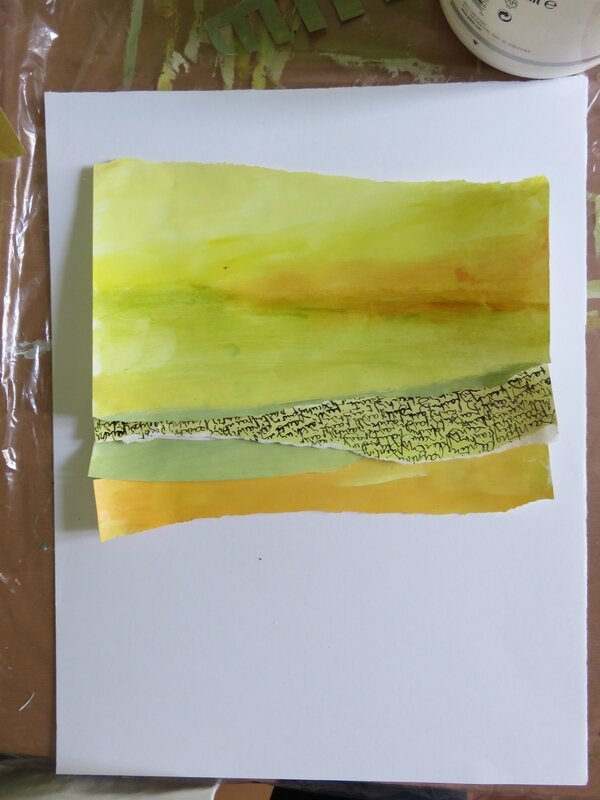 Parfois je pré-arrange une grande série de morceaux puis je colle dans le même ordre
Sometimes I plan a series of stripes in a certain order and then glue them in exactly the same way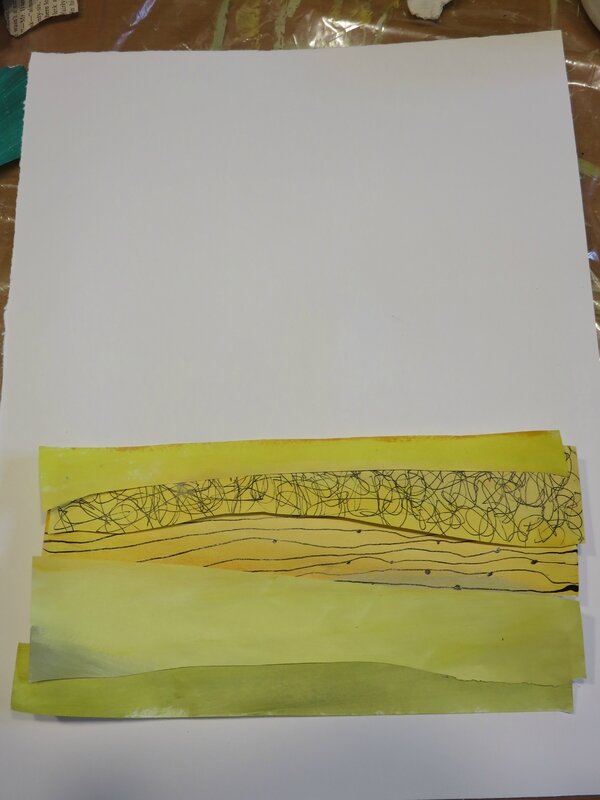 et parfois je colle d'emblée une bande de départ, puis je réfléchis au fur et à mesure à la suivante sans avoir rien prévu
or sometimes I glue the first piece, then think and glue along the way without having planned anything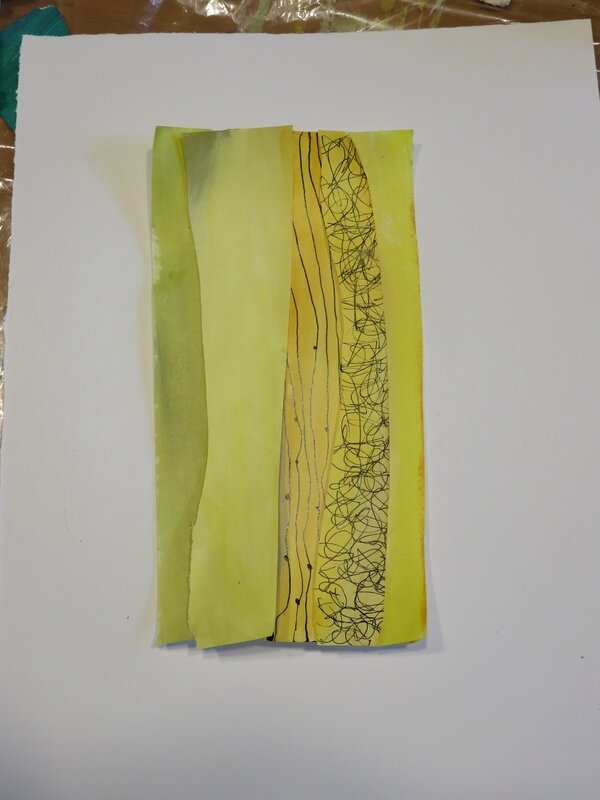 ne pas oublier de changer la feuille de sens, pour voir...
Don't forget to turn the pieces one way and the other, just to see how it looks...
Mais pour cette série, je suis à chaque fois revenue au même sens : feuille portrait, et bandes horizontales.
But for this series, I always came back to the same: white paper portrait, and horizontal stripes.
Et voici ce que cela donne :
And here's what came out: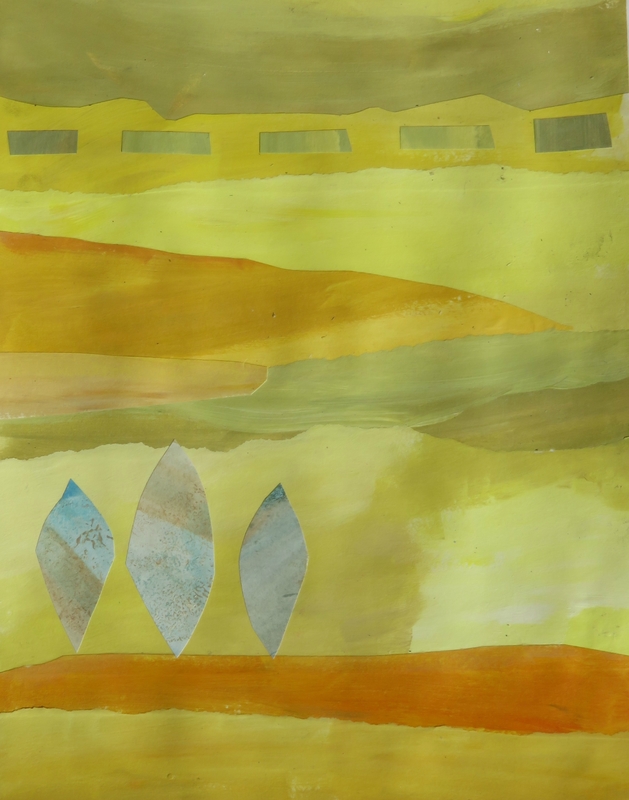 N°156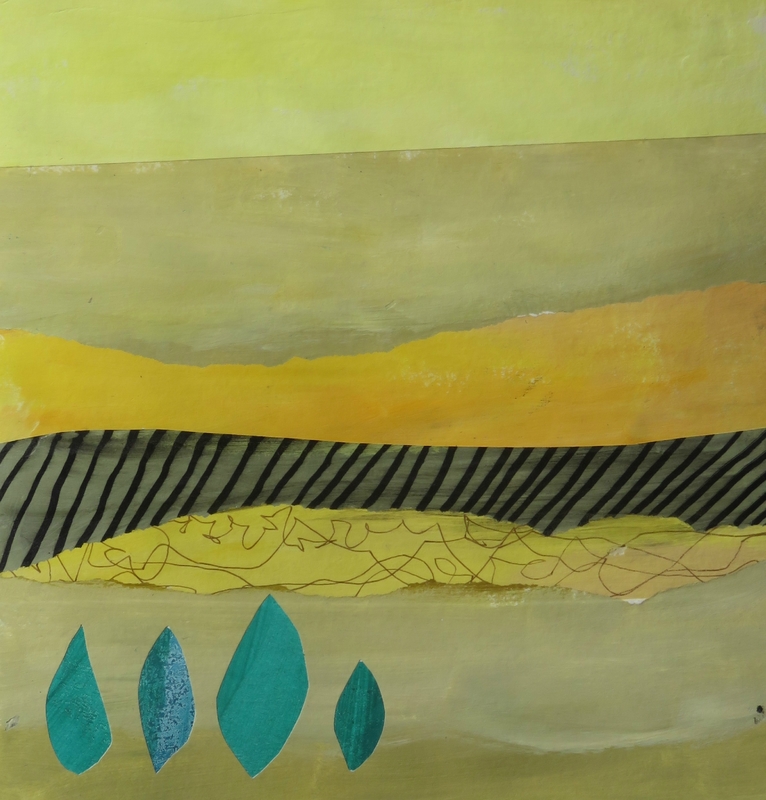 N°157

N°158
N°159 qui n'a pas encore trouvé dans quel sens se poser
which is still not sure which way to be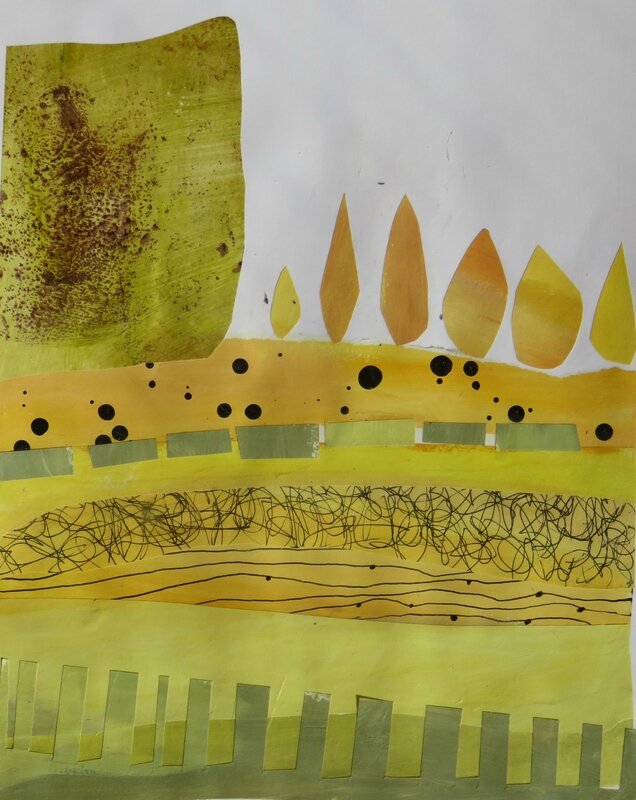 N°160
Ces 5 collages sont encore en cours, je vais les retravailler; mais déjà ces premières moutures me plaisent bien.
These 5 collages are still in progress, I'm going to work on them; but I already like them a lot.
A suivre donc. / To be continued.
10 novembre 2017
Mercato Nomentana, piazza Alessandria : c'est le plus vieux marché couvert de Rome. Il a été construit dans les années 20 et a un net style Art Déco.
it's the oldest covered market in Rome. It was built in the 1920s and has a distinctive Art Deco style.
C'est aussi accessoirement le marché qui est à côté de chez moi et où je fais mes courses.
It's right next to where I live and that's where I do my weekly shopping.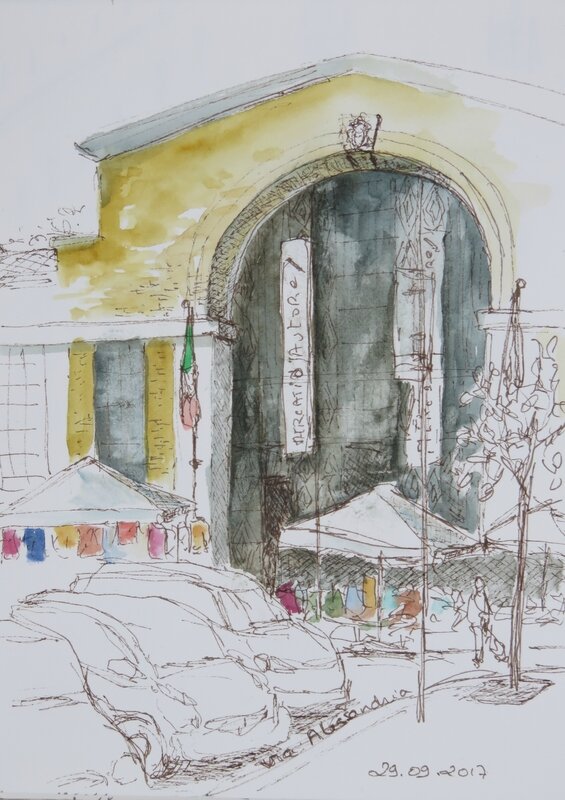 N°154 vue de dehors / the outside
Tous les jours c'est très animé. Il y a toujours des petits marchands devant et derrière.
It's very busy every day. There are always street sellers at the front and at the back.

N°155
vue de dedans, dans l'allée principale. / inside, central aisle
Mon marchand de légumes m'a aperçue en train de croquer et est venu me demander de passer le lui montrer à la fin. Depuis il insiste pour que je croque son étal, mais je n'en ai pas encore eu l'occasion...
My green grocer spotted me while I was sketching this and he was very impressed. He expressedly asked me to show it to him when it was finished. Since that day, he regularly insists that I should sketch his stall, but so far I haven't.
06 novembre 2017
On me dit souvent "Oh tu habites à Rome, cela doit beaucoup t'inspirer!". Quand je suis arrivée en Afrique du Sud je me suis moi même demandée comment et combien cette nouvelle vie sur ce continent allait m'inspirer. J'ai, de fait, comme une petite culpabilité de ne pas me mettre à peindre des balustres italiennes, des colonnes, des zèbres et la savane. Comme des traces bien claires que je pourrais montrer aux gens. Du coup, je m'excuse presque "oh, vous savez, moi je peins de l'abstrait alors..." alors, quoi? rien ne m'inspire? rien ne me touche? Je peins n'importe quoi? En quoi est-ce que l'Italie (ou l'Afrique du Sud, ou le sud de la France) apporte quelque chose à ma pratique, mais en particulier à mon inspiration?
People often tell me "wow, you live in Rome! That must be so inspiring!". When I arrived in South Africa, I wondered the same thing : how and how much is this new continent going to inspire me? I almost feel guitly not to paint Italian balusters, pillars, zebras and savannah.Like clear signs I could show people. I almost apologize "well, you lnow, I paint abstract, so..." So what? Nothing inspires me? Nothing touches me? I'm immune and paint whatever? How does Italy (or South Africa, or the South of France) bring something to my art? and to my inspiration most specifically?
---
Definitions:
Inspiration: n. féminin.
(Larousse)
Mouvement intérieur, impulsion qui porte à faire, à suggérer ou à conseiller quelque action


Enthousiasme, souffle créateur qui anime l'écrivain, l'artiste, le chercheur

Influence exercée sur un auteur, sur une œuvre
Inspiration [ɪnspɪreɪʃən]
(Collins)

uncountable noun: feeling of enthusiasm you get from someone or something, which gives you new and creative ideas
singular noun: If something or someone is the

inspiration

for a particular book, work of art, or action, they are the source of the ideas in it or act as a model for it
a

divine influence or action on a person believed to qualify him or her to receive and communicate sacred revelation

t

he action or power of moving the intellect or emotions

t

he act of influencing or suggesting opinions
---
La question ici est bien de l'influence du lieu de vie sur un artiste. Pour moi c'est une accumulation de sons, de couleurs, une lumière, des textures que je vois chaque jour et qui doivent, malgré moi, ressortir un jour dans mes oeuvres. C'est tellement inconscient qu'il m'est souvent difficile de mettre le doigt dessus.
The question I'm dealing with here is the influence of a specific place on an artist. For me, it's the colours, the light, the sounds, the textures I see everyday and which, somehow, must transcribe on the canvas. I'm so unaware of it that it is often difficult for me to pinpoint the elements.
Pourtant cet été j'ai croisé une femme avec un chemisier à fleur ocre et lavande. Je suis consciente d'avoir beaucoup repensé aux couleurs et aux formes de ce tissu. C'est amusant comment en partant du souvenir d'un seul chemisier, j'ai d'abord abouti à une série de monoprints, tous très différents de part la gamme des couleurs (du bleu outremer au mauve, de l'ocre jaune au jaune paille...) mais aussi les compositions plus ou moins aérées ; pour vous donner une idée, voici quelques exemples des monoprints bruts obtenus en début d'été:
However, last summer, I saw a woman with a blouse with lavender and ochre flowers. I remember that I thought a lot about the colours and shapes of the fabric. Starting from the memory of the blouse, I first made a series of monoprints, with different hues (from French ultramarine to light mauve, from yellow ochre to light Naples yellow) and different lay out. To give you an idea, here are a few examples of the raw results I got at the beginning of summer:
(je ne vais pas tous vous les montrer, j'en ai fait un peu plus d'une trentaine de cette ordre.)
(I'm not going to show them all, I made more than 30 of that type)
J'ai commencé à lentement les retravailler,
certains n'avaient pas besoin de grand chose pour aboutir
(revoir deux premiers résultats ici et là).
I started slowly working on them, some needing very little to come to fruition
(click here to see the first two results here and there).
Voici aujourd'hui la suite de ce travail. S'ils sont tous partis de la même inspiration, chacun est indiscutablement unique. Plus ou moins retravaillés, plus ou moins réussis (et plus ou moins finis) vous retrouverez les couleurs d'origine, ... ou pas:
Today, here's the rest. They all started from the same inspiration, but they are all undoubtedly unique. They received more or less work and attention, they are more or less finished, and successful, and you will sometimes see the original colours seeping through... or not.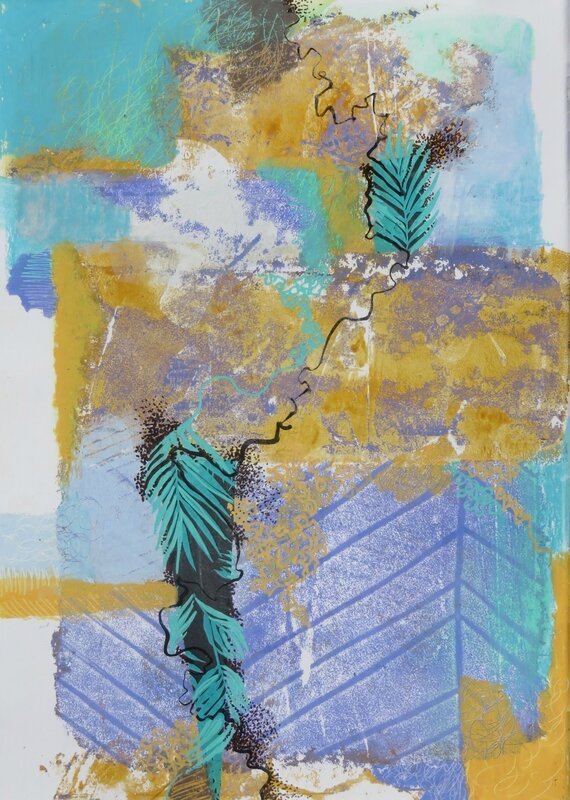 N°144
J'aime ce qu'a apporté la petite touche de turquoise
I liked what the touch of turquoise added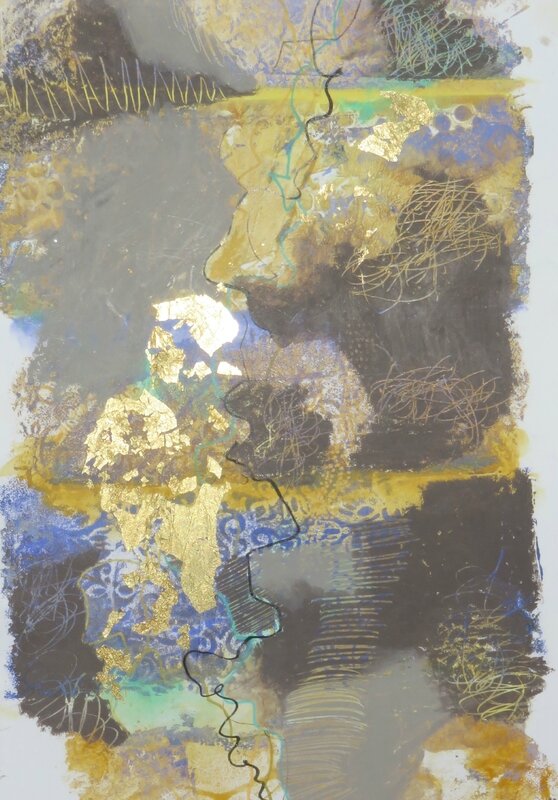 N°145
Celui-ci était trop coloré et est devenu ténébreux. Les bruns et la feuille d'or ont aidé à adoucir la richesse des couleurs.
This one went from too bright anf flashy to moody. The soft browns and the gold have helped toning down the rich colours.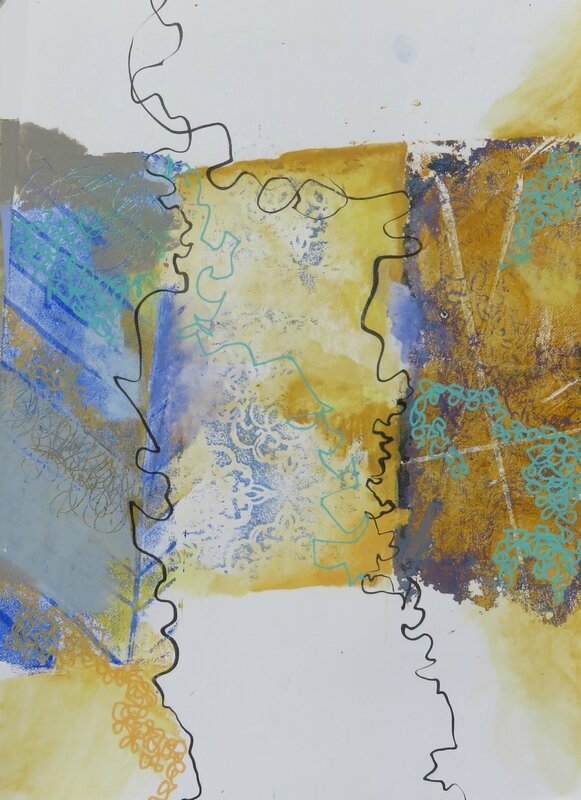 N°146
Les parties blanches aident à aérer le tout
The white parts help make it breathe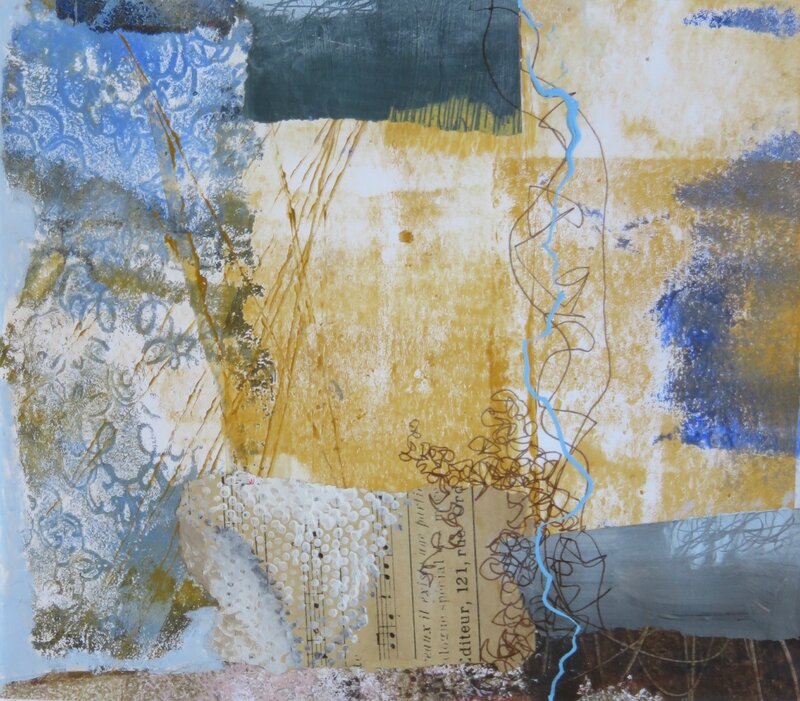 N°147 Summer Storm
C'est comme une tapisserie riche, avec des collages, de l'encre. J'aime les détails et la couleur d'un orage d'été qui gronde au loin
It's like a rich tapestry, with collages, ink; I love the details and the colour of a summer storm brewing in the distance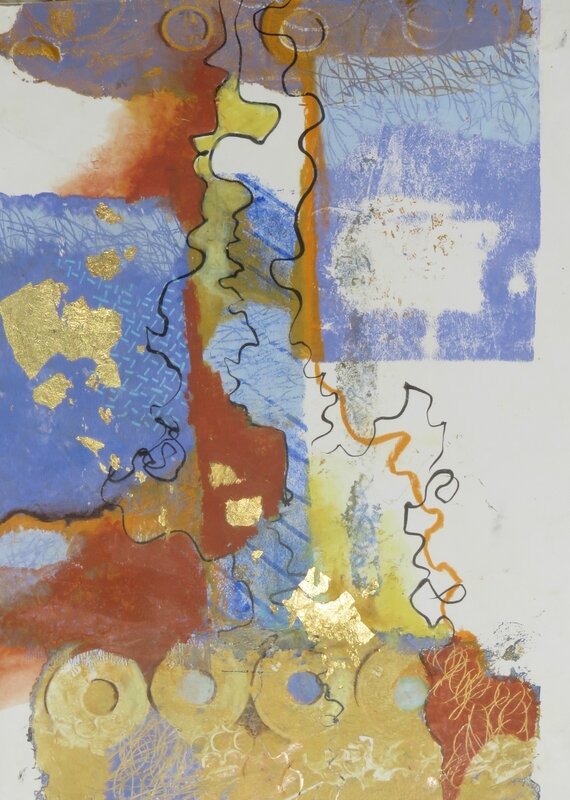 N°148
J'aime le sienne brûlé mais la composition ne me satisfait toujours pas
I like the rich burnt sienna but the layout still doesn't satisfy me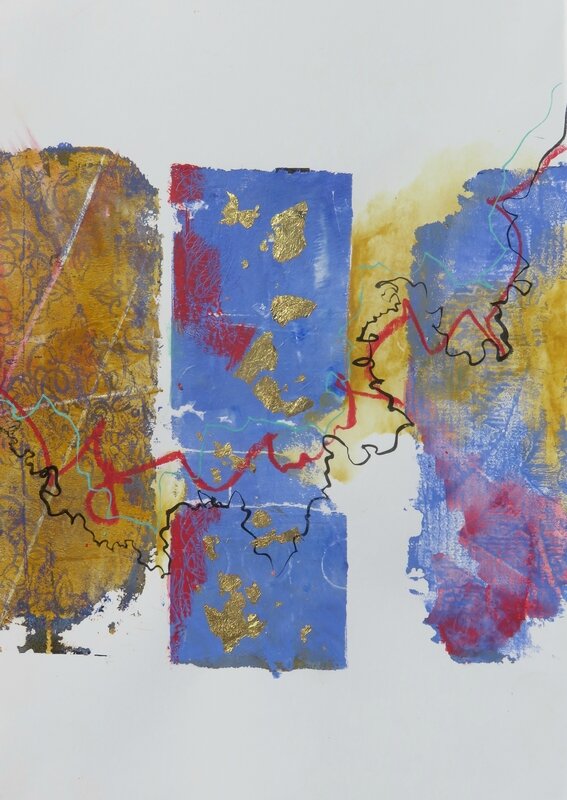 N°149
J'aie les espaces pour respirer dans celui-là. J'aime l'association rouge/mauve
I like the breathing space in that one. Nice red on lavender
La question qui suit c'est souvent "mais comment tu fais?". Le post d'aujourd'hui vous aura certainement donné une idée : je fais, je défais, je cache, j'enlève, j'ajoute, j'attends, je reprends, ... et parfois il en sort quelque chose.
The next question I usually get then is "but how do you do it?". Today's post will hopefully have given you hints: I lay out a colour, wipe it away, cover, add, remove, wait, take it back, start all over again, ... and sometimes something deeply satisfying comes out.
Les quatre suivants ne sont pas encore aboutis, mais cela vous donne une idée du travail effectué sur chacun :
The following four have not yet reached that stage, but they'll give you and idea of the work I did on each: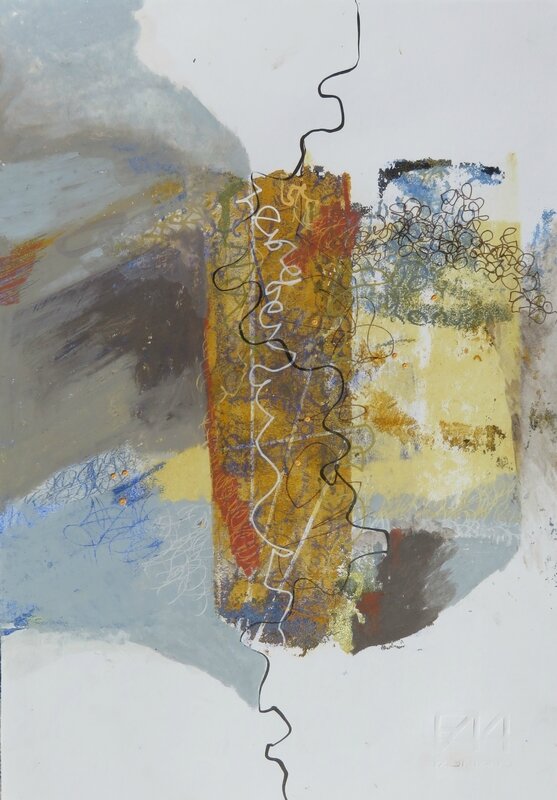 N°150
Celui-ci commence à ressembler à quelque chose, mais il y a encore du boulot.
This one is slowly getting there. It still has some way to go.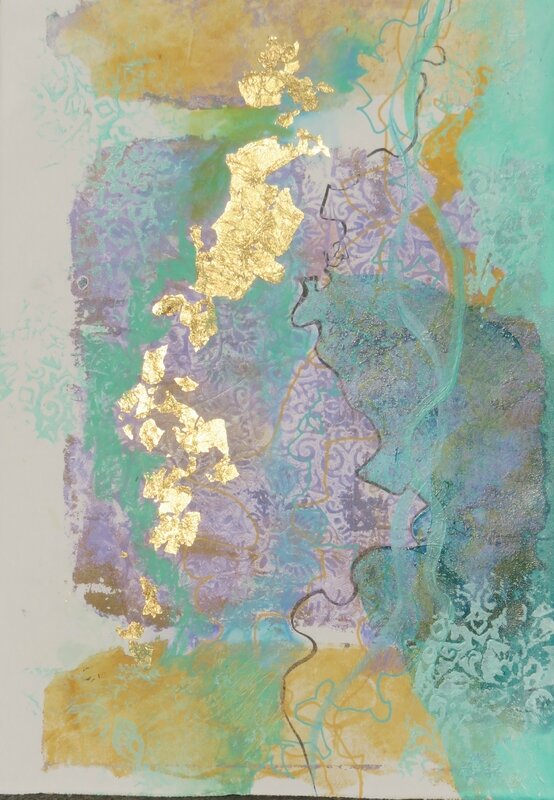 N°151
Pour l'instant encore en chantier, mais il commence à avoir quelques points interessants
For now it is still very much in progress, but some interesting parts are beginning to show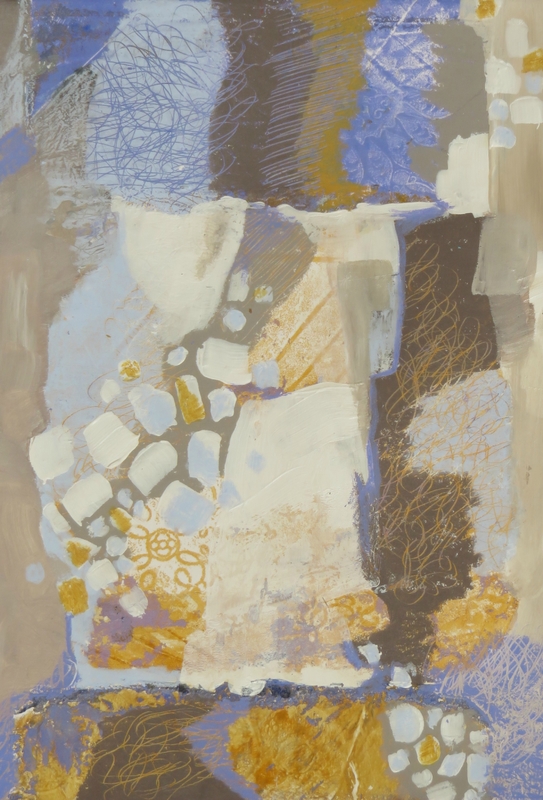 N°152
Celui ci n'est pas fini non plus, mais il commence à dégager de belles choses
Not finished either, but showing good signs here and there

N°153
il reste encore un gros travail sur ce dernier, mais je commence à avoir quelques pistes
I still have a hell of a lot to do on that one; I went down one track, didn't like it : too rich, too colourful, so I decided to cover it up in white to tone it down. I'm only starting to see some promising signs
Alors voilà, vous ne verrez pas de chemisier, ni de balustres, ni de colonnes ou de zèbres, mais vous avez un peu cheminé avec moi sur les longues et tortueuses routes de l'inspiration et de la création. Vous ai-je éclairé quelque peu? Je l'espère.
So, you won't see any blouse, any balusters, pillars or zebras, but you've walked with me along the long and winding road of inspiration and creation. Is my work any clearer? I truly hope so.
"L'inspiration n'est souvent qu'une réminiscence"
Napoléon Bonaparte (si on m'avait dit qu'un jour j'allais citer Napoléon... !)
Quote from Napoleon Bonaparte
"Inspiration is often only a recollection"