06 décembre 2016
Les buildings ne sont pas le seul aspect de New York qui m'a fasciné : les quartiers et leurs "petites" maisons, les porches alignés, les escaliers de fer typiques, les rues bordées d'arbres, j'ai tout adoré !
The sky-scrappers are not the only thing that has fascinated me in New York : the districts with their "small" buildings, the alignment of front porches and steps, the typical steel fire escapes, the tree-lined streets, I loved everything!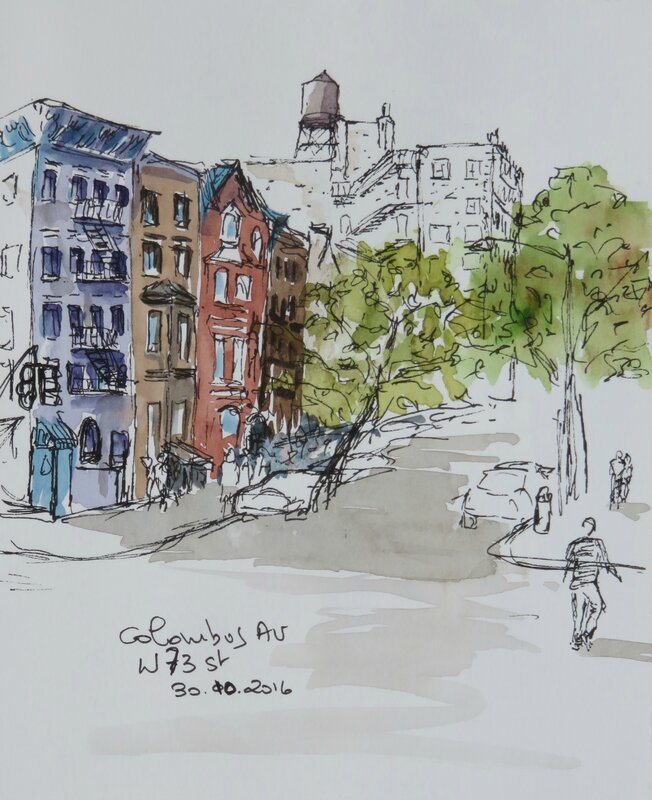 N°170 Colombus avenue (Upper West Side)
j'étais devant un magasin de fleur pour faire ce croquis là. Le vendeur me tournait autour, les sourcils froncés; j'ai pensé que cela le gênait que je sois campée devant sa boutique. Mais non, au bout d'un moment il m'a proposé un tabouret pour m'asseoir... ou alors il était ironique? J'ai un doute maintenant.
I was standing in front of a flower shop to sketch this street corner. The flower guy was walking around, frowning, standing behind me, and I thought I was bothering him. But no, after a while, he offered me a stool to sit on... or maybe he was being ironic? Now I'm not so sure.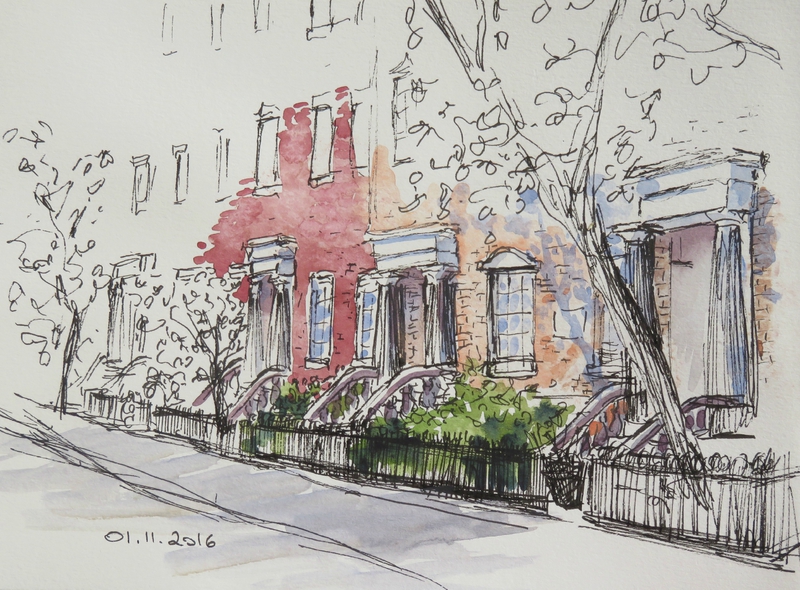 N°171 Washington Square North (Greenwich Village)
Une rue en plein travaux, pleine de bruit, d'engins de travaux publics, de barrières et d'ouvriers, et pourtant cet alignement de maisons colorées m'a sauté au coeur. Un des ouvriers est tout de suite voir ce que je faisais, très intéressé; il m'a posé plein de questions sur comment on peut faire pour arriver à faire des croquis comme ça. C'est la première fois qu'on me posait ce type de questions; d'habitude c'est plutôt "cela fait longtemps que vous dessinez?" etc. Là, j'avais comme l'impression qu'il se disait "moi aussi j'aimerais faire ça, est ce possible? Comment faire?" Beaucoup d'autres ouvriers sont venus, mais lui est resté jusqu'au bout. Je n'ai fait que le croquis sur place, pas les couleurs (par manque de temps et j'avais oublié d'emmener ma boîte d'aquarelle), alors il ne l'a pas vu comme ça. Maintenant je regrette de ne pas avoir eu la présence d'esprit de lui donner une carte de visite pour qu'il puisse venir le voir fini sur le blog.
This street was undergoing major work; it was noisy, full trucks, machinery, fences and workers. Still, this alignment of colourful houses struck me at heart. One of the workers came straight away to see what I was doing; he asked me loads of questions on how you can draw like this. It was the first time I was asked this type of questions, usually it's more "how long have you been sketching?" kind of questions. This time, I clearly got the impression that he meant "I would like to do the same, can I? What type of class should I follow?". Lots of workers came (to have a look) and went, but he stayed right till I was done. I only sketched it in ink that day (I didn't have much time and I had forgotten my watercolour box anyway), so he didn't see it with all the colours. Now I wish I had given him my card so that he could see it on the blog.
02 décembre 2016
Quand j'habitais en Afrique du Sud, je montrais assez souvent des photos de notre vie là bas, des lieux, et bien sûr des animaux. Depuis que nous habitons à Rome, je n'ai finalement que très peu montré de photos de Rome. Peut-être que tout simplement j'ai l'impression (à tort?) que tout le monde connaît et que cela n'en vaut pas la peine?
When I used to live in South Africa, it was important for me to show pictures of our lives there, the places, and the animals too. Since we started living in Rome, I've relatively rarely shown any pictures at all. Maybe because I feel everybody knows it and that it's not worth it?
Aujourd'hui pourtant, il ne s'agit ni d'Italie, ni d'Afrique, mais de New York. J'ai été fascinée par les buildings. Ces gris, ces bleus, ces bruns, j'aurais pu rester des heures à les regarder:
Today's message, though, is not going to deal with Italy, or Africa, but with New York. I was literally fascinated by the buildings. The greys, the blues, the browns, I could have stayed hours watching them: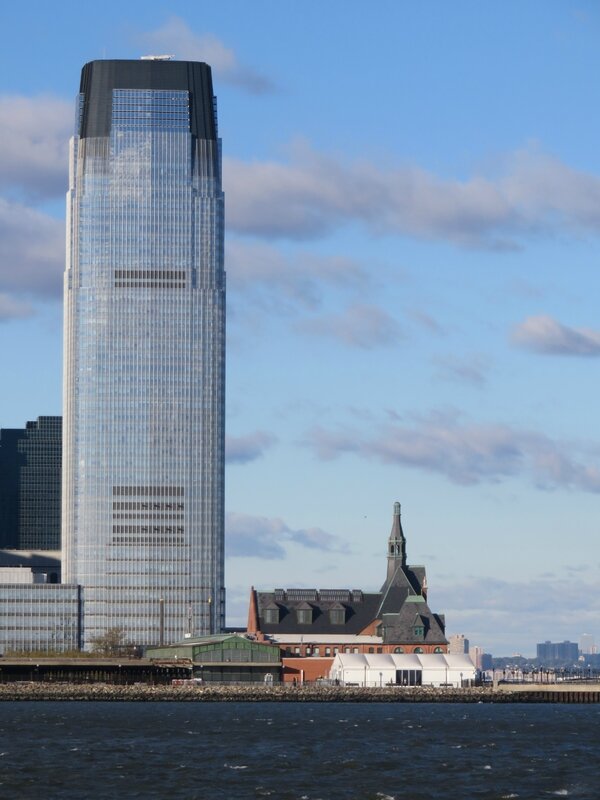 Cette photo prise illustre bien ce qui m'a aussi surprise : c'est la variété
This photo perfectly illustrates what suprised me too: the variety
le grand jouxte le minuscule, le vieux building à la façade travaillée côtoie les lignes épurées du building moderne...
the huge sits next to the tiny, the old intricate facade side by side the sleek lines of modern ones...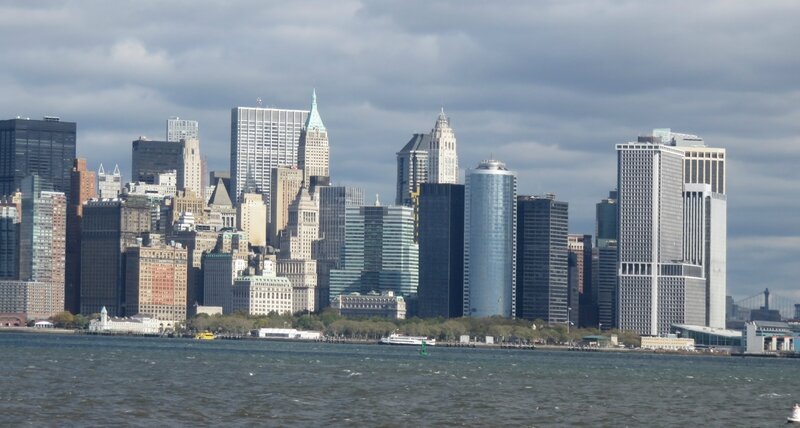 Forme, couleur, style, texture, taille, il n'y en a pas deux les mêmes.
Shape, colour, style, size, there are no two similar ones.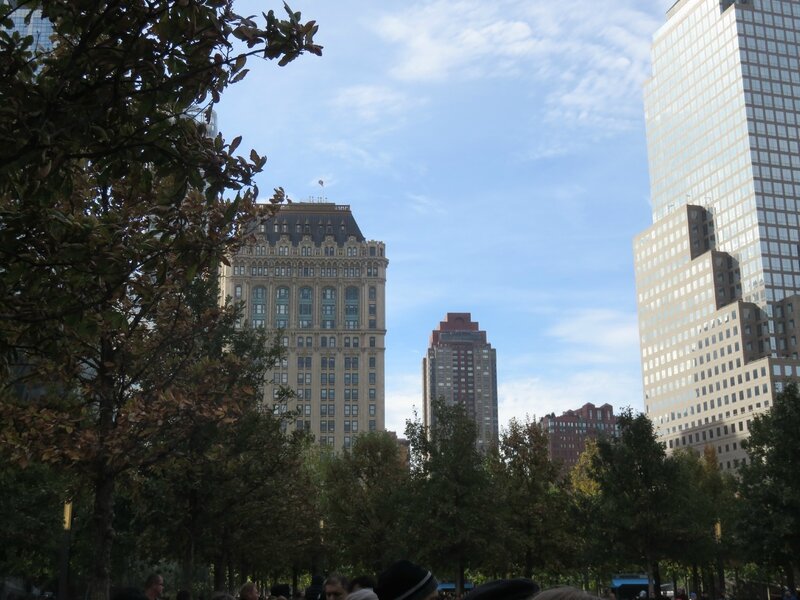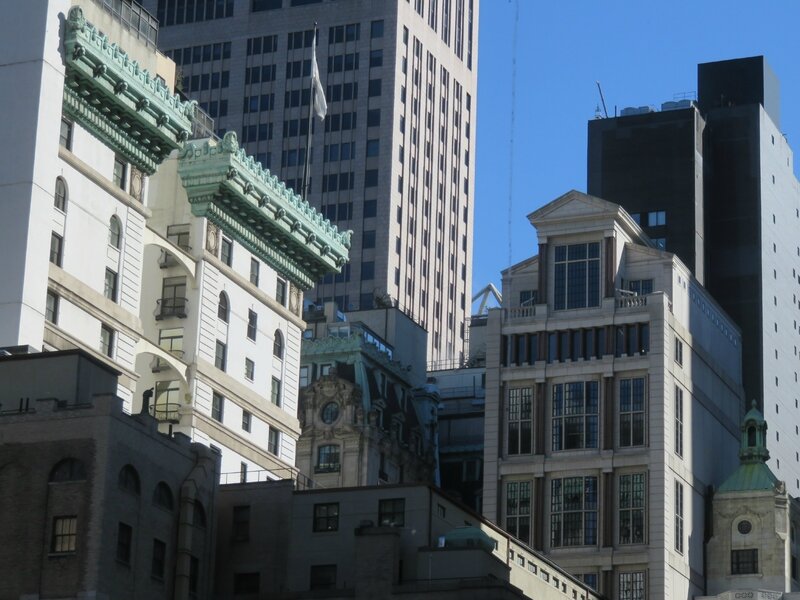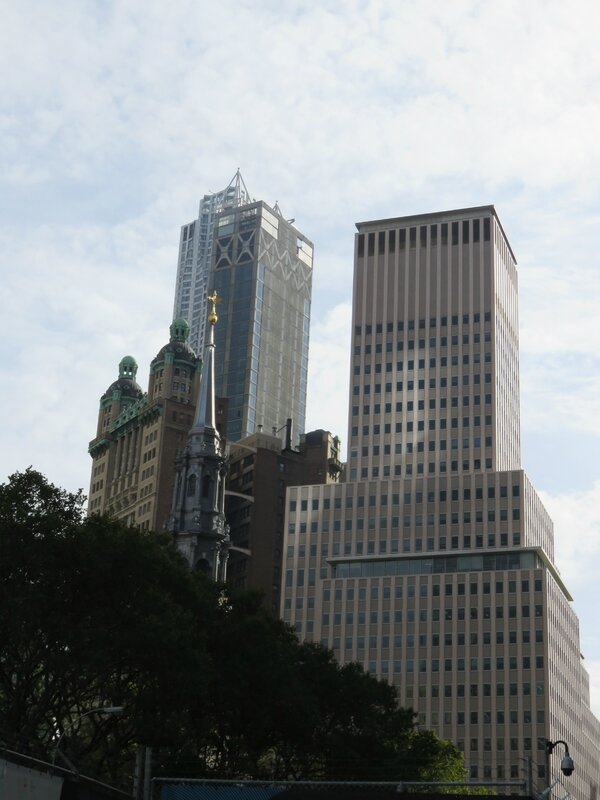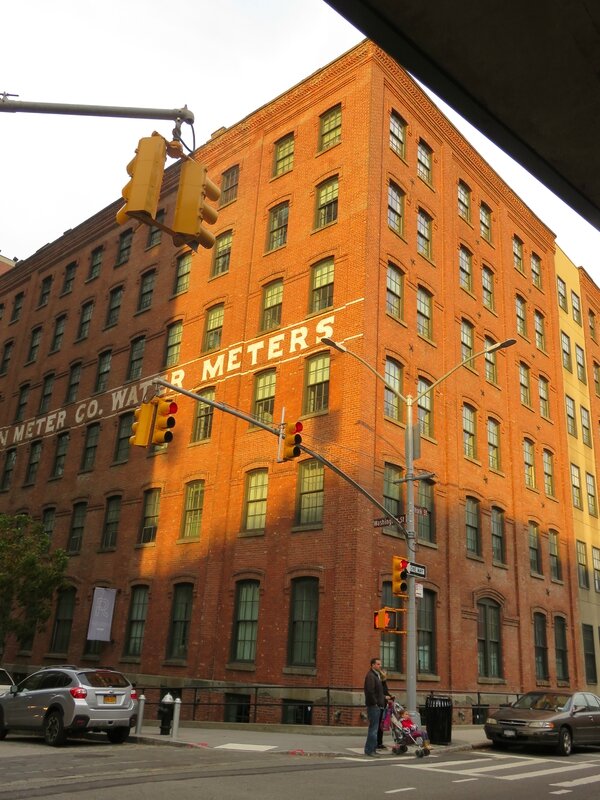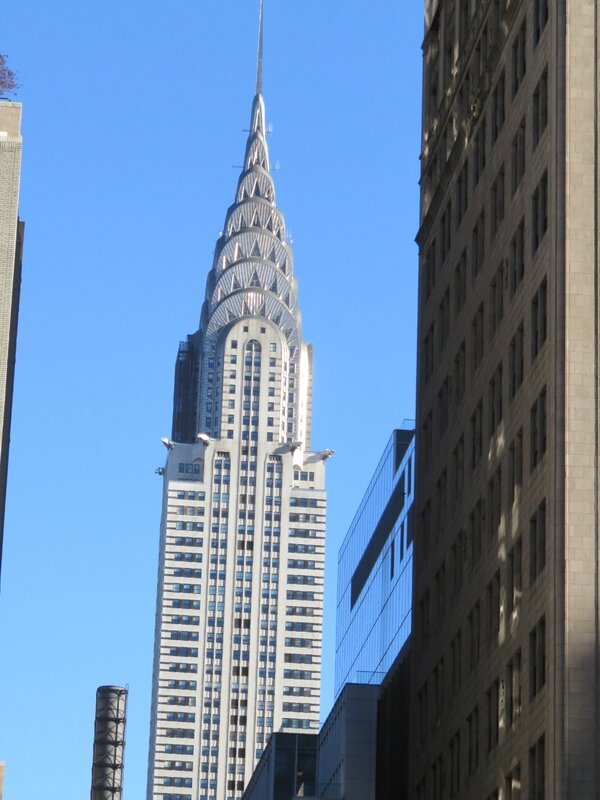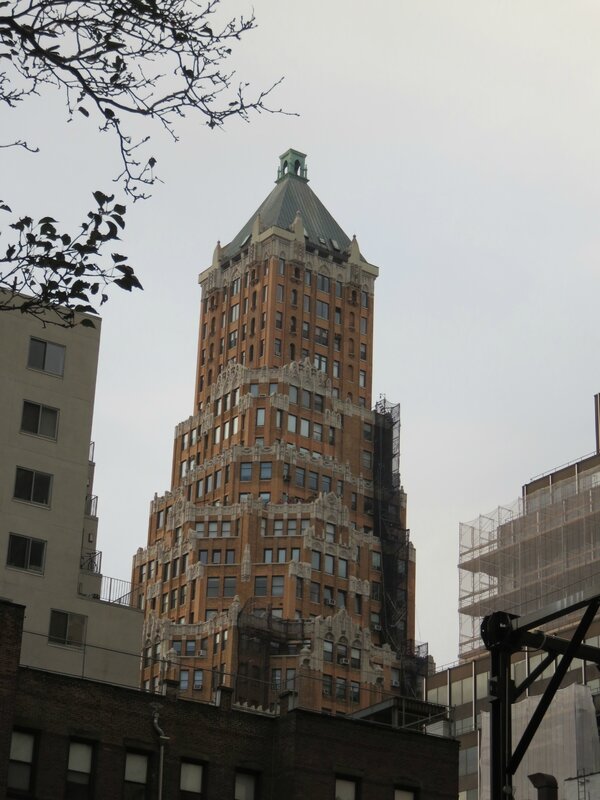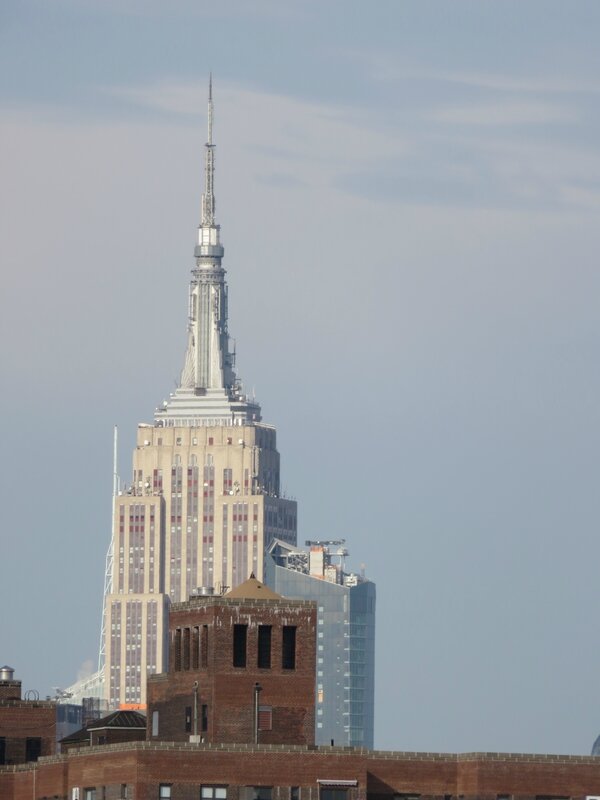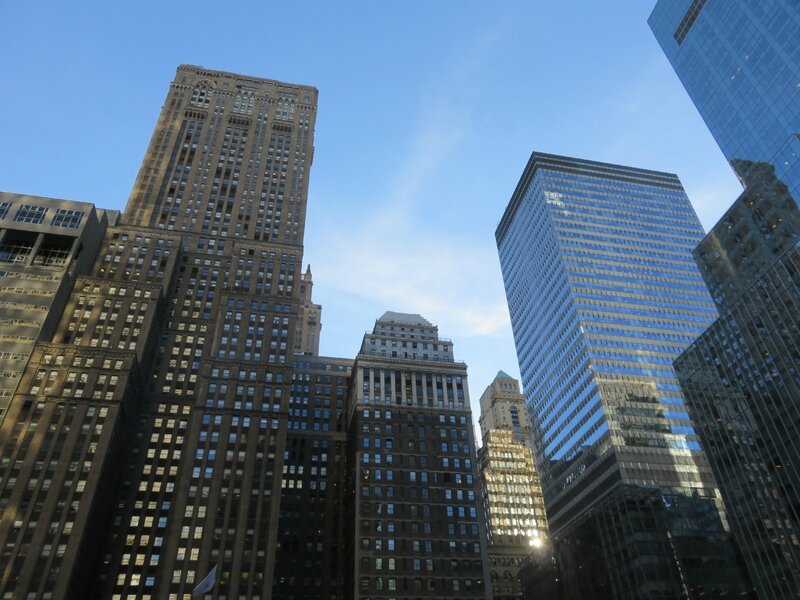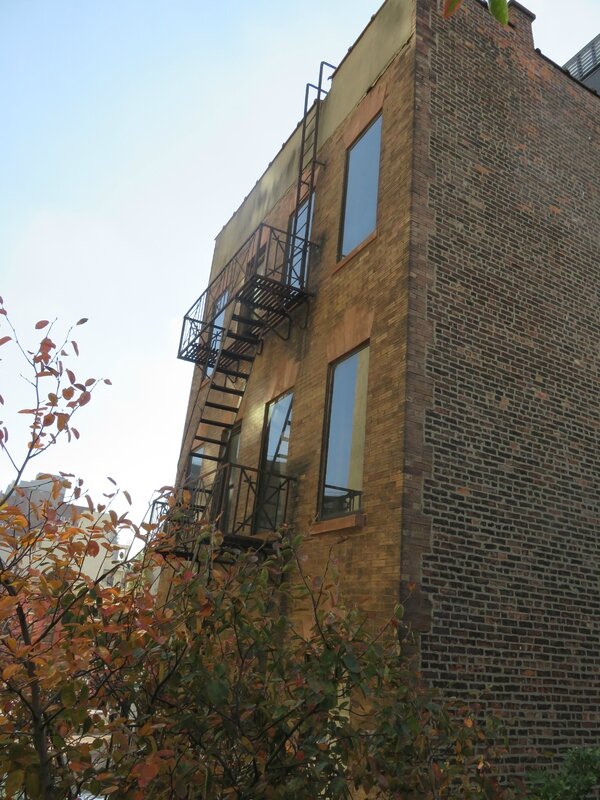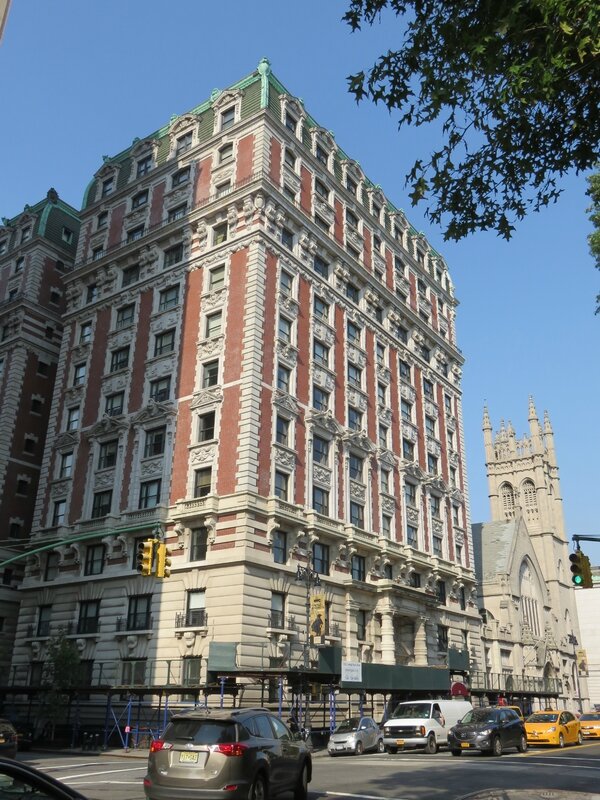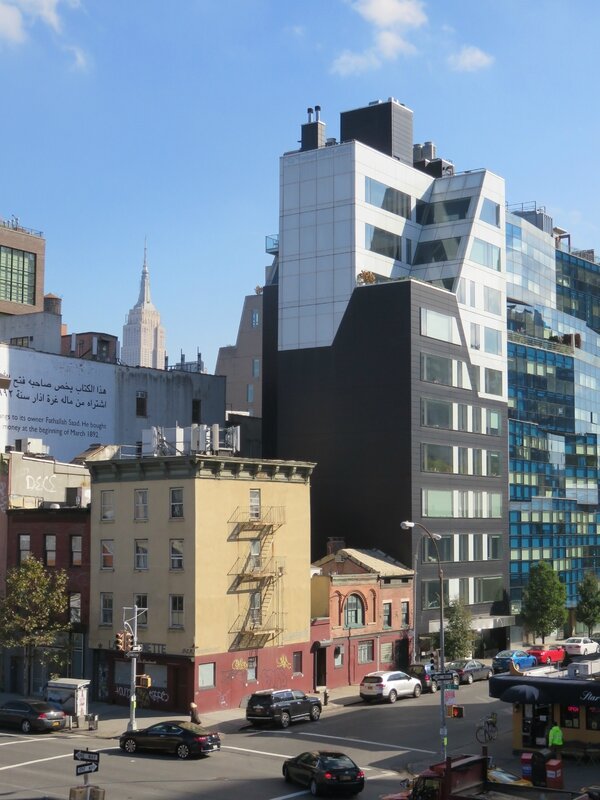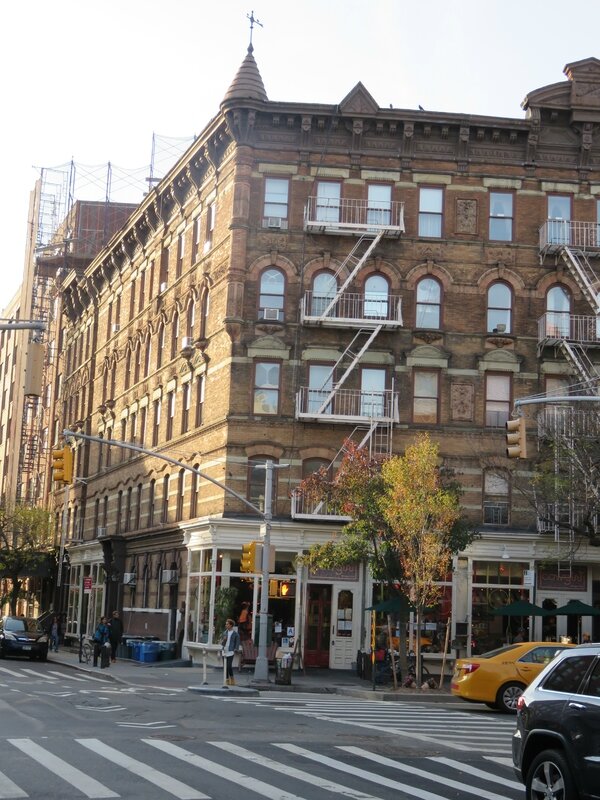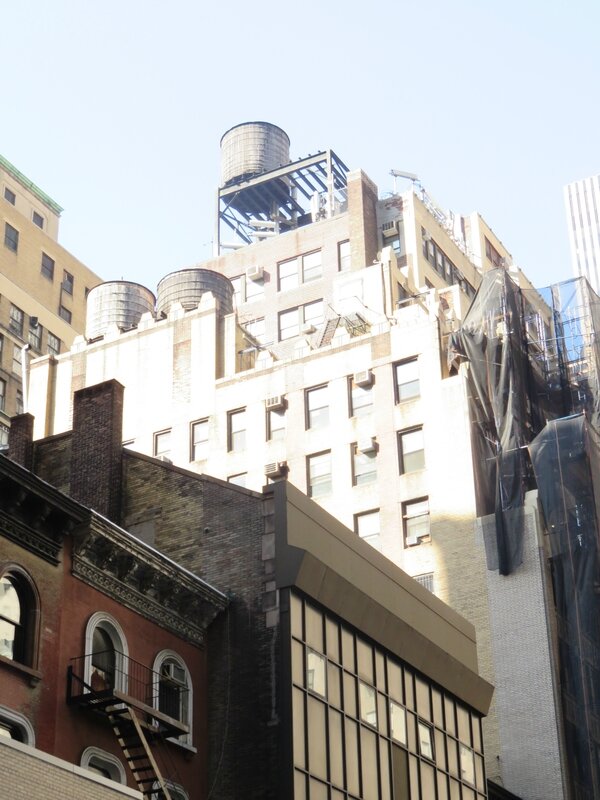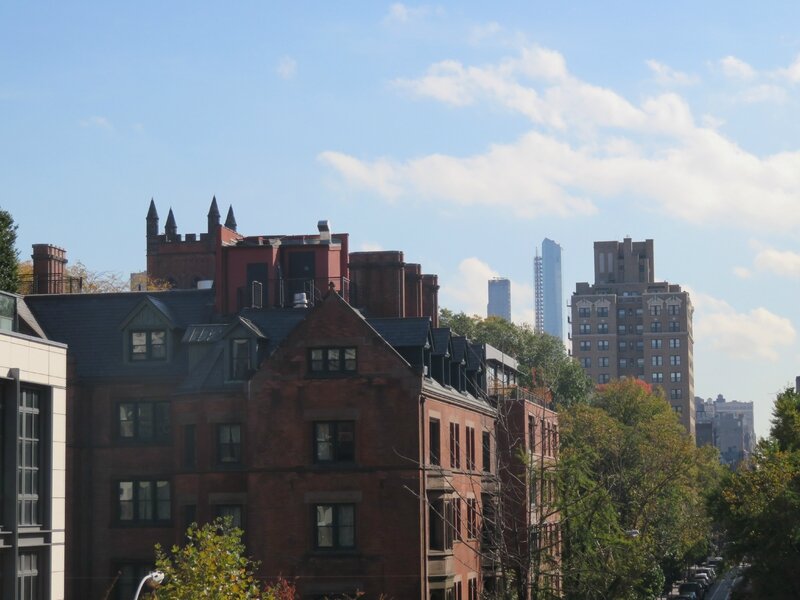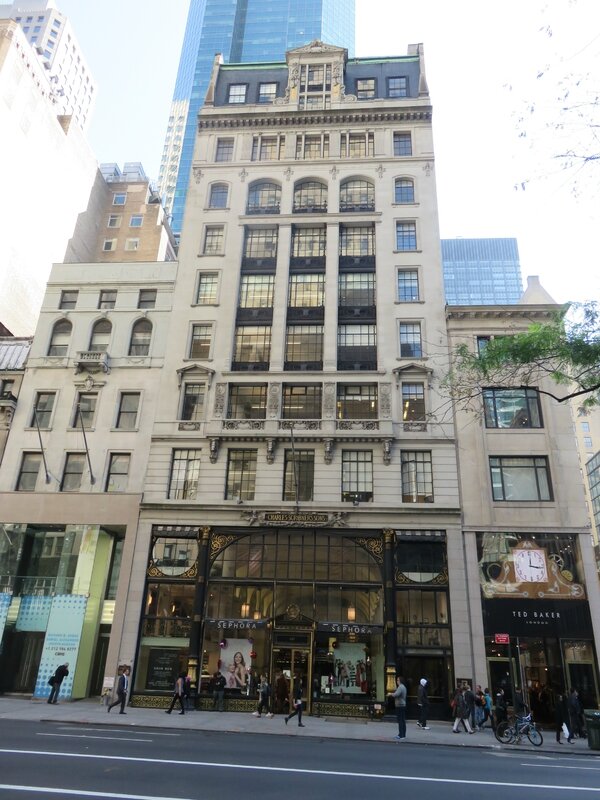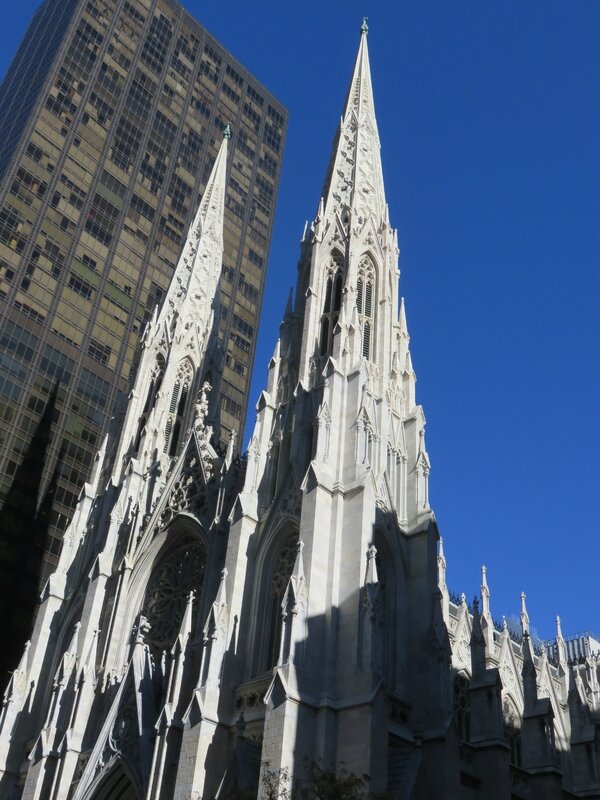 et cette impressionnante église de St Patrick sur la 5e avenue si différente, si élancée, elle paraît non seulement hors contexte au milieu de tous ces buildings, mais aussi vraiment minuscule, un véritable jouet:
and this impressive St Patrick church on 5th avenue is so different, so delicate; not only does it look absolutely out of context in the middle of all these buildings, but it's also so tiny, a real toy: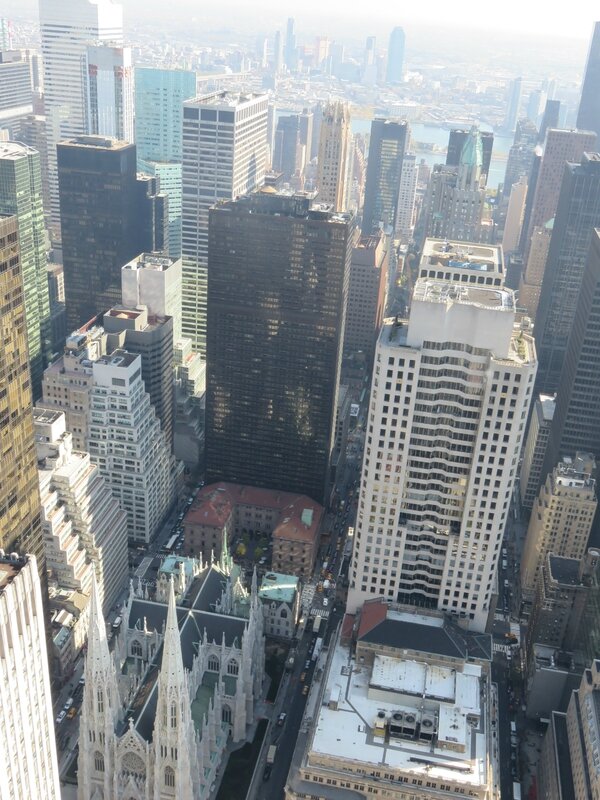 regardez, elle est là, en bas à gauche de la photo ci dessus (prise du haut du building Rockfeller).
look, it's right here in the bottom left hand corner of the above photo (taken from the top of the Rockefeller building).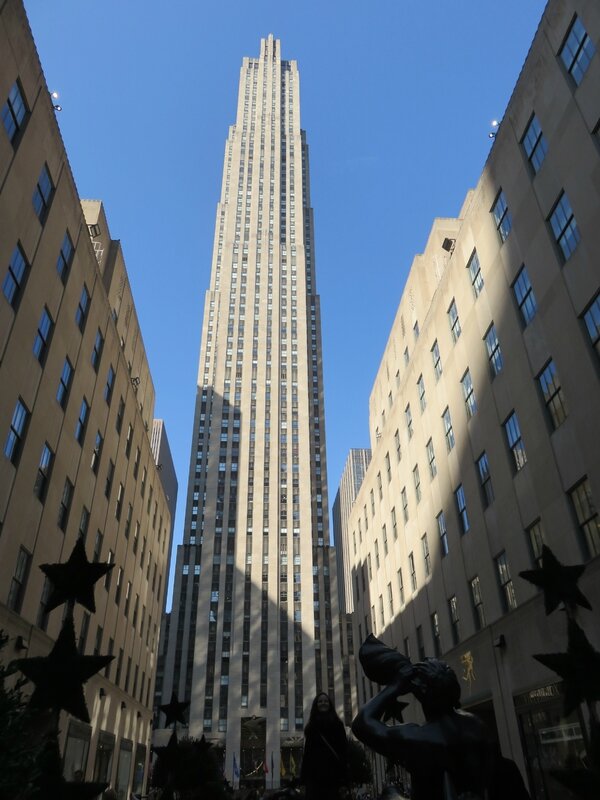 et voici ce même building Rockfeller. 67 étages en ... 43 secondes. Et en haut, une vue à couper le souffle.
and here's the Rockfeller buiding. 67 floors in ... 43 seconds. And a breathtaking view at the top.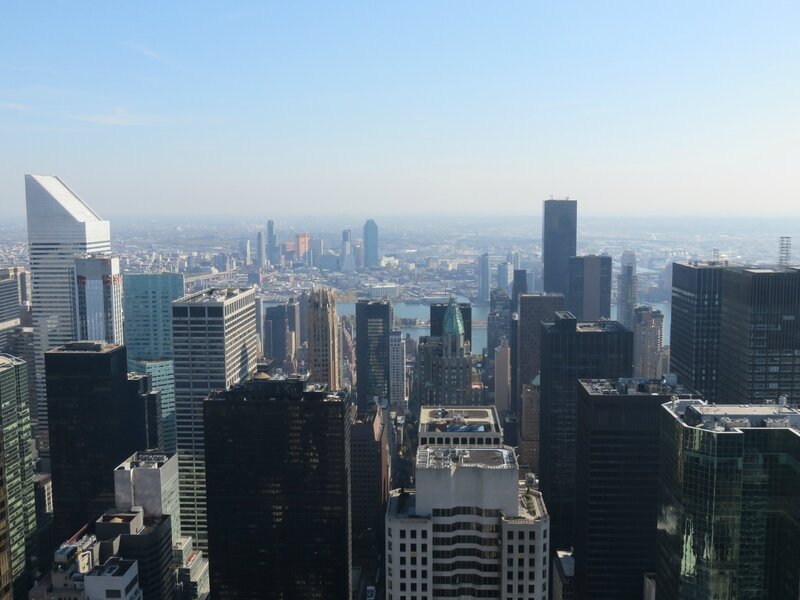 Vous ne serez donc pas surpris de voir bientôt fleurir des buildings dans mes aquarelles... :-)
Then you won't be surprised to see buildings popping here and there in my watercolours... :-)
28 novembre 2016
Période active : entre deux croquis, un monoprint (ou bien est-ce entre deux monoprints, un croquis?), j'alterne en tous les cas et je reprends avec plaisir des monoprints bruts. J'en ai une pile de plus de 100; je pioche un peu au hasard, ou je les feuillette et un monoprint oublié me saute aux yeux.
I'm very busy at the moment. Between two sketches I work on a monoprnt (or is it the other way round?), anyway, I work on raw monoprint with pleasurre. I've got a pile of more than 100; I pick them up, sometimes seeing the some forgotten ones with new eyes.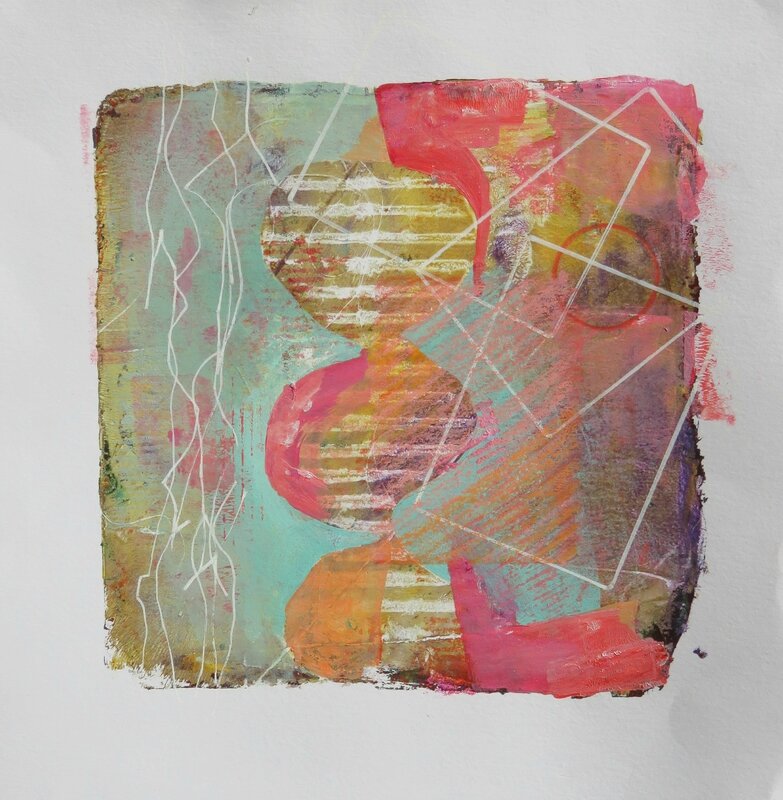 N°163b
Les changements à opérer sont parfois évidents, ou parfois difficiles. Celui-ci est venu facilement et ses couleurs, textures, formes, me donnent envie de sourire... Cela doit être bon signe.
The changes are sometimes obvious, and sometimes difficult. This one came easily and its colours, textures, shapes make me want to smile. Surely a good sign.
20 novembre 2016
Arthur Miller n'a qu'à bien se tenir ;-)
Ok, it's rather view of a bridge than from it, but still, it makes me think of Arthur Miller... ;-)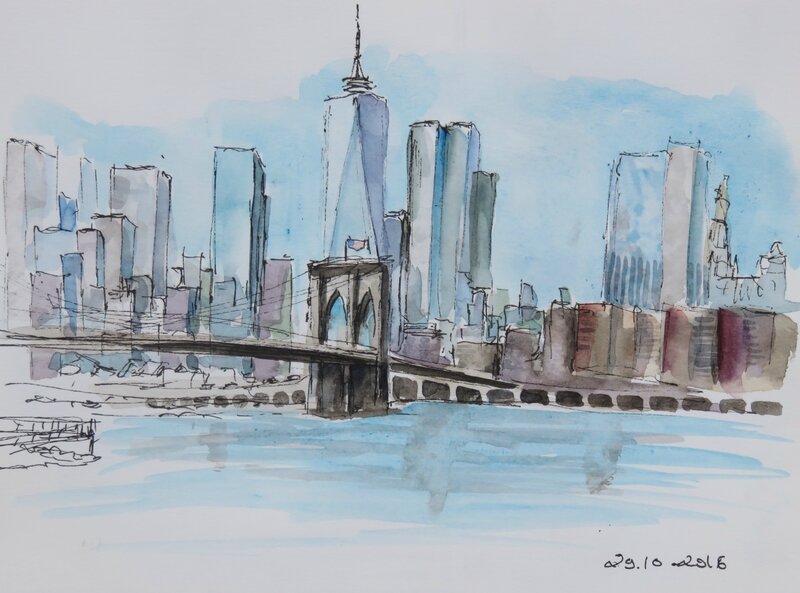 N° 167 Brooklyn Bridge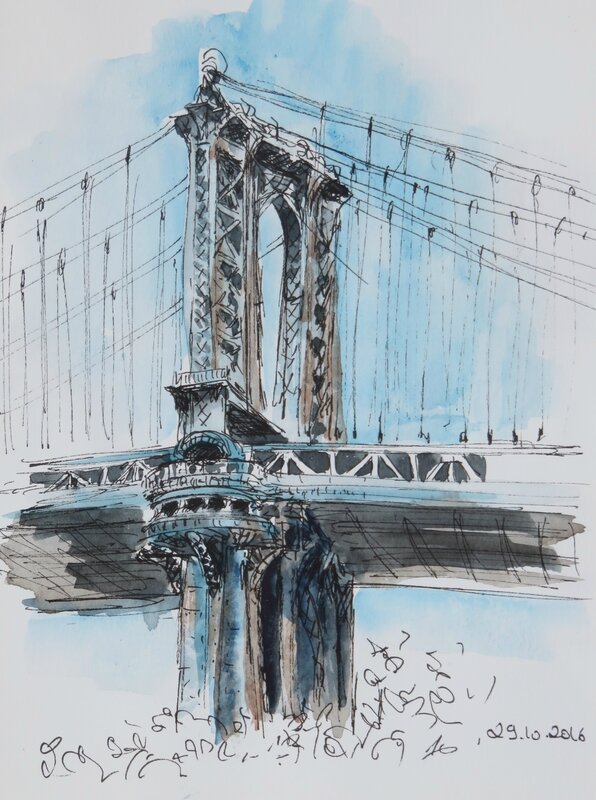 N° 168 Manhattan Bridge
16 novembre 2016
Vous rappelez vous dde ces monoprints imprimés sur les feuilles de la Guerre des Gaules de Jules César?
Do you remember these monoprints made on the pages of De BelloGallico by Julius Caesar?
Eh bien un de ces monoprints a atterri sur une toile et voici comment il s'en est sorti:
Well, one of these prints ended up on a canvas, and here's how it goes: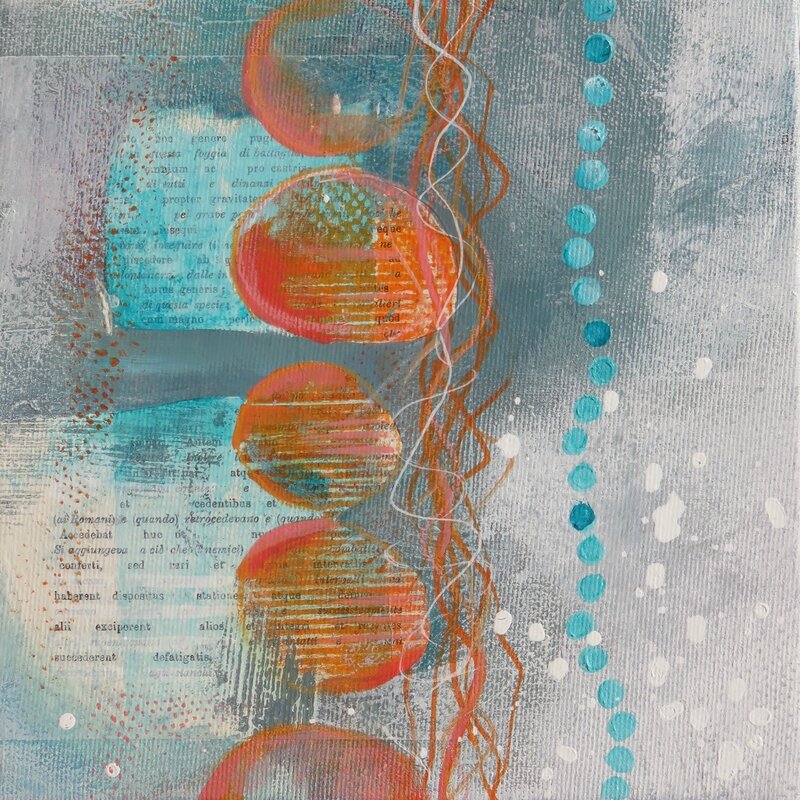 N°166
Mixed media sur toile / Mixed media on canvas
20 x 20 cm
12 novembre 2016
Une semaine à New York, une semaine de promenade, beaucoup de charme et quelques croquis...
One week inNew York, one week of walking around, lots of charm and a few sketches...
Central Park: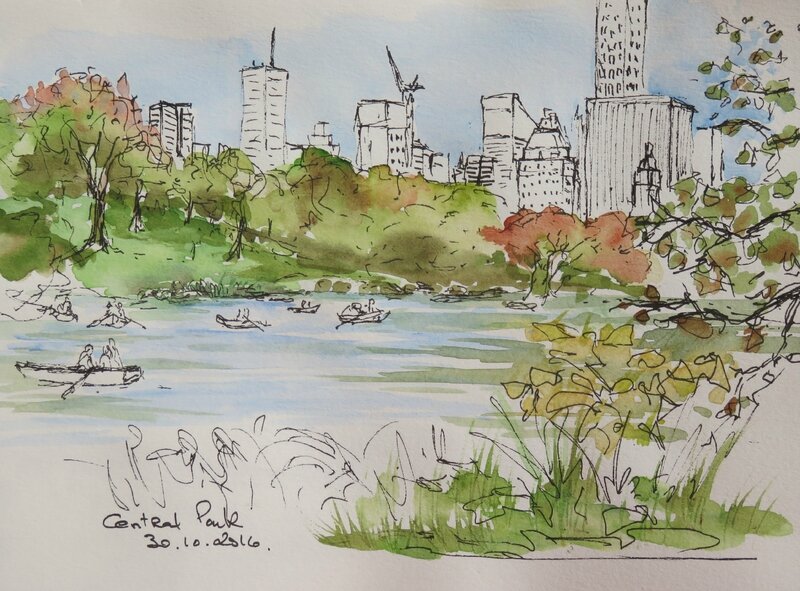 N°164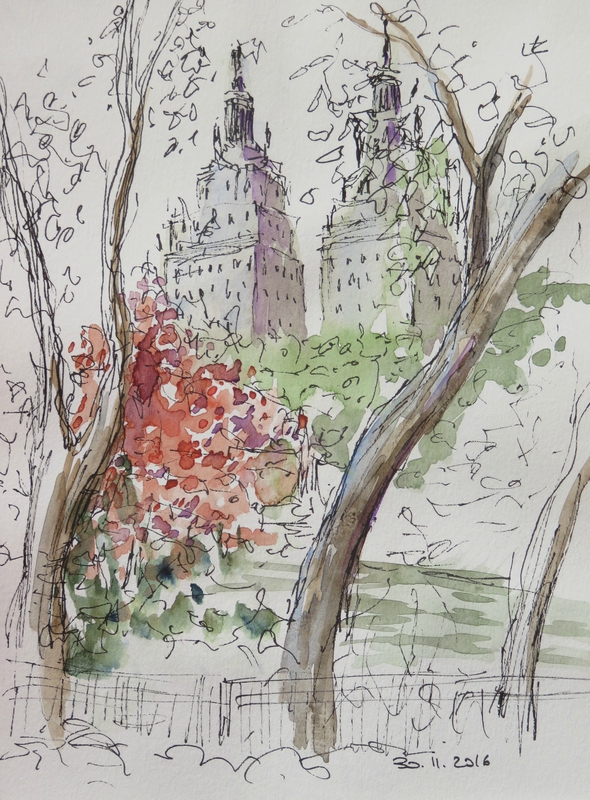 N°165
Et le tout avec la chanson de Brenda Russel en tête :-) "Walking in New York"
All the while singing Brenda Russel's "Walking in New York" in my head
08 novembre 2016
Petit Robin ne dort pas. Alors voici quelques amis qui lui tiendront compagnie ;-)
Baby Robin can't sleep. So here are some friends that will keep him company ;-)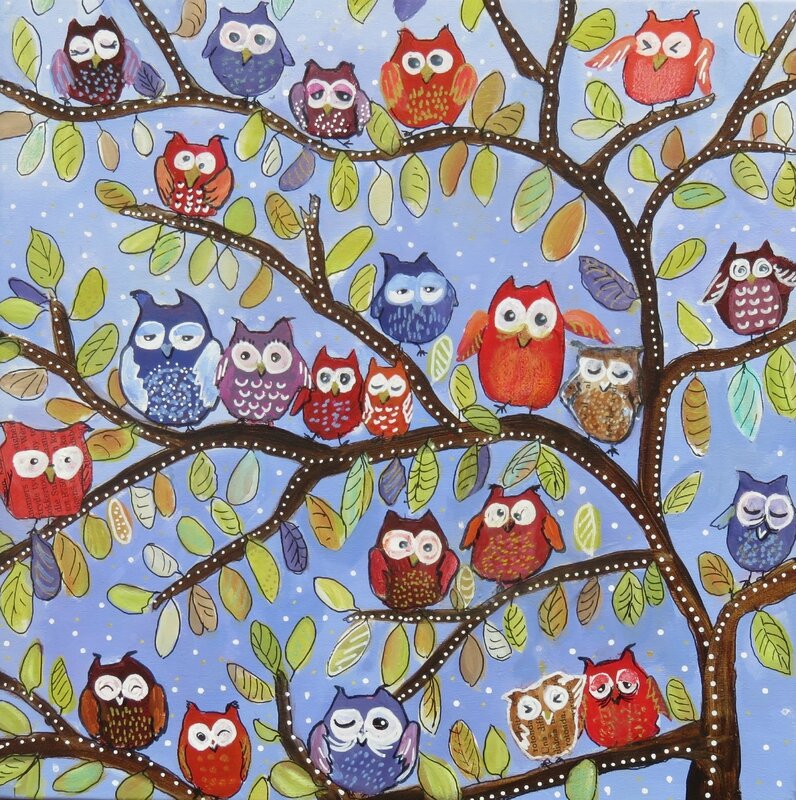 Les Amis de Robin
Mixed media sur toile / Mixed media on canvas
30 x 30cm
Allez jeter un coup d'oeil aux autres tableaux qu j'ai peint pour des chambres d'enfants en cliquant ICI.
Click HERE to have a peek at other paintings for kiddies' rooms
04 novembre 2016
C'est drôle comment on peut galérer avec un tableau, chercher une harmonie de couleur ou une composition qui ne vient pas, et puis un jour, souvent en désespoir de cause parce qu'on n'a rien à perdre, on tente quelque chose, on ajoute UN petit élément, on change une couleur et paf ! le tableau est né. Je ne me lasse pas de ces petits miracles. Voici l'évolution laborieuse de ce monoprint - le dénouement est heureux, je vous rassure :
It's funny how I sometimes struggle with a painting, I try to find some harmony with the colours or the composition, and then one day, often in a desperate attempt because I've got nothing to lose, I add ONE element, I change one colour, and bingo! the painting is born. I love these small miracles.
Here's the evolution of a monoprint - with a happy ending: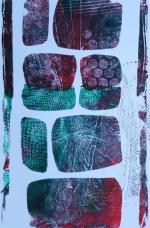 étape 1, le monoprint pur. Formes et textures intéressantes, mais l'ensemble est trop sombre et surtout trop froid
step 1, the pure monoprint. Interesting shapes and textures, but the whole is much too dark and cold to my taste.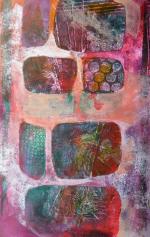 étape 2, j'essaie de réchauffer le tout en gardant les textures autant que possible; j'enlève les deux formes du milieu
step 2, I try to warm it up trying to keep the textures; I remove two of the shapes in the middle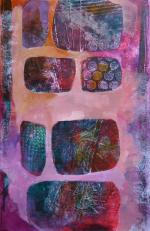 étape 3, je continue de travailler sur les couleurs, mais rien ne vient, je n'ose pas passer sur les formes de peur de perdre leurs textures
step 3, I keep working on the textures, but it just doesn't work. I don't dare to paint over the shapes, too scared to lose the textures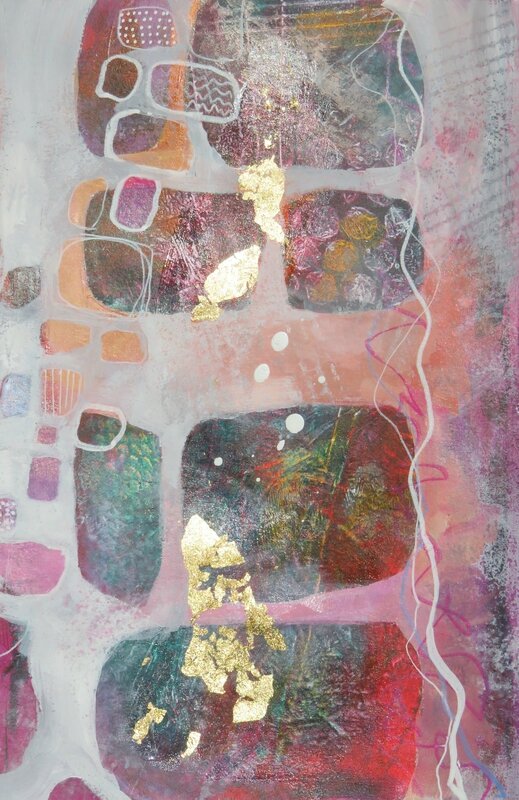 N°161
Monoprint retravaillé et feuille d'or / Monoprint, mixed media and gold leaf
étape 4 : j'ai ajouté du blanc, j'ai enfin osé passer sur certaines des formes, et du coup elles sont plus intégrées (le tableau commence à frémir). Ajout d'autres formes plus petites sur la gauche pour lier la composition (il palpite); ajout de feuille d'or, de tâches blanches et de fin traits de différentes couleurs (il frétille de joie - et moi aussi) .
step 4: I added white, finally daring to paint over the shapes, and now they feel integrated (the painting is stirring). I added other smaller shapes on the left to link the composition (it's vibrating); I added gold leaf, white dots and thin lines with different colours (and now it's dancing with joy - and so am I).
Prenons du recul / Let's step back
21 octobre 2016
Ils m'ont fait sourire ces 4 passagers assis en face de moi dans le métro un matin. Tous avec un journal (celui de gauche le tient plié); cela change, d'habitude, c'est plutôt des portables que les gens ont à la main.
These passengers in the tube made me smile; they all had a newspaper (the one on the left was holding it folded); it makes a change, people tend to be spending their time looking at mobiles nowadays.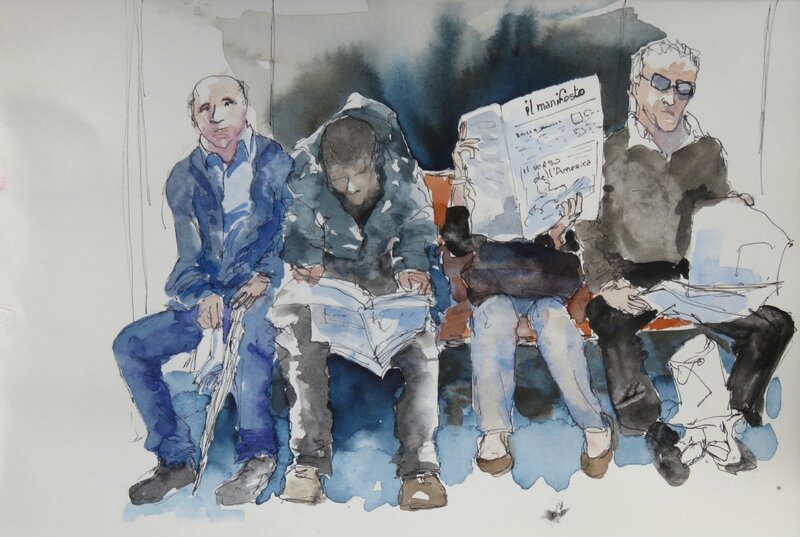 Photo discrète et vite fait, de retour à la maison un petit croquis. / Quick photo and back home a quick sketch.
17 octobre 2016
Je suis souvent en train de parler des tableaux qui me posent problème, qui luttent contre moi avec acharnement, qui me résistent, mais je dois avouer qu'il y a aussi des tableaux qui ne posent pas de problème. Ils viennent tellement facilement que j'ai même parfois du mal à y croire ... ;-)
I often talk about paintings that are struggling to come, that resist me and don't come easily, but I must admit that there are also some that come very easily. They come so smoothingly that I sometimes have trouble believing it... ;-)

N°160 (sans titre / untitled yet)
Acrylique sur toile / acrylic on canvas
20 x 30 cm