24 février 2017
Expérimenter, essayer, ne pas réfléchir, aller vite, tester différents outils, se limiter à peu de couleurs, travailler le geste, et surtout ne pas réfléchir.
Experiment, try, do not think, be quick, test different tools, limit yourself to very few colours, work with your body, and most of all, do not think.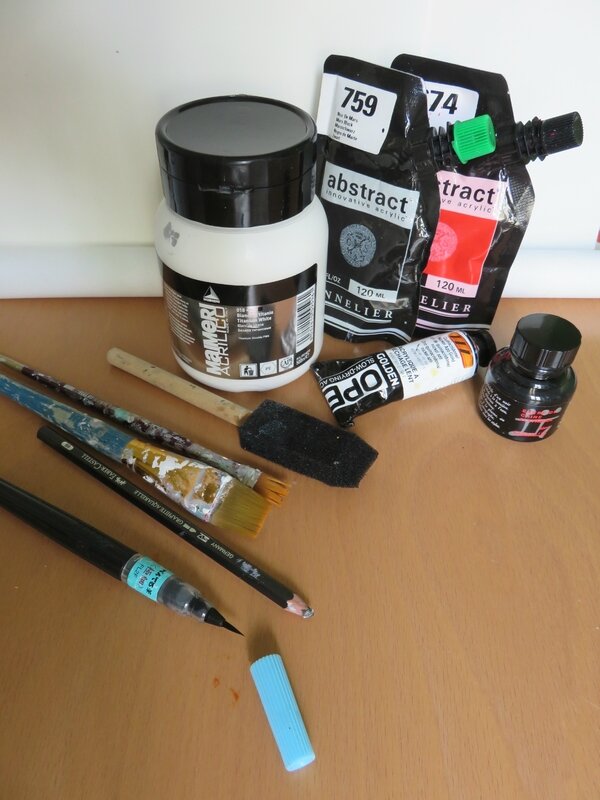 Voici les outils que j'ai utilisés, en essayant de les prendre dans le même ordre, d'abord le noir acrylique et/ou encre de chine (appliqué au pinceau mousse) puis le blanc (appliqué au pinceau), puis le graphite, puis parfois le pinceau encre de chine. Dans une deuxième phase seulement j'ai rajouté 2 couleurs. Pourquoi le même ordre? Pour essayer de créer une sorte de ryhtme, un mouvement presque mécanique et éviter les hésitations et la pensée.
Here are the tools and colours I used: black (acrylic paint and/or indian ink, white acrylic paint, graphite, indian ink fine paint brush; I tried to use them in the same order so as to get into some kind of rhythm, some mechanc movement and avoid hesitating and thinking. In a second step I added two colours.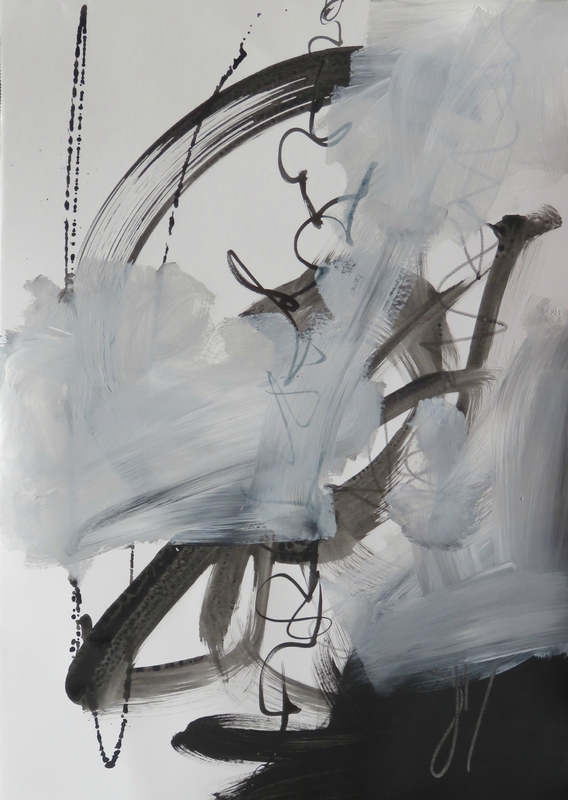 n°10
Le but ici n'était pas de produire des oeuvres finies, mais plutôt d'expérimenter des gestes, des effets, ce qu'on appelle aussi le "vocablulaire" du peintre. Certains de ces essais resteront en l'état, dans un tiroir, d'autres seront peut-être retravaillés, d'autres donneront des idées, des envies pour encore et toujours expérimenter sur d'autres chemins.
The aim here was not to produce finished works, but more to experiment gestures, effects, what we also call the artist's "vocabulary". Some of these experiments wil stay like this, in a drawer, others may be worked upon, others will give ideas, the will to keep experimenting on and on and take up new paths.
n°11 n°12
J'aime ces effets de "dissolution", comme si on regardait des volutes d'encre teinter un verre d'eau pur
I like these dissolving effects like seeing curls of ink in a glass of clear water
J'ai parfois rajouté une autre couleur (quinacridone gold)
I sometimes added another colour (quinacridone gold)

ou du rouge vermillon
or vermillon red

J'ai aussi essayé parfois de faire d'autres types de marques en appliquant du papier texturé sur la peinture fraîche
I sometimes tried to make other marks with textured paper applied on the fresh paint
n°19 n°20
J'ai essentiellement travaillé sur du papier Fabriano Liscio 200g/m
I essentially worked on Fabriano paper 200g/m
n°21
mais aussi une fois sur du Lavanangard / Yupo. Pas convaincue par le yupo (ci-dessous)
but also once on Yupo paper, but I didn't much like it (below)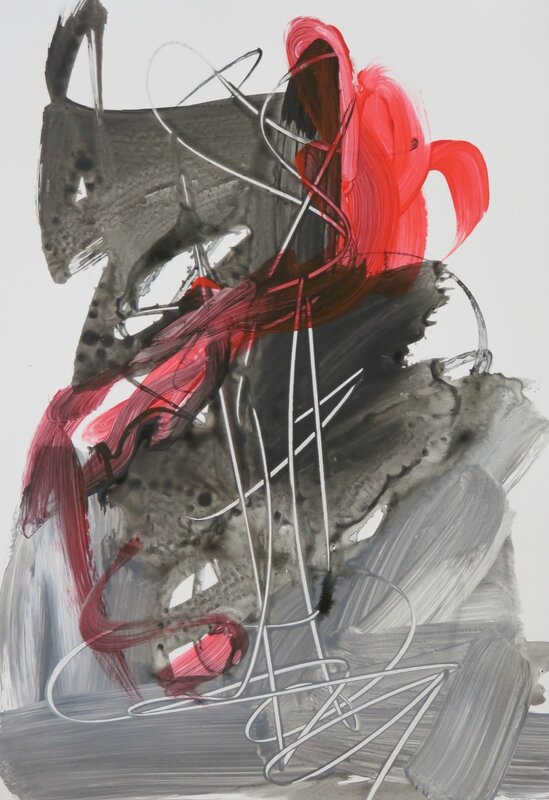 n°22
Des gribouillages? Oui, c'est une autre façon de voir ça, mais des gribouillages utiles pour un artiste ;-)
Messy scribbles? Well, yes, that's one way of seeing it, but scribbles are very useful for artists ;-)
A suivre
To be continued
20 février 2017
Comment peut-on partir d'un monoprint tout pâle comme celui-ci
How can you start from a pale monoprint like this
... et arriver à des couleurs aussi vibrantes que ça?
... and end up with colours as vibrant as these?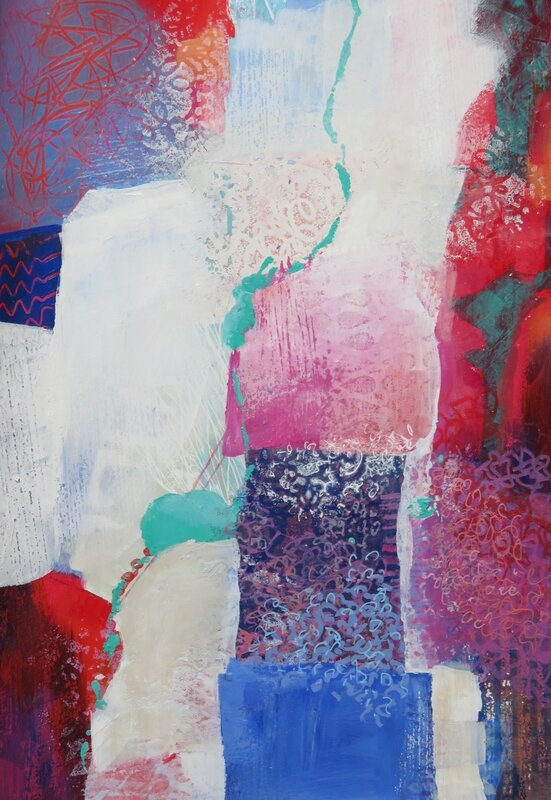 N°9
Mixed media sur papier, sans titre pour l'instant
Mixed media on paper, yet untitled
La vie n'est qu'un cheminement mystérieux dont la logique m'échappe parfois totalement ! :-D On ne retrouve rien du monoprint de départ, ne cherchez pas.
Life is but a mysterious winding path whose logic totally escapes me sometimes! :-D There's nothing left of the previous monoprint, don't even bother looking for traces.
Les non amateurs d'art abstrait vont avoir du mal, désolés pour eux, mais moi, j'adore le résultat et plus ça va et plus je l'aime. Je serais bien embêtée pour expliquer ce qui me plaît dans cette oeuvre résolument abstraite. Peut-être déjà les couleurs fortes ? Les rouges qu'on voit poindre par transparence sous le bleu? La pointe de turquoise? Les rouges mêlés aux roses et oranges? Les formes? Les motifs? La verticalité de la composition?
Those who are not so keen on abstract art will find it hard to take it in, sorry for them, but the more I look at it and the more I love it. I find it very hard to explain what I like in this definitely abstract work. Maybe the strong colours? The reds you can see through the blue? the turquoise touch? The reds mixing with the pinks and oranges? The shapes? The patterns? The vertical layout?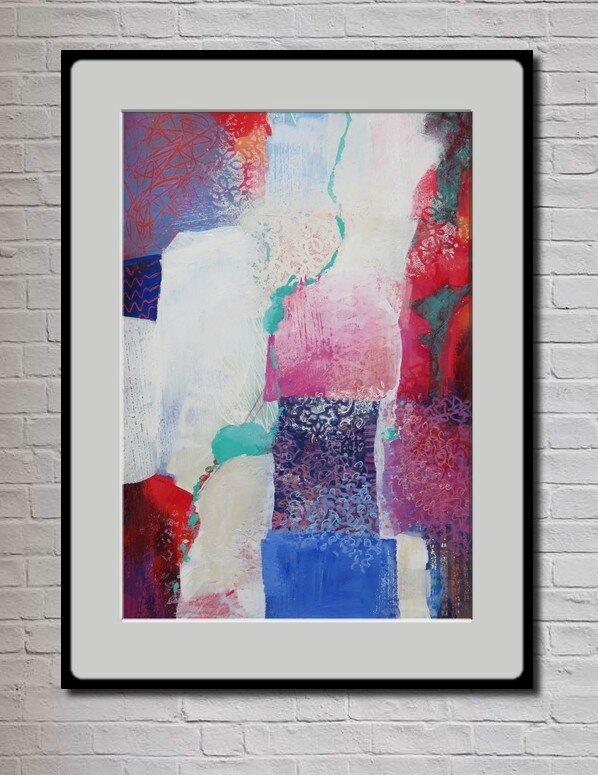 16 février 2017
Bien évidement, le parc le plus connu des touristes qui viennent à Rome, c'est celui de la villa Borghese.
The most famous of all Roman parks is obviously the park of Villa Borghese, at least for tourists.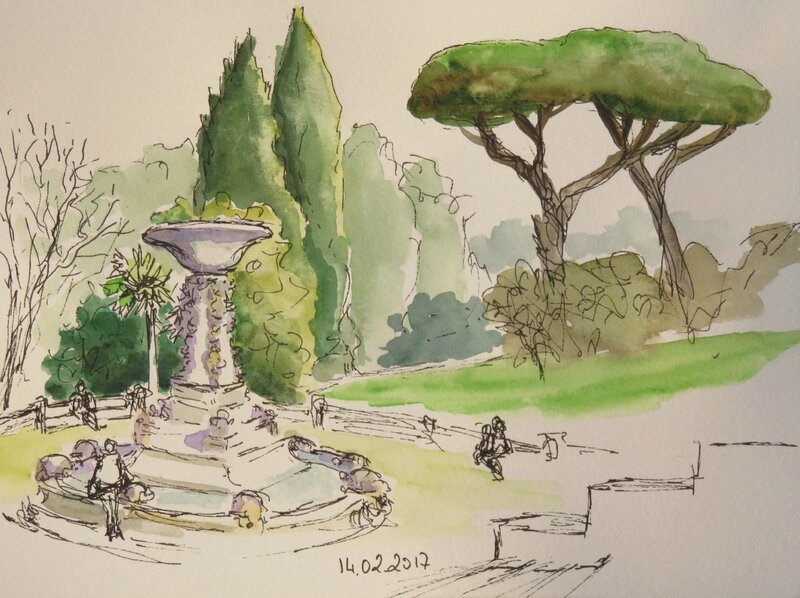 N°6 Villa Borghese, fontana delle Tartarughe (Fontaine aux Tortues / the Turtle Fountain)
à ne pas confondre avec la fontaine aux tortues piazza Mattei / not to be mistaken with the Turtle Fountain piazza Mattei
Il y en a pourtant une multitude d'autres, connus des romains. Des immenses, comme le Pamphili, ou villa Ada, ou des plus petits comme le parc de la villa Torlonia,
There are so many others though, that only Romans seem to be aware of, huge parks like the Pamphili, or Villa Ada, or smaller ones like the park of Villa Torlonia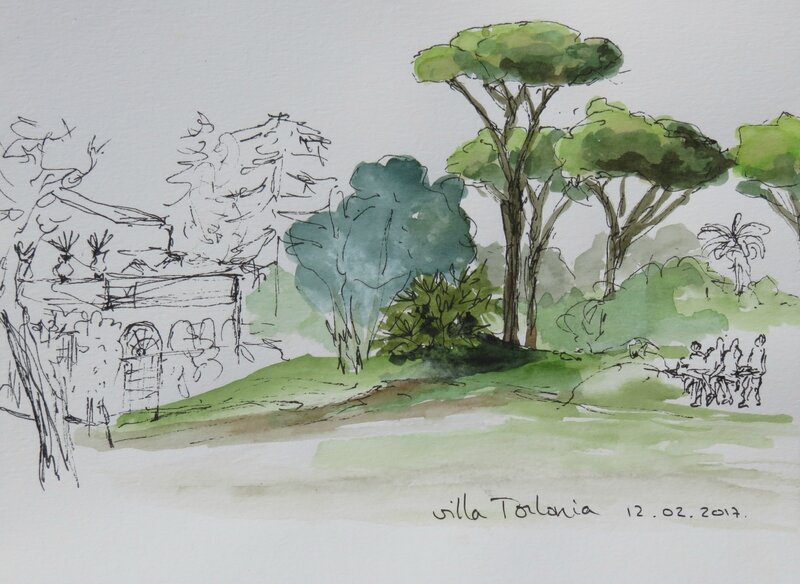 N°7 Parc de la villa Torlonia, Rome
ou des carrément inconnus, sauf des riverains, comme celui de la villa Carpegna
or some totally unknown, except by neighbours, like the park of Villa Carpegna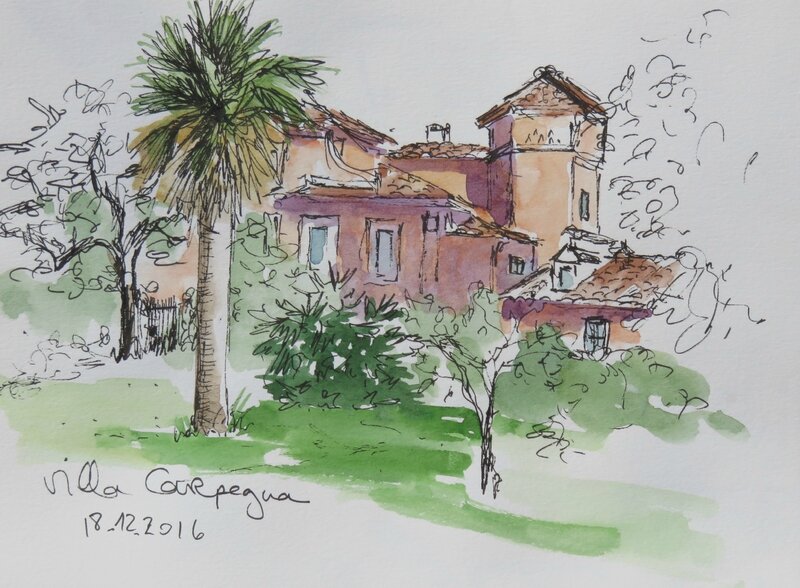 N° 8 Parc de la villa Carpegna, Rome
Pour revoir d'autres croquis du parc de la villa Borghese cliquez ici mais je réalise en écrivant ce post, que je n'en ai fait aucun de Pamphili ou Villa Ada, c'est dommage. Qu'à cela ne tienne, j'y retournerai! ;-)
To see more sketches of the villa Borghese click here but I'm realising just now that I haven't sketched the Pamphili or Villa Ada, it's a pity. I'll have to go back there then ;-)
14 février 2017
Voici ce que j'ai remarqué l'autre jour, en traversant pour la nième fois le parc de la Villa Borghese à pied :
Here's what I've noticed the other day, while walking across the park of Villa Borghese for the umpteenth time:
Le plan du parc n'a pas fait une 'spéciale St Valentin', rassurez-vous, non, c'est bien sa forme. Charmant, non? C'est peut-être un parc dédié à l'amour? En tous les cas, parmi toutes les statues qui ornent le parc, il y en a une qui me plaît particulièrement:
The park map wasn't put on as some "Valentine Special", it's just the actual shape of the park. Isn't it charming? Could it be a park dedicated to love? Who knows? Among all the statues decorating the place, I'm particularly fond of this one: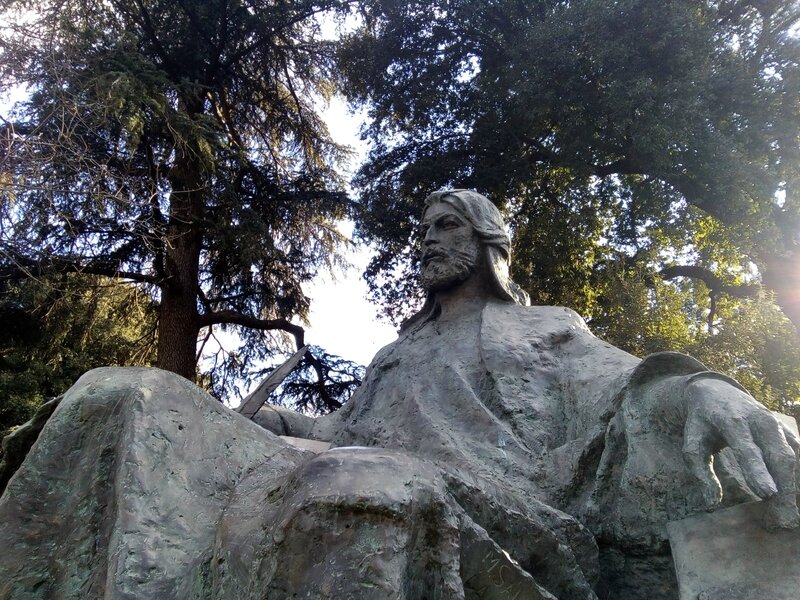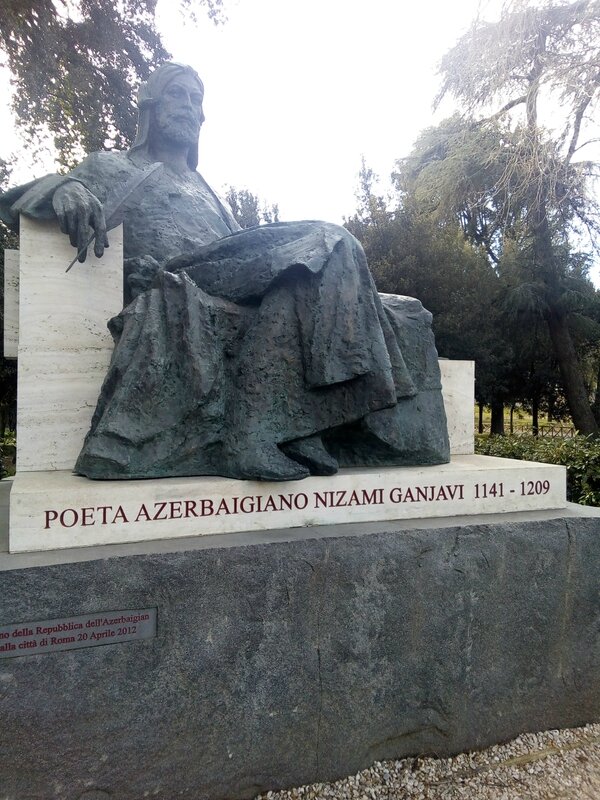 celle du poète d'Azerbaïdjan Nizami Ganjavi, du XIIe siècle,
12th century Azerbaijan poet Nezami Ganjavi.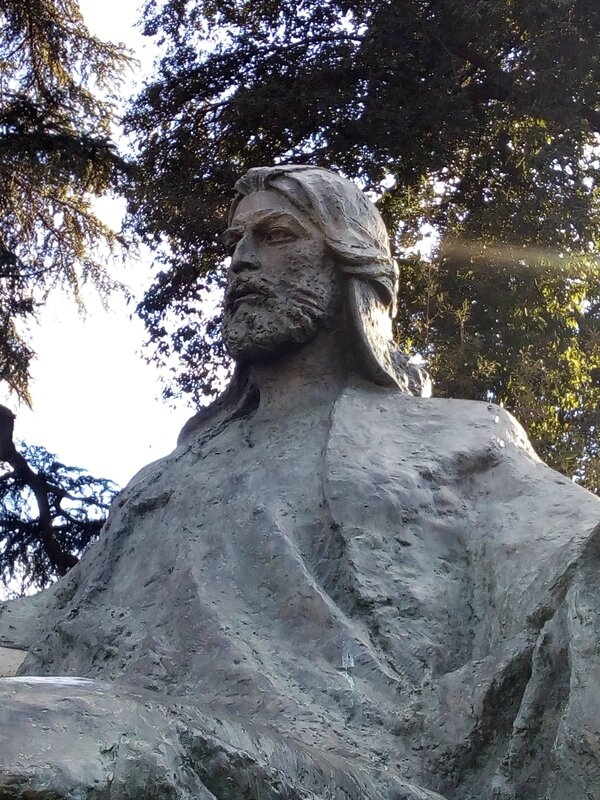 dont on dit qu'il était le plus grand poète romantique et épique de la littérature Perse
said to be the most romantic epic poet in Persian Literature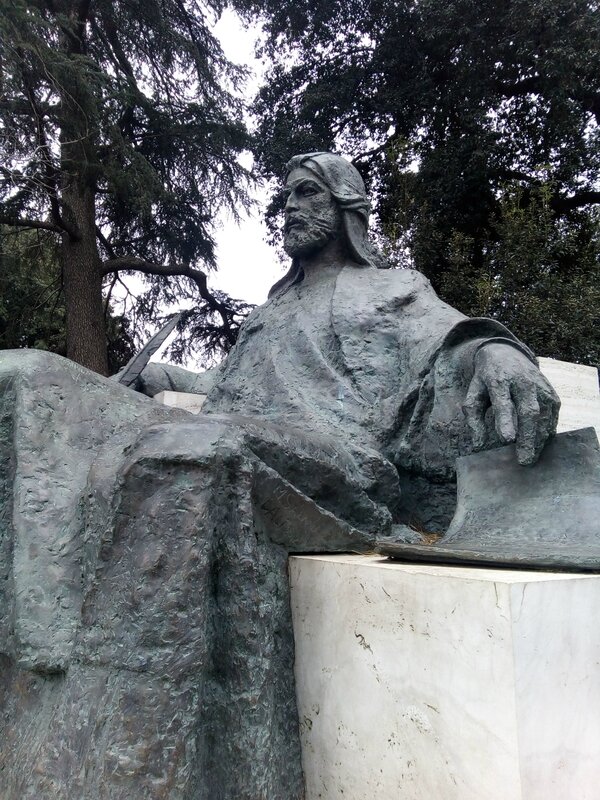 Elle est un peu plus grande que l'échelle humaine, et il semble si détendu, si sûr de lui en même temps, que je lui fais presque un signe à chaque fois que je le vois.
It's a little bigger than the human scale, and he looks so relaxed, so self confident at the same time, that I almost nod to him each time I see him.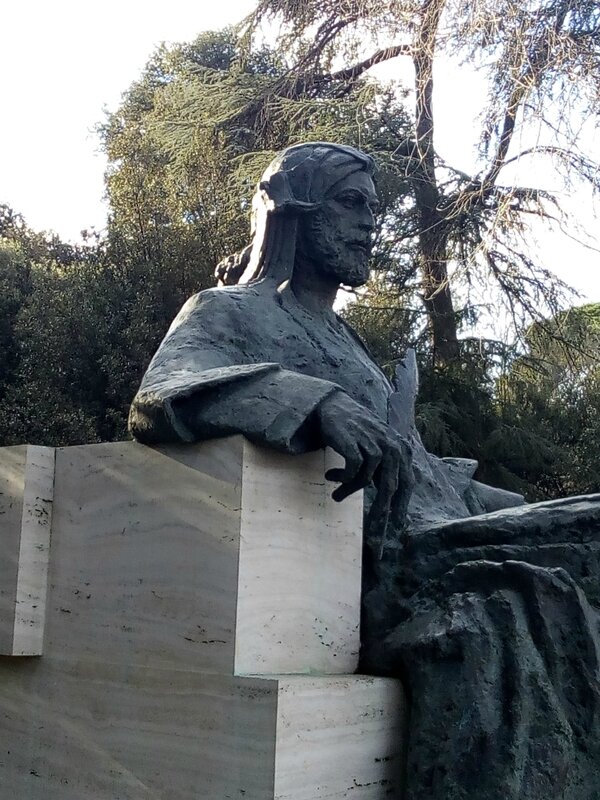 J'aime la tranquillité et la force qu'il dégage. Sa pose est si 'moderne' que sa présence semble avoir traversé les siècles. Voici quelques vers sur Leila et Majnoun, les amants maudits dont il a écrit l'histoire:
I love the calm and strength he exudes. His pose is so 'modern' that his spirit seems to have travelled across centuries. Here are some of his verses telling the story of Layla and Majnun, the thwarted lovers:
"Every breeze that blows "Chaque brise qui souffle
brings your scent to me; m'apporte ton parfum;

Every bird that sings Chaque oiseau qui chante
calls out your name to me; appelle ton nom;

Every dream that appears Chaque rêve qui apparaît

brings your face to me; m'apporte ton visage;

Every glance at your face Chaque coup d'oeil à ton visage
has left its trace with me. a laissé sa trace en moi.

I am yours, I am yours, Je suis tien, je suis tien,

whether near or far; proche ou lointain;

Your grief is mine, all mine, Ta douleur est mienne, toute mienne,

wherever you are…" où que tu sois..."

(la traduction imparfaite est de moi)
C'est fou comme ces vers écrits au XIIe siècle n'ont pas pris une ride! Ils auraient pu être écrits par un poète contemporain.
It's fascinating how modern these XIIth century verses sound! They could have been written by a contemporary poet.
En gros, c'est un peu le Shakespeare Azerbaijan et Leila et Majnoun, son Romeo et Juliette ;-) Si ça se trouve, Shakespeare s'en est inspiré pour écrire Romeo et Juliette?
He's a little like the Azerbaijan Shakespeare, and Layla and Majnun, his Romeo and Juliet ;-) Why not even imagine that Shakespeare was inspired by them to write his Romeo and Juliet?
Pour finir sur une note plus légère, mais non moins revigorante, vous prendrez bien un cappuccino? Est-ce moi qui voit des coeurs partout?
To finish this post on a lighter but still invigorating note, how about some cappuccino? Am I the only one to see hearts everywhere?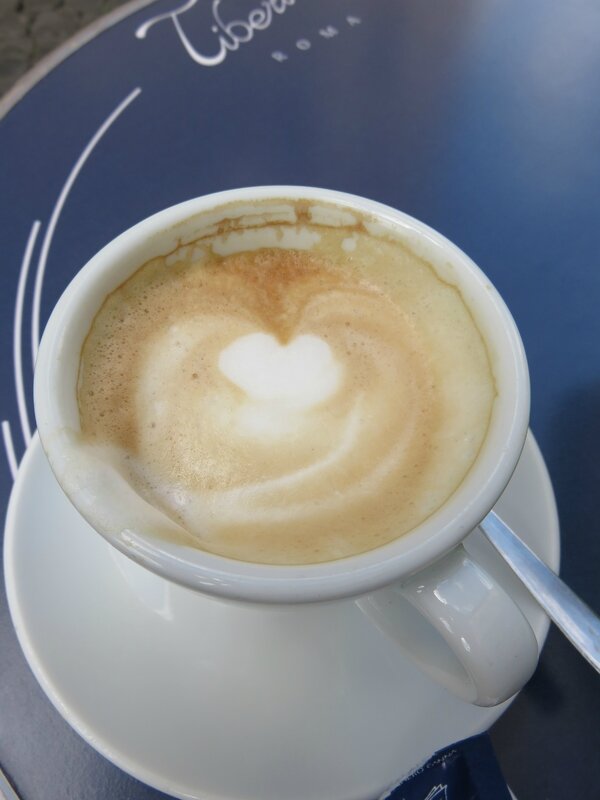 Passez une excellente journée
Have a wonderful day
EDIT: J'avais oublié de mentionner le nom de l'auteur de cette statue
I forgot to mention the name of the artist who made this statue
Sahlab Mammadov, Ali Ibadullayev
10 février 2017
J'aime ce monoprint abstrait pour sa qualité minérale.
I love the mineral quality of this abstract.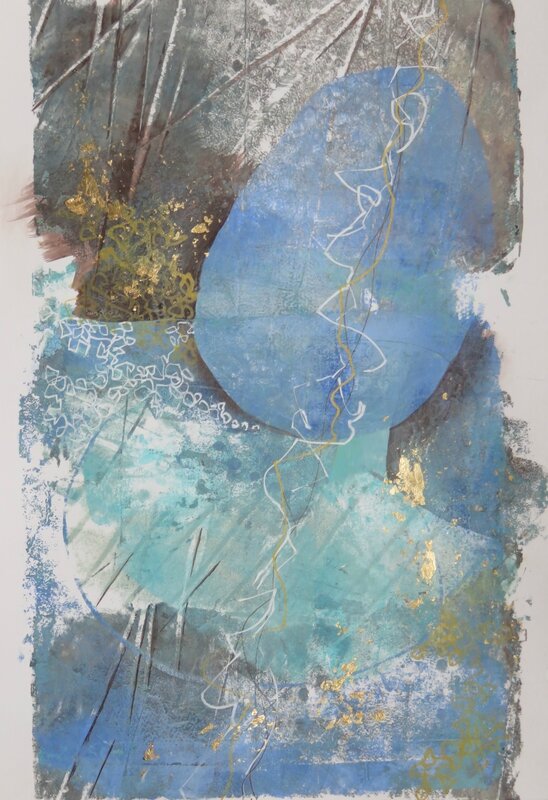 Monoprint n°232
mixed media sur papier / mixed media on paper
Gelées d'hiver, longues marches en forêt, minuscules ruisseaux bordés de feuilles brunes humides, odeur de la terre détrempée, morsure du froid...
Winter frost, long walks in the forest, tiny brooks with wet brown leaves, the smell of damp earth and the bite of cold...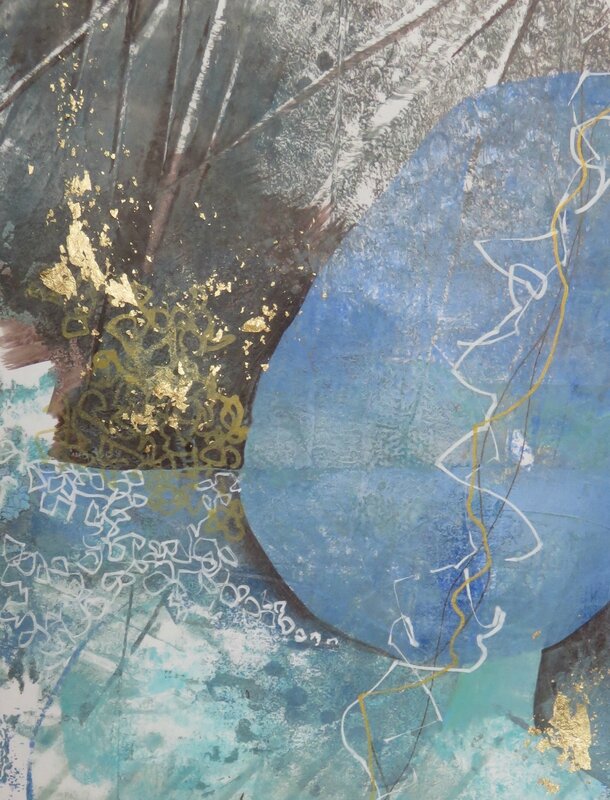 détail
Et vous, vous y voyez quoi?
What do you see in it?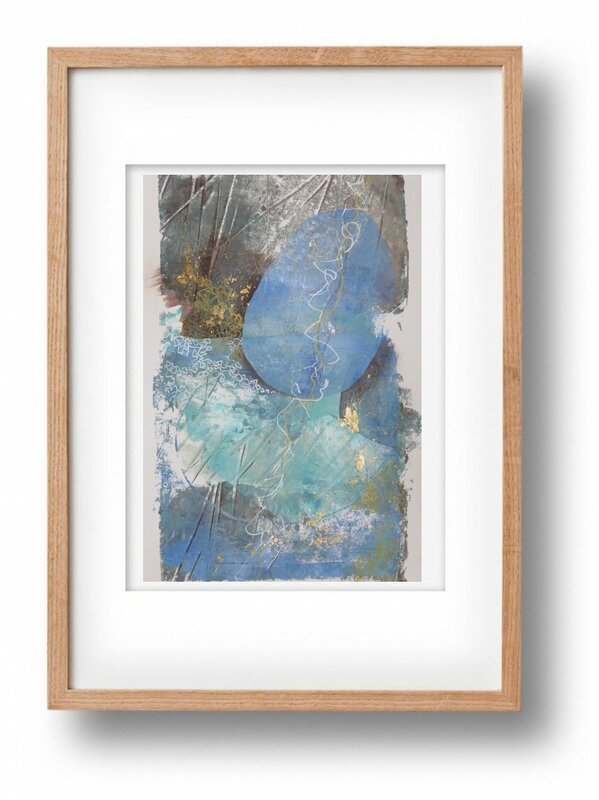 06 février 2017
Ceux qui sont pressés, ceux qui se promènent, ceux qui visitent, ceux qui vont chercher les enfants, ceux qui ont rendez-vous...
Those in a hurry, those having a stroll, those sightseeing, those fetching children from school, those having a rendez-vous...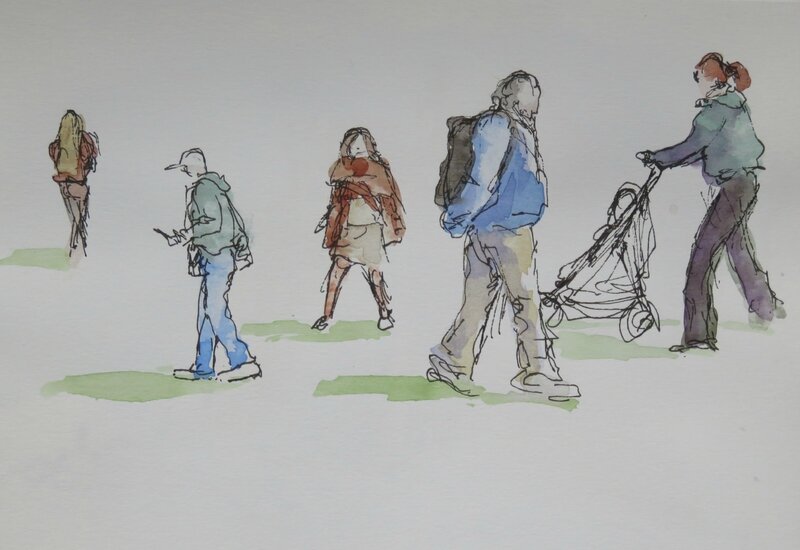 01 février 2017
On the seventh day
Of the seventh sun,
You will open the seventh door,
And let me in.

The Seventh Door
Mixed Media on paper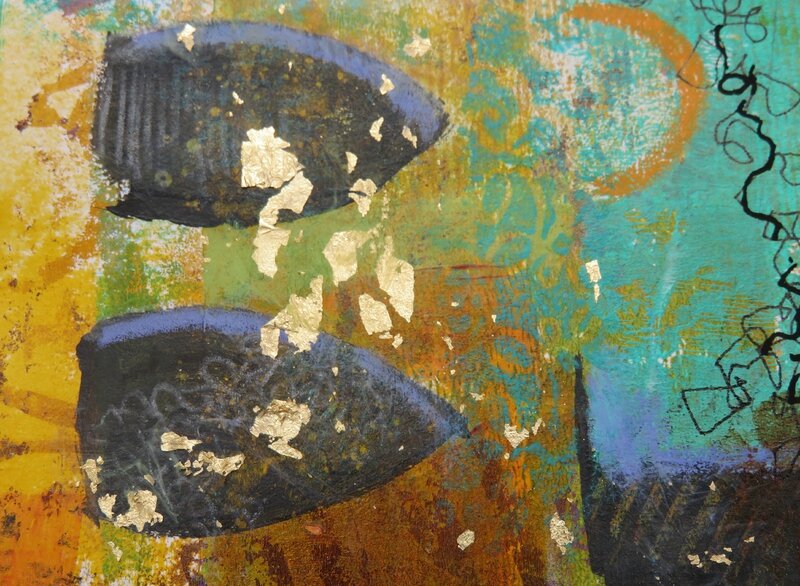 détail / detail
(monotype, encre de chine, feuille d'or, pastels aquarellables, peinture acrylique /
monoprint, indian ink, gold leaf, watercolour pastels, acrylic paint)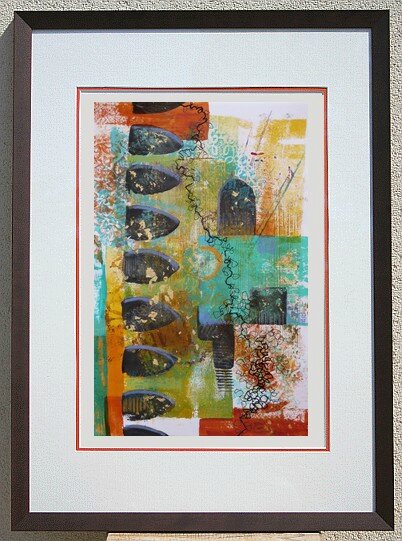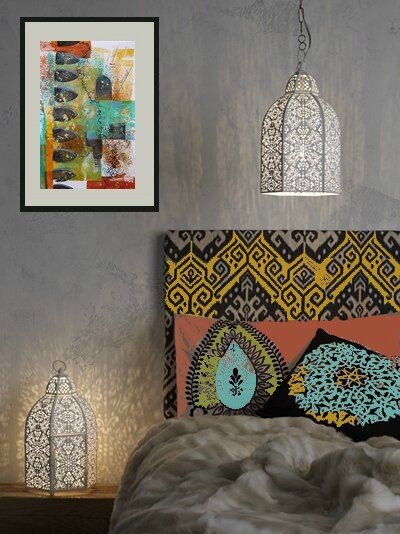 24 janvier 2017
Depuis le mois de septembre, je ne sais combien de fois nous sommes allés à Marina San Nicola, juste avant Ladispoli au nord de Rome. Nous y sommes allés à la plage aux beaux jours, et de nombreuses fois, car nous avons tant apprécié ce petit coin de plage qui, exceptionnellement en Italie, alterne les plages publiques et privées; de plus, pas de grands immeubles moches, Marina San Nicola n'est fait que de maisons basses, beaucoup de verdure, de quoi se garer facilement, bref, l'idéal.
Since September, we've been dozens of times to Marina San Nicola, just before Ladispoli, north of Rome! We went to the beach when it was still hot, and several times too, as we really enjoyed the lay out of the place. It's cute, there are public beaches, and lots of parking spaces. Ideal.
De la plage on aperçoit un château au loin. On s'était toujours dit qu'on marcherait le long de la plage pour aller le voir de près, mais nous ne sommes jamais allés plus loin que ça:
From the beach, you can see a caste far away. We always said we would walk along the beach to try and reach it, but this is the closest we got: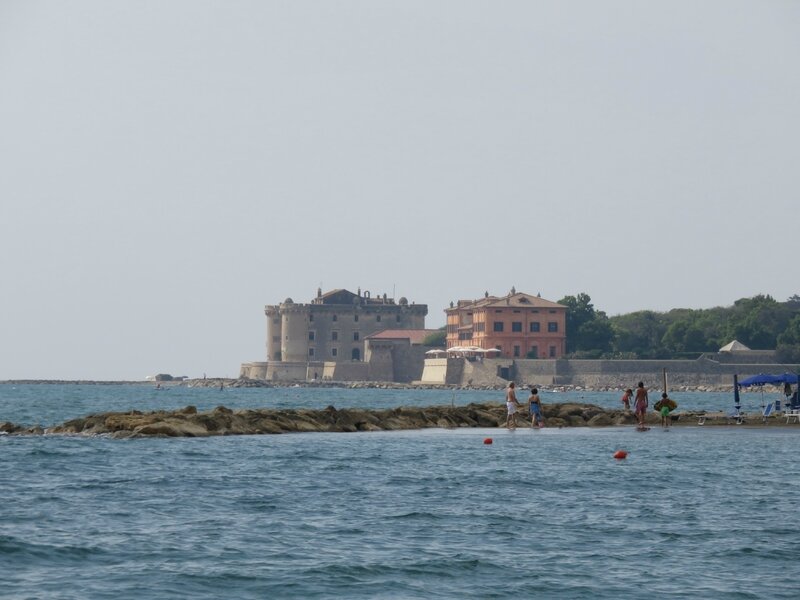 En novembre, nous avons décidé d'y aller par la route: persuadés que le chateau se situait à Ladispoli, la petite ville dont dépend Marina San Nicola. Mais non, quand nous sommes arrivés à Ladispoli, nous avions dépassé le château. Demi tour, mais nous n'avons jamais pu trouver une route qui y menait.
In November, we decided to drive there; we were sure the castle was in fact in Ladispoli, but it wasn't. When we got to Ladispoli, we had missed it. We drove back, trying to find a road leading to it, but never found one.
En décembre, nous sommes retournés à Ladispoli, et nous avons décidé tous les 3 de marcher jusqu'au château qui jusque là nous avait échappé. Et nous avons ENFIN réussi !!!
In December, we went back to Ladispoli, determined to walk to the unreachable and mystifying castle that had so far eluded us. And at long last we succeeded!!!
nous avons dû marcher le long de la plage, escalader des rochers, passer sur un étroit ponton, enjamber un bras de mer, mais RIEN ne nous a arrêtés!
we had to walk along the beach, climb up rocks, go along a narrow pier, but nothing stopped us!
La lumière était si belle, le temps si doux, on n'aurait pu rêver d'un meilleur moment pour le découvrir.
The light was fantastic, the weather was mild, we couldn't have dreamed of a better time to discover it.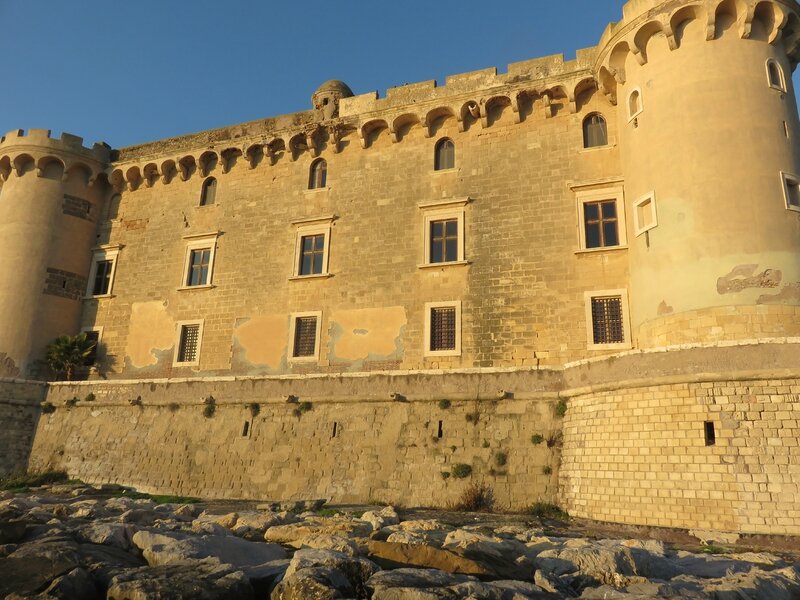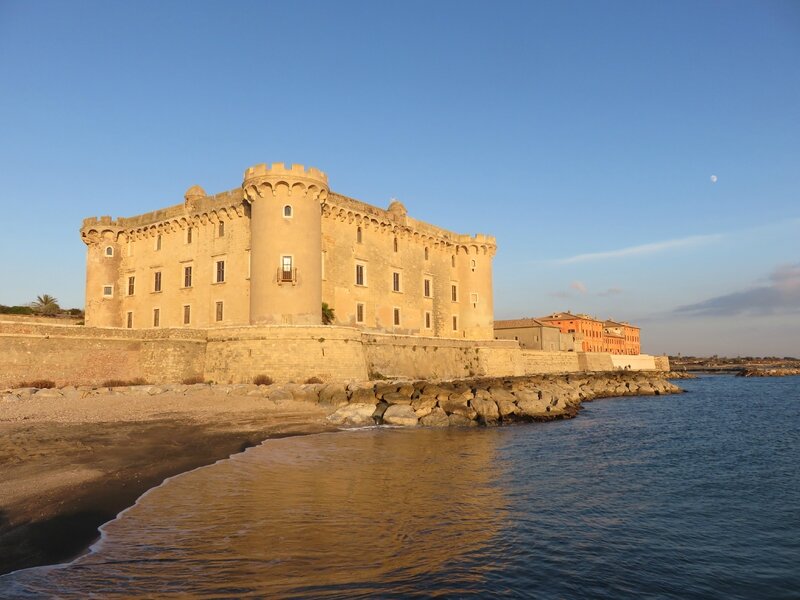 J'ai même eu le temps de faire 2 croquis (je suis le petit point à droite sur les rochers)
I even had time to do two sketches ( I'm the small dot on the right, standing on the rocks)
comme un vrai château posé sur le sable
it's like a castle on the sand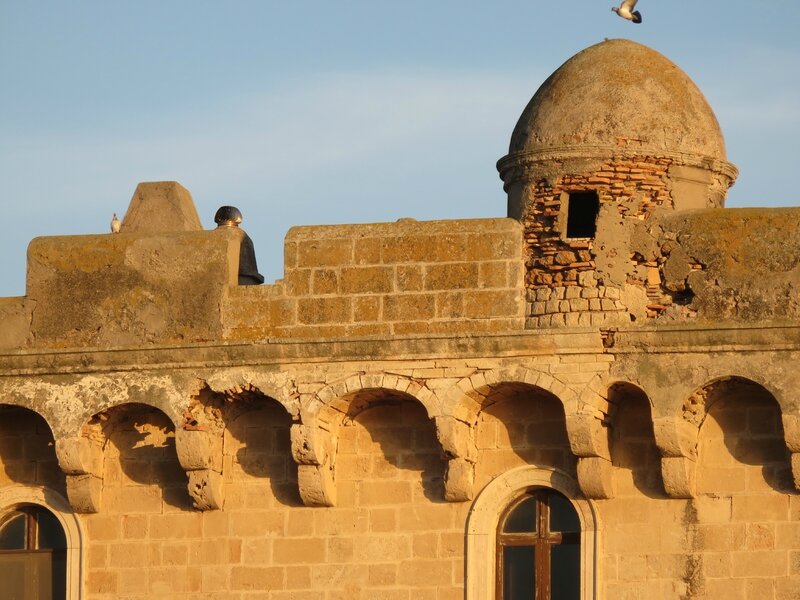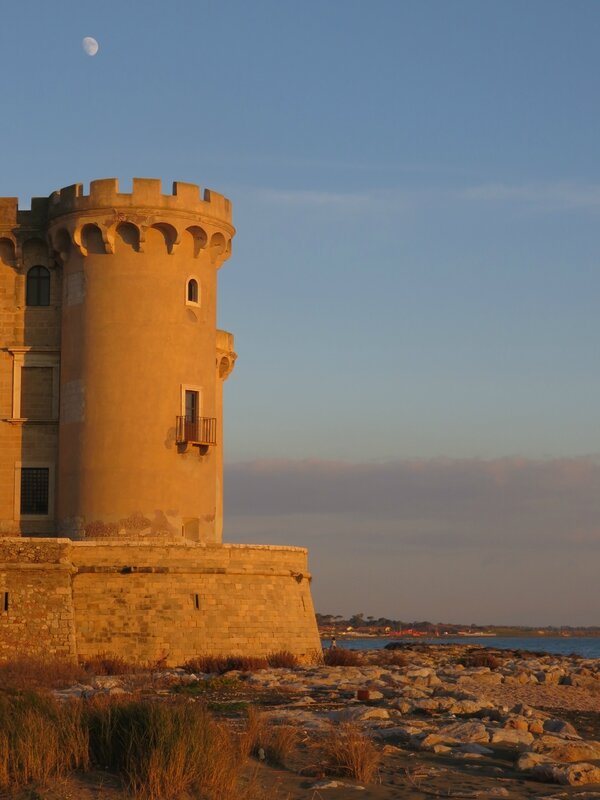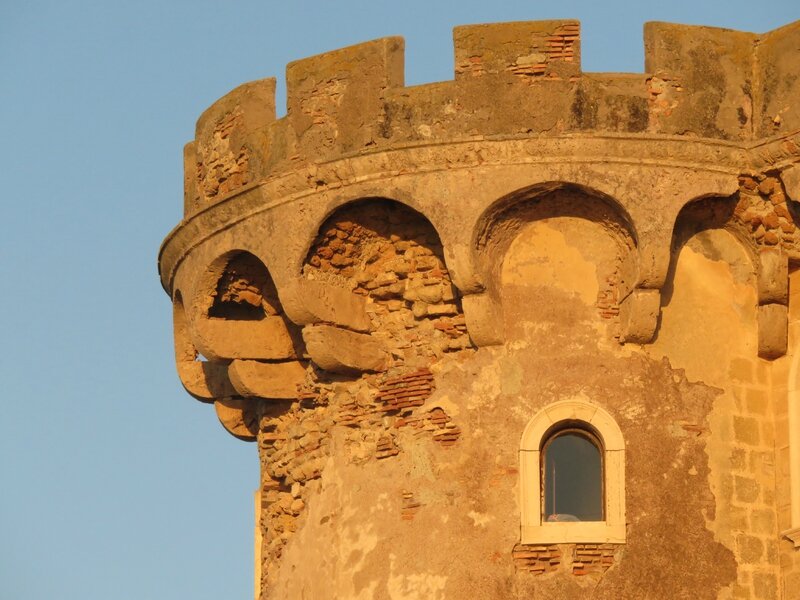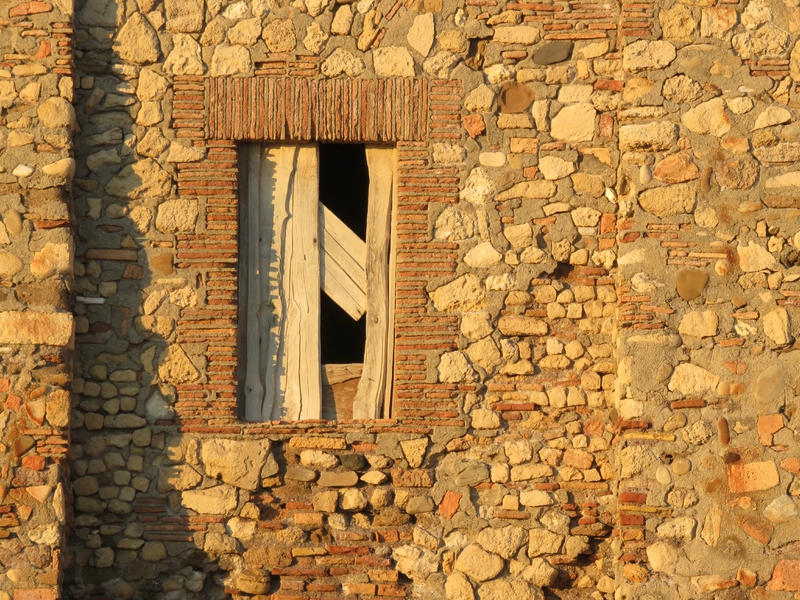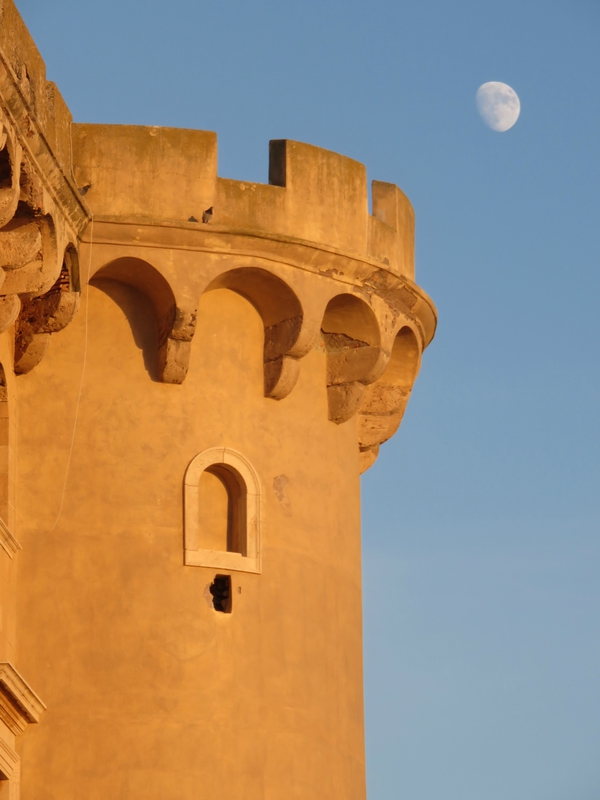 et juste à côté de ce beau château il y a une longue batisse aux couleurs incroyables, surtout juste avant le coucher de soleil
and right next to this beautiful castle, there's a long and imposing building, with stunning colours, especially just beforre sunset.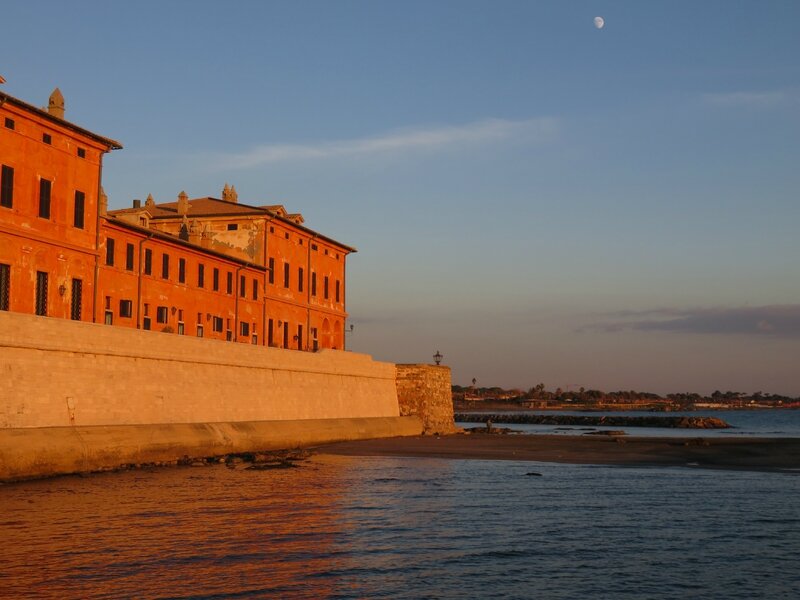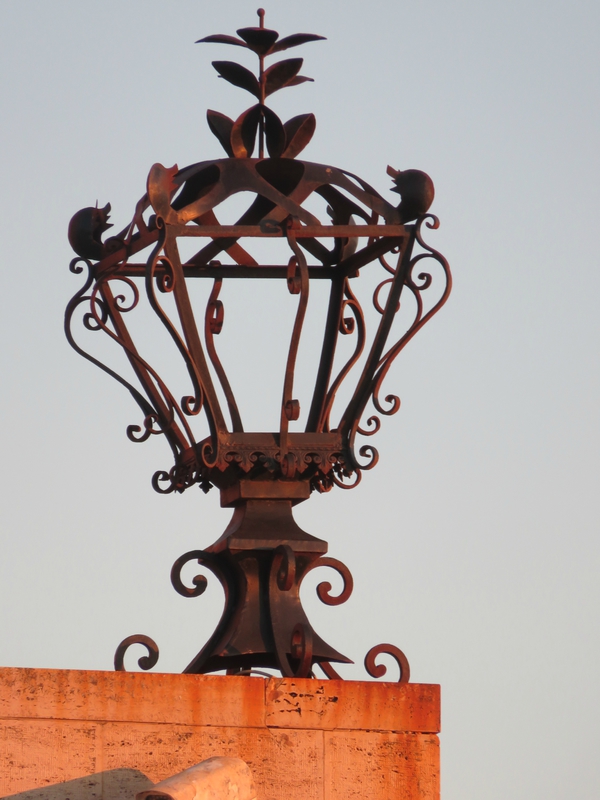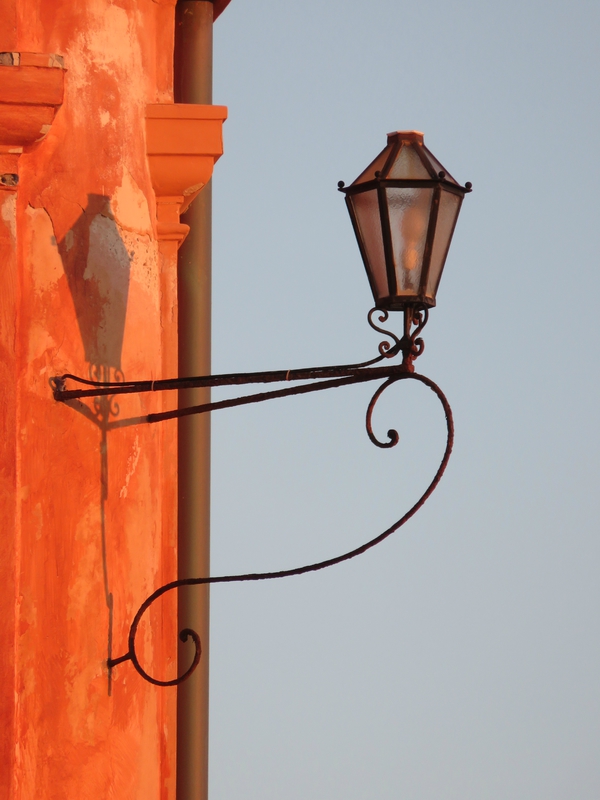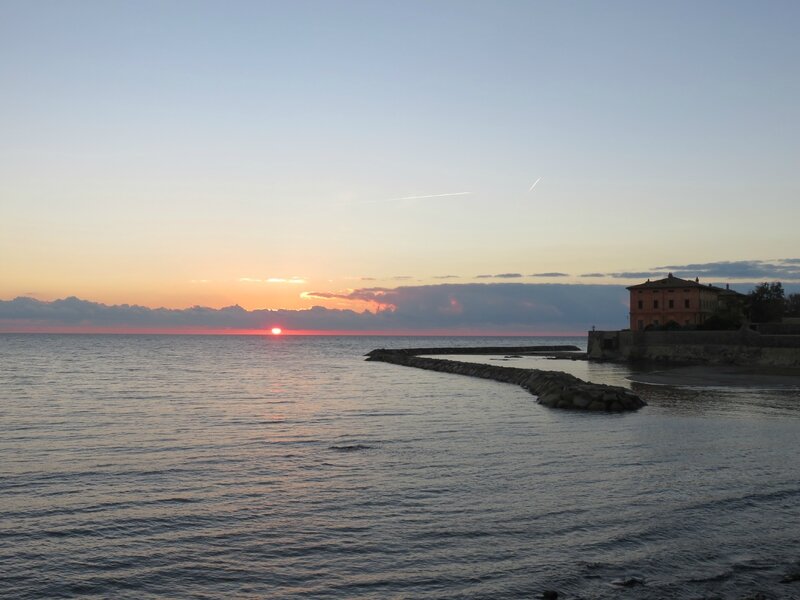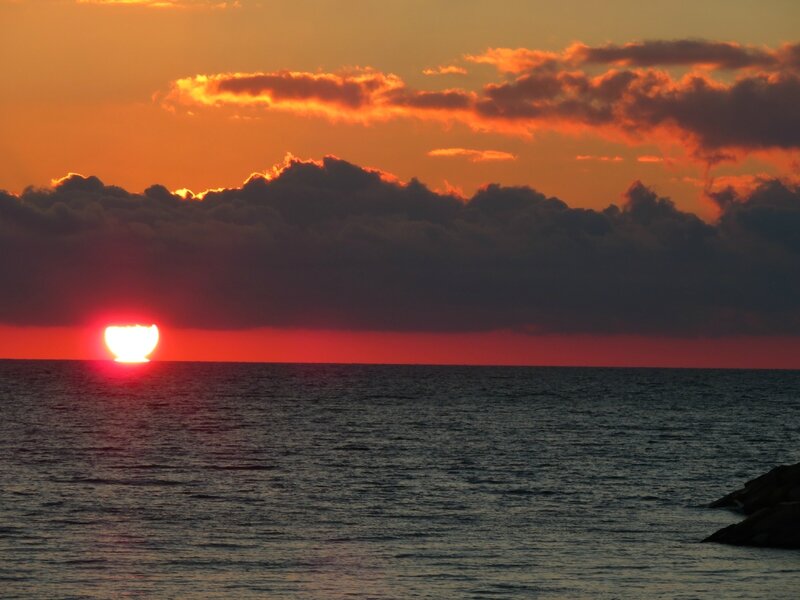 et le dernier cadeau de la journée fut un magnifique coucher de soleil.
the last gift of the day was the gorgeous sunset.
16 janvier 2017
En janvier (comme en septembre d'ailleurs) on a comme une envie de repartir sur de bonnes bases, envie de faire du vide, propre, pour les jours nouveaux à venir.
In January (and in september too) I have a deep need to tidy up in order to start the year on a clean white slate.
Voici donc un peu de dépoussiérage et de rangement sur ce blog.
So I've been doing some tidying up on this blog.
J'ai ré-organisé tous mes albums-carnets de voyages, je les ai renommés aussi pour plus de clarté. Vous trouverez donc à droite les albums maintenant appelés par le nom du pays ou de la région concernées, avec l'année à titre indicatif.
I've re-organised all my travel sketchbook albums, I've renamed them too. On the right, you will now find them under the country they refer too.
Ils concernent ces pays où j'ai habité et que j'ai pu visiter tout à loisir :
They concern all the countries where I've lived and that I had ample time to visit:
Afrique du Sud de 1 à 5 (cliquez sur les vignettes pour y avoir accès)
/ South Africa 1 to 5 (click on thumbnails to view them)
France de 1 à 3 / France from 1 to 3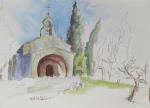 France n°1
(sur le sud de la France, classé par villes ou villages /
on the south of France, sorted by names of towns or villages)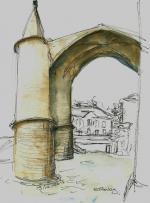 France n°2
(sur Montpellier, classé par nom de places ou rues /
on Montpellier, sorted by names of squares or streets)

France n°3
(sur les autres régions de France, classé par numéro de département /
on other regions, sorted by the number of 'département')
Notre nouveau pays d'adoption / our new country of adoption
Les autres carnets sur des pays qui m'ont marquée
/ other sketchbooks on countries that had a big impact (Zanzibar)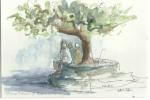 et où j'ai eu le temps de faire beaucoup de croquis
/ and-or where I had time to sketch (Maroc)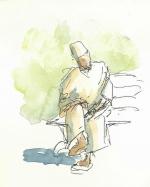 Dans les nouveautés, j'ai créé 3 albums "Autour du Monde" chacun classé par pays
I have created three new albums entitled "Around the World" each sorted by countries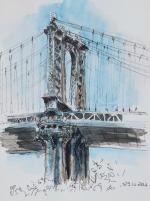 Autour du monde /Around the world 1
qui rassemble les croquis dessinés au long de mes voyages-vacances (croquis dessinés sur place).
For the sketches I made during my travels/holidays (sketches made on the spot)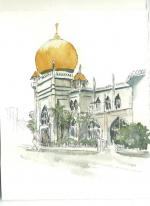 Autour du Monde / Around the World 2
pour tous les voyages que j'ai fait avant de savoir croquer; je reprends de temps en temps mes vieux albums photos et carnets de voyage écrits, et je croque telle ou telle photo.
for all the travels I did before knowing how to sketch; I sometimes browse through my old written travelbooks and photo albums, and I sketch this or that photo.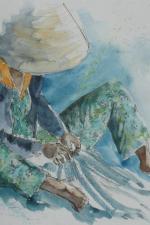 Autour du Monde / Around the World 3
pour tous ces voyages que j'aimerais faire, ces pays où je rêve d'aller, ces photos dont je ne suis pas l'auteur et qui m'ont fait de l'oeil.
for all those travels I would like to do, these countries that have me draming, these photos I haven't taken and which speak to me.
Bon voyage ;-)
Have a nice trip ;-)
12 janvier 2017
De temps en temps des formes plus reconnaissables s'invitent dans mes tableaux, tout comme cette théière s'était imposée à moi l'an dernier. Ne cherchez pas le pourquoi, je ne suis que l'humble exécutante d'une force mystérieuse. ;-)
From time to time, more recognizable shapes crawl into my work, just like this teapot which forced itself in one last year, remember? Don't ask me why, I'm just a humble player in the hands of the mysterious forces above. ;-)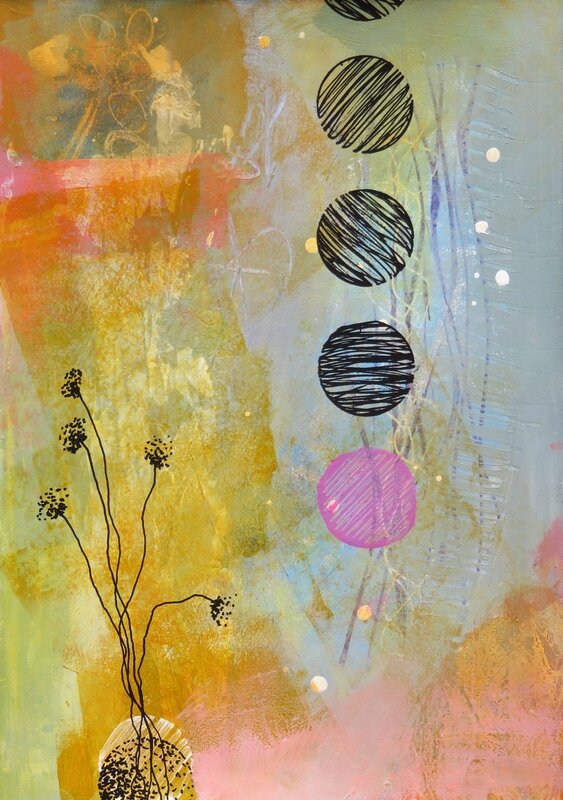 N°2
Monoprint n°213
mixed media sur papier / mixed media on paper
Je ne saurais vous dire s'il est vaiment fini. En tous les cas, pour l'instant il reste ainsi. Les couleurs nous réchauffent un peu, c'est précieux en ce moment.
I can't really say if this one is finished, but for now, at least, it'll stay like this. The warm colours are a must at the moment.