26 mai 2017
J'ai besoin de votre regard neuf et de votre avis pour ce tableau sur lequel je coince depuis plusieurs mois.
I need your eyes and advice on this painting of mine. I've been stuck for a few months now.
La composition me plaît, ainsi que les textures, et transparences, mais les couleurs me dérangent un peu. Dans ce genre de cas, je laisse murir. Et puis avec un regard neuf, je reprends ou pas. L'autre jour, je l'ai revu et je me suis dis, "ben si, il est fini"; et puis un jour après, j'ai hésité à nouveau. Et chez moi, si j'hésite, c'est qu'il n'est pas fini.
I like the composition, as well as the textures and transparencies, but I'm not too happy about the colours. I usually let it rest for a while, then, with fresh new eyes, I work some more on it - or not. The other day I saw it and thought "yeah, it's great as it is"; then one day later I hesitated again. And when I do, it means that it's not finished.
Quand je suis dans cet état d'esprit là, il ne manque parfois qu'un mini truc, une ligne, des tâches, une petite touche ici ou là qui font que d'un coup je suis sûre de moi...
When I'm in this situation I only need a little something like a line, some touch here or there, and suddenly I feel certain I've reached my goal.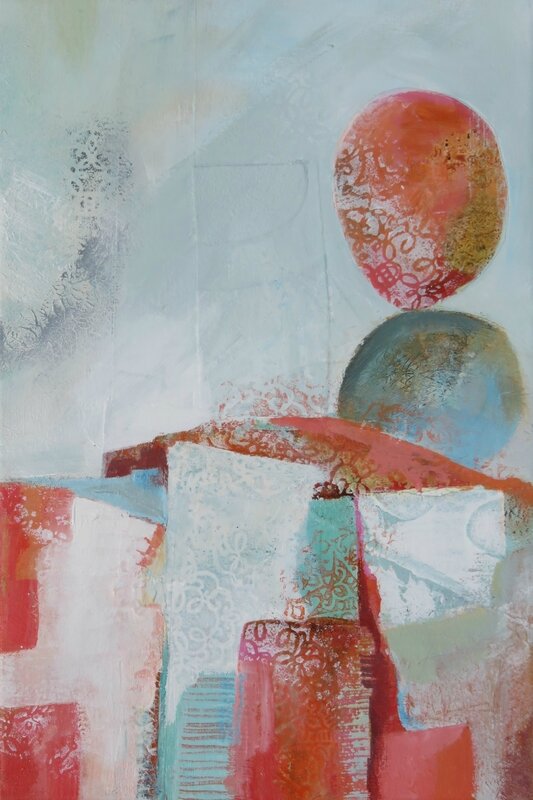 N°73 Still Standing
Acrylic et collages sur toile / Acrylic and collages on canvas
20 x 30 cm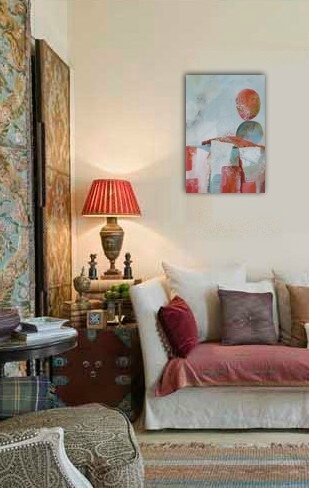 Alors d'après vous? Fini ou pas? Vous aimez ou pas vraiment?
So what do you think? Finished or not? Do you like it or not that much?
24 mai 2017
Les voici, ces inconscients dont je vous parlais l'autre jour (cliquez là pour connaître les dessous de l'histoire)
Here are the reckless people I was mentioning the other day (click here to know what lies behind the story)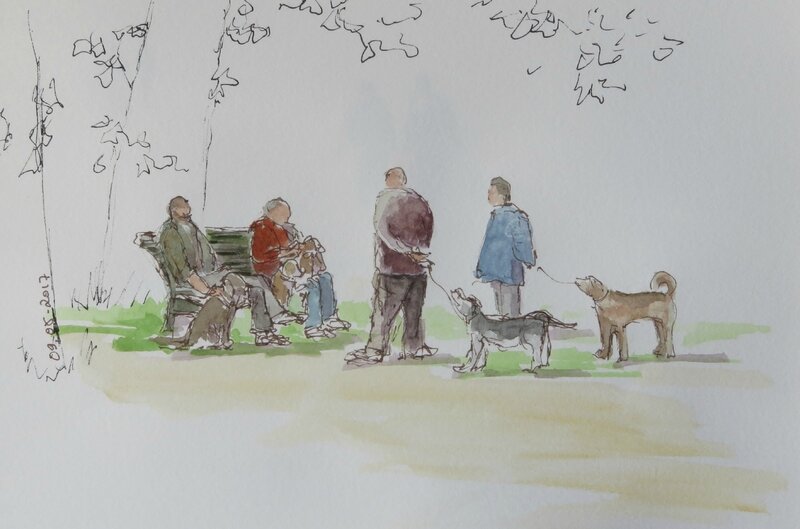 N°68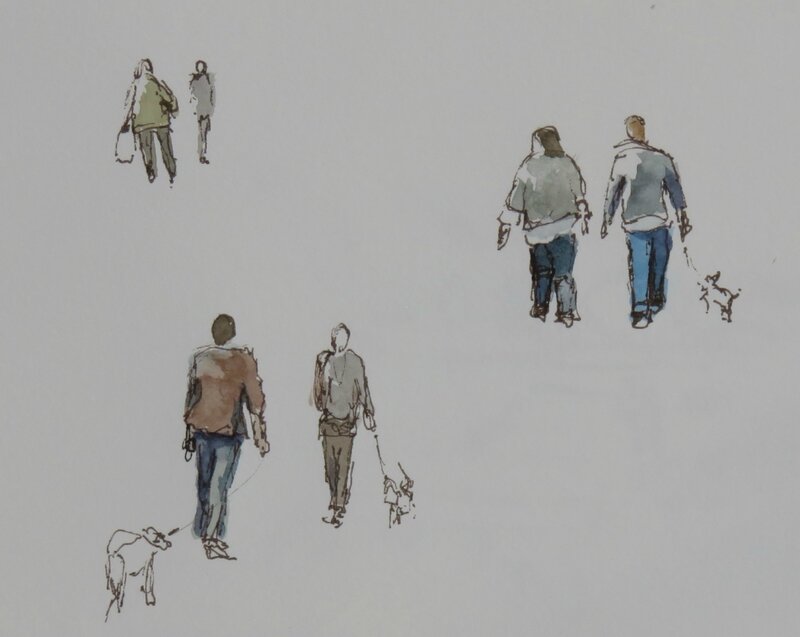 N°69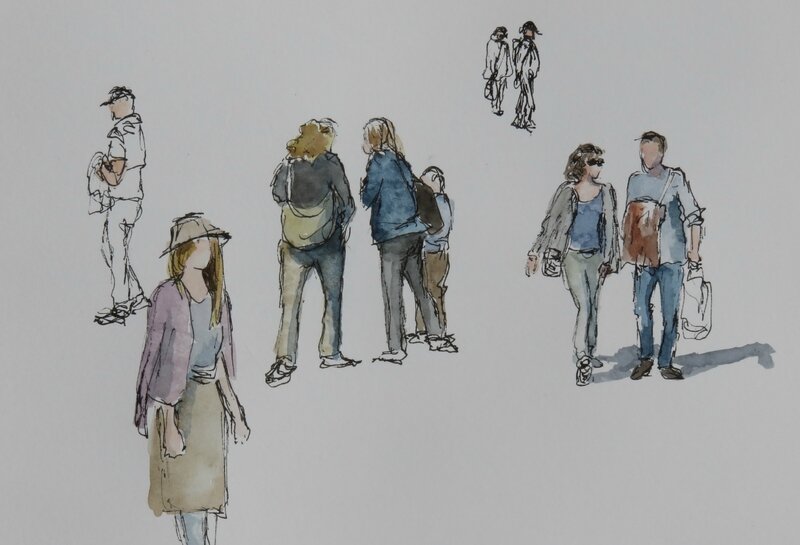 N°70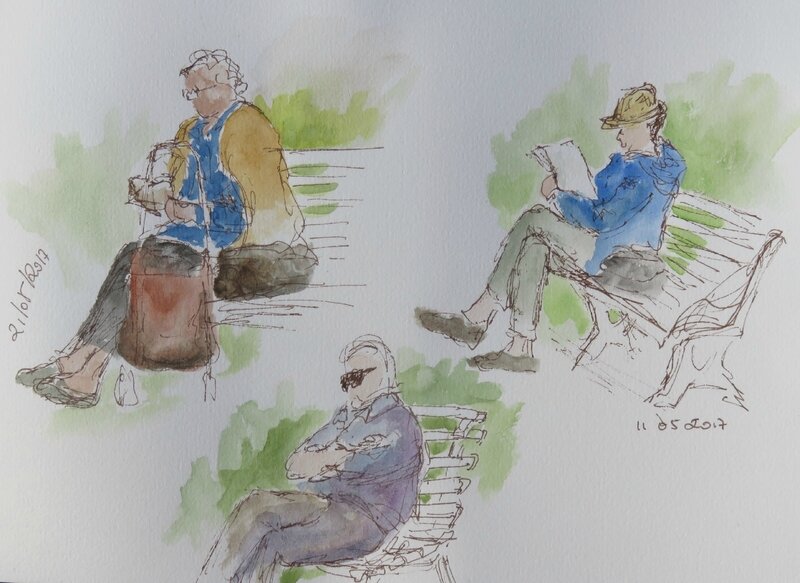 N°71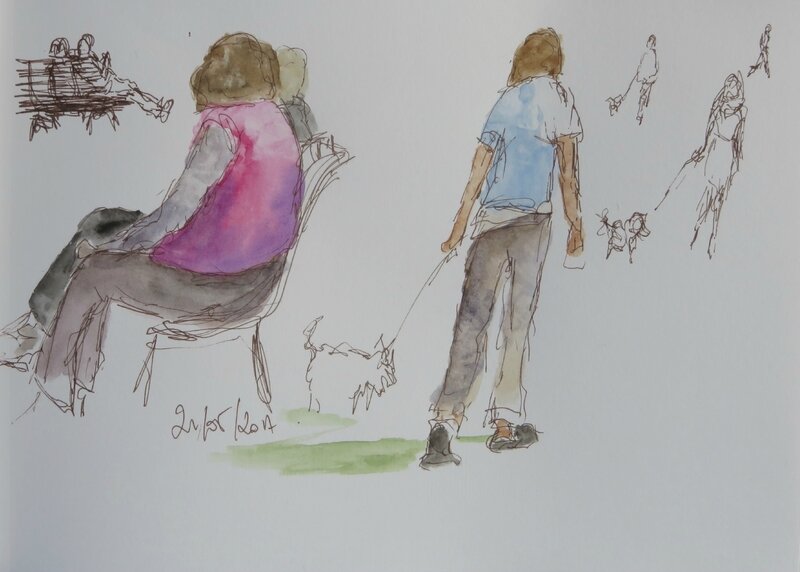 N°72
Comme je vous l'ai dit, ils n'ont absolument aucune idée du danger.
As I told you, they have absolutely no idea of the danger.
22 mai 2017
Au parc de la villa Borghese, les fontaines majestueuses coulent, l'ombre est douce, ... et pourtant
In the Villa Borghese park, the stately fountains drip and the shade is soft and tender, ... however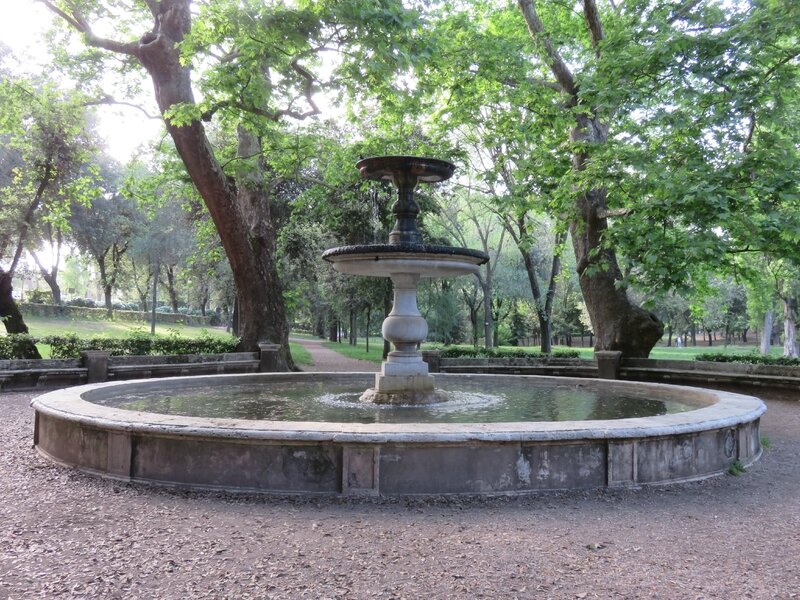 Pourtant, sans bruit et lentement, la nature reprend possession des lieux
However, nature is noiselessly and slowly taking possession of the place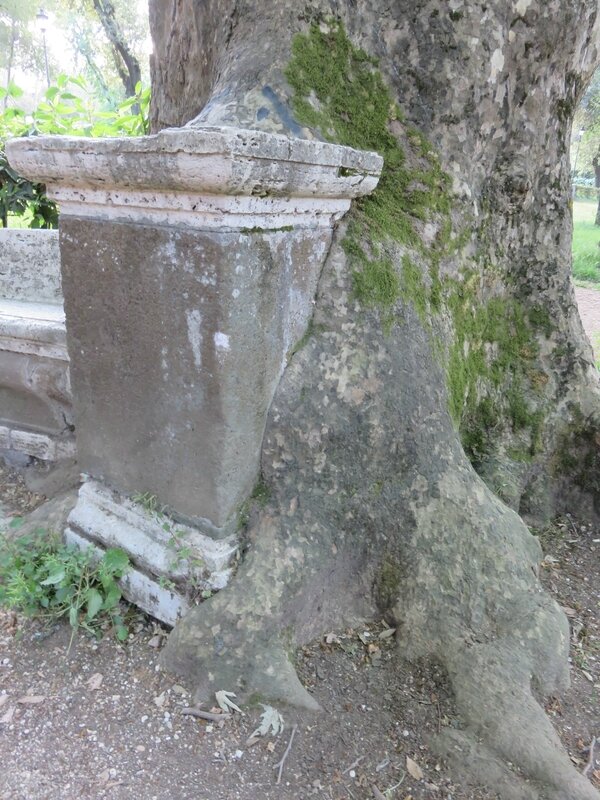 efface la trace de l'homme
wiping out man's mark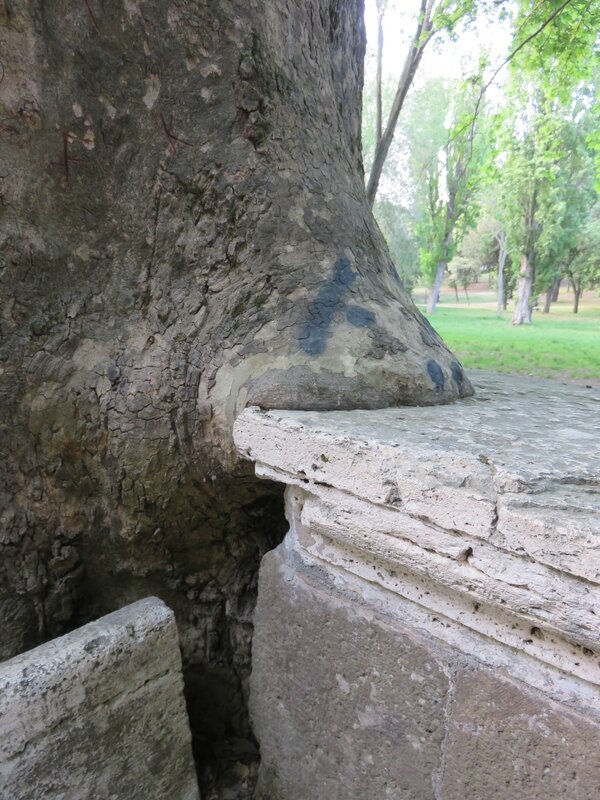 dévore et engloutit
devouring and gobbling up
Alors les bancs se font tout petits,
les pierres n'osent plus dire un mot,
les fontaines la ramènent un peu moins,
et les promeneurs, ces inconscients, ne se doutent de rien.
Benches then keep a low profile,
stones dare not say a word,
fountains stop mouthing off,
and the people recklessly walking by don't even suspect a thing.
20 mai 2017
Vous savez tous combien j'adore faire des monoprints. Quelques rares pièces sont bien telles quelles, j'en retravaille d'autres, mais une grand partie s'entasse dans les tiroirs en attendant l'inspiration. Une petite partie me semble ratée, mais généralement je ne perds pas espoir. Que faire quand on a des monoprints ratés mais avec malgré tout des parties intéressantes? On coupe! Ces morceaux préservés peuvent finir en collage, mais parfois aussi ils finissent en marque page et entreprennent ainsi une reconversion en beauté.
You know how much I love the monoprinting technique. Some are just perfect as they are, I have to work on some others, but the rest just piles up in drawers waiting for inspiration. A few of them look really hopeless, but generally I try not to give up on any. What to do with the hopeless monoprints that still have some interesting parts? Well you just cut them! The parts that you like can then make perfect collage pieces, or sometimes also, they end up as bookmarks and enthusiastically start a new career.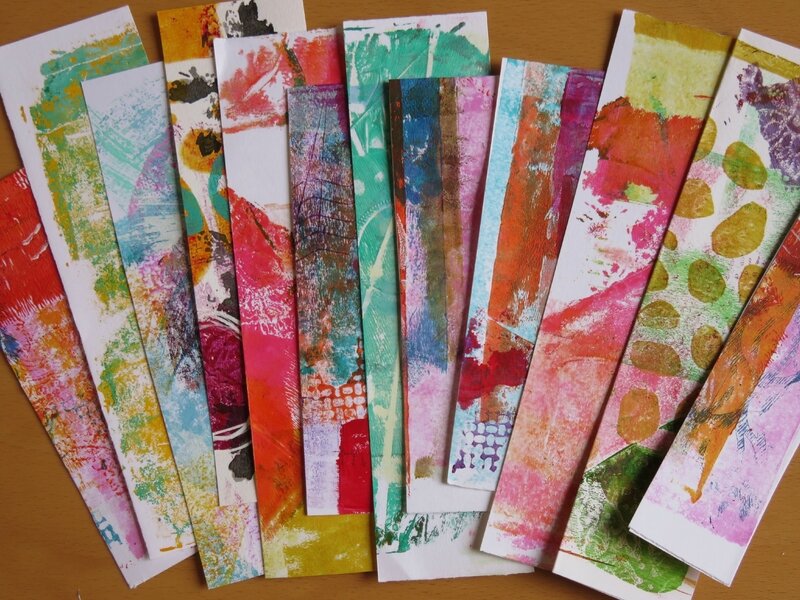 Voici des bouts de papiers repérés parmi les "ratés". Une belle moisson de couleur
Here are cuts from the hopeless bunch. Nice colours, don't you think?
Il m'arrive de les retravailler un peu comme par exemple là:
I sometimes work on them a little :
mais j'essaie de ne pas y passer trop de temps
trying not to spend too long
Le but étant juste de rajouter quelques touches pour ré-équilibrer la composition verticale
the aim being only to add a few touches here and there to balance the vertical composition
Cela me détend, et je m'amuse sans crainte de rater quoique ce soit, ils n'ont plus rien à perdre !
It's very relaxing, and I have fun without fearing to mess up anything - they've got nothing to lose!
Ce n'est d'ailleurs pas toujours réussi, mais je m'en fiche
it's not always nice, but ask me if I'm bothered!

c'est juste un autre terrain d'expérimentation
it's just another way of experimenting
Je les garde tels quels ou je les offre en rajoutant un petit mot derrière comme "Lire c'est rêver les yeux ouverts" ou autre jolie phrase autour du thème de la lecture.
I keep them as they are, or I give them away to family and friends something scribbled at the back such as "Reading is Dreaming with Open Eyes" or similar nice quotes on reading and books.
18 mai 2017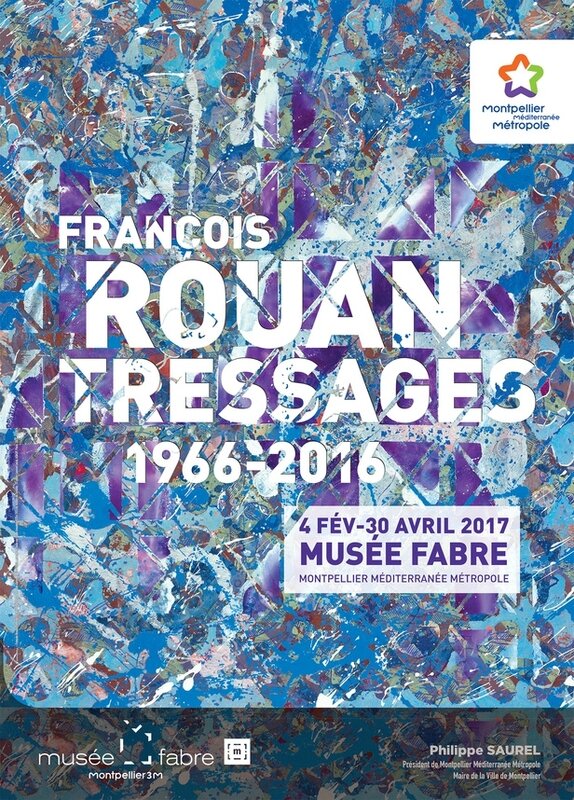 Au vacances de printemps je suis passée rapidement à Montpellier, et j'ai eu la chance de pouvoir voir l'exposition des oeuvres de François Rouan. J'en suis ressortie avec du bonheur dans les yeux et la tête! J'ai adoré!
During the half-term holiday I spent a few dys in ontpellier and was lucky enough to be able to see François Rouan's exhibition. I came out all buoyed up by happiness and colours. I loved it!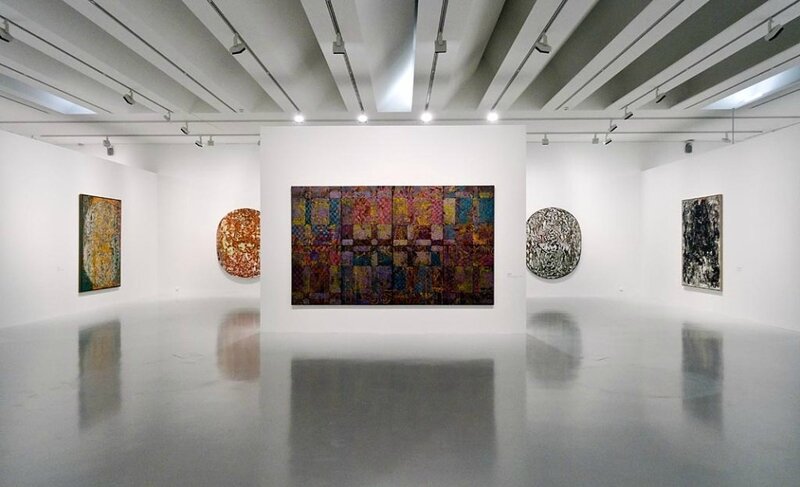 L'expo était une rétrospective de 50 ans de peinture et de recherche. Le musée Fabre avait su mettre parfaitement en valeur les très grandes oeuvres. Des jeux de perspectives et de murs permettaient d'avoir de beaux points de vues, du recul et de belles surprises.
The exhibition showed over 50 years of painting. The huge works were perfectly showcased in the Fabre Museum. The viewers could have stunning points of view on paintings, great perspectives and surprises.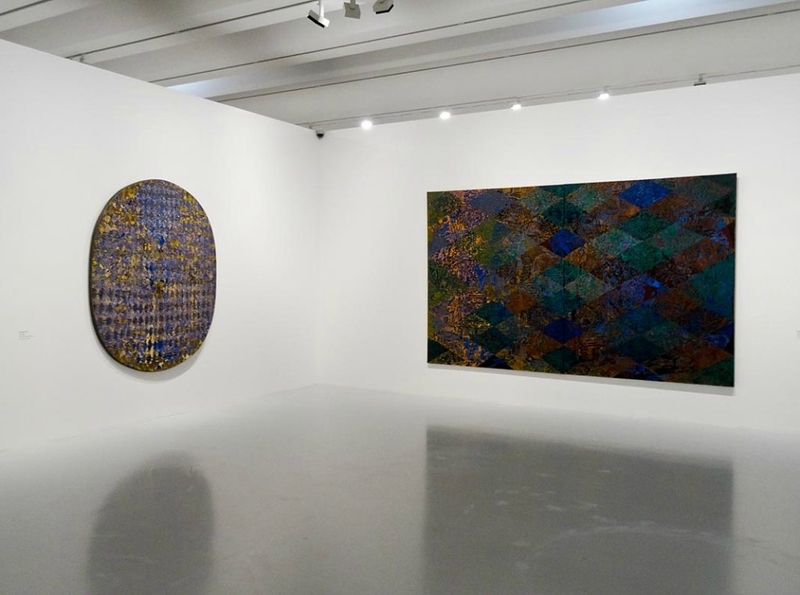 "Tressages" le titre de l'expo fait référence à ce procédé qu'utilise Rouan: il peint sur des toiles qu'il découpe ensuite en lanières qu'il tresse/tisse pour reconstituer de nouvelles toiles et peindre par dessus. Ceux qui me connaissent se douteront bien combien cela m'a plu!!!
"Plaiting" the exhibition title, refered to Rouan's technique: he paints on canvases then cuts them into strips which he plaits/weaves in order to make new canvases and paint on them. Those who know me will easily guess how much I loved it!!!

J'ai trouvé cet excellent article que je vous encourage à aller lire. C'est complet, bien écrit et explique si bien le succès de cette exposition.
Sorry for English speakers, I found an excellent article on the exhibition, but it's only in French.
12 mai 2017
Aux vacances de printemps nous sommes allés faire un petit tour dans le nord de l'Italie. Du connu et de l'inconnu, et même un peu de temps pour croquer un peu (jamais assez):
For the half-term holiday we went to Northern Italy. Some parts to re-visit and some to discover, I even had a little time to sketch (never enough)
N°59 Venise / Venice
les quartiers authentiques et sans touristes (car sans magasins?), c'est la Venise où nous aimons nous promener
Real Venice without any tourists, that's the Venice I like best.
n°60 Venise / Venice
j'ai eu du mal à finir ce croquis, cela ne sentait pas bon ! Heureusent, ce genre de désagrément ne se voit pas sur le croquis :-D
- I was very impatient to finish this sketch because of some foul smell around! Fortunately, you can't see anything on the sketch :-D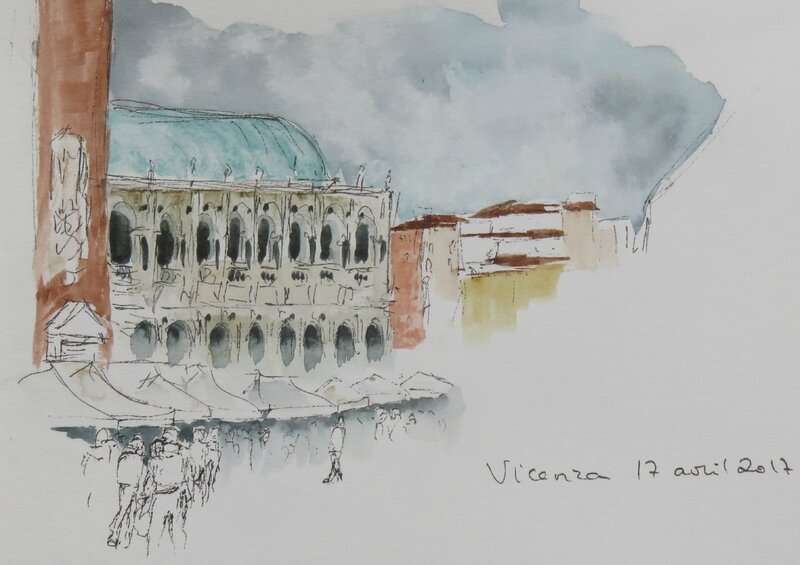 N°61 Vicenza,
une ville que nous ne connaissions pas. Voici l'exemple d'un croquis carrément raté d'un point de vue lignes etc, mais j'ai réussi à rendre les couleurs incroyables du toit en zinc presque turquoise sous le ciel lourd et pluvieux. Même si votre croquis part mal, on peut arriver à en tirer quelque chose, une lumière, un souvenir, tout est bon à prendre. N'essayez pas d'être toujours parfaits ;-)
We didn't know this town. Here's the example of a sketch where lines and proportions went totally wrong, but I managed to paint the incredible colours of the turquoise roof and the dark sky. Even if your sketch is not perfect, you can still save something, whether light, colours, mood...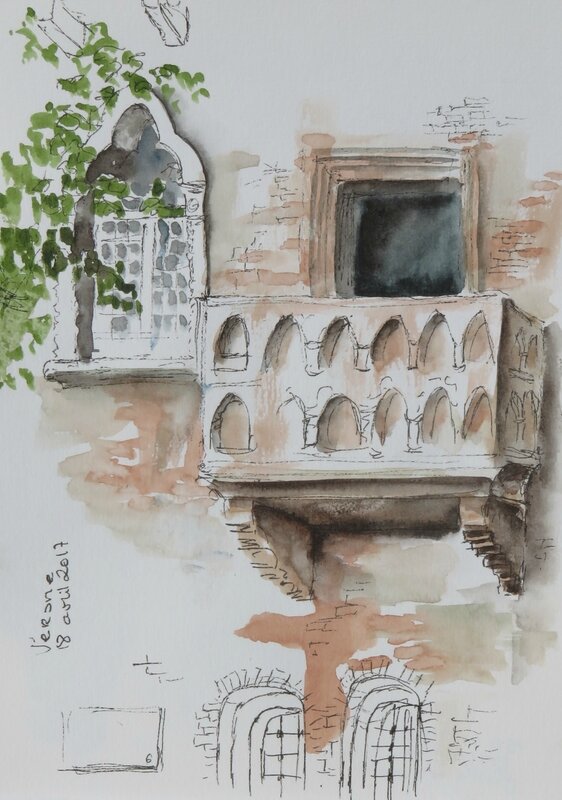 N°62 Vérone / Verona
Le faux balcon de Juliette, pris d'assaut par les touristes. Je ne garde pas un bon souvenir de cet endroit, trop de monde, aucun respect, l'atmosphère complètement gâchée, pourtant le balcon et la cour rendent bien les lieux imaginés par Shakespeare.
Juliet's fake balcony under siege. Too many tourists, lack of respect made this not a very pleasant memory. The atmosphere was totally wasted although the place undeniably gives a good idea of the scene imagined by Shakespeare.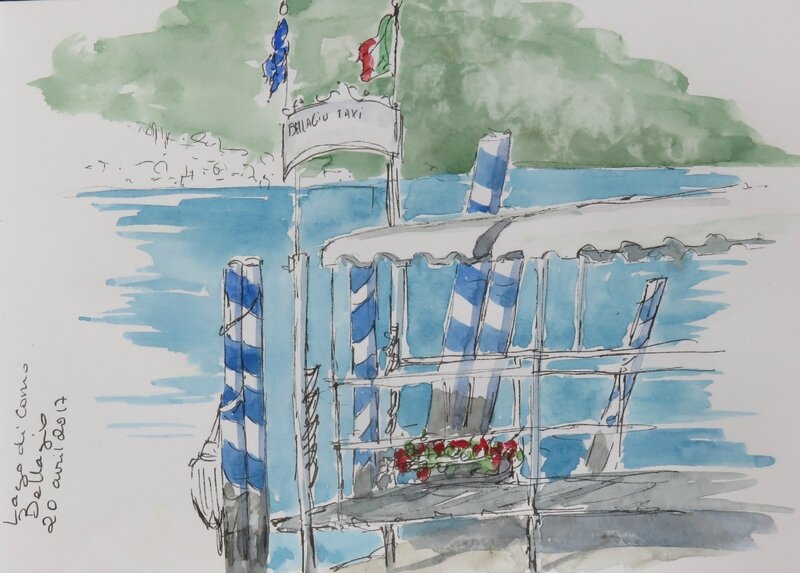 N°63 Bellagio, Lac de Come / Bellagio, Lago di Como
Un embarcadaire comme je les imaginais sur ce lac. Croquis rapide, des erreurs de lignes et proportions, mais j'ai rendu le côté propre et pimpant
A pier like I imagined I would find. Quick sketch, wrong lines and proportions, but who cares? the light is just right, the place did look that fresh and pretty.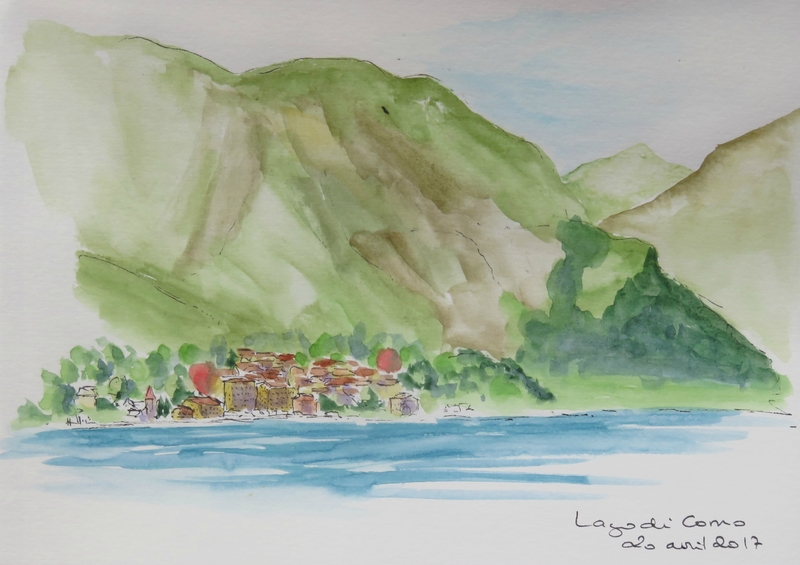 N°64 Lac de Côme / Lago di Como.
Un petit village de l'autre côté de Bellagio. Je n'ai pas vérifier le nom, peut-être Tremezzina. Croquis qui ne me semble pas terrible, j'aurais peut-être dû retravailler la montagne, mais je ne suis pas très fan (pas très à l'aise) avec ces grands paysages... Je l'ai un peu bâclé, mais cela rend quand même quelque chose je pense...
A small village the other side from Bellagio, probably Tremezzina, I haven't really checked. I don't really like the sketch, I should have worked on the mountain more, but I'm not very at ease with big open space sketches... Still, it gives an idea of the proportions of the place.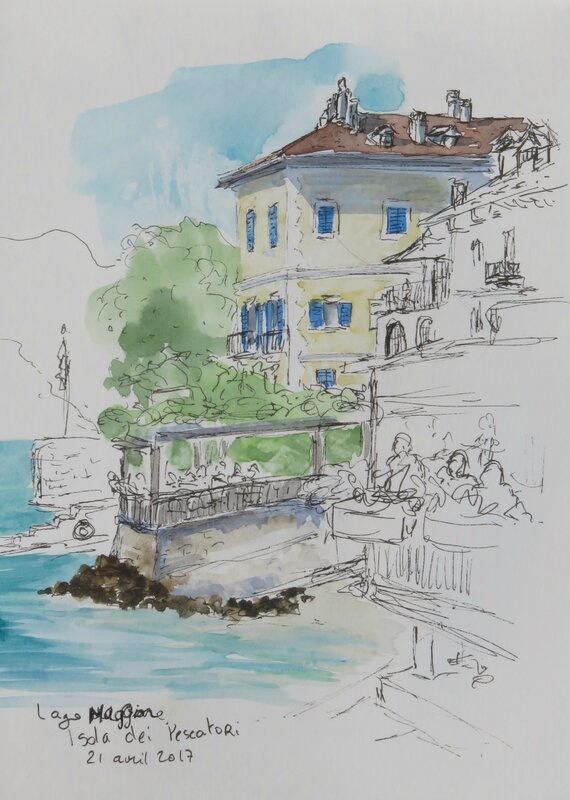 N°65 Isola dei Pescatori, Lago Maggiore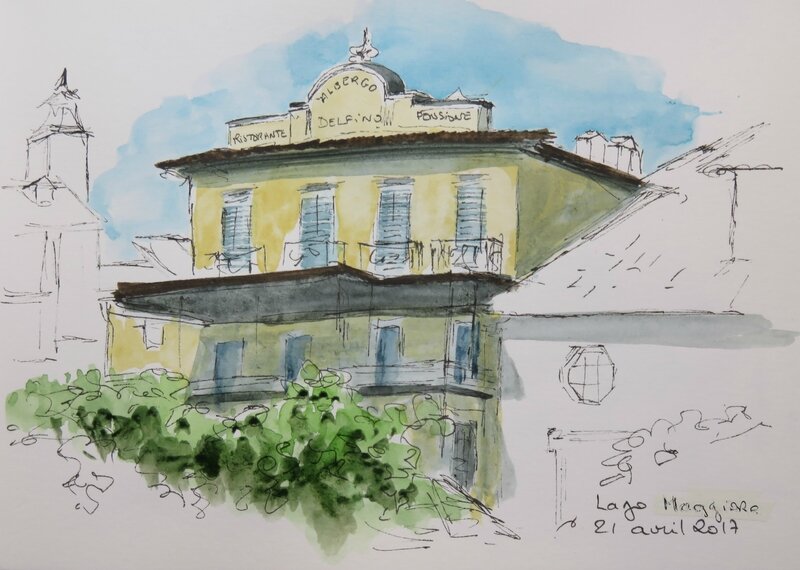 N°66 Isola Bella, Lago Maggiore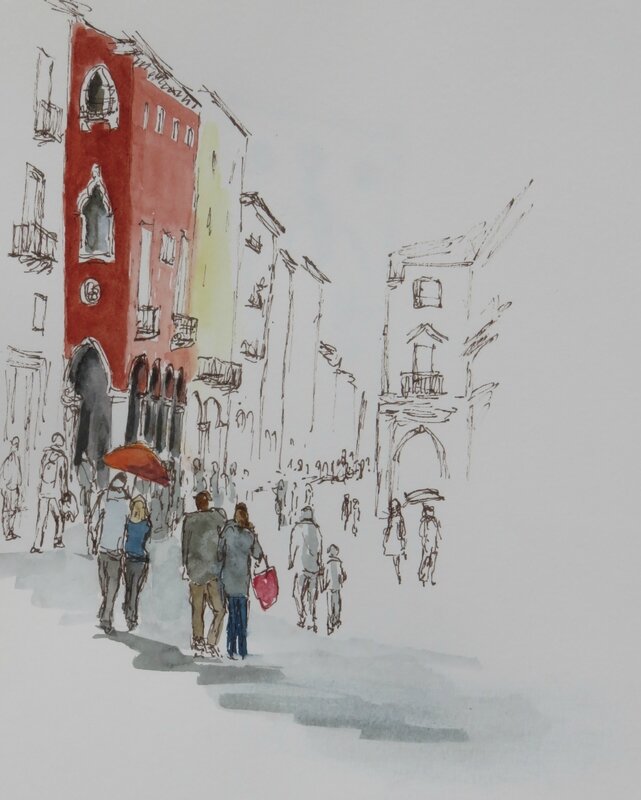 N°67 Vicenza,
mais croqué après notre retour d'après une de nos photos
I sketched this one after our return using one of our photos
08 mai 2017
Chaud et froid, lisse et texturé, voici une pièce toute douce qui s'est faite presque toute seule un dimanche pluvieux.
Warm and cold, smooth and textured, a soft work that happened almost on its own one rainy Sunday.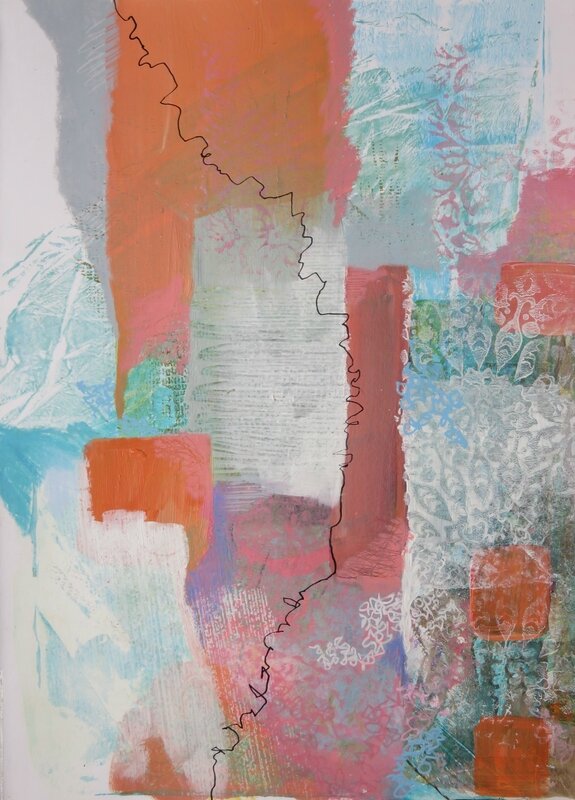 N°58
mixed media sur papier / mixed media on paper
Voici ce que cela donnerait encadré
Here's what it would look like when framed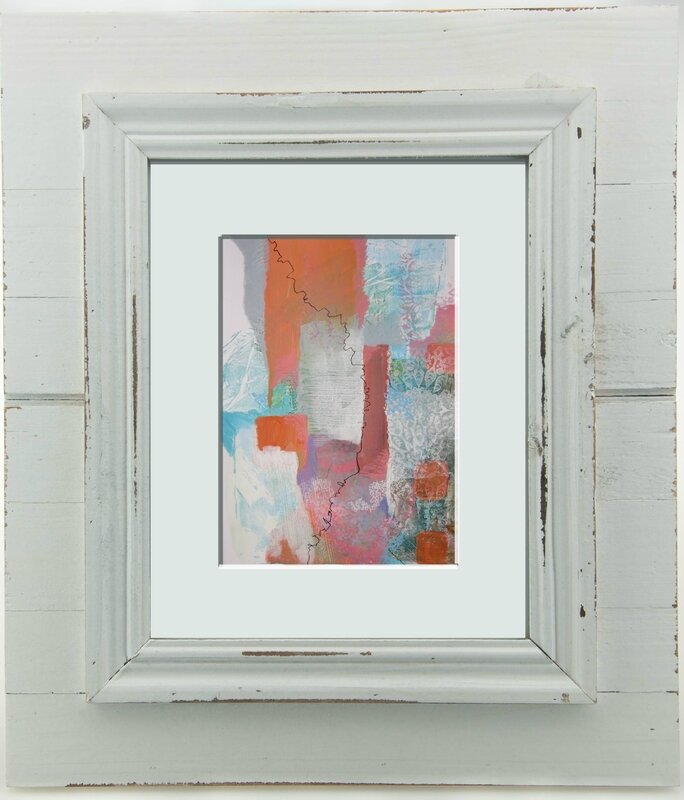 05 mai 2017
1er mai au parc Torlonia de Rome. Les peintres ne s'arrêtent jamais ;-)
May, 1st in Torlonia Park in Rome. Artists never stop ;-)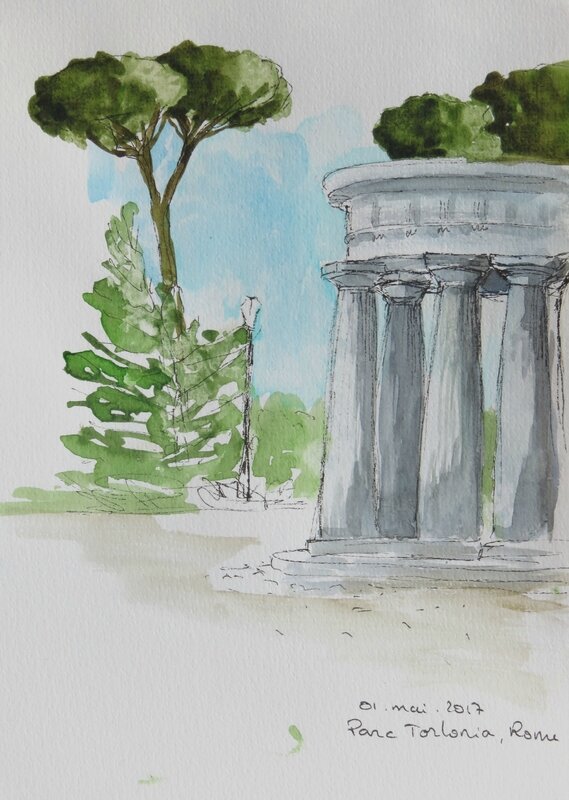 N°56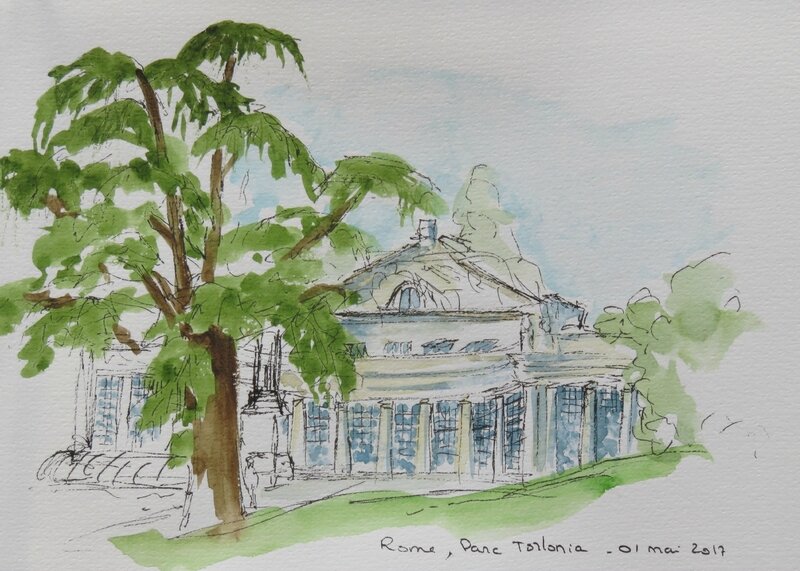 N°57
02 mai 2017
Un autre collage. Je me suis amusée avec de la peinture acrylique, des pastels aquarellables, et de l'encre de chine.
Another collage. I played with acrylics, water soluble crayons, and indian ink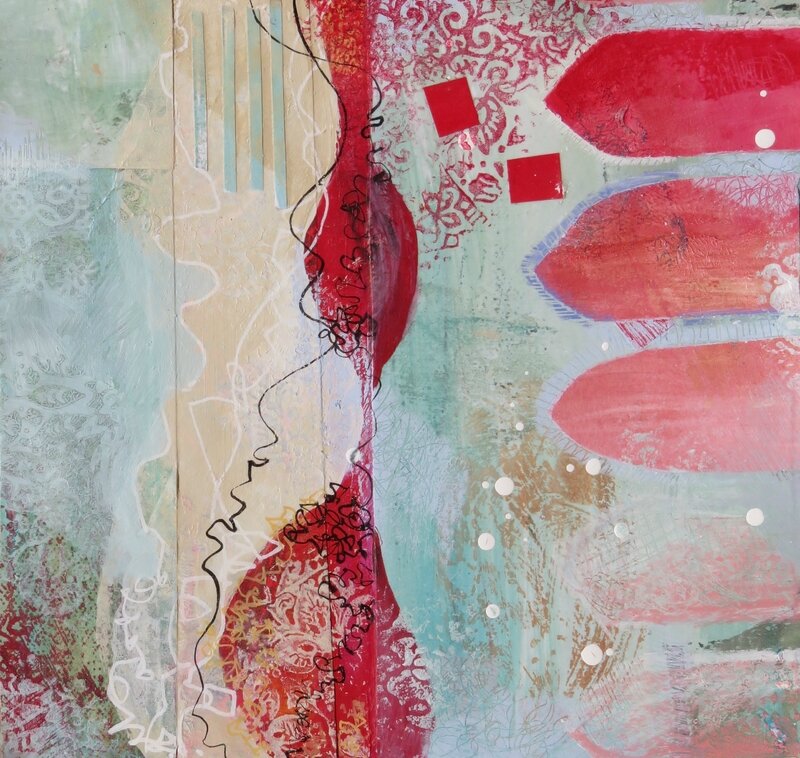 N°55
Collage et mixed media sur papier / Collage and mixed media on paper
En revanche, pour le titre, je coince complet. Une idée?
I'm totally stuck for the title. Any idea?
Et voici ce que cela donnerait encadré. Et pour une fois, les proportions sont plutôt justes.
And here's what it would look like framed. And for once, the proportions look about right too.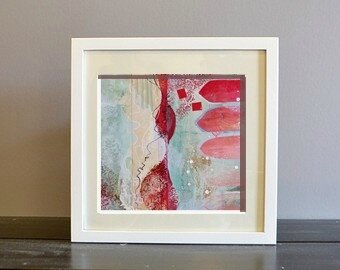 28 avril 2017
Quand on va se promener dans Rome en ce moment, il y a du monde partout. Le bon côté pour moi, c'est que j'ai beaucoup de sujets à croquer !
When we go out for a walk in Rome at the moment, it is so crowded everywhere. The good thing is, there's plenty for me to sketch!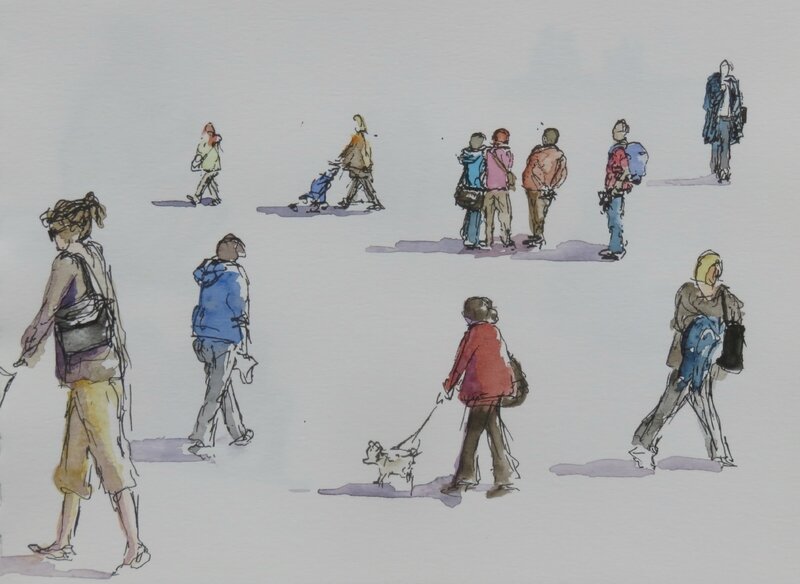 N°52
L'avantage de les faire tout petit sur la page, c'est que cela va plus vite à dessiner. C'est fou comme les gens qui marchent, ... vont vite. Il m'arrive de les commencer sans pouvoir les finir - il m'est arrivé aussi de les revoir passer, et j'ai pu ainsi finir mon croquis. Trop sympa les gens!
I like drawing small silhouettes on the page, that way it's quicker to sketch, because you just don't realize how fast people walk! Sometimes, I don't have te to finish the sketch and they're already gone - once or twice the same people came back, then I had time to finish. Some people are so nice!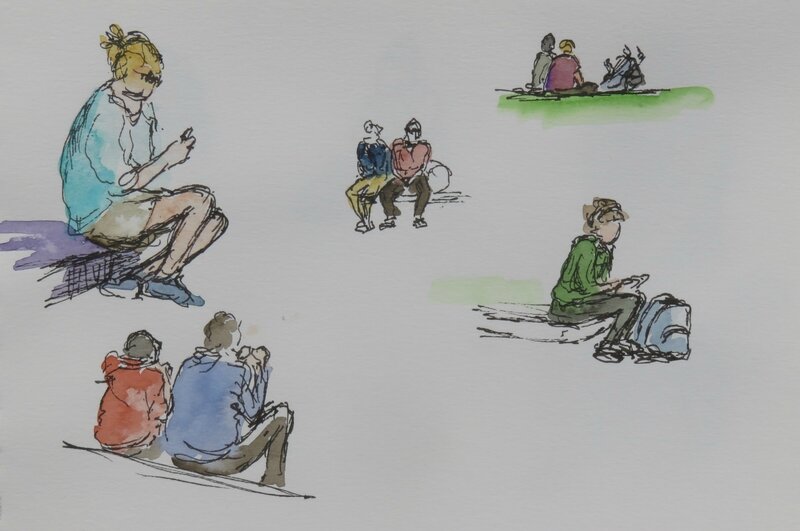 N°53
Les gens assis au moins me laissent un peu plus de temps, ... quoique. Et que je change de position, et que je me tourne, pfff...
Sitting people give me more time to sketch, ... not. They never keep still, turning this way and that way all the time. Incredible.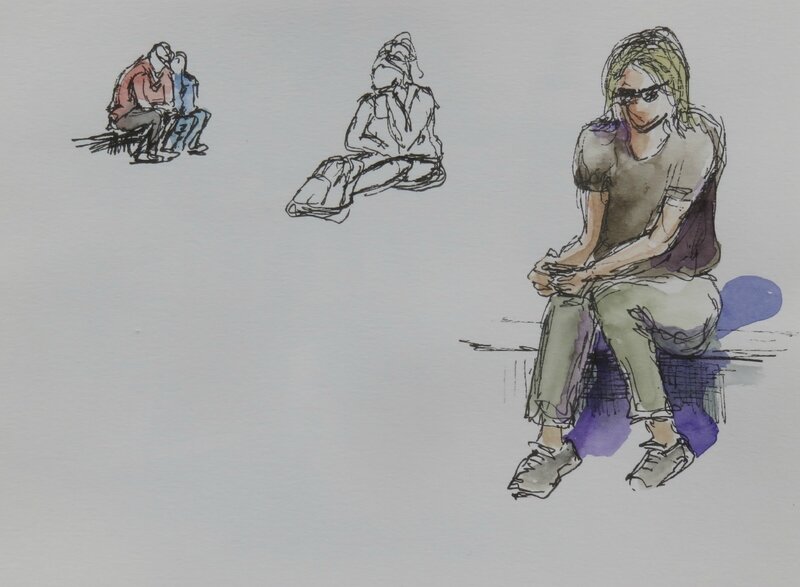 N°54
Et grâce au téléphone portable, j'ai des sujets qui gigotent beaucoup moins que les autres, ce qui me laisse un peu plus de temps pour les croquer.
The good thing about cell phones, is that people looking at them fidget a lot less, and that gives me more time to sketch.