22 septembre 2018
Après une période d'arrêt, on a parfois un peu de mal à se remettre à la création. Mes petits trucs vont peut-être vous aider. Voici comment je fais.
After a break, it's sometimes hard to go back to creating. My tips may help you. Here's what I do.
Je feuilette les images de tableaux que je "collectionne" depuis des années, mois, semaines. Que cela soit sur instagram ou sur le net, je marque ou je télécharge les travaux qui m'ont plu. C'est seulement une collection personnelle, simplement pour le plaisir de regarder plus à loisir ou pour me souvenir du nom d'un artiste que j'aime. Après une longue pause, c'est comme plonger dans un bain concentré d'inspiration.
I browse through all the pictures of paintings / creations that i've collected throughout the previous years/months /weeks. Whether it is on Instagram, or on the net, I mark or download works of people I like. It's just a personal collection, just for the pleasure of looking at them or to remmember the name of artists I like. After a long break, it's like dipping in a concentrated bath of inspiration.
Puis je décide sur une sorte de "contrat" que je me pose. Je vais par exemple décider de travailler uniquement avec des cercles centrés sur la page, ou bien empiler des formes allongées, ou bien travailler avec différents motifs et une forme principale unie, etc... Une fois que j'ai émis une liste de "règles", j'essaye de m'y tenir globalement et de ne pas trop partir dans tou les sens.
I then decide on a "contract" I'm going to set to myself: for example, I may decide to work with round shapes centered on the page, or pile up rectangle shapes, or work with lots of different patterns and only one plain shape, etc... Once I've set myself a set of rules, I try to mainly stick to them and try not to explore too many directions at the same time.
L'autre jour, par exemple, j'ai décidé de m'y rmettre en commençant par des collages (les résutats sont ainsi plus rapides) en utilisant uniquement des monoprints bleus pour les formes principales, puis d'ajouter des petites touches de couleurs chaudes. .
The other day, for example, I decided to start with collages (you quickly have results) using pieces of blue monoprints as a start and as the main shapes, then add smaller touches of warm colours
J'ai pris 8 feuilles de papier format carré (300g).
I took 8 pieces of 300g paper (square).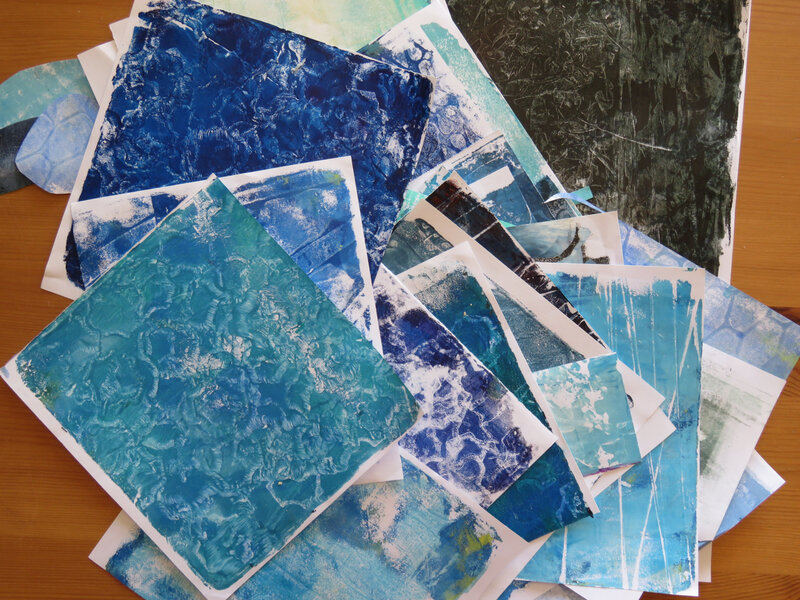 une série de papiers imprimés avec ma gelli plate (monoprints)
a series of blue papers printed with my gelli plate (monoprints)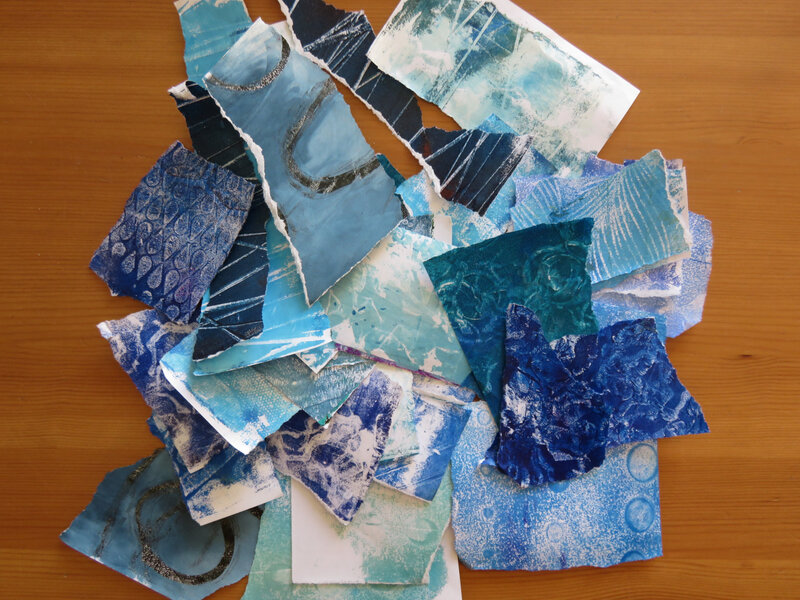 Je les ai déchirés
I tore them up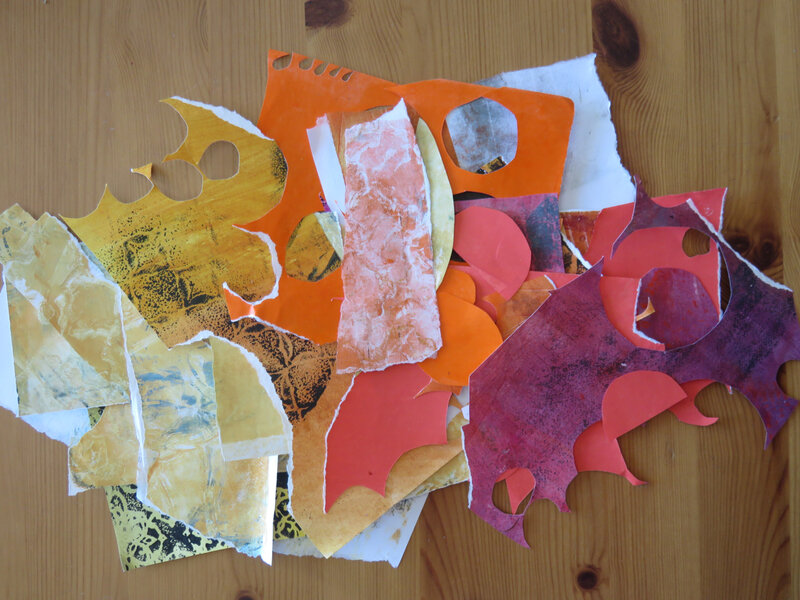 Et j'ai rassemblé des chutes de monoprints de couleurs chaudes
And I gathered monoprints offcuts in warm colours.
Garder le tout lisible, simple, et ne pas perdre de vue son intention première: des formes bleus et des petites touches de couleurs chaudes.
Keep it clear, keep it simple, stick to your intentions : blues with light touches of warm colours.
Une fois que les pièces principales sont collées, ajouter quelques lignes ou motifs avec des crayons aquarellables ou avec des pastels.
Once you've collaged your main pieces, you can then add a few lines and/ or pattern with watercolour pencils, crayons or acrylic markers.
Dans ce lot de créations, certaines resteront dans un tiroir, mais quelques-unes déjà attirent mon oeil (N°144, 146, 149). C'est souvent celles que je travaille vers la fin de la séance, quand je suis plus fatiguée, et où mon esprit lâche un peu et me laisse créer sans retenue.
In this series of works, some will definitely rmain hidden in a drawer, but some have already caught my eye (n°144, 146, 149). It's often the case with the works I tackle at the end of a session, maybe becasue I'mmore tired so my mind loosens up a bit.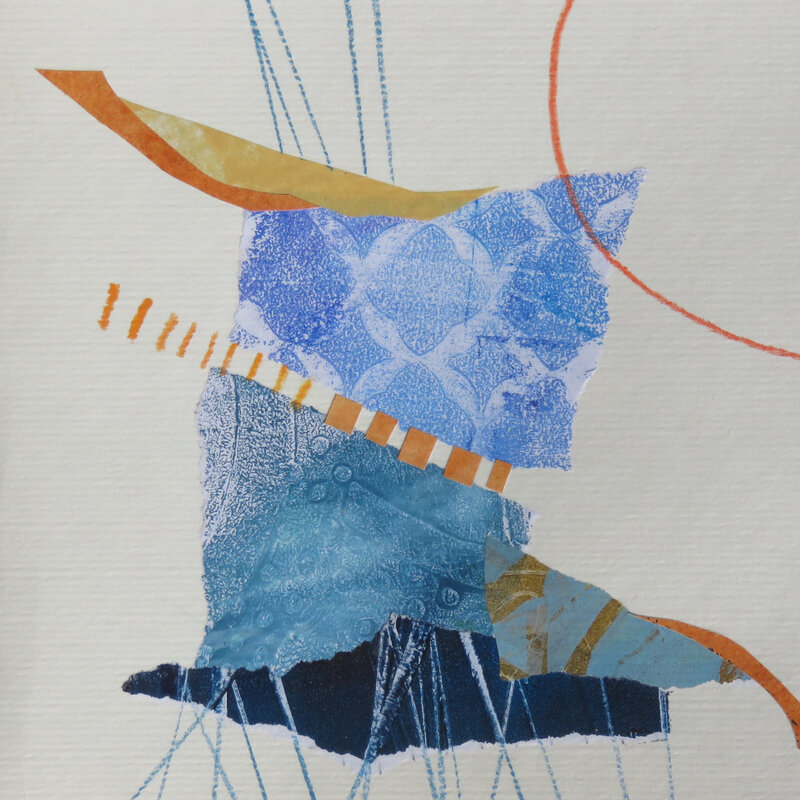 N°144

N°145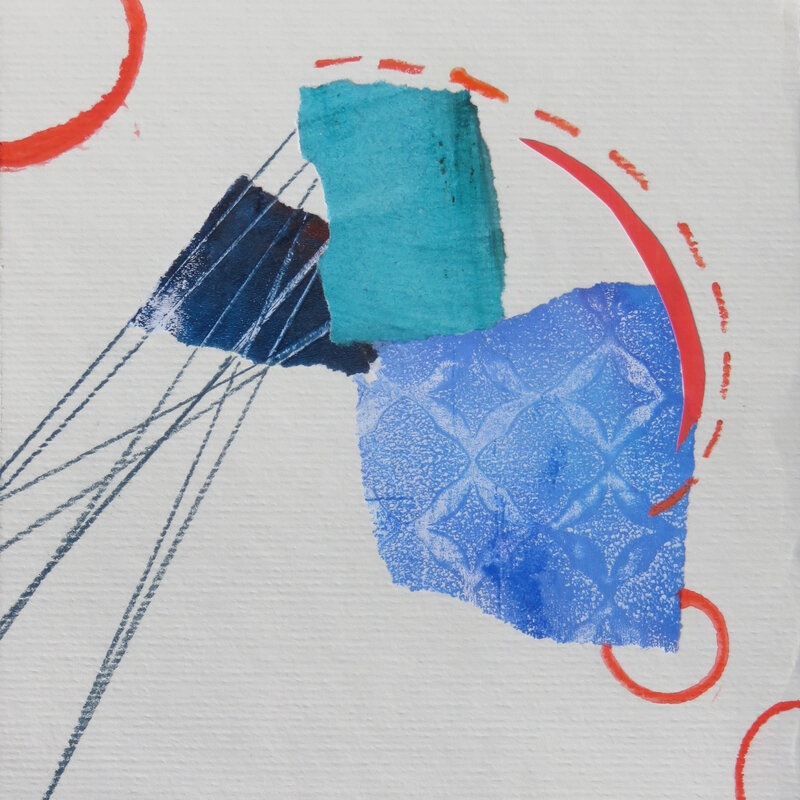 N°146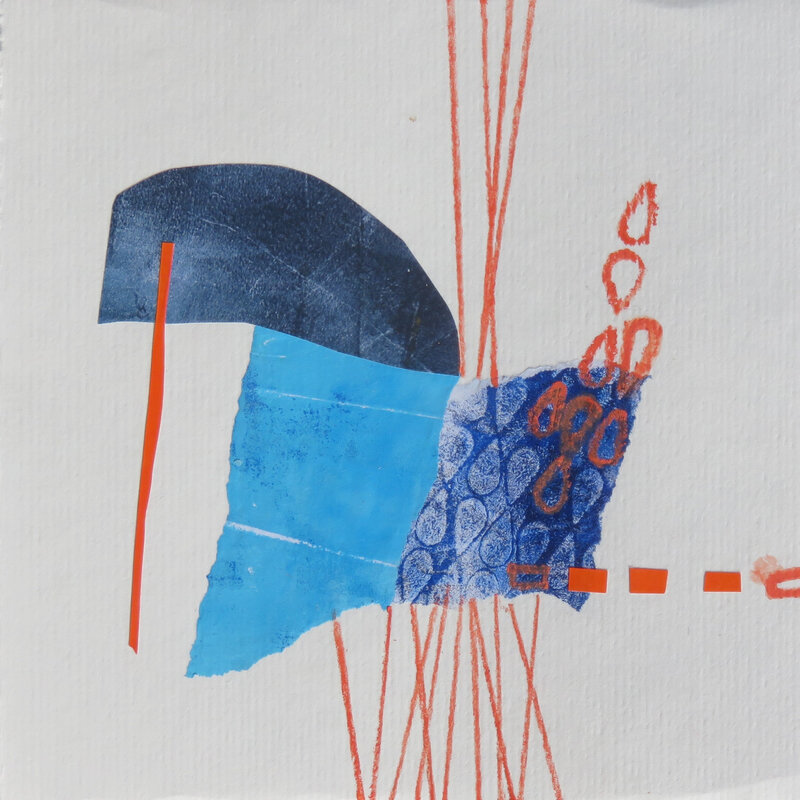 N°147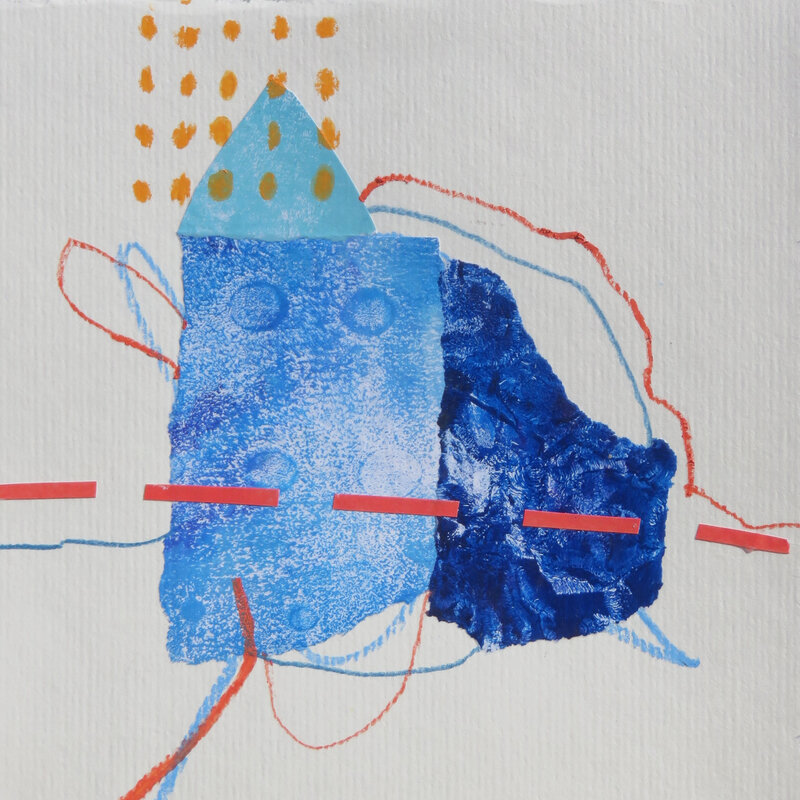 N°148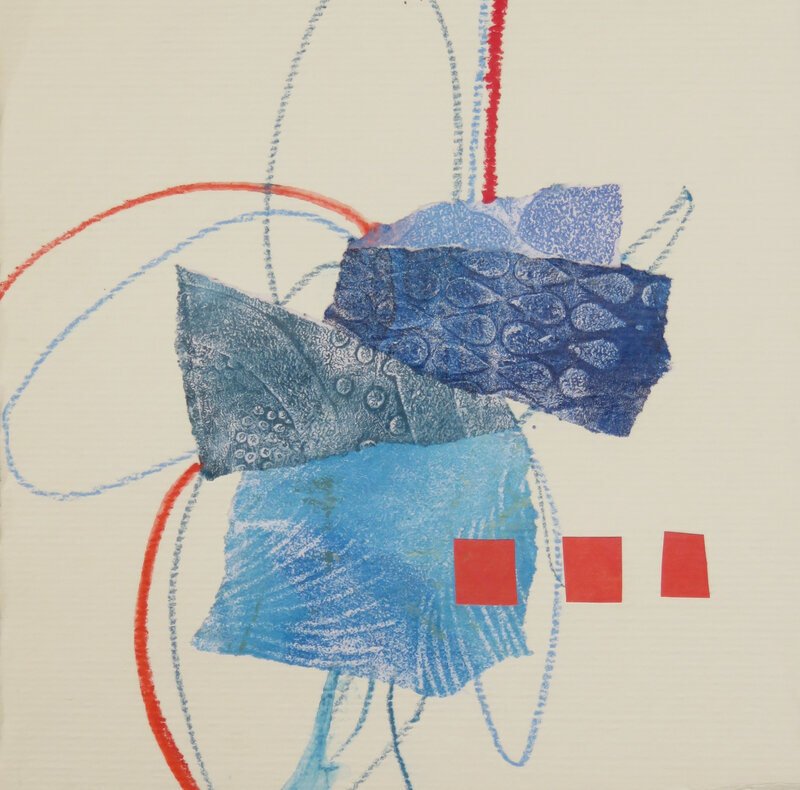 N°149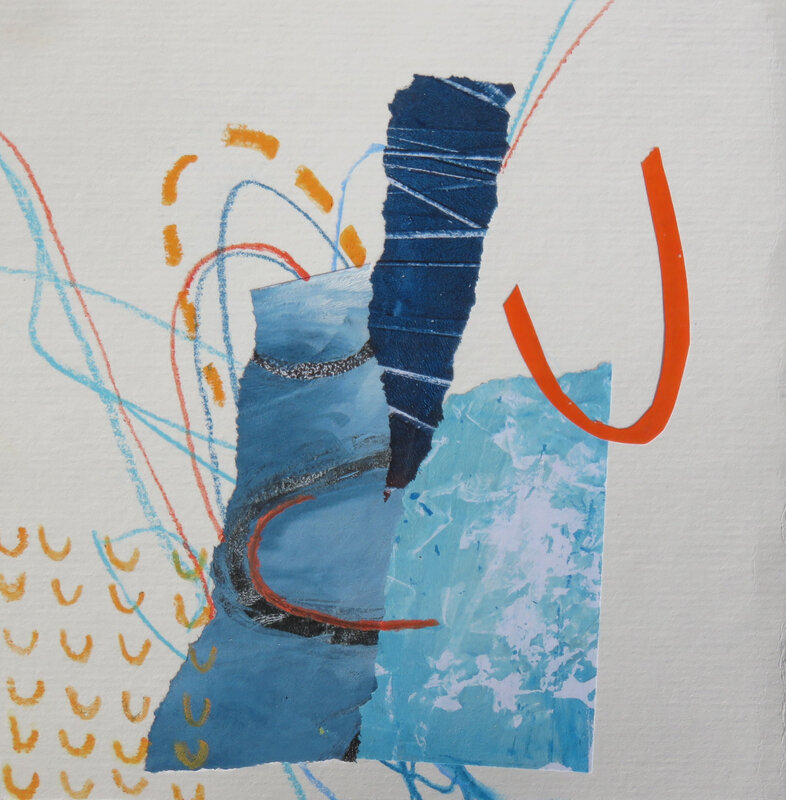 N°150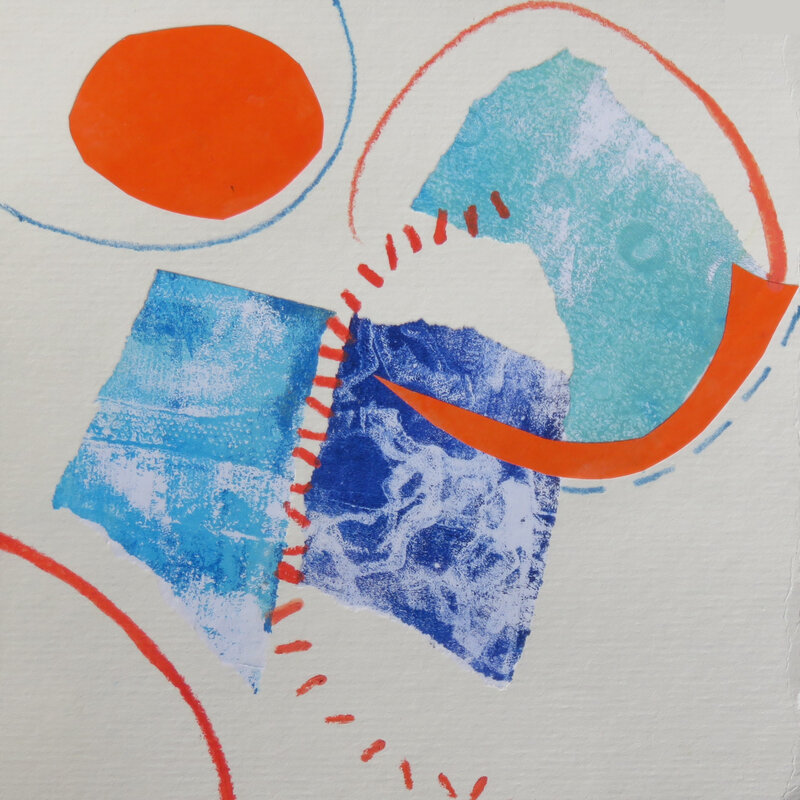 N°151
Penser simplicité. Ne pas trop surcharger. Garder le projet initial en mémoire. Faites vous plaisir en faisant des marques. Rappelez-vous qu'il n'y a aucun enjeu. Juste e pur plaisir de peindre, tracer des lignes et des motifs. Régalez vous.
Keep it simple. Don't overwork it. Stick to your initial plan. Enjoy mark making; remember there's no big stake in this. Just the pure pleasure of painting and drawing lines and patterns. Have fun.
Regardez-les encadrés pour pouvoir prendre du recul
They look quite good framed together, don't they?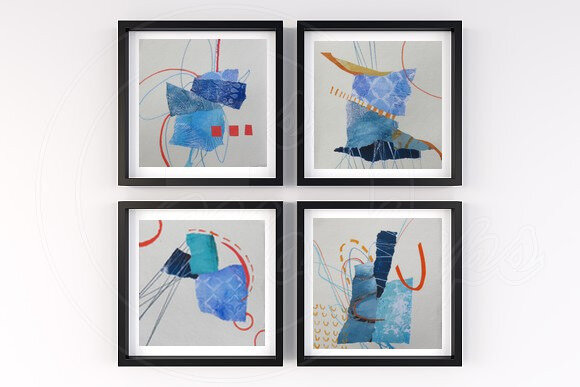 et voyez combien travailler par série est intéressant, les formes se répondent
see how working in series is interesting: shapes answer one another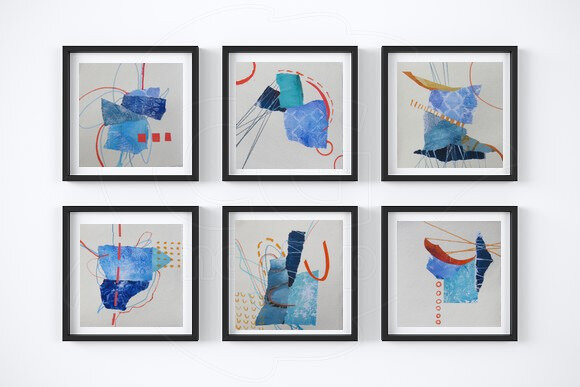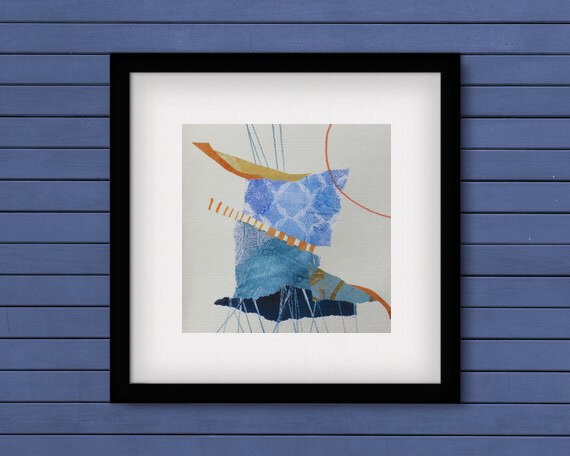 le 144 sur fond bleu, cadre noir? / 144 on blue background with black frame?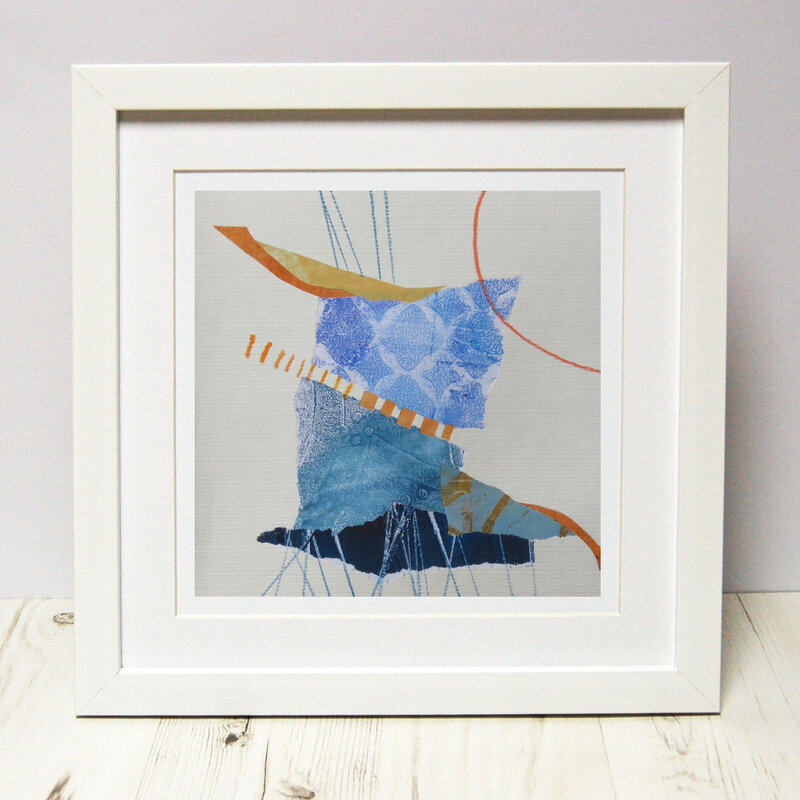 ou sur fond clair, cadre blanc (perso, je préfère)
or on neutral light background with white frame? (personally I prefer this way)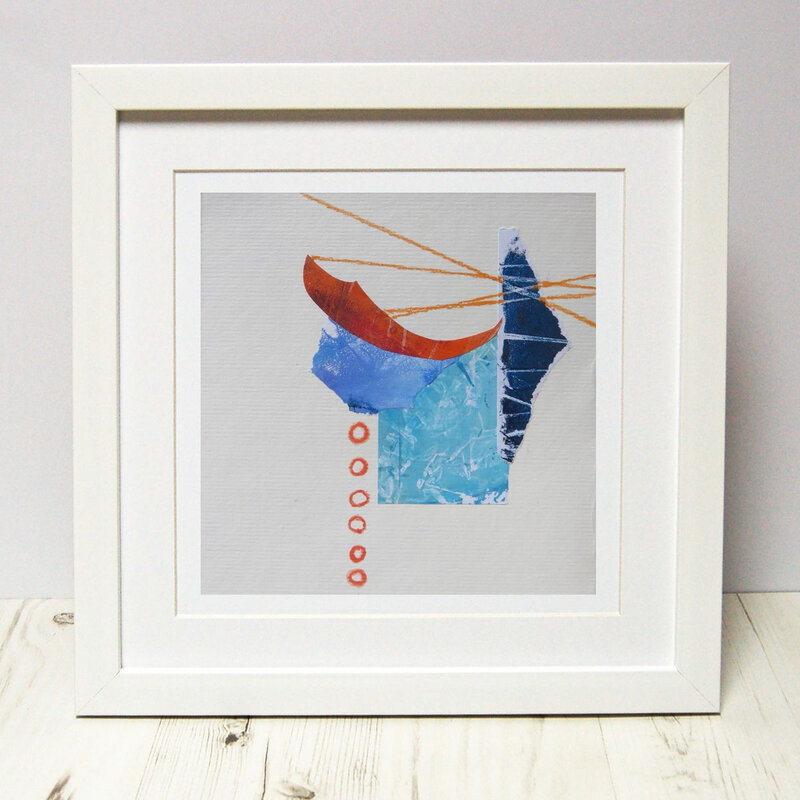 N°145

N°146

N°147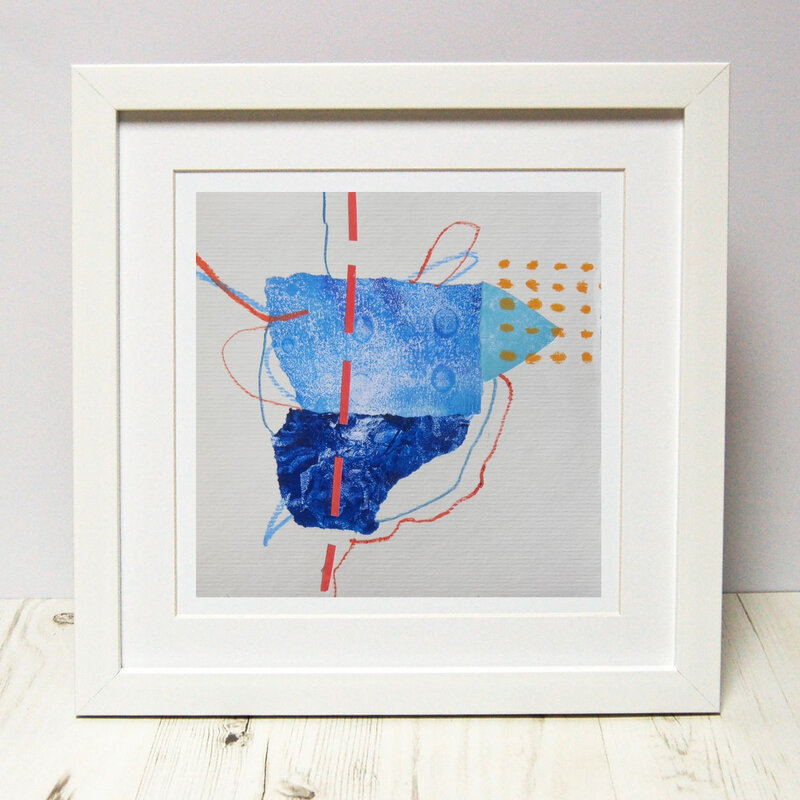 N°148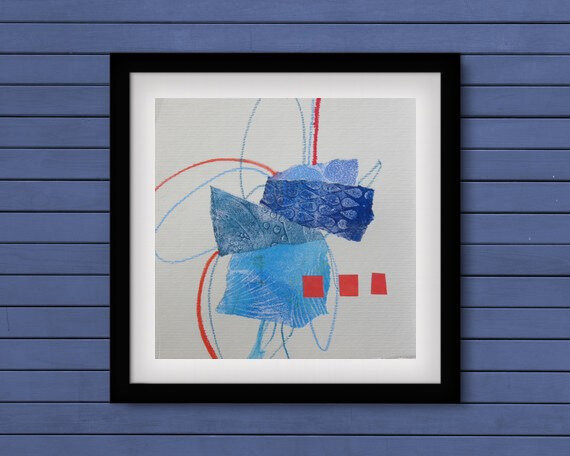 149 en fond bleu? / 149 on blue background?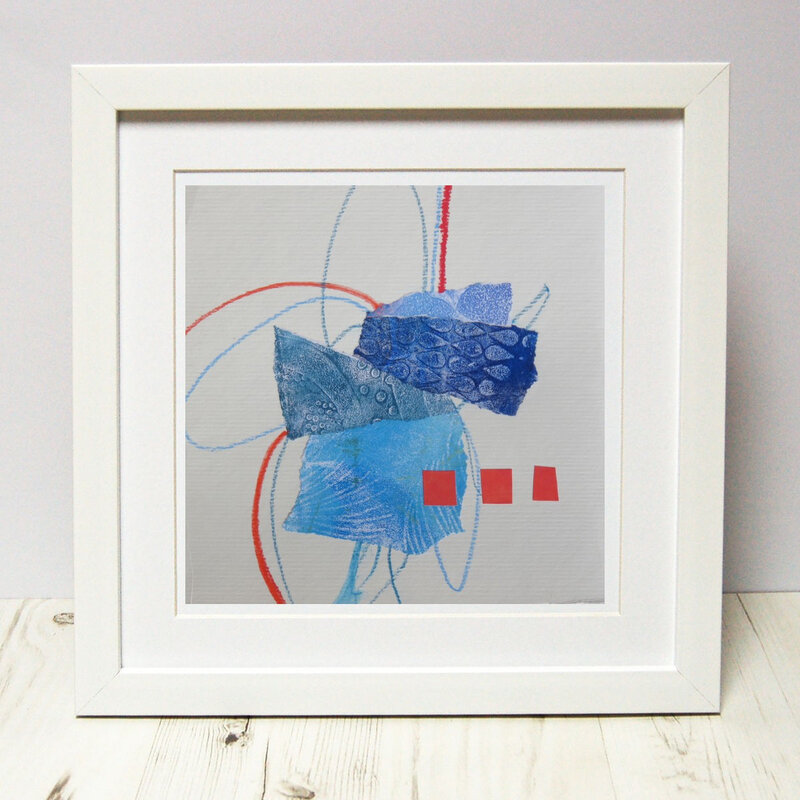 ou clair? / or light background?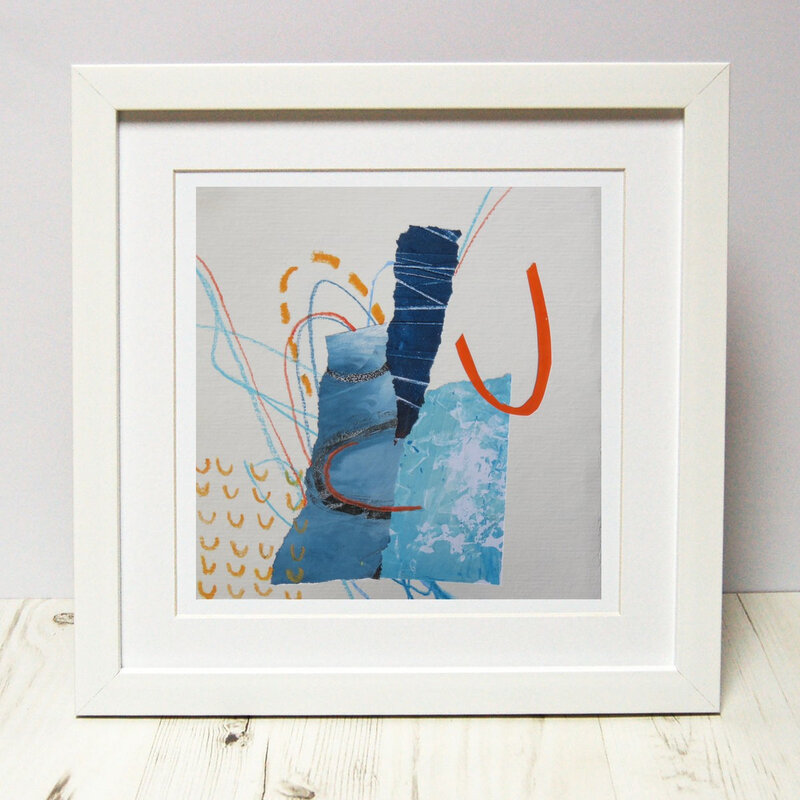 N°150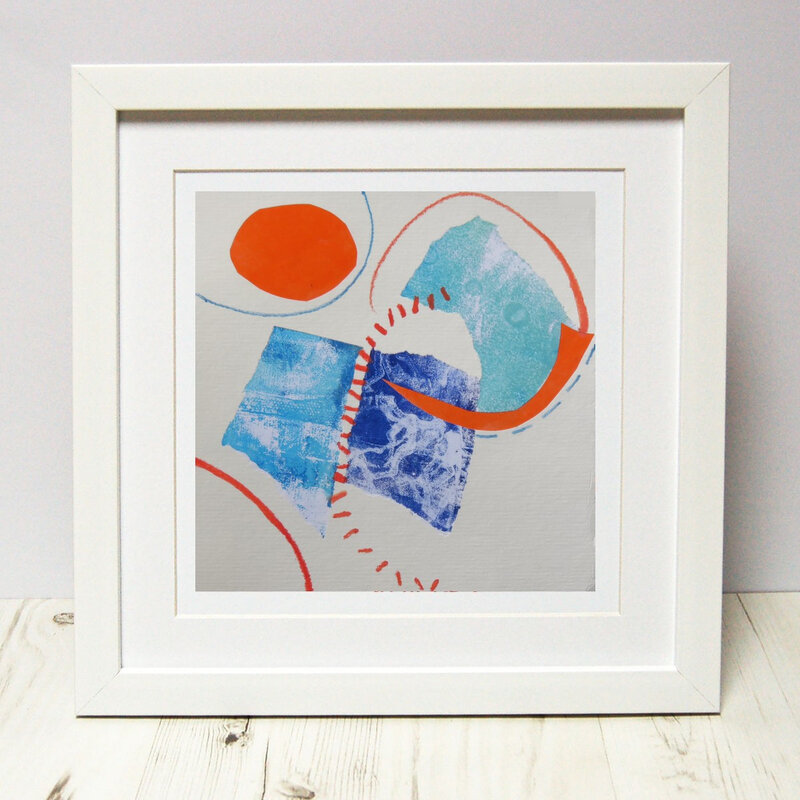 N°151
A l'issu d'une telle séance de démarrage, des associations lignes/couleurs/formes se font, des accidents heureux arrivent, et donnent des envies, des idées : la machine est à nouveau lancée. Ne vous arrêtez plus!
At the end of such a session (and even after a long break!) you'll have a series of interesting leads to follow, chance associations, new marks will hav emerged. Whatever the quality of the rsults, you've started working again, and nothing can stop you now. So just grab your brushes and go!
16 septembre 2018
Longue pause "bloguesque" cette année: d'abord nous avons quitté Rome et sommes revenus en France. Et puis j'ai recommencé à travailler à nouveau depuis la rentrée. Alors entre faire les cartons du déménagement, déballer ces mêmes cartons, remettre la maison en ordre, organiser nos vacances d'été, et préparer la rentrée, j'ai eu un peu de mal à me remettre à blogguer, vous le comprendrez aisément. Mais maintenant, il est temps de reprendre une sorte de routine. Je ne sais pas encore à quelle fréquence je vais pouvoir peindre et poster sur le blog, mais bon, c'est une autre question.
Here I am again. Long blog-break this year : first we've left Rome and moved back home to France again. Then I started work again at the beginning of September. So between packing boxes, unpacking boxes, organising our summer holiday and putting the house back into shape and preparing work, it was a little tough to start thinking about blogging, you'll understand I'm sure. Anyways, it's time to get back into some sort of routine. Not sure yet how often I'll be able to paint and blog, but hey, that's another question.
Après tous ces messages sur le vert, savez-vous où nous sommes partis cet été? Au pays du vert, l'Irlande.
After all these messages on green, do you know where we went in August? The country of green: Ireland.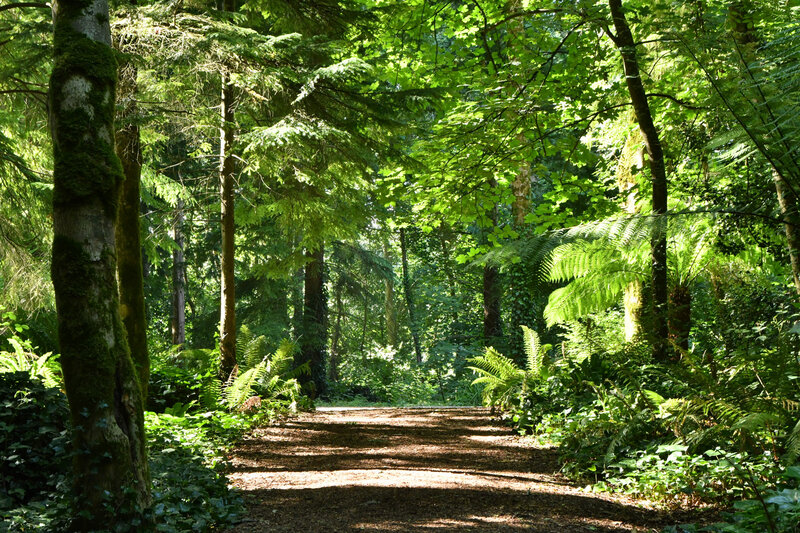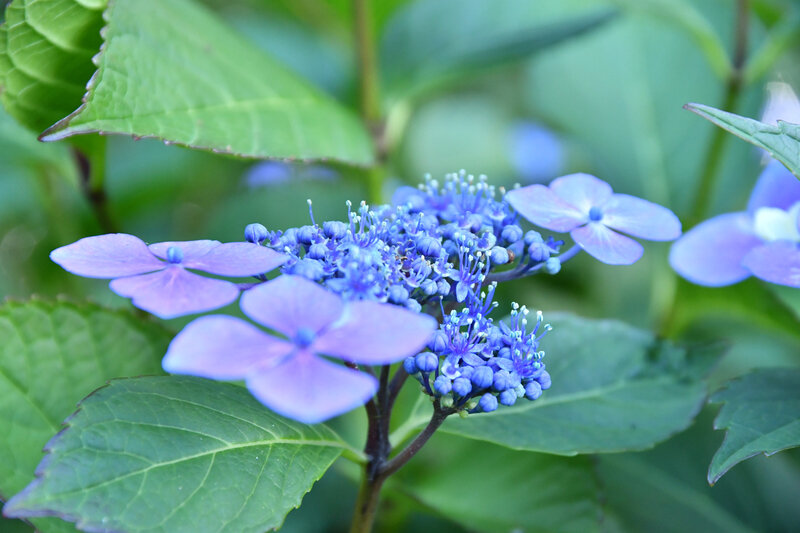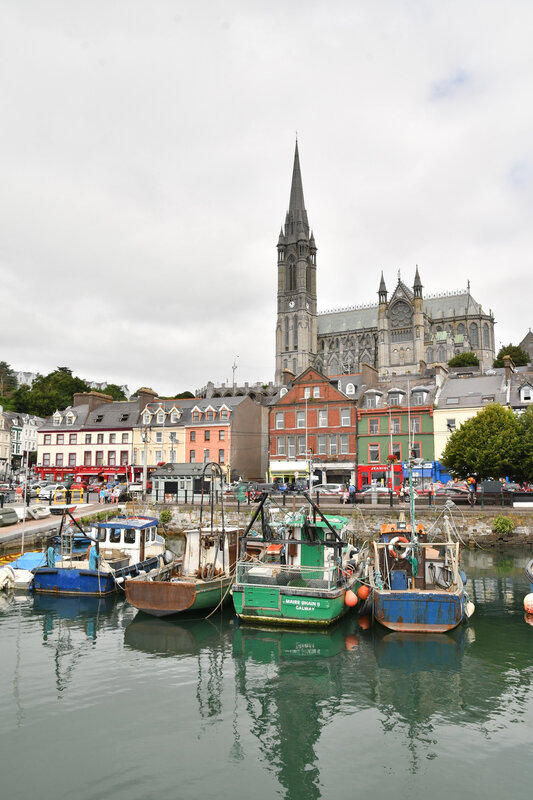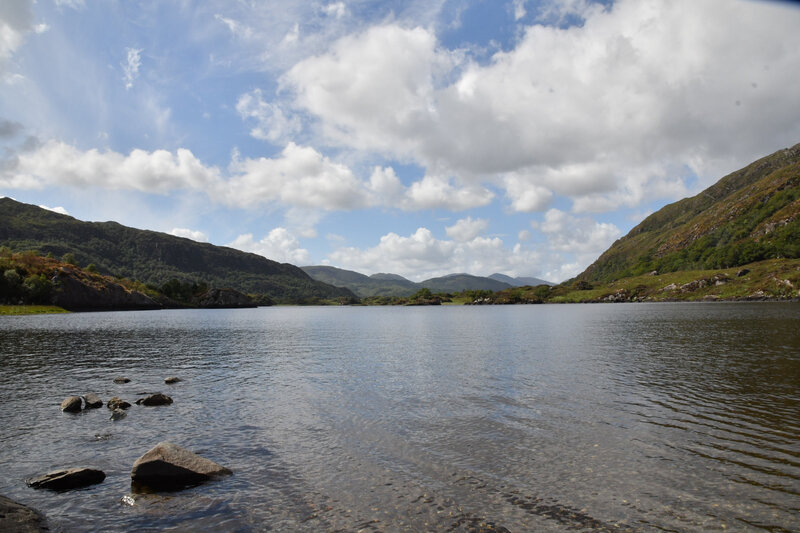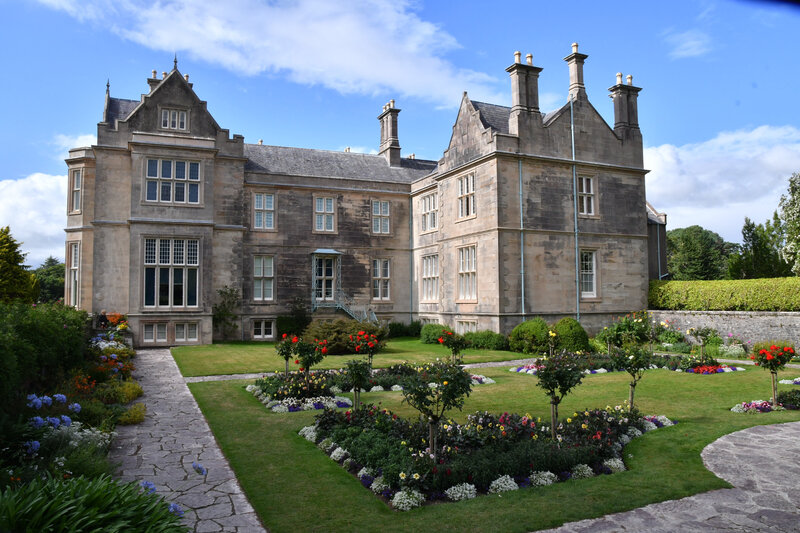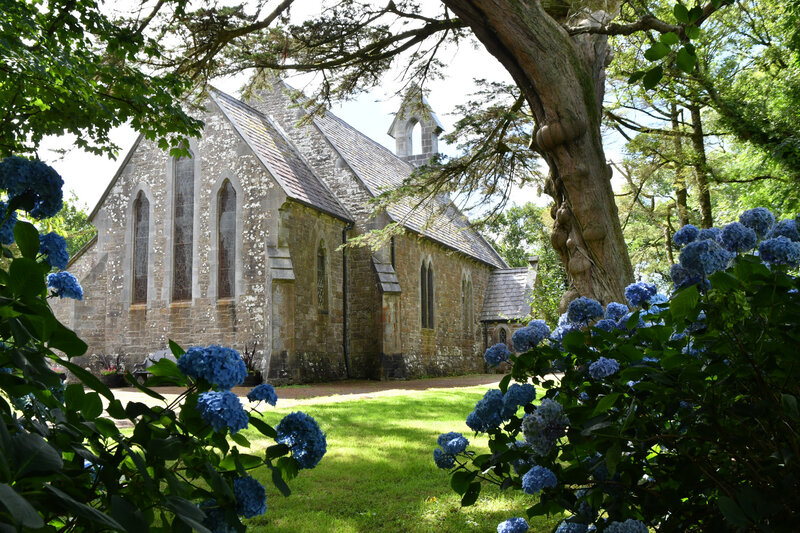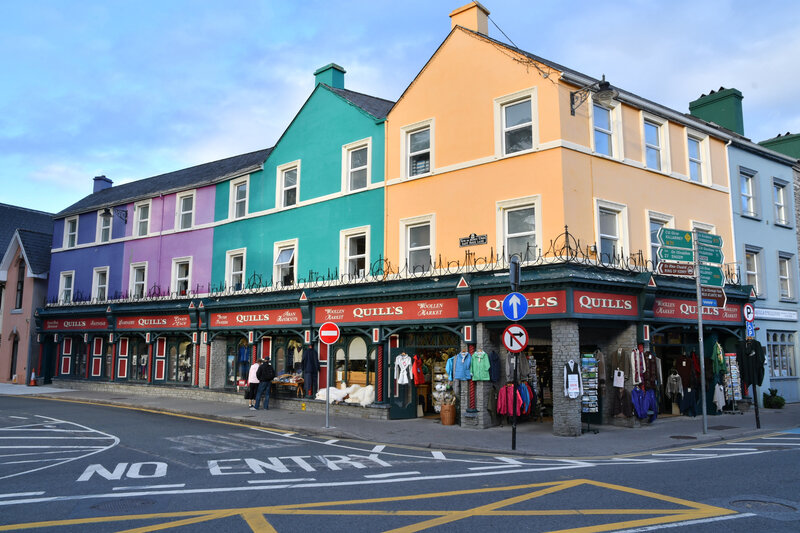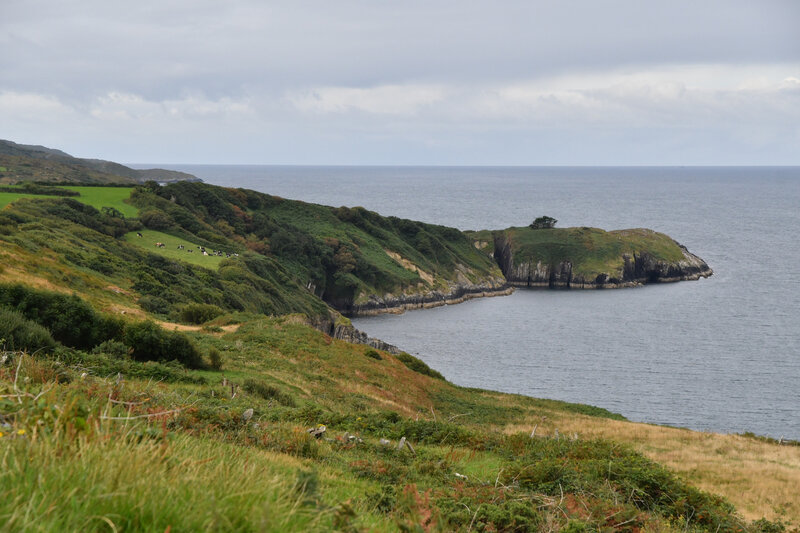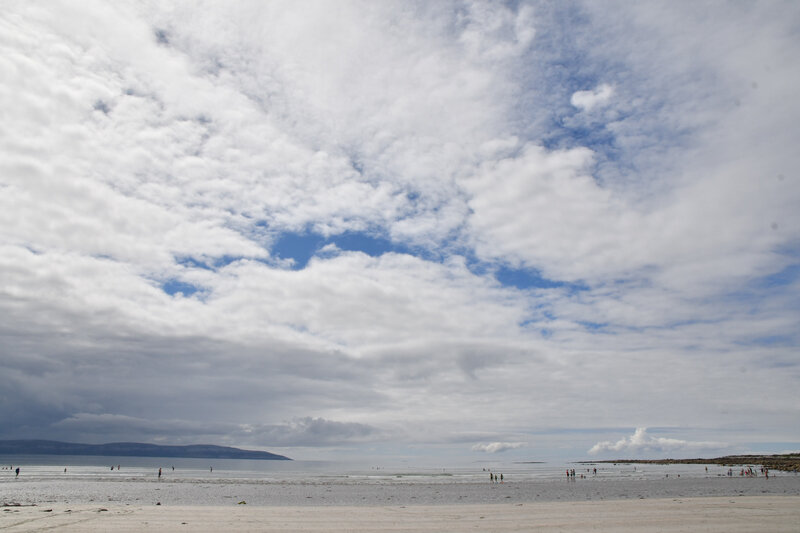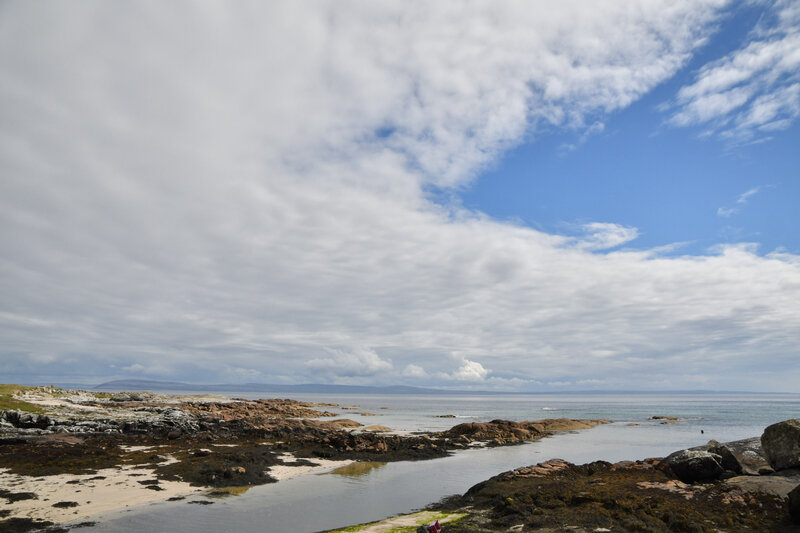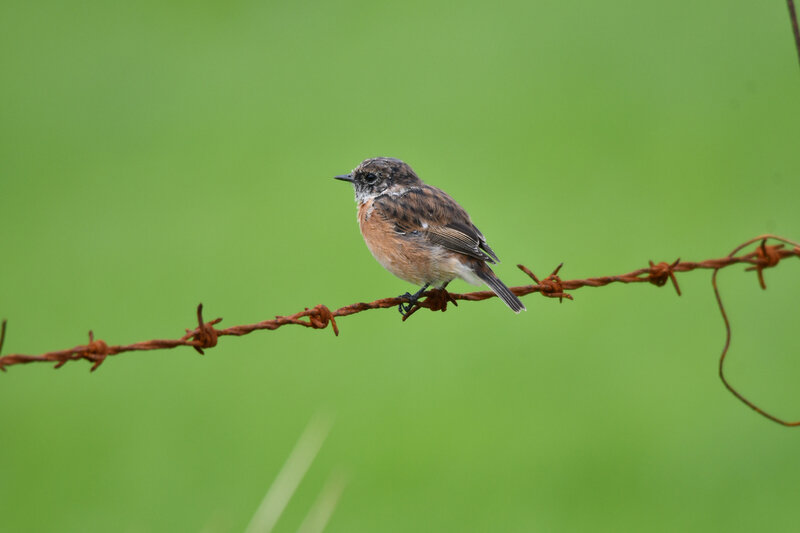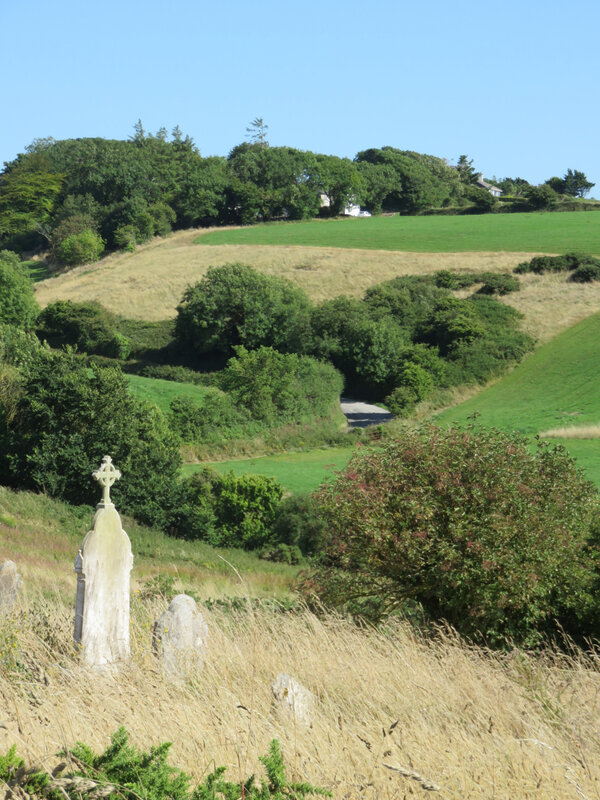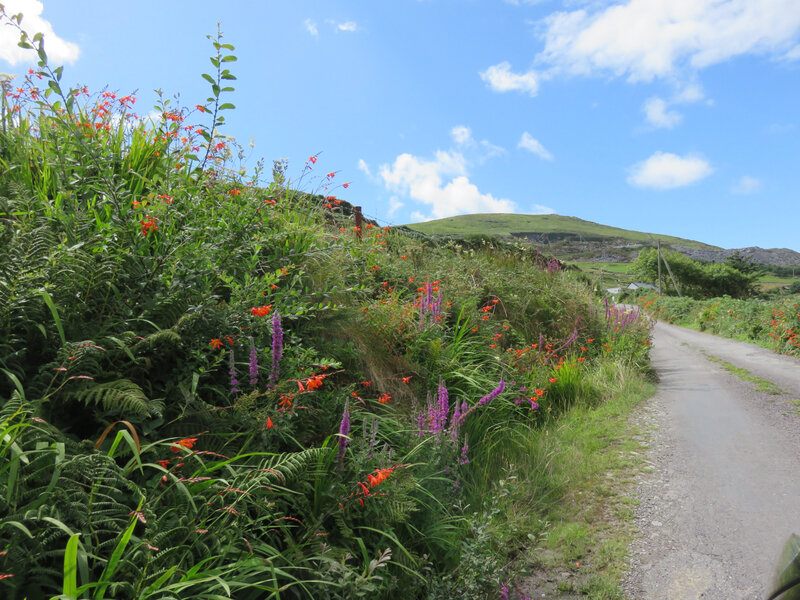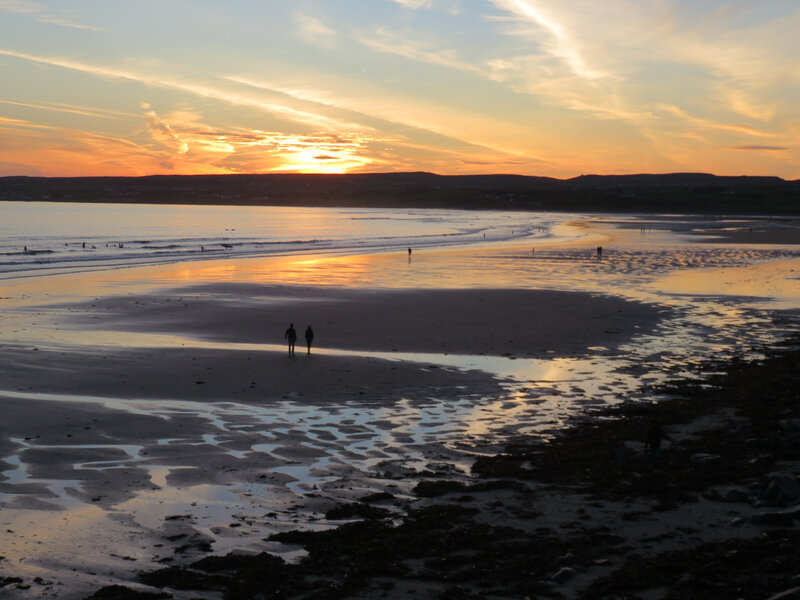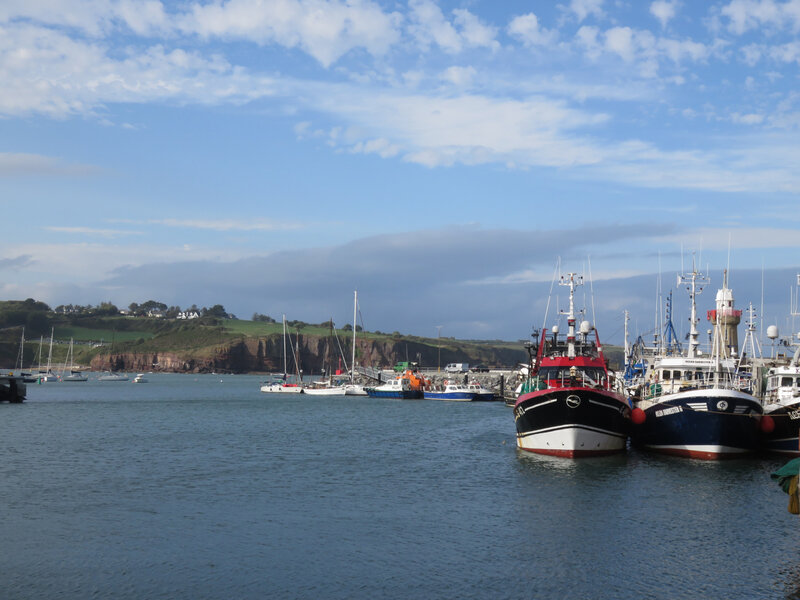 Voici en vrac quelques photos d'un séjour inoubliable. Un vrai coup de coeur pour ce pays!!! Je rêve d'y retourner!
Here are a few photos of a memorable stay. I just fell in love with this country!!! I yearn to go back!
J'ai pu faire quelques croquis malgré une mésaventure qui m'a grandement chagrinée: le tout premier jour, j'ai oublié un sac dans le parc du château de Blarney, et je ne l'ai jamais retrouvé. A l'intérieur il y avait ma boîte d'aquarelle complète (avec plus de 30 godets), un carnet de croquis neuf, un pinceau, deux feutres encre de chine, et quelques objets personnels sans trop de valeur. Cela m'a vraiment touchée. J'ai appelé le château presque tous les jours pour savoir si quelqu'un l'avait ramené, mais non. Cette personne a probablement décidé qu'il/elle donnerait la boîte d'aquarelle (extra-fine) à un gamin (!), ou pire l'a jeté en n'y trouvant rien d'intéressant. Pour lui/elle. Le jour suivant j'ai acheté un carnet de croquis, une mini boîte d'aquarelle un pinceau et un feutre. Le strict minimum. Mais chaque fois qu'il y avait quelqu chose à croquer, je repensais à ma boîte d'aquarelle. J'ai eu beaucoup de mal à me faire au papier de ce nouveau carnet, au feutre qui ne réagissait pas pareil, au pinceau qui ne coulait pas comme d'habitude, et aux couleurs trop criardes. C'est toujorus difficile de prendre en main un nouel outil, alors imaginez quand tout est nouveau! Vous excuserez la iètre qualité des croquis, le papier qui gondole, les couleurs pas toujorus justes; concentrez vous sur l'atmosphère et les couleurs que j'ai essayé de rendre.
I was able to sketch a litlle, despite some misfortune that greatly upset me: on the very first day, while visiting Blarney Castle, I forgot a bag in the park, and was never able to find it again. Inside, there was my precious watercolour full paint set (with more than 30 dishes), a brand new sketchbook, 2 brand new Pitt pens, a watercolour travel brush, and a few personal items. As I said I was really upset. I called the castle almost everyday to see if anybody had brought it back, but no. This person probably decided he/she would give my (fine art) watercolour set to a kid, or worse, tossed it away. No big deal. To him/her. The following day I bought a new sketchbook in Cork, a brush, a pen and a new (small - 8 dishes) paint set. The minimum. But each time I thought about sketching something, I was upset about my lost paint set; and I still haven't managed to get used to the paper of that new sketchbook, and the colours. It's pretty difficult to get used to one new tool, so just imagine when everything is different and new!! You'll excuse the poor quality of the sketches, the crap paper, the loud colours and focus instead on the atmosphere and light I was intending to show.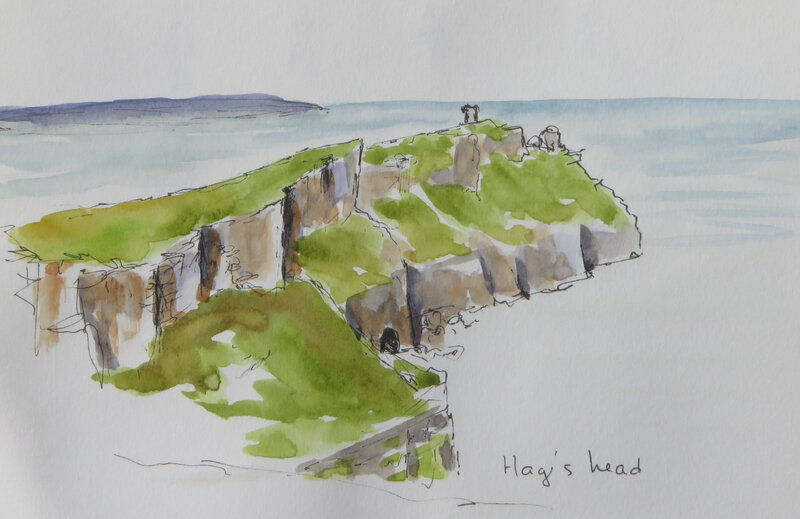 N°139
N°140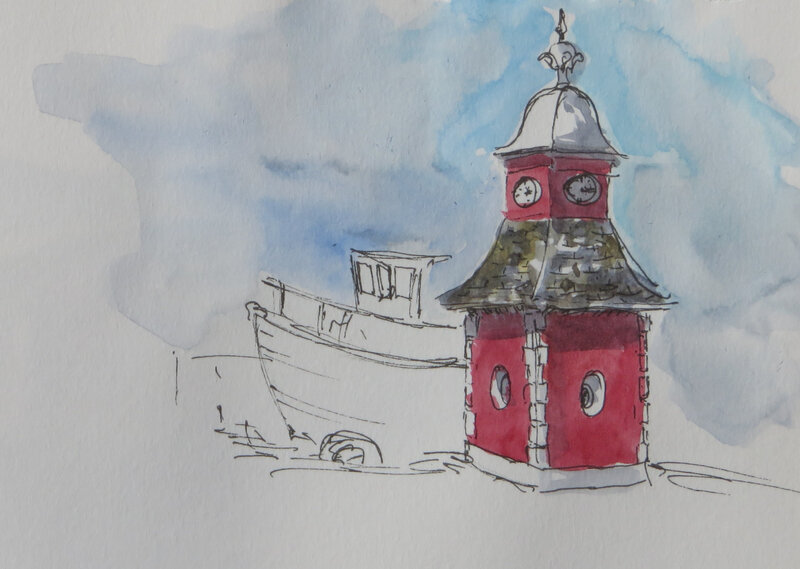 N°141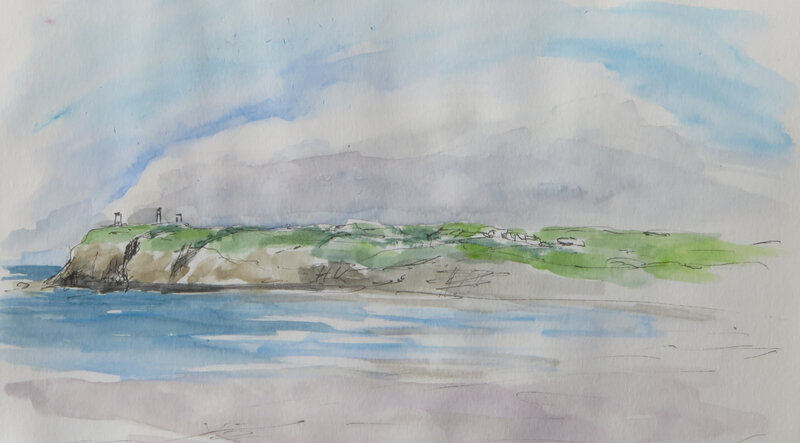 N°142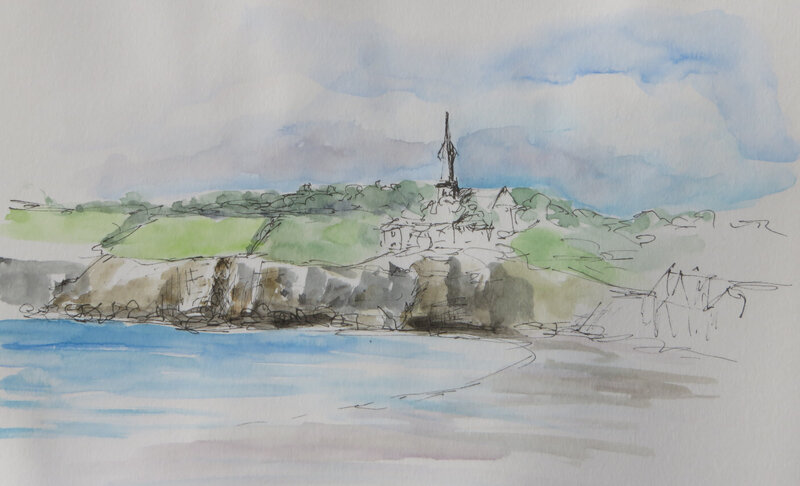 N°143
12 juillet 2018
Tilleul, véronèse, bambou, Amande, bouteille, olive, kaki, émeraude, lichen, chartreuse, celadon, pistache, menthe à l'eau, vert de gris, sinople, sapin, perroquet, ...
Quel sera le vert de votre été?

Mint, moss, seafoam, forest, olive, shamrock, parakeet, sage, fern, jade, kelly, lime, hunter, pistachio, juniper, ...
How green will be your summer?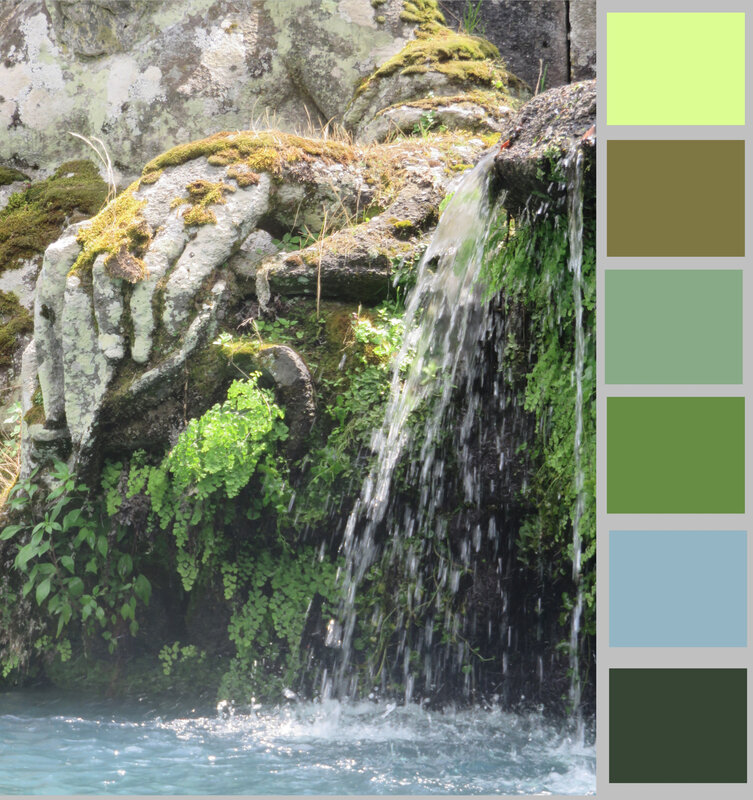 "Le vert est la couleur dominante de l'été, le temps de l'année où la nature, ayant triomphé du printemps et de ses tempêtes, baigne dans un reposant contentement de soi." Wassily Kandinsky
"Green is the most restful colour that exists.(...) It is the colour of summer, the period when nature is resting from the storms of winter and the productive energy of spring." Wassily Kandinsky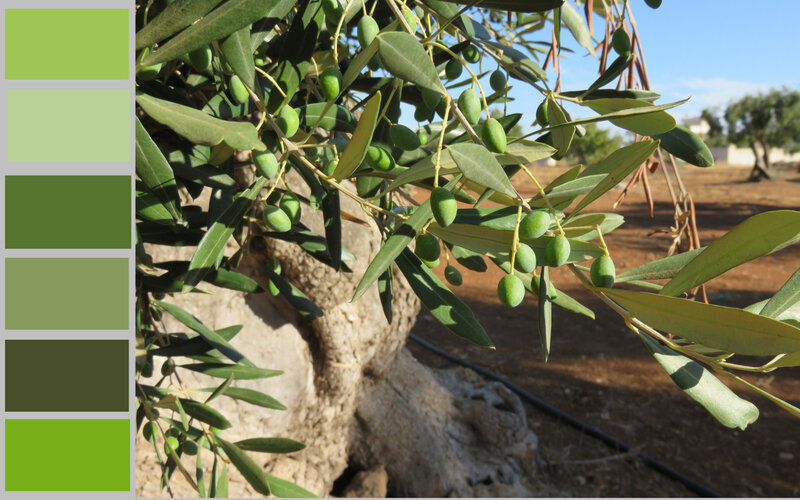 "Green is the prime color of the world, and that from which its loveliness arises."Pedro Calderon de la Barca
"Le vert est la principale couleur du monde, celle dont découle sa beauté." Pedro Calderon de la Barca
"La nature est éternellement jeune, belle et généreuse. (...) Elle possède le secret du bonheur, et nul n'a su le lui ravir." George Sand
"Nature is eternally young, beautiful, and generous(...). She owns the secret of happiness, of which no one has ever robbed her." George Sand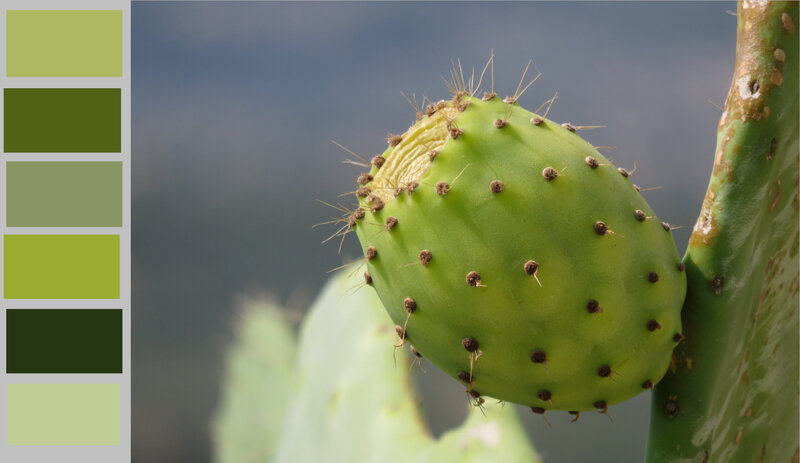 "No water, no life. No blue, no green." Sylvia Earle
"Pas d'eau, pas de vie. Pas de bleu pas de vert." Sylvia Earle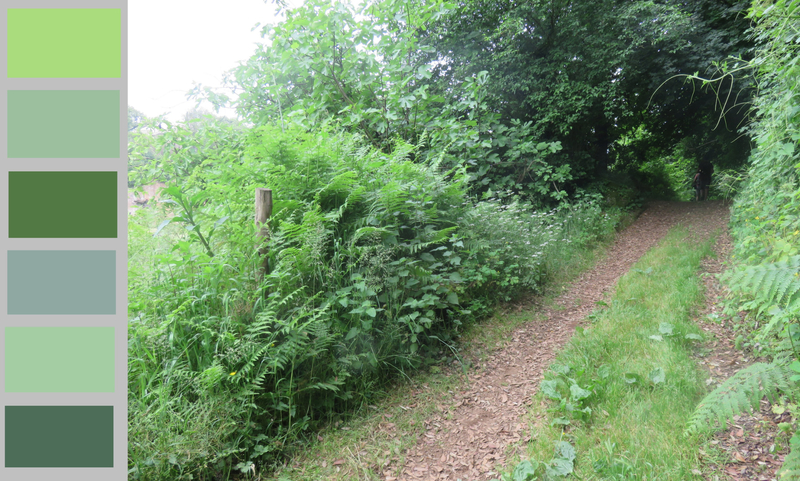 "Je consens qu'il soit bon parfois que l'art se remette au vert, et s'il pâlit d'épuisement, qu'il quête dans les champs, dans la vie, quelque regain de vigueur." André Gide
"I admit it is sometimes good to take the art to the countryside, and if it pales out of exhaustion, may it find some revived vigour in the fields, in life." (rough translation) André Gide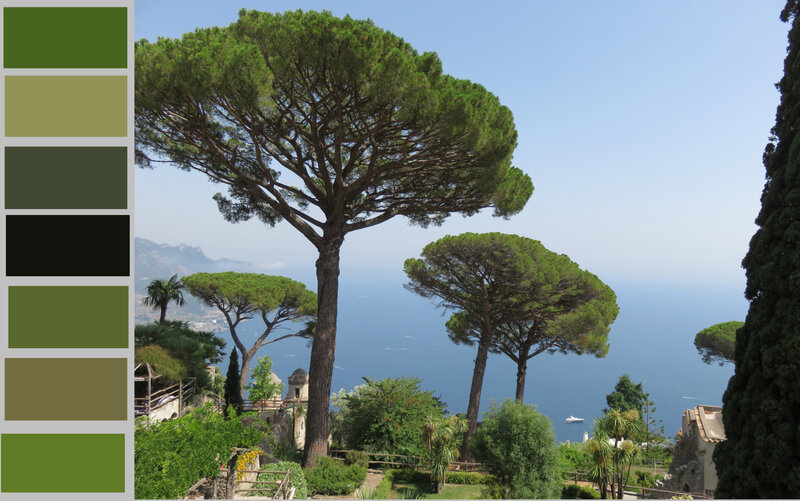 "La nature, trésor inépuisable des couleurs et des sons, des formes et des rythmes, modèle inégalé de développement total et de variation perpétuelle, la nature est la suprême ressource." Olivier Messiaen
"Nature is an endless treasure of colours and sounds, shapes and rhythm, an unrivalled model of complete development and constant variation. Nature is the utmost resources." Olivier Messiaen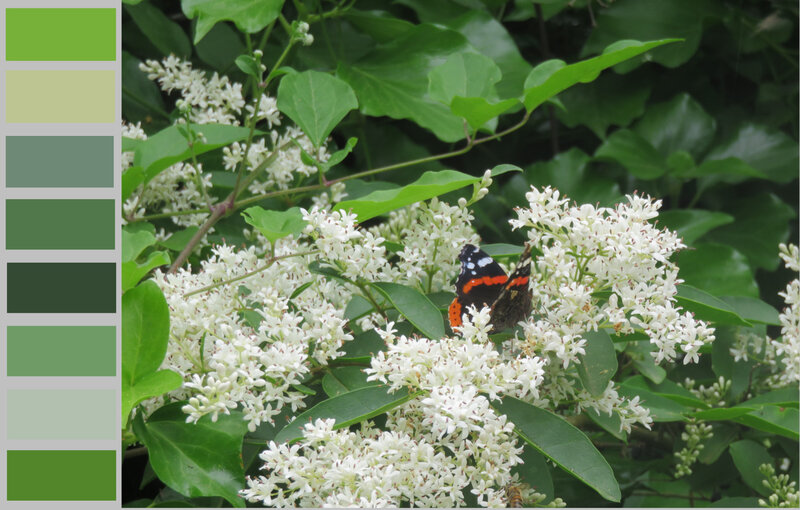 "Green was the silence, wet was the light,
the month of June quivered like a butterfly." Pablo Neruda
"Vert était le silence, humide était la lumière,
le mois de juin frissonnait comme un papillon." Pablo Neruda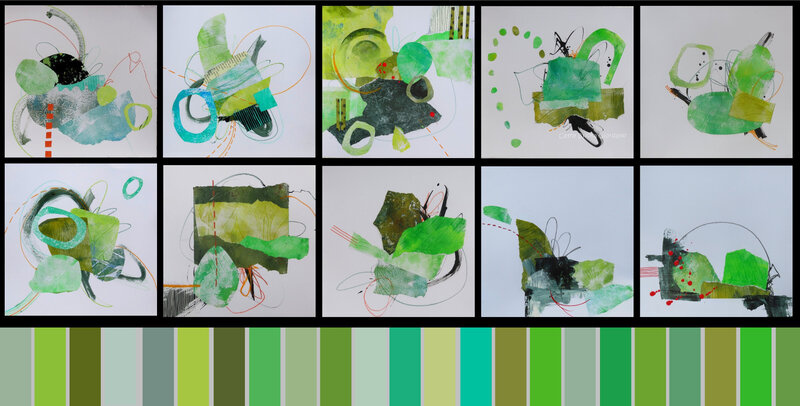 "Green does not have to mean the sort of hair-shirt, wood-burning-stove sensibility of the '70s. Green can and should be sleek and modern." Graydon Carter
"Le vert n'implique pas forcément une sensibilité des années 70, genre chemise à fleur, cheveux longs et poêle à bois. Le vert peut et doit être racé et moderne." Graydon Carter

08 juillet 2018
Let go and refrain from over doing it,
play with transparencies and depth, what is revealed what is hidden,
balance and unbalance, tip forward right till break point
Se lâcher, et se retenir pour ne pas trop en rajouter,
jouer les transparences, la profondeur, le dit et le non dit,
équilibrer et déséquilibrer pour se pencher juste au dessus du vide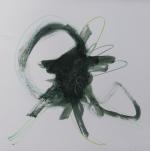 Peinture étalée rapidement, et hop, collages et crayons aquarellables
Starting with some scribble, and on with a collage and some watercolour pastels/pencils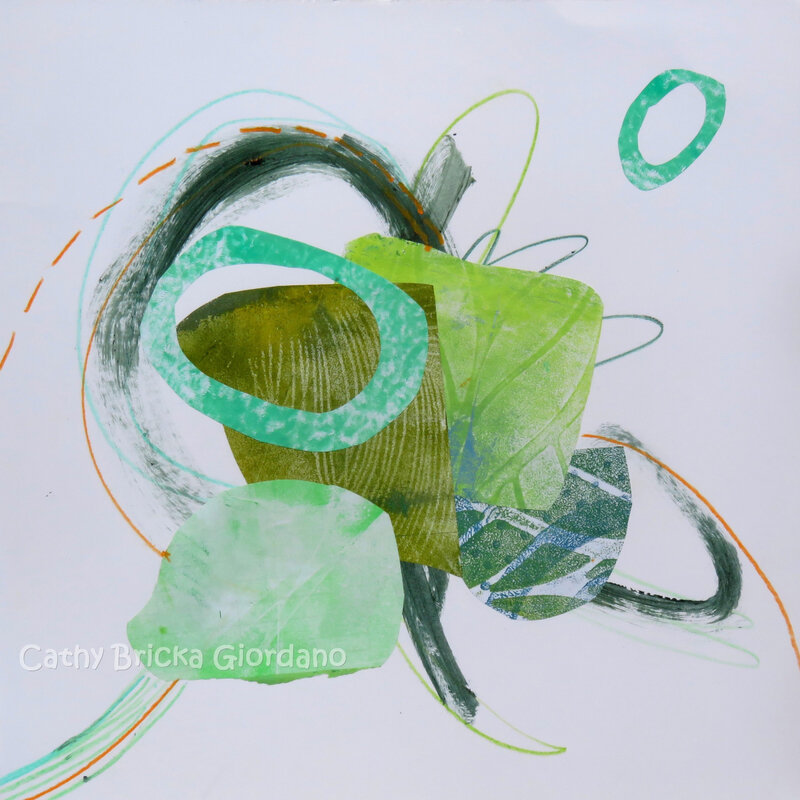 N°134
Je suis toujours dans le vert, et depuis que j'ai commencé, je ne m'en lasse pas.
Still working my greens. Ever since I started, I just can't get enough.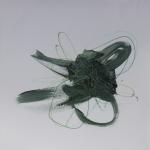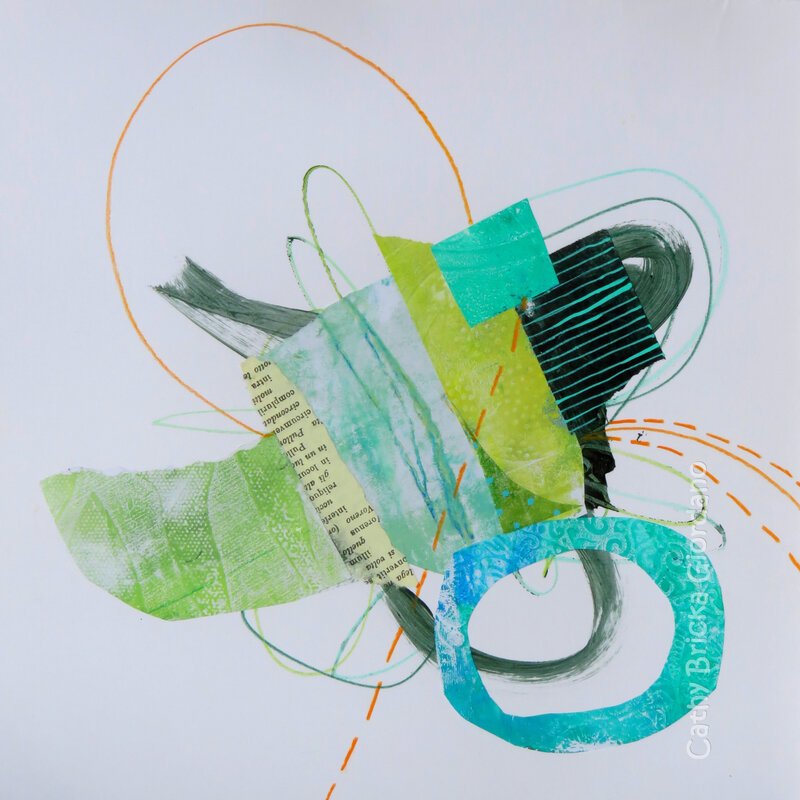 N°135
Je trouve ça rafraîchissant avec les grosses chaleurs que nous avons à Rome en ce moment, et il y a tant de teintes subtiles, tant de combinaisons possible!
I find it very refreshing with the serious heat we are having in Rome at the moment, and there are so many shades, so many hues, so many possible combinations!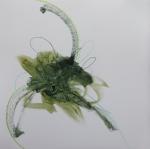 N°136
et d'un point de vue composition, j'apprends énormément
On the composition side, I'm learning loads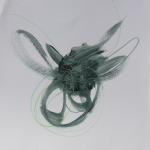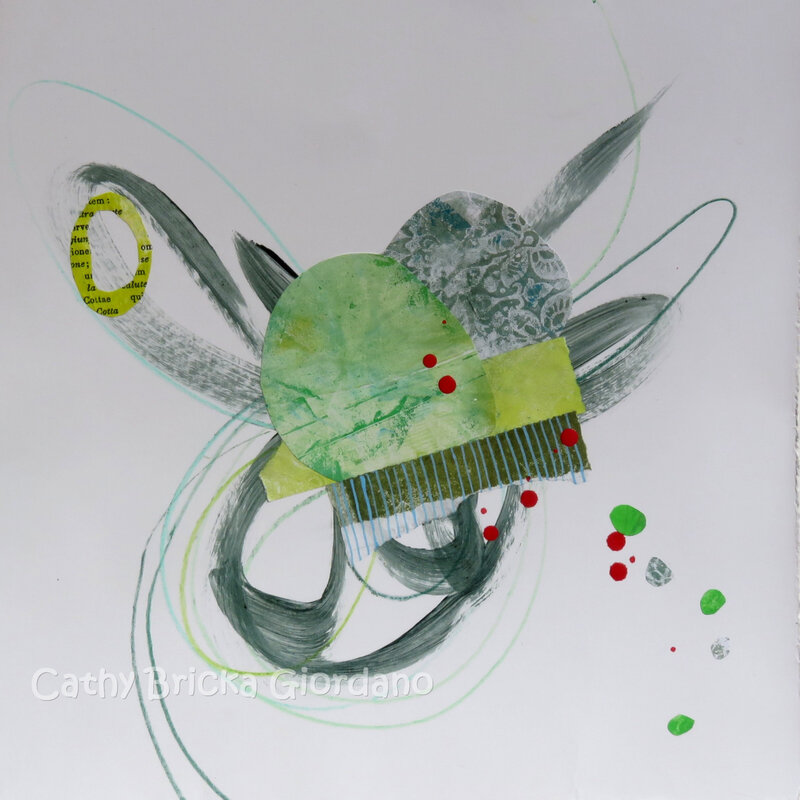 N°137
Un cadre pour finir le tout:
A nice frame to finish them off: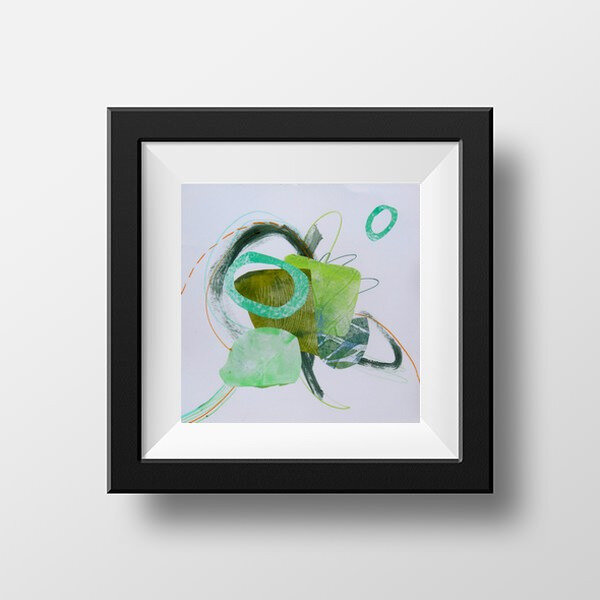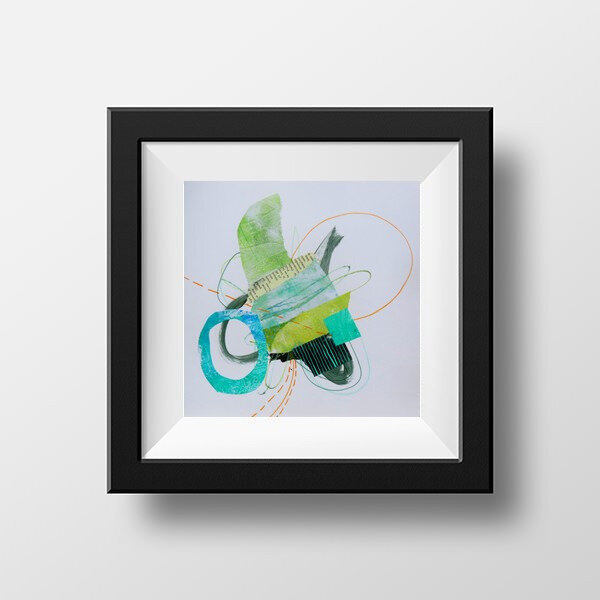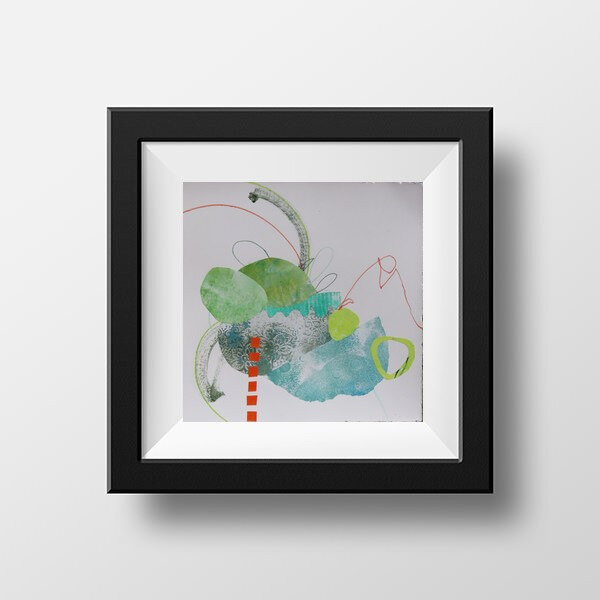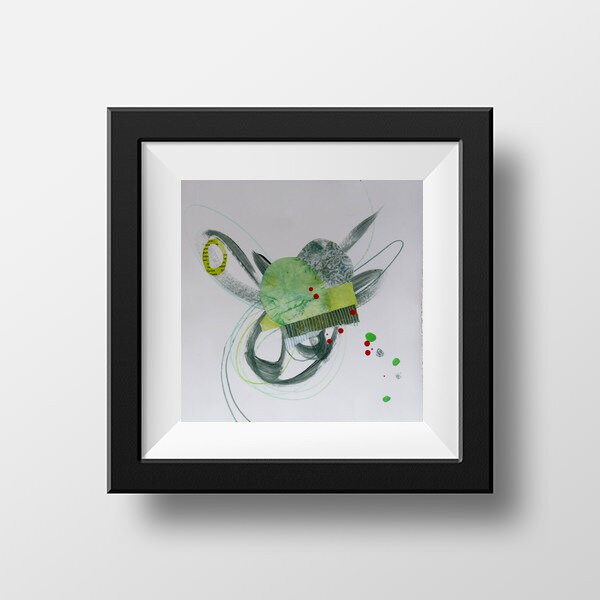 Il ne s'agit pas d'un long fleuve (vert) tranquille. Il y a ceux qui m'ont un peu donné du mal (et ceux qui n'arrivent pas à décoller aussi, mais bon...)
par exemple celui là:
Things don't always go smoothly. I spent a few tough hours with some with this one:

il était très mal parti, mais finalement, à force de m'acharner j'ai réussi à en tirer quelque chose.
It well from okto worse to worser then it suddenly got better again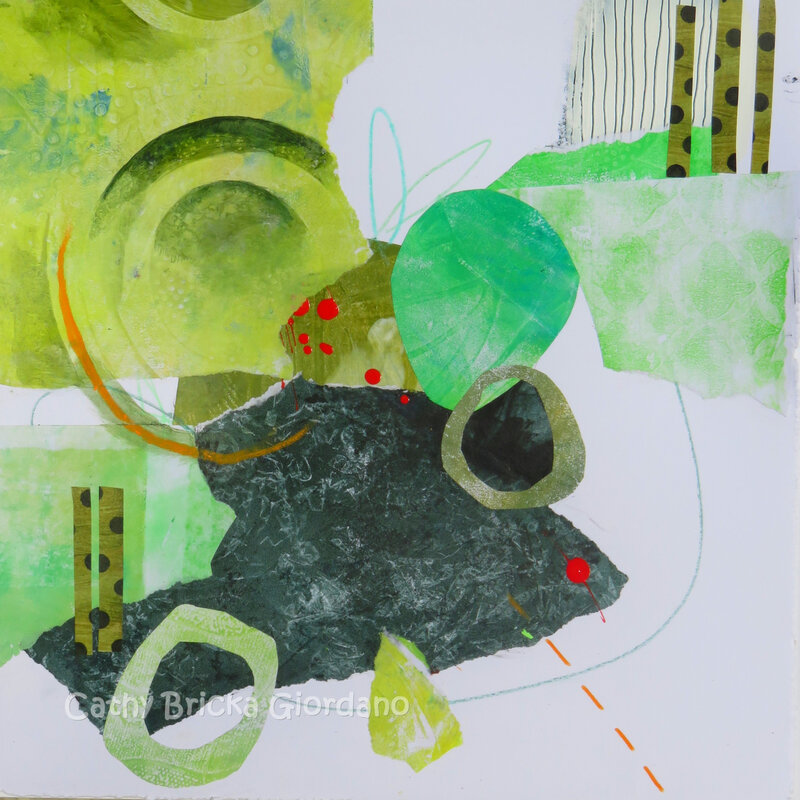 N°138
Il est certes plus chargé mais il garde un côté spontané
that's why it's a little busier than the others, but it still looks spontaneous somehow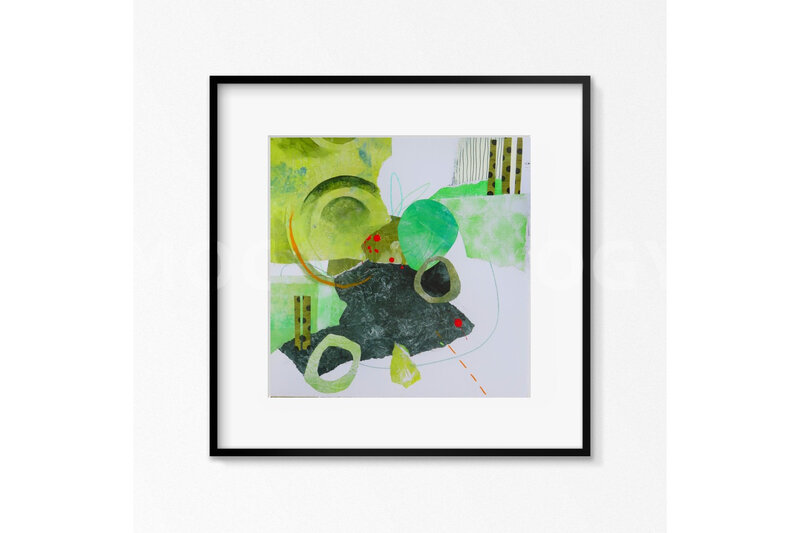 Cliquez ci dessous pour revoir les autres verts / Click below to see the other greens
Go Green 1 (le processus/ the porcess)
Go Green 2
Bizarrement, je ne me lasse pas. Et vous?
Weirdly enough I'm not getting tired of it. What about you?
04 juillet 2018
Suite de la même série de travail à base de vert (cliquez ici pour revoir comment tout a commencé):
I've kept working my greens (click here to see how it all started);
Cette fois ci au lieu de partir d'une feuille blanche,
this time, instead of starting with a blank page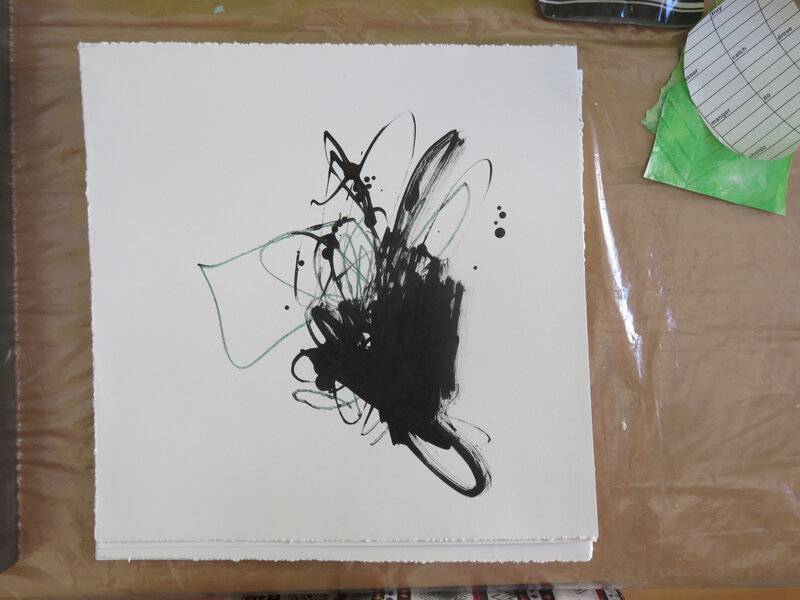 je suis partie d'un gribouillis à l'encre et/ou au crayon aquarellable
I started with scribbling some ink and watercolour pencil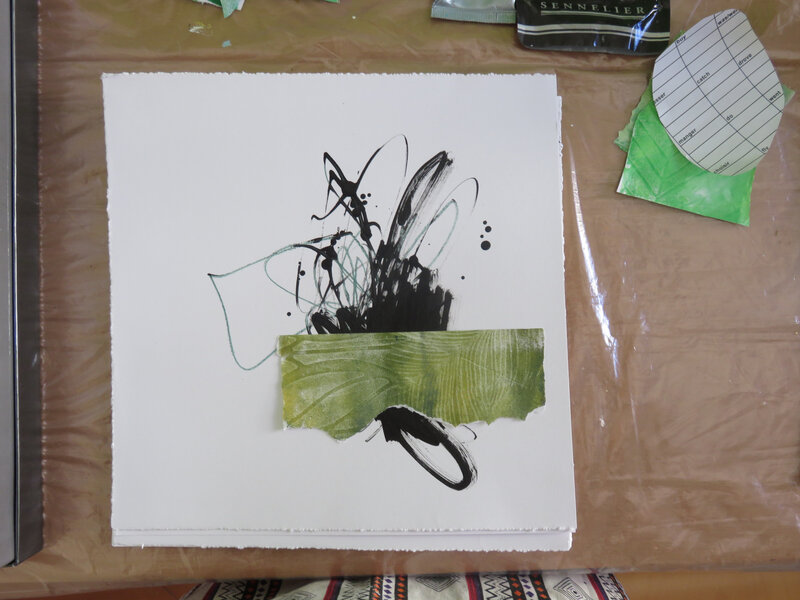 J'ai fait mon collage par dessus en cachant et en révélant plus ou moins les traits d'en dessous.
I lay my collage on top, hiding and revealing more or less the marks underneath

et puis j'ai joué avec les papiers imprimés de monoprints de différentes formes et couleurs pour créer ma composition
then I played with shapes and colours to create and balance my composition using monoprinted papers
et pour finir et équilibrer, j'ai rajouté encore quelques marques de crayon/pastel aquarellable et/ou encre
then to finish it off and balance the whole thing, I added some marks with watercolour pencil/crayons and/or ink.
Le résultat / the result:
N°130
et les 3 autres faits sur le même principe / the 3 others based on the same principle: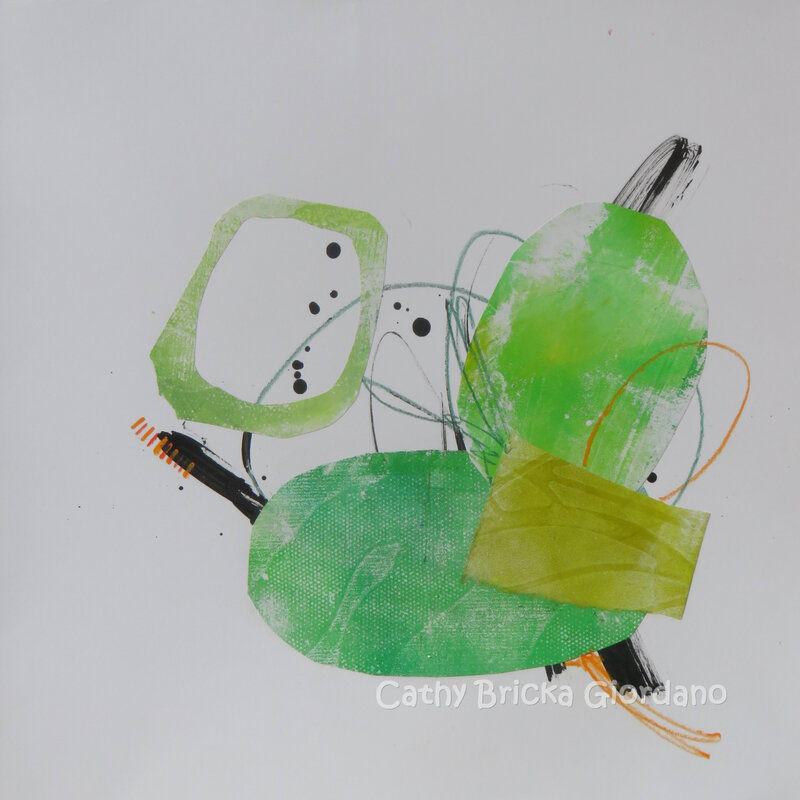 N°131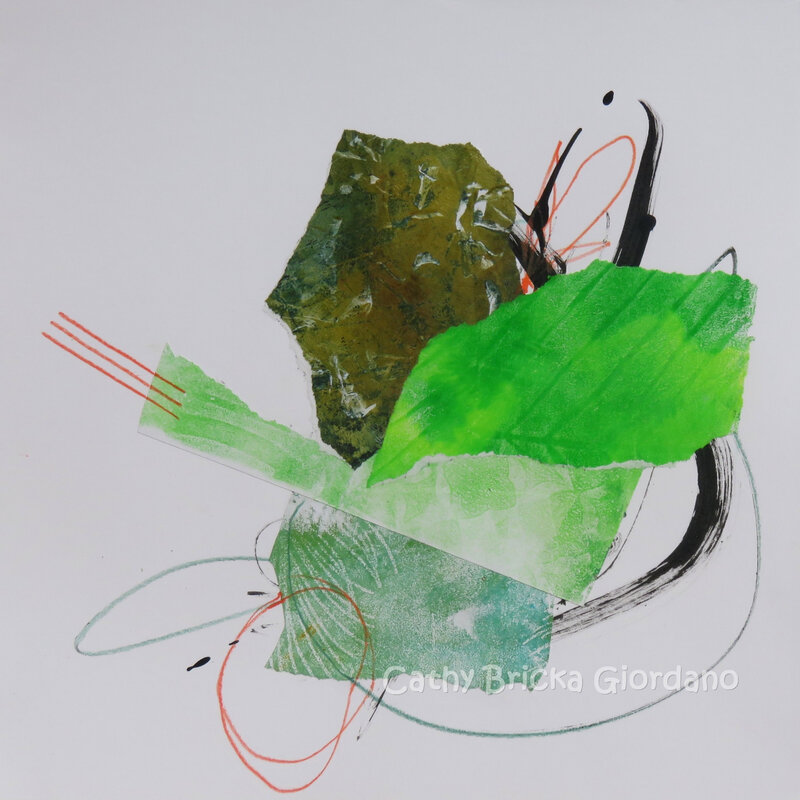 N°132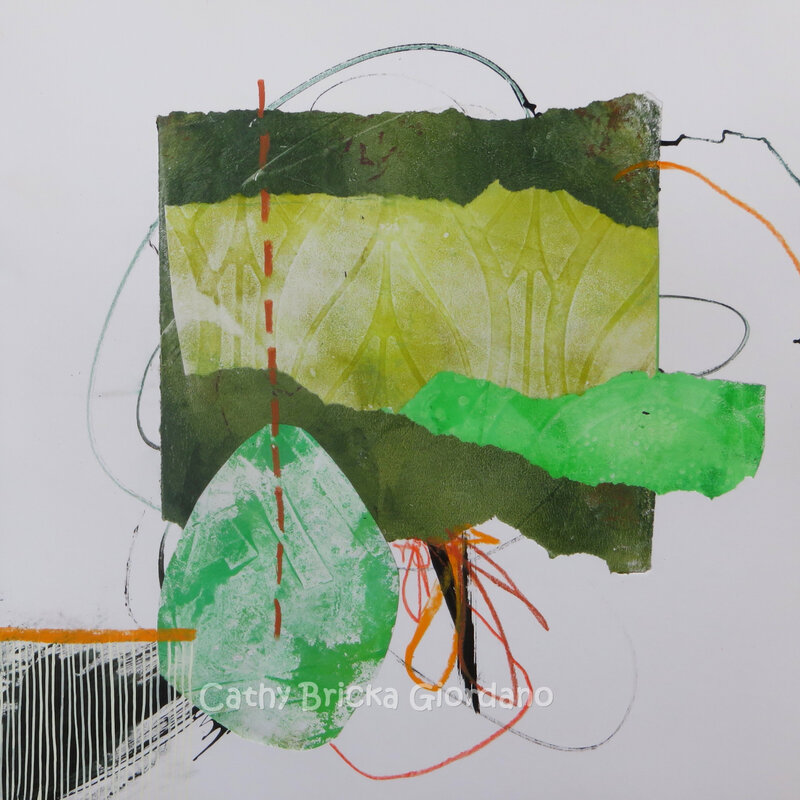 N°133
les voici chacun encadrés
and here they are framed: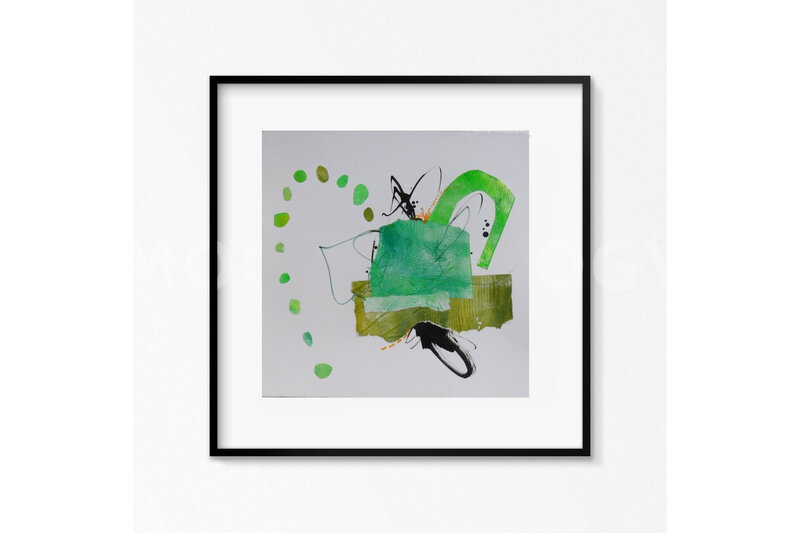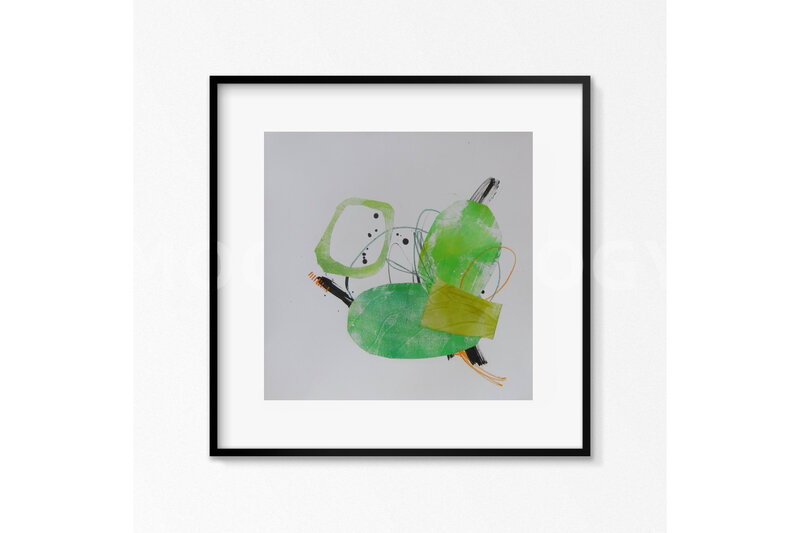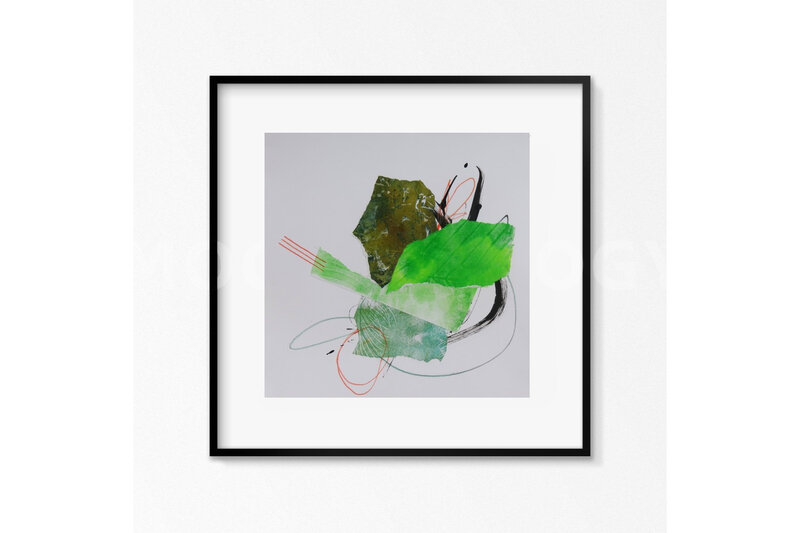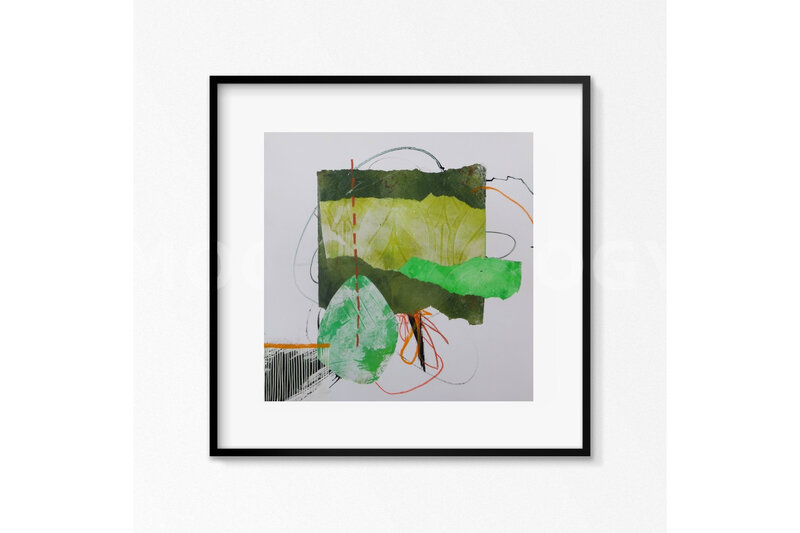 Cela crée un bel ensemble, vous ne trouvez pas?
they look so good together, don't you think?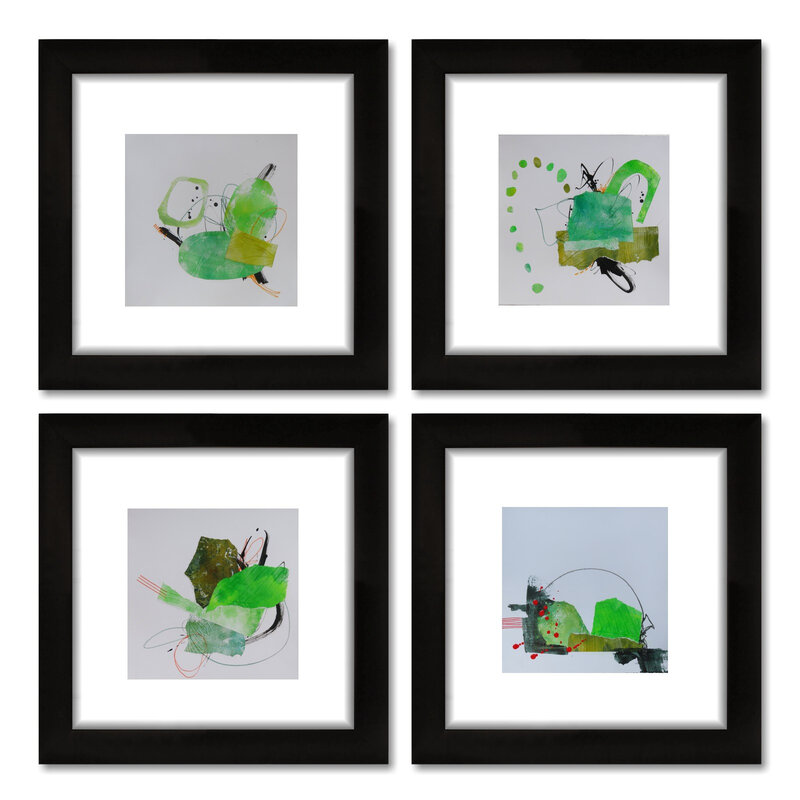 Trouvez l'intrus, il y en a un de la série précédente
Find the odd one out, there's one from the previous series
01 juillet 2018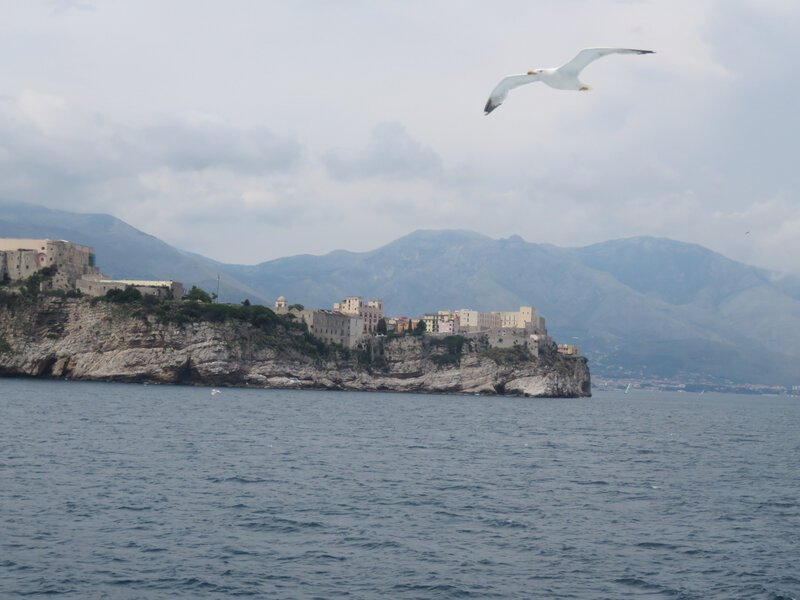 (Circeo)
A mi-chemin entre Rome et Naples, quittons la côte italienne en bateau et vogons jusqu'à l'île de Ponza
Half way between Rome and Naples, take a boatand head west, you'll find the island of Ponza.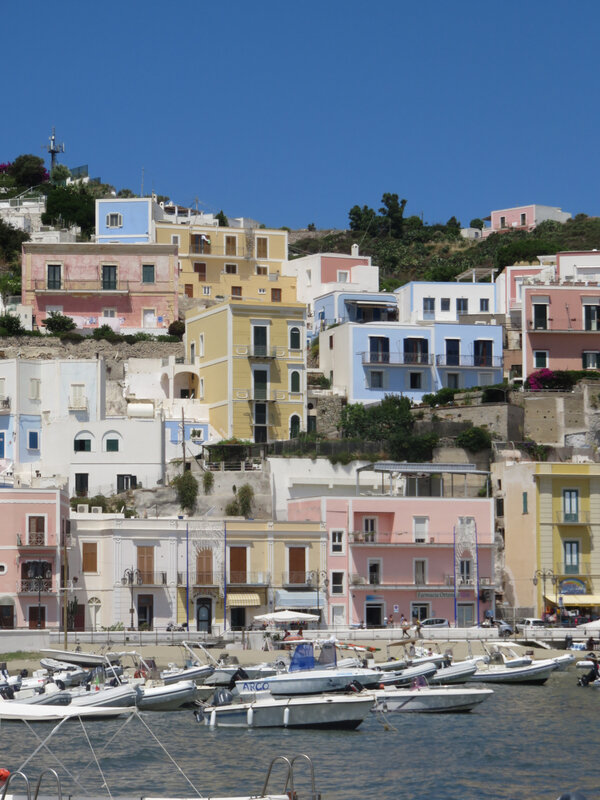 dès l'arrivée, les couleurs explosent
as soon as you'll arrive the colours will strike you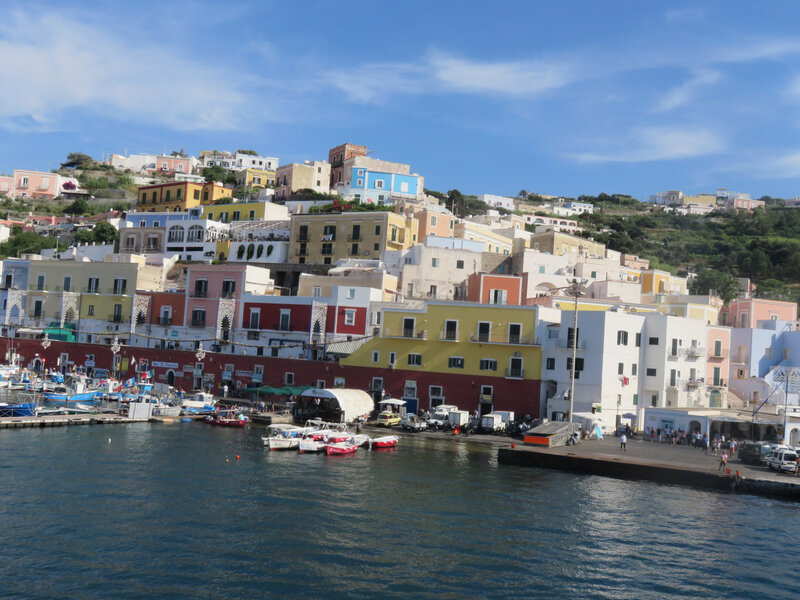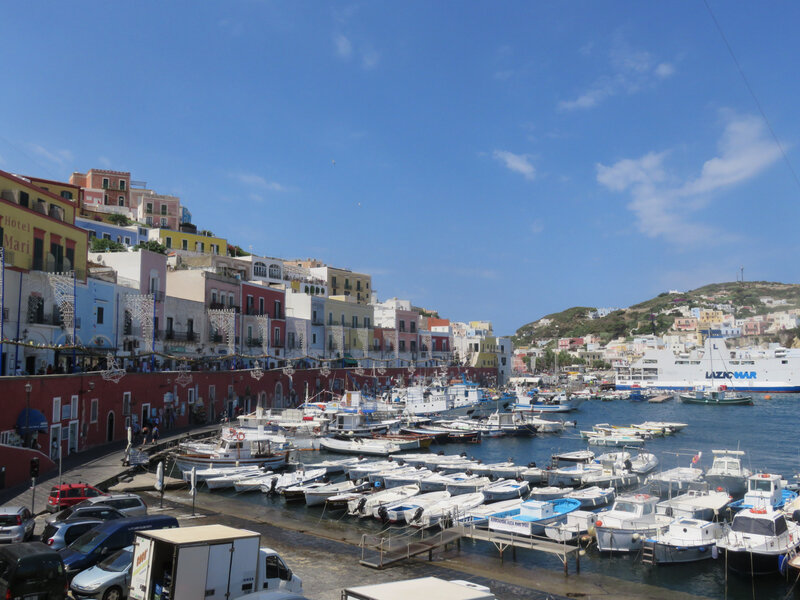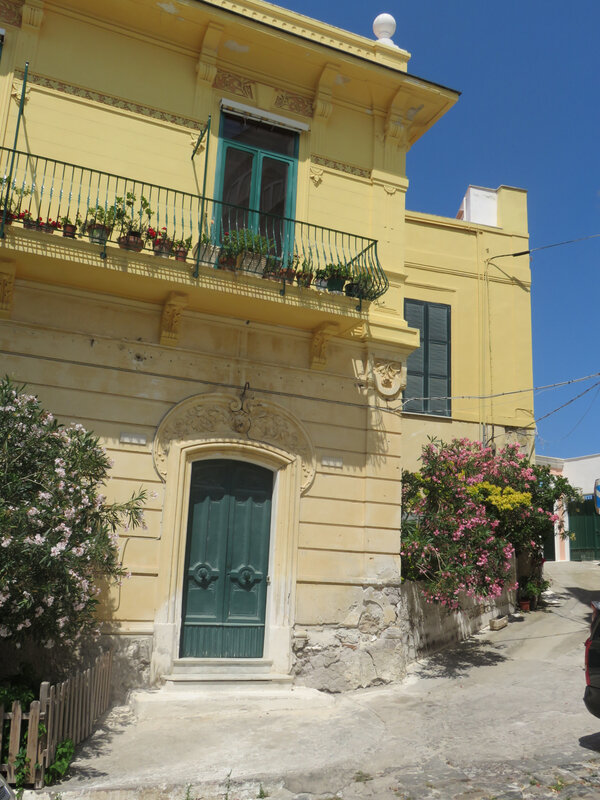 Promenez-vous et ouvrez grand les yeux, chaque point de vue vaut le coup.
Just walk and enjoy. Each sight is a gem: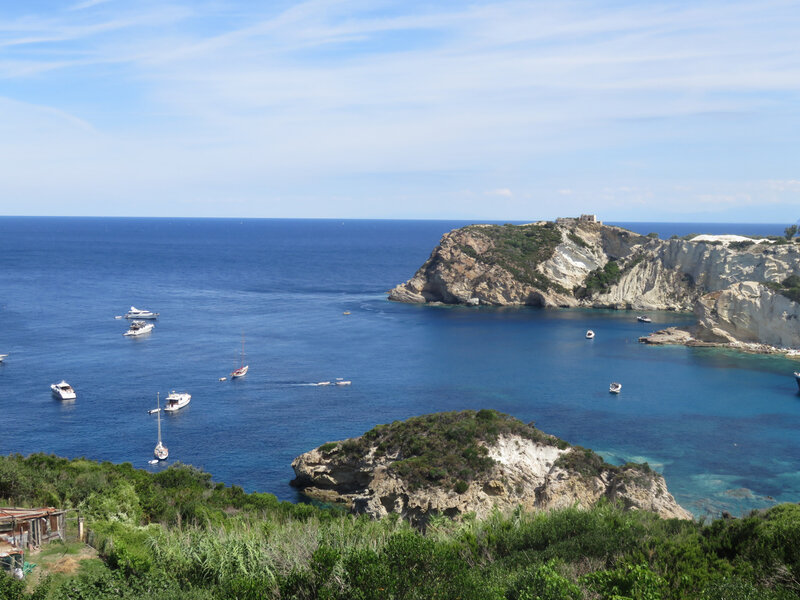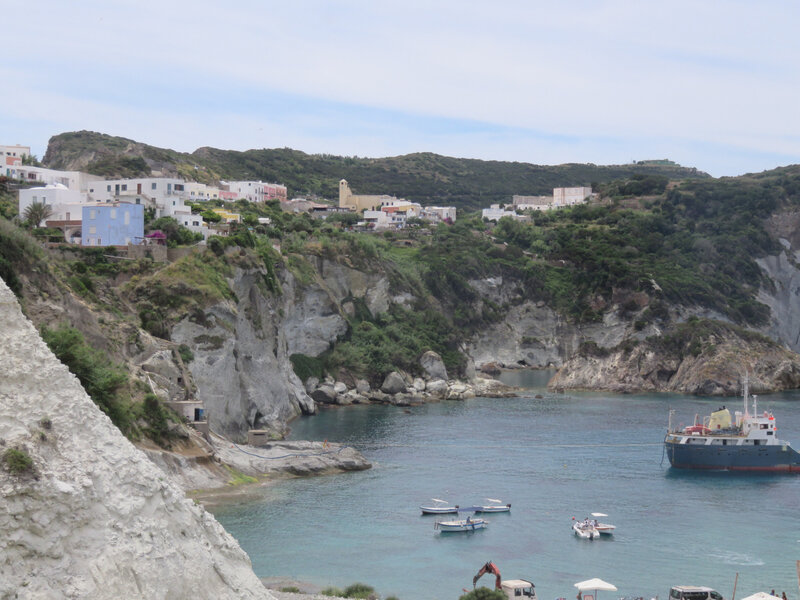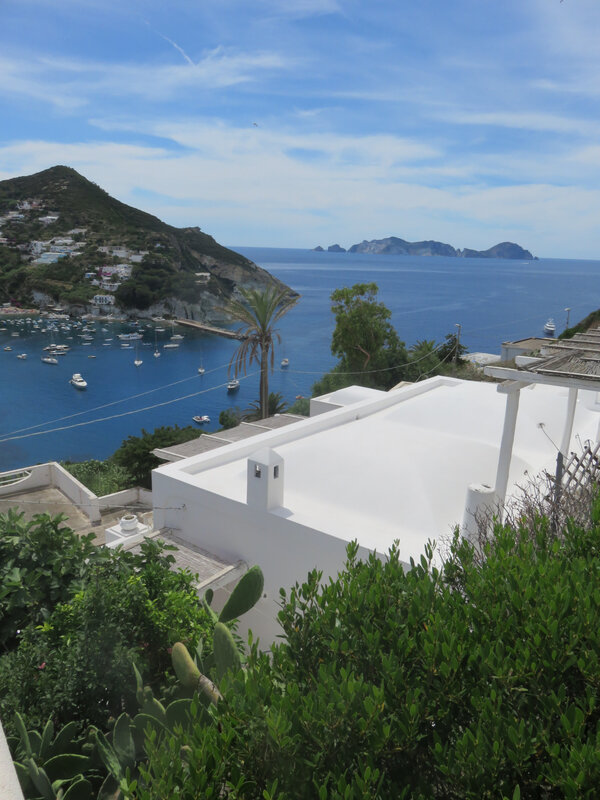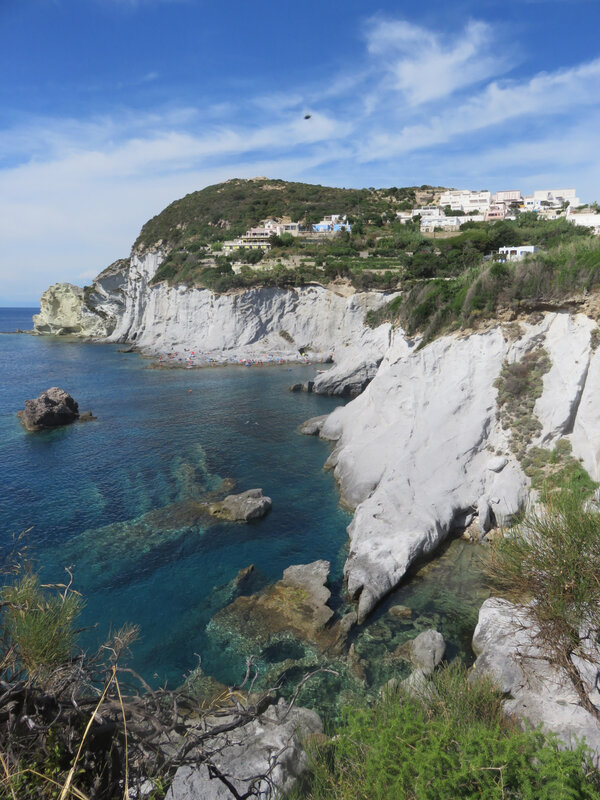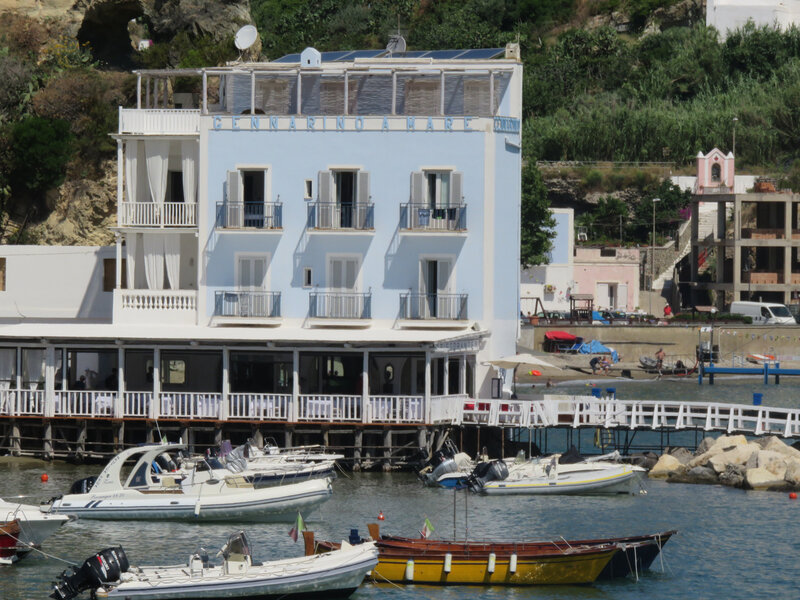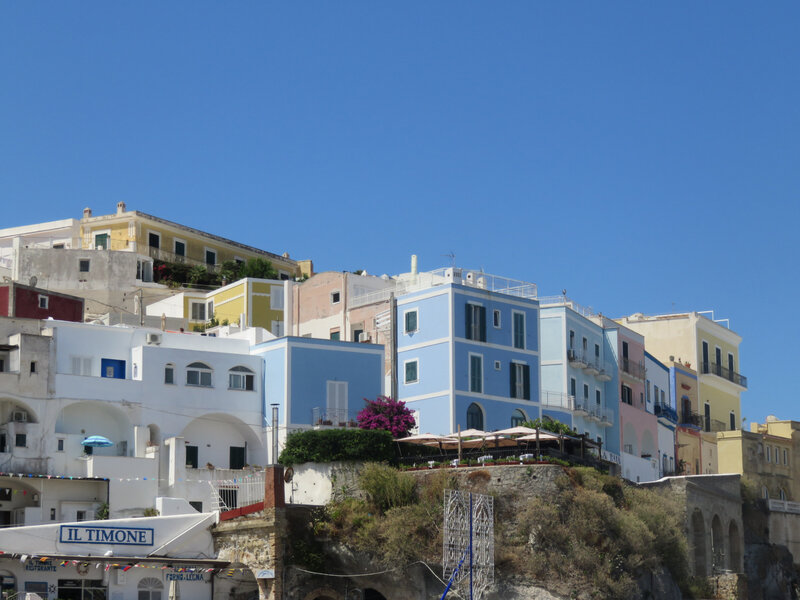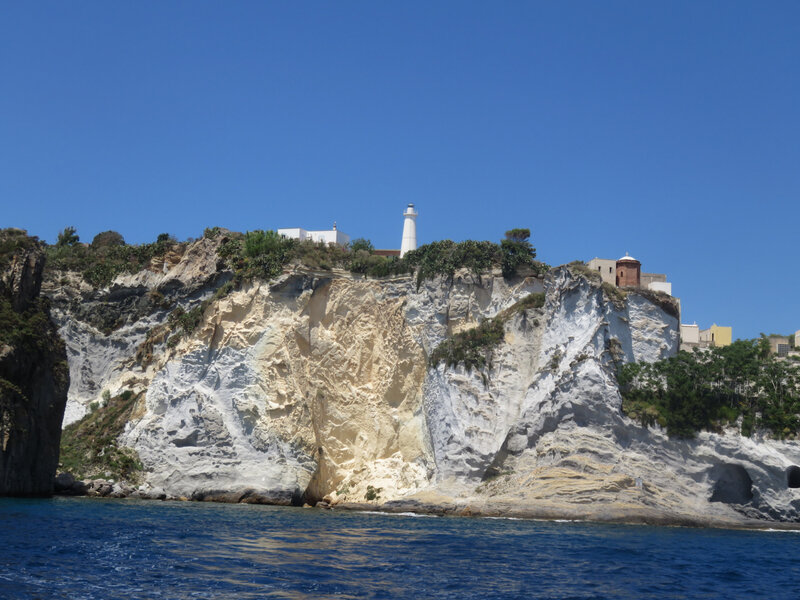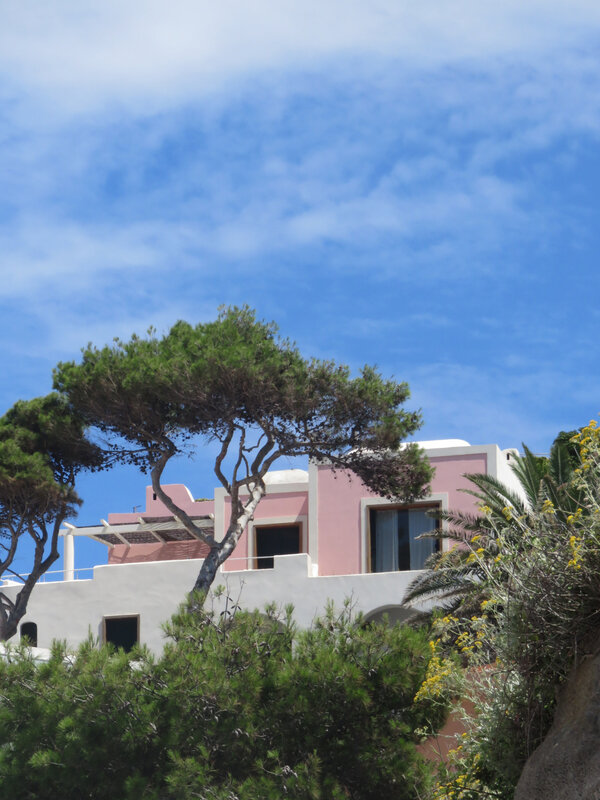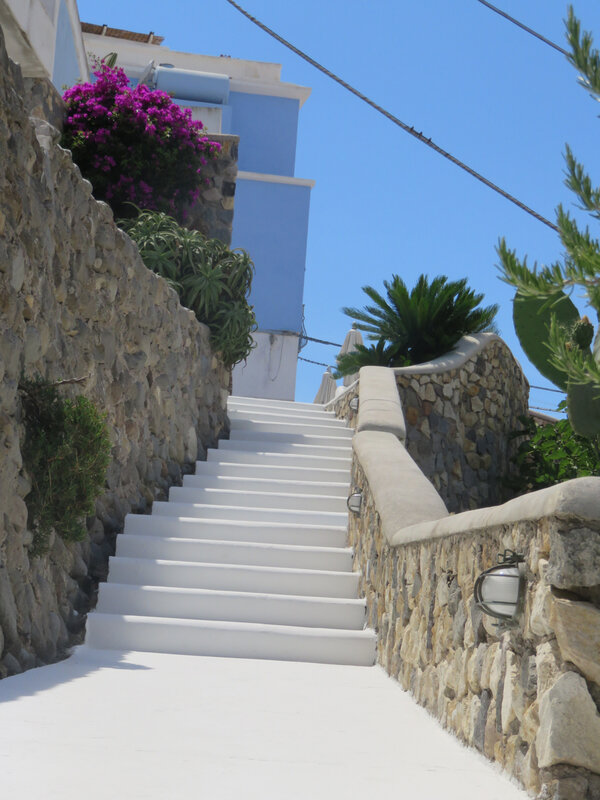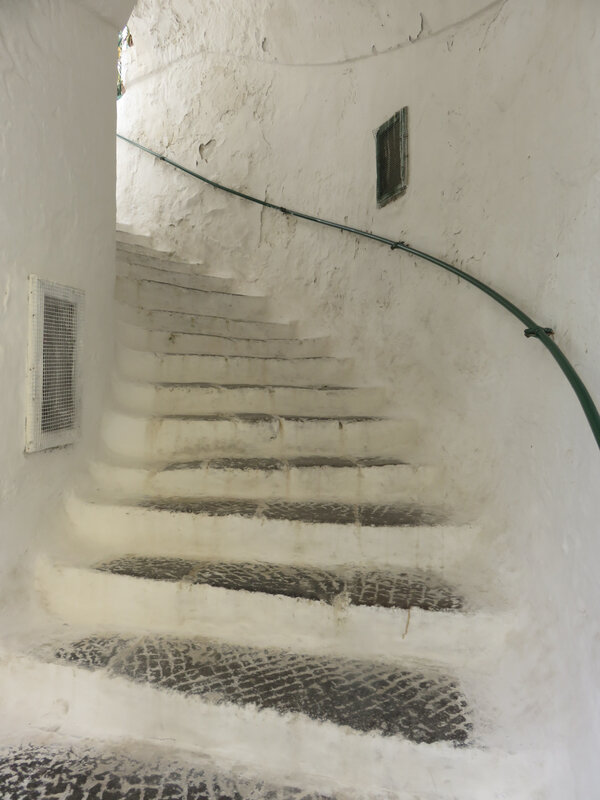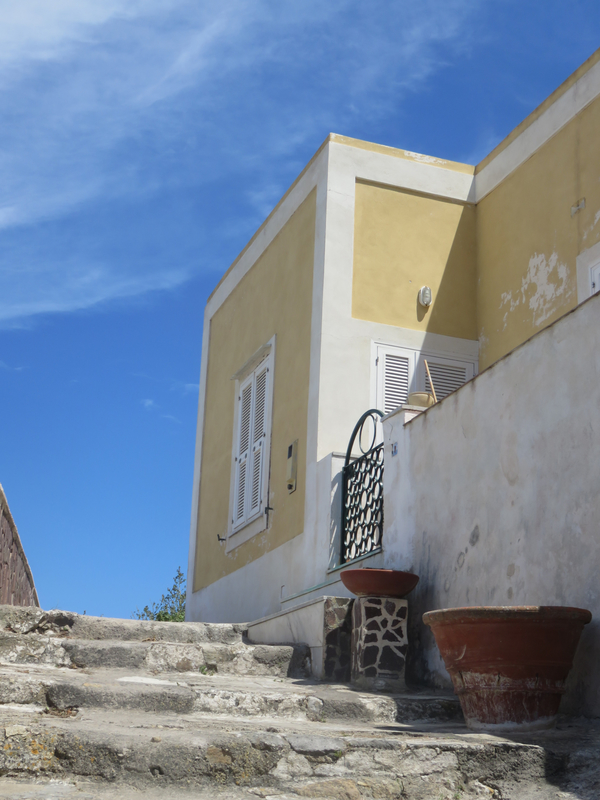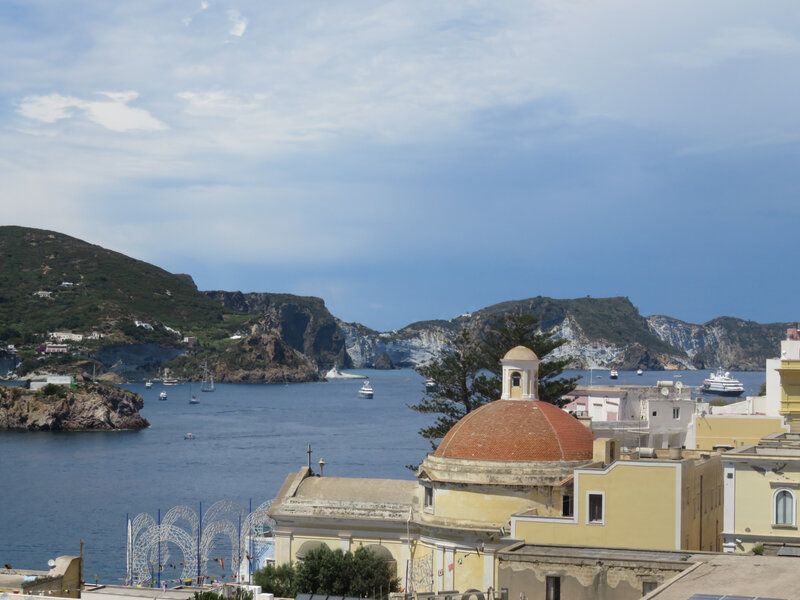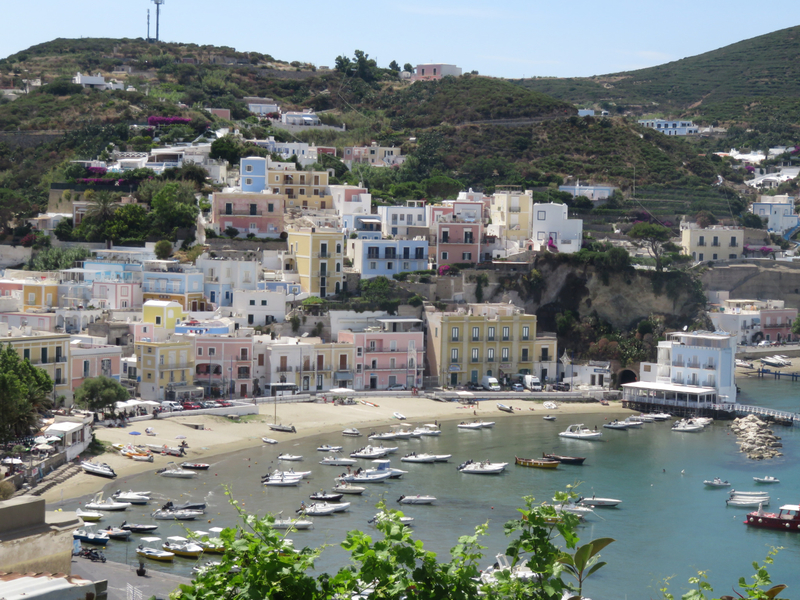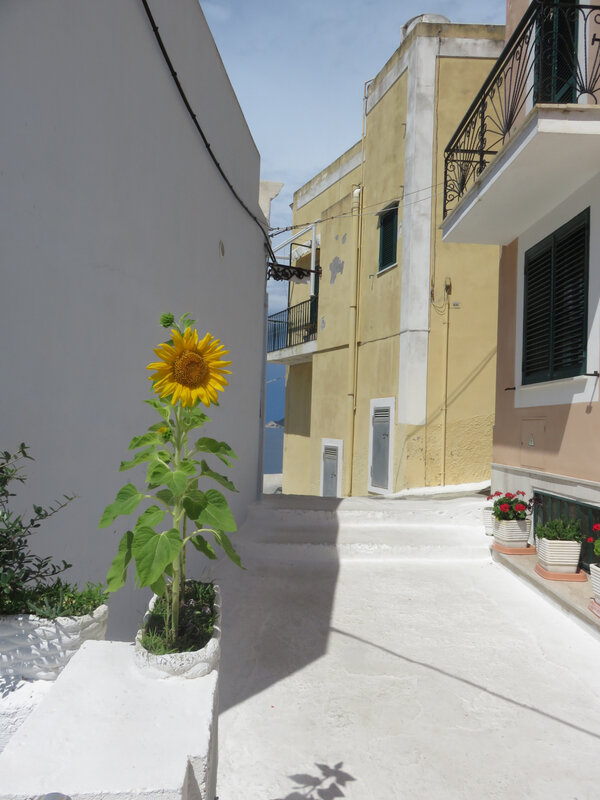 26 juin 2018
Ponza est une jolie petite île sur la mer tyrrhénienne à peu près à mi-chemin entre Rome et Naples. Cela a été un weekend avec un très net air de vacance.
Ponza is a cute little island on the Tyrrheniansea, more or less half way between Rome and Naples. This was a weekend with a definite taste of summer holiday.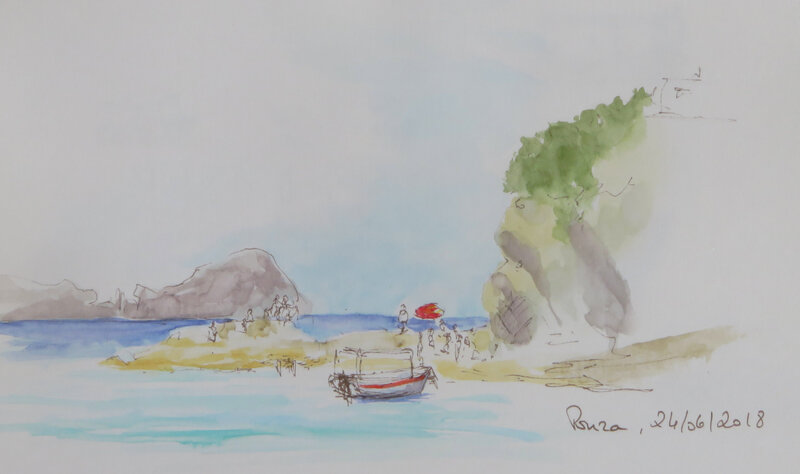 N°127 Une côte découpée, de belles falaises
Jagged coastline, beautiful cliffs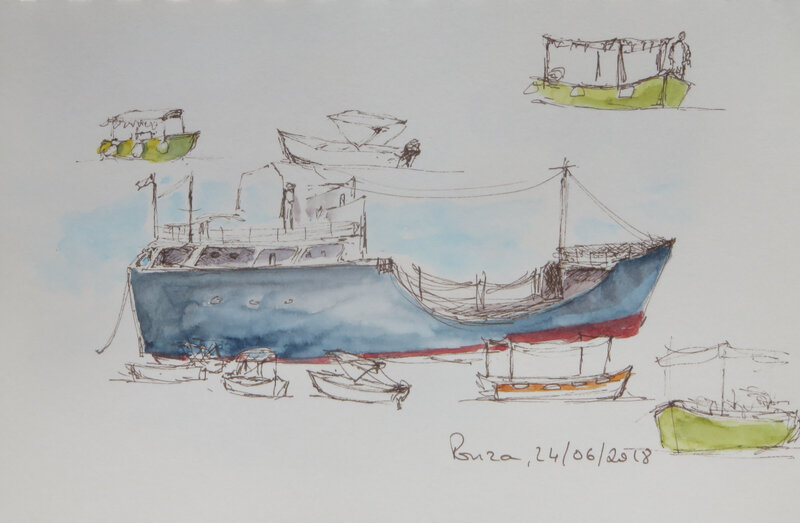 N°128 beaucoup de bateaux partout (va falloir que je travaille mes bateaux)
lots of boats everywhere (I must definitely work my boats)
N°129 des plages de mini galets, une eau merveilleusement transparente.
tiny pebbled-beaches, incredibly transparent water
Une autre fois, je vous parlerai des petites maisons colorées, des ruelles escarpées, des phares, ... sinon cela ferait trop d'un coup ;-)
Another time I'll talk about the cute colourful houses, the steep streets, the light-houses, ... otherwise it would be too much ;-)
20 juin 2018
Comment se renouveler, trouver de nouvelles idées? Pour ma part, j'observe beaucoup autour de moi et surtout je regarde les oeuvres des autres artistes en me demandant toujours pourquoi j'aime (ou pas) leurs tableaux. J'essaie toujours de mettre des mots sur ce qui me plaît (ou pas) chez les uns ou les autres car cela me permet ainsi de trouver des points communs entre différents artistes/tableaux, et des idées de pistes ou de points à travailler
How do artists find new paths? New ideas? Personally, I'm always noticing things around me and when I look at other artists' works I always ask myself why I like (or don't like) their painting. Putting into words what I do (or don't) like in other paintings helps me realise common points between different artists/paintings, and it gives me ideas.

Par exemple, j'ai remarqué ces derniers mois que je m'arrêtais systématiquement devant des oeuvres dépouillées. C'est ainsi que j'ai décidé, puisque cela me plaisait tant, de travailler le côté épuré.
For example, over the last few months I've realised I was always admiring minimalist works. That's how I decided to declutter my own paintings. If I liked that clean look in others' works, then I just had to do it myself.

Les séries sont affaires de décisions comme celle-ci, mais aussi de hasards.
Then series are then a matter of conscious decisions like this one, but also of chance.
L'autre jour j'ai admiré les oeuvres de Tara Axford ; elle avait utilisé quasiment uniquement des verts et des gris, des couleurs très particulières qui m'ont fait penser à l'ombre d'une forêt.
The other day I was admiring Tara Axford's pieces; she had used mainly greens and greys, the very peculiar colours made me think of the cool shades of a forest.
Le même jour, j'ai regardé une video de Jane Davis qui montrait comment travailler les teintes neutres (ici pour voir la video si ça vous interesse).
The same day, I watched a video where Jane Davis was showing how to make neutral colours ( click here to see the video if you are interested )
En associant les deux, je me suis dit que j'allais travailler mes verts.
Linking the two, I decided I was going to work my greens.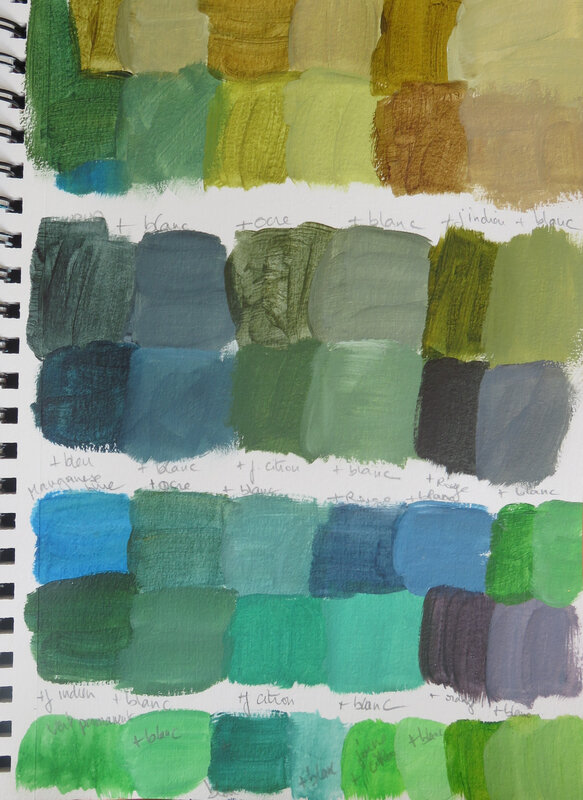 J'ai sorti de ma boîte des verts que j'utilisais peu ou jamais. Et je les ai chacun associé à du blanc, et à une couleur différente (jaune citron, ocre jaune, jaune indien, bleu manganese, et même un rouge), puis j'ai ajouté du blanc au mélange vert + couleur.
I took out greens out of my paint box, those I bough on impulse or long ago and that I forget to use. I added white to each. Then I added them each to a different colour (lemon yellow, ochre, Indian yellow, manganese blue and even a red), then I added white to this mix of green + colour.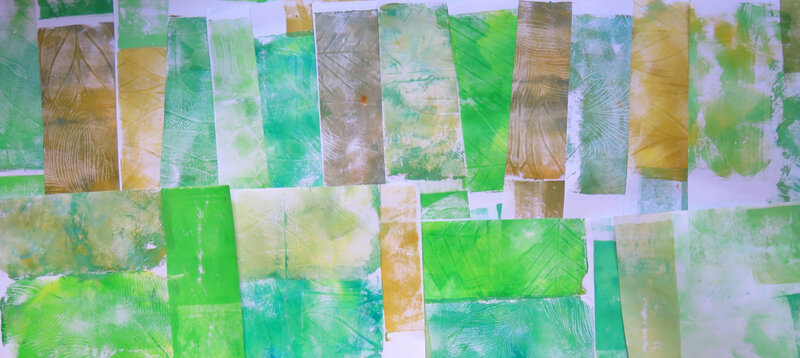 Ensuite j'ai sorti ma gelli plate et j'ai fait une série d'impressions en utilisant ces tons de verts que j'avais notés sur mon carnet.
I then took out my gelli plate and made a series of prints using all the hues I had noted down.
J'ai découpé ces morceaux
I cut and tore the monoprints up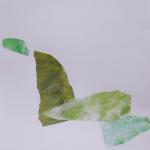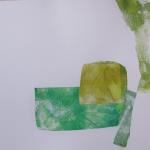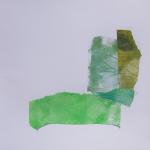 et je me suis amusée à faire des collages. La règle que je me suis imposée : limiter le nombre de morceaux et varier leur taille.
and I made some collages. My rule: limit the number of pieces used and vary their size.
J'ai rajouté alors un des verts foncés que j'avais utilisé dans mes séries de papier pour rajouter un contraste fort. J'ai joué un peu avec des lignes, des motifs et j'ai rajouté une couleur complémentaire, un beau rouge vif:
I finally addded one of the dark greens I had used in my series of paper to add some strong contrast. I played with lines and patterns, and ended up adding some bright red:

N°123

N°124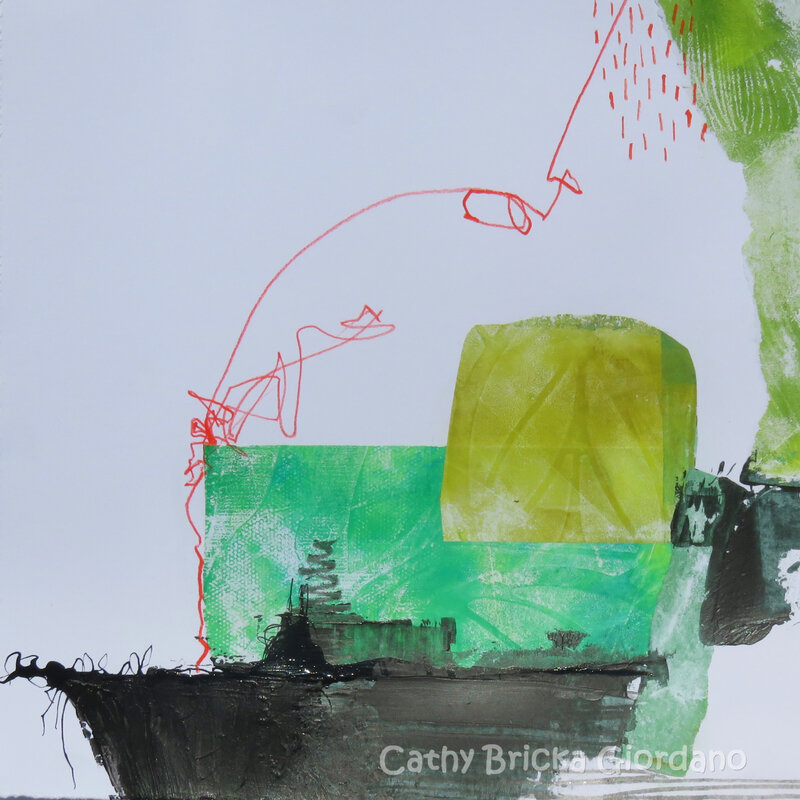 N°125
(pas encore sûre qu'il soit fini / not really sure it's finished)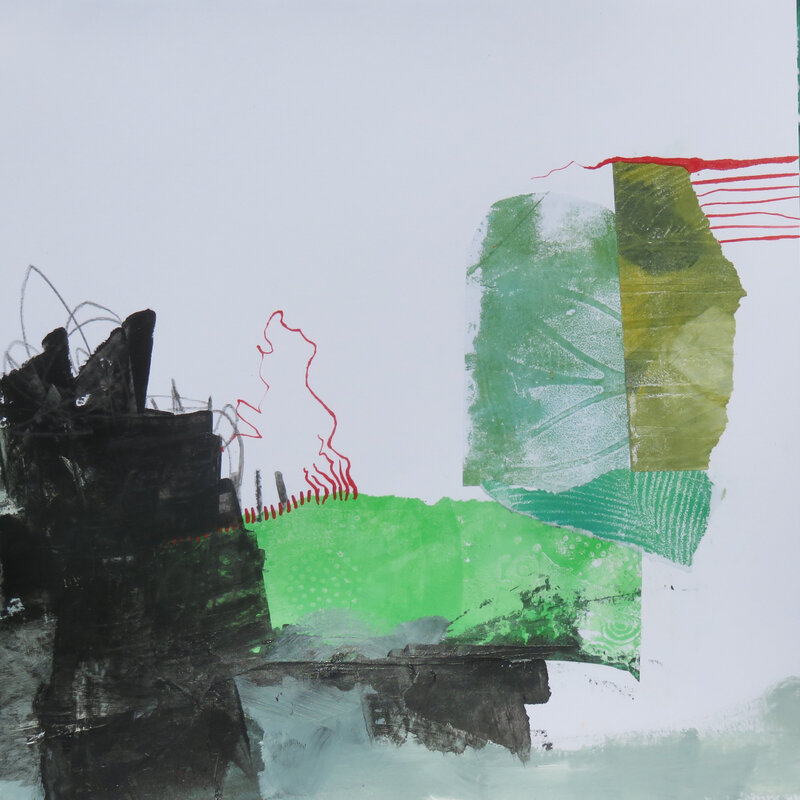 N°126 (ce dernier est sans aucun doute en cours / this one is definitely in progress)
Les voici encadrés, pour donner une idée:
Here they are framed to give you an idea: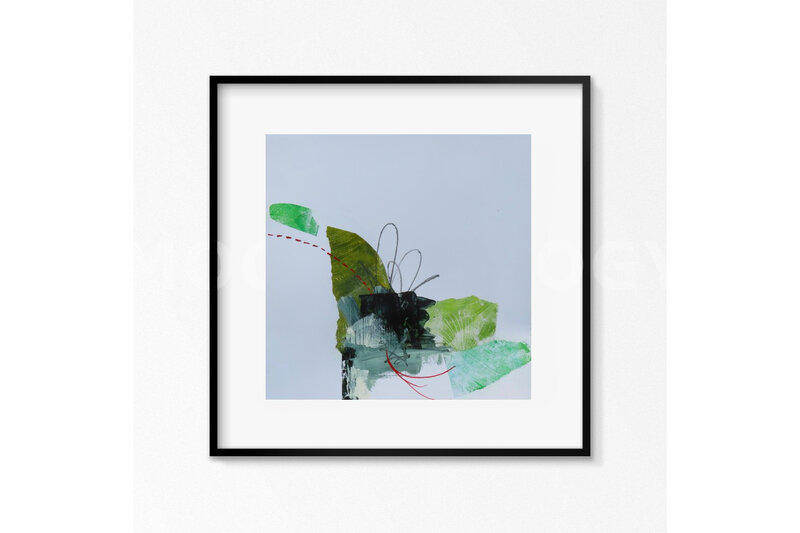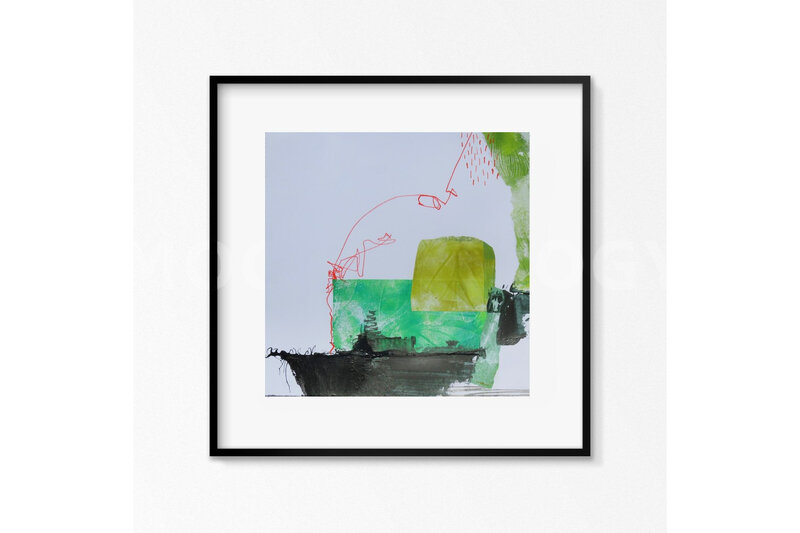 C'est un processus qu'on pourrait faire pour toutes les couleurs, n'est ce pas?
I guess it's a process that could be aplied to many colours, don't you think?

C'est tentant...
Tempting.
18 juin 2018
Comment faites-vous pour garder en mémoire un bel assemblage de couleur? Un motif fascinant? Une texture?
How do you keep the memory of a beautiful colour composition that struck you? A fascinating pattern? An interesting texture?
Plus terre à terre, que faites vous des restes de peinture sur votre palette à la fin d'une session?
And, more down to earth, what do you do with the paint left overs on your palette at the end of a session?
L'autre jour j'ai lu deux articles intéressants qui ont apporté quelques réponses à ces questions. L'un proposait de faire un "mood board" c'est à dire de rassembler sur un panneau d'affichage des photos, essais de couleurs, textures. On conseillait de garder cela en vue pour garder en mémoire ces couleurs/textures recherchées.
The other day I read two interesting articles that answered some of these questions. One offered to make a mood board that is to gather photos and paint swathes on a panel. They advised to keep that on the wall so that you could see it at all times.
L'autre article proposait de faire des essais de peinture/couleurs/textures dans un grand carnet; d'y déposer aussi la peinture restant sur la palette à la fin d'une session.
The other aticle advised to try out paint mixes on a big art book and to use it also at the end of sessions to put your left over paints.
L'un proposait de préparer consciemment, d'orienter, de tendre vers un but. L'autre proposait juste une façon de garder ces essais en un même endroit.
One advised to prepare consciously, to aim towards a goal, the other only offered a way to keep all the experiments in one and the same place, and to have fun wihout any real afterthought.
J'ai plus ou moins lié les deux idées.
I kind of linked the two ideas.
J'avais justement un de ces grands carnets "mixed media" qu'on m'avait offert un jour, et je ne m'en étais encore pas servi. Depuis quelques semaines, j'y étale régulièrement mes restes de peinture, au lieu de m'en servir comme sous couche sur mes toiles, ou bien j'y pose des assemblages de couleurs qui m'ont plus, au lieu de les mettre sur des feuilles volantes come je le faisais. Je me rends compte que certaines pages deviennent de plus en plus intéressantes.
I had been offered this Art Book a couple of years ago, and I still had not really got round to using it. Fo a few weeks now I've been spreading my paint leftovers, instead of spreading them on my canvases as I used to in order to build up some layers; or I've been saving colour mixes that I liked instead of putting them on free sheets of paper as I used to. I realize now that some pages are getting more and more insteresting.



Pour l'instant je ne me suis pas servie de ces pages comme d'un croquis préparatoire (ma façon de travailer s'accomode mal d'une telle contrainte, j'aime la liberté de réagir spontanément face à mon tableau), mais cela m'a permis d'expérimenter des marques, et des associations de couleurs qui trouveront peut-être un chemin dans mes créations.
For now I haven't used the pages as preparatory sketches (my way of working is not really feasible with "preparing", I prefer a spontaneous response when I'm face to face with a painting), but it enabled me to experiment marks and colour combinations that may find their way on my pantings somehow.
Certaines pages ont encore un aspect inachevé:
Some pages definitely have an unfinished look: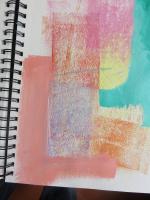 un essai de couleurs / trying out some colour combination
Mais d'autres commencent à avoir un vrai caractère
while others are starting to show real character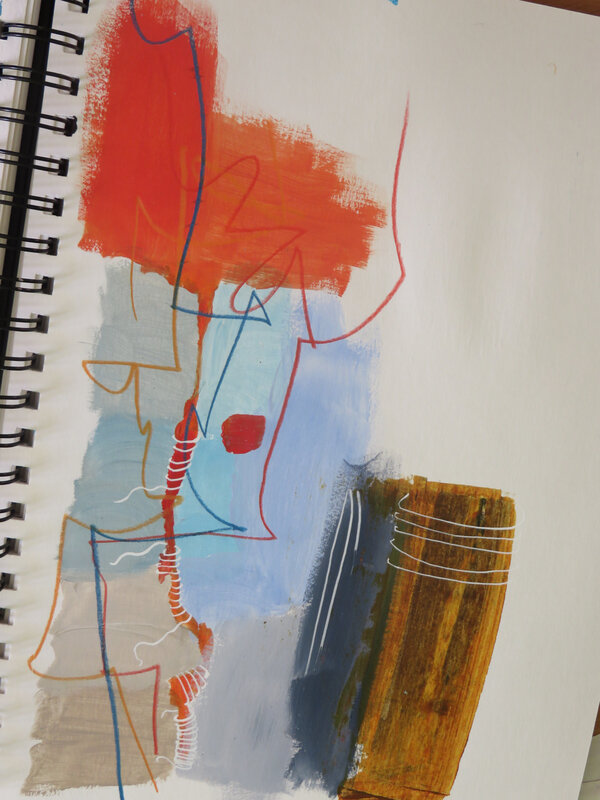 une envie de travailler des lignes / working on lines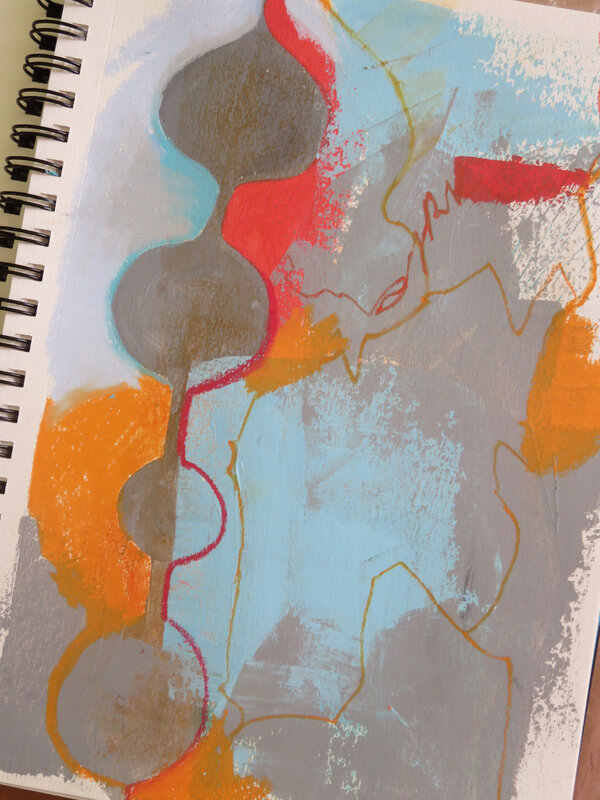 le hasard des assemblages: ce framboise, ce bleu, cet orange et ce gris: j'adore!
this colour combination just happend by chance and I love that raspberry pink together with this blue and orange !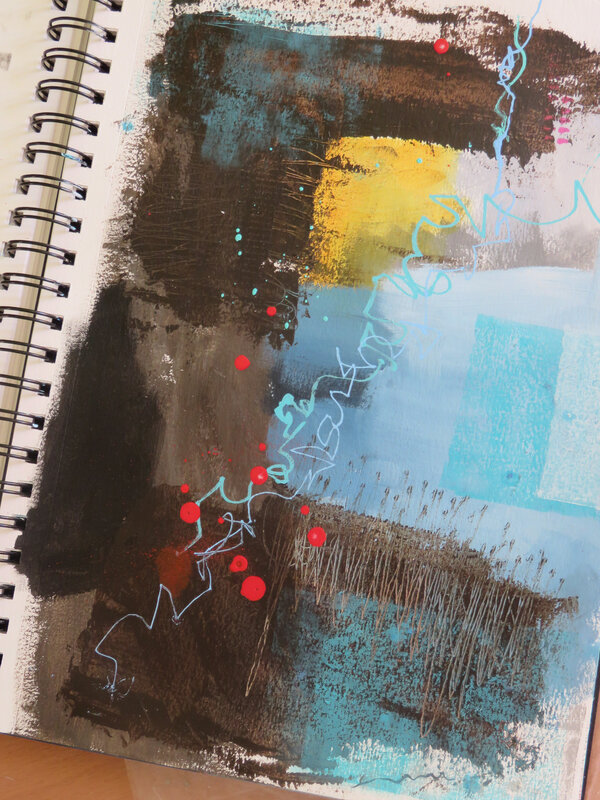 autre bel hasard ce bleu indigo + du blanc, associé à ce jaune, ce marron foncé et ce rouge : un délice!
another chance mixing: indigo blue + white, with this yellow, dark brown and yellow: yummy!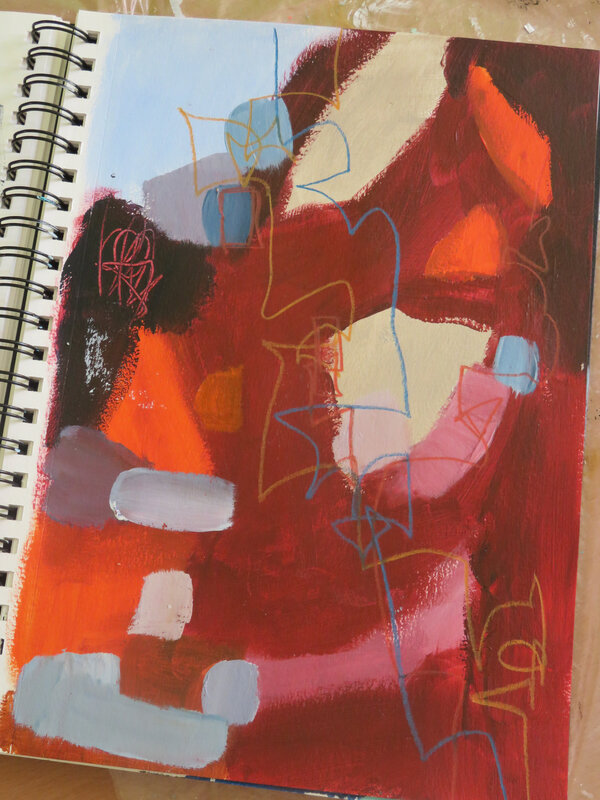 j'ai voulu garder en mémoire un chemisier avec des fleurs bleu/gris sur un fond bordeaux; il y avait aussi des fleurs plus petites (ou des feuilles?) orange;
I wanted to keep a trace of a beautiful blouse: blue-grey flowers on a bordaux background, with smaller orange flowers or leaves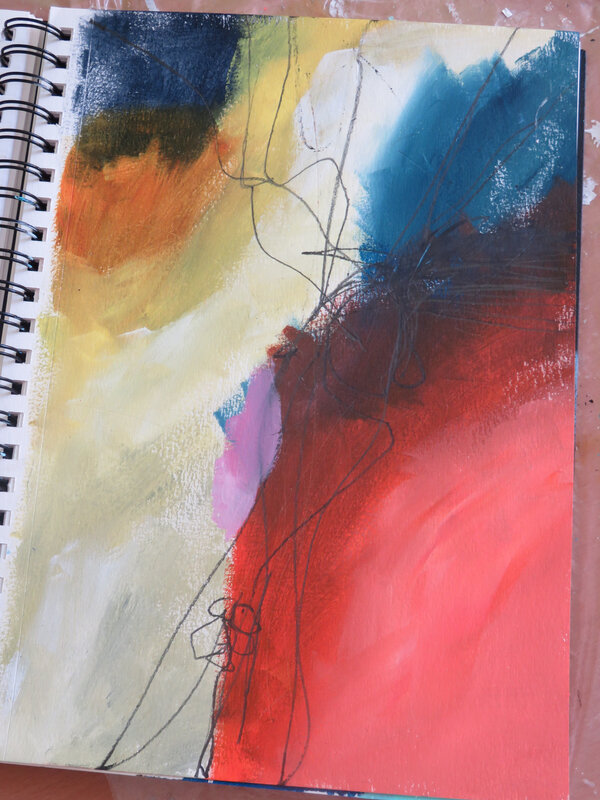 essais de lignes. Envie de faire une composition avec une grosse masse qui domine le reste
trying out lines. I would like to try a composition with a huge mass dominating the rest.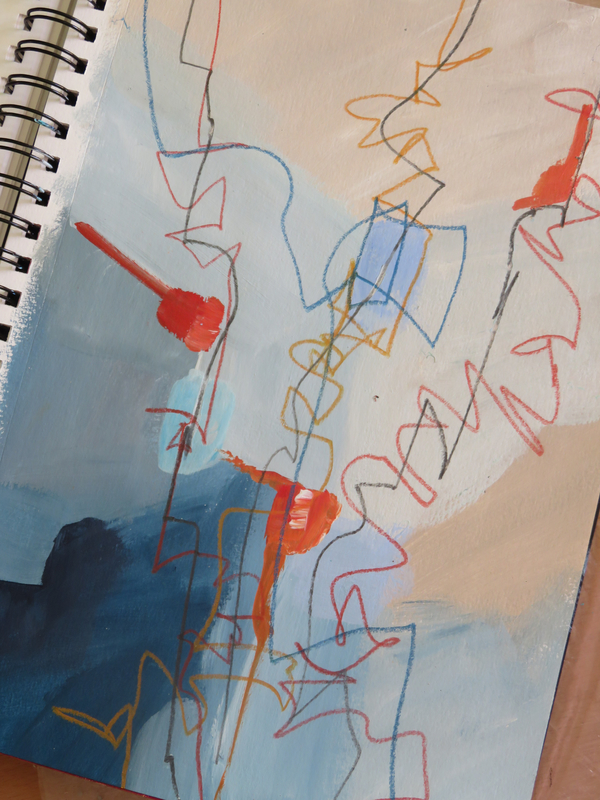 essais de lignes; j'avais vu je ne sais plus quoi avec ces gris/bleu et orange sur fond beige
trying out lines with new watercolour pencils; I had seen I don't know what with these grey-blue and orange on a beige background.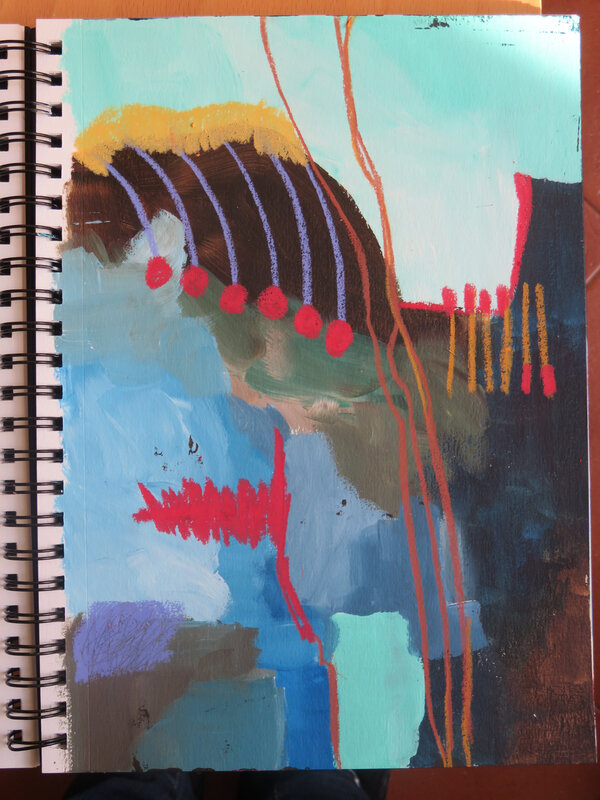 hasard : j'ai osé les couleurs sans réfléchir, et j'ai eu envie d'ajouter ces motifs avec des pastels.
pure chance: I put colours without really thinking, then I added some pattern with water-soluble crayons
Pas d'enjeu, pas de projet, pas d'intention; on se lâche et on s'amuse, et ça c'est le B.A.BA de la peinture.
No planning, no intention, no aim; you just relax and have fun. I guess that's painting first rule.
14 juin 2018
This is the fourth message I've posted dealing with the same idea applied differently: DECLUTTERING. It is high time I explained my aim and I made an assessment.
Cela fait 4 posts où je me concentre sur une même idée, déclinée de différentes façons : EPURER. Il est grand temps d'expliquer mon but et de tirer un bilan.


J'ai souvent du mal à garder des compositions claires et lisibles. Il est si facile de rajouter sans cesse, mais parfois cela m'étouffe. J'ai voulu donc laisser de l'air, de l'espace, contrôler mon envie bouillonnante d'en rajouter toujours plus.
I often find it difficult to keep my compositions clear and readable. It is so easy to keep adding things, but sometimes it's suffocating. I just decided to get some breathing space and control my bubbling need to add more.
Epurer, vb transitif:
1) rendre plus pur par élimination des éléments ou des corps étrangers
2) opérer un tri, faire un nettoyage
3) rendre plus net, plus pur
Declutter, vb. synonym: clear, purify
1) to simplify or get rid of mess
2) to (cause to) become clear, clean, transparent
3) to (cause to) make (something) understandable
4) to remove obstructions, to free from extra elements


Le domaine des monoprints est certainement celui où cette idée d'épuration s'avérait le plus problématique. Il est difficile de maîtriser la diposition des formes sur la feuille, et pour équilibrer des compositions bancals, j'ai trop souvent tendance à ajouter des éléments, ou bien à recouvrir de blanc les parties en trop.
This is certainly in monoprints that the idea of decluttering was the most tricky. It is difficult to control the disposition of shapes on paper, and to balance the compositions I often add more elements, or I cover up with white acrylics.
Là, je ne voulais pas recourir à la peinture blanche, mais au contraire garder la transparence des formes imprimées et la lumière du blanc du papier. J'ai ensuite rajouté collages, encre et/ou pastels aquarellables pour lier les formes ou équilibrer les compositions mais en essayant toujours de limiter les ajouts et garder de l'espace.
Here, I didn't want to use any white paint, I wanted to keep the lovely transparence of printed shapes and the light of the white paper shining through. I then added some collages, some ink and/or watersoluble crayons to link the shapes or balance the compositions, but always striving to limit the added elements and keep breathing space.
Voici les premiers résultats:
Here are the first results:

N°118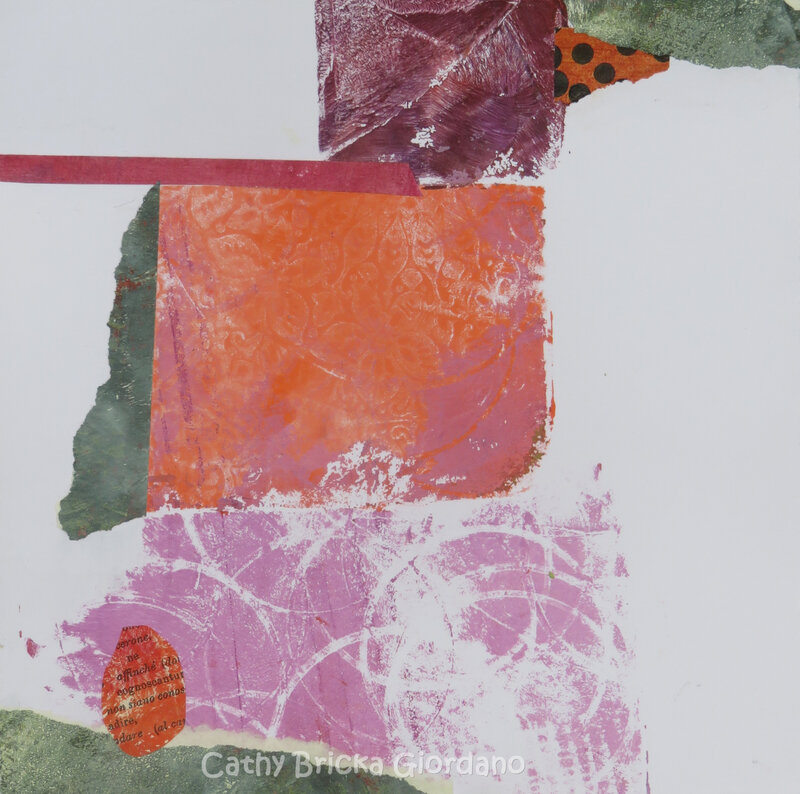 N°119

N°120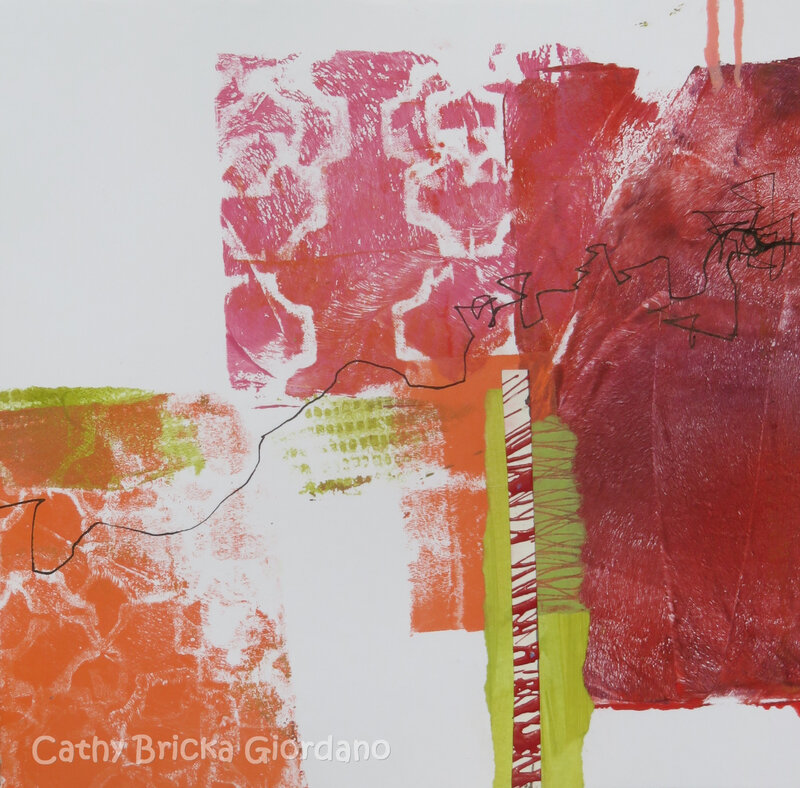 N°121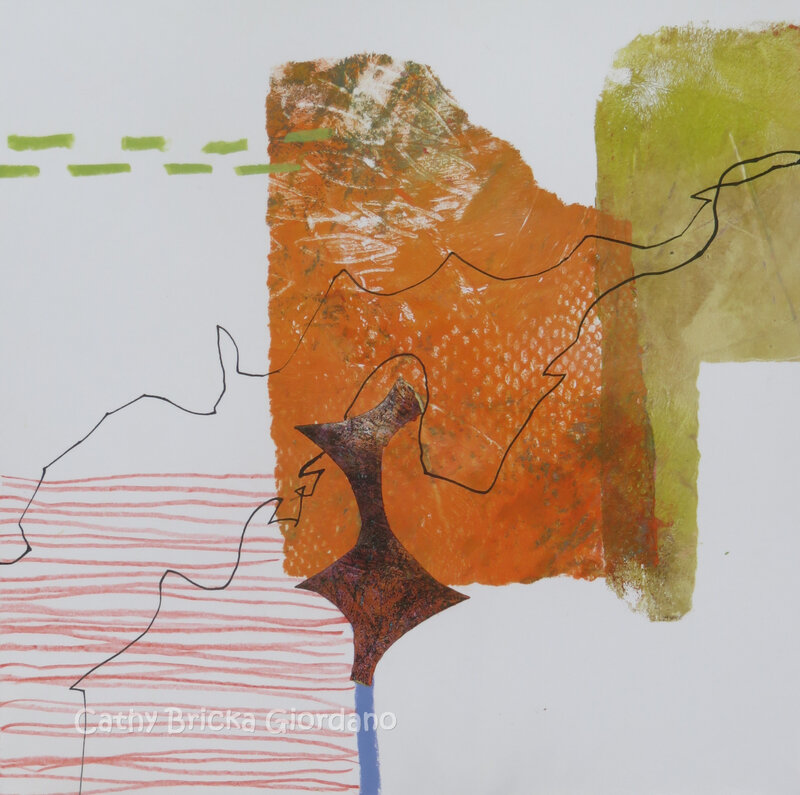 N°122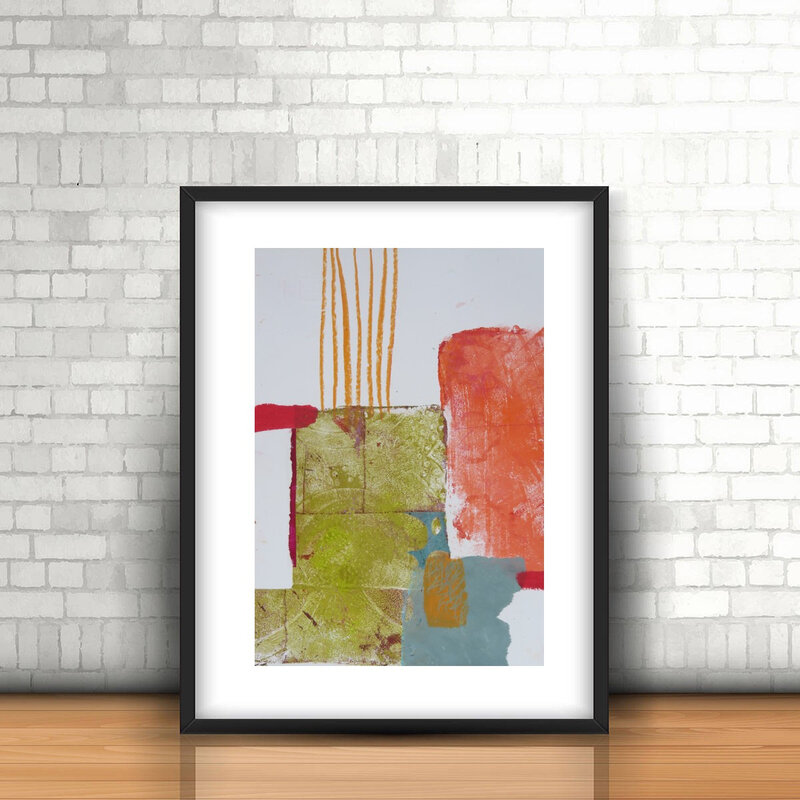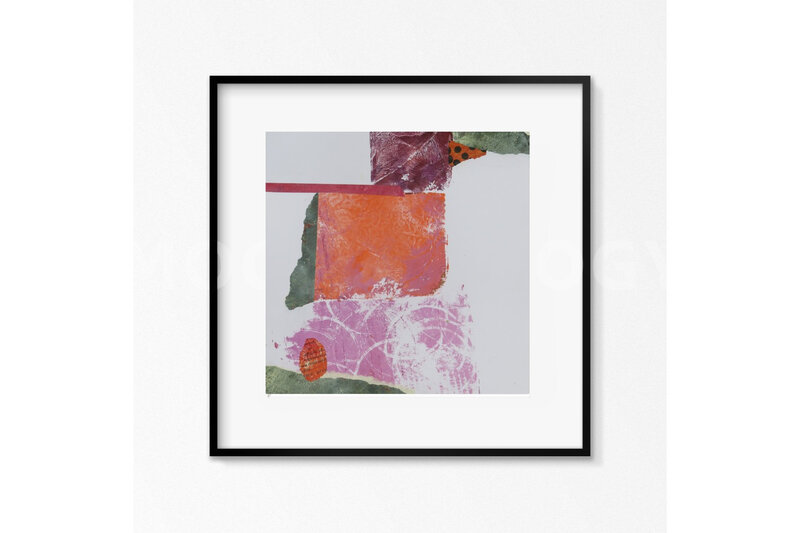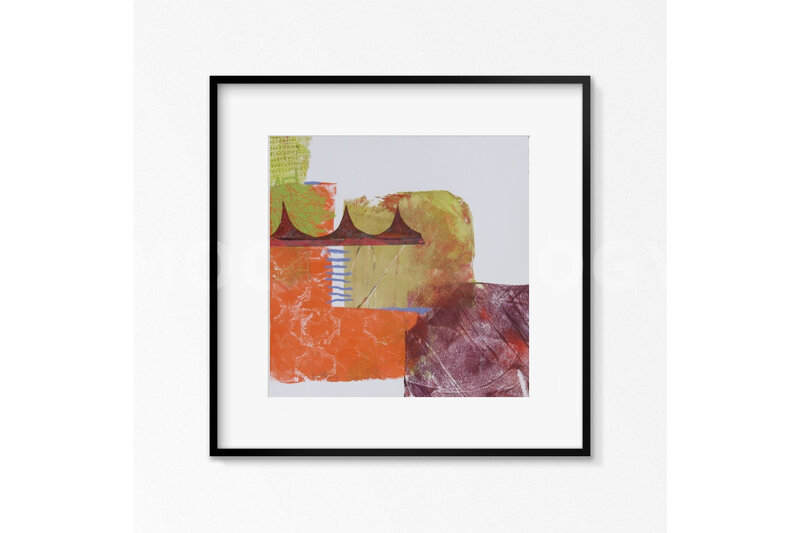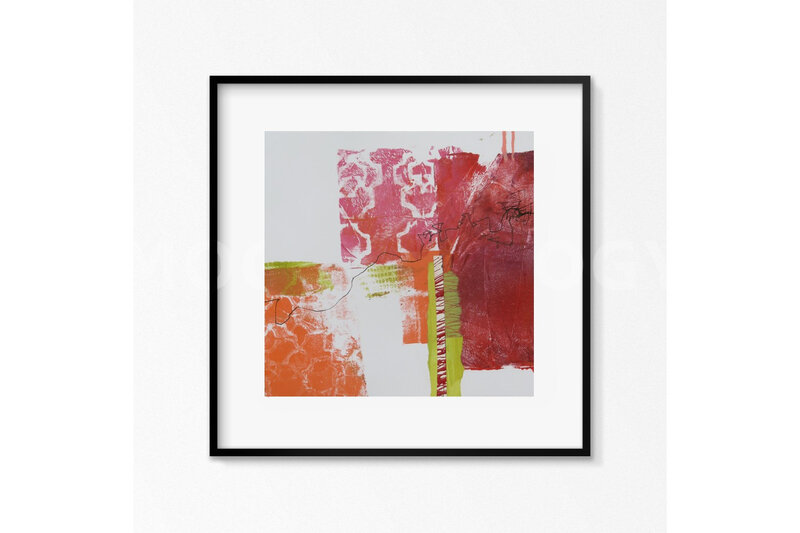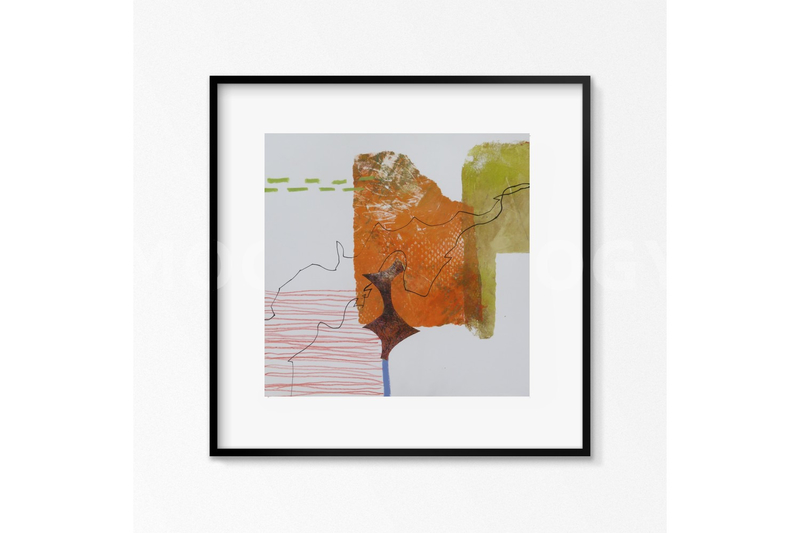 Eliminer les corps étrangers?
Faire un tri?
Rendre plus pur?
Pour moi, c'est trois fois oui, j'ai réussi à faire ce que je cherchais. J'aime ces compositions plus épurées que j'ai créées ces dernières semaines. J'espère que ce côté plus net se retrouvera dans la suite de mon travail.
Simplify?
Become clean?
remove extra elements?
It's a definite yes! I've managed to achieve what I wanted. I love the clean compositions I've created over the last few weeks. I hope we'll find some traces of that in my future work.


Si vous voulez revoir les 3 messages précédents:
If you want to see the 3 previous messages:
Epurer/declutter 1 (mixed media - carré/square)
Epurer/declutter 2 (mixed media, aquarelle/watercolour - rectangle)
Epurer/declutter 3 (collages)