20 juin 2018
Comment se renouveler, trouver de nouvelles idées? Pour ma part, j'observe beaucoup autour de moi et surtout je regarde les oeuvres des autres artistes en me demandant toujours pourquoi j'aime (ou pas) leurs tableaux. J'essaie toujours de mettre des mots sur ce qui me plaît (ou pas) chez les uns ou les autres car cela me permet ainsi de trouver des points communs entre différents artistes/tableaux, et des idées de pistes ou de points à travailler
How do artists find new paths? New ideas? Personally, I'm always noticing things around me and when I look at other artists' works I always ask myself why I like (or don't like) their painting. Putting into words what I do (or don't) like in other paintings helps me realise common points between different artists/paintings, and it gives me ideas.

Par exemple, j'ai remarqué ces derniers mois que je m'arrêtais systématiquement devant des oeuvres dépouillées. C'est ainsi que j'ai décidé, puisque cela me plaisait tant, de travailler le côté épuré.
For example, over the last few months I've realised I was always admiring minimalist works. That's how I decided to declutter my own paintings. If I liked that clean look in others' works, then I just had to do it myself.

Les séries sont affaires de décisions comme celle-ci, mais aussi de hasards.
Then series are then a matter of conscious decisions like this one, but also of chance.
L'autre jour j'ai admiré les oeuvres de Tara Axford ; elle avait utilisé quasiment uniquement des verts et des gris, des couleurs très particulières qui m'ont fait penser à l'ombre d'une forêt.
The other day I was admiring Tara Axford's pieces; she had used mainly greens and greys, the very peculiar colours made me think of the cool shades of a forest.
Le même jour, j'ai regardé une video de Jane Davis qui montrait comment travailler les teintes neutres (ici pour voir la video si ça vous interesse).
The same day, I watched a video where Jane Davis was showing how to make neutral colours ( click here to see the video if you are interested )
En associant les deux, je me suis dit que j'allais travailler mes verts.
Linking the two, I decided I was going to work my greens.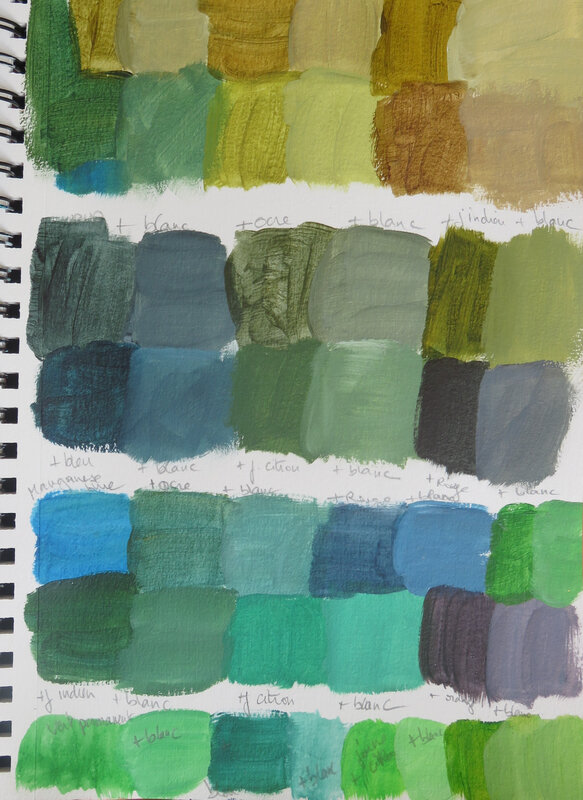 J'ai sorti de ma boîte des verts que j'utilisais peu ou jamais. Et je les ai chacun associé à du blanc, et à une couleur différente (jaune citron, ocre jaune, jaune indien, bleu manganese, et même un rouge), puis j'ai ajouté du blanc au mélange vert + couleur.
I took out greens out of my paint box, those I bough on impulse or long ago and that I forget to use. I added white to each. Then I added them each to a different colour (lemon yellow, ochre, Indian yellow, manganese blue and even a red), then I added white to this mix of green + colour.

Ensuite j'ai sorti ma gelli plate et j'ai fait une série d'impressions en utilisant ces tons de verts que j'avais notés sur mon carnet.
I then took out my gelli plate and made a series of prints using all the hues I had noted down.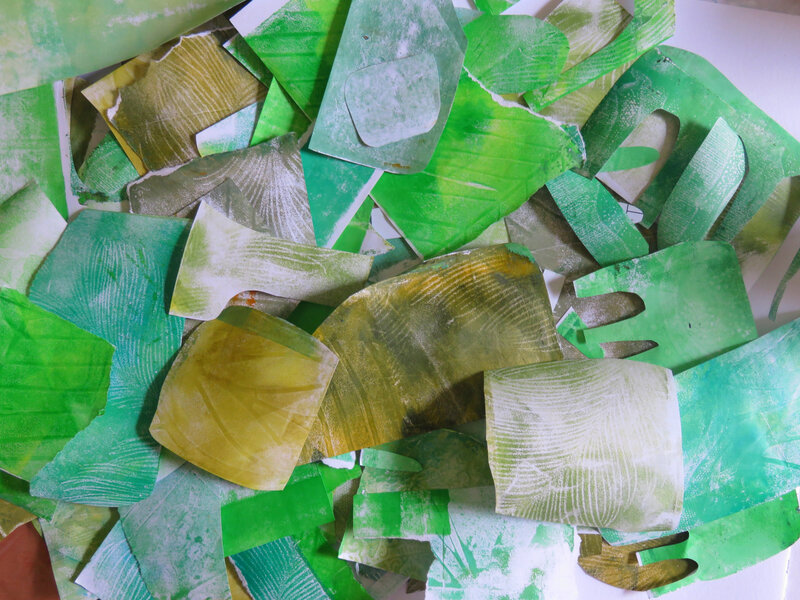 J'ai découpé ces morceaux
I cut and tore the monoprints up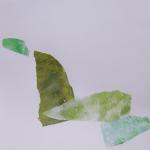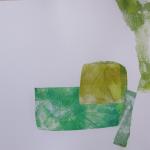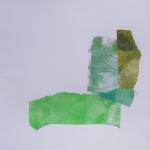 et je me suis amusée à faire des collages. La règle que je me suis imposée : limiter le nombre de morceaux et varier leur taille.
and I made some collages. My rule: limit the number of pieces used and vary their size.
J'ai rajouté alors un des verts foncés que j'avais utilisé dans mes séries de papier pour rajouter un contraste fort. J'ai joué un peu avec des lignes, des motifs et j'ai rajouté une couleur complémentaire, un beau rouge vif:
I finally addded one of the dark greens I had used in my series of paper to add some strong contrast. I played with lines and patterns, and ended up adding some bright red: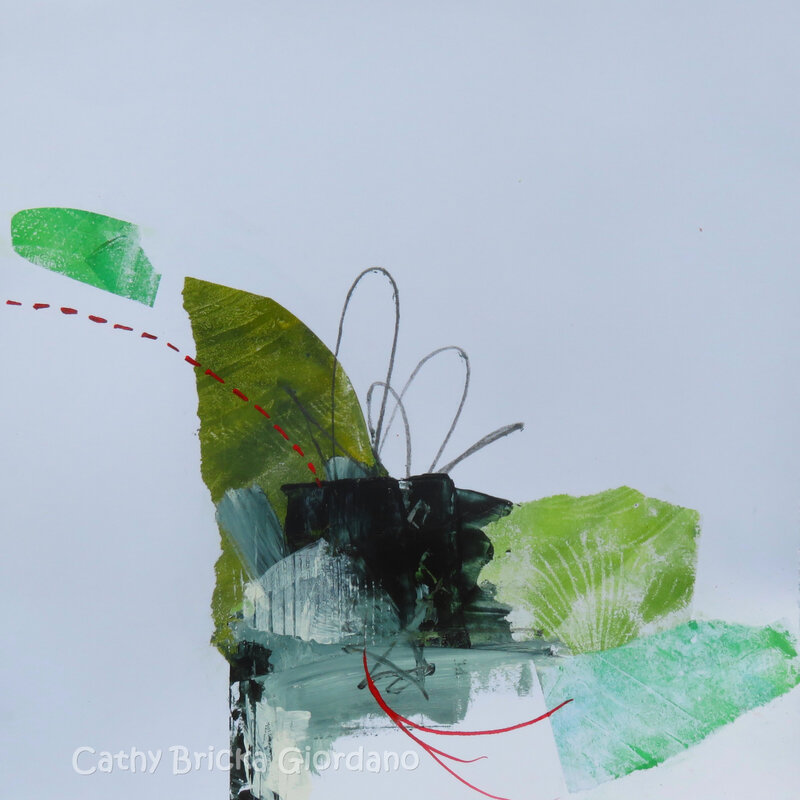 N°123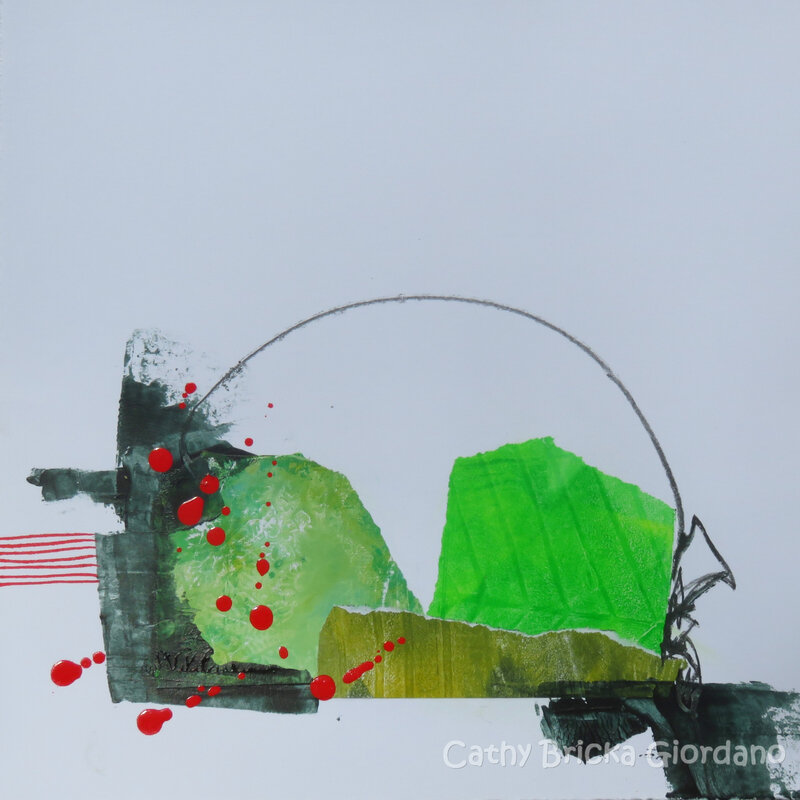 N°124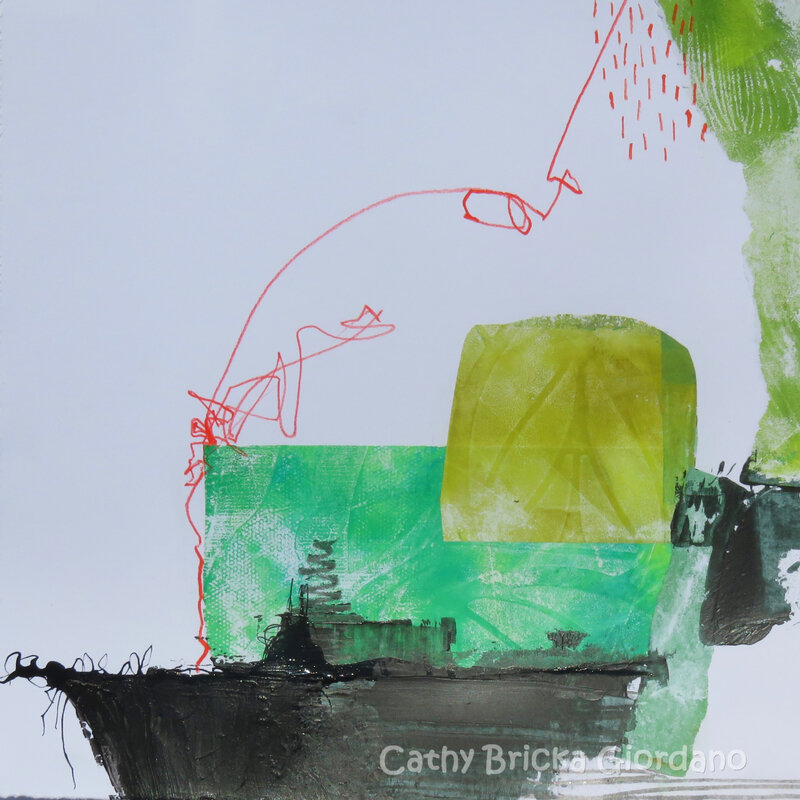 N°125
(pas encore sûre qu'il soit fini / not really sure it's finished)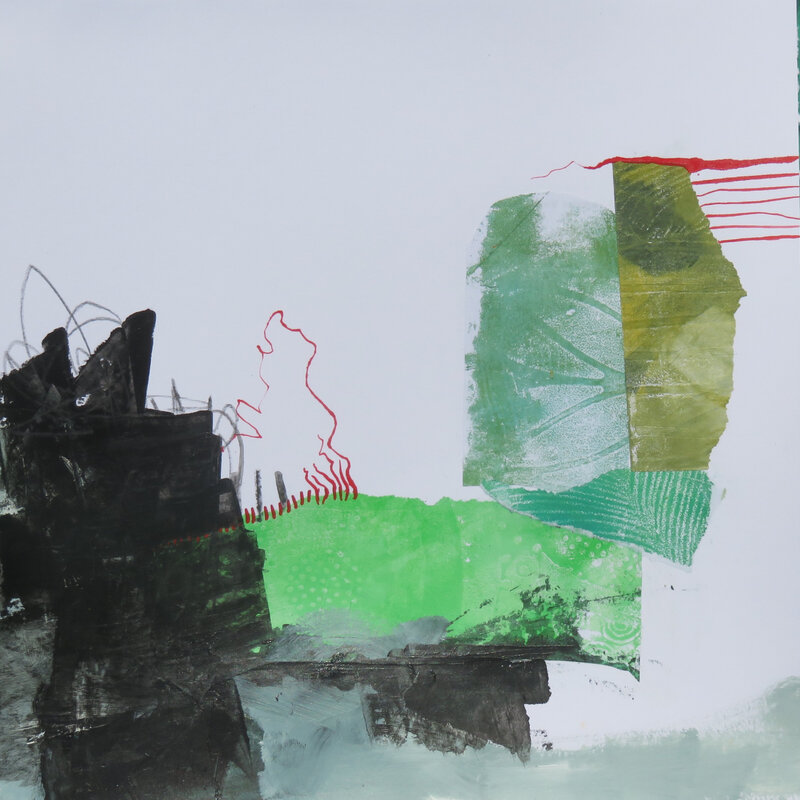 N°126 (ce dernier est sans aucun doute en cours / this one is definitely in progress)
Les voici encadrés, pour donner une idée:
Here they are framed to give you an idea: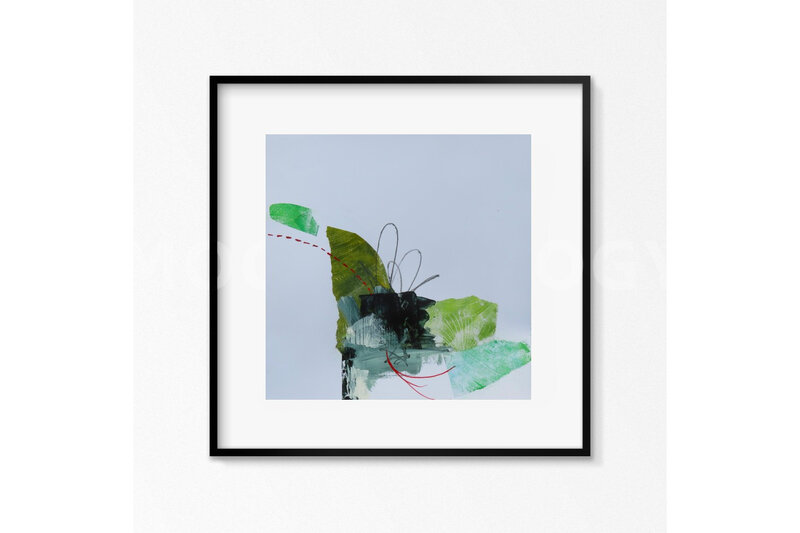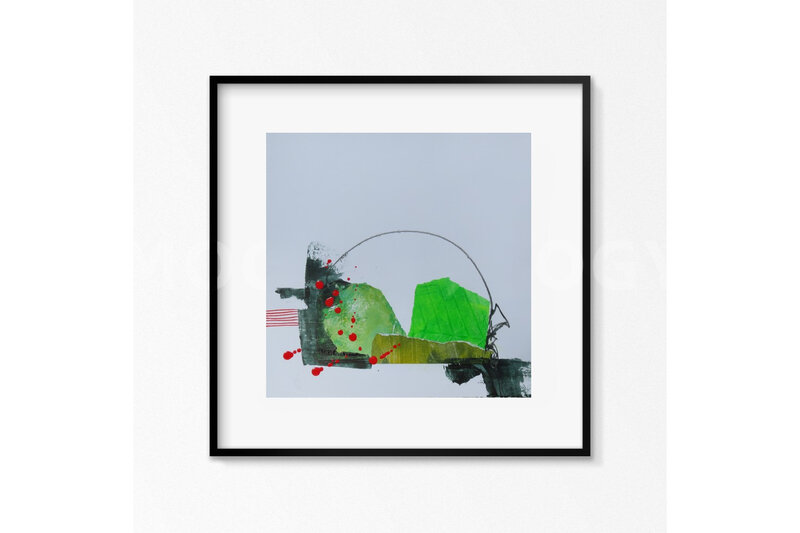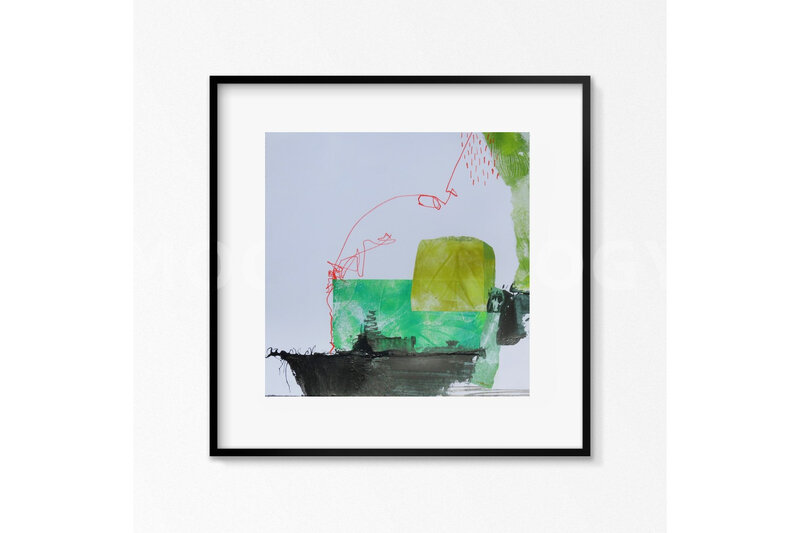 C'est un processus qu'on pourrait faire pour toutes les couleurs, n'est ce pas?
I guess it's a process that could be aplied to many colours, don't you think?

C'est tentant...
Tempting.
18 juin 2018
Comment faites-vous pour garder en mémoire un bel assemblage de couleur? Un motif fascinant? Une texture?
How do you keep the memory of a beautiful colour composition that struck you? A fascinating pattern? An interesting texture?
Plus terre à terre, que faites vous des restes de peinture sur votre palette à la fin d'une session?
And, more down to earth, what do you do with the paint left overs on your palette at the end of a session?
L'autre jour j'ai lu deux articles intéressants qui ont apporté quelques réponses à ces questions. L'un proposait de faire un "mood board" c'est à dire de rassembler sur un panneau d'affichage des photos, essais de couleurs, textures. On conseillait de garder cela en vue pour garder en mémoire ces couleurs/textures recherchées.
The other day I read two interesting articles that answered some of these questions. One offered to make a mood board that is to gather photos and paint swathes on a panel. They advised to keep that on the wall so that you could see it at all times.
L'autre article proposait de faire des essais de peinture/couleurs/textures dans un grand carnet; d'y déposer aussi la peinture restant sur la palette à la fin d'une session.
The other aticle advised to try out paint mixes on a big art book and to use it also at the end of sessions to put your left over paints.
L'un proposait de préparer consciemment, d'orienter, de tendre vers un but. L'autre proposait juste une façon de garder ces essais en un même endroit.
One advised to prepare consciously, to aim towards a goal, the other only offered a way to keep all the experiments in one and the same place, and to have fun wihout any real afterthought.
J'ai plus ou moins lié les deux idées.
I kind of linked the two ideas.
J'avais justement un de ces grands carnets "mixed media" qu'on m'avait offert un jour, et je ne m'en étais encore pas servi. Depuis quelques semaines, j'y étale régulièrement mes restes de peinture, au lieu de m'en servir comme sous couche sur mes toiles, ou bien j'y pose des assemblages de couleurs qui m'ont plus, au lieu de les mettre sur des feuilles volantes come je le faisais. Je me rends compte que certaines pages deviennent de plus en plus intéressantes.
I had been offered this Art Book a couple of years ago, and I still had not really got round to using it. Fo a few weeks now I've been spreading my paint leftovers, instead of spreading them on my canvases as I used to in order to build up some layers; or I've been saving colour mixes that I liked instead of putting them on free sheets of paper as I used to. I realize now that some pages are getting more and more insteresting.



Pour l'instant je ne me suis pas servie de ces pages comme d'un croquis préparatoire (ma façon de travailer s'accomode mal d'une telle contrainte, j'aime la liberté de réagir spontanément face à mon tableau), mais cela m'a permis d'expérimenter des marques, et des associations de couleurs qui trouveront peut-être un chemin dans mes créations.
For now I haven't used the pages as preparatory sketches (my way of working is not really feasible with "preparing", I prefer a spontaneous response when I'm face to face with a painting), but it enabled me to experiment marks and colour combinations that may find their way on my pantings somehow.
Certaines pages ont encore un aspect inachevé:
Some pages definitely have an unfinished look: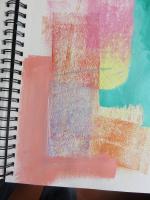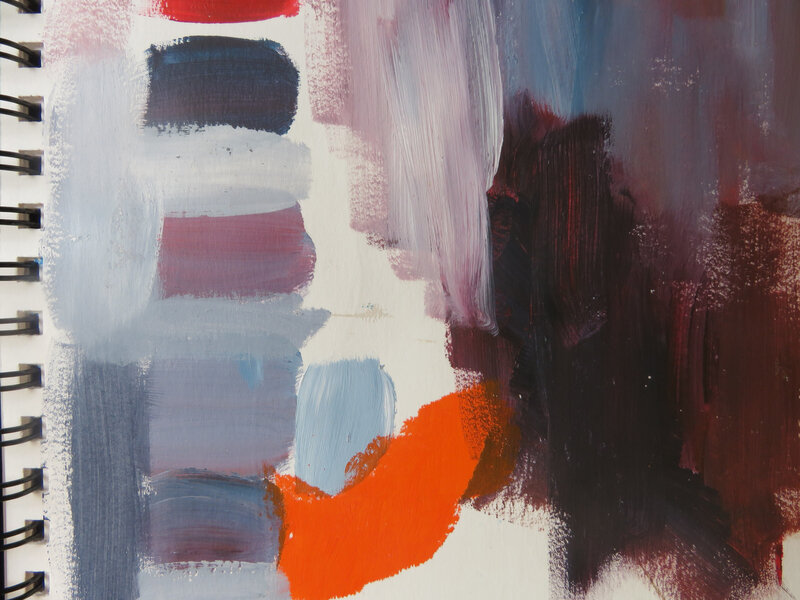 un essai de couleurs / trying out some colour combination
Mais d'autres commencent à avoir un vrai caractère
while others are starting to show real character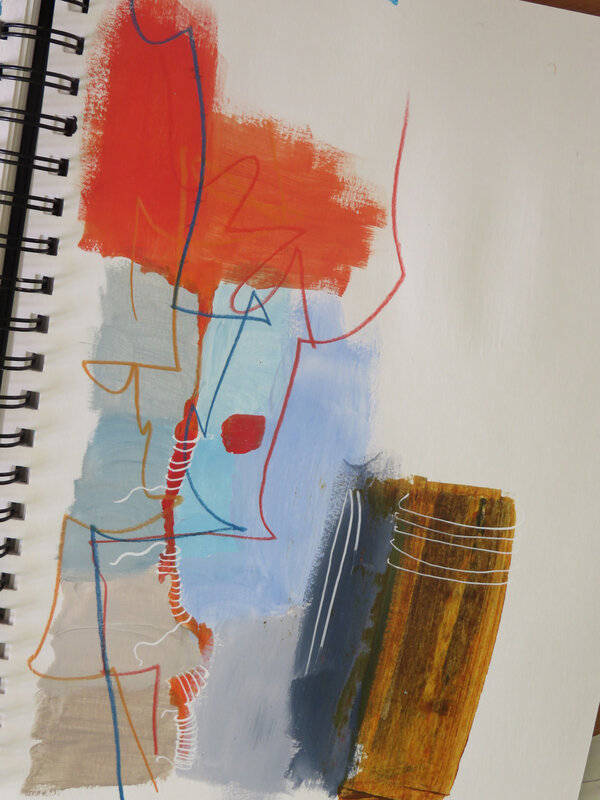 une envie de travailler des lignes / working on lines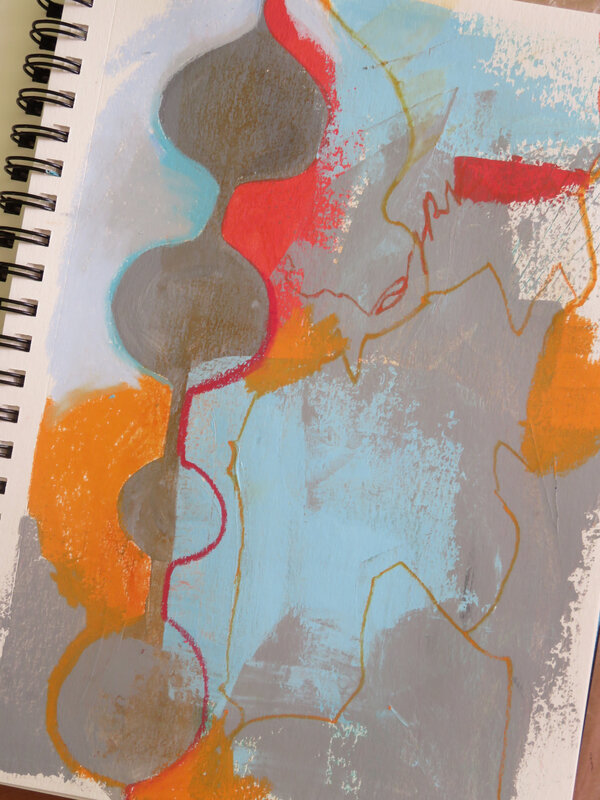 le hasard des assemblages: ce framboise, ce bleu, cet orange et ce gris: j'adore!
this colour combination just happend by chance and I love that raspberry pink together with this blue and orange !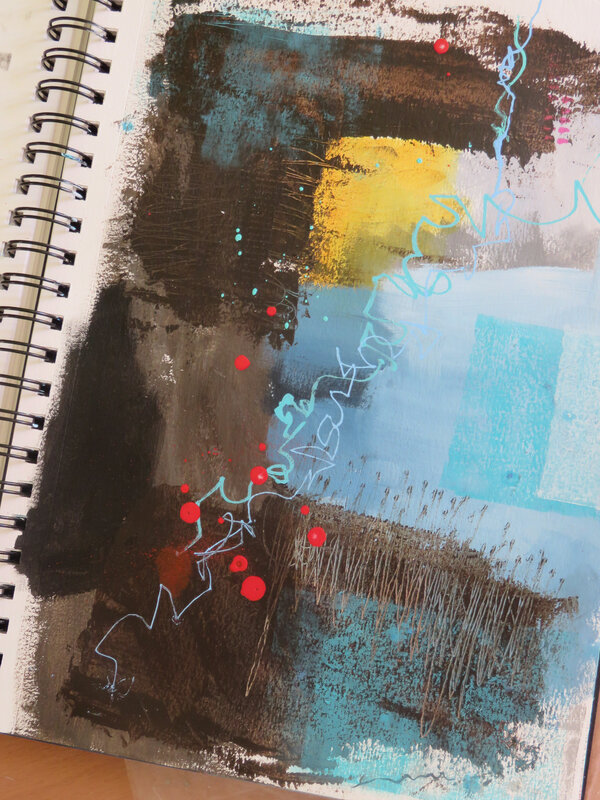 autre bel hasard ce bleu indigo + du blanc, associé à ce jaune, ce marron foncé et ce rouge : un délice!
another chance mixing: indigo blue + white, with this yellow, dark brown and yellow: yummy!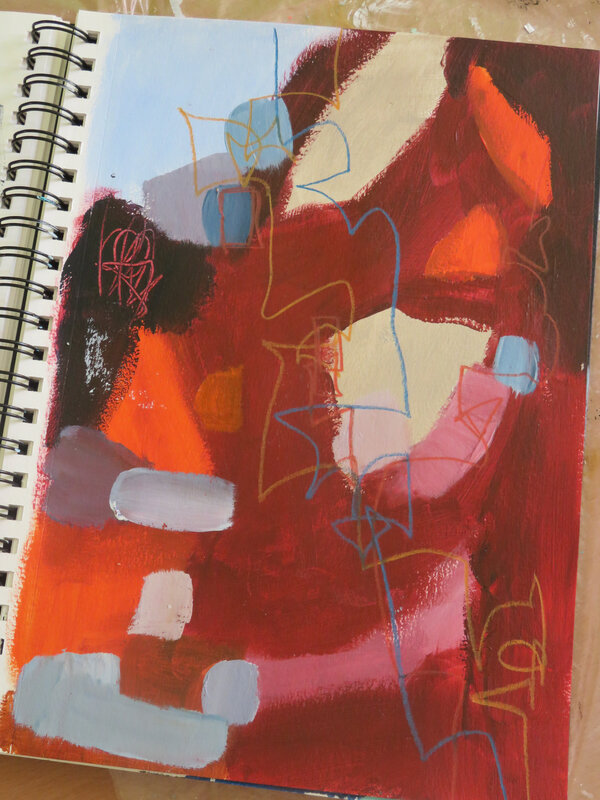 j'ai voulu garder en mémoire un chemisier avec des fleurs bleu/gris sur un fond bordeaux; il y avait aussi des fleurs plus petites (ou des feuilles?) orange;
I wanted to keep a trace of a beautiful blouse: blue-grey flowers on a bordaux background, with smaller orange flowers or leaves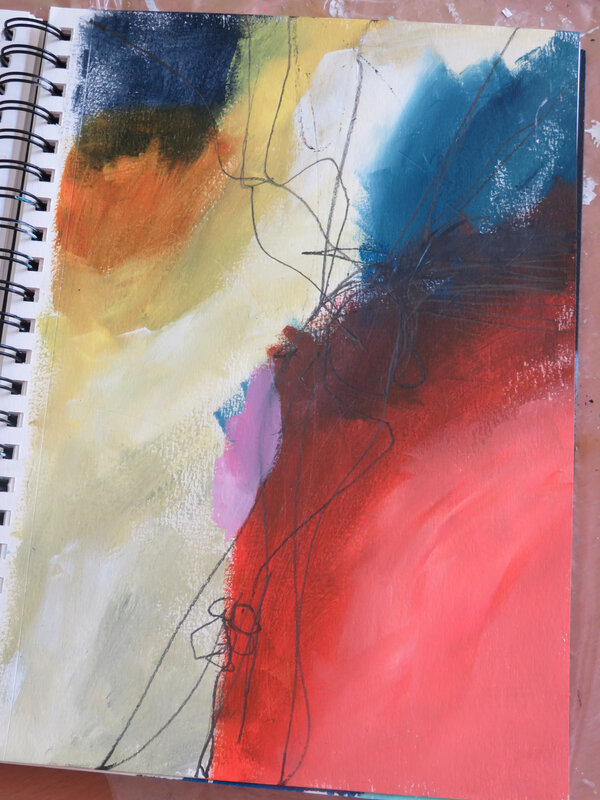 essais de lignes. Envie de faire une composition avec une grosse masse qui domine le reste
trying out lines. I would like to try a composition with a huge mass dominating the rest.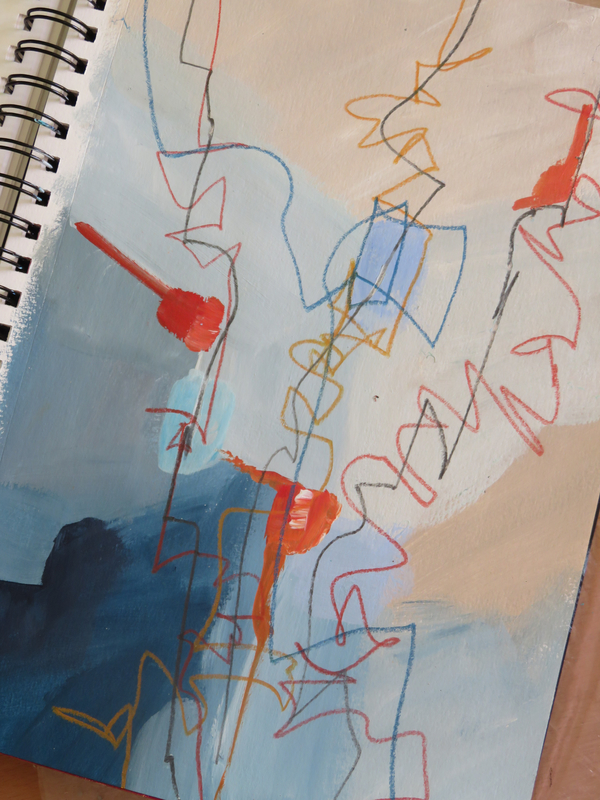 essais de lignes; j'avais vu je ne sais plus quoi avec ces gris/bleu et orange sur fond beige
trying out lines with new watercolour pencils; I had seen I don't know what with these grey-blue and orange on a beige background.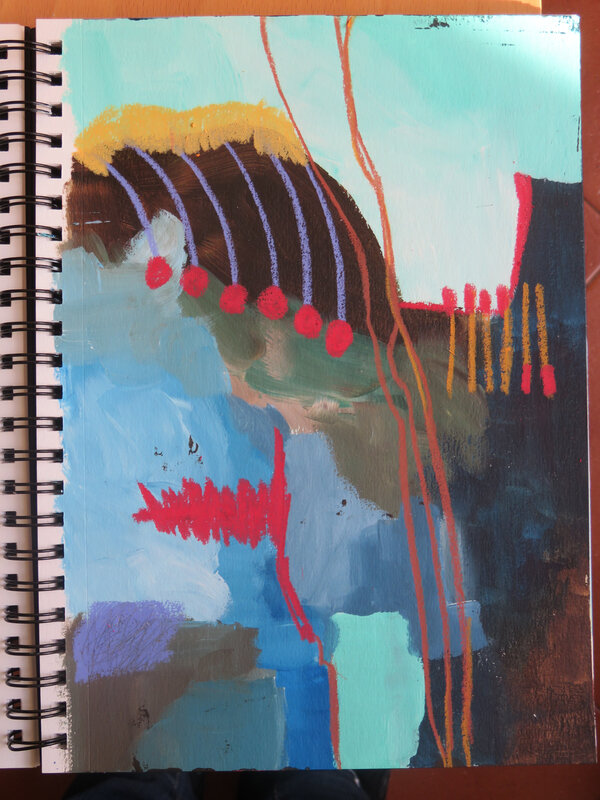 hasard : j'ai osé les couleurs sans réfléchir, et j'ai eu envie d'ajouter ces motifs avec des pastels.
pure chance: I put colours without really thinking, then I added some pattern with water-soluble crayons
Pas d'enjeu, pas de projet, pas d'intention; on se lâche et on s'amuse, et ça c'est le B.A.BA de la peinture.
No planning, no intention, no aim; you just relax and have fun. I guess that's painting first rule.
14 juin 2018
This is the fourth message I've posted dealing with the same idea applied differently: DECLUTTERING. It is high time I explained my aim and I made an assessment.
Cela fait 4 posts où je me concentre sur une même idée, déclinée de différentes façons : EPURER. Il est grand temps d'expliquer mon but et de tirer un bilan.


J'ai souvent du mal à garder des compositions claires et lisibles. Il est si facile de rajouter sans cesse, mais parfois cela m'étouffe. J'ai voulu donc laisser de l'air, de l'espace, contrôler mon envie bouillonnante d'en rajouter toujours plus.
I often find it difficult to keep my compositions clear and readable. It is so easy to keep adding things, but sometimes it's suffocating. I just decided to get some breathing space and control my bubbling need to add more.
Epurer, vb transitif:
1) rendre plus pur par élimination des éléments ou des corps étrangers
2) opérer un tri, faire un nettoyage
3) rendre plus net, plus pur
Declutter, vb. synonym: clear, purify
1) to simplify or get rid of mess
2) to (cause to) become clear, clean, transparent
3) to (cause to) make (something) understandable
4) to remove obstructions, to free from extra elements


Le domaine des monoprints est certainement celui où cette idée d'épuration s'avérait le plus problématique. Il est difficile de maîtriser la diposition des formes sur la feuille, et pour équilibrer des compositions bancals, j'ai trop souvent tendance à ajouter des éléments, ou bien à recouvrir de blanc les parties en trop.
This is certainly in monoprints that the idea of decluttering was the most tricky. It is difficult to control the disposition of shapes on paper, and to balance the compositions I often add more elements, or I cover up with white acrylics.
Là, je ne voulais pas recourir à la peinture blanche, mais au contraire garder la transparence des formes imprimées et la lumière du blanc du papier. J'ai ensuite rajouté collages, encre et/ou pastels aquarellables pour lier les formes ou équilibrer les compositions mais en essayant toujours de limiter les ajouts et garder de l'espace.
Here, I didn't want to use any white paint, I wanted to keep the lovely transparence of printed shapes and the light of the white paper shining through. I then added some collages, some ink and/or watersoluble crayons to link the shapes or balance the compositions, but always striving to limit the added elements and keep breathing space.
Voici les premiers résultats:
Here are the first results: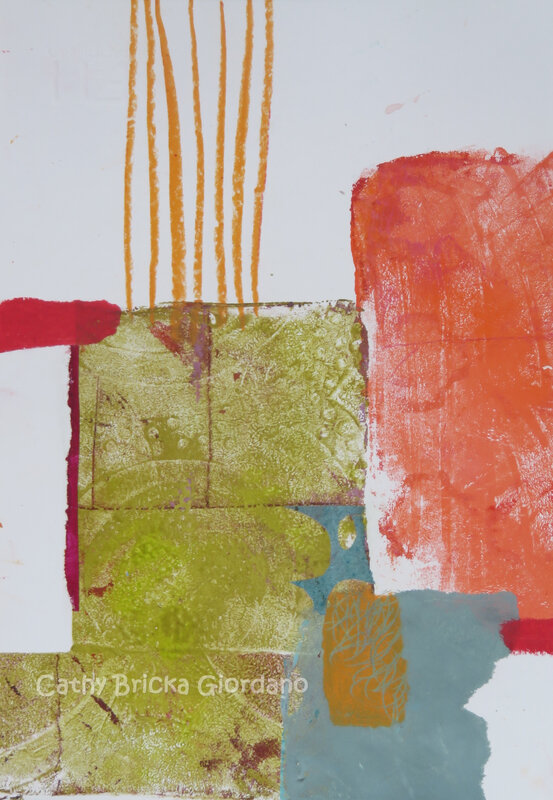 N°118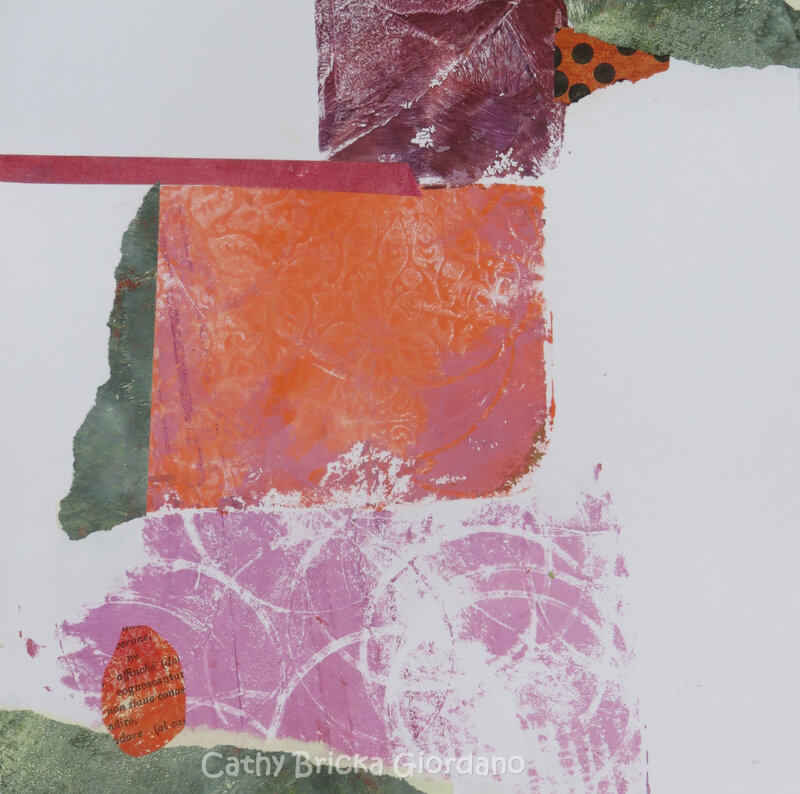 N°119

N°120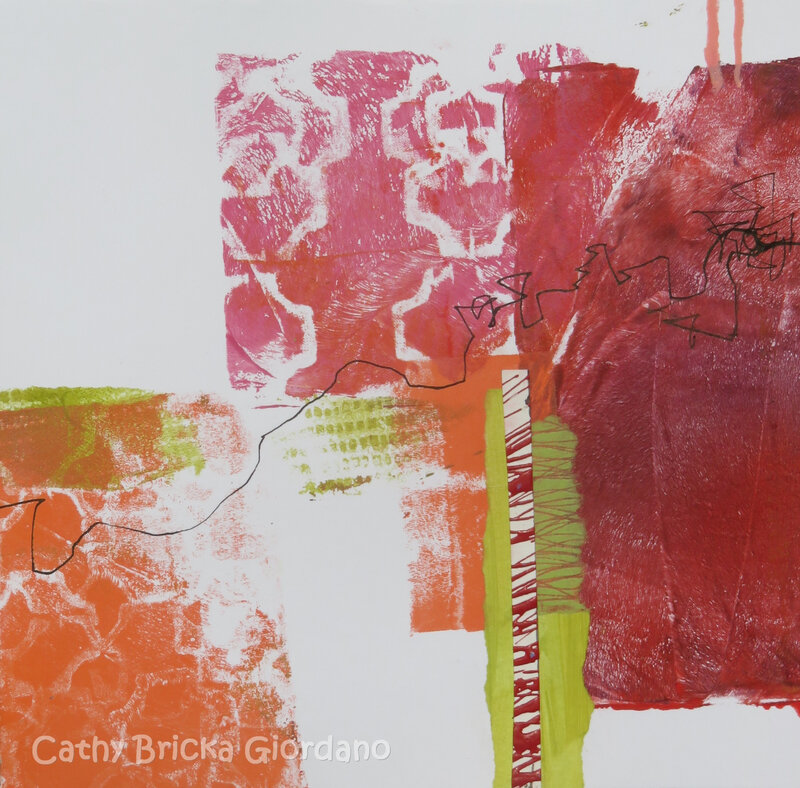 N°121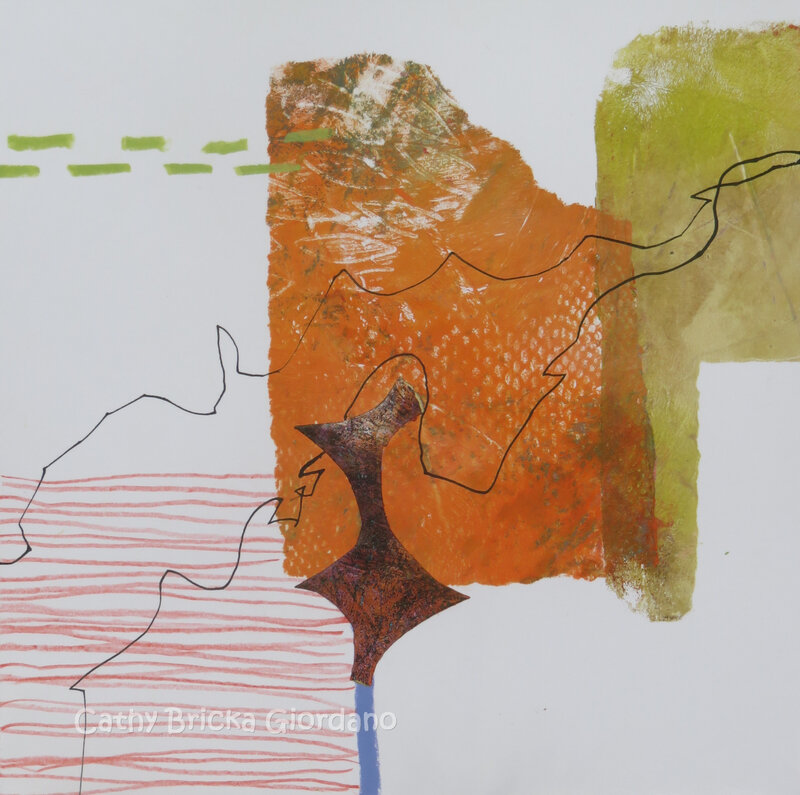 N°122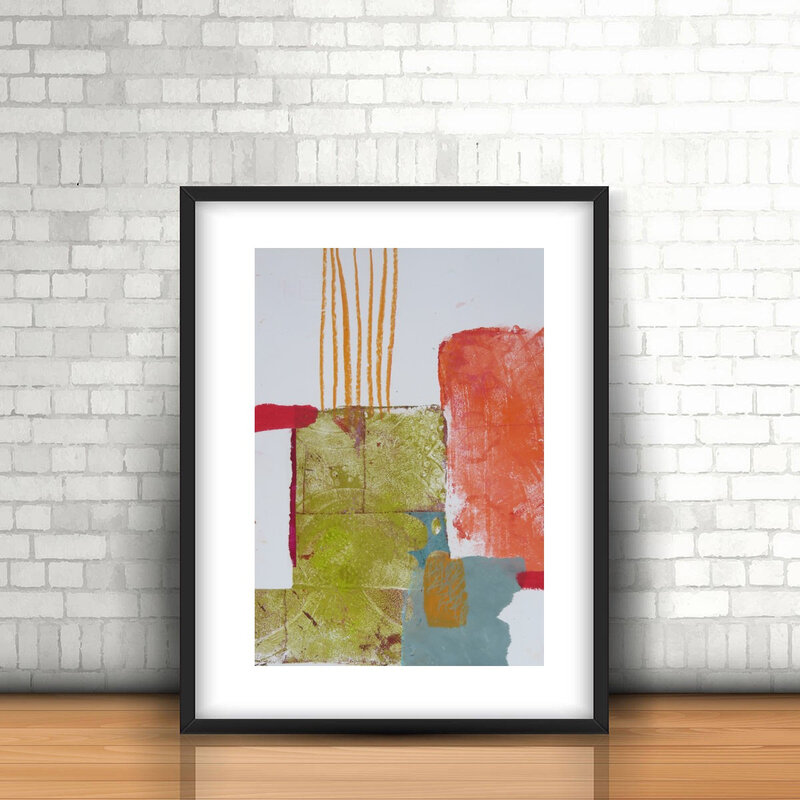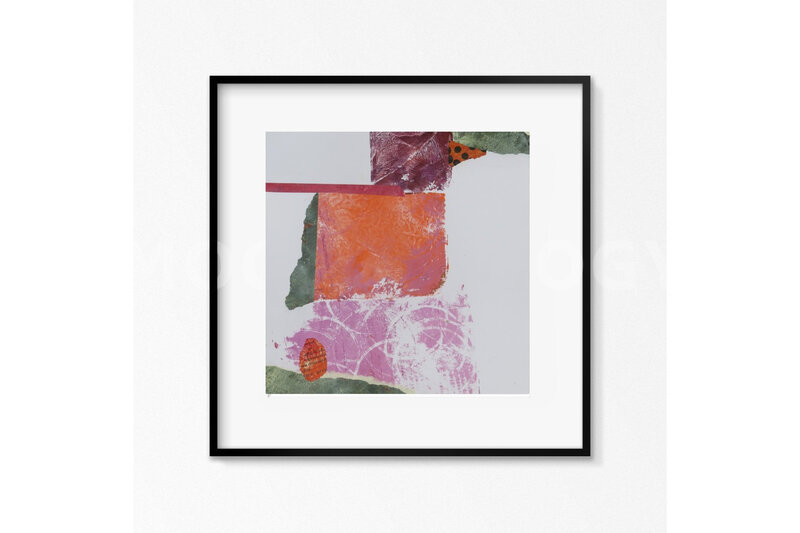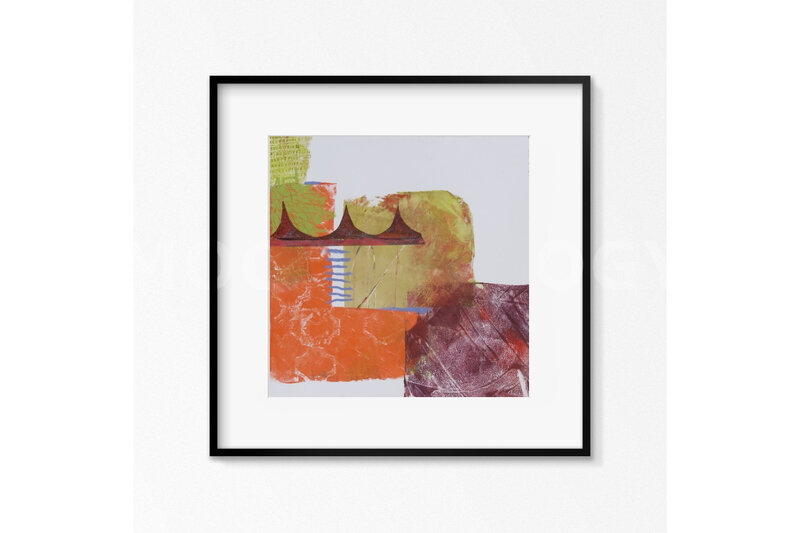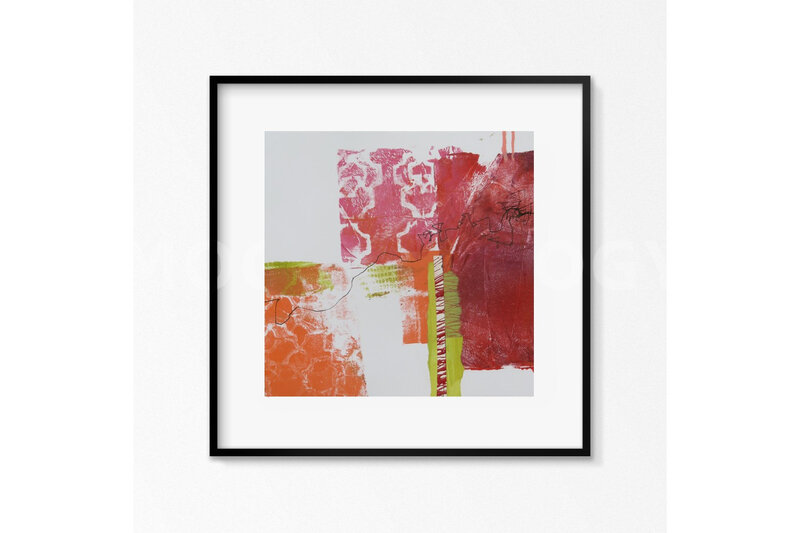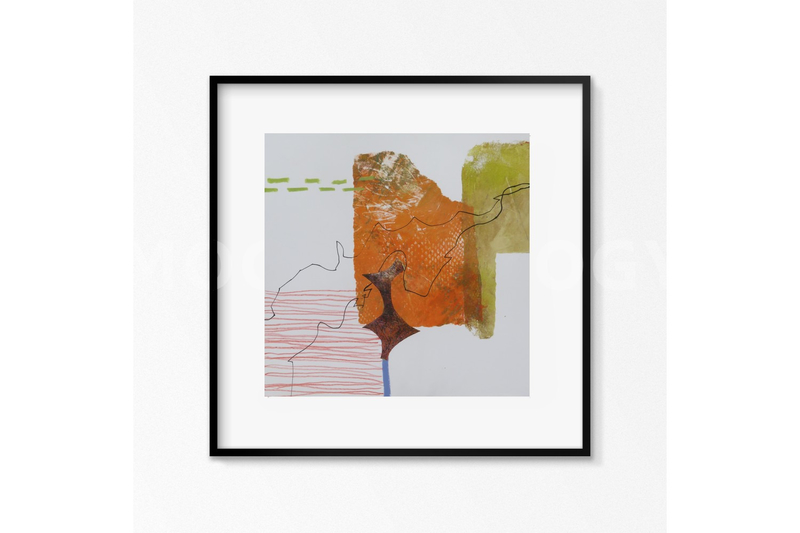 Eliminer les corps étrangers?
Faire un tri?
Rendre plus pur?
Pour moi, c'est trois fois oui, j'ai réussi à faire ce que je cherchais. J'aime ces compositions plus épurées que j'ai créées ces dernières semaines. J'espère que ce côté plus net se retrouvera dans la suite de mon travail.
Simplify?
Become clean?
remove extra elements?
It's a definite yes! I've managed to achieve what I wanted. I love the clean compositions I've created over the last few weeks. I hope we'll find some traces of that in my future work.


Si vous voulez revoir les 3 messages précédents:
If you want to see the 3 previous messages:
Epurer/declutter 1 (mixed media - carré/square)
Epurer/declutter 2 (mixed media, aquarelle/watercolour - rectangle)
Epurer/declutter 3 (collages)
11 juin 2018
A 1h30 au nord de Rome, à côté de Viterbo, nous sommes allés visiter les magnifques jardins de la Villa Lante
We drove 1h30 north of Rome to visit the lovely gardens of the Villa Lante, next to Viterbo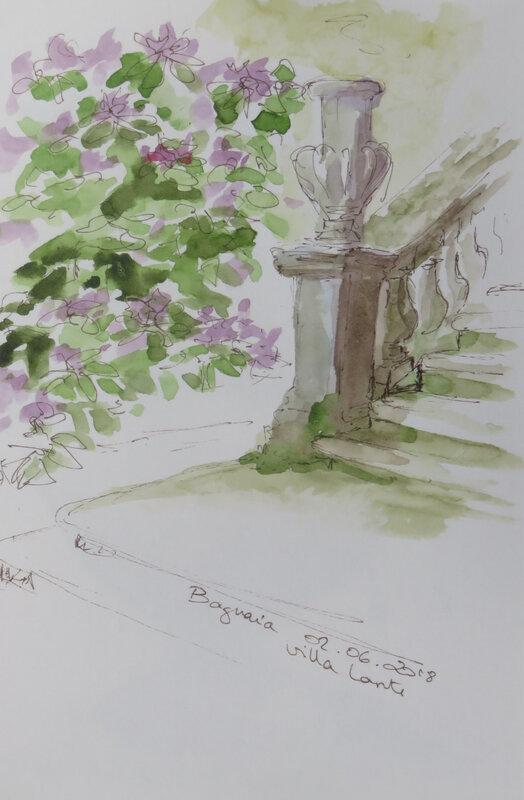 N°115
Il restait encore quelques azalées en fin de floraison
The azaleas still had some fowers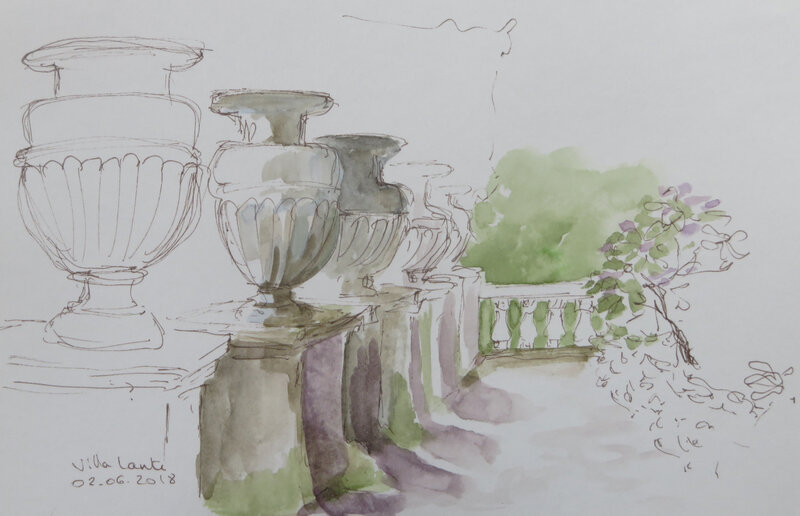 N°116
J'ai adoré ce petit coin calme
I loved the quiet and secluded atmosphere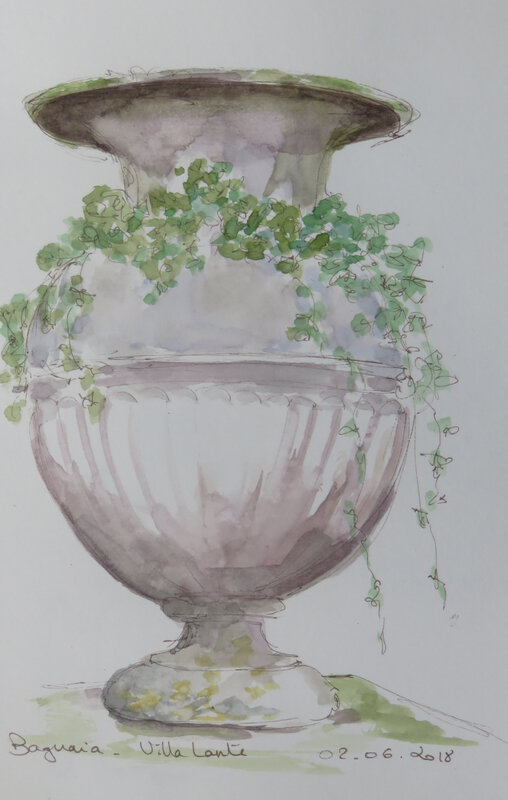 N°117
Et je l'ai croqué sous tous les angles.
Pourtant, cela ne donne pas l'idée de ce jardin aux centaines de fontaines. C'est le même ingénieur en hydraulique qui a conçu les jardins de la Villa d'Este à Tivoli (pour ceux qui connaissent).
I sketched this part in many different ways, it was so beautiful! My sketches don't give an idea of the stunning garden with its many fountains. For those who know, it's the same engineer that created the gardens in Villa d'Este in Tivoli.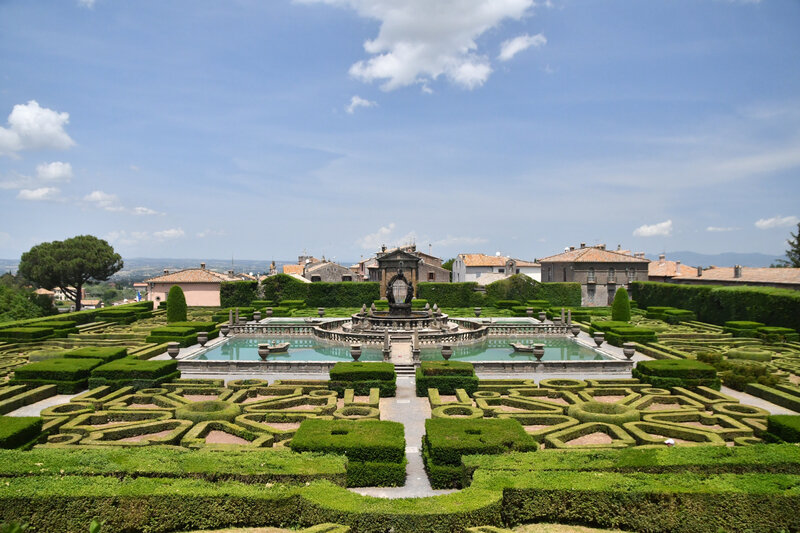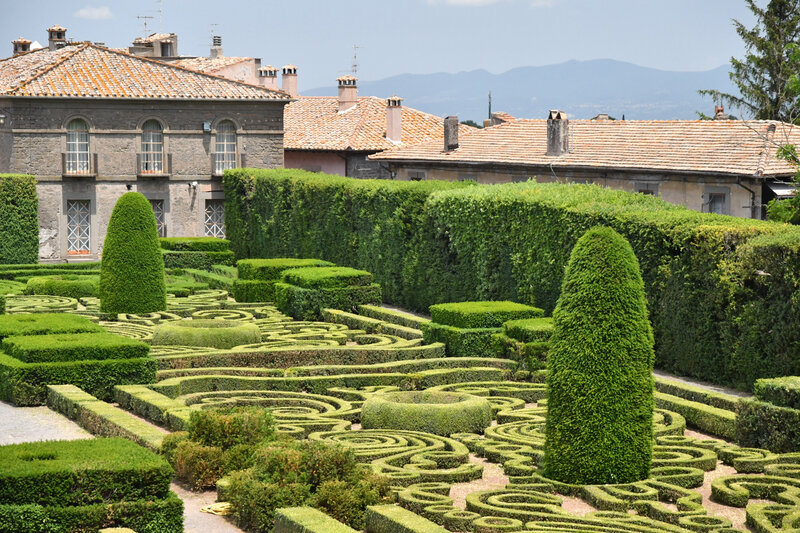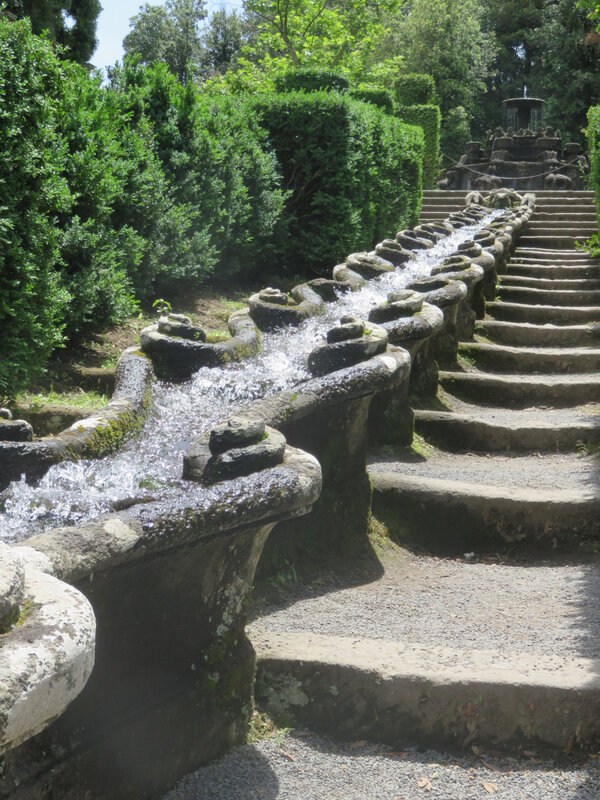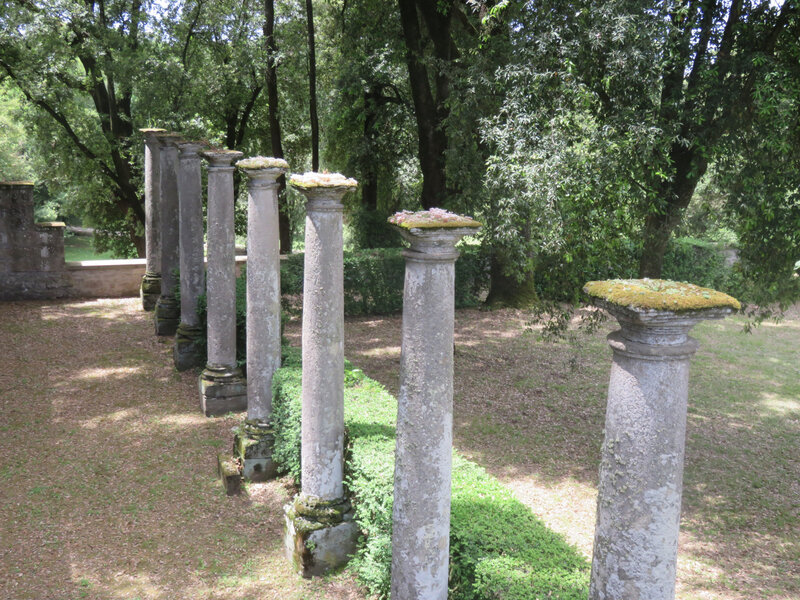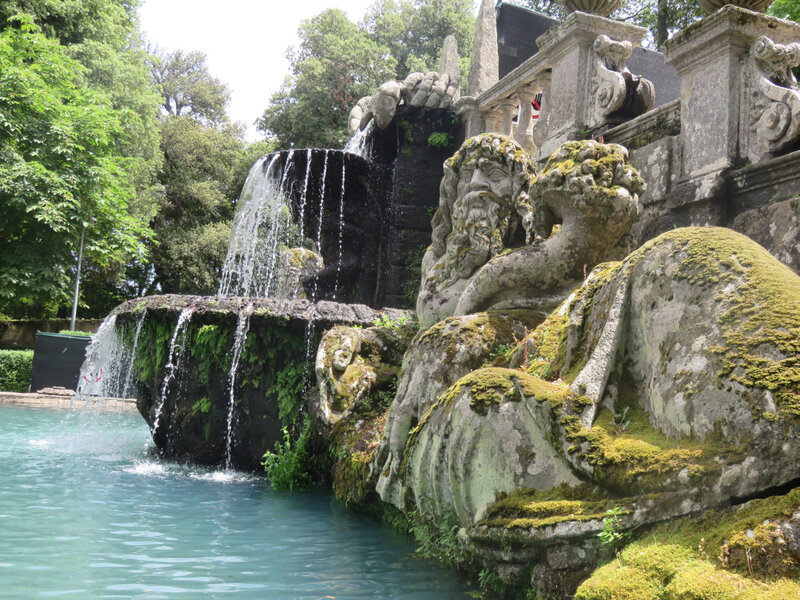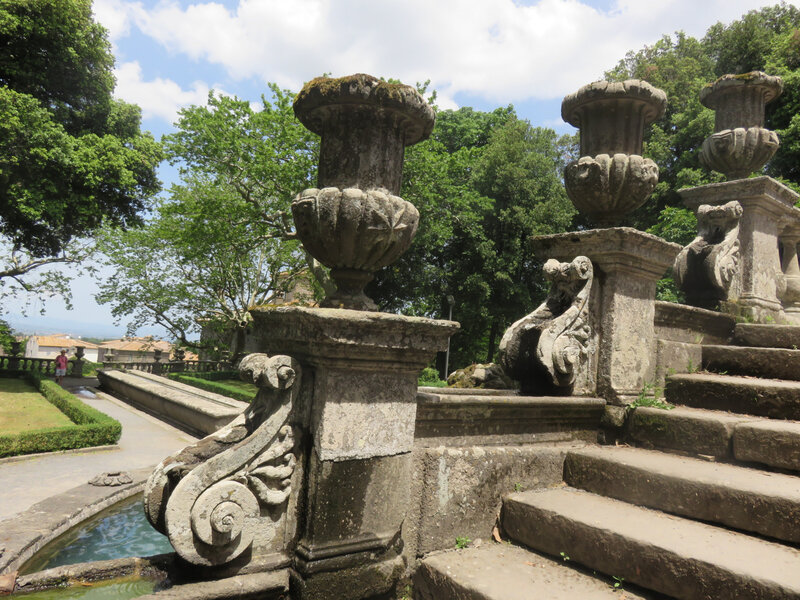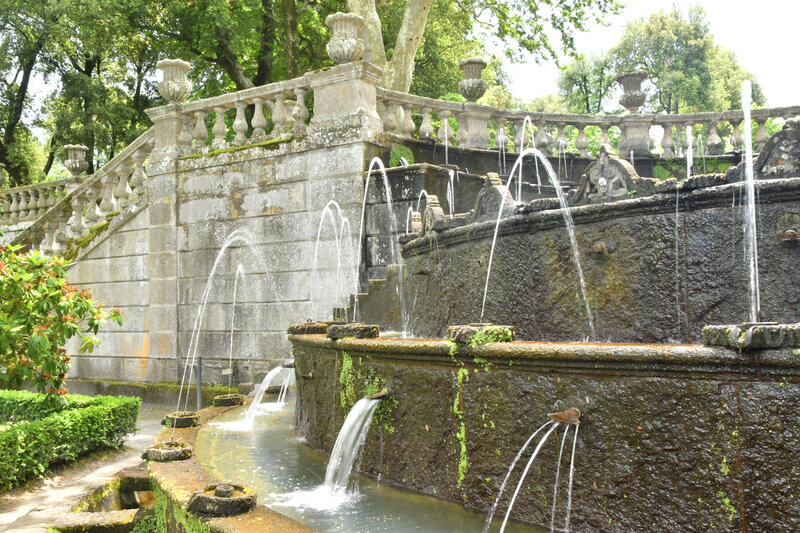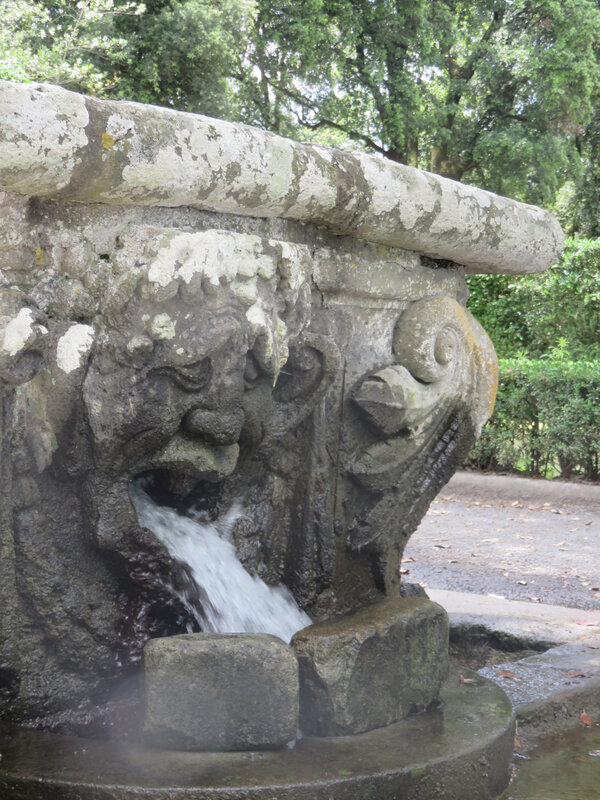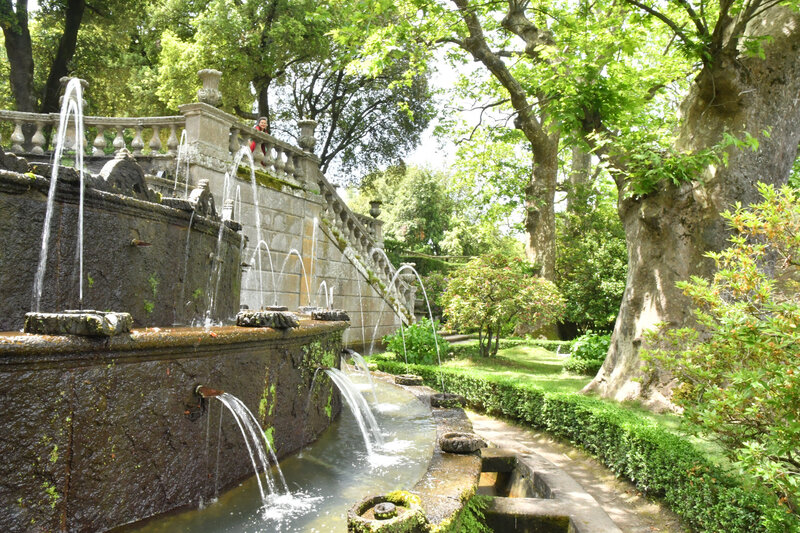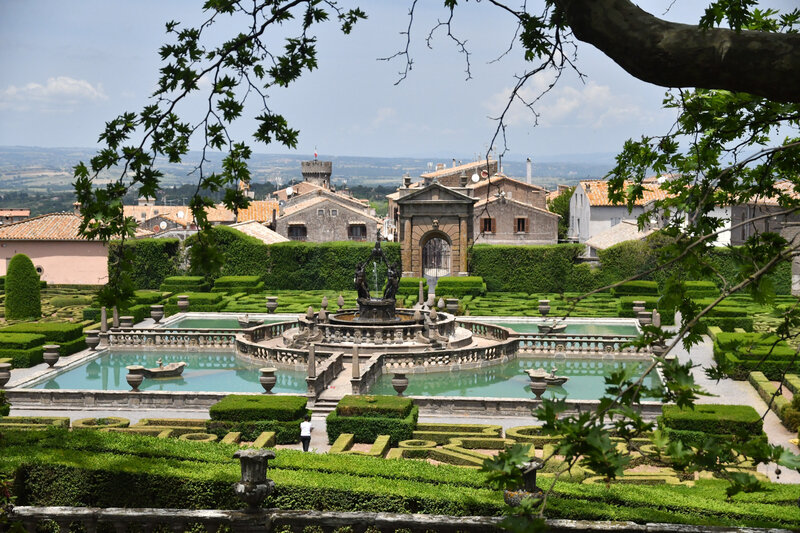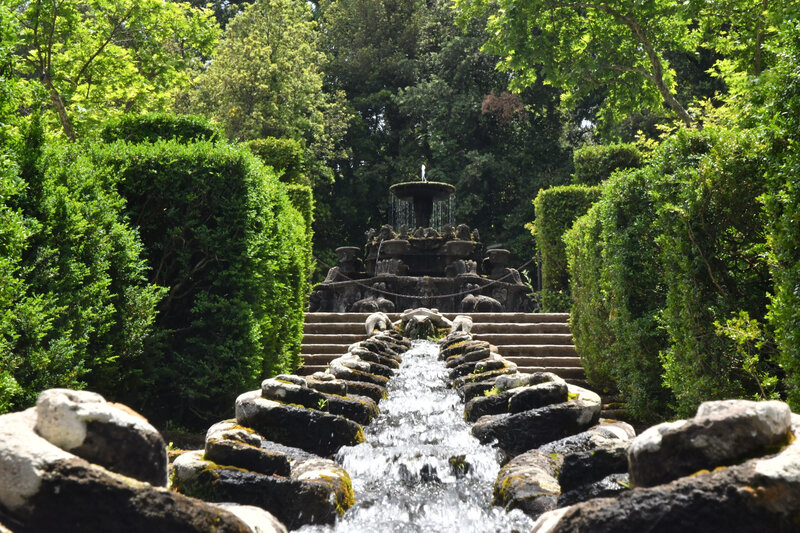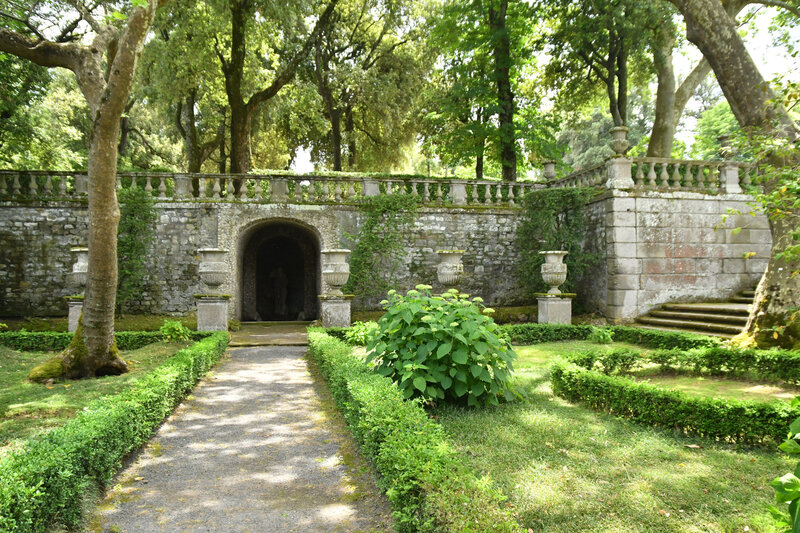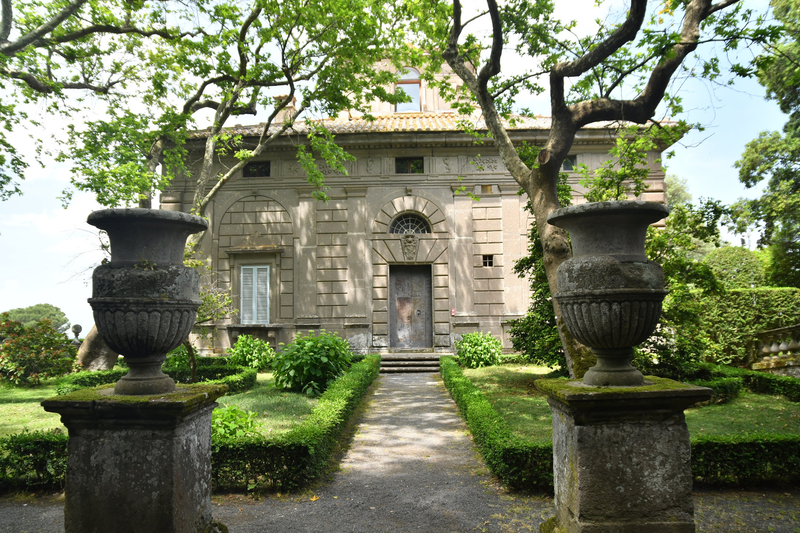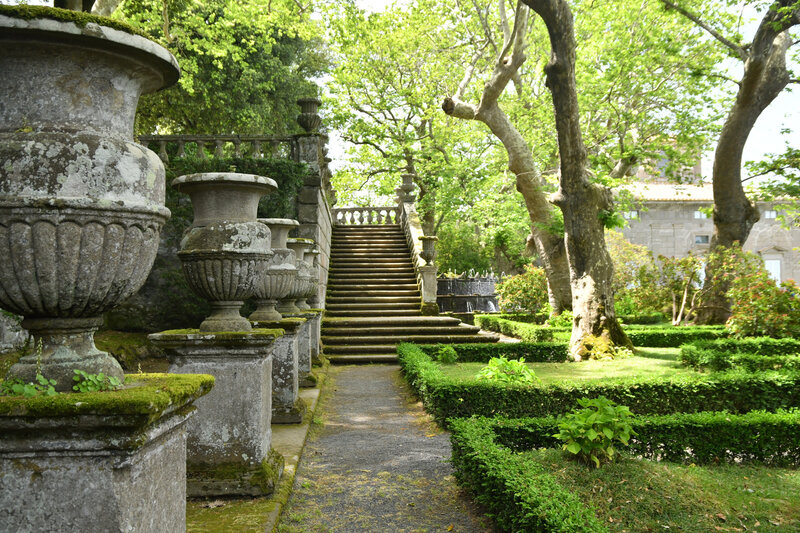 Et puis la promenade continue dans une partie publique, l'ancienne forêt et chasse qui jouxte la villa et ses jardins à l'italienne. C'est plus sauvage, mais il y a encore des fontaines, plus ou moins entretenues:
and then you can walk through the woods in the public forest than borders the gardens. It's wilder, but there are more fountains, most of them a bit old and mossy.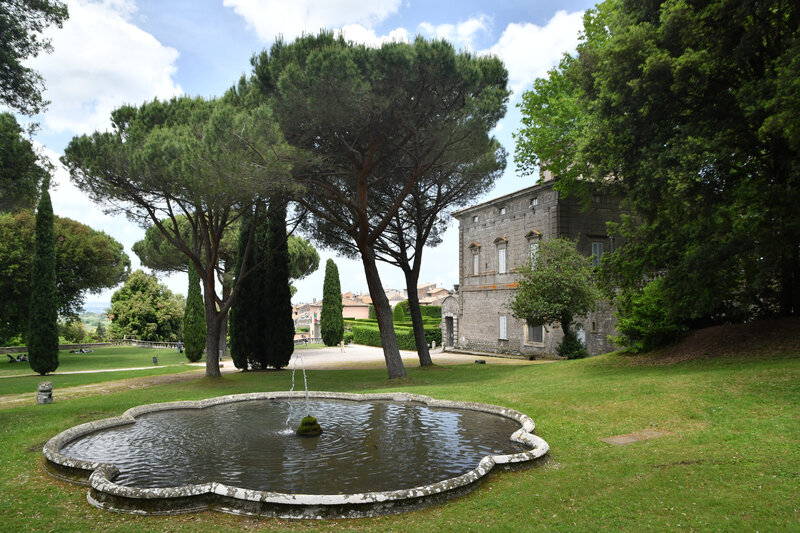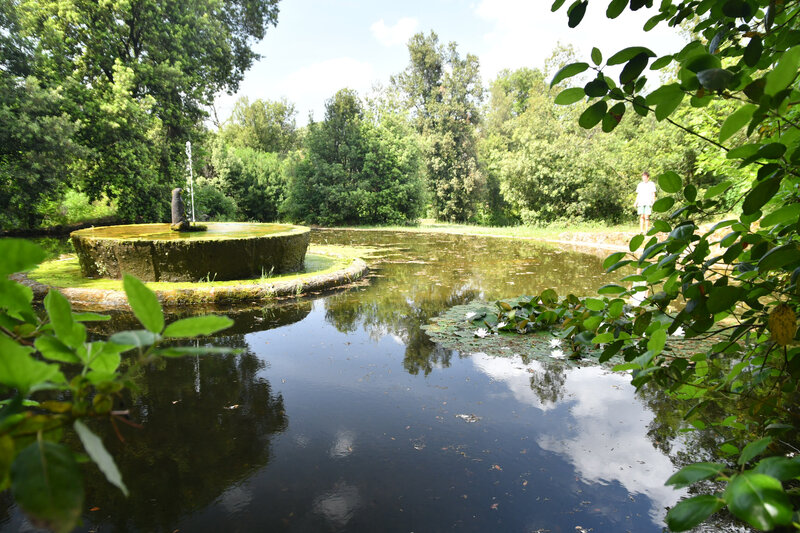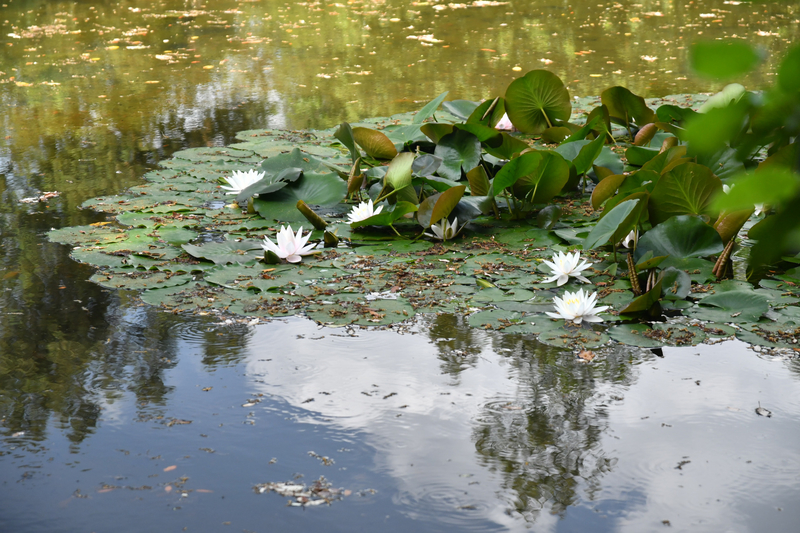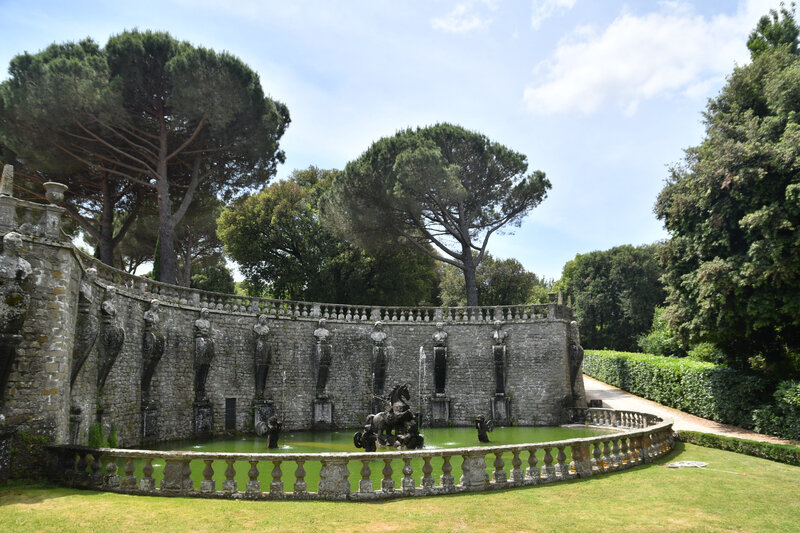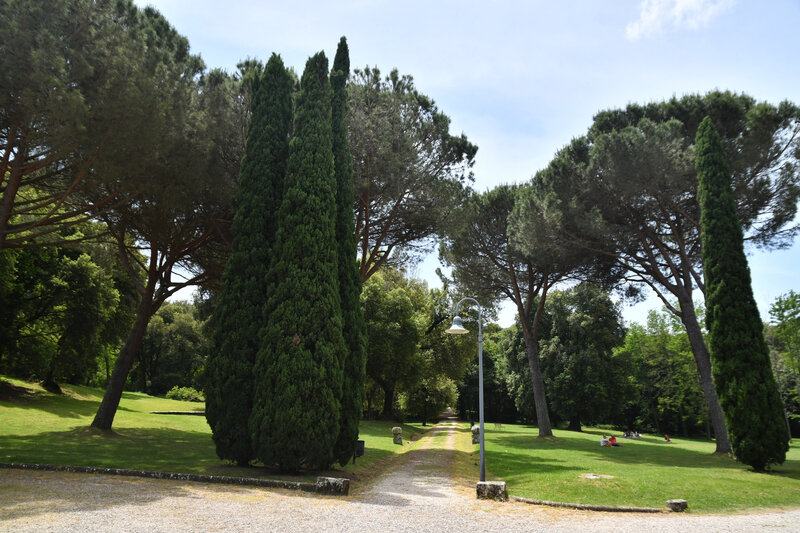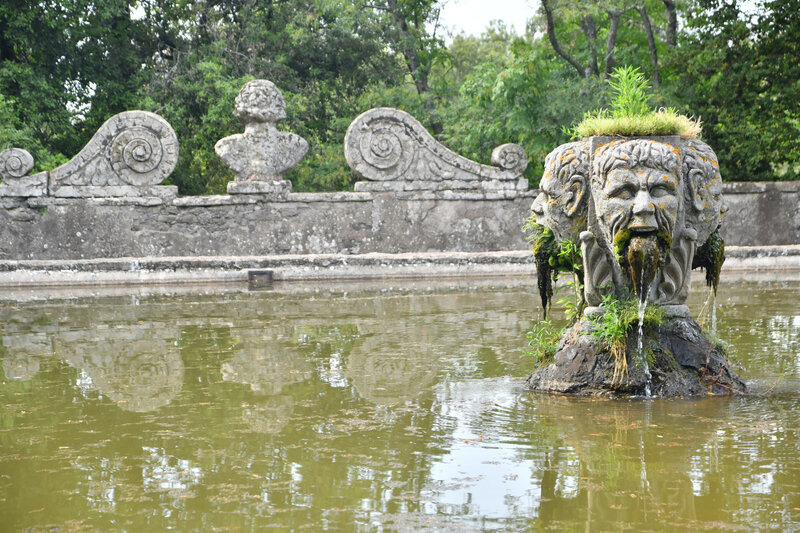 08 juin 2018
J'ai décidé d'appliquer mon idée d'épuration aux collages.
I decided to apply the idea of decluterring to collages.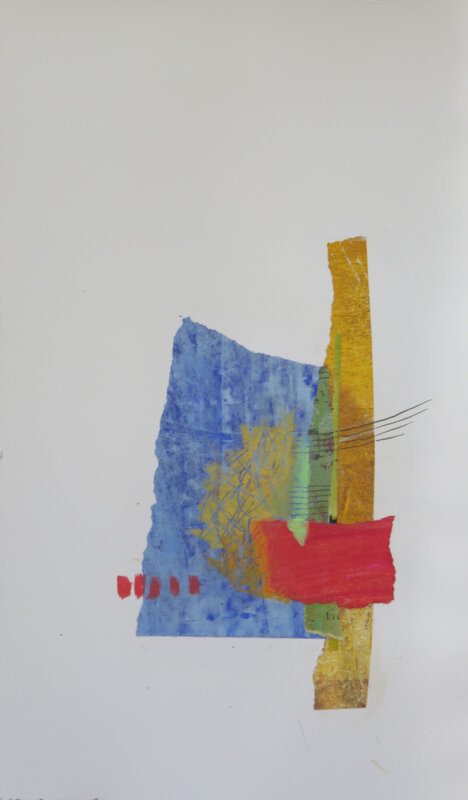 N°113
Cette fois, j'ai délibérément placé mon sujet au centre et travailler les verticales. Il faut dire que le format de la feuille blanche s'y prêtait.
This time I deliberatey put my pieces in the center and worked the verticals, the format of the page just called for it.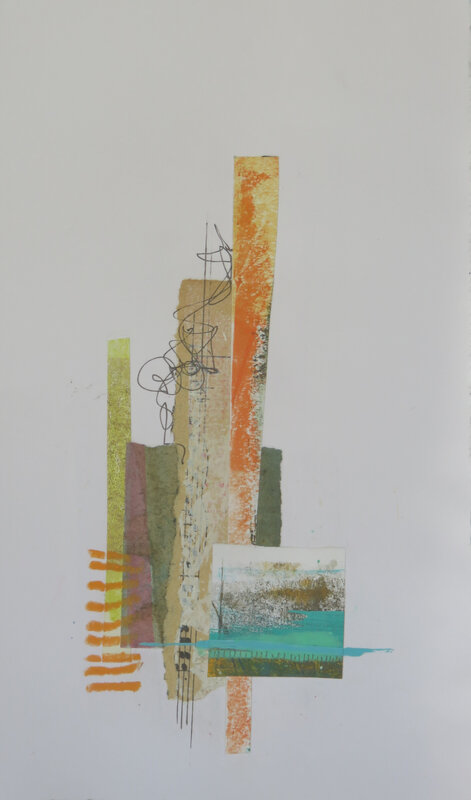 N°114
Mon but n'était pas d'utiliser le moins de morceaux possibles, mais plutôt de laisser encore une fois du blanc au maximum pour donner une sensation d'espace à la composition globale.
My goal was not to use few pieces but rather to leave as much space around them as possible to give an impression of space to the composition.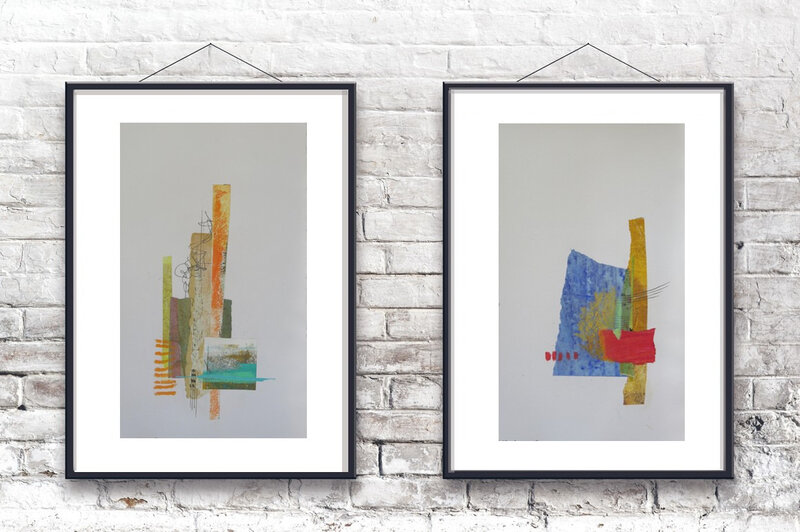 05 juin 2018
Soudain, ta main sur ma peau
Suddenly, your hand on my skin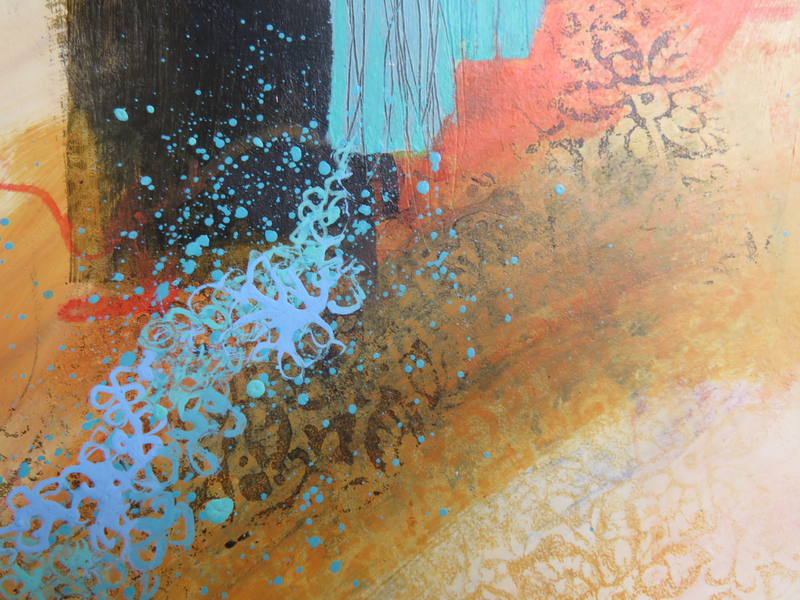 (detail)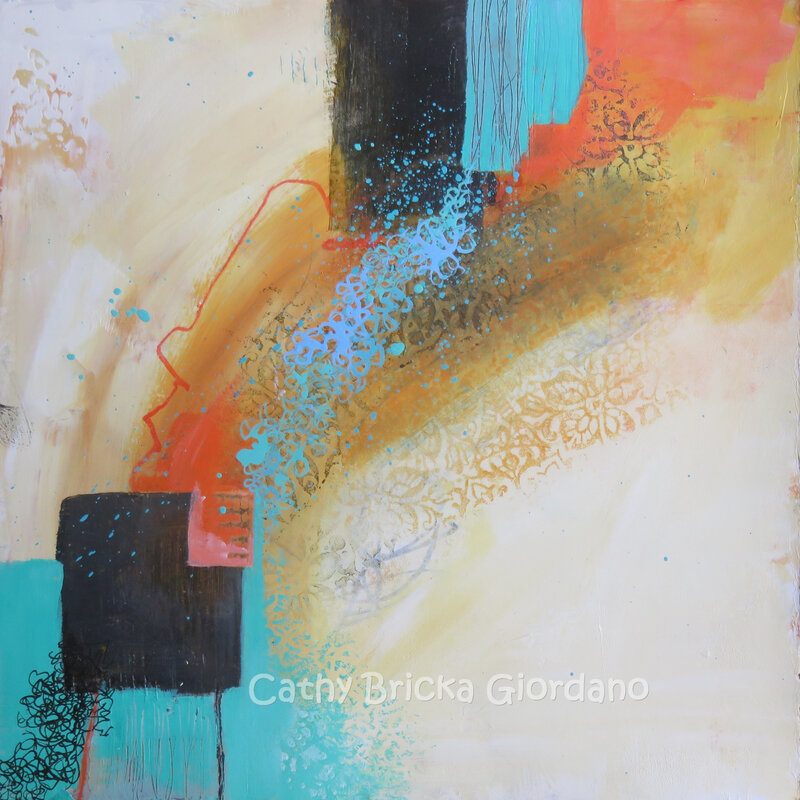 N°112 That First Touch
Acrylique sur papier 300g / Acrylics on 300g paper
24 x 24 cm
Et reculons encore un peu
Let's step a little further back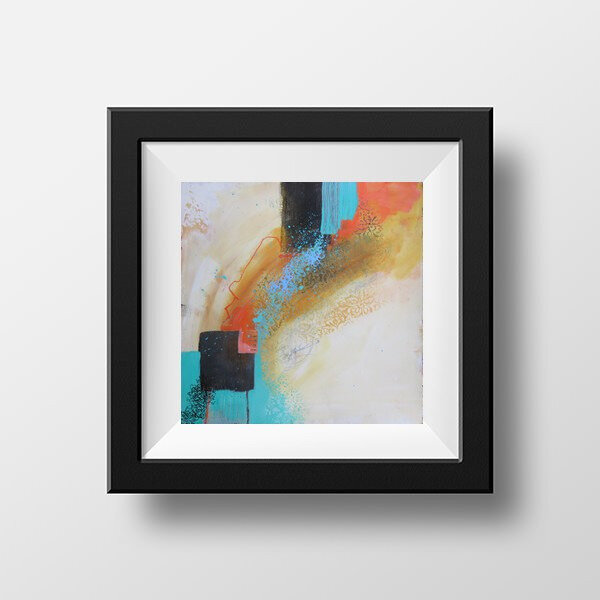 30 mai 2018
J'emmène tous les jours mon fils à l'arrêt de bus, puis je rentre en passant par le marché (mercato Nomentana), via Alessandria. J'y prends mon café et je fais deux, trois courses si nécessaire. Everyday I walk with my son to the bus stop, then I walk back through the market (mercato Nomentana), via Alessandria, I drink my daily cappuccino, and I buy some things if necessary.
N°107
C'est là où j'achète mes fruits et légumes. Les vendeurs sont sympas. A l'automne, le vendeur m'a demandé de le dessiner avec son étal. C'est chose faite. Et je lui ai donné.
I usually buy my veggies there. The sellers are friendly. Last autumn this guy asked me to sketch him at his stall. Now it's done. I gave it to him.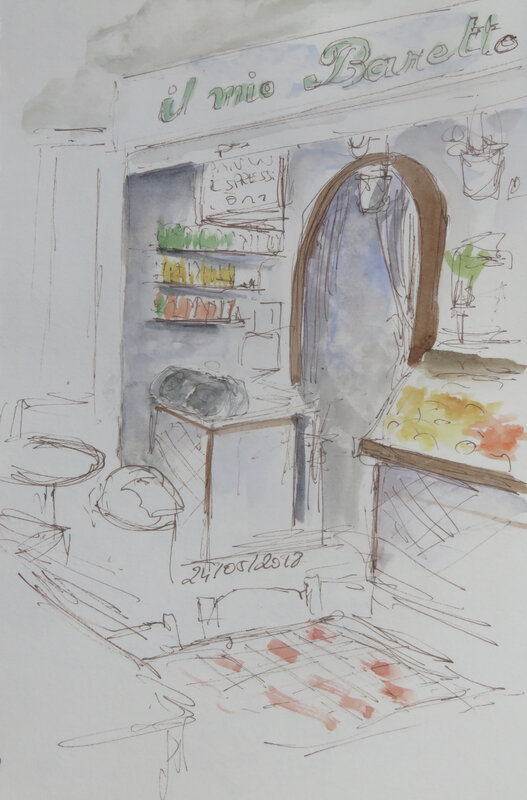 N°108
Je prends mon cappuccino dans ce petit café dans un coin du marché. C'est marrant, selon si c'est la femme qui le prépare ou son mari, il n'a pas le même goût. Et le prix est imbattable : 0,90€!!! Le croquis n'est pas terrible, il faudra que je le refasse. Mais c'est dur de rendre cette ambiance.
This is where I buy my cappuccino. It's funny how it tastes different whether it's the lady who makes it or her husband. Unbeatable price too: 0,90€!!! The sketch is not much good, I'll have to sketch it again, but it's really tough to sketch the atmosphere of the place.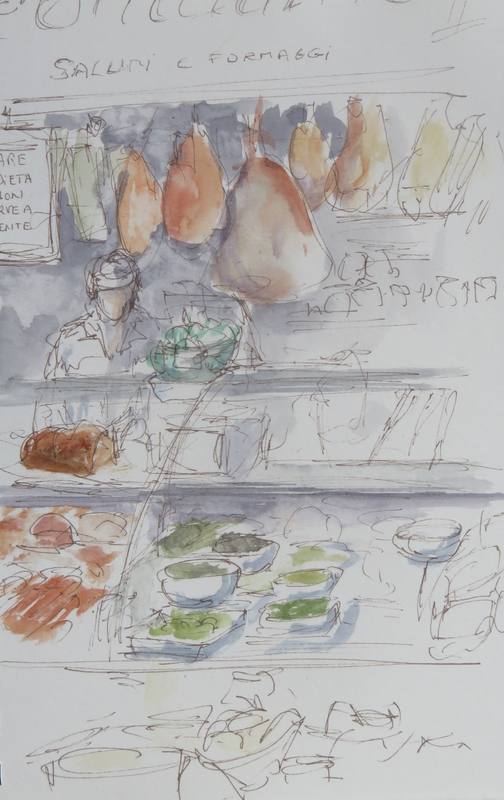 N°109
C'est là que nous prenons notre fromage et la charcuterie. Les olives ne sont pas mal non plus.J'adore le signe qui est accroché en évidence : Fare la dieta non serve a niente / Faire le régime ne sert à rien.
This is where we buy most of our cheese and cured meat. The olives are not bad either. I just love that poster they have hanging there: Fare la dieta non serve a niente / Dieting is useless.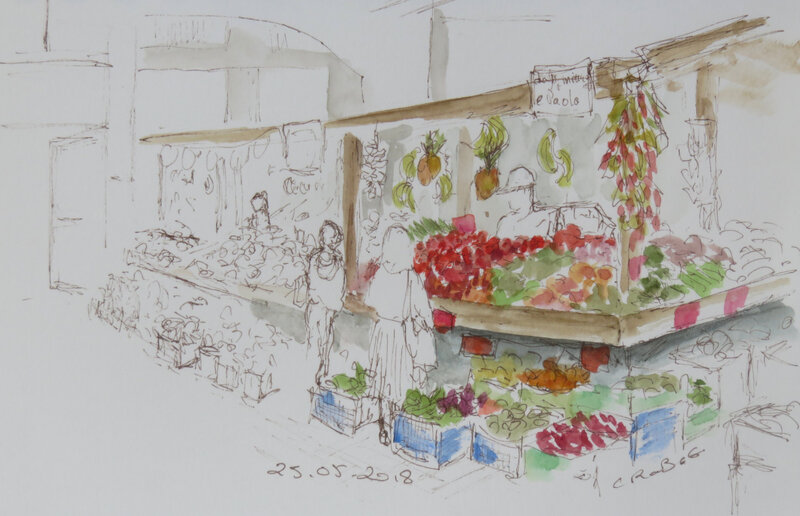 N°110
Ces deux étals de fruits et légumes ont de très beaux produits, mais il y a tout le temps une telle queue!!!
The two greengrocers there have great fruits and veggies, but there's always such a long wait to be served!!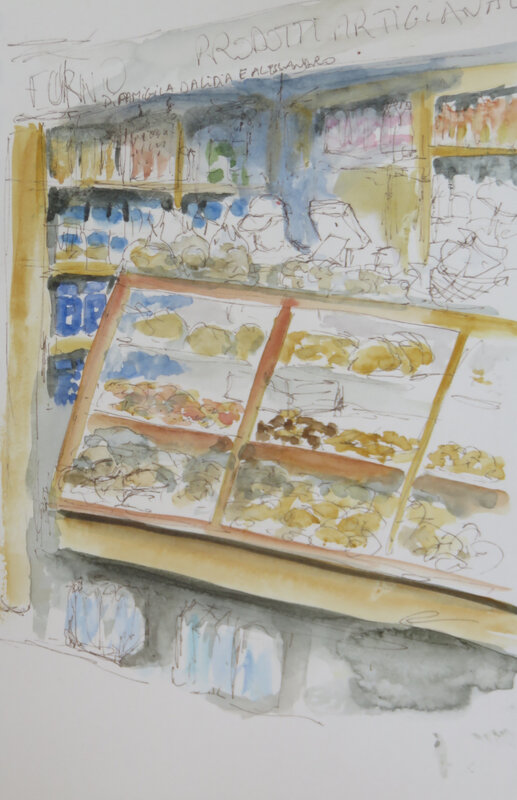 N°111
Et là, je prends du pain, parfois une "pizza rossa" c'est à dire une pizza toute simple avec juste de la tomate. C'est aussi une mini épicerie, avec des pâtes, du riz, quelques boissons, ... mais leur spécialité c'est le pain et les gâteaux/biscuits. C'est la grand mère qui a ouvert un four il y a quelques années. Elle a eu 11 enfants et là c'est une de ses filles qui tient ça avec son fils à elle, pendant que un oncle s'occupe du four. Je crois qu'ils ont aussi une autre mini boulangerie ailleurs dans Rome.
That's where I buy bread, sometimes a "pizza rossa" literally a red pizza, that is a plain pizza. It's also a mini grocery shop selling pasta, rice, a few drinks... but their specialty is bread and pastries/biscuits. The grand mother started up an oven to bake bread and things. She had 11 children and one of her daughters now runs this shop (she works it together with her own son) while one of her sons runs the oven, and I think there's another daughter running another bakery somewhere in Rome. Family business does mean something in Italy.
Si vous voulez voir d'autres croquis du marché cliquez ici.
If you want to see more sketches of the market, you can click here.
28 mai 2018
Still focusing on decluttering, I tried the rectangle size; I think the first three look look better in a landscape format.
Toujours dans l'idée d'épuration, j'ai essayé quelques composition en format rectangle; les 3 premiers fonctionnent mieux en format paysage à mon avis.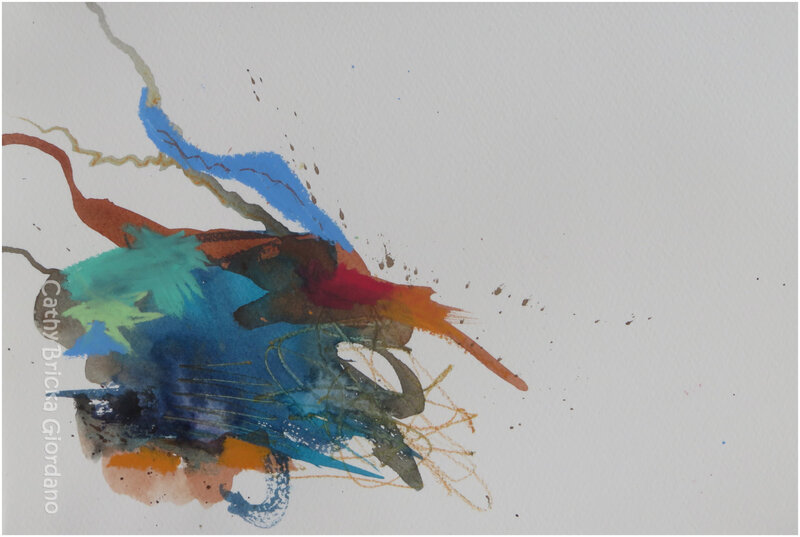 N°94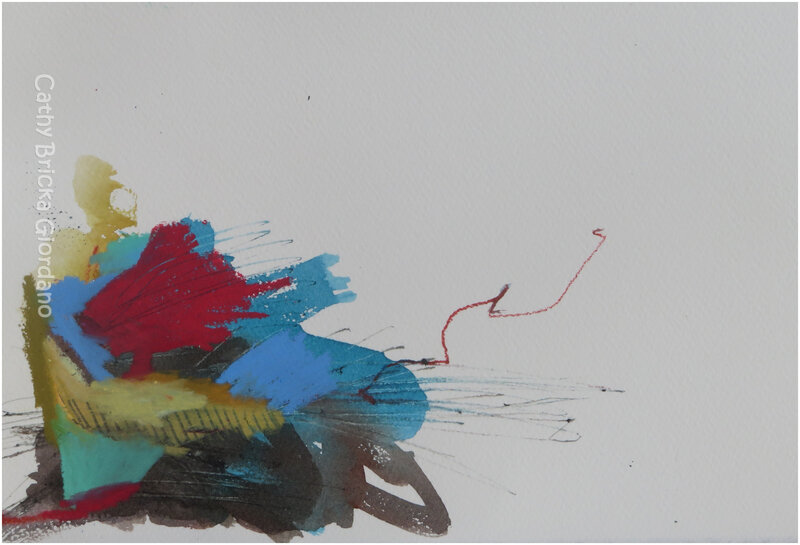 N°95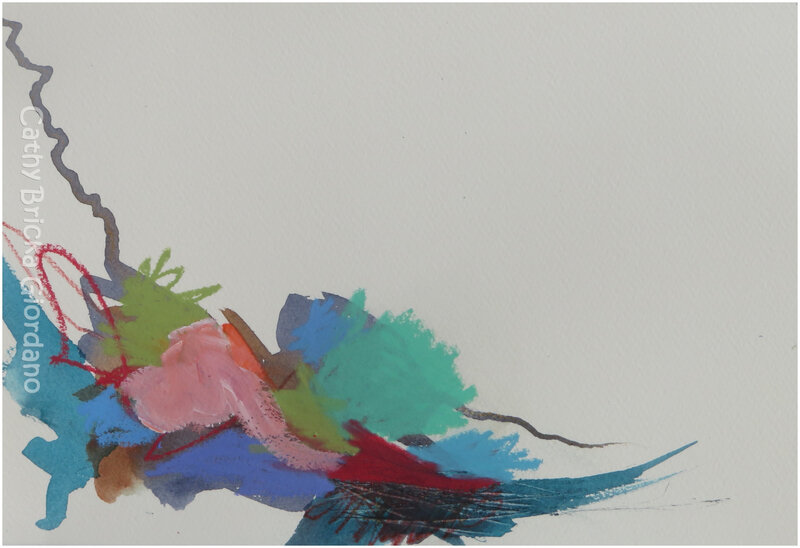 N°96
J'ai aussi fait des essais dans le même style mais avec de l'aquarelle, medium que pour l'instant j'ai toujours réservé pour mes carnets de voyage.
I also tried some using watercolour, which so far I had used only for my travel sketches.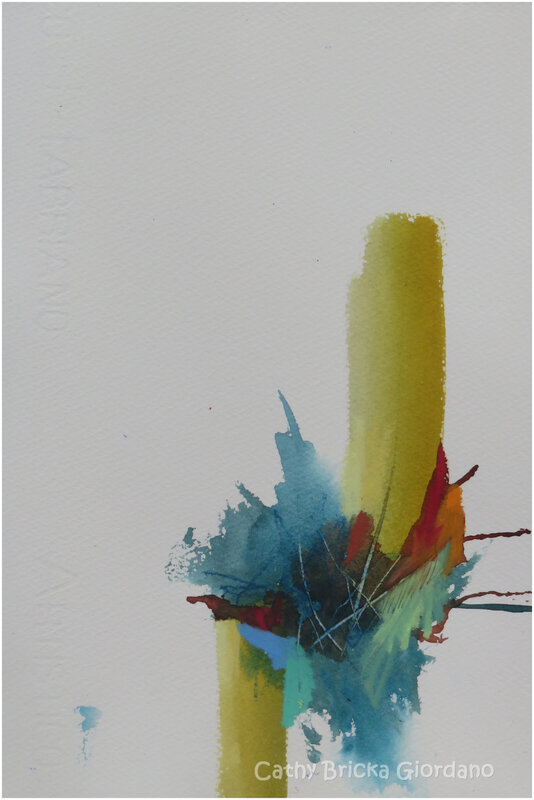 N°97
J'aime beaucoup le résultat
I really like what happened there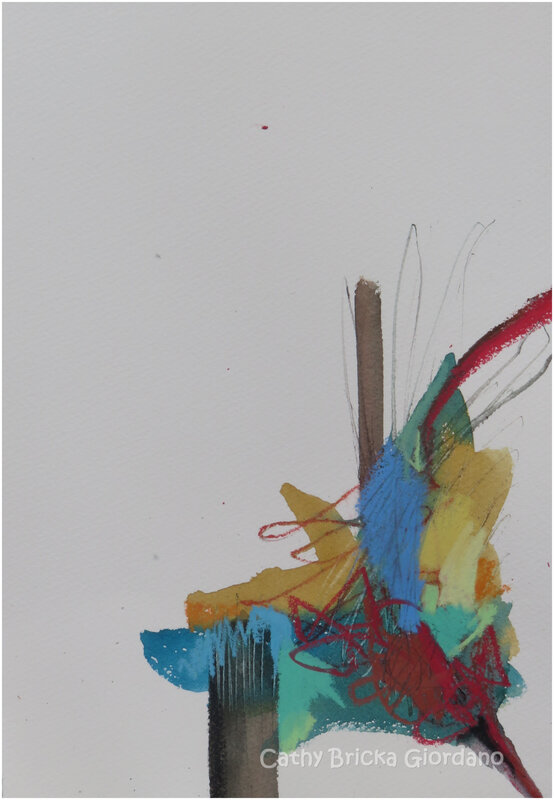 N°98
l'ajout de pastels donnent de beaux contrastes entre la transparence et l'opacité des couleurs
the addition of watercolour crayons gives some nice contrasts between tansparent and opaque colours.
J'étais tellement contente du résultat que quelques jours après j'ai recommencé avec aquarelle et pastels aquarellables, mais on sent que la couleur gagne du terrain et cela perd (à mon avis) en spontanéité. De plus, j'ai souvent trop centré mes compositions.
I was so satisfied with the result that a few days later, I tried again using watercolour and watersoluble crayons but the shapes are getting too big, and I think it feels less spontaneous. What's more, I too often centered my compositions.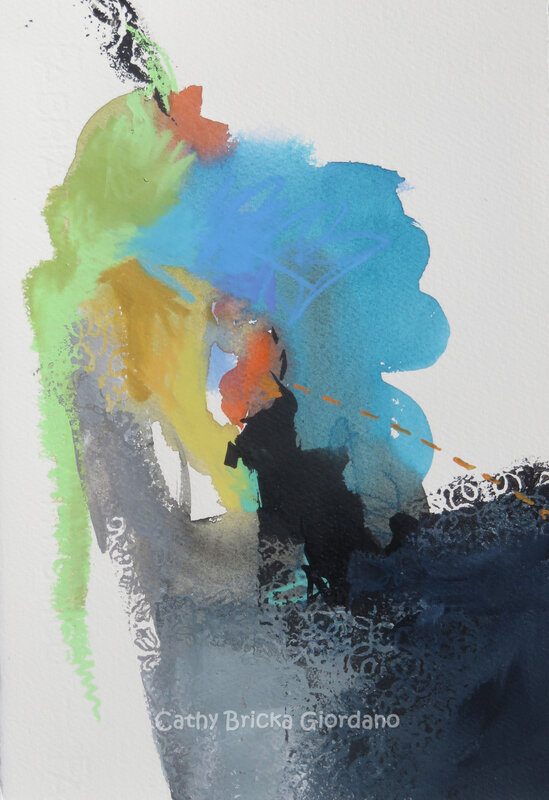 N°100
l'ajout d'une masse grise a permis d'équilibrer la composition qui était trop centrale mais elle est un peu lourde non?
the addition of grey mass at the bottom helped balance the composition which was too centered, but I'm afraid it's a little overwelming, don't you think?
Certains sont encore en cours mais vous donneront une idée de mon travail:
Some are still in progress but they'll give you an idea of my work: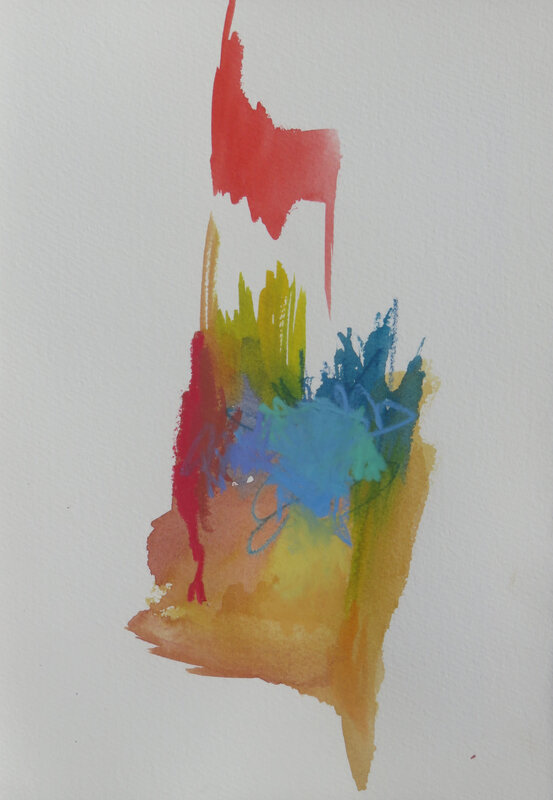 N°101
est encore en cours, la composition est bien trop centrée, il faut que je fasse quelque chose... J'aime bien cette forme rouge qui semble s'être détachée en haut.
still in progress, the composition is much too centered, I need to do something. I quite like that red shape that seems to float above the rest.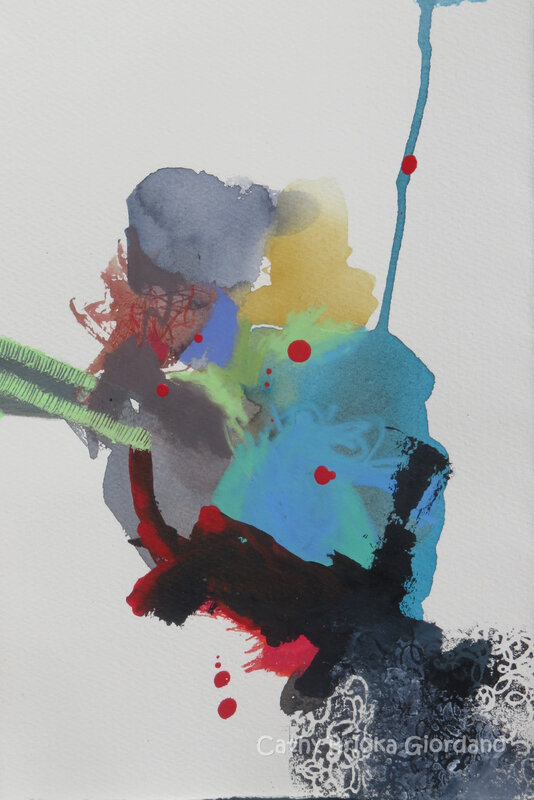 N°102
je ne sais pas encore s'il est fini ou pas, j'attends un peu.
I'm not so sure about this one; we need to wait.
N°103 est encore en cours, les formes étaient centrales, mais l'ajout de gris sur 2 côtés a fait du bien
still in progress; the shapes were too centered but I added grey on two sides and it already looks way better.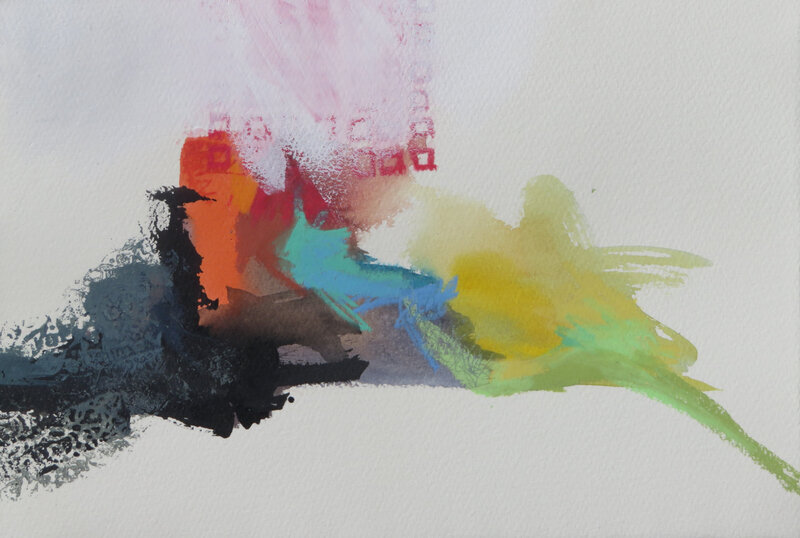 N°104
encore en cours; forme trop centrale au départ, j'ai rajouté le noir/gris d'un côté qui rajoutent de la profondeur et des contrastes, et un motif de carrés rouge sur un autre côté - trop présent; jai voulu l'atténuer avec du blanc, mais pour l'instant c'est pas encore gagné. A suivre.
Still in progress; the composition was too centred once again. I added grey and black giving depth and contrast, and apattern of red squares - that was too present; i wanted to knock it back with white, but so far it's a mess. To be continued...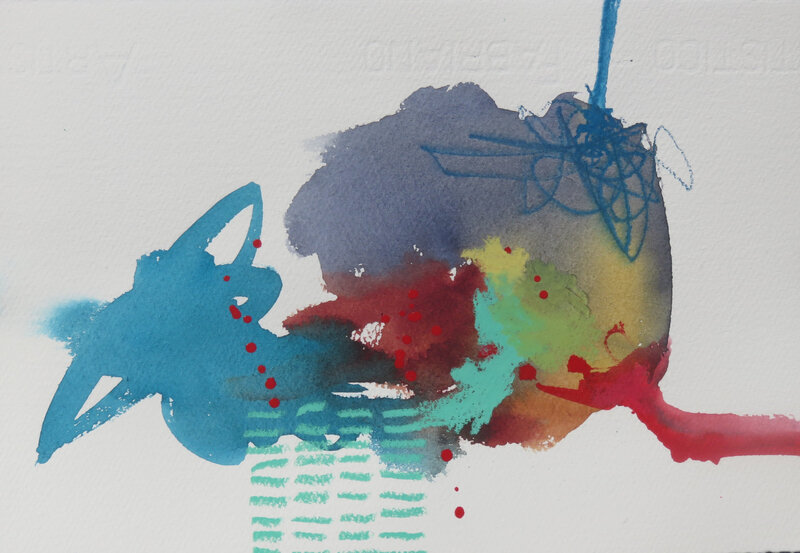 N°105
je ne sais pas encore s'il est fini ou pas, j'attends un peu.
I'm not so sure about this one; we need to wait.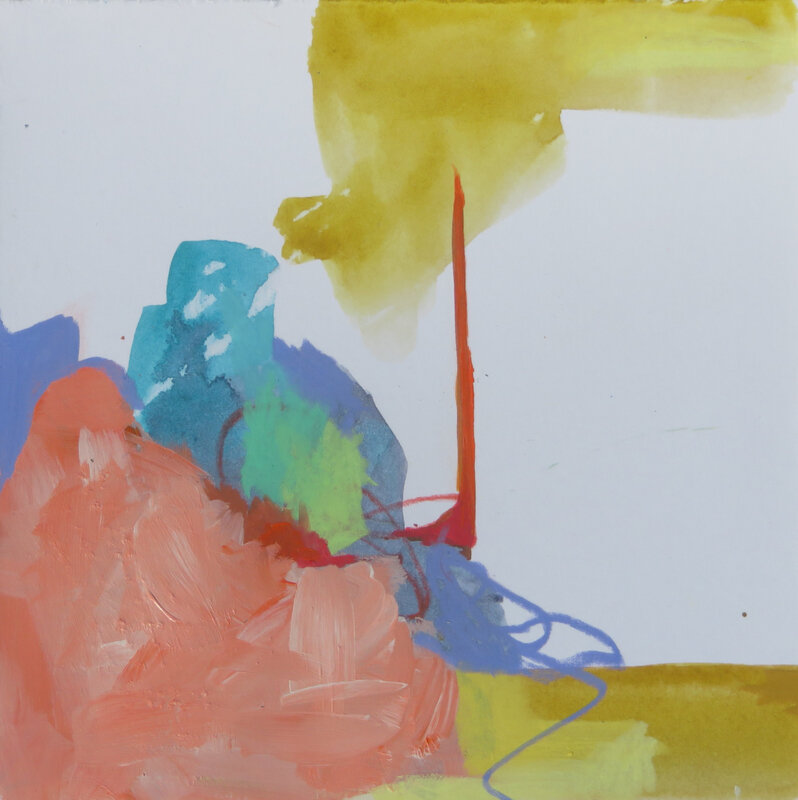 N°106
un format carré encore en cours, il manque nettement de contraste. J'aime beacoup ce trait rouge vertical qui relie le bas avec la partie jaune qui descend.
Square format still in progress. Too many mid-tones, it needs contrasts. I like that vertical red line linking bottom and top.
Voici une idée de ce qu'ils donneraient encadrés:
Here's what they'd look like when framed: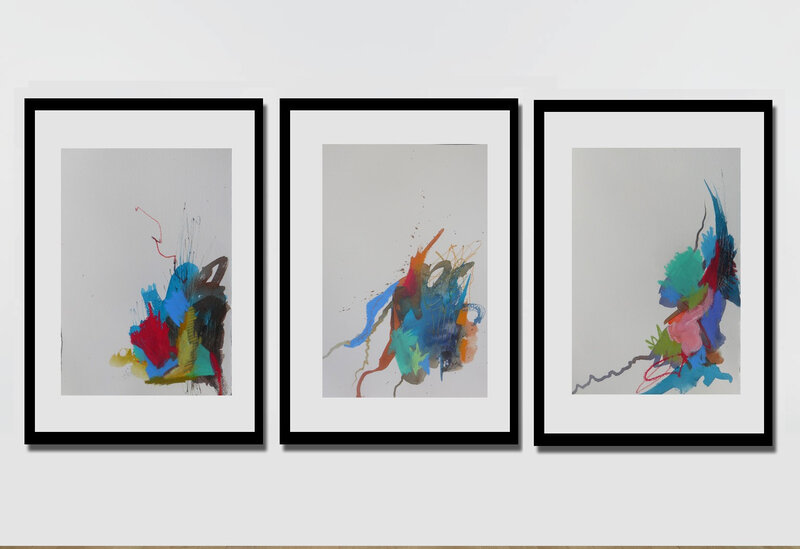 N°94, 95, 96 en portrait / in portrait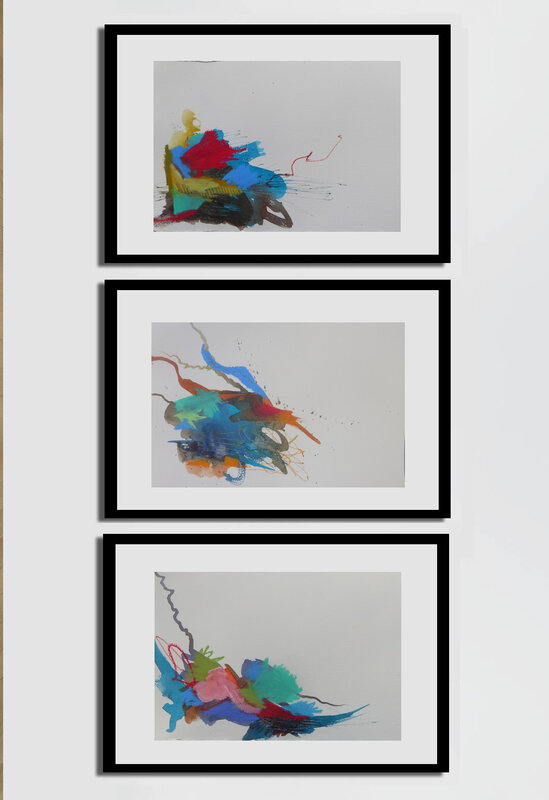 N°94, 95, 96 en paysage/ in landscape
N°97
N°98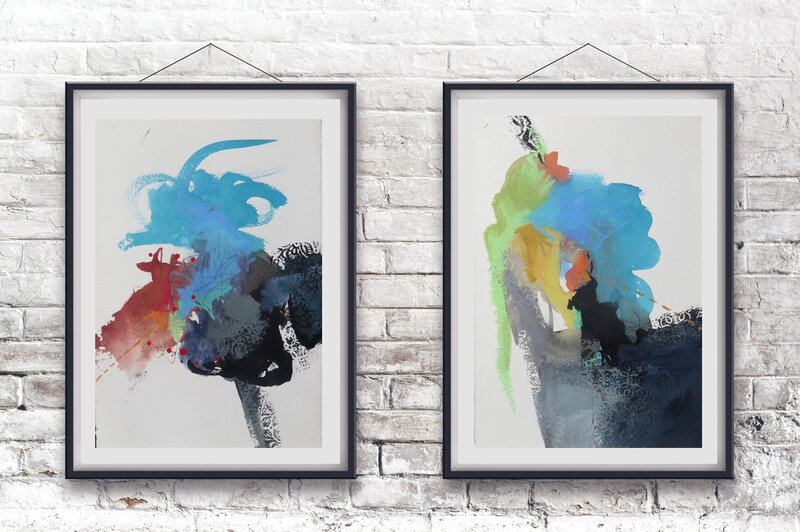 N°99-100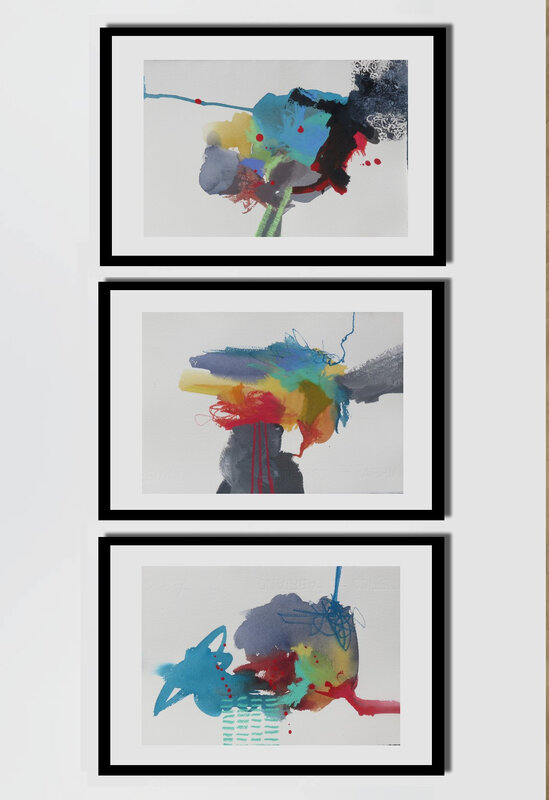 N°102-103-105 en paysage / in landscape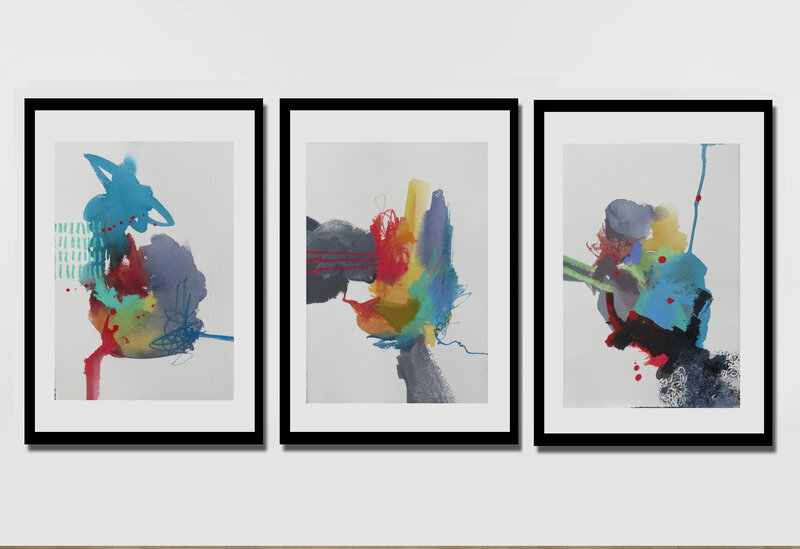 N°102-103-105 en portrait / in portrait
25 mai 2018
En déco, comme en peinture, mon mot du moment c'est "épurer". Garder l'essentiel. Moins il y a de choses, et plus l'impact sera fort. Vous voyez ce que je veux dire?
In decoration as well as in painting my favourite word of the moment is "declutter". Less is more. You get the drift.
Le weekend approche, alors voici un petit exercice de composition auquel je vous invite à vous livrer:
The weekend is on us, I'm sure you'll have time for a little composition exercise: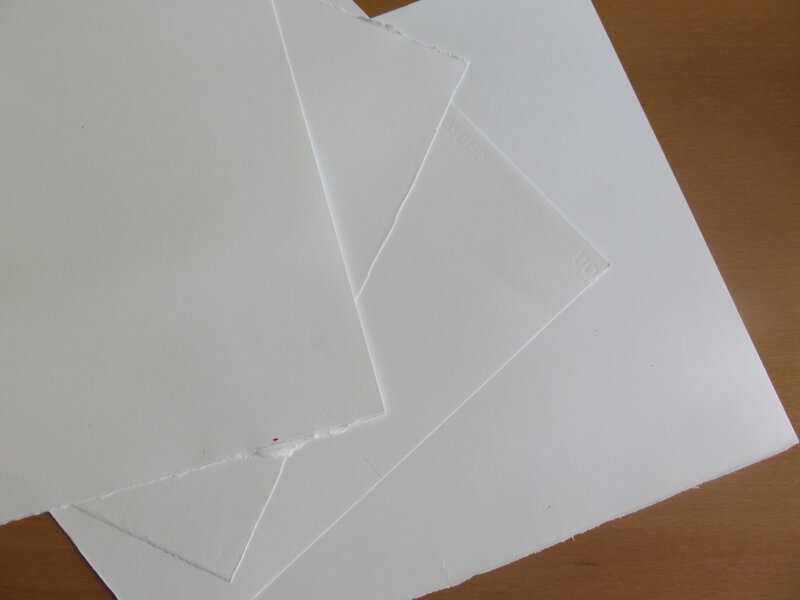 Prenez 4 feuilles au format carré (je vous conseille fortement de toujours prendre cette excellente habitude de travailler 4 feuilles par 4 (ou 6 ou 8) cela permet de mieux se lâcher (et cela fait parfois de chouette séries)
Take 4 sheets of paper (square). I strongly advise you to always work in series of 4 (6 or 8). It will help you loosen up and relax (and sometimes you'll get very nice sets of paintings)
Petit rappel d'une règle de base de la composition
let me first remind you a basic rule of composition: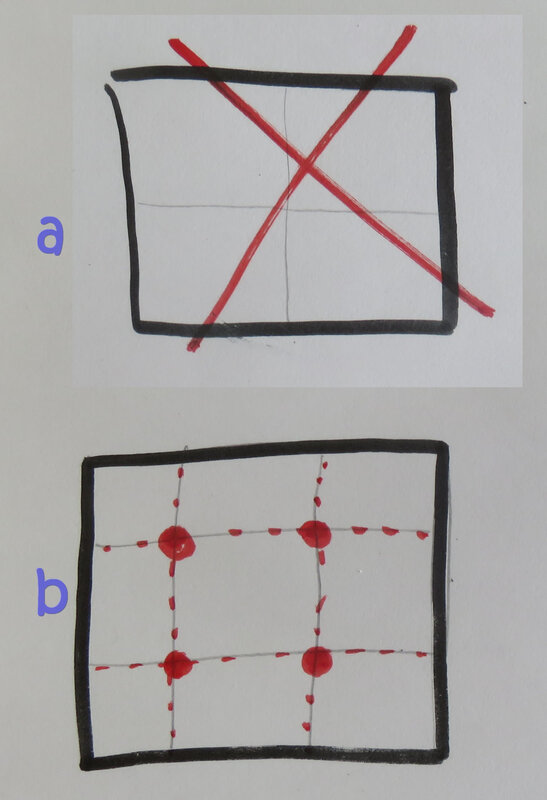 Il est fortement déconseillé de placer votre sujet au centre (a). Au contraire pensez toujours à ces lignes en pointillé rouge qui coupent la page en tiers (b) et placez votre sujet à peu près sur les points rouges. (Autre rappel, s'il est bon de savoir les règles c'est parfois aussi pour pouvoir mieux les enfreindre ;-) J'en reparlerai.)
It is usually recommended not to put your main subject right in the middle (a). On the contrary, think of those dotted lines dividing your painting (b) and place your subject on one of the red spots. (We'll talk some other time about the idea that rules are meant to be broken; in order to be able to break them, you have to know them)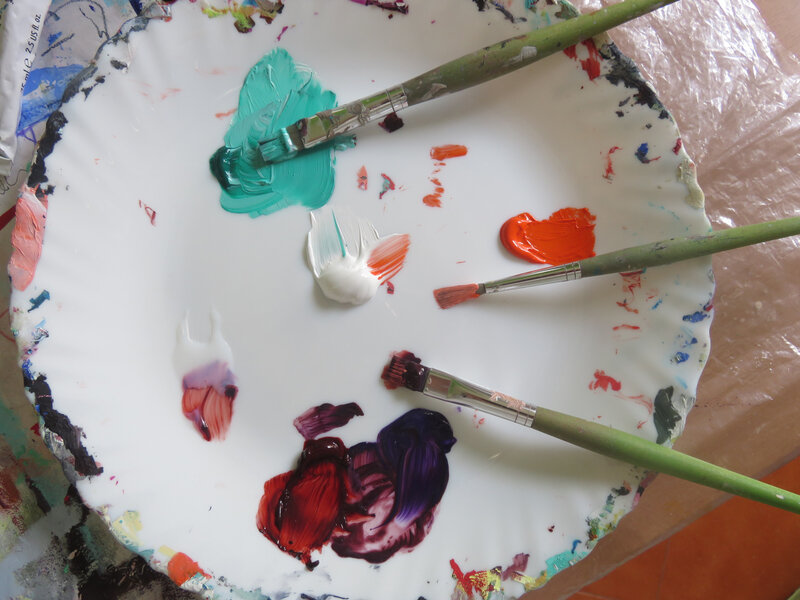 Choisissez 3 couleurs, pas plus, et du blanc. Ici j'ai un orange, une sorte de violet-pourpre et un turquoise. Un pinceau par couleur, préférez les prendre de taille différente (si vous avez tendance à fignoler, alors prenez les GROS)
Choose 3 colours, not more, and some white. Here I've got orange, turquoise and a red-purple. Take one brush for each colour; choose different sizes of brush, and the more you tend to fiddle with your paintings, the bigger the brush you should take.
Posez les 3 couleurs successivement sur vos 4 feuilles, en faisant bien attention à rester sur le "point rouge" choisi. Ne réfléchissez pas trop, posez les couleurs à côté les unes des autres, se chevauchant un peu, et si vous travaillez assez vite, elles se mélangeront un peu naturellement.
Put the 3 colours on each of your 4 sheets, taking care to stay on the "red dot" you've chosen. Don't think too much, put the colours next to each other, overlapping a little, and if you work fast enoug they'll mix naturally.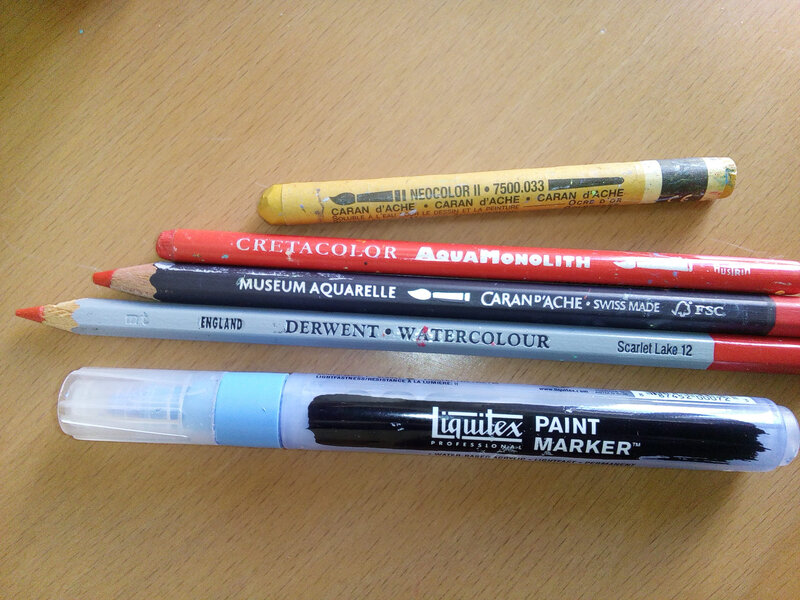 Ensuite prenez des pastels aquarellables (carandache neocolor II), des crayons aquarellables, des feutres-peinture acrylique, et tracez soit un "gribouillis", soit un motif répété, soit les 2. Vous pouvez aussi rajouter quelques touches de couleur ici ou là avec les pastels ou crayon, mais pensez à ne pas trop en rajouter. A la fin j'ai aussi ajouté une touche d'encre noire pour donner un peu de profondeur. Mais surtout, ne pas surcharger. E-PU-R-ER
Then take some watercolour crayons (carandache neocolor II), watercoloour pencils, paint-markers, and make a scribble, or a pattern, or both. You can also add a few touches of colour here and there, but not too much, and do not fiddle. In the end, I also added some indian ink to give it depth. But don't overdo it, think decluttering.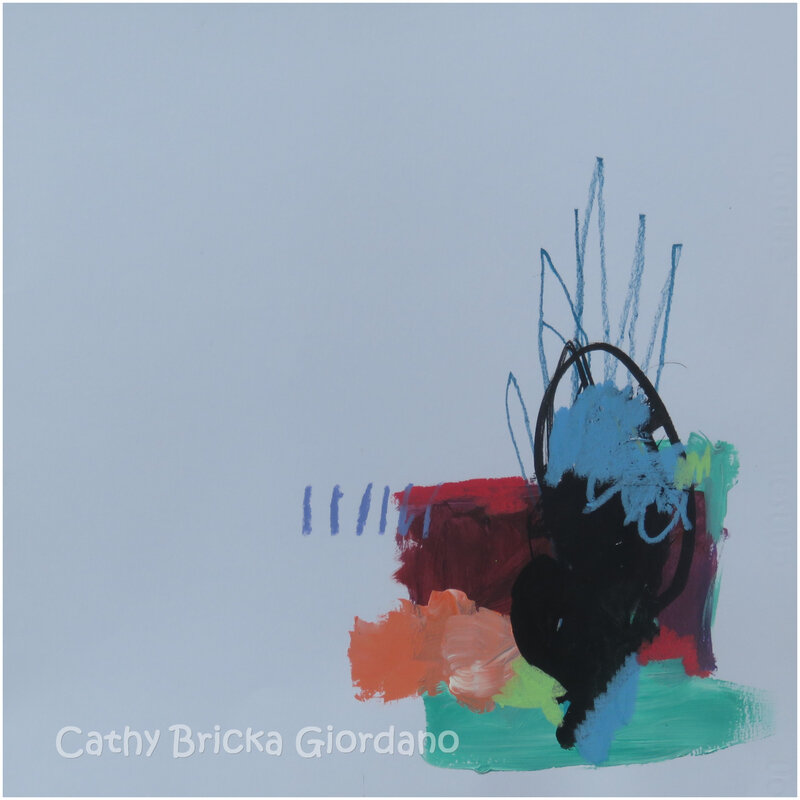 N°90
Mixed media sur papier / Mixed media on paper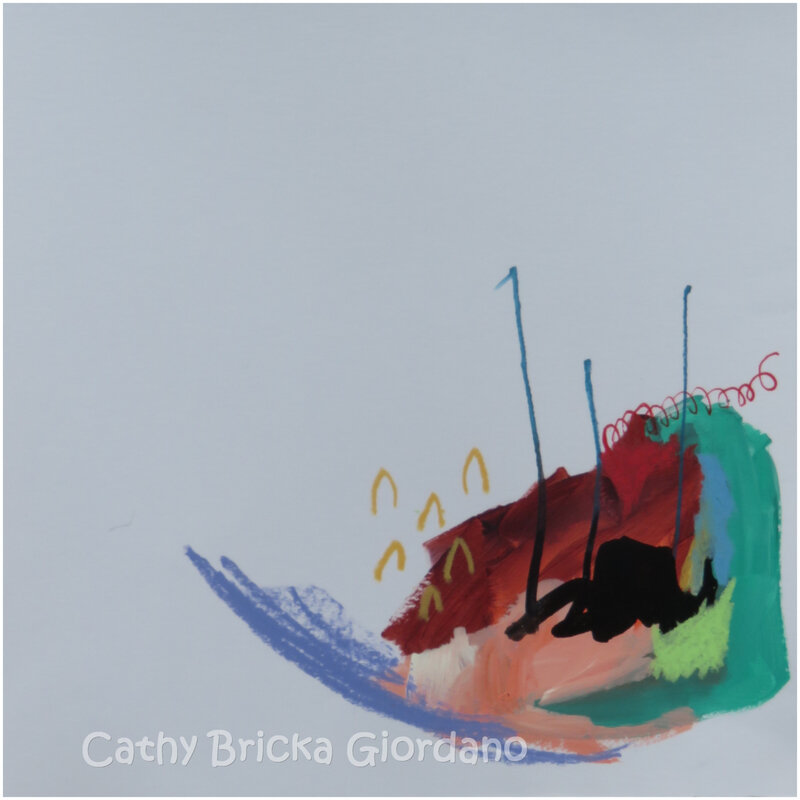 N°91
Mixed media sur papier / Mixed media on paper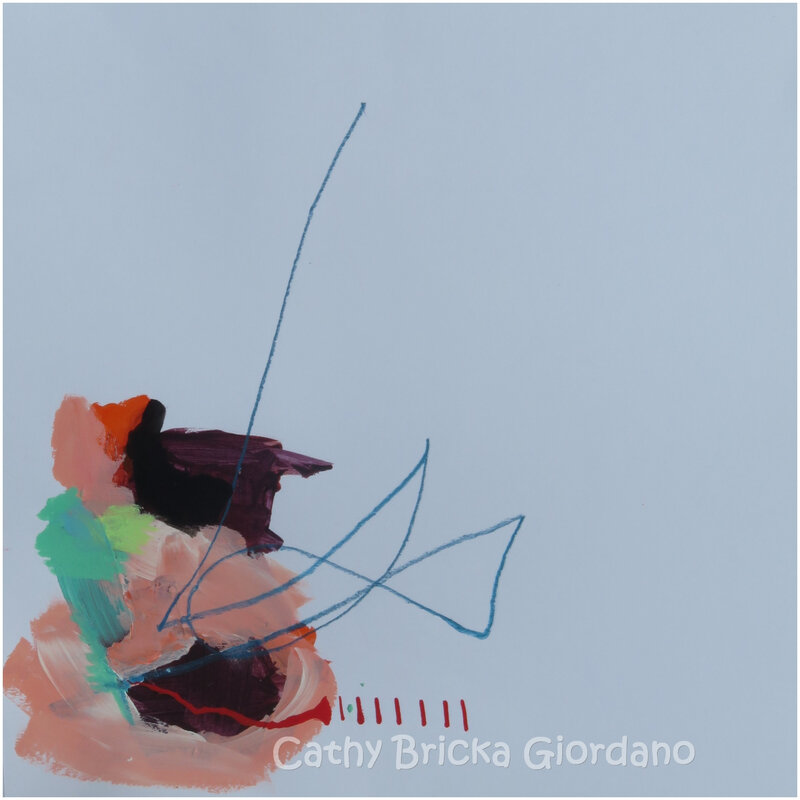 N°92
Mixed media sur papier / Mixed media on paper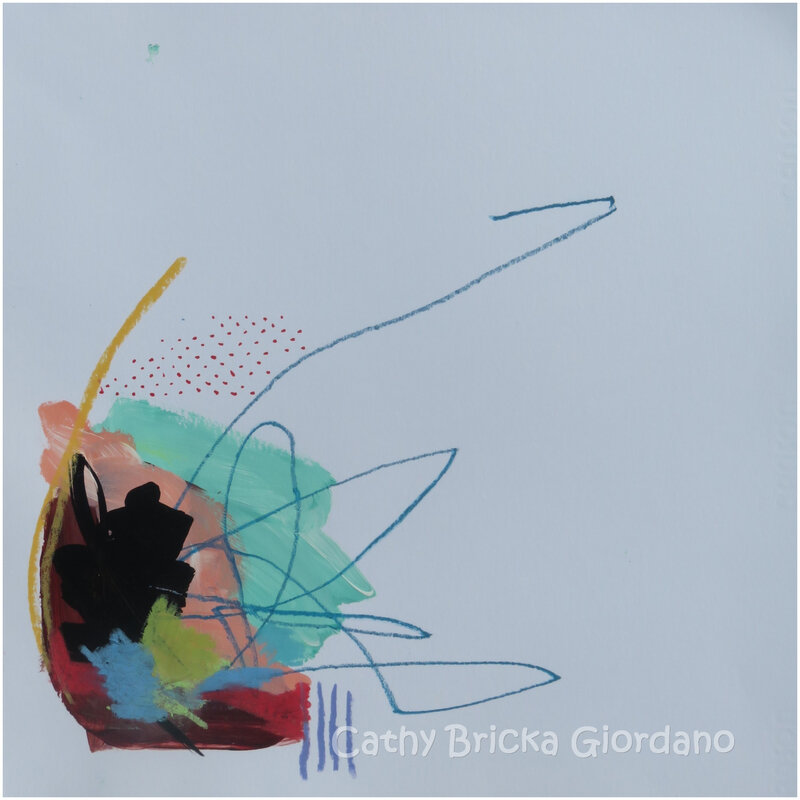 N°93
Mixed media sur papier / Mixed media on paper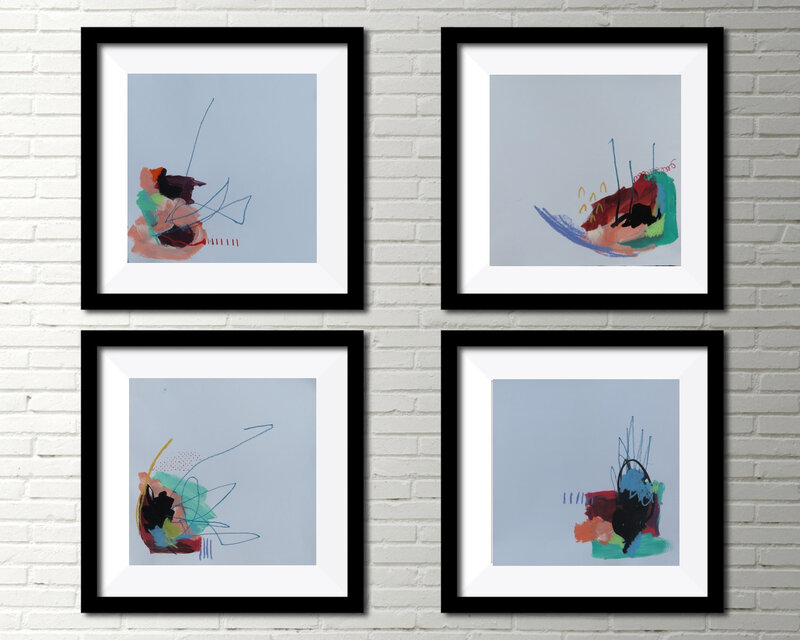 22 mai 2018
L'autre jour je devais retrouver des amis sur la Piazza Navona, et heureusement, ils étaient en retard ;-)
The other day I was waiting for friends on Piazza Navona, and I was so glad they were late ;-)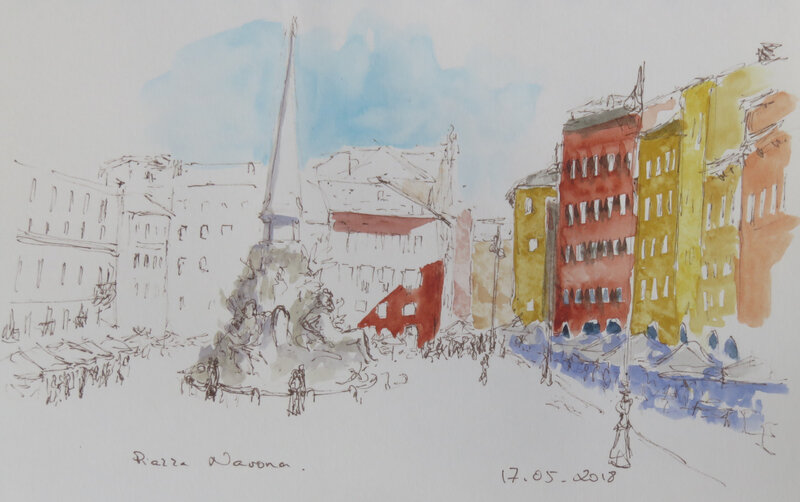 N°88 Piazza Navona, fontaine des Quatre-fleuves / Fontana dei Quattro Fiumi
J'étais contente de mon croquis, mais je suis un peu déçue par les couleurs que j'ai posées, c'est un peu lourd. De plus je voulais ne mettre des couleurs que là où les bâtiments étaient à l'ombre, mais je ne trouve pas ça super réussi. Le côté non coloré rend toutefois bien l'illusion de la grande lumière.
I was quite happy with my sketch but I'm a little disappointed of the colours I put; it's too heavy. I wanted to try and put colours only where the buildings were in the shadow but I'm not sure it was such a great idea. I must admit that the left side that was left white really gives the feel of buildings in the harsh light.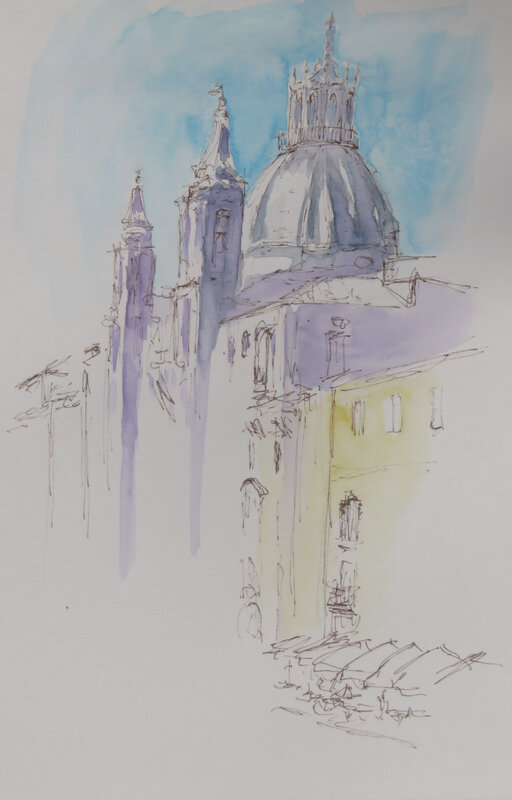 N°89 Chiesa di Sant'Agnese in Agone
Là c'est le contraire : je n'étais pas très contente de mon croquis, mais finalement, l'ajout de quelques touches de couleurs ici et là ont permis de rendre très bien, il rend bien la lumière du matin
With this one it was the opposite: I wasn't so happy with the sketch, but I'm greatly surprised at how good it all turned out with a few touches of colours here and there. It really shows the brightness of the morning sun.