16 janvier 2017
En janvier (comme en septembre d'ailleurs) on a comme une envie de repartir sur de bonnes bases, envie de faire du vide, propre, pour les jours nouveaux à venir.
In January (and in september too) I have a deep need to tidy up in order to start the year on a clean white slate.
Voici donc un peu de dépoussiérage et de rangement sur ce blog.
So I've been doing some tidying up on this blog.
J'ai ré-organisé tous mes albums-carnets de voyages, je les ai renommés aussi pour plus de clarté. Vous trouverez donc à droite les albums maintenant appelés par le nom du pays ou de la région concernées, avec l'année à titre indicatif.
I've re-organised all my travel sketchbook albums, I've renamed them too. On the right, you will now find them under the country they refer too.
Ils concernent ces pays où j'ai habité et que j'ai pu visiter tout à loisir :
They concern all the countries where I've lived and that I had ample time to visit:
Afrique du Sud de 1 à 5 (cliquez sur les vignettes pour y avoir accès)
/ South Africa 1 to 5 (click on thumbnails to view them)
France de 1 à 3 / France from 1 to 3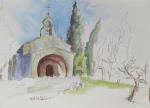 France n°1
(sur le sud de la France, classé par villes ou villages /
on the south of France, sorted by names of towns or villages)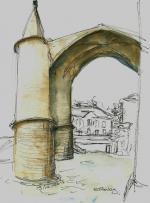 France n°2
(sur Montpellier, classé par nom de places ou rues /
on Montpellier, sorted by names of squares or streets)

France n°3
(sur les autres régions de France, classé par numéro de département /
on other regions, sorted by the number of 'département')
Notre nouveau pays d'adoption / our new country of adoption
Les autres carnets sur des pays qui m'ont marquée
/ other sketchbooks on countries that had a big impact (Zanzibar)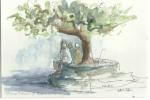 et où j'ai eu le temps de faire beaucoup de croquis
/ and-or where I had time to sketch (Maroc)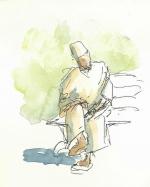 Dans les nouveautés, j'ai créé 3 albums "Autour du Monde" chacun classé par pays
I have created three new albums entitled "Around the World" each sorted by countries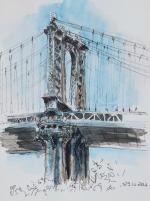 Autour du monde /Around the world 1
qui rassemble les croquis dessinés au long de mes voyages-vacances (croquis dessinés sur place).
For the sketches I made during my travels/holidays (sketches made on the spot)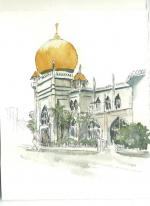 Autour du Monde / Around the World 2
pour tous les voyages que j'ai fait avant de savoir croquer; je reprends de temps en temps mes vieux albums photos et carnets de voyage écrits, et je croque telle ou telle photo.
for all the travels I did before knowing how to sketch; I sometimes browse through my old written travelbooks and photo albums, and I sketch this or that photo.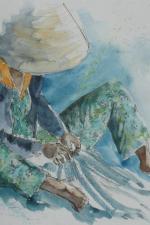 Autour du Monde / Around the World 3
pour tous ces voyages que j'aimerais faire, ces pays où je rêve d'aller, ces photos dont je ne suis pas l'auteur et qui m'ont fait de l'oeil.
for all those travels I would like to do, these countries that have me draming, these photos I haven't taken and which speak to me.
Bon voyage ;-)
Have a nice trip ;-)
12 janvier 2017
De temps en temps des formes plus reconnaissables s'invitent dans mes tableaux, tout comme cette théière s'était imposée à moi l'an dernier. Ne cherchez pas le pourquoi, je ne suis que l'humble exécutante d'une force mystérieuse. ;-)
From time to time, more recognizable shapes crawl into my work, just like this teapot which forced itself in one last year, remember? Don't ask me why, I'm just a humble player in the hands of the mysterious forces above. ;-)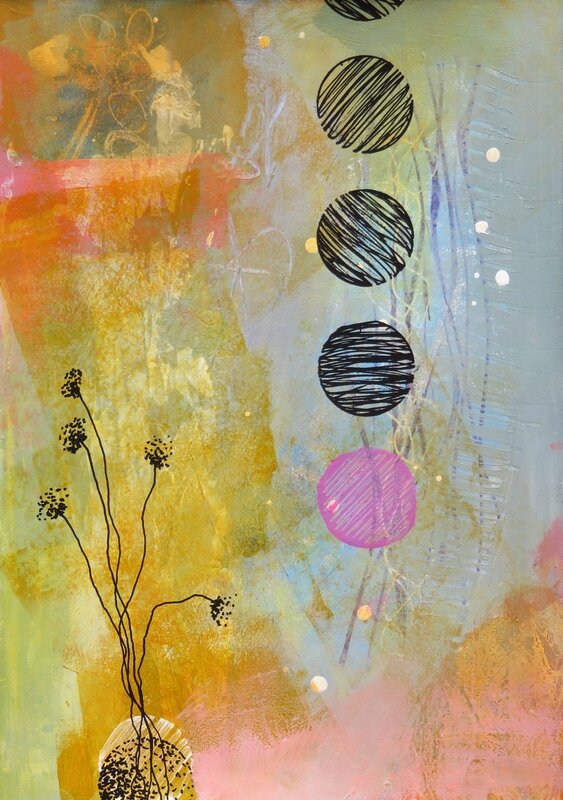 N°2
Monoprint n°213
mixed media sur papier / mixed media on paper
Je ne saurais vous dire s'il est vaiment fini. En tous les cas, pour l'instant il reste ainsi. Les couleurs nous réchauffent un peu, c'est précieux en ce moment.
I can't really say if this one is finished, but for now, at least, it'll stay like this. The warm colours are a must at the moment.
09 janvier 2017
Tout d'abord je vous souhaite une/ First of all, let me wish you
une merveilleuse année / a wonderful new year !
Que ces nouveaux jours puissent vous inspirer à pousser de nouvelles portes, emprunter des chemins inconnus, entreprendre ce qu'on a toujours rêvé de faire, créer ce que l'on a en soi et qu'on a encore jamais osé révéler. Aller plus loin, toujours, découvrir, apprendre, essayer, encore et encore.
May these new days inspire you to push new doors, take on new paths, start doing what we've been longing to do, create what we have within us and that we've never dared to reveal. Go further, discover, learn, try, again and again.
En ces premiers jours de janvier, il est temps pour moi de faire le bilan de 2016, année productive s'il en fût, puisque j'ai réussi à présenter sur ce blog 182 acryliques ou aquarelles (contre 98 en 2015 et en 2014) ! En 2014, une majorité de croquis, en 2015 une majorité d'acryliques sur toile, en 2016, bien sûr, grâce à la gelli plate, une majorité de monoprints/monotypes sur papier. J'ai en fait produit bien plus que ces 182 oeuvres, mais beaucoup sont encore loin d'être aboutis. Je n'ai pas pu faire une rétrospective comme celle de l'année 2015 (182, cela fait un peu trop pour une rétrospective), mais vous pouvez jeter un coup d'oeil à l'album des acryliques de 2016.
It is high time for me to make an assessment of 2016, a very productive year indeed: I managed to post 182 acrylics or watercolour sketches (98 in 2015 and in 2014). In 2015 a majority of sketches, in 2015, a majority of acrylics on canvas, and in 2016, thanks to the gelli plate, a majority of monoprints on paper. I produced many more than that, but the ones I didn't post are far from finished and need more work. I can't show all the monoprints here (as I did in january 2016), but you can see most of the monoprints in the album acrylics 2016.
Cette année 2016 a aussi été celle de notre installation à Rome. L'installation se poursuit, puisqu'en fin de semaine nous allons déménager. Il m'a fallu des mois de recherche (et de visites) pour trouver enfin un appartement où l'on sera mieux. Je vais donc avoir enfin du temps à consacrer à la peinture, et à la visite de Rome, au lieu de le passer à regarder des sites immobiliers ou visiter des appartements! (Clic ici pour revoir les croquis faits en Italie en 2016)
This year was also a very special year for me and my family, as we moved to Rome. We are still not quite settled, as we'll be moving to a nicr and bigger appartment at the end of the week. I won't have to spend hours on the internet searching for an appartment, or going from here to there to visit them. At long last I will have more time to paint and visit the city. (Click here to see the sketches made in Italy in 2016)
Alors à la nouvelle année, on reconduit ce challenge, et 2017 devrait voir fleurir encore davantage de monoprints et de croquis de Rome et alentours.
So this year, again, I will try to do more monoprints, more sketches of Rome and Italy.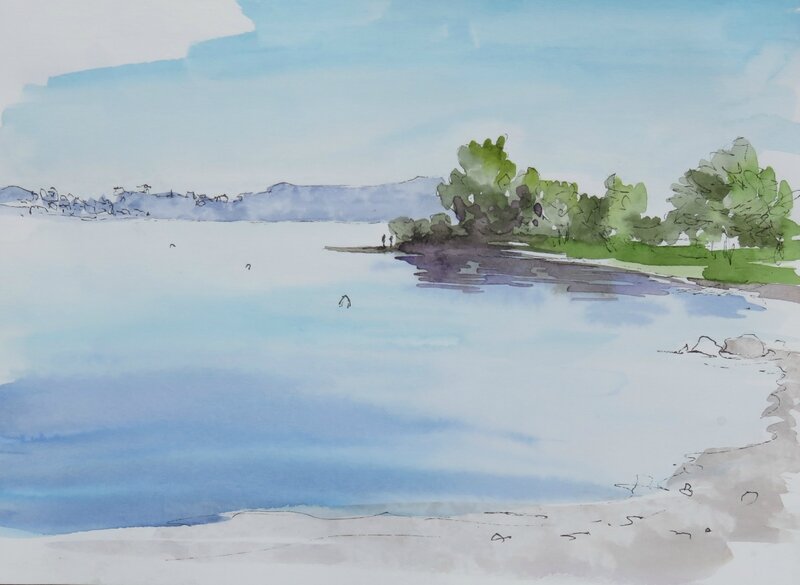 N°1 Lac de Bracciano, Italie / Bracciano Lake, Italy
Et puis il y a aussi cette envie d'exposer qui me chatouille depuis un moment. Depuis notre départ d'Afrique du Sud, je n'ai plus fait d'exposition, mais peut-être que Rome m'ouvrira des opportunités? A suivre.
And I've aso been thinking of having an exhibition for a while, so Rome may offer me this opportunity. It's been such a long time now since my last exhibition in South Africa! I'll keep you posted.
Oui, 2017 va être passionnante. :-)
Yes, 2017 should be an exciting year. :-)
22 décembre 2016
Et c'est avec un peu de douceur que je vous laisse passer les fêtes
Here's some sweet and cosy monoprint to wish you a merry Christmas.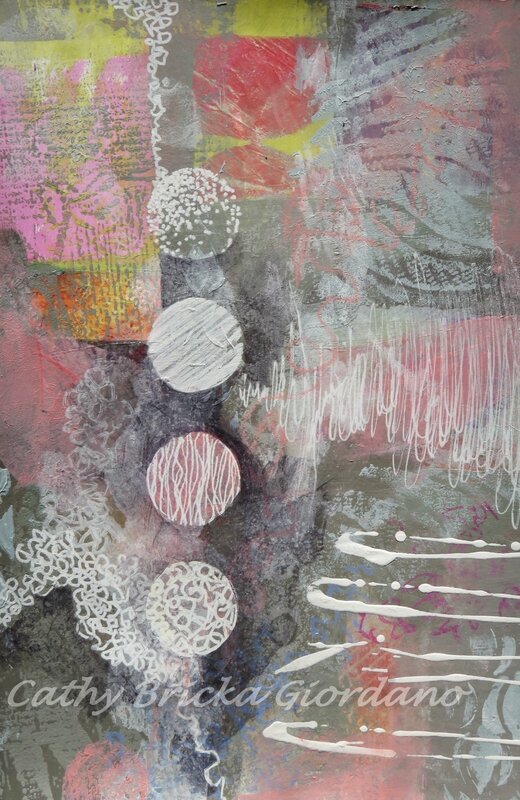 N°182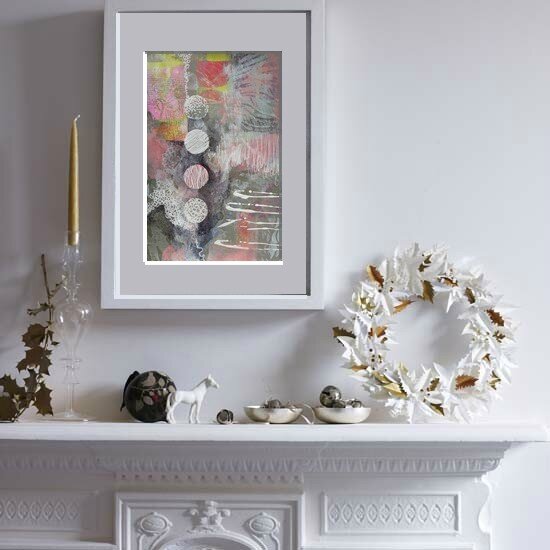 On se retrouve ici en janvier.
I hope to see you here in January.
18 décembre 2016
Deux après-midi à m'amuser / Two fun afternoons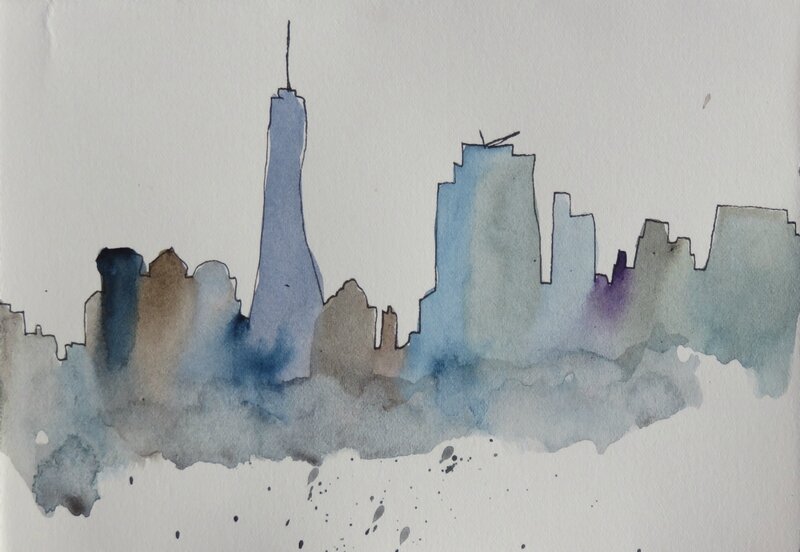 N°173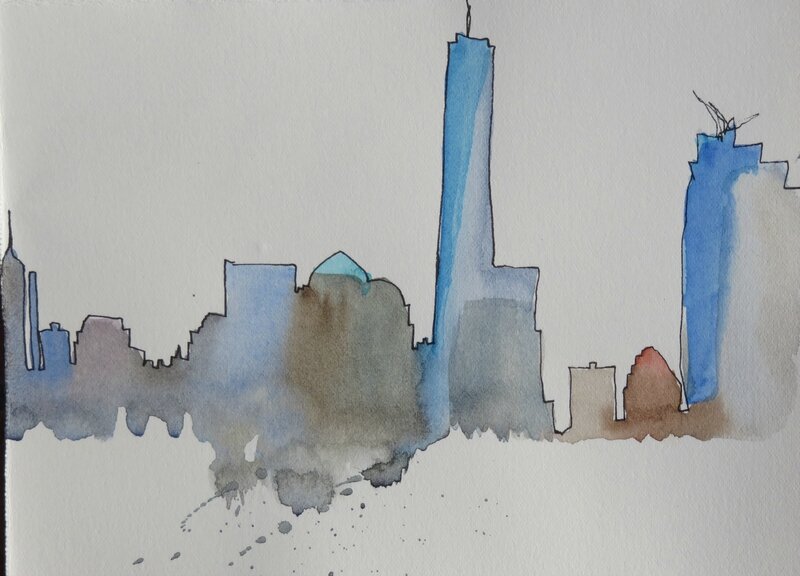 N°174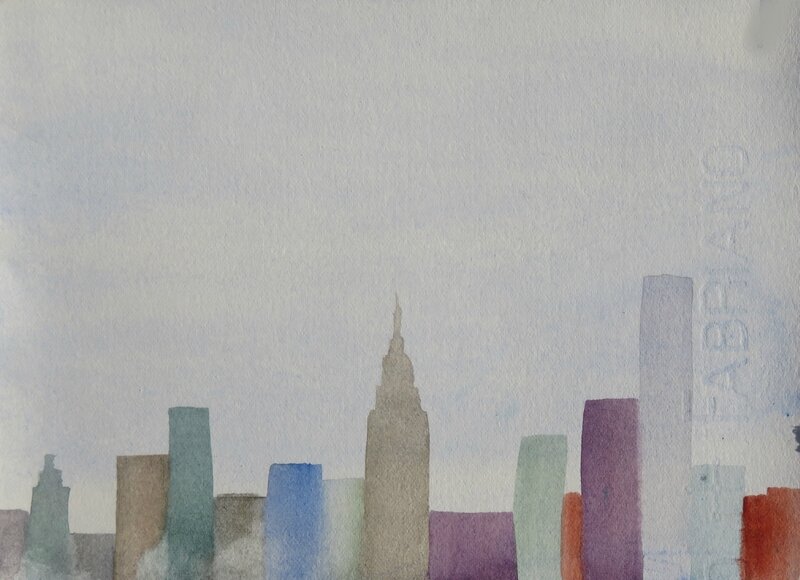 N°175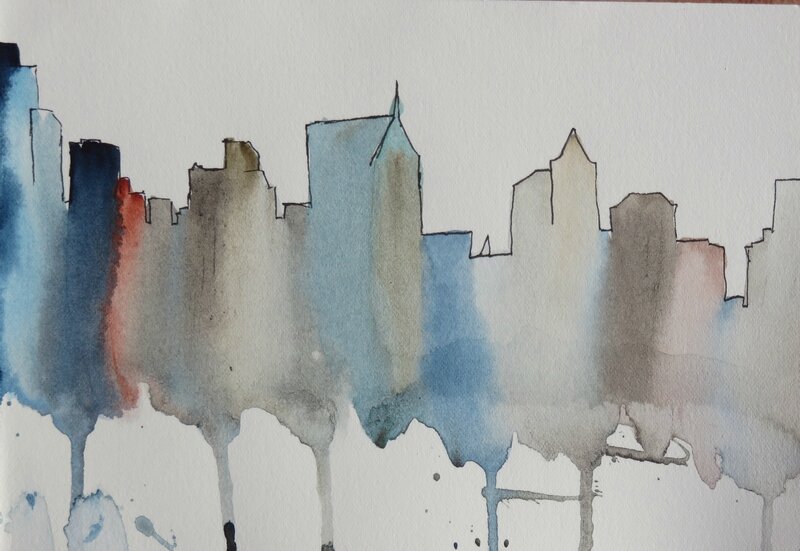 N°176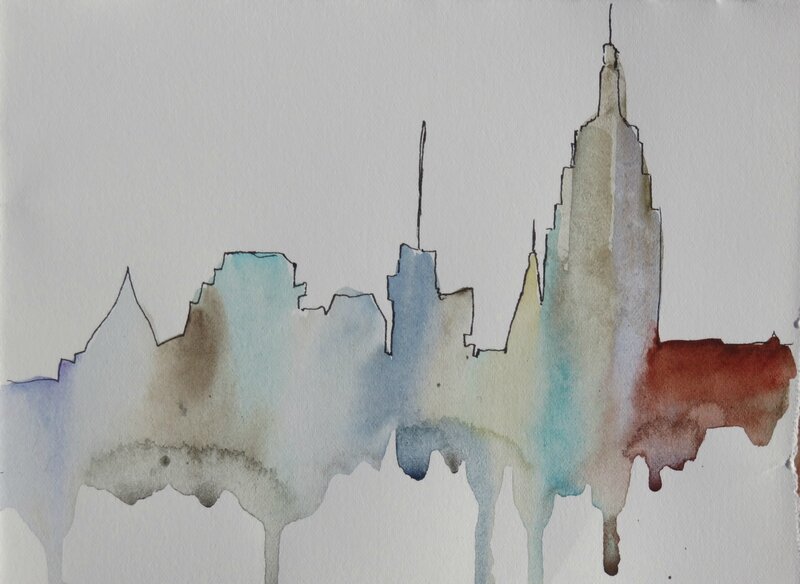 N°177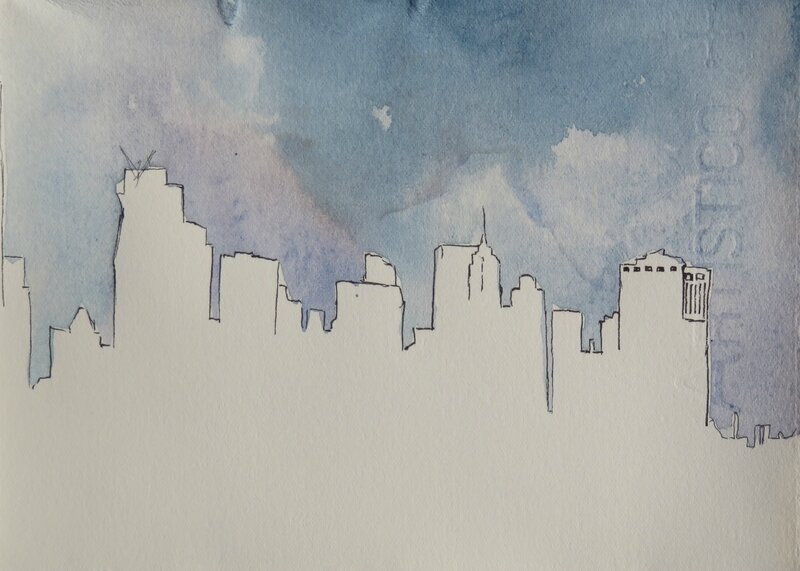 N°178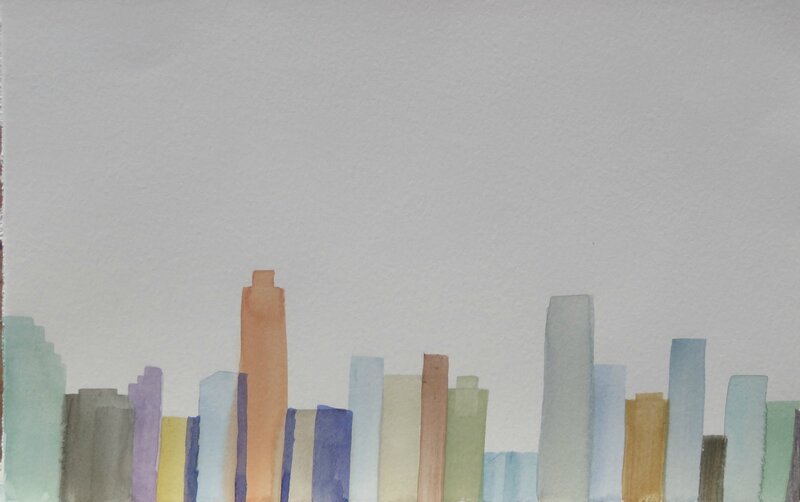 N°179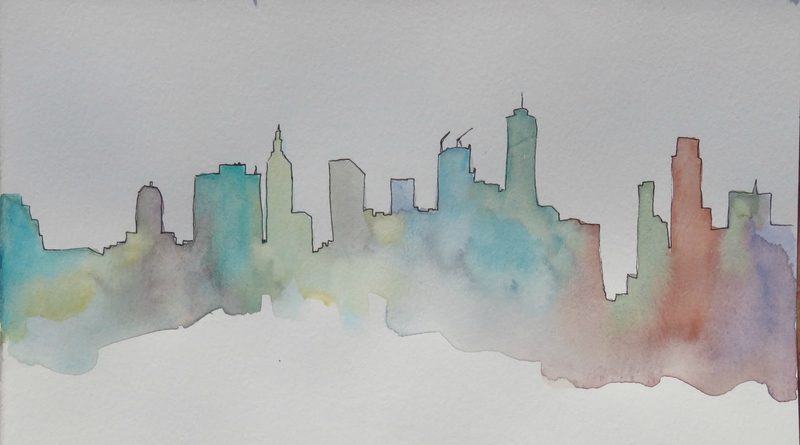 N°180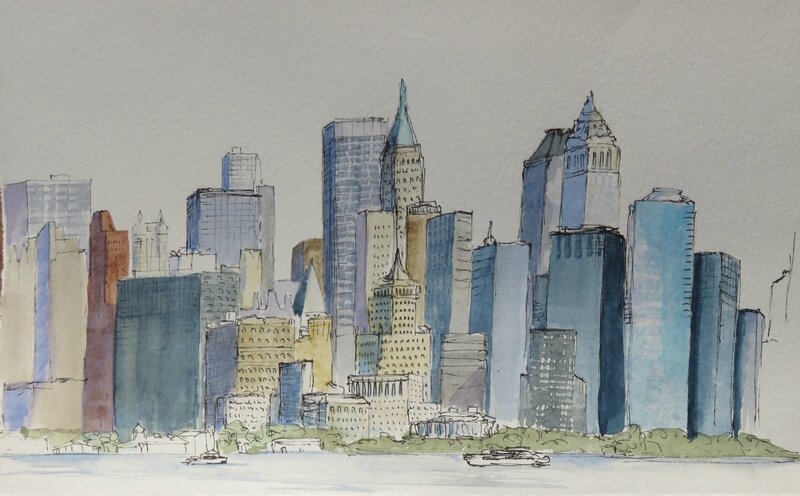 N°181
mon préféré étant je crois l'avant dernier / I think my favourite is n°180
14 décembre 2016
Voici un petit plaisir qui me tente depuis plusieurs semaines : un musée! Et pas n'importe lequel, celui qui se trouve juste à l'arrêt de tram à côté de l'école de mon fils : La Galerie Nationale d'Art Moderne. Ca tombe bien, c'est pile ce qui m'intéresse !!!
Here's what's been tempting me of late : a museum! But not any museum, the one that's right next to my son's school tram stop : National Museum of Modern Art. What a coincidence, it's exactly what I love!!!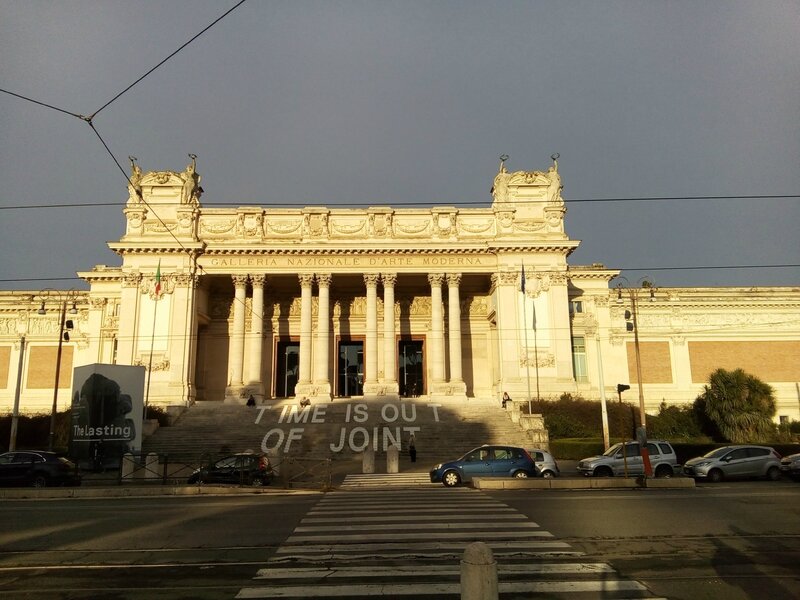 Je voulais plutôt voir leur collection permanente, mais en fait ils avaient une expo qui regroupait leur collection et des oeuvres prêtées. Le titre de l'expo c'était "Time is Out of Joint" ("le temps est désarticulé / détraqué ", une phrase tirée d'Hamlet). En gros, toutes les oeuvres étaient mélangées, styles, époques, artistes, ... une belle salade ! Mais le côté positif, c'était qu'on ne s'ennuyait pas, chaque oeuvre était un peu une surprise et certaines alliances étaient très réussies : on voyait les statues classiques sous un autre angle, de même que les oeuvres ou installations contemporaines prenaient une autre dimension.
I wanted to see their permanent collection, more than their current exhibition, but I had no choice : the exhibition they had on incorporated everything : permanent collection and pieces lent by other museums. The title was "Time is Out of Joint" (from Hamlet). Roughly speaking, everything was mixed up : styles, years, artists, ... But the good thing was that you just couldn't get bored, each piece came like a surprise and some combinations were a real success: you could see classic statues from another angle, and the cotemporary art istallations or pieces took on another dimension.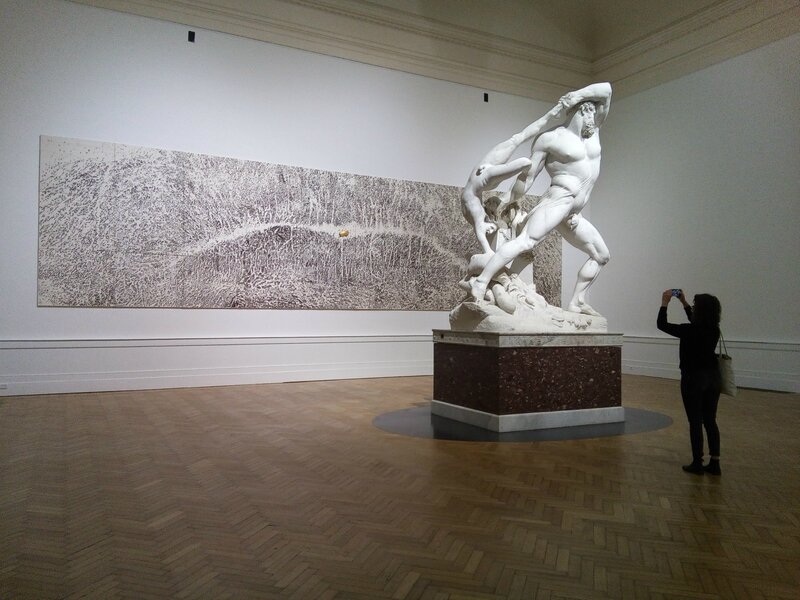 Giuseppe Penone, Dépouille d'Or sur épines d'acacia / Golden Skin on Acacia Thorns (2002) 300 x 1200 cm
Et j'y ai fait de belles découvertes comme ce tableau de Penone fait d'épines d'acacia dont voici un détail:
And I've discovered plenty, like for example this work of art by Penone, made from acacia thorns; here's a detail: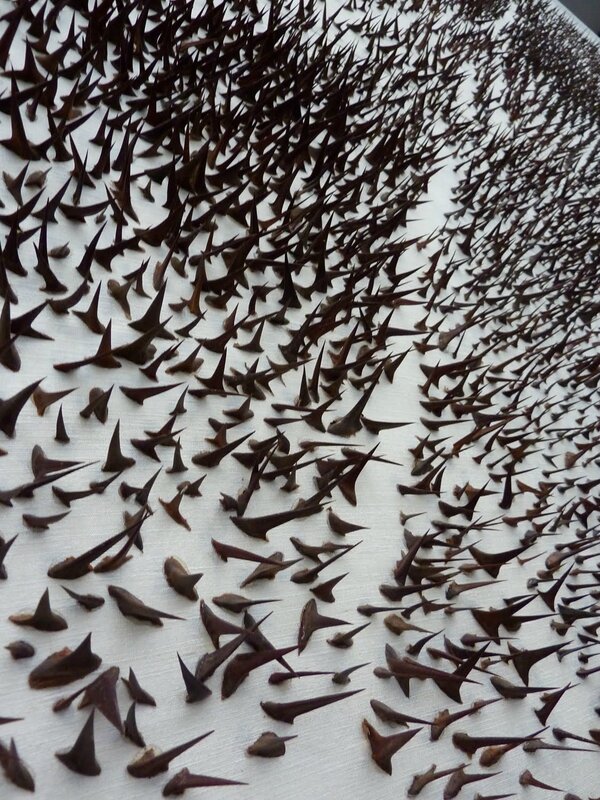 ou bien celui là / or this one: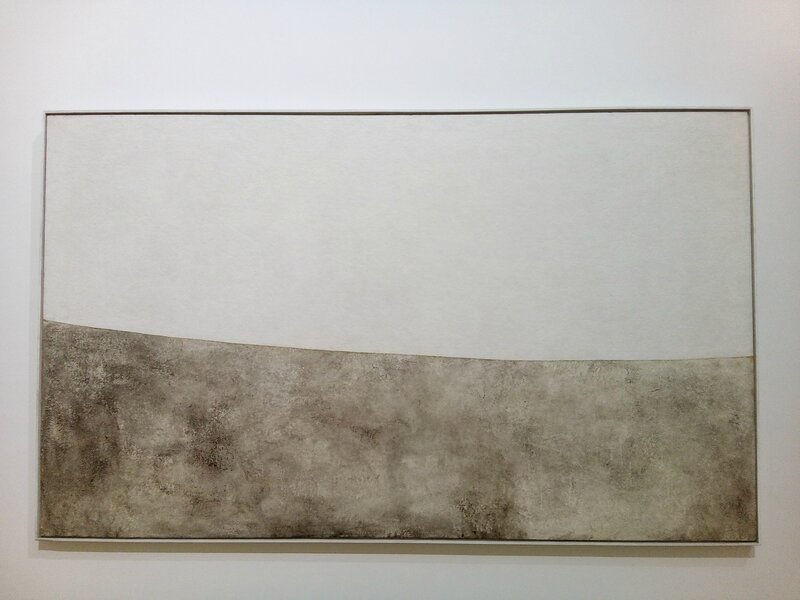 Alberto Burri, Grande Bianco bis / Large White (1968)
Variété dans les styles mais aussi dans les tailles / variety of styes but also of sizes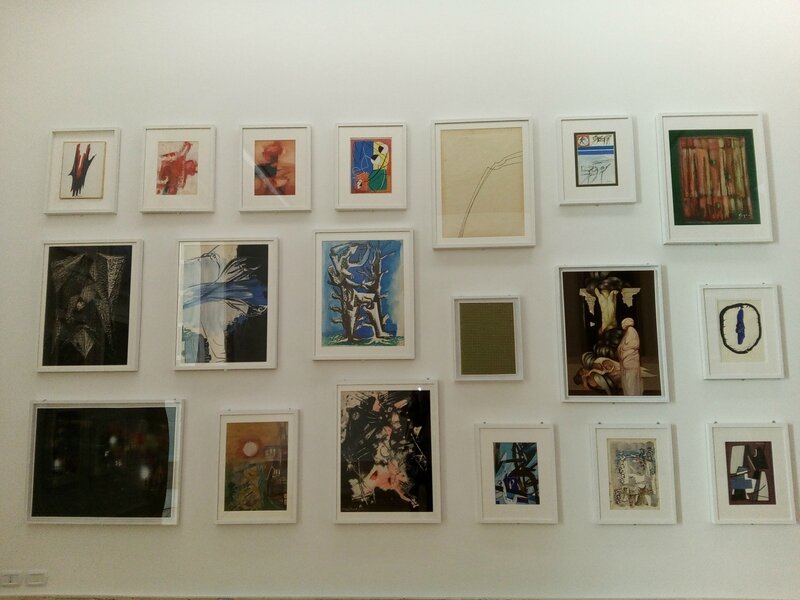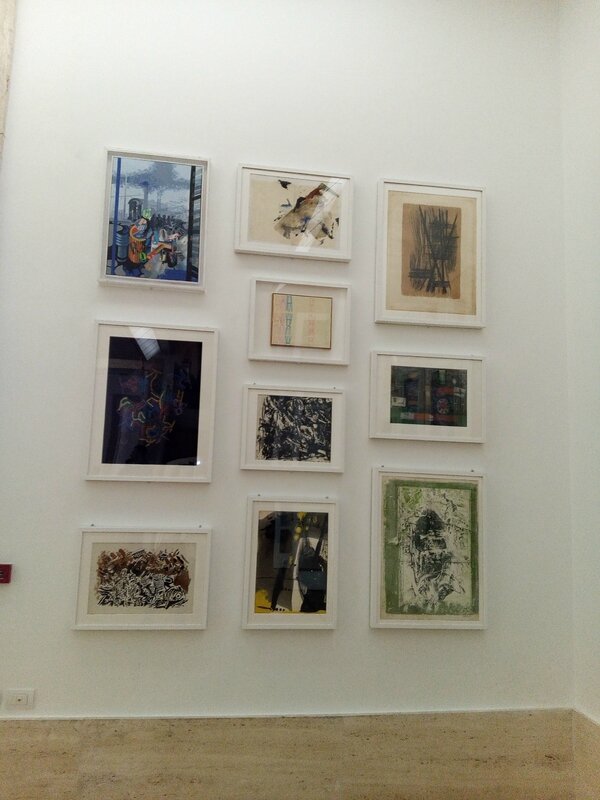 Santomaso <3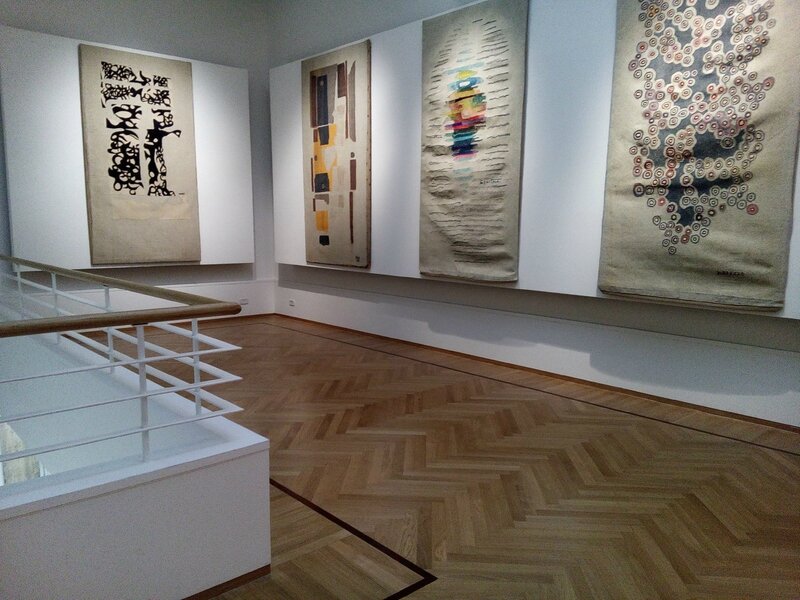 Du plus au moins connu et aussi des très très grands noms / More or less famous artists, and some very famous ones: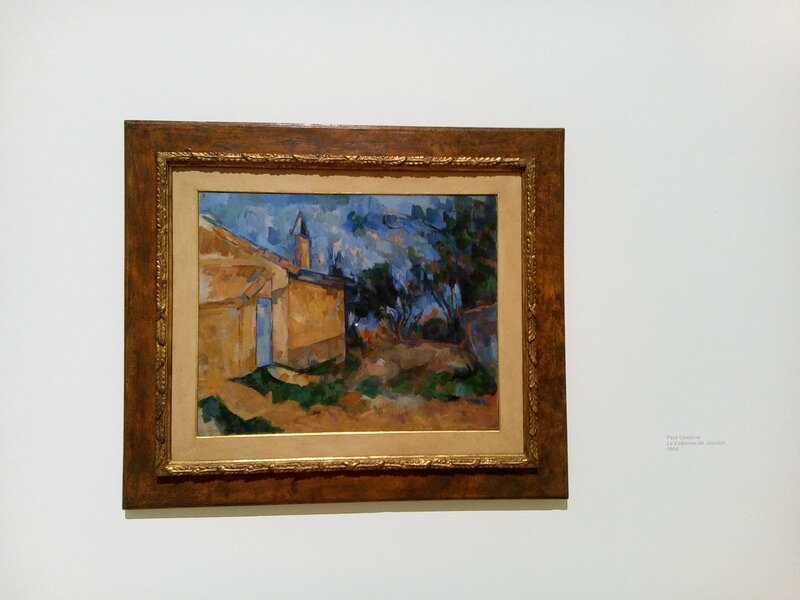 Cézanne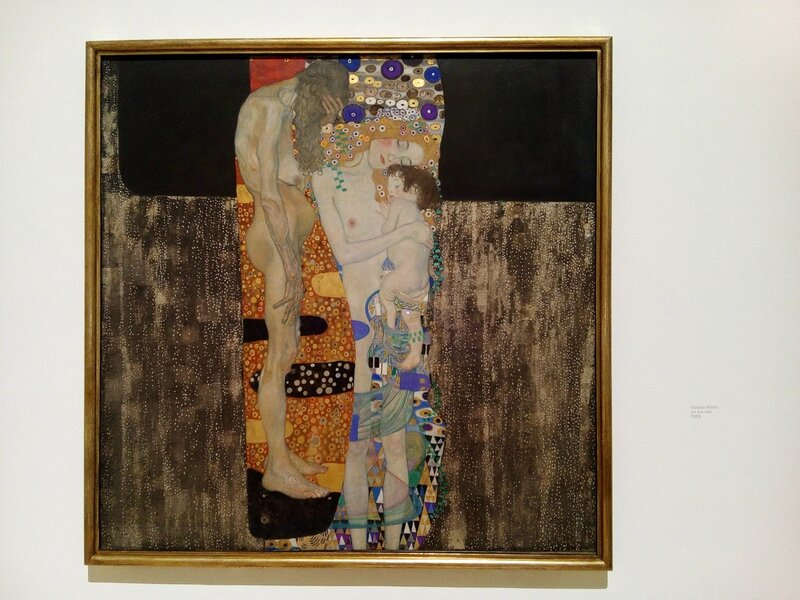 Klimt
Modigliani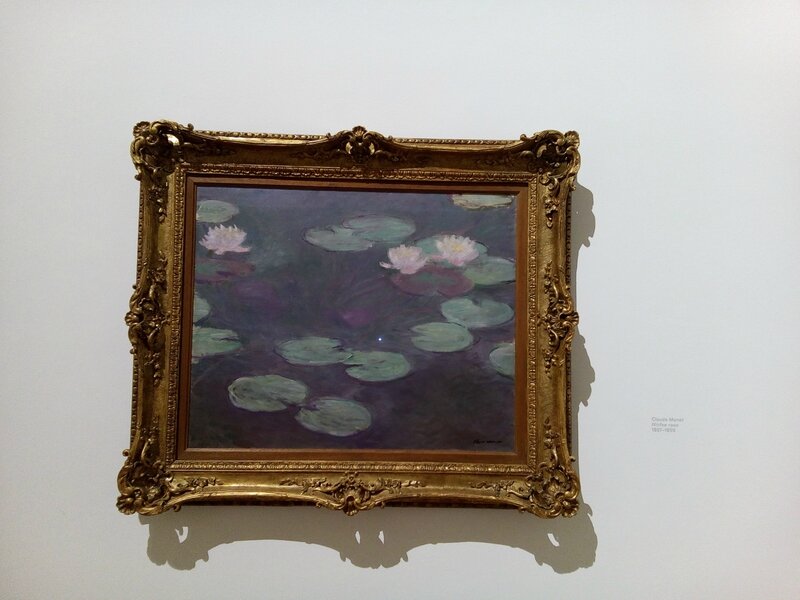 Monnet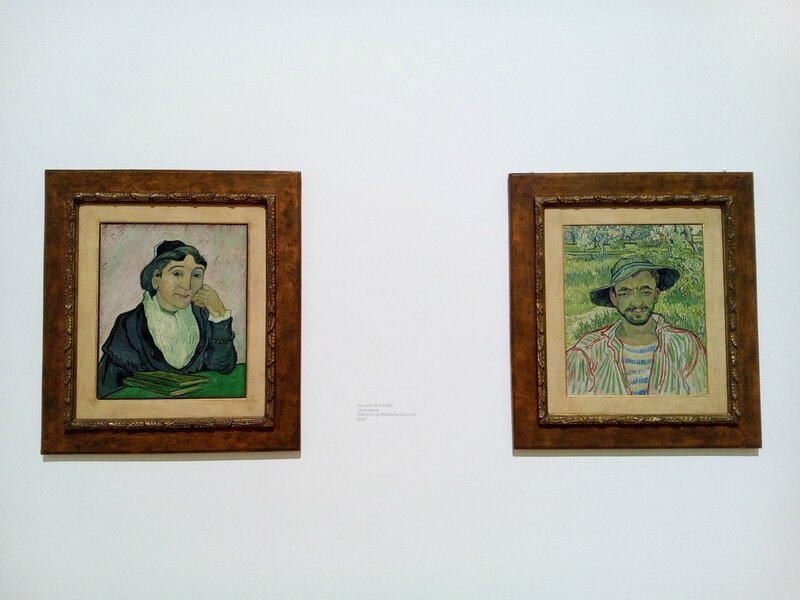 Van Gogh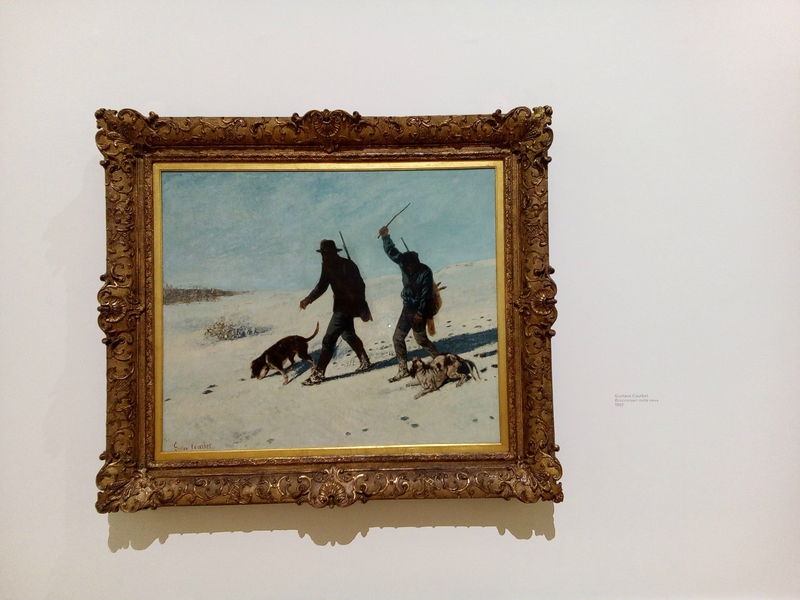 Courbet
Degas
Max Ernst
... et / and Marcel Duchamp
Un peu dommage que j'ai dû faire cette expo au pas de charge avec l'oeil sur la montre pour ne pas louper la sortie d'école.
It's a shame I had to rush through the exhibition so as not to be late for school.
Un petit regret toutefois, les explications sur les étiquettes étaient plus que limitées : quel support? quelle technique? de quel musée? rien n'était écrit, juste le titre, l'année et l'artiste. Alors je serais bien incapable de dire ce qui relève du fond permanent du musée ou des oeuvres prétées.
One downside though: the labels were too limited. What technique? where did it come from? Nothing was written apart from the title, the artist and the year. So I'm totally unable to tell you which piece belongs to this museum and which one was lent.
10 décembre 2016
Il y a parfois des tableaux abstraits que je ne sais pas dans quel sens mettre. J'ai beau les tourner, chaque sens fait sens (vous me suivez?) et donne un effet différent ; à chaque fois, je me dis "pourquoi pas?".
Sometimes I haven't got a clue how to hang my abstract paintings. I turn them round in different ways and each time they look good, and each time I think, "why not?"
Ce monoprint là en fait partie / This monoprint is one of them: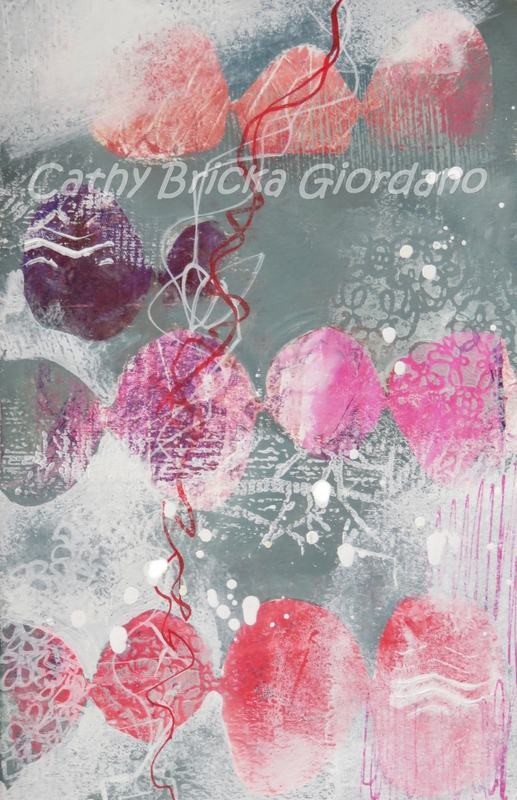 1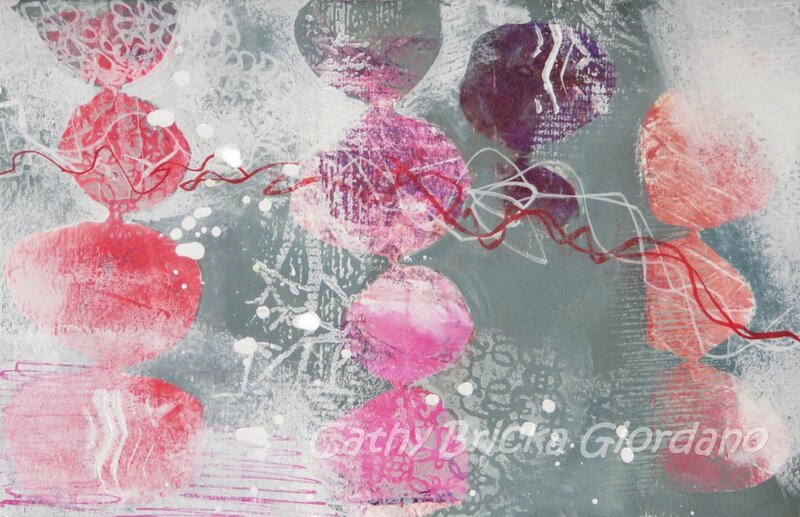 2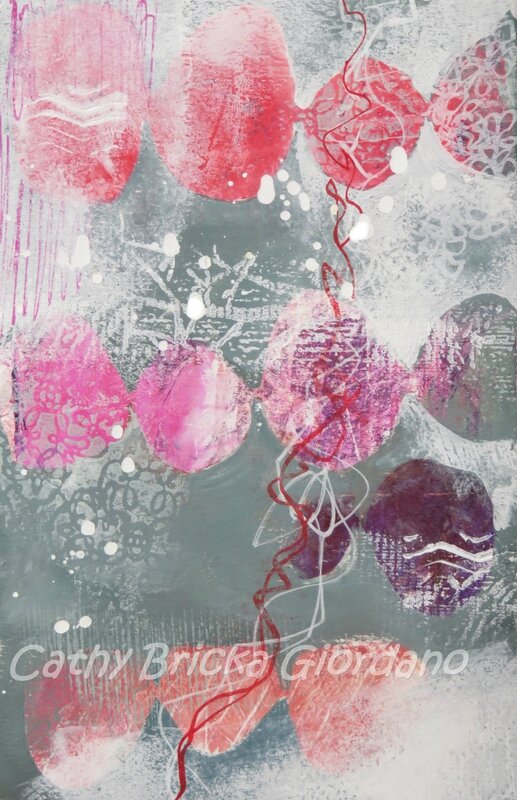 3

4
et vous, comment le préférez-vous? / and how do you prefer it?


Quand j'étais petite, ma mère m'avait pourtant dit que le rouge et le rose n'allaient pas ensemble, mais les choses ne sont pas si simples. Tout dépend des couleurs qui sont autour, de la nuance de rose, et de celle de rouge.
When I was young, my mum told me that pink and red were not a good mix, but things are not so simple. Everything depends on the colours around, and on the shade of red, and on the shade of pink.
J'aime tout particulièrement les textures, et le contraste entre les effets de nets et flous, de calme et de mouvement. Vous l'aurez compris, celui-là se classe aisément dans mes préférés...
I really like the textures, the contrast between the sharp and the blurred, the calm and the movement. You get me, this one is definitely ranking among my favorites.
(et le premier qui me dit que ça fait noël, je l'assomme : vous êtes influencés parce que vous voyez en ce moment, mais ce monoprint là je l'ai fait en plein été, et noël était FORT loin de moi... moi j'y vois la mer, j'y vois des algues peut-être, des bulles, du givre, des filaments, de l'eau, des objets qui flottent et dérivent...)
(and don't you dare tell me it looks christmassy : you're strongly under the influence of what you're seeing around at the moment; I made this monoprint in summer and Christmas was miles away. I see seaweeds, underwater currents, jellyfish, things drifting away...)
06 décembre 2016
Les buildings ne sont pas le seul aspect de New York qui m'a fasciné : les quartiers et leurs "petites" maisons, les porches alignés, les escaliers de fer typiques, les rues bordées d'arbres, j'ai tout adoré !
The sky-scrappers are not the only thing that has fascinated me in New York : the districts with their "small" buildings, the alignment of front porches and steps, the typical steel fire escapes, the tree-lined streets, I loved everything!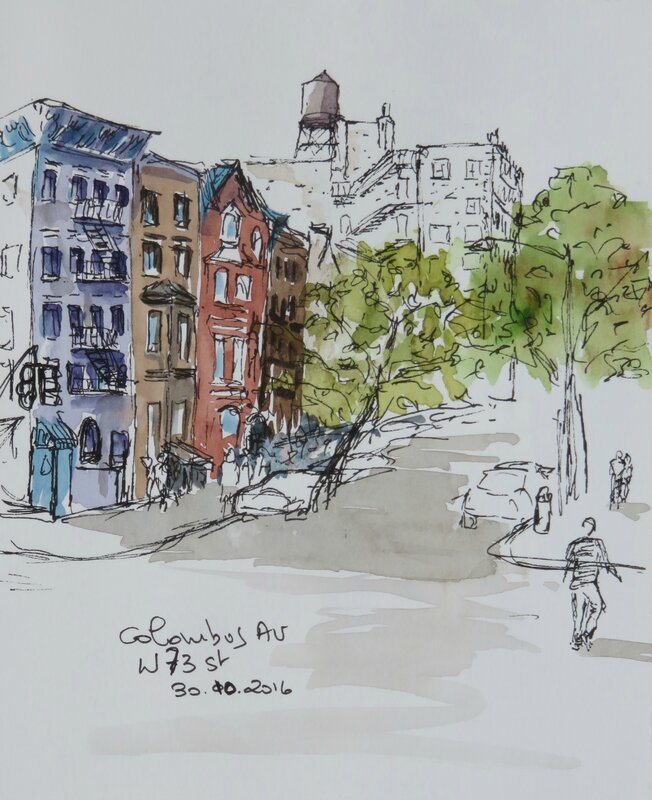 N°170 Colombus avenue (Upper West Side)
j'étais devant un magasin de fleur pour faire ce croquis là. Le vendeur me tournait autour, les sourcils froncés; j'ai pensé que cela le gênait que je sois campée devant sa boutique. Mais non, au bout d'un moment il m'a proposé un tabouret pour m'asseoir... ou alors il était ironique? J'ai un doute maintenant.
I was standing in front of a flower shop to sketch this street corner. The flower guy was walking around, frowning, standing behind me, and I thought I was bothering him. But no, after a while, he offered me a stool to sit on... or maybe he was being ironic? Now I'm not so sure.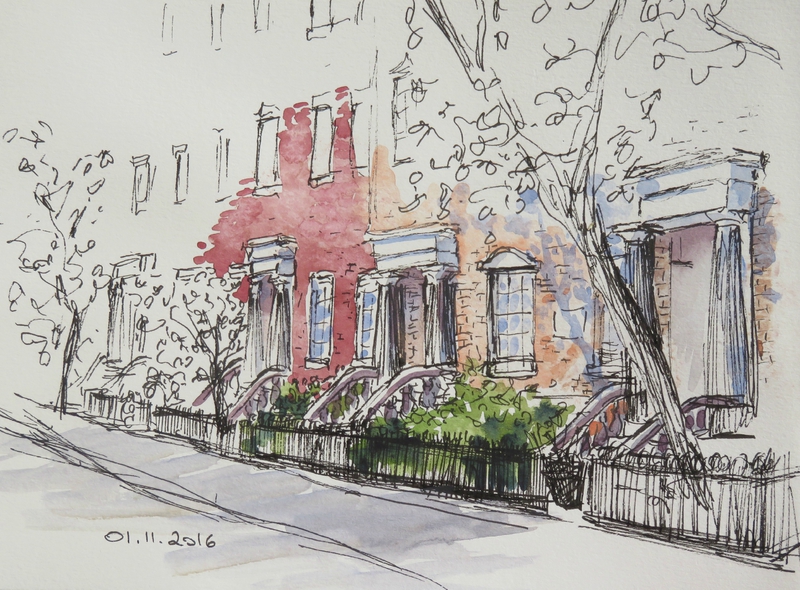 N°171 Washington Square North (Greenwich Village)
Une rue en plein travaux, pleine de bruit, d'engins de travaux publics, de barrières et d'ouvriers, et pourtant cet alignement de maisons colorées m'a sauté au coeur. Un des ouvriers est tout de suite voir ce que je faisais, très intéressé; il m'a posé plein de questions sur comment on peut faire pour arriver à faire des croquis comme ça. C'est la première fois qu'on me posait ce type de questions; d'habitude c'est plutôt "cela fait longtemps que vous dessinez?" etc. Là, j'avais comme l'impression qu'il se disait "moi aussi j'aimerais faire ça, est ce possible? Comment faire?" Beaucoup d'autres ouvriers sont venus, mais lui est resté jusqu'au bout. Je n'ai fait que le croquis sur place, pas les couleurs (par manque de temps et j'avais oublié d'emmener ma boîte d'aquarelle), alors il ne l'a pas vu comme ça. Maintenant je regrette de ne pas avoir eu la présence d'esprit de lui donner une carte de visite pour qu'il puisse venir le voir fini sur le blog.
This street was undergoing major work; it was noisy, full trucks, machinery, fences and workers. Still, this alignment of colourful houses struck me at heart. One of the workers came straight away to see what I was doing; he asked me loads of questions on how you can draw like this. It was the first time I was asked this type of questions, usually it's more "how long have you been sketching?" kind of questions. This time, I clearly got the impression that he meant "I would like to do the same, can I? What type of class should I follow?". Lots of workers came (to have a look) and went, but he stayed right till I was done. I only sketched it in ink that day (I didn't have much time and I had forgotten my watercolour box anyway), so he didn't see it with all the colours. Now I wish I had given him my card so that he could see it on the blog.
02 décembre 2016
Quand j'habitais en Afrique du Sud, je montrais assez souvent des photos de notre vie là bas, des lieux, et bien sûr des animaux. Depuis que nous habitons à Rome, je n'ai finalement que très peu montré de photos de Rome. Peut-être que tout simplement j'ai l'impression (à tort?) que tout le monde connaît et que cela n'en vaut pas la peine?
When I used to live in South Africa, it was important for me to show pictures of our lives there, the places, and the animals too. Since we started living in Rome, I've relatively rarely shown any pictures at all. Maybe because I feel everybody knows it and that it's not worth it?
Aujourd'hui pourtant, il ne s'agit ni d'Italie, ni d'Afrique, mais de New York. J'ai été fascinée par les buildings. Ces gris, ces bleus, ces bruns, j'aurais pu rester des heures à les regarder:
Today's message, though, is not going to deal with Italy, or Africa, but with New York. I was literally fascinated by the buildings. The greys, the blues, the browns, I could have stayed hours watching them: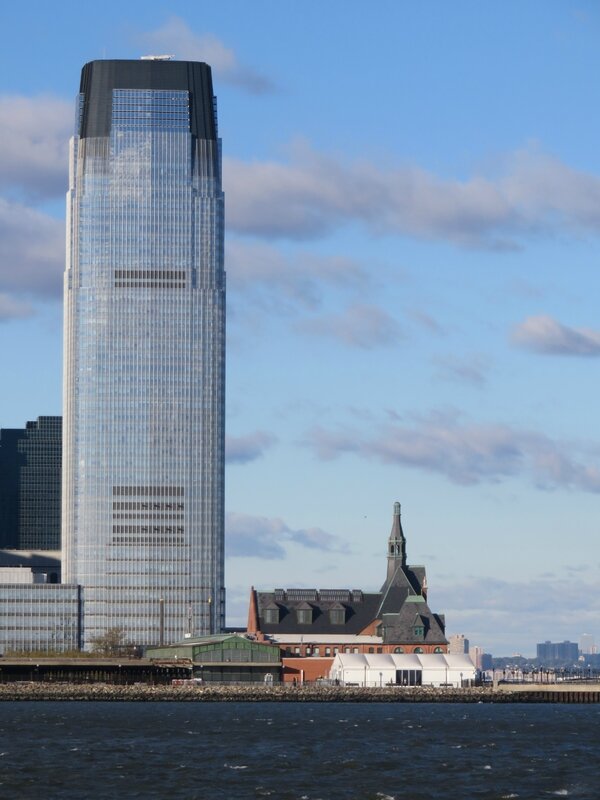 Cette photo prise illustre bien ce qui m'a aussi surprise : c'est la variété
This photo perfectly illustrates what suprised me too: the variety
le grand jouxte le minuscule, le vieux building à la façade travaillée côtoie les lignes épurées du building moderne...
the huge sits next to the tiny, the old intricate facade side by side the sleek lines of modern ones...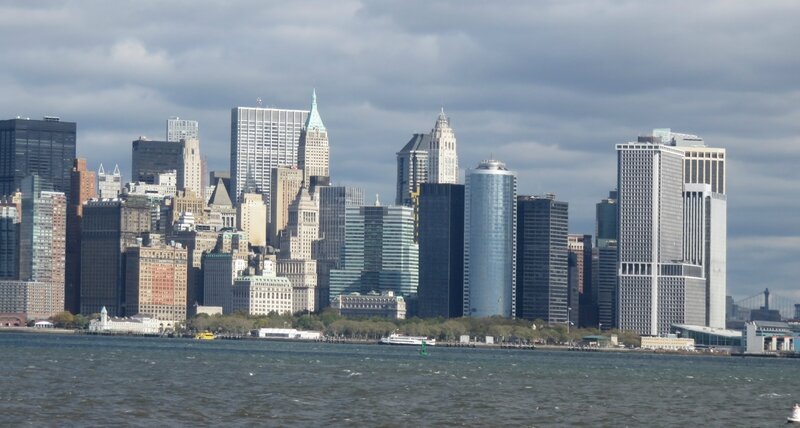 Forme, couleur, style, texture, taille, il n'y en a pas deux les mêmes.
Shape, colour, style, size, there are no two similar ones.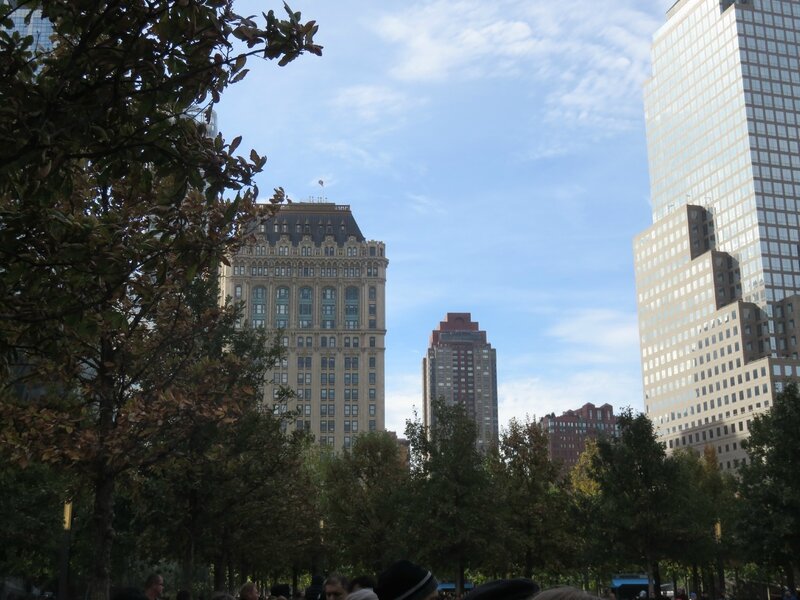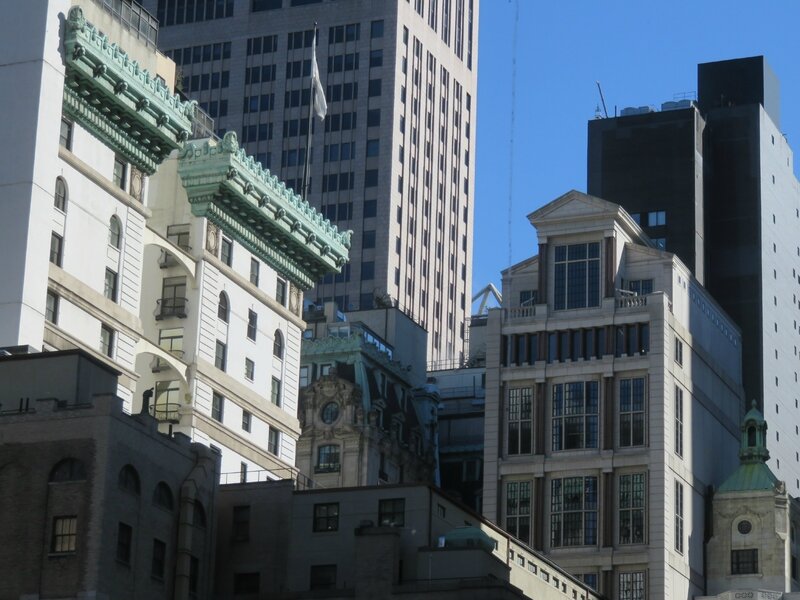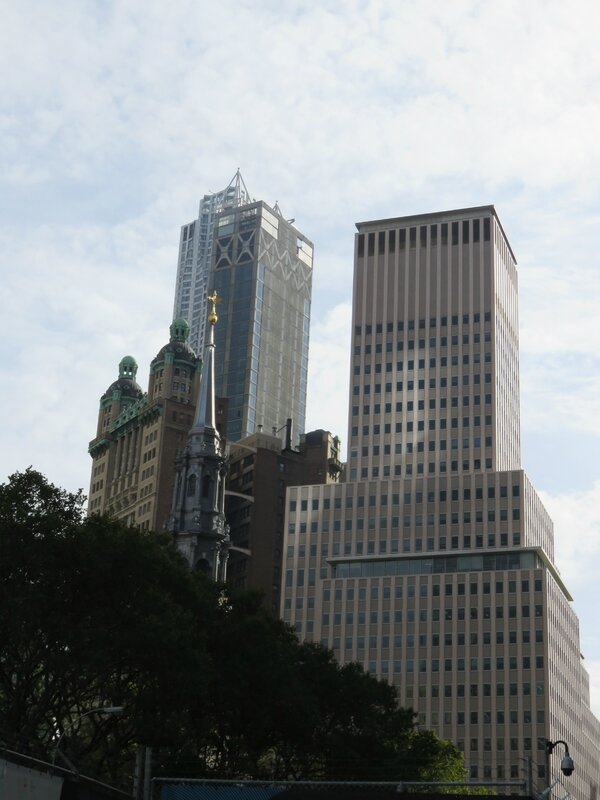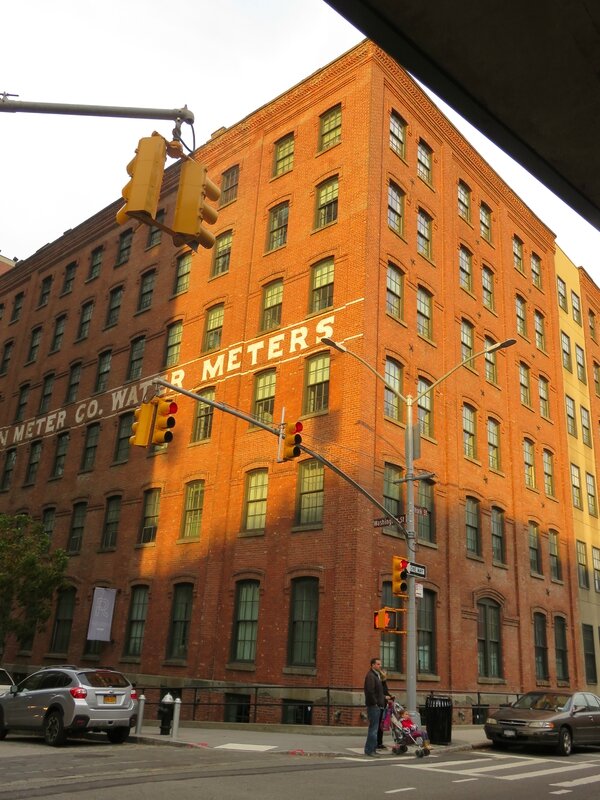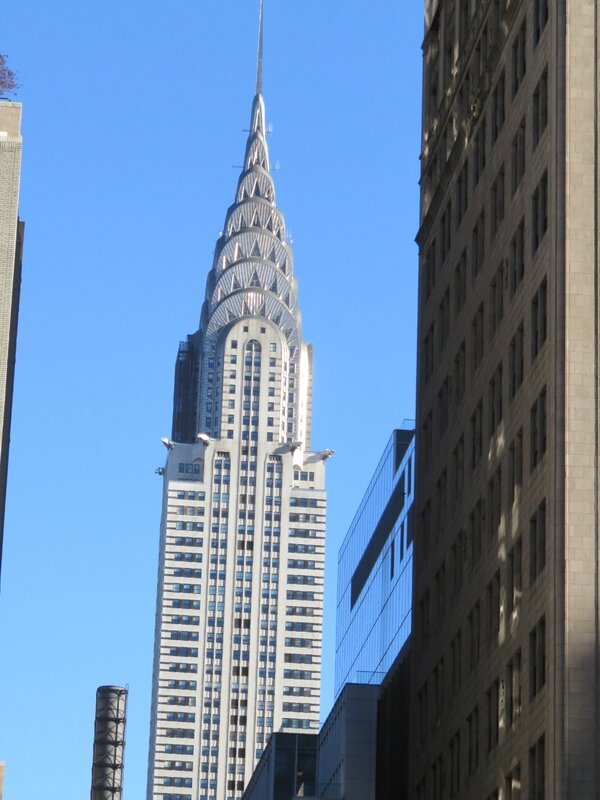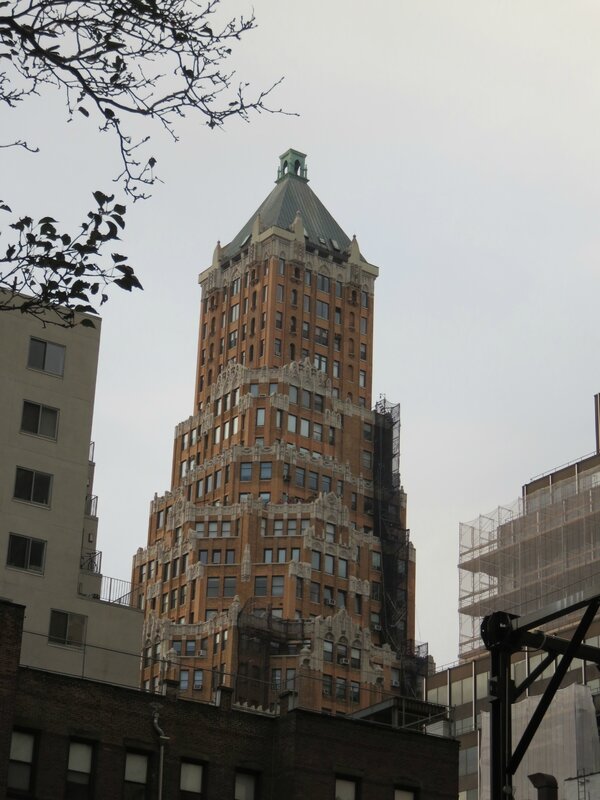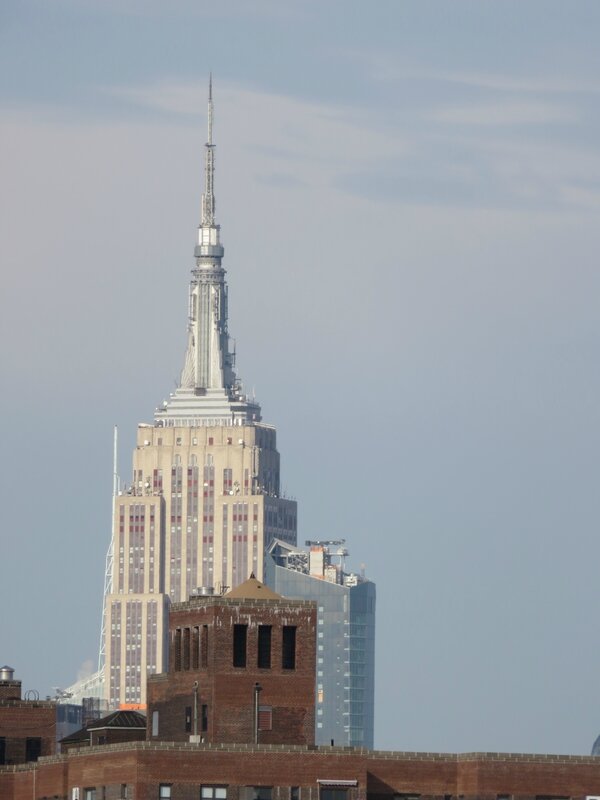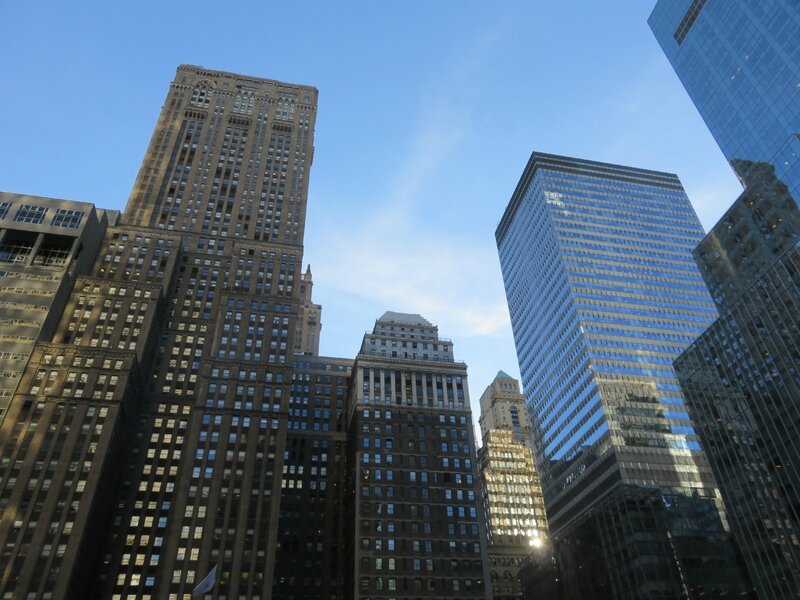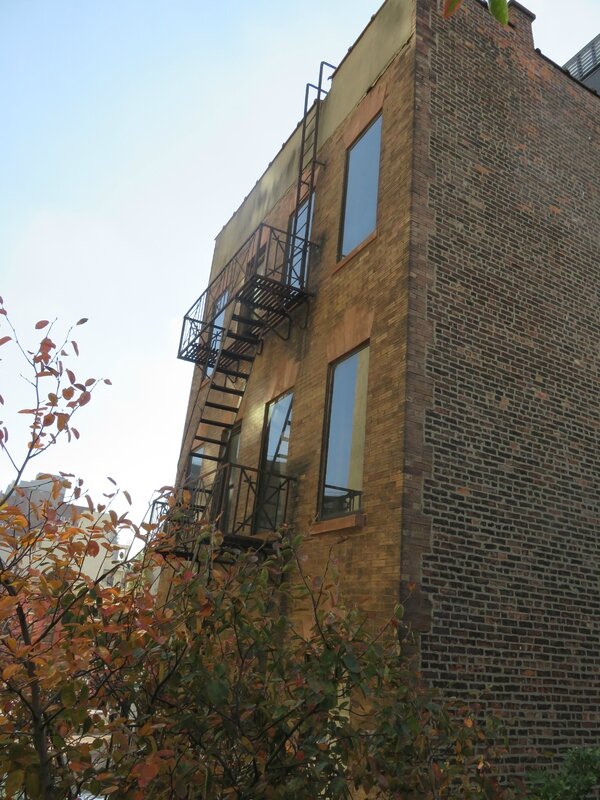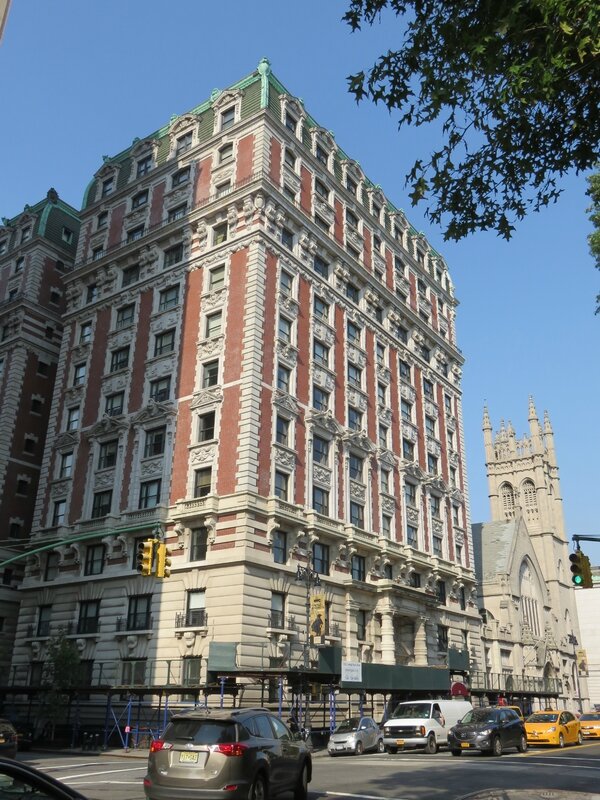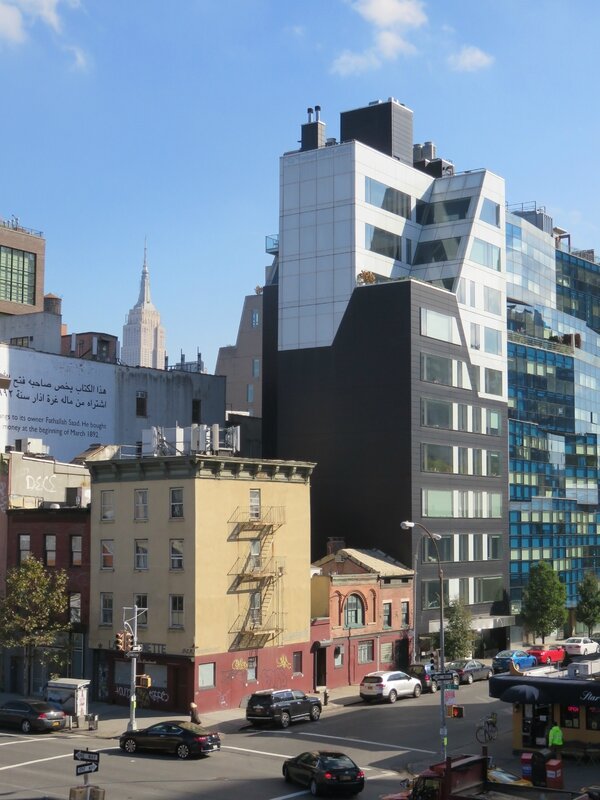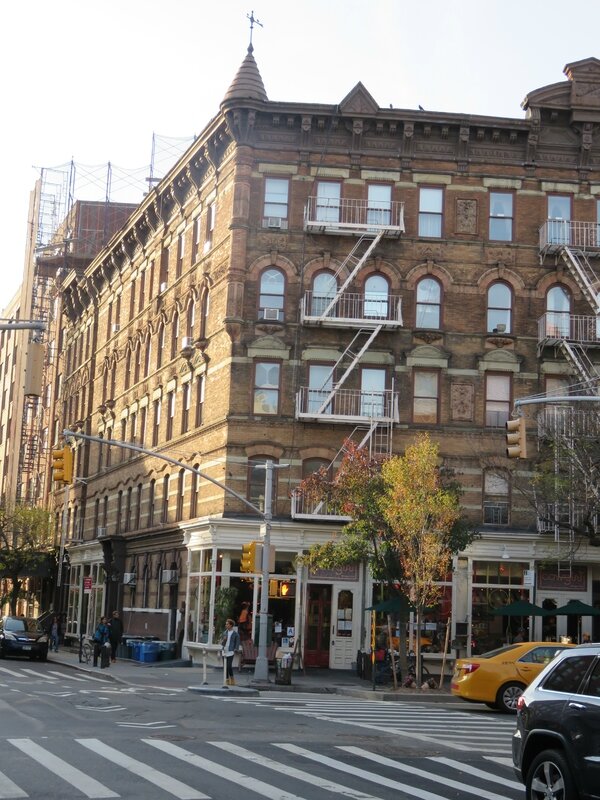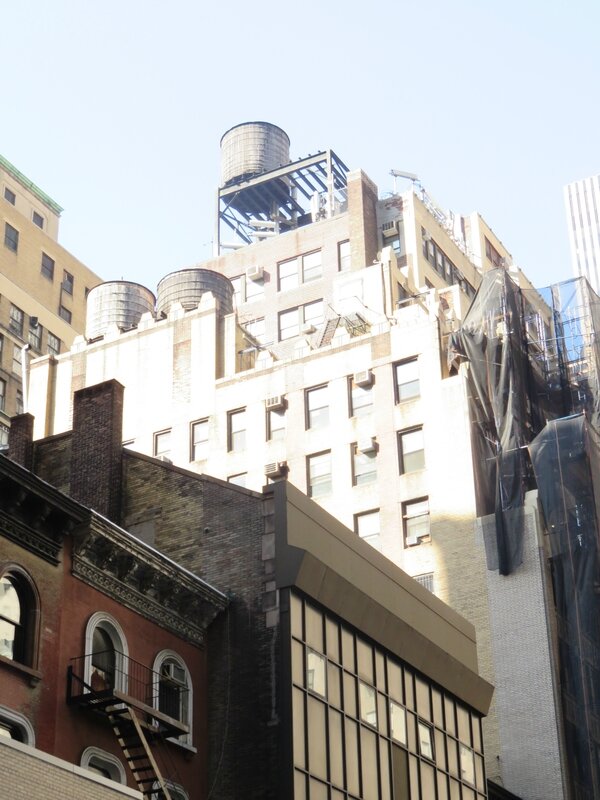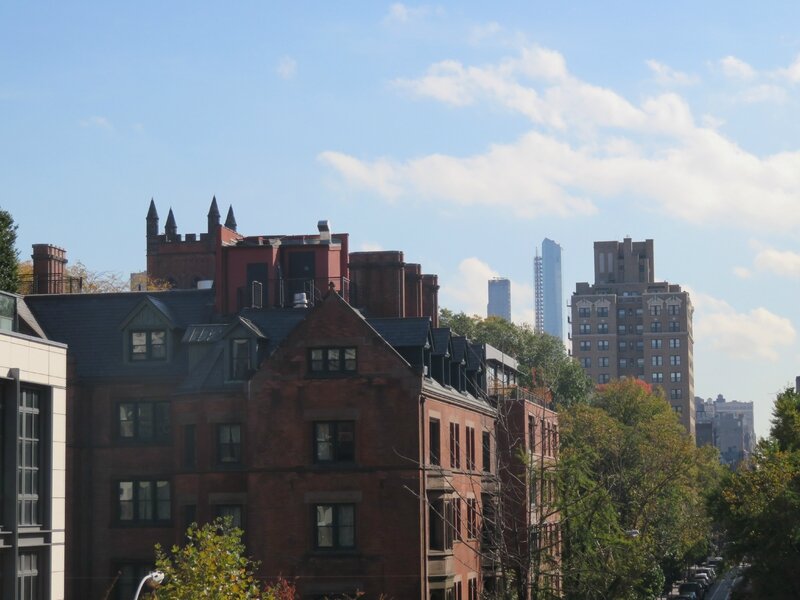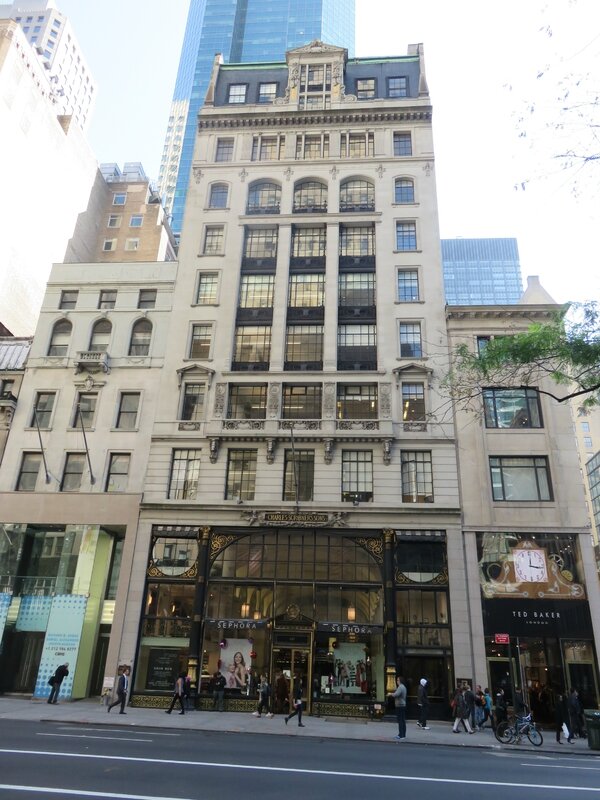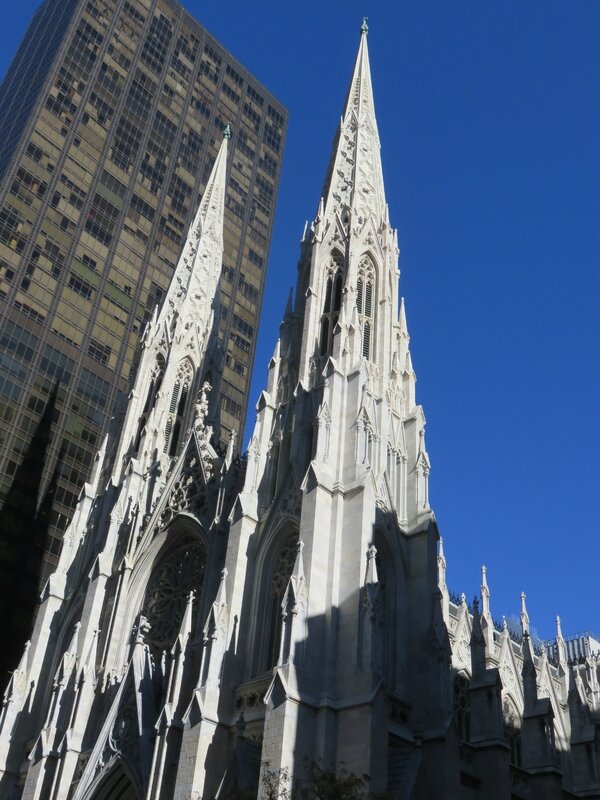 et cette impressionnante église de St Patrick sur la 5e avenue si différente, si élancée, elle paraît non seulement hors contexte au milieu de tous ces buildings, mais aussi vraiment minuscule, un véritable jouet:
and this impressive St Patrick church on 5th avenue is so different, so delicate; not only does it look absolutely out of context in the middle of all these buildings, but it's also so tiny, a real toy: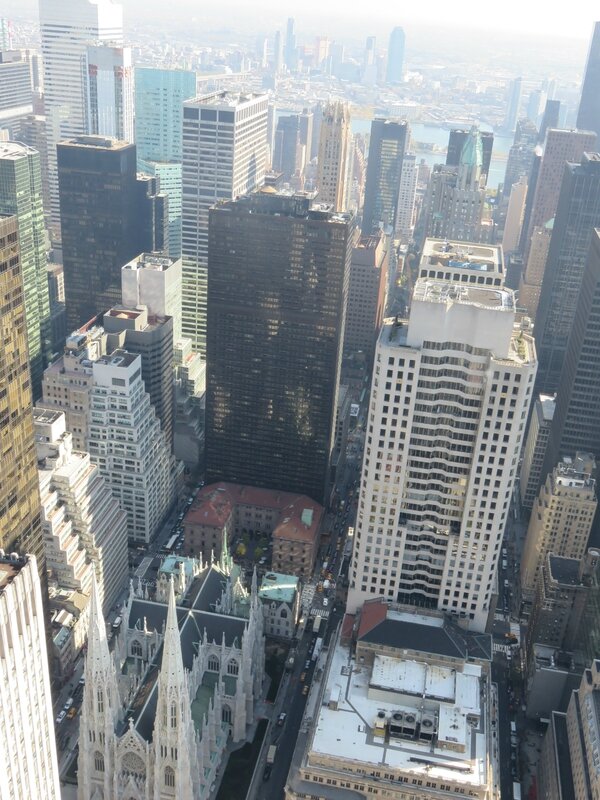 regardez, elle est là, en bas à gauche de la photo ci dessus (prise du haut du building Rockfeller).
look, it's right here in the bottom left hand corner of the above photo (taken from the top of the Rockefeller building).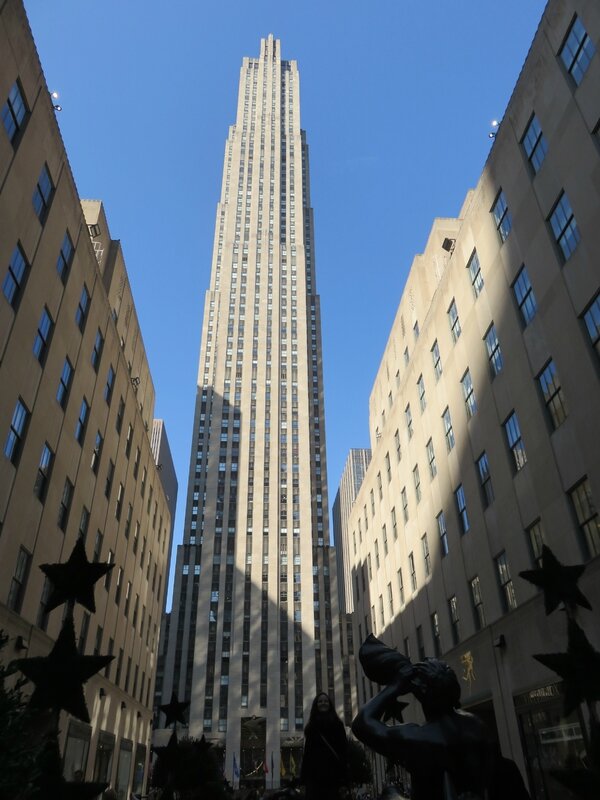 et voici ce même building Rockfeller. 67 étages en ... 43 secondes. Et en haut, une vue à couper le souffle.
and here's the Rockfeller buiding. 67 floors in ... 43 seconds. And a breathtaking view at the top.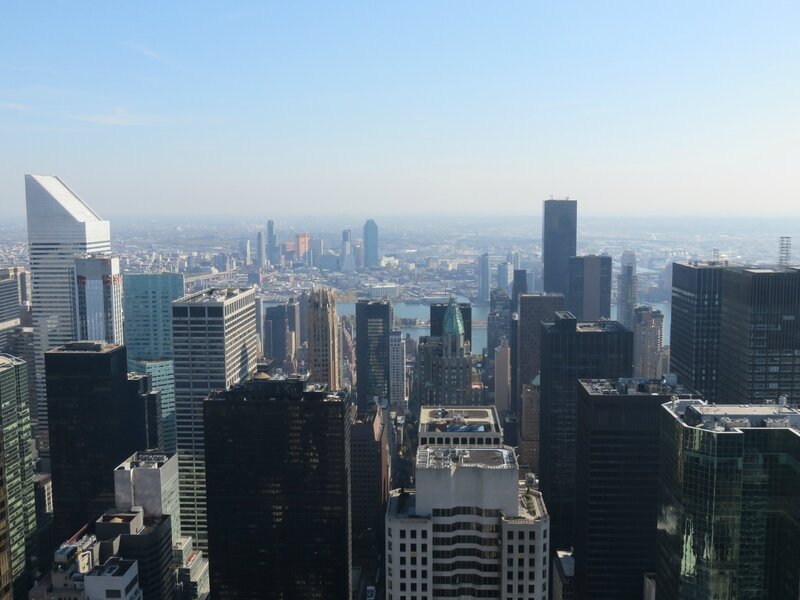 Vous ne serez donc pas surpris de voir bientôt fleurir des buildings dans mes aquarelles... :-)
Then you won't be surprised to see buildings popping here and there in my watercolours... :-)
28 novembre 2016
Période active : entre deux croquis, un monoprint (ou bien est-ce entre deux monoprints, un croquis?), j'alterne en tous les cas et je reprends avec plaisir des monoprints bruts. J'en ai une pile de plus de 100; je pioche un peu au hasard, ou je les feuillette et un monoprint oublié me saute aux yeux.
I'm very busy at the moment. Between two sketches I work on a monoprint (or is it the other way round?), anyway, I work on raw monoprints with pleasurre. I've got a pile of more than 100; I pick them up, sometimes seeing the forgotten ones with new eyes.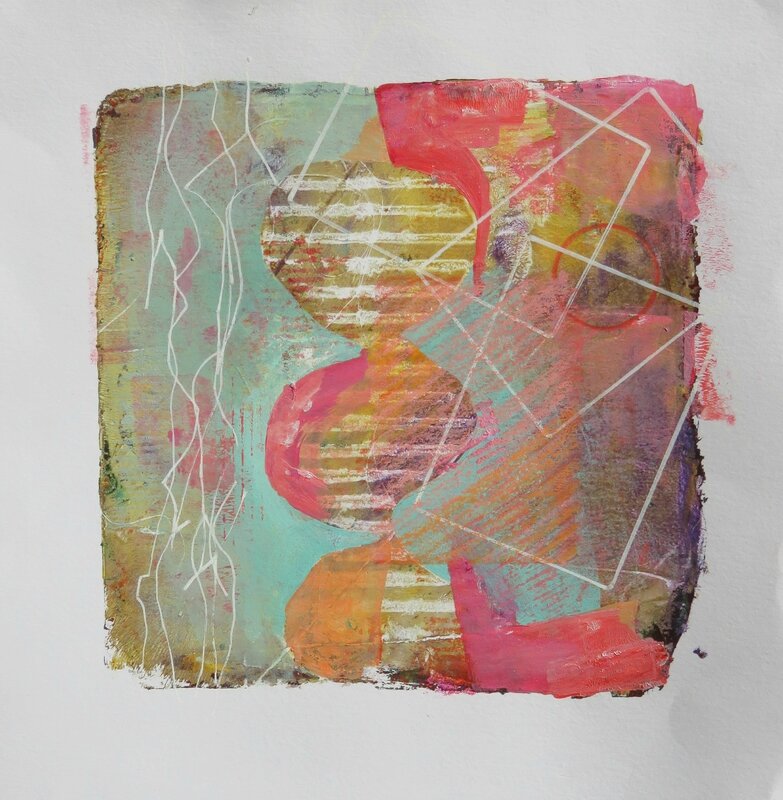 N°163b
Les changements à opérer sont parfois évidents, ou parfois difficiles. Celui-ci est venu facilement et ses couleurs, textures, formes, me donnent envie de sourire... Cela doit être bon signe.
The changes are sometimes obvious, and sometimes difficult. This one came easily and its colours, textures, shapes make me want to smile. Surely a good sign.