28 avril 2017
Quand on va se promener dans Rome en ce moment, il y a du monde partout. Le bon côté pour moi, c'est que j'ai beaucoup de sujets à croquer !
When we go out for a walk in Rome at the moment, it is so crowded everywhere. The good thing is, there's plenty for me to sketch!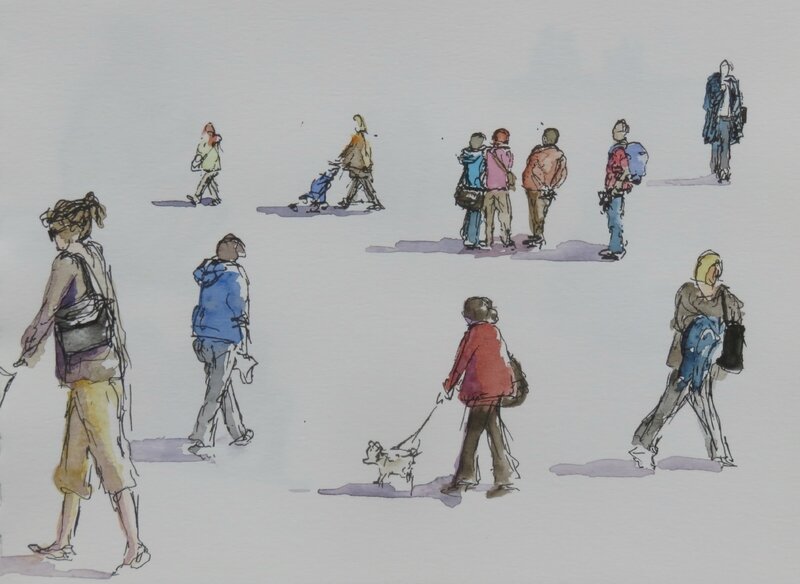 N°52
L'avantage de les faire tout petit sur la page, c'est que cela va plus vite à dessiner. C'est fou comme les gens qui marchent, ... vont vite. Il m'arrive de les commencer sans pouvoir les finir - il m'est arrivé aussi de les revoir passer, et j'ai pu ainsi finir mon croquis. Trop sympa les gens!
I like drawing small silhouettes on the page, that way it's quicker to sketch, because you just don't realize how fast people walk! Sometimes, I don't have te to finish the sketch and they're already gone - once or twice the same people came back, then I had time to finish. Some people are so nice!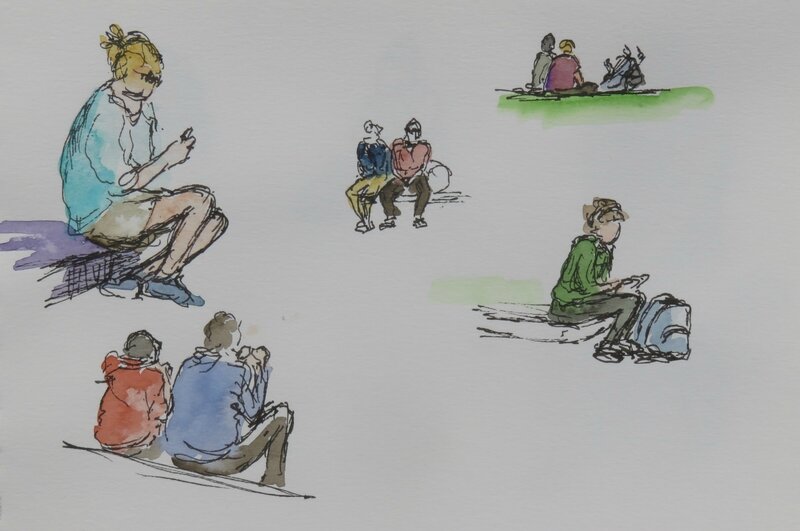 N°53
Les gens assis au moins me laissent un peu plus de temps, ... quoique. Et que je change de position, et que je me tourne, pfff...
Sitting people give me more time to sketch, ... not. They never keep still, turning this way and that way all the time. Incredible.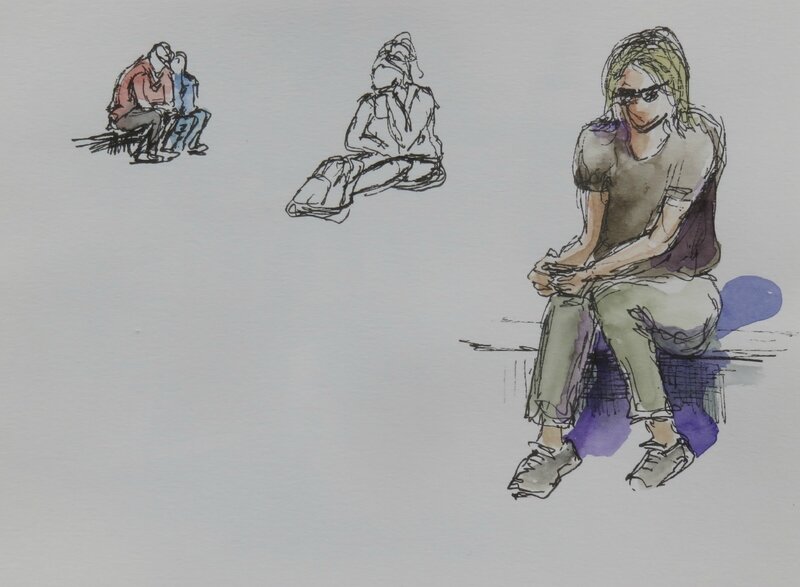 N°54
Et grâce au téléphone portable, j'ai des sujets qui gigotent beaucoup moins que les autres, ce qui me laisse un peu plus de temps pour les croquer.
The good thing about cell phones, is that people looking at them fidget a lot less, and that gives me more time to sketch.
24 avril 2017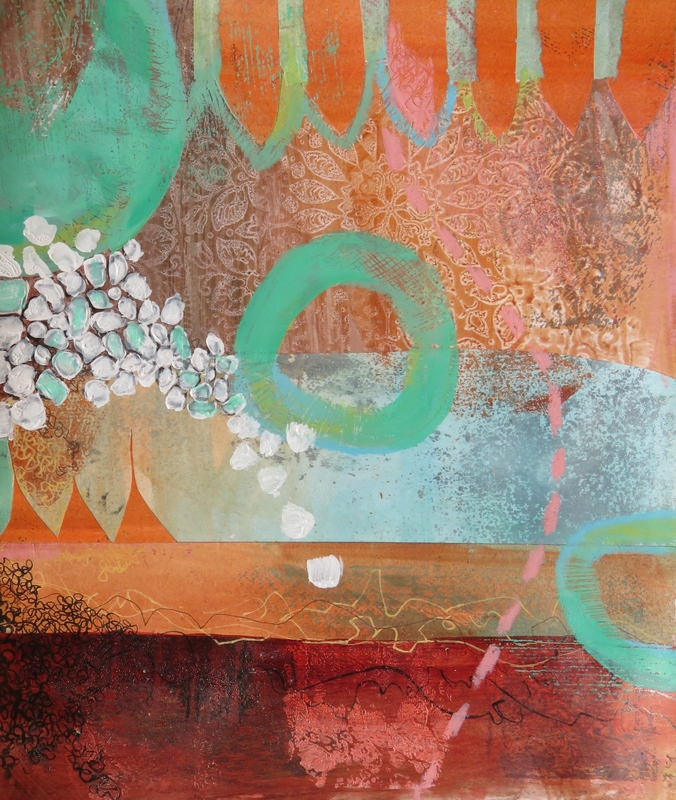 N°51
collages et mixed media sur papier / collages and mixed media on paper
J'ai fait ce collage il y a presque 2 ans, mais j'étais restée bloquée. Peur de tout gâcher (la pire des retenue chez un peintre), j'ai préféré le laisser dans un tiroir. Il m'a suivie jusqu'à Rome et je l'ai retouvé par hasard l'autre jour ; j'ai clairement senti que son heure était venue!
I made this collage almost 2 years ago, but I got stuck. Didn't want to screw it up, I just left it in a drawer, then brought it over to Rome. I found it the other day while rummaging around and I clearly felt that its time had come.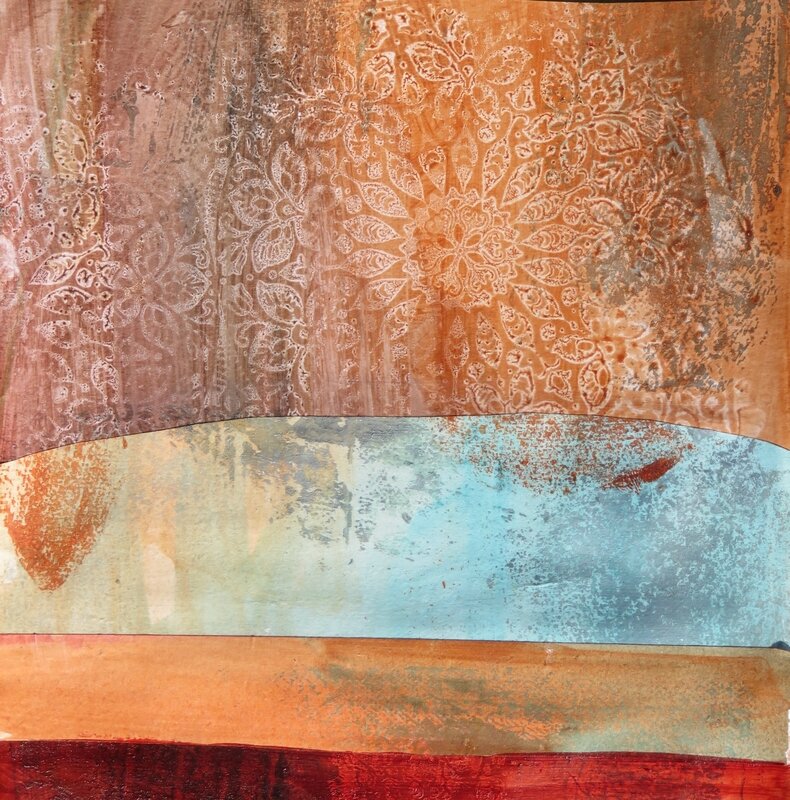 le voici tel qu'il était avant que je ne le re-travaille / here's how it was before working on it again

Pour une fois, je n'ai pas hésité. J'ai collé les formes oranges et j'ai eu envie de mettre ces rayures vertes entre. Ce qui est chouette avec les collages, c'est qu'on peut essayer différents bouts de papier de différentes couleurs avant, et parfois des combinaisons de couleurs qu'on n'aurait jamais imaginé arrivent. Une chose mène à l'autre. Ces bandes vertes m'ont donné envie de plus de vert encore, et j'ai commencé à dessiner ces ronds verts aux pastels aquarellables; je les ai tellement aimés, que j'ai sorti ma peinture acrylique et je les ai peint plus épais encore.
Without hesitating a second (for once), I just glued some more shapes (the orangey ones) and felt like using some flashy green stripes in between. The good thing with collages, is that you can try bits of coloured paper before and some colour combination which you would never have dreamed of while painting just happen. One thing leads to another. The tiny green stripes made me want more green. I started out drawing circles with my crayons, then liking it so much I took out some acrylic paint and made them fatter.
J'ai eu ensuite envie de formes plus petites pour lier ce qui me semblait les deux parties trop distinctes dans le tableau. J'ai dessiné des petits cercles à l'encre de chine noire, mais c'était pas terrible. Alors je suis repassée par dessus à la peinture blanche. Beaucoup mieux.
I then felt I needed some tinier shapes to link what felt like two distinct parts. I drew tiny pebbles with black ink, but didn't like them. Went over them with white paint. Much better.
Toujours pour essayer de relier le haut et le bas, j'ai tracé cette ligne en pointillé rose et maintenant il me va parfaitement.
Still trying to link the top and bottom, I drew that pink line, and now I think it's fine.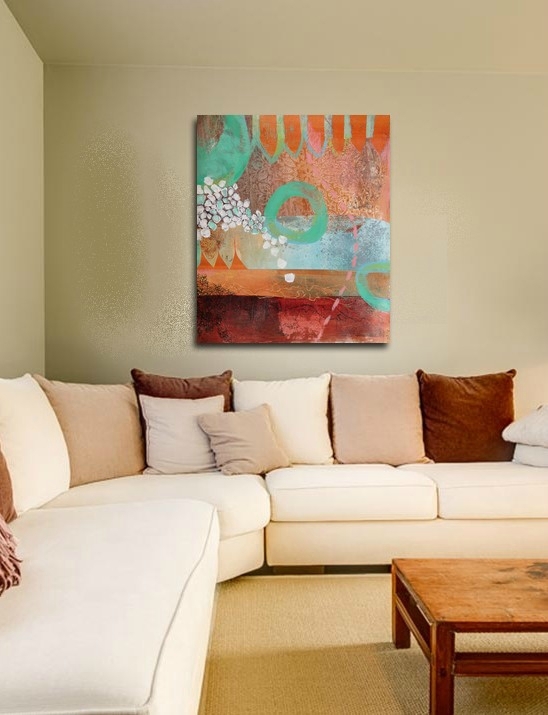 12 avril 2017
Mettez vos chaussures, on sort / Put your shoes on, we're going out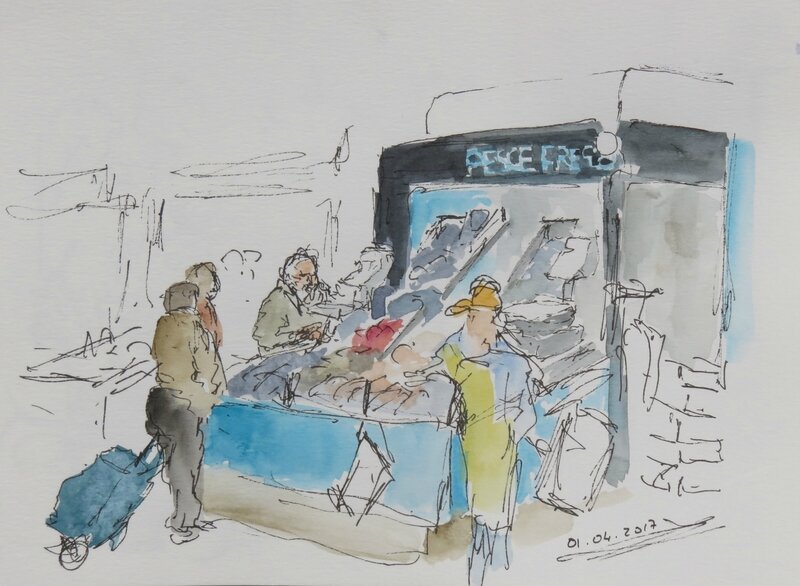 N°45
Ce matin il faut qu'on aille chercher du poisson au marché Esquilino
/ this morning we have to go and buy some fish at the Esquilino market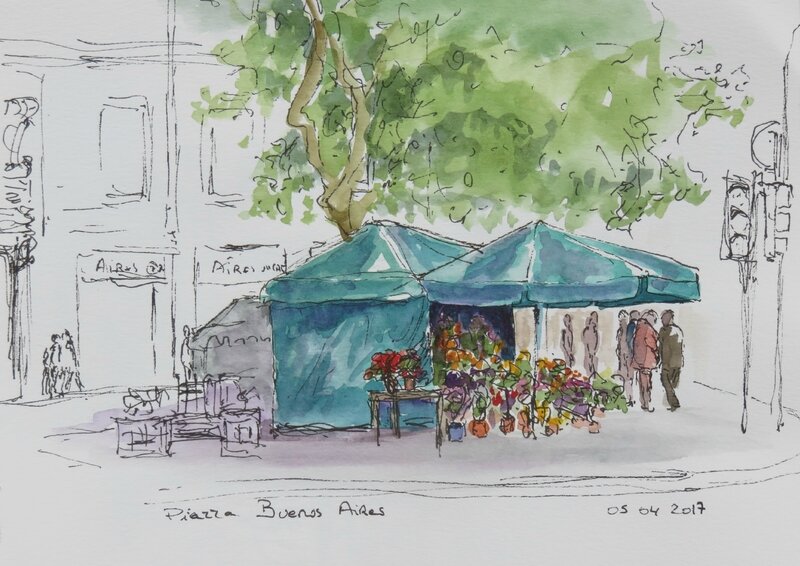 N°46
puis on passera prendre des fleurs piazza Buenos Aires
/ we'll buy some flowers piazza Buenos Aires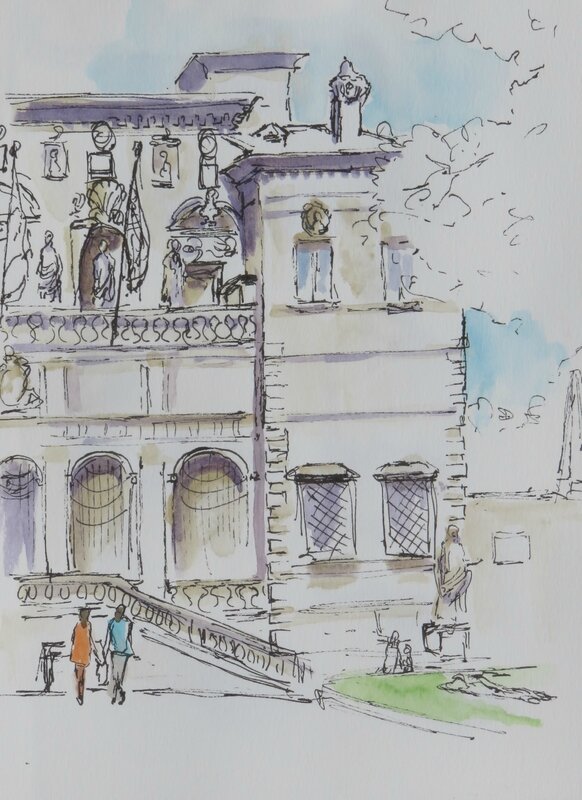 N°47
Cet après midi, on ira au parc de la Villa Borghese
/ this afternoon we'll go to the park of Villa Borghese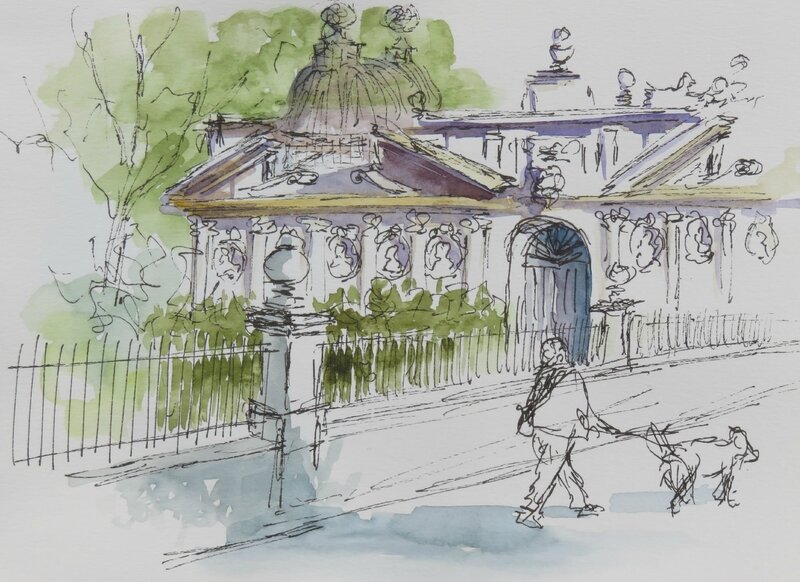 N°48
on marchera à l'ombre car le soleil est déjà chaud
/ we'll walk in the shade because the sun is already hot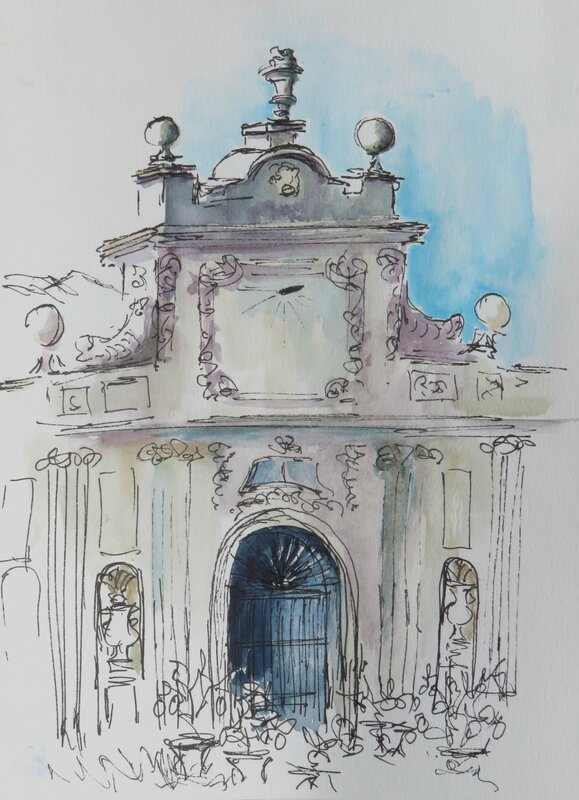 N°49
on admirera les jardins / we'll have look at the gardens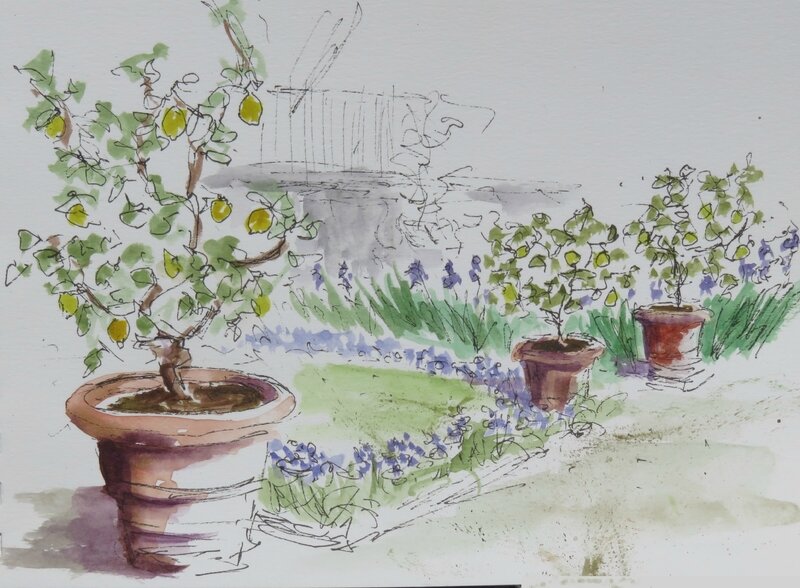 N°50
et puis on s'assiera un peu avant de rentrer /
then we'll sit down for a while before heading back home
Mini pause, je m'absente une semaine. A plus.
Mini break. I'm going away for a week. See you later.

09 avril 2017
Pour commencer, voici quelques nouvelles de la première vague d'expérimentation (à revoir ici et là).
To begin with, here's some news of the first wave of experiment (I showed here and there).
Par commodité je vous les mets côté à côte, mais cliquez dessus pour les voir en plus grand.
To make it easier, I put them all side by side, but you can click on each to see them bigger.
En voici un qui a bien changé et dont le résultat me plaît énormément :
Here's one that changed a lot since, and now I love it!
N°16 step 1 N°16 step 4
voici ce qu'il donnerait / here's what it could look like :
Un autre qui a pas mal évolué aussi; mais à mon avis, il n'est pas encore fini :
This other one has changed a lot too, but I don't think it's finished yet
N°18 step 1 N°18 step 4
Et puis j'ai fait une deuxième séance comme la première, en n'utilisant pour commencer que de l'encre de chine, de l'acrylique blanche et noire et un crayon graphite.
Then I made another series of experiment just like the first one, using only Indian ink, black and white acrylic paint, and some graphite.
Certains ont été retravaillés, un peu, beaucoup, et d'autres pas du tout. Le seront-ils? Aucune idée.
Some have been worked upon, some have been left untouched. Will they remain like that? I haven't got a clue.
N°35 step 1 N° 35 step 2
peut-être fini / maybe finished.
N°36 step 1 N° 36 step 2
Pas fini / not finished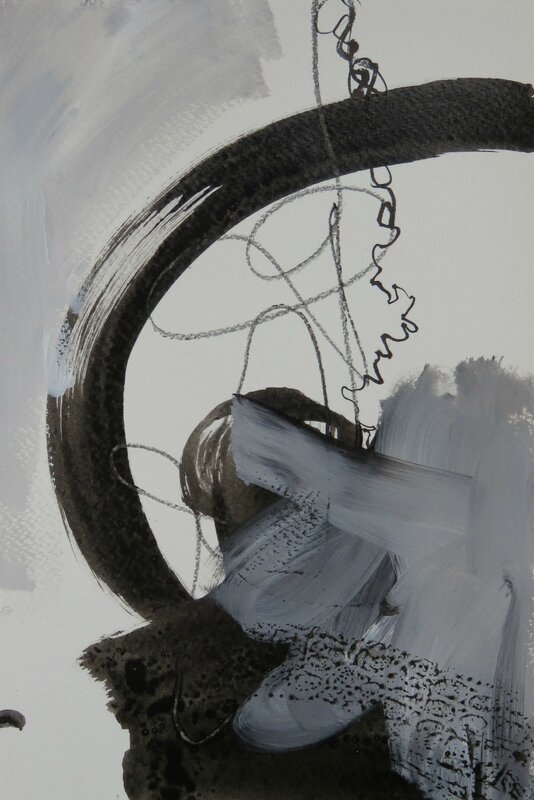 N°37 step 1
N°38 step 1 N°38 step 2
Pas fini / not finished
J'aime ces couleurs, mais je ne sais pas encore où il va aller / I love these colours, but I don't know what's going to happen.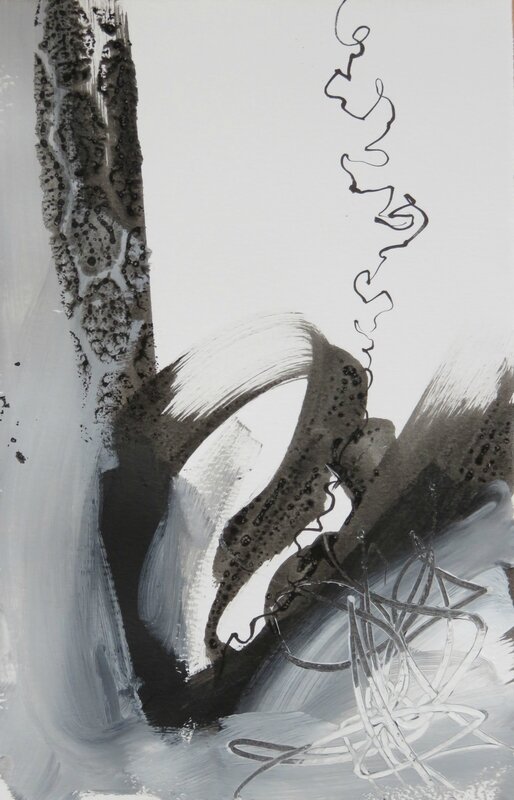 N°39 step 1
N°40 step 1 N°40 step 2
Pas fini / not finished
N°41 step 1 N°41 step 2
Fini je pense / I think it's finished
Un petit aperçu / a little peek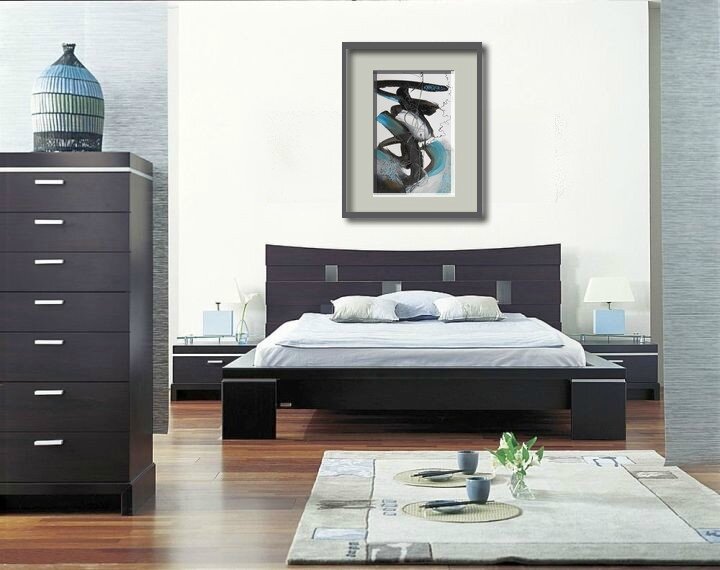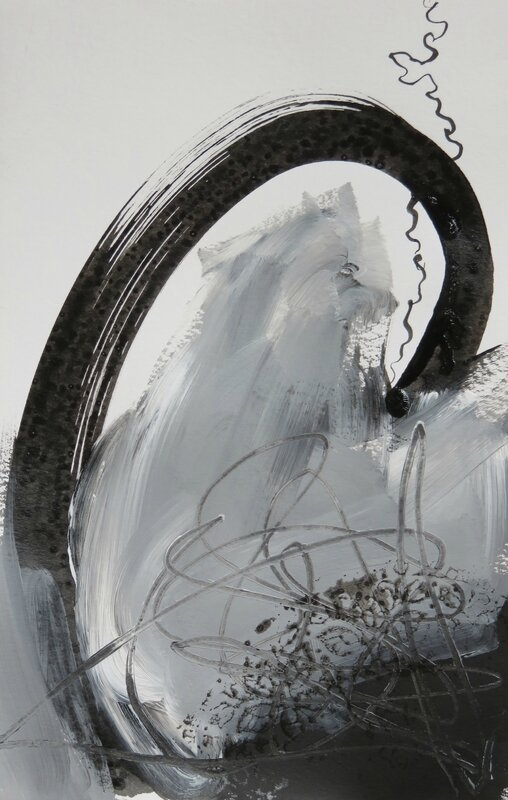 N°42 step 1
N°43 step 1 N°43 step 2
peut-être fini / maybe finished
et pour finir celui-ci qui a été complètement transformé
And to finish, here's one that's benn TOTALLY transformed:
N°44 step 1 N°44 step 2
... et qui me plaît beaucoup. / ... and I love it.
J'aime les teintes et l'effet patchwork.
I love the colours and the patchwork effect.
J'ai cette fois-ci utilisé des collages, de la peinture acrylique, de l'encre de chine, et des pastels aquarellables.
This time I used collages, acrylic paint, indian ink, and watersoluble crayons.
Voici pour vous donner une idée de ce que cela pourrait donner une fois encadré:
here's to give you an idea what it would look like when framed: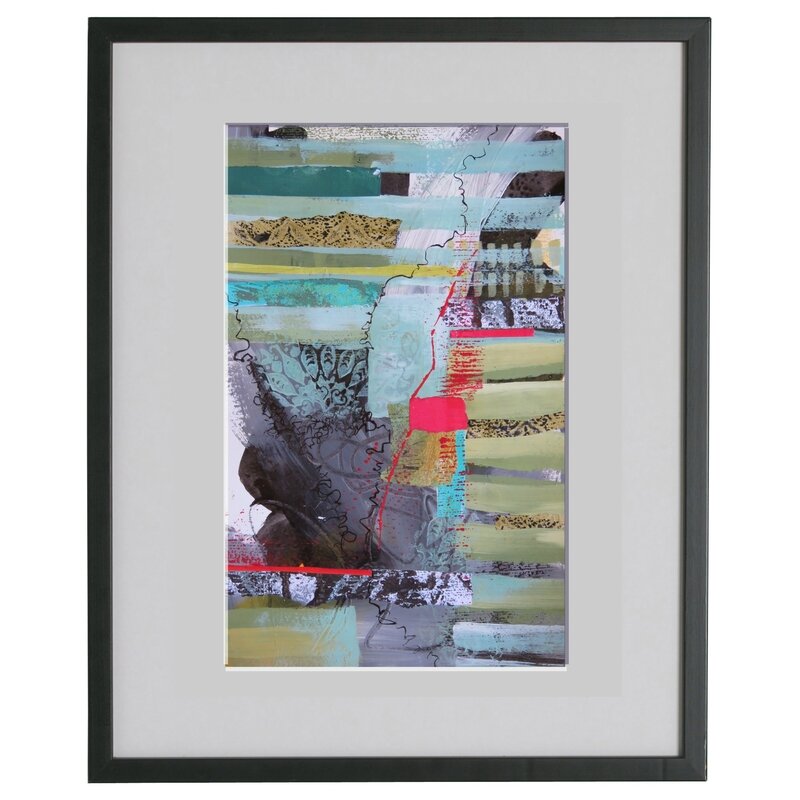 06 avril 2017
La couleur des beaux jours:
Spring colours: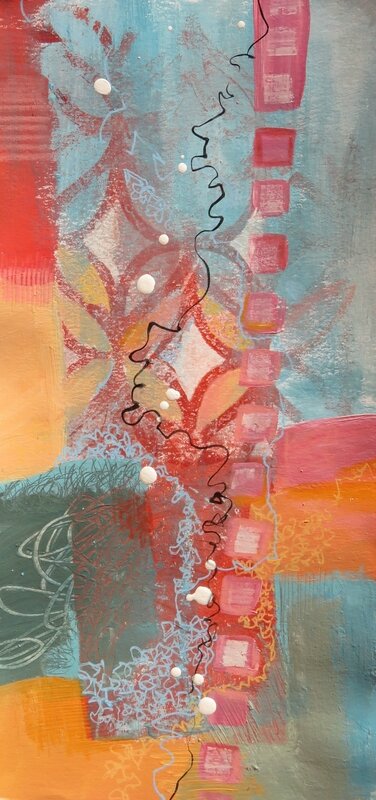 N°32
Mixed media sur papier / Mixed media on paper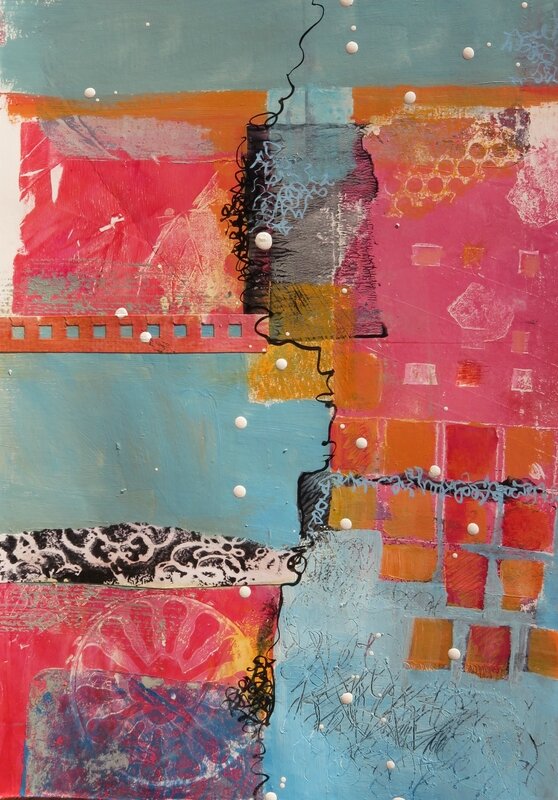 N°33
Mixd media et collages sur papier / Mixed media and collages on paper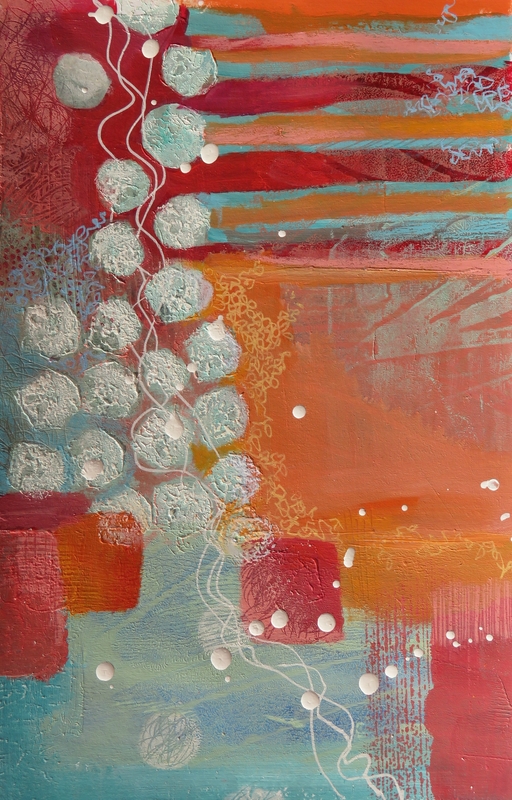 N°34
Mixed media sur papier / Mixed media on paper
Reculons un peu / Let's step back: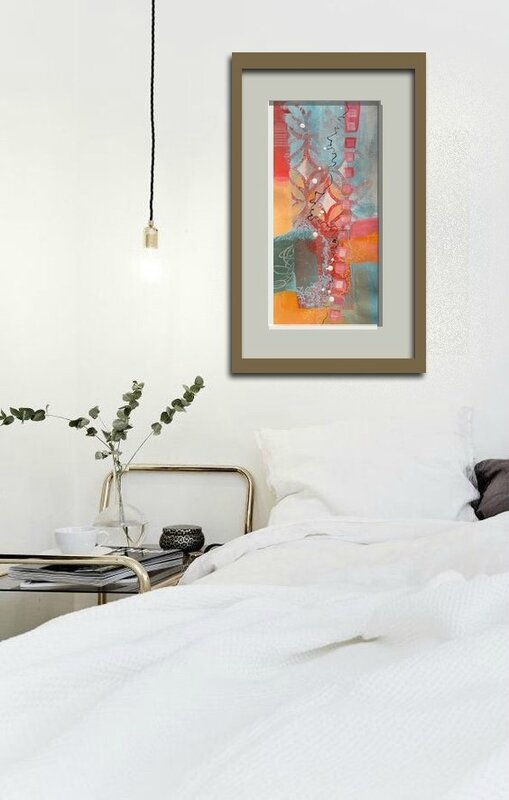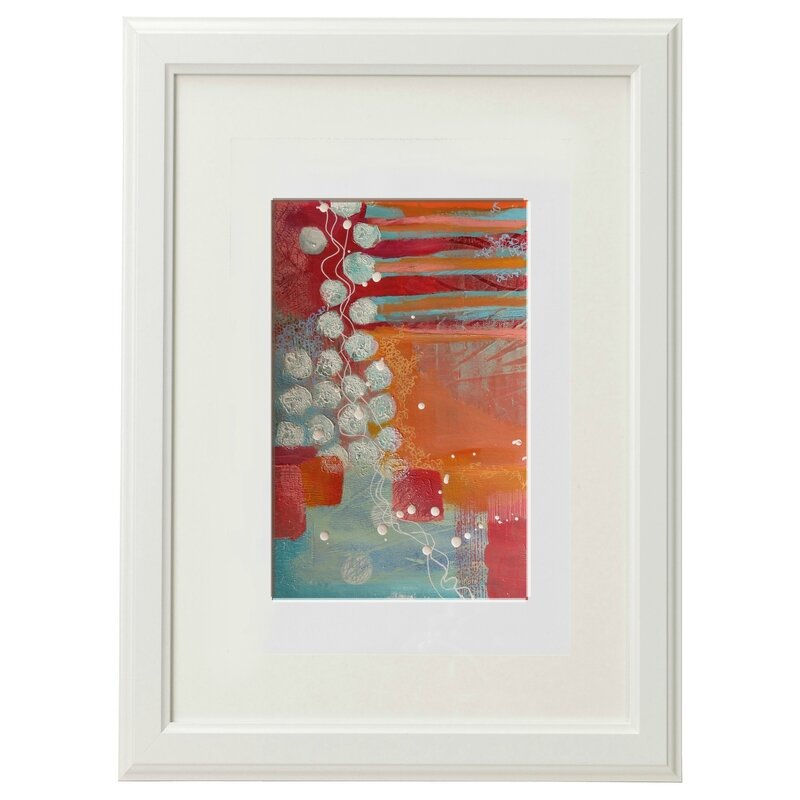 04 avril 2017
Petite promenade dans Rome / how about a little stroll in Rome?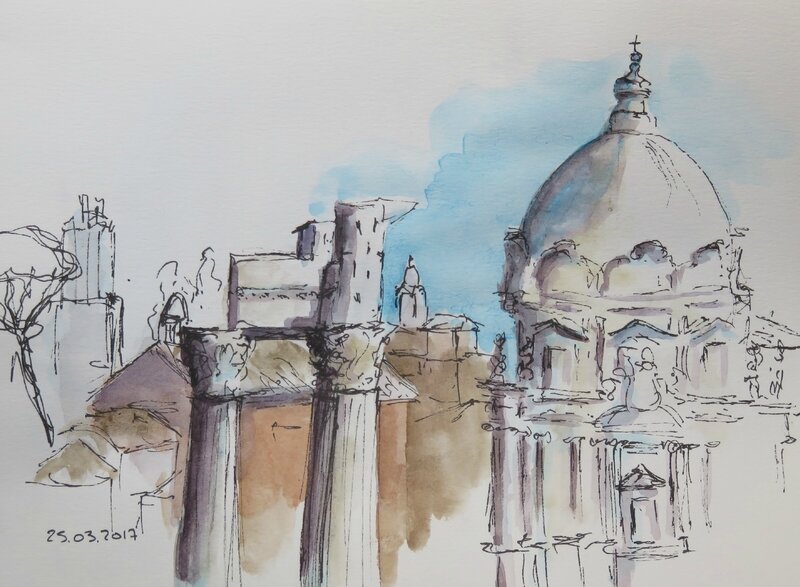 N°29
Foro romano, basilica Aemilia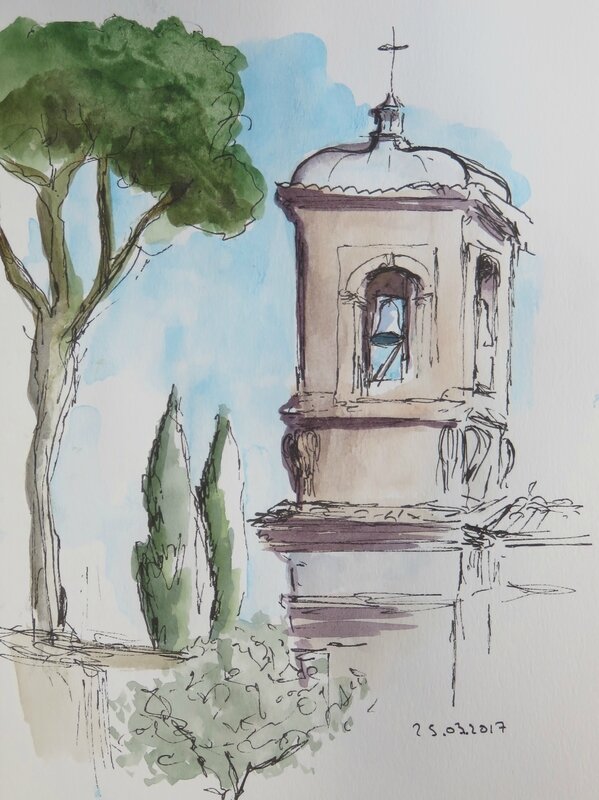 N°30
Eglise Santa Anastasia, près de Circo Massimo / Santa Anastasia Church, near Circo Massimo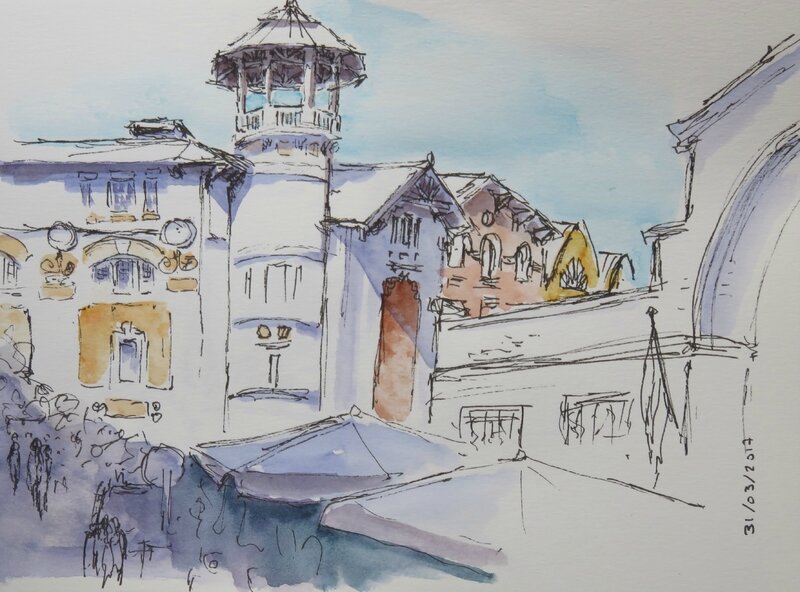 N°31
Piazza Alessandria
J'habite tout près de cette place. On y voit les bâtiments des anciennes usines Peroni avec cette jolie tourelle, et un bout du marché couvert. Ce marché a été le premier marché couvert de Rome.
I live very close to this piazza. You can see the buildings of the old Peroni fabric with the lovely tower, and part of the market. It was Rome's first covered market.
03 avril 2017
Pour finir cette série sur le musée d'Art Contemporain de Rome voici un autre de mes coups de coeur : Danielle Lombardi
Finally, to end this series on the museum of Contemporary Art of Rome, here's another of my favourites: Danielle Lombardi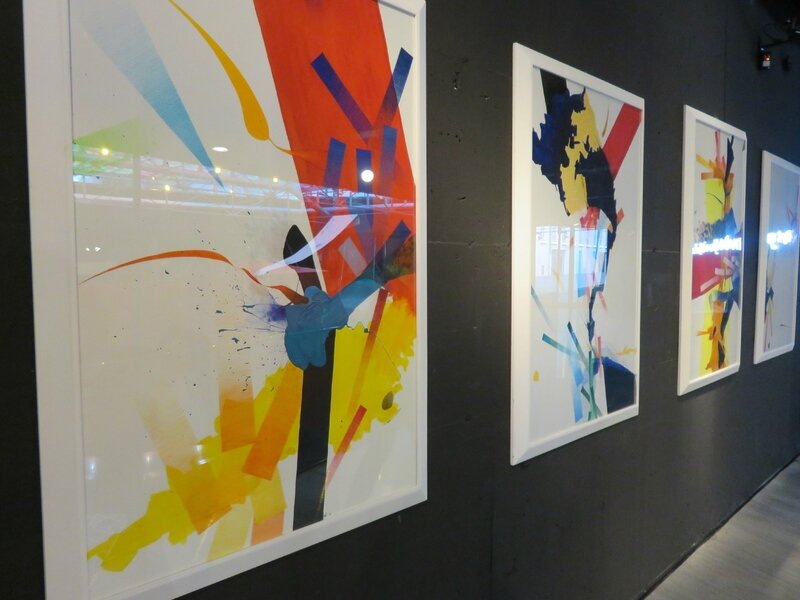 des couleurs très gaies / very happy colours
des signes enlevés, de l'énergie, beaucoup de blanc, de l'aquarelle, mixed media, de grands aplats de couleur
energy, movement,ots of white, watercolour, mixed media, big splashes of colour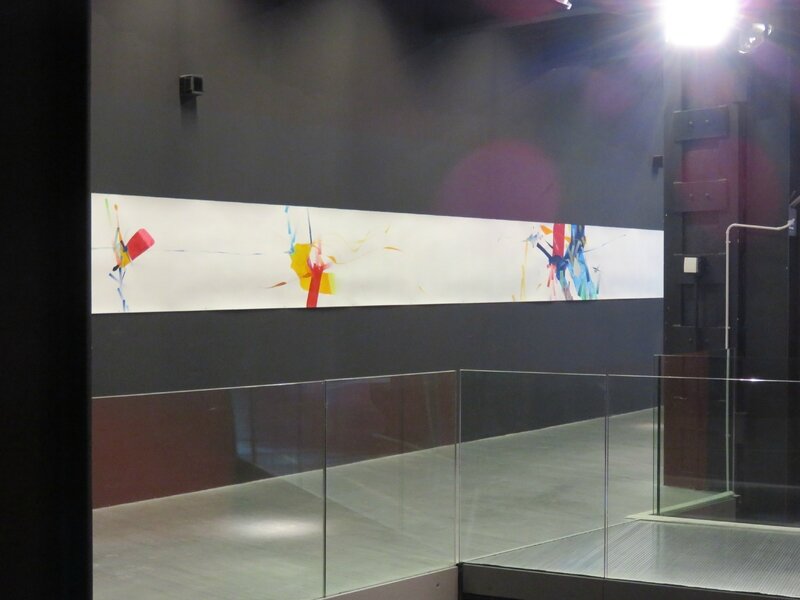 et surtout un très intéressant parallèle entre la musique et la peinture. D'abord avec le graphisme des notes et des signes des partitions
and a very interesting parallel between music and painting. First with the graphic side of partitions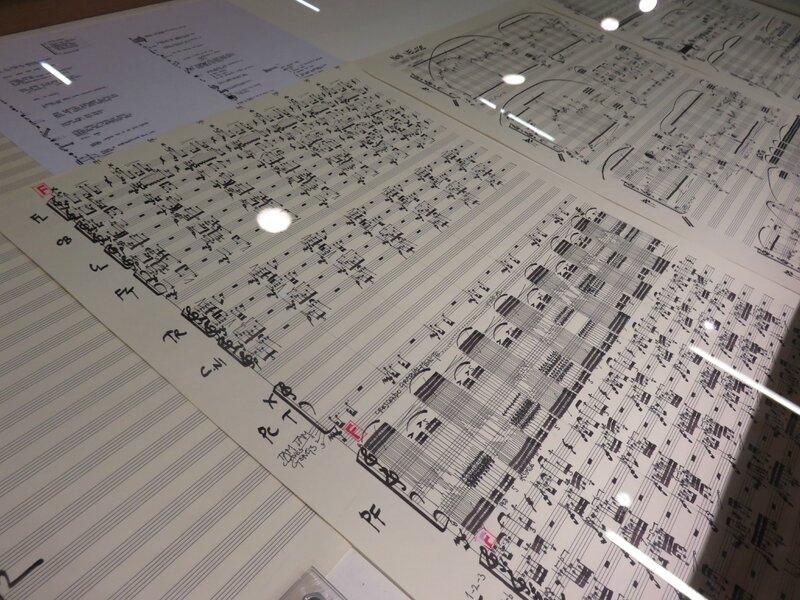 puis avec des "partitions peintes". Quels sons évoquent ces couleurs? ces signes? Tout un monde très poétique
then with "painted partition". What sound do these colours evoke? thse signs? a very poetic world opens up.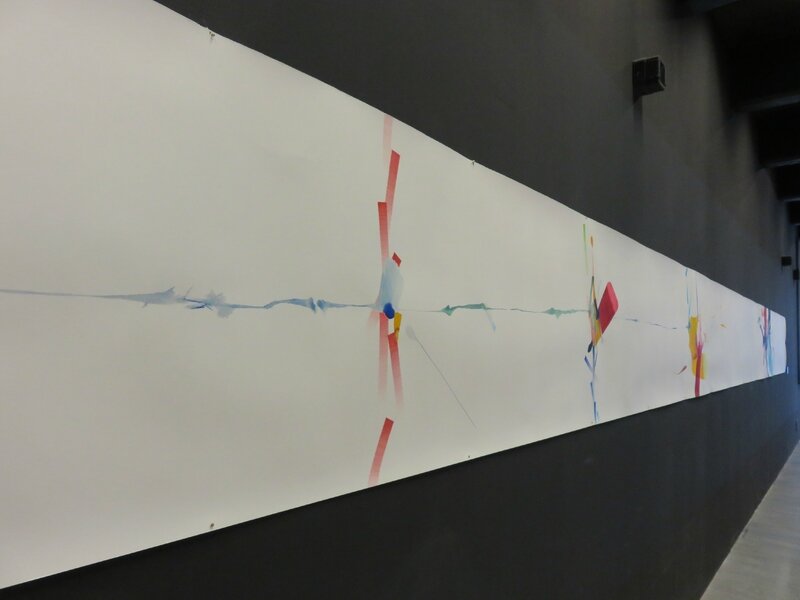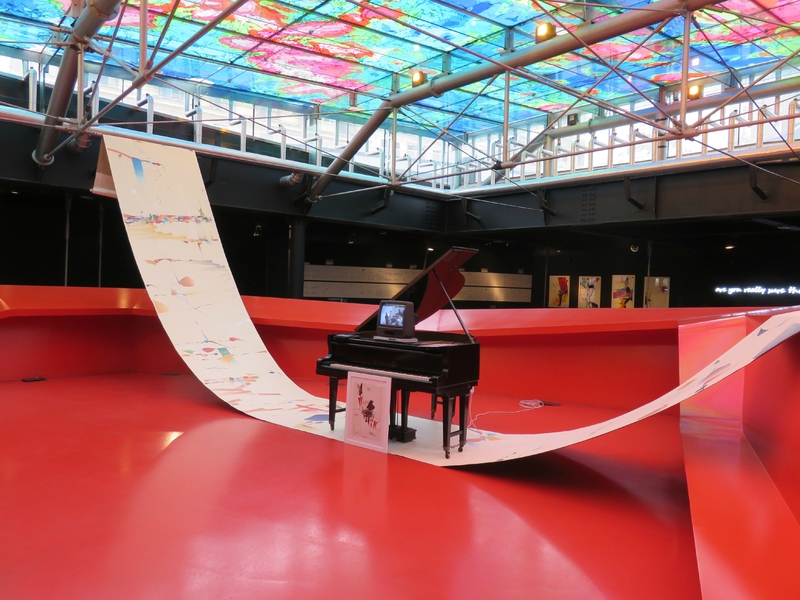 et cette installation qui met en évidence ce lien. Sur le piano un poste tv qui passe une video montrant des musisiciens improvisant sur une de ces partitions peintes.
this installation showcases the link between th etwo. On the piano, there was a tv set with a video showing musicians improvising on one of these painted partitions.
Pour revoir les autres artistes de cette expo / click if you want to see the posts on the other artists presented
Francesca LEONE, Alberto ZANAZZO, PERINO-VELE, Nanni BALESTRINI
01 avril 2017
En ce moment j'expérimente beaucoup. Les formes, les couleurs, tout m'amuse, rien n'est sérieux. Du pur plaisir.
Celui là me semble tout approprié pour vous souhaitez un bon 1er avril...
TAt the moment I'm experimenting a lot. Shapes, colours, everything is fun, nothing really matters. Pure fun.
This one looked perfect for April Fool's Day
N°28
mixed media sur papier / mixed media on paper
et en plus ses couleurs vont bien avec la douceur du printemps, vous ne trouvez pas?
and the colours are just right for the season too, don't you think?
29 mars 2017
De la douceur, de la légèreté, un monde poétique, avec même un petit air rigolo...
Soft, light, poetic, ... and somehow funny.
N° 27 Reaching Out
Mixed media et collages sur toile / mixed media and collages on canvas
30 x 40 cm
Un tableau sympa qui ne se prend pas trop au sérieux. J'aime bien. Et vous?
A nice painting that doesn't put on airs, don't you think? I quite like it.
Reculons un peu / Let's step back a little: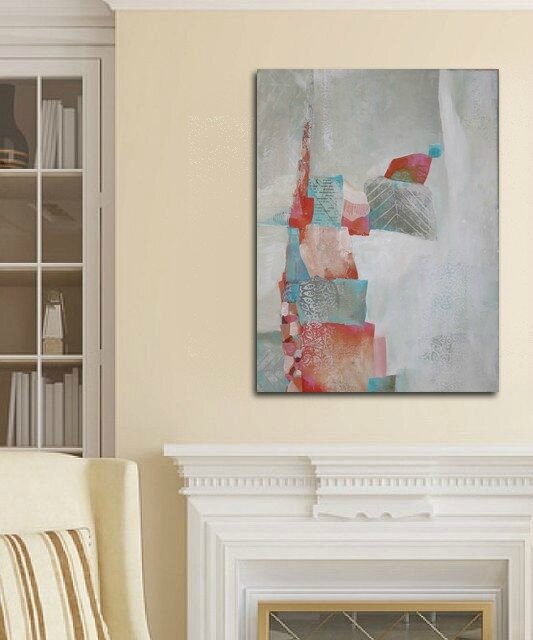 28 mars 2017
Jusqu'au 17 avril, une des expositions phare du MACRO (Musée d'Art Contemorain de ROme) c'est celle les oeuvres de Anish Kapoor, artiste Britannique.
Until April, 17th, British artist Anish Kapoor is one of the top exhibitions of the MACRO (museum of Contemporary art of Rome).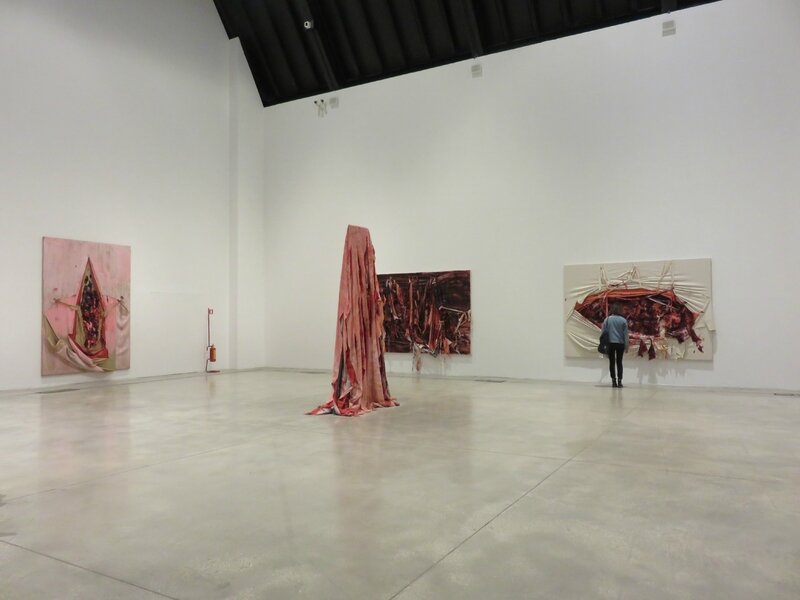 gigantesque salle pour de gigantesques installations rouges / huge room for huge red installations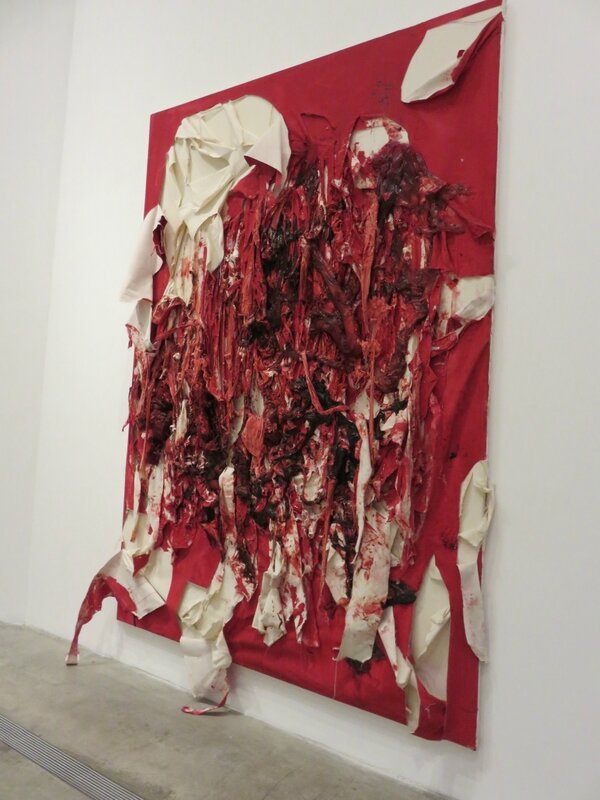 des lambeaux de tissus, des chairs sanguinolentes, des viscères coupés, des champs d'opératoires...
gauze, bloody flesh, cut viscus, surgical areas, ...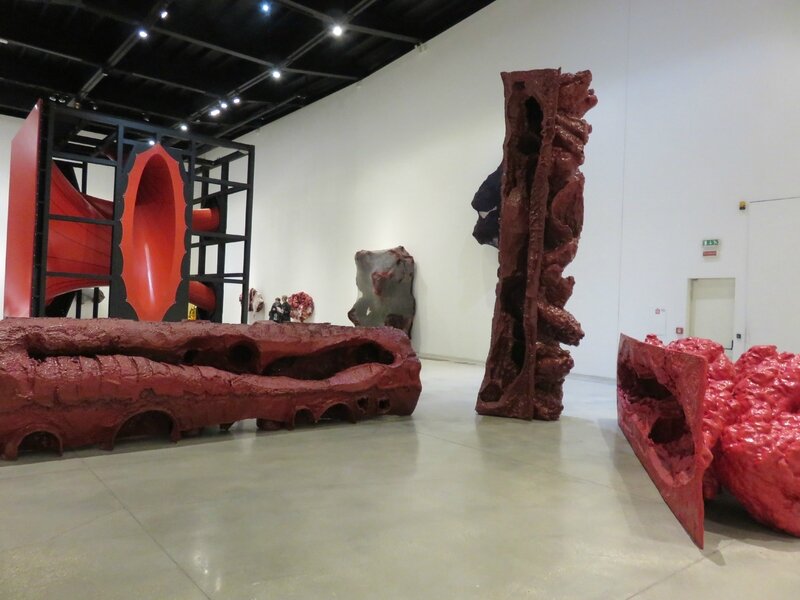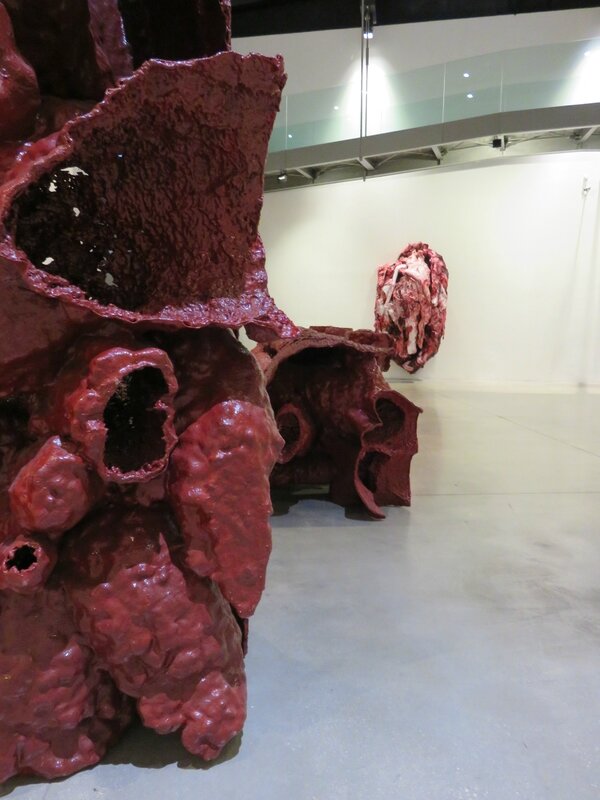 J'avoue ne pas être très sensible à ce genre d'oeuvres là. Ce n'est pas que je n'aime que l'art "évident", mais il y a des oeuvres qui me touchent (me surpennent, m'émeuvent, ...) et d'autres pas. Celles-ci m'ont laissé froide, sans même la curiosité de comprendre ce que l'artiste voulait exprimer ! Alors je ne pourrai pas vous en dire plus sur leur signification, alors libre à vous de vous faire une opinion.
I must admit this didn't appeal to me at all. It's not that I like 'obvious' or easy-looking art, but some pieces surprise me or move me, and others, well, just don't. These left me totally cold, a little amused maybe, without even the curiosity to understand what the artist wanted to express. So I'll leave you to it, although of course the photos will not be as shocking as the full scale thing.
Trois oeuvres sympas quand même dans le lot qui ont attiré notre attention probablement parce qu'elles étaient si différentes du reste
In the room, there were three pieces that attracted our attention though (probably because they were so different from the rest)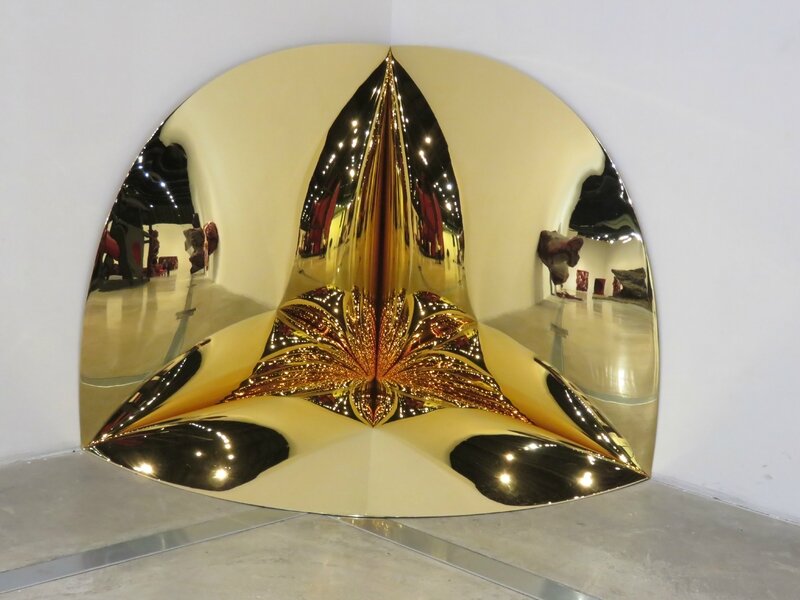 Corner Disappearing into Itself
des miroirs où on passe du temps à observer les reflets et jeux de lumières
mirrors where you enjoy spending time looking at the reflections of lights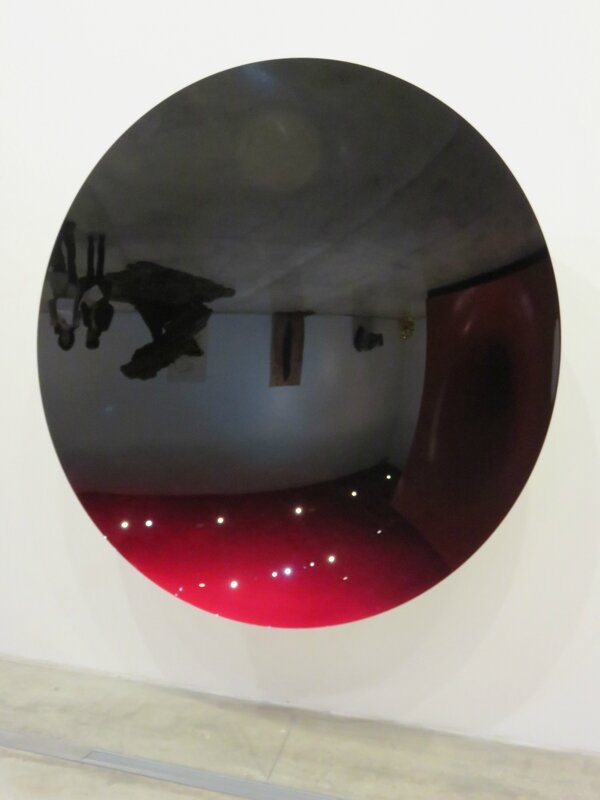 Black to Red
et cet énorme pavillon rouge / and this huge red bell.