08 février 2019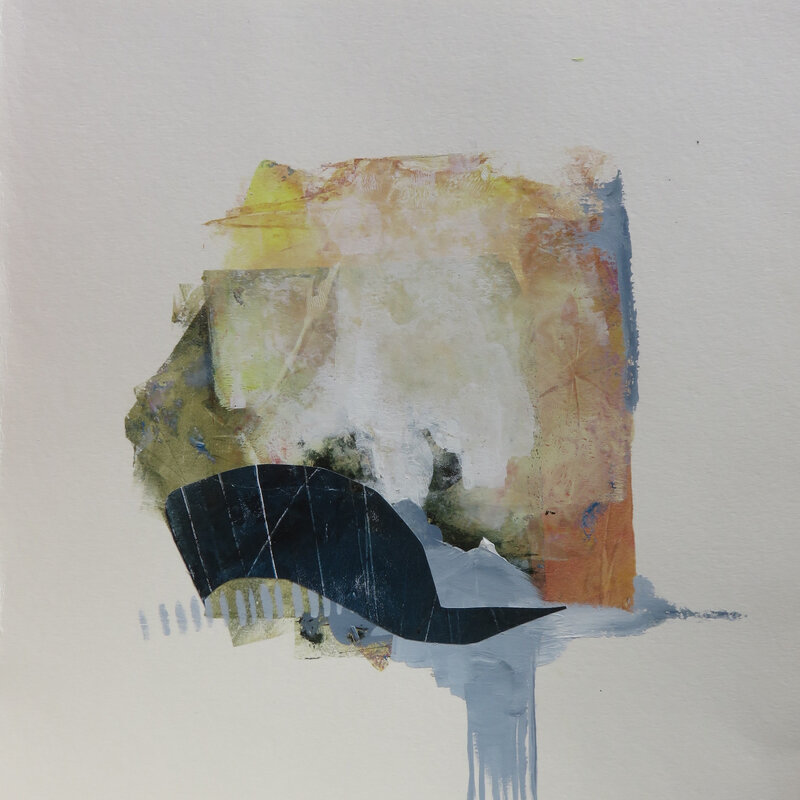 This time again I worked on the concept of tranparencies, with everything massed together in the middle But it all took shape thanks to that very dark collage piece I added in the end at the bottom left. It was probably the contrast that was needed.
Cette fois-ci encore, j'ai travaillé sur l'idée de transparences avec cette masse groupée au centre. Mais il a pris son envol seulement quand j'ai rajouté ce collage très foncé en bas à gauche de la masse. C'était le contraste qu'il manquait.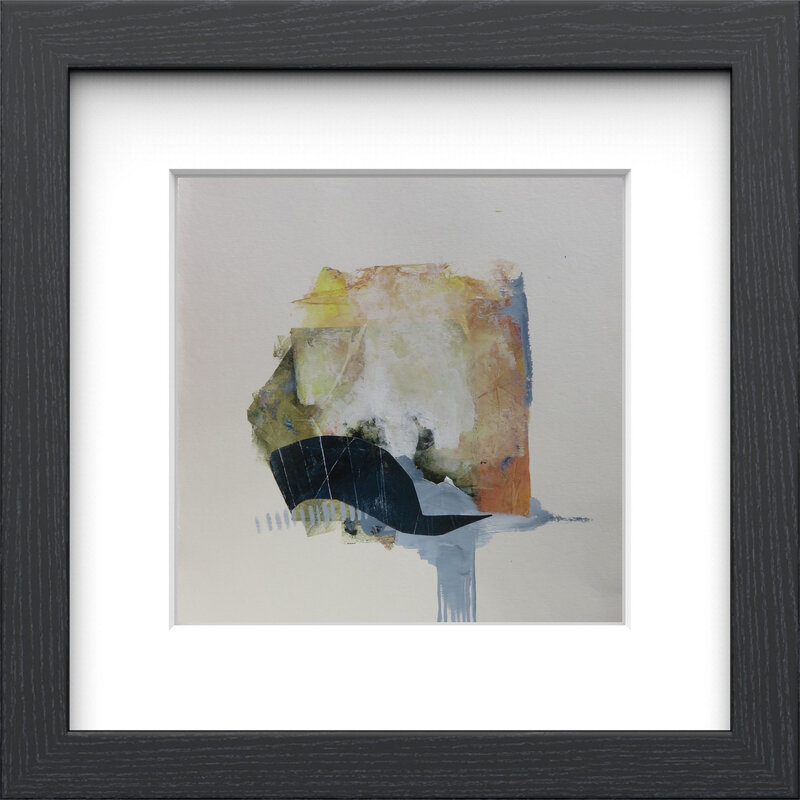 It's funny it's the type of composition I didn't dare a few months back, and now I'm quite enjoying this center effect.
C'est marrant, c''st le genre de composition que je n'osais pas trop faire il y a encore quelques mois, et maintenant j'aime plutôt pas mal cet effet de centre.
04 février 2019
Working on layers and transparencies using two gelli plates of different size and printing directly on the paper.
The collage only adds a touch of bright colour.
Travail sur les transparences et les couches. J'ai utilisé deux plaques d'impressions en gélatine directement sur le papier.
Les collages ajoutent seulement une touche de couleur vive.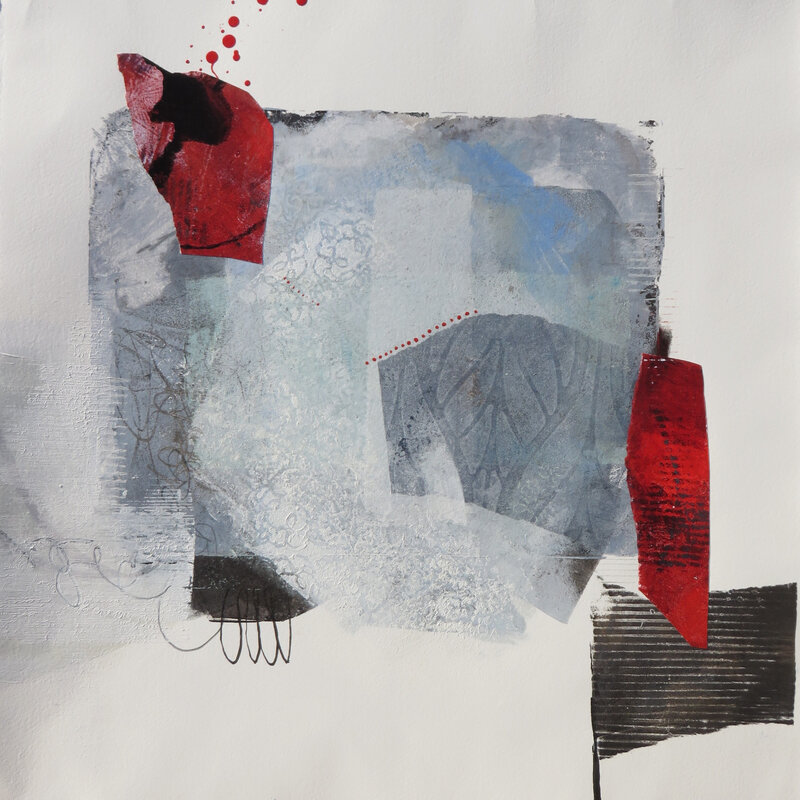 I like the transparencies, and the deep dark red.
J'aime les transparences et ce rouge si profond.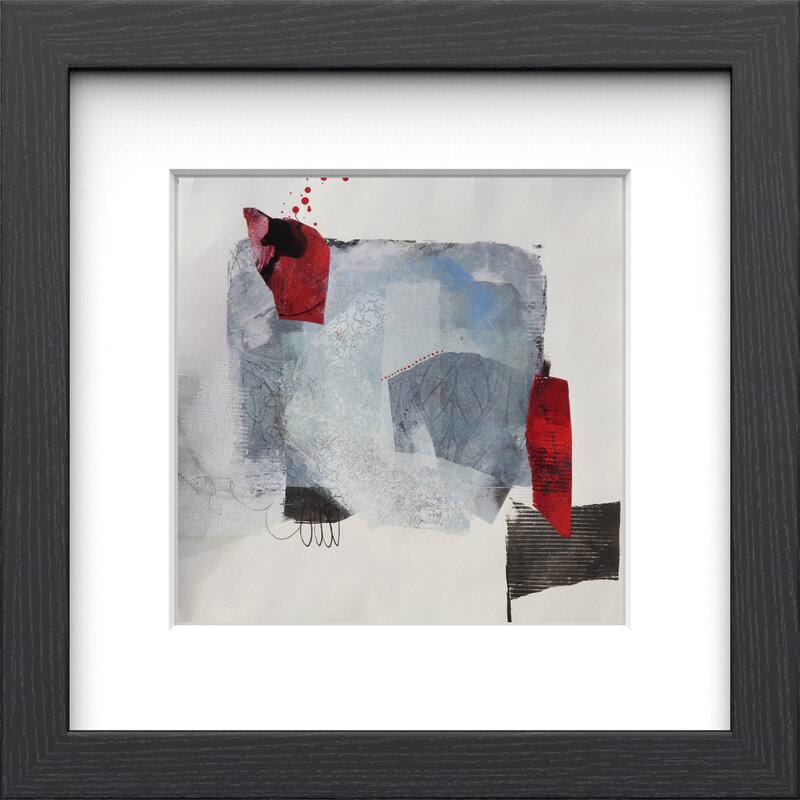 I also like it this way:
Je l'aime aussi dans ce sens là:
This is the other halfd of the set I showed you the other day:
Voici l'autre moitié de la paire que je vous ai montrée l'autre jour:
I wouldn't hang them together though, I'm just mentionig it to explain the process (they were made in the same idea) but the collage of red in one case and orange in the other has made them too different to be put next to each other. My opinion.
Je ne les accrocherais pas ensemble toutefois; je le précisais juste pour expliquer le processus (ils ont été faits dans le même esprit) mais le collage de rouge dans un cas et d'orange dans l'autre les a rendus trop différents pour qu'ils soient accrochés côte à côte. C'est mon avis.
31 janvier 2019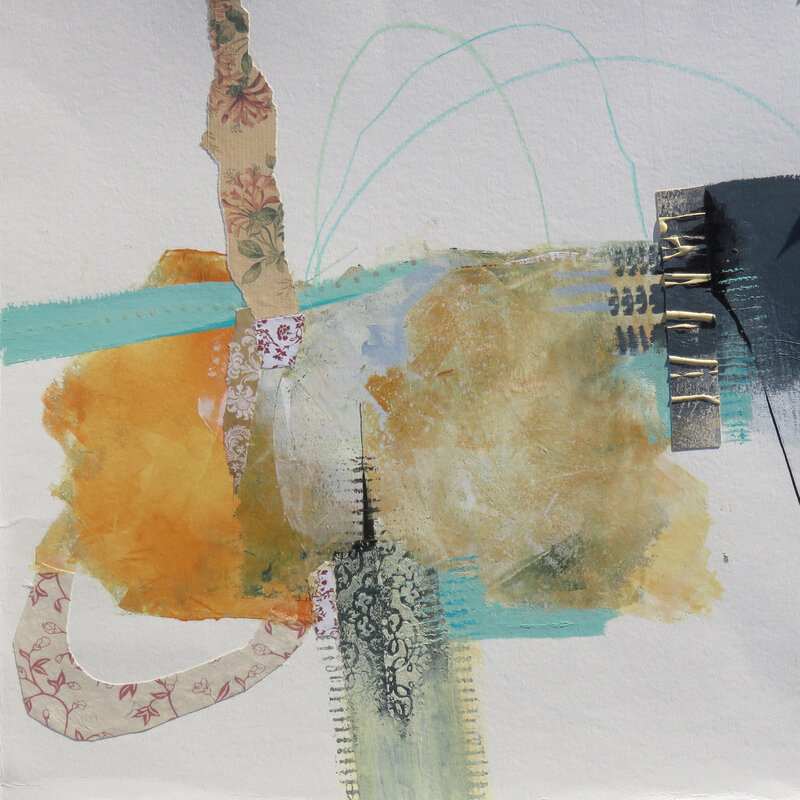 The composition is balanced, I like the textures, but I just can't seem to fall in love with it...
What is missing? Do you feel it missing?
La composition est équilibrée, j'aime les textures, mais je n'arrive pas à être satisfaite, comme s'il manquait quelque chose.
Ressentez-vous la même chose?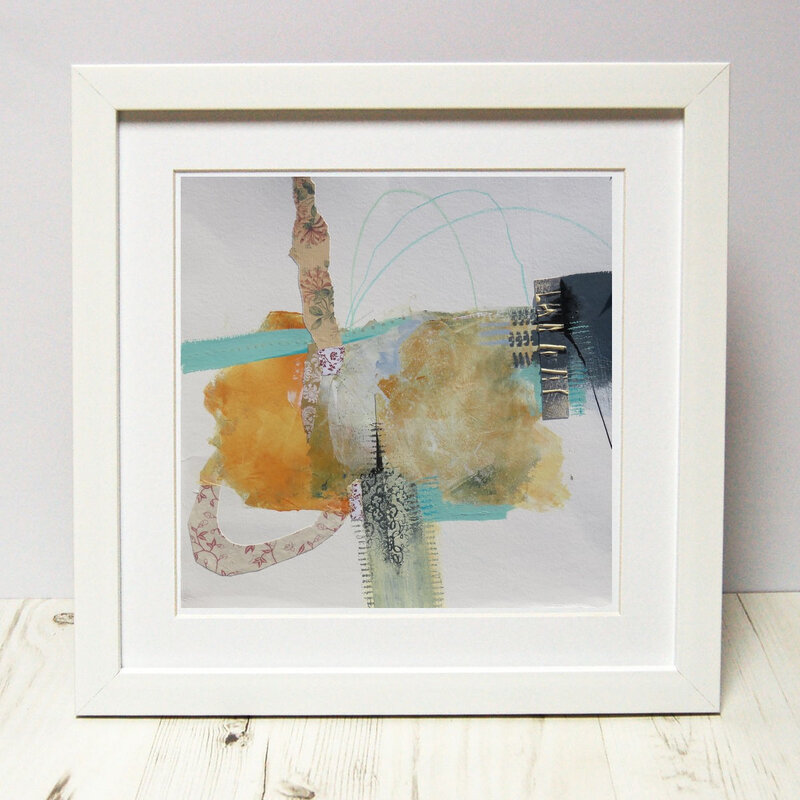 28 janvier 2019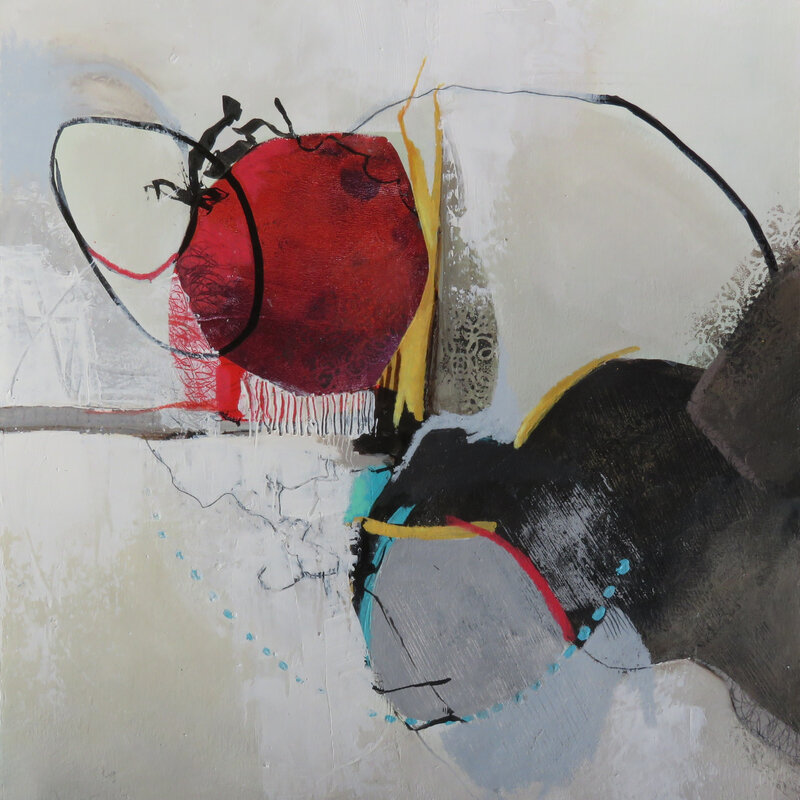 This is a painting in progress which is probably going to stay as is because it seems it has reached its goal.
Voici un tableau en cours qui va probablement rester en l'état car je trouve qu'il a atteint son but.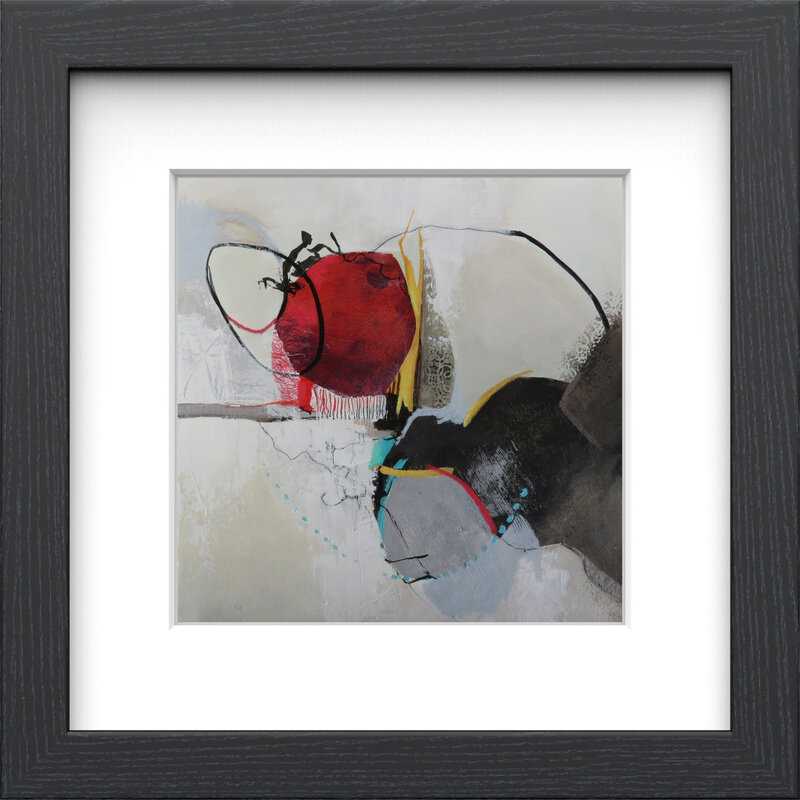 22 janvier 2019
Every new year a new challenge. This year, mine is going to be pretty simple: I've had troubles keeping up with this blog what with being back at work full time again since September, AND trying to maintain a regular painting practise; so this year, I'll try and keep up with regular posting on the blog too!
A chaque année son nouveau défi. Le mien va être simple: j'ai eu du mal à m'occuper de ce blog depuis que j'ai repris le travail à plein temps en septembre tout en maintenant une pratique artistique régulière. Alors, cette année, je vais poster plus régulièrement sur ce blog aussi.
I know lots of you are interested in the hows and the whys and the whats, and it's so enriching to be able to have some kind of a dialogue with people out there.
Je sais que beaucoup sont interessés par le pourquoi du comment et c'est si enrichissant d'avoir une sorte de dialogue par commentaires interposés.
To be realistic though, I'll have to keep the posting simple and short. Let's go straight to the core and cut the chase: I'll post my latest painting(s) with a minimum of words.
Pour rester réaliste, il faudra que je garde les posts simples et courts. Aller à l'essentiel et éviter les blabla : je posterai mes tout derniers tableaux avec un minimum de texte.
I also know some of you are keen on trying out new games and challenges and experiences, so once in a while we'll indulge!
Je sais que certains sont friands de jeux, de défis et d'expériences, alors de temps en temps on se fera plaisir avec un post plus long.
Are you ready for this new plan? So let's go!
Prêts pour cette nouvelle formule? C'est (re)parti!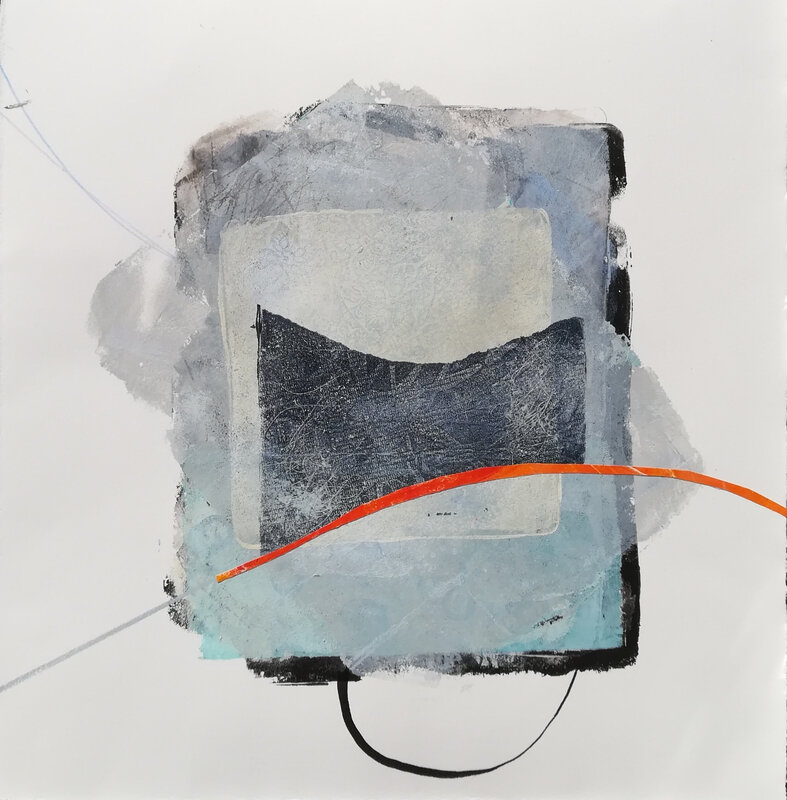 N°1
and this painting is pretty appropriate to illustrate my words, don't you think?
et je trouve ce tableau plutôt approprié pour illustrer mon propos, vous ne trouvez pas?
23 décembre 2018
Pour clore cette série sur le orange, j'ai voulu varier le format. J'ai travaillé sur les formes très allongées (65 x 25 cm), ce qui a forcément influencé les compositions.
To finish this series of paintings based on orange, I've decided to change the format. I worked on vertical papers (65 x 25 cm) and it obviously had a huge influence on the compositions:
Ces premiers jets ont ensuite été re-travaillés, mais j'ai oublié de les photographier avant de les encadrer :-/
These are only works in progress, I've since then worked on the some more, but I totally forgot to take a picture before framing them :-/
Et pour une fois, la photo des oeuvres encadrées n'est pas trafiquée, puisqu'elles sont maintenant dans mon salon!
For once, the picture of the framed works is real: they are now hung in my lounge.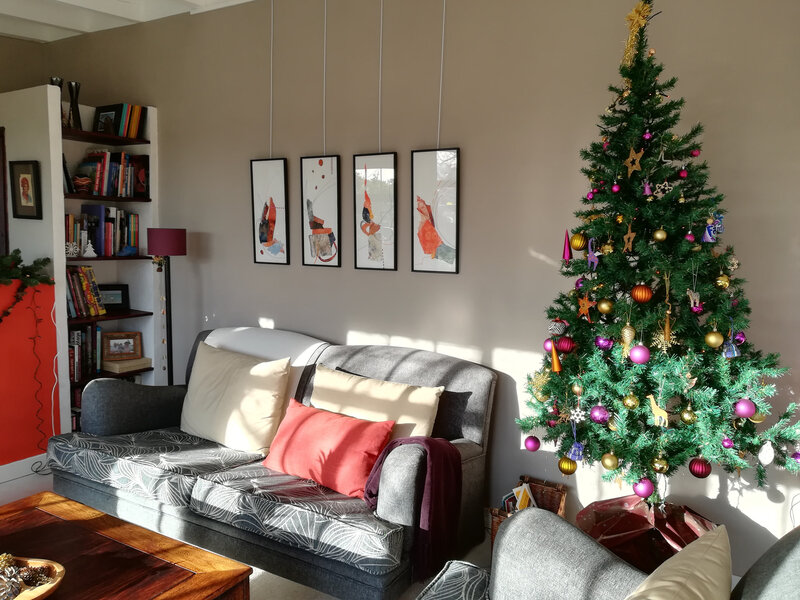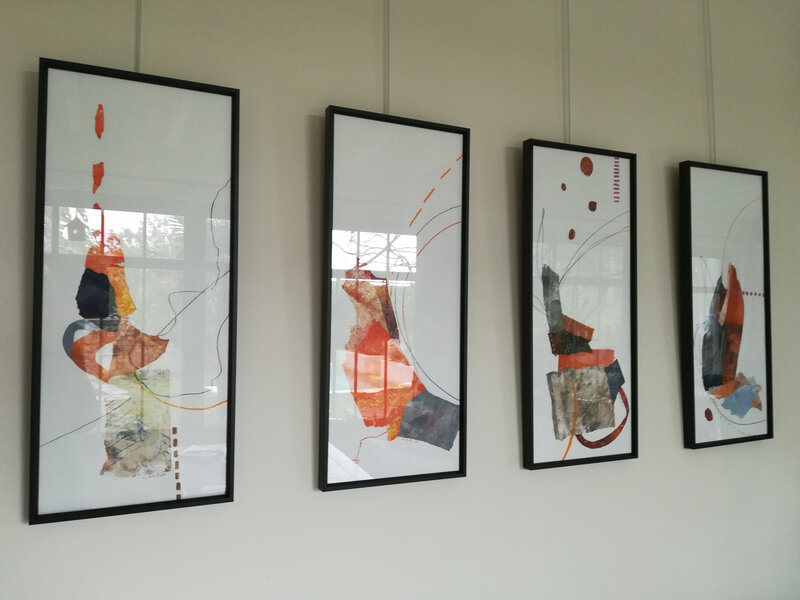 Et c'est là qu'on réalise la galère avec les reflets... :-D qu'importe, cela permet de finir sur une touche plus... personnelle.
and that's when you realise how tough it is to take a picture with the reflections :-D anyway, it allows me to end on a more personal touch
Pour info et mémoire, voici tous les autres carrés créés dans cette série :
FYI, here are all the other square works of this serie: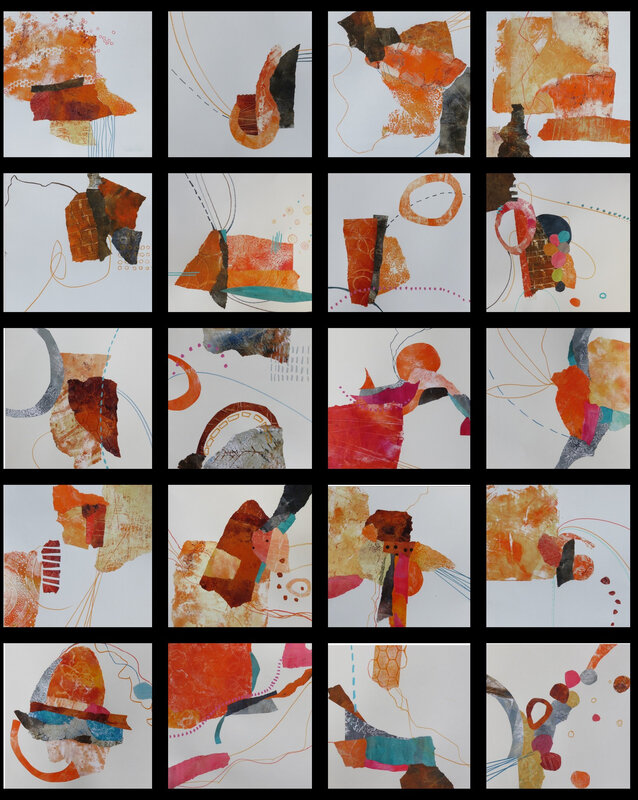 Il ne me reste plus qu'à vous souhaiter d'excellentes fêtes de fin d'année.
And now here's my cue to wish you a merry Christmas
04 décembre 2018
La couleur se diversifie, je trouve ces compositions là plus fantaisie.
Colours are more varied, the composition is more fun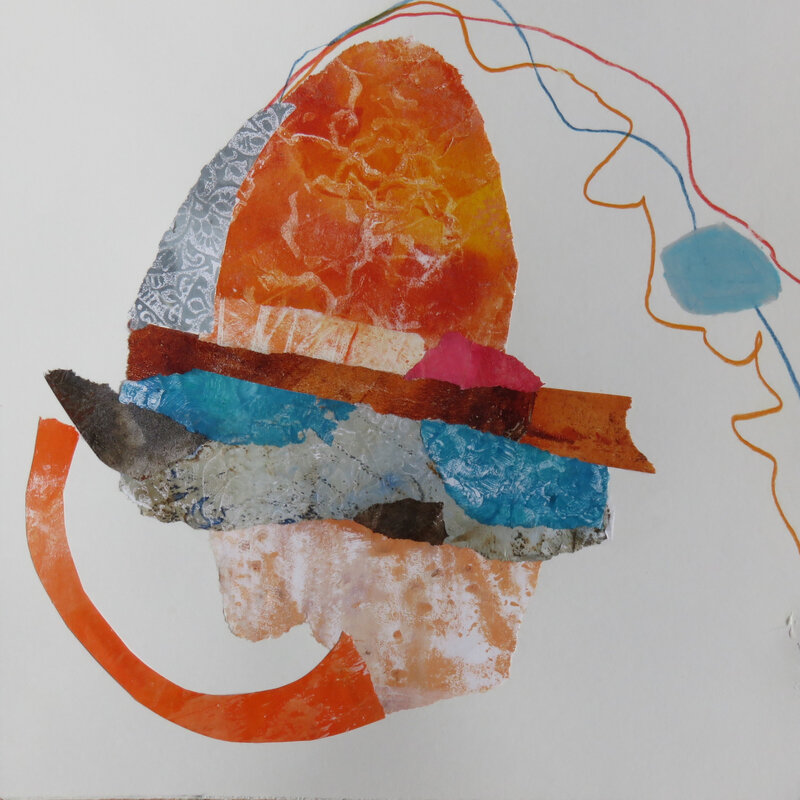 N°168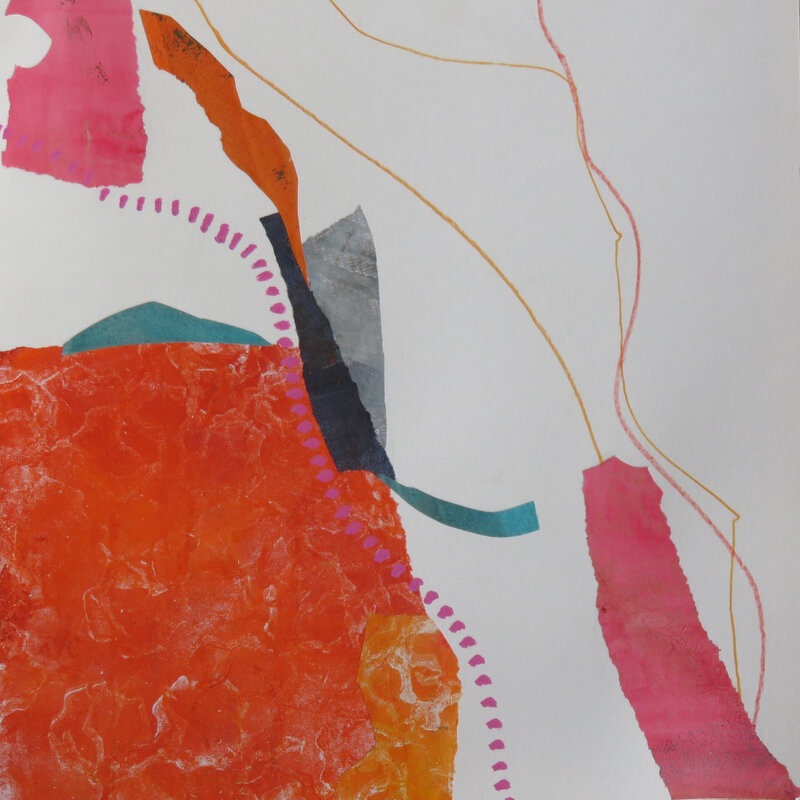 N°169

N°170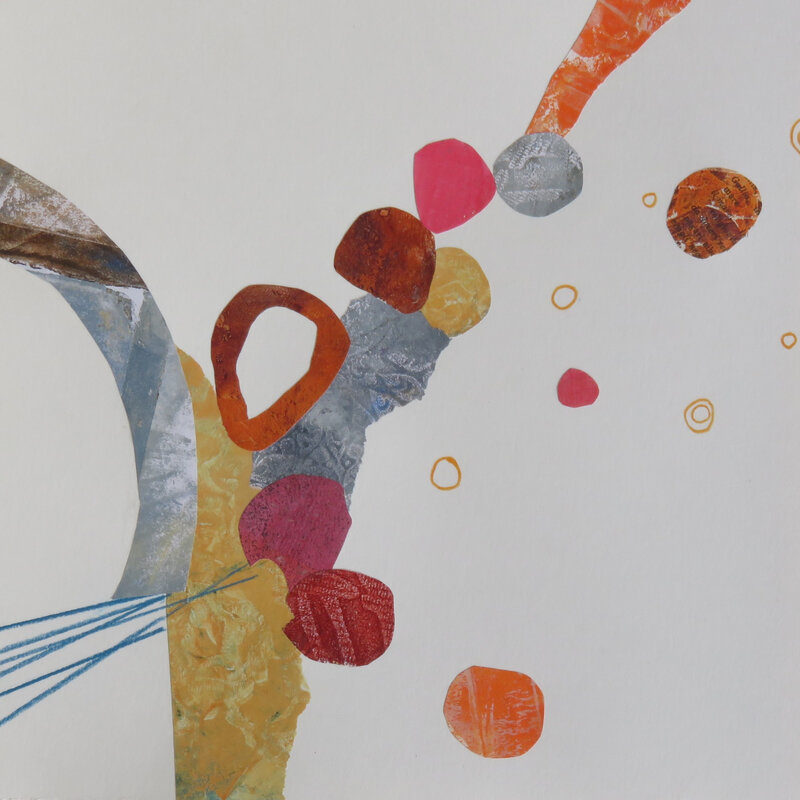 N°171
Et comme toujours, les quatre encadrées pour avoir un peu de recul
As usual let's step back and have a look at them framed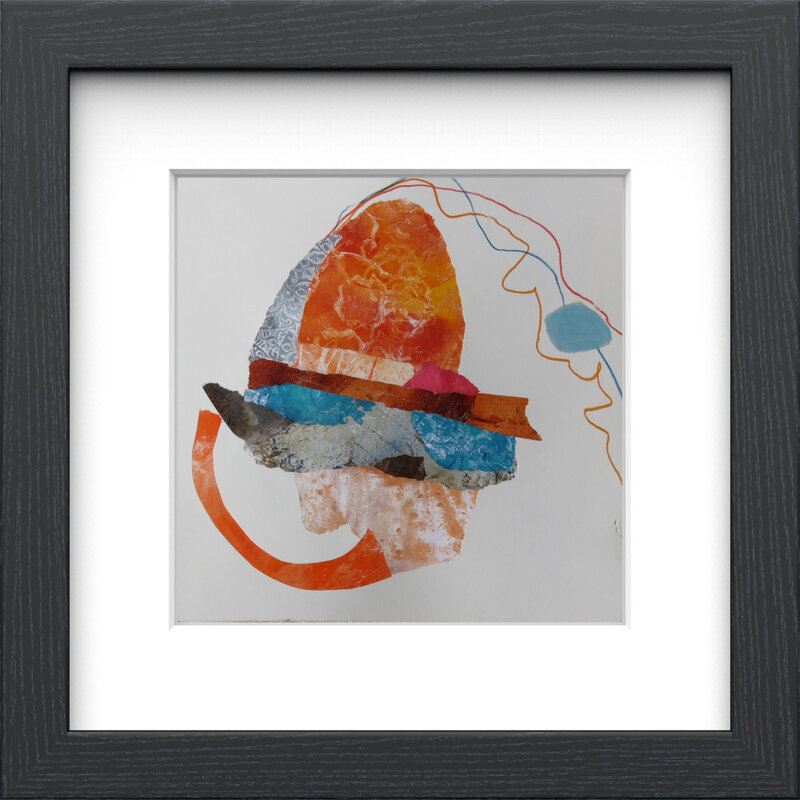 N°168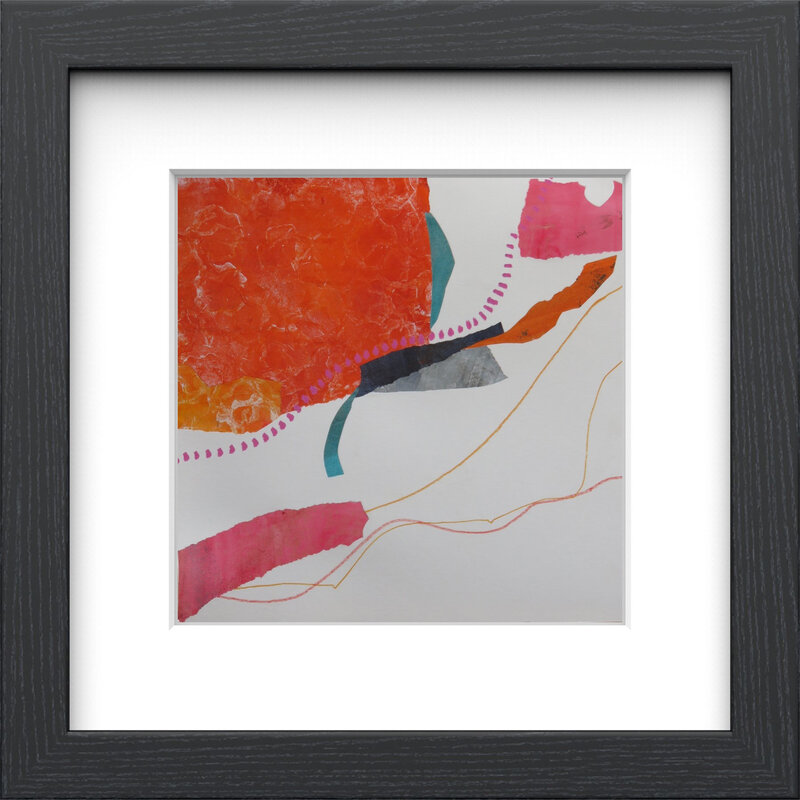 N°169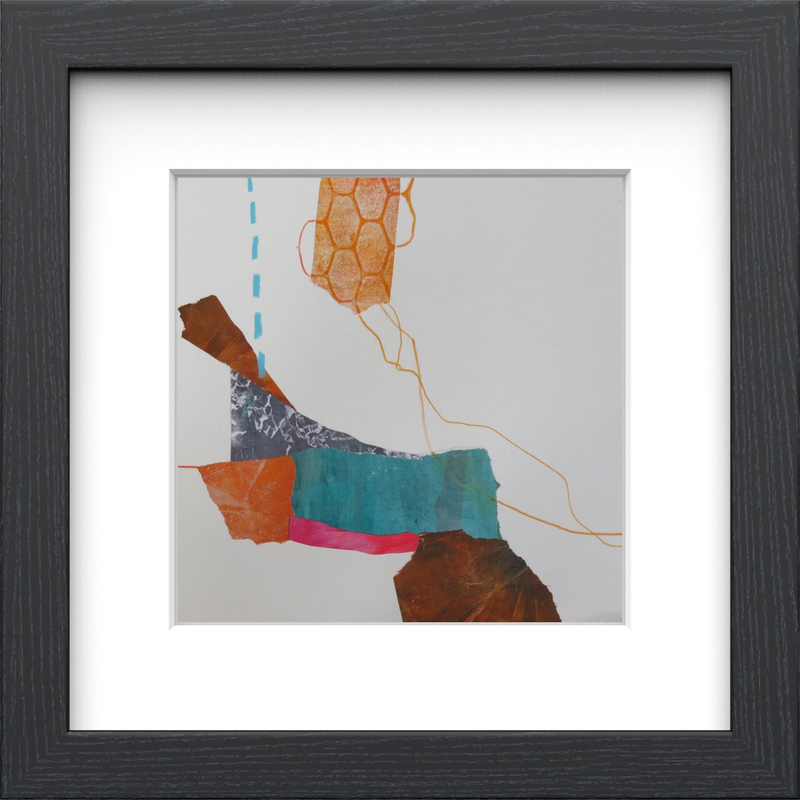 N°170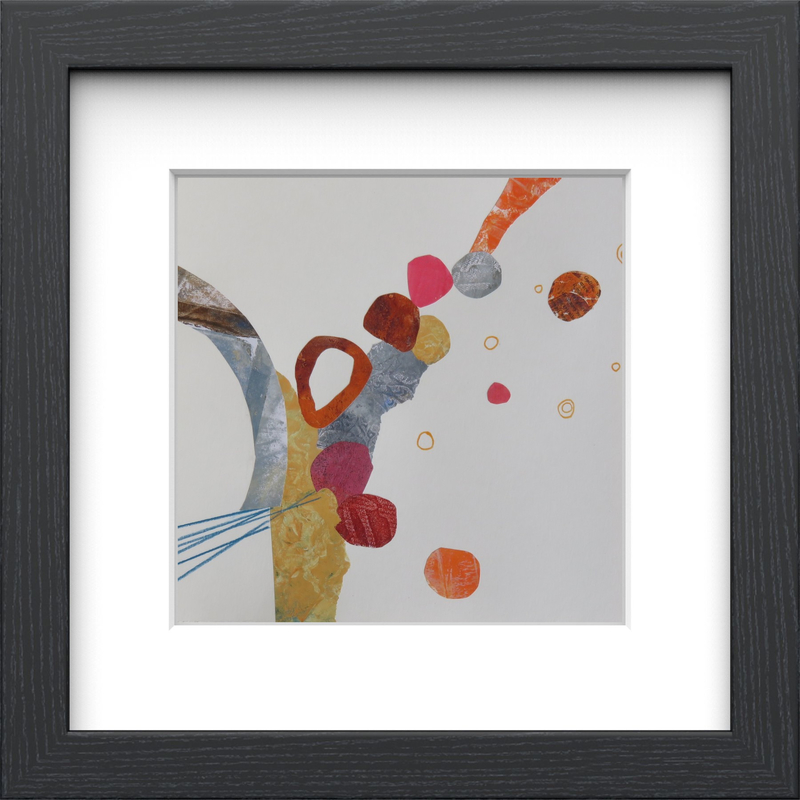 N°171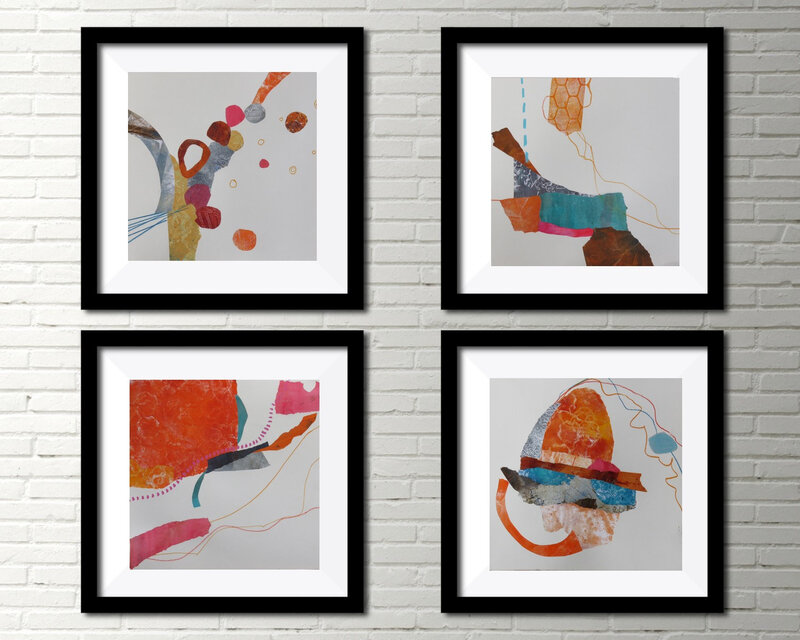 15 novembre 2018
Dans cette série j'ai décidé de varier davantage l'ajout de couleurs
In this series I decided to vary the colours I added
Le gris/bleu est plus présent dans les 2 premiers, ce qui apporte de la douceur mais le orange tire nettement vers le marron. Les compositions sont nettement axées sur l'idée d'épurer.
The blue-grey in the first two brings some softness, but the orange gets browner there too. The compositions decidedly try to remain uncluttered.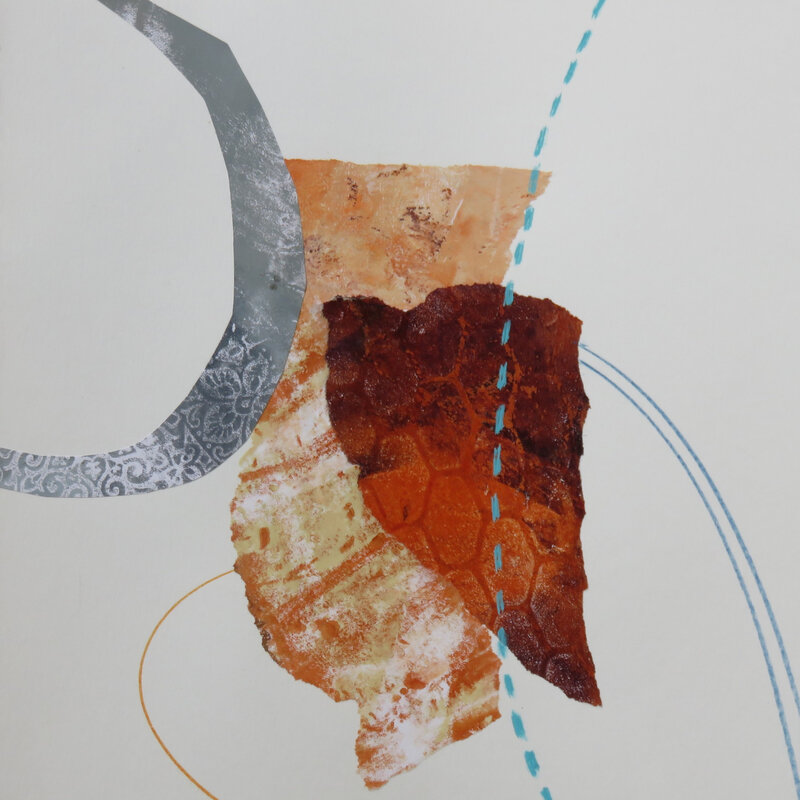 N°164

N°165
Dans les 2 autres, j'ai voulu réchauffer le orange et le faire vibrer en l'associant à du rose et/ou du jaune
In the other two, I decided to warm up the orange and bring some variation by adding pink and/or yellow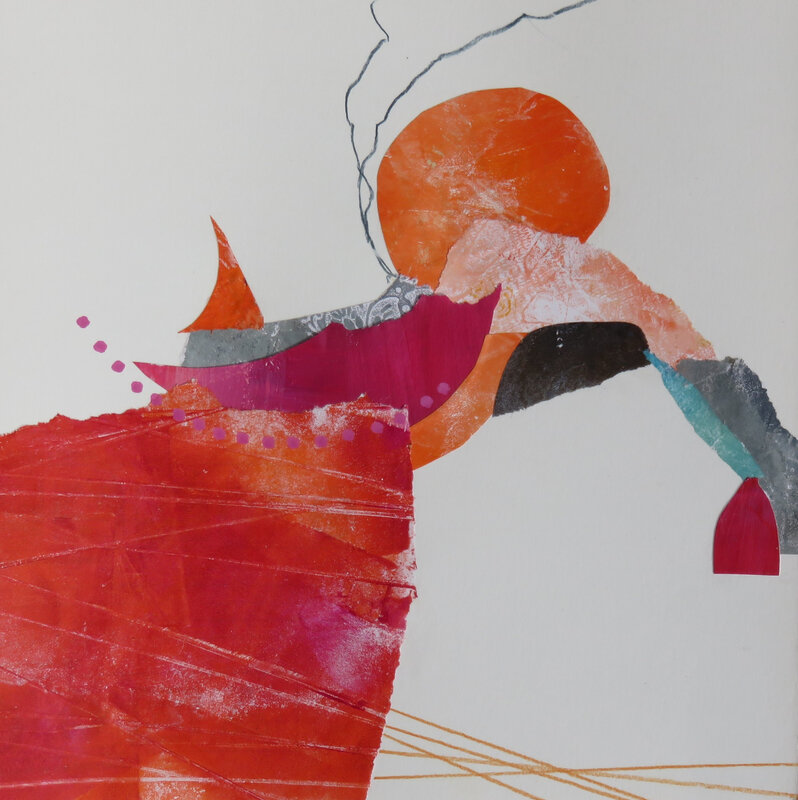 N°166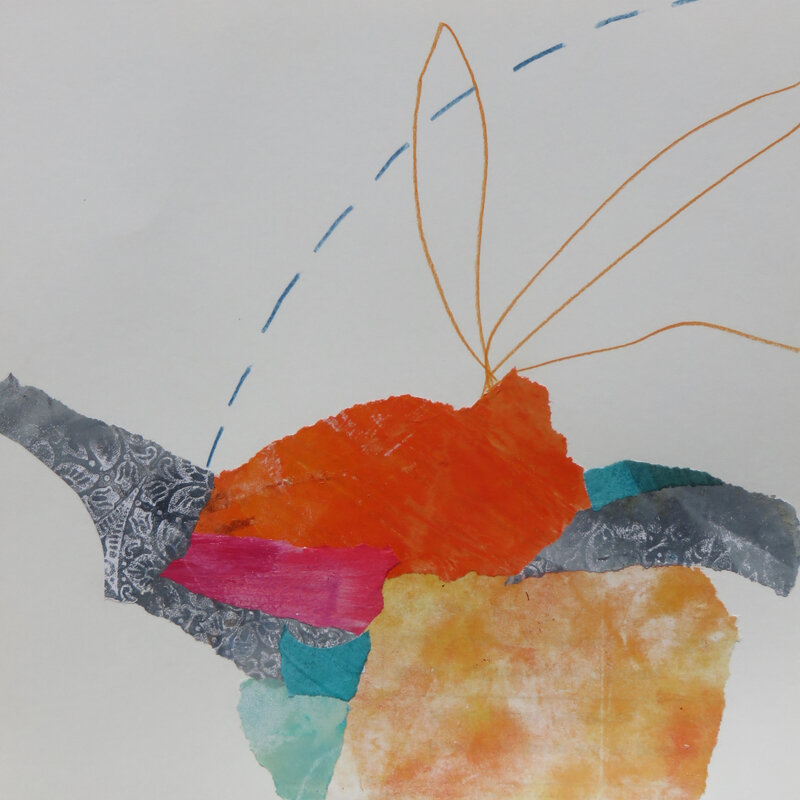 N°167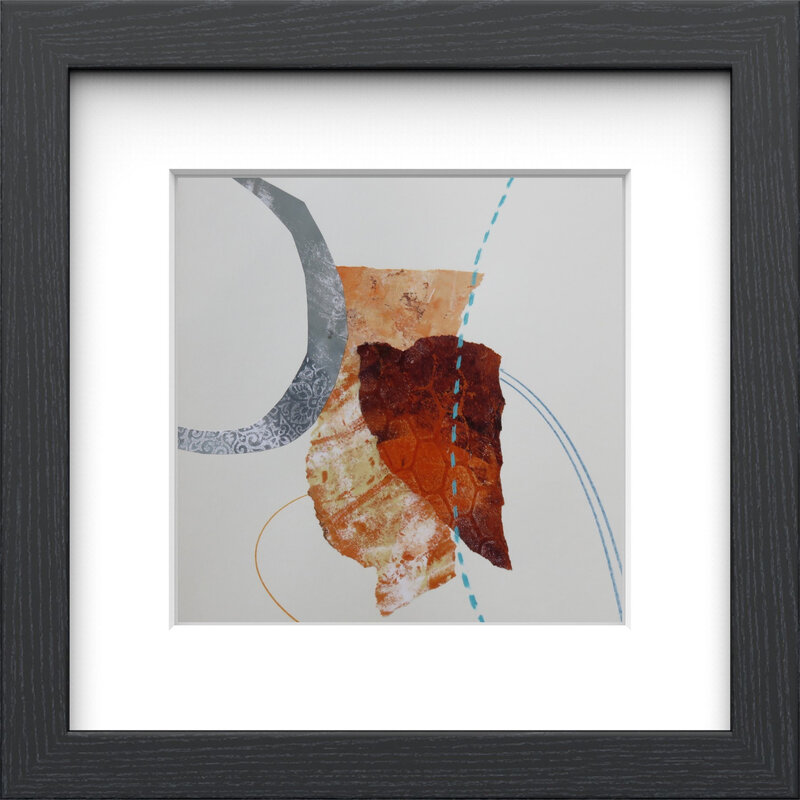 N°164

N°165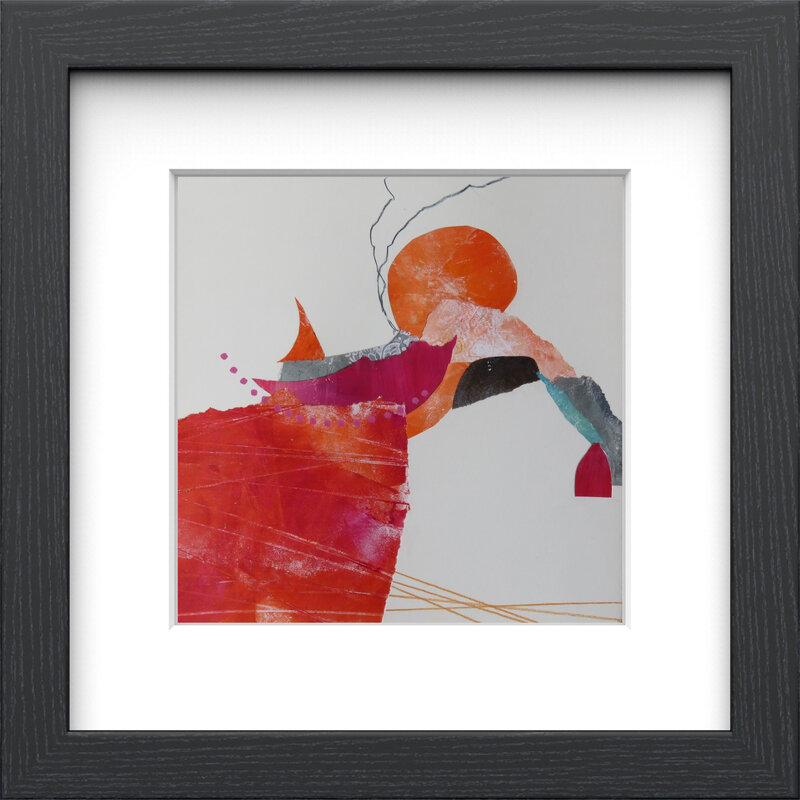 N°166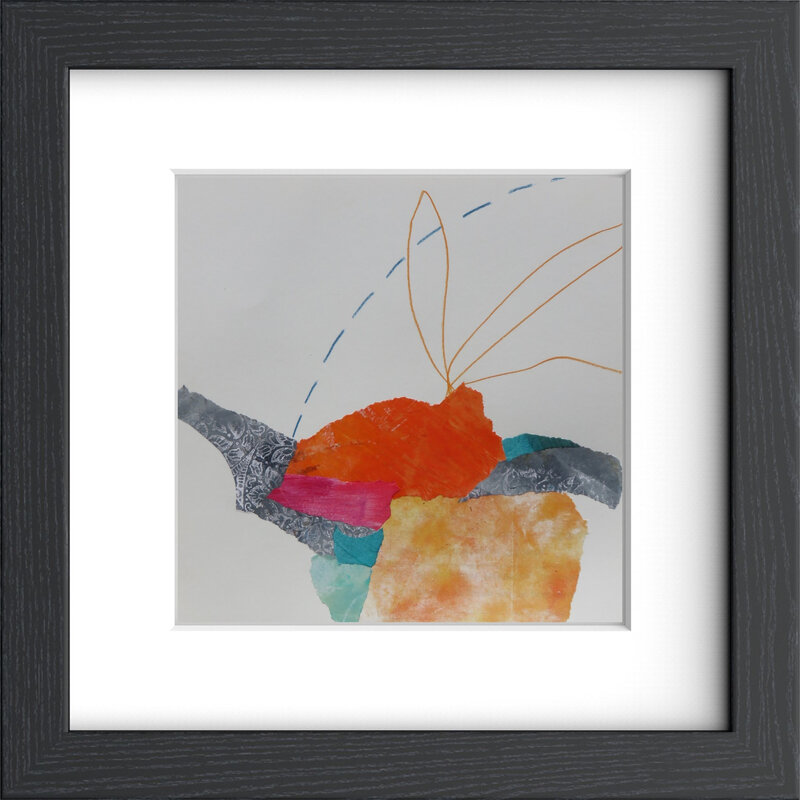 N°167
Et les 4 ensemble, même s'ils ne sont patculièrement faits pour l'être:
And the four of them together, even if they are not particularly meant to be together: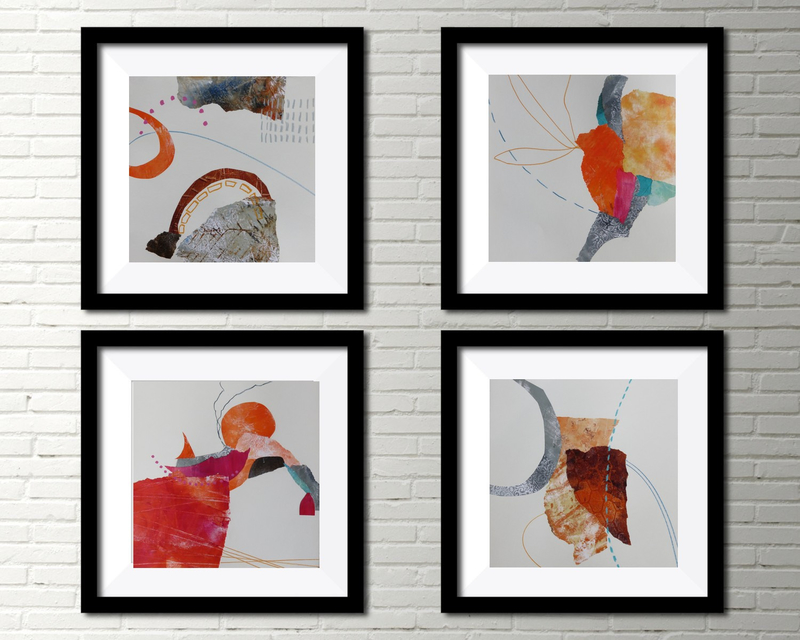 01 novembre 2018
Travailler sur un même concept c'est à dire par "série", c'est pousser les idées, faire évoluer, trouver une originalité dans le renouvellement, chercher plus loin. Pour l'artiste, c'est extrêment gratifiant de voir ensuite le trajet parcouru quand on regarde toutes les oeuvres obtenues. Nouvelles textures, travailler les couleurs, les formes, les contrastes.
Working on the same concept, that is by series, implies pushing the ideas to their limits, making them evolve, finding some originality each time, never repeating the same "recipe", trying out new combinations, new colours, new shaes, new contrasts, new marks, new textures. It is always gratifying when you then look bak on all the pieces you've created.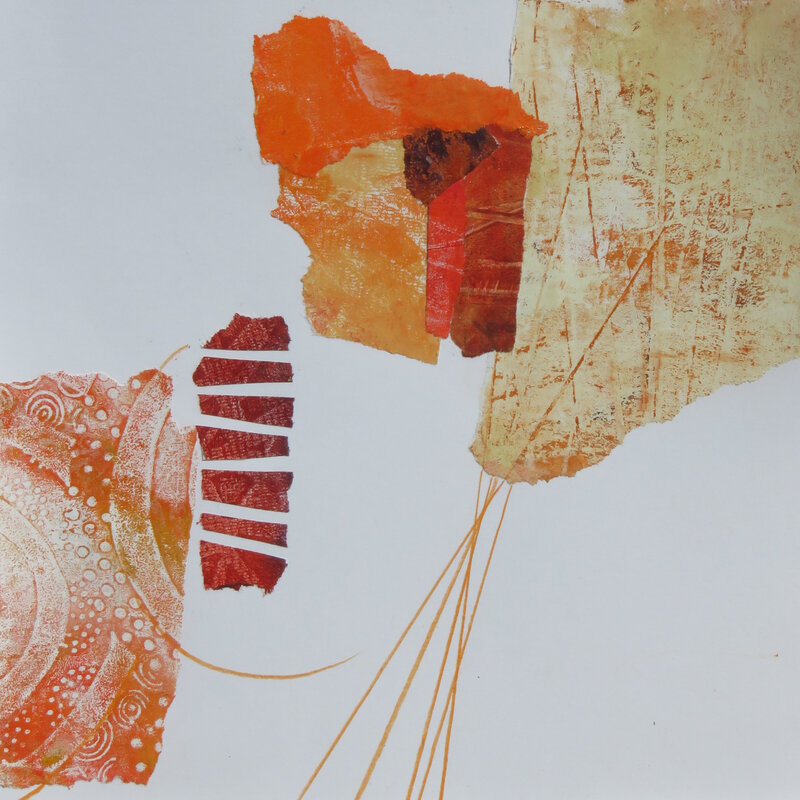 N°160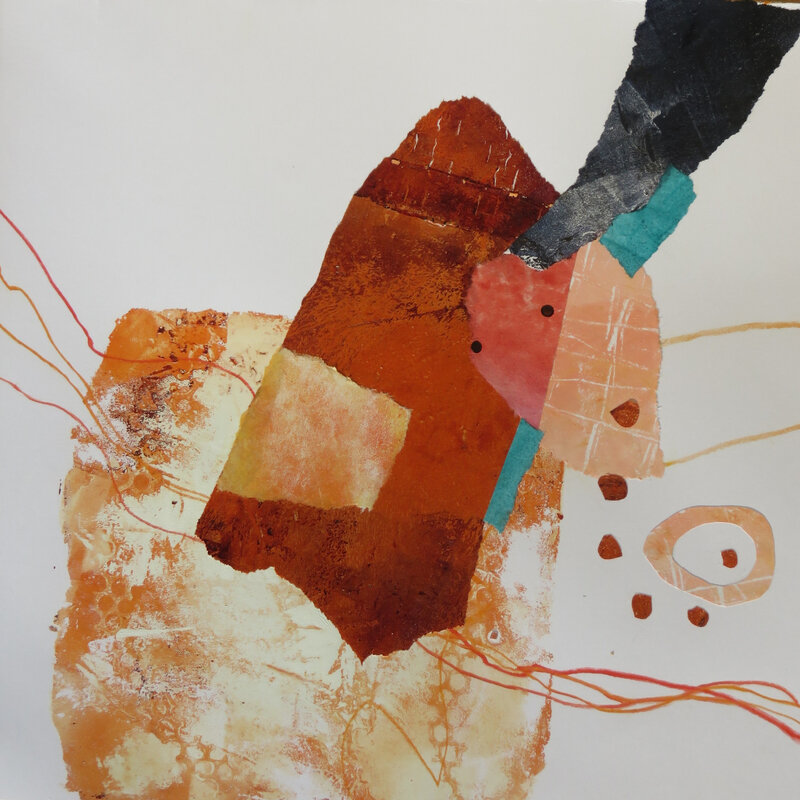 N°161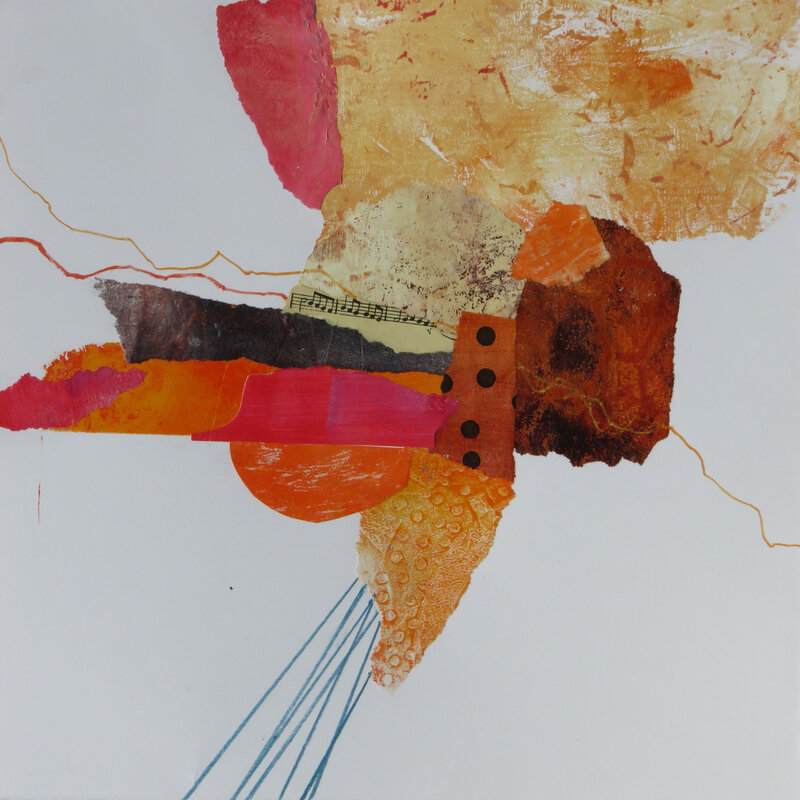 N°162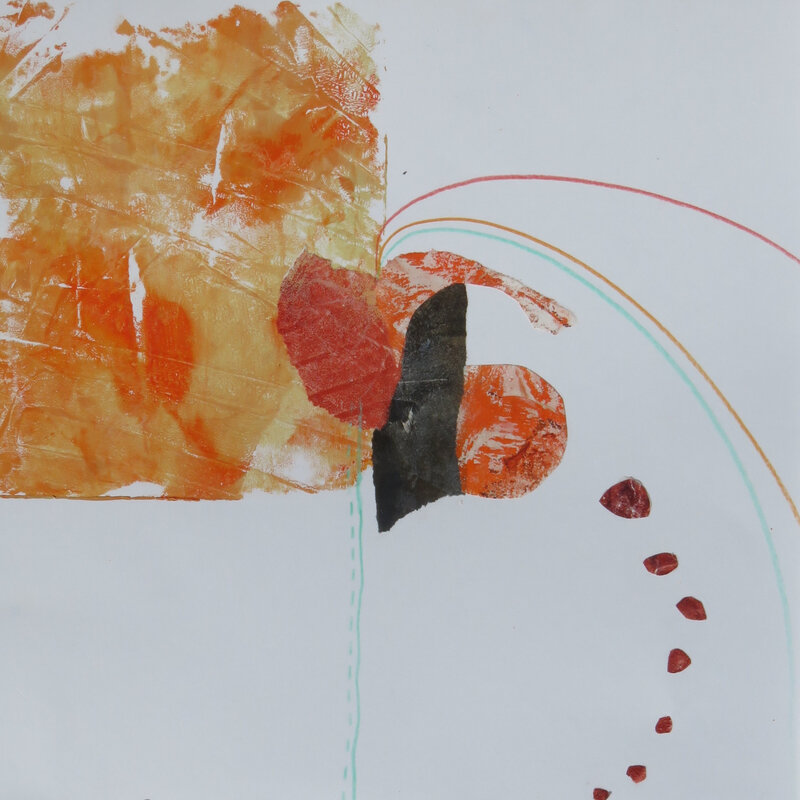 N°163
Dans cette série, j'ai commencé par imprimer une grande forme directement sur la feuille, puis j'ai ajouté par collage des formes plus petites, des lignes et des motifs.
In this series I started out with a big shape directly printed on the paper, then I collaged smaller shapes, lines and marks.
N°160
N°161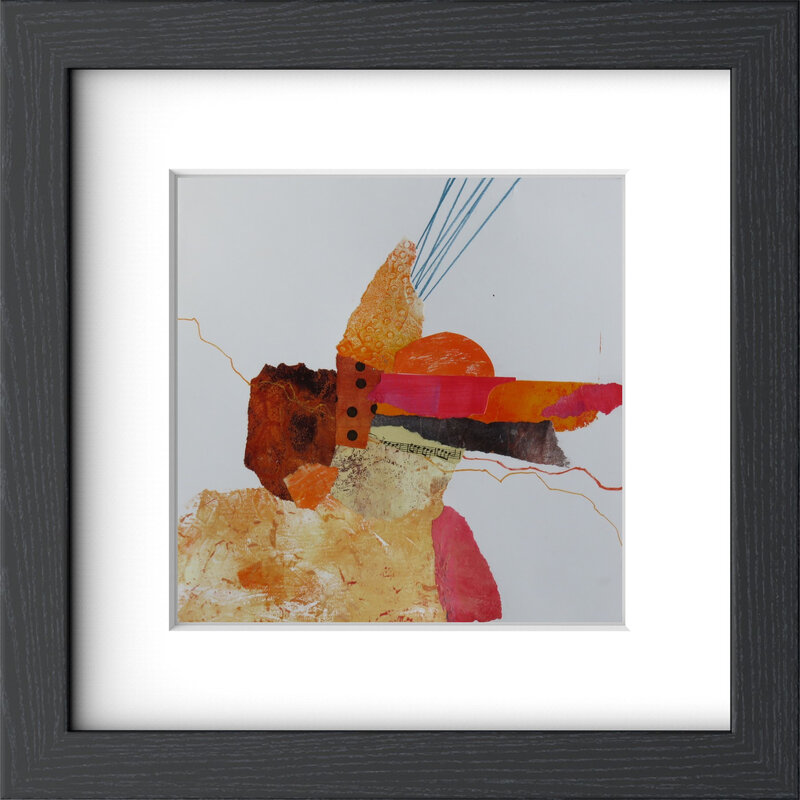 N°162
N°163
26 octobre 2018
Et encore des compositions basées sur du orange
More compositions based on orange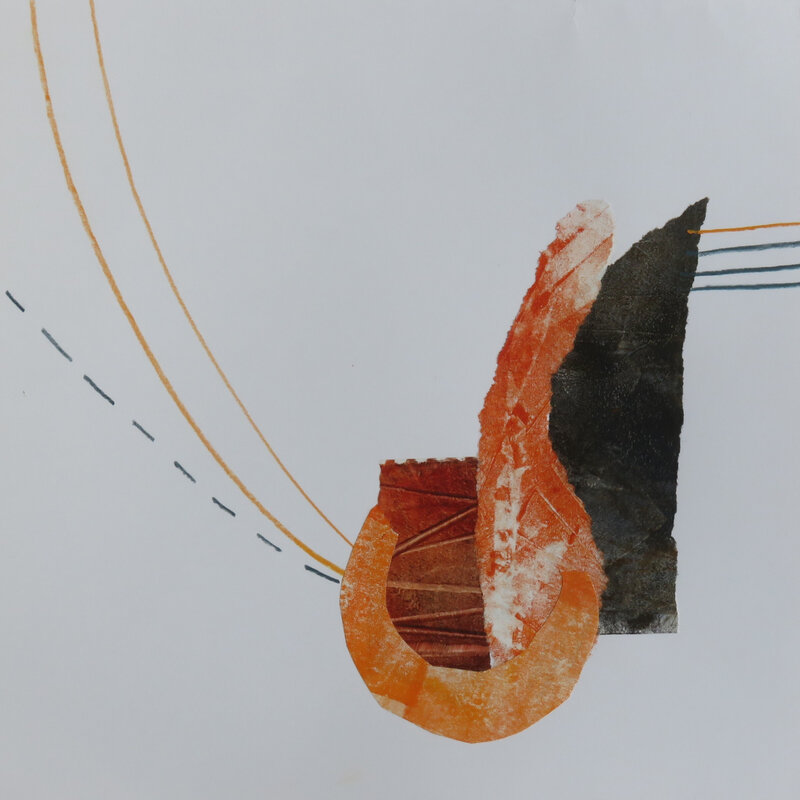 N°156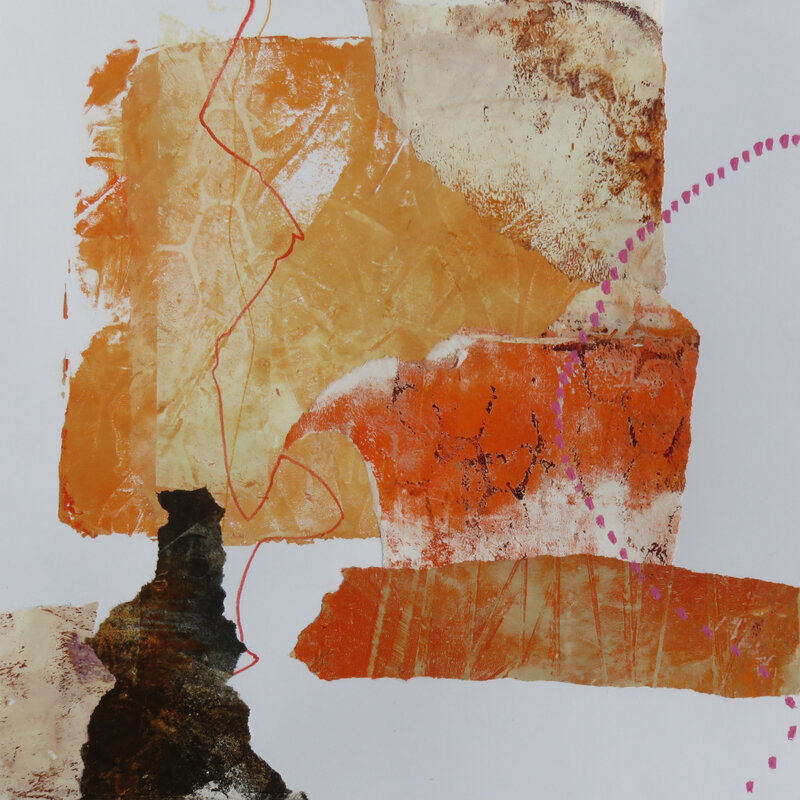 N°157

N°158
J'aime la tension apportée par ces fils tendus en bas à gauche
I love the tension brought by the straight lines in the bottom left-hand corner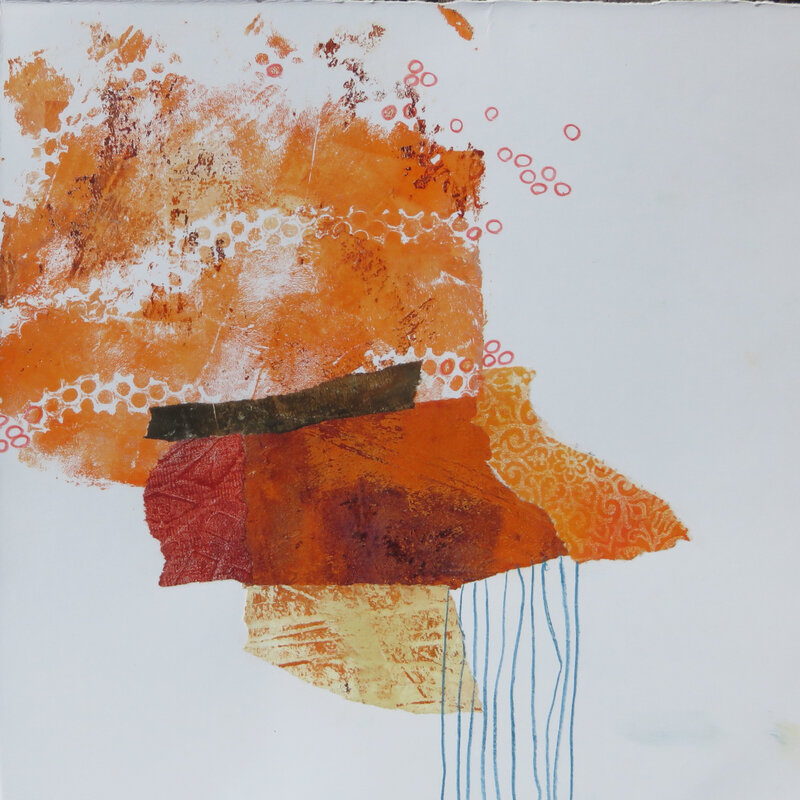 N°159
Prenons du recul / let's step back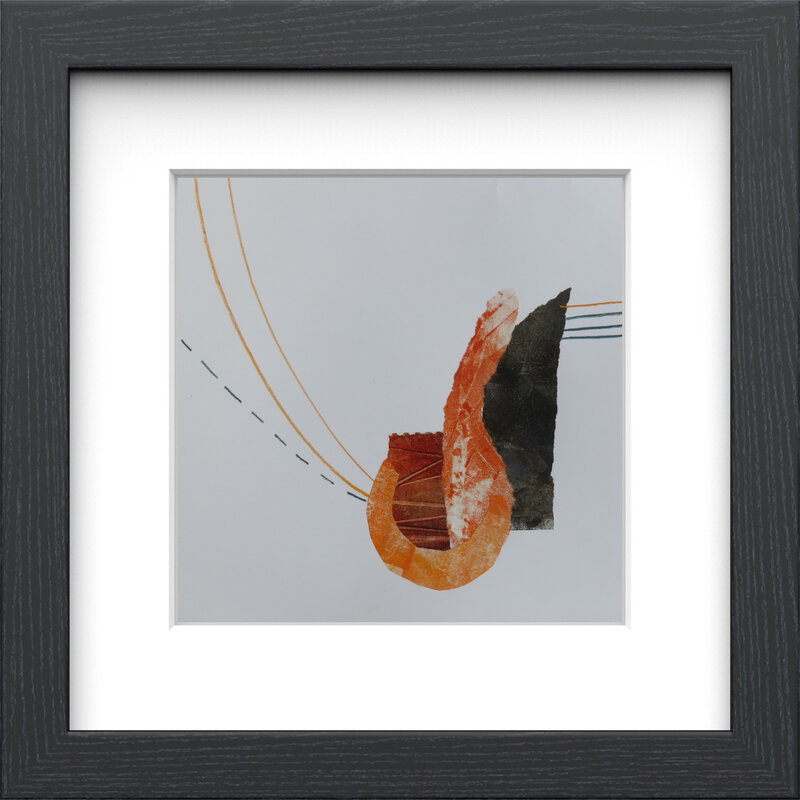 N°156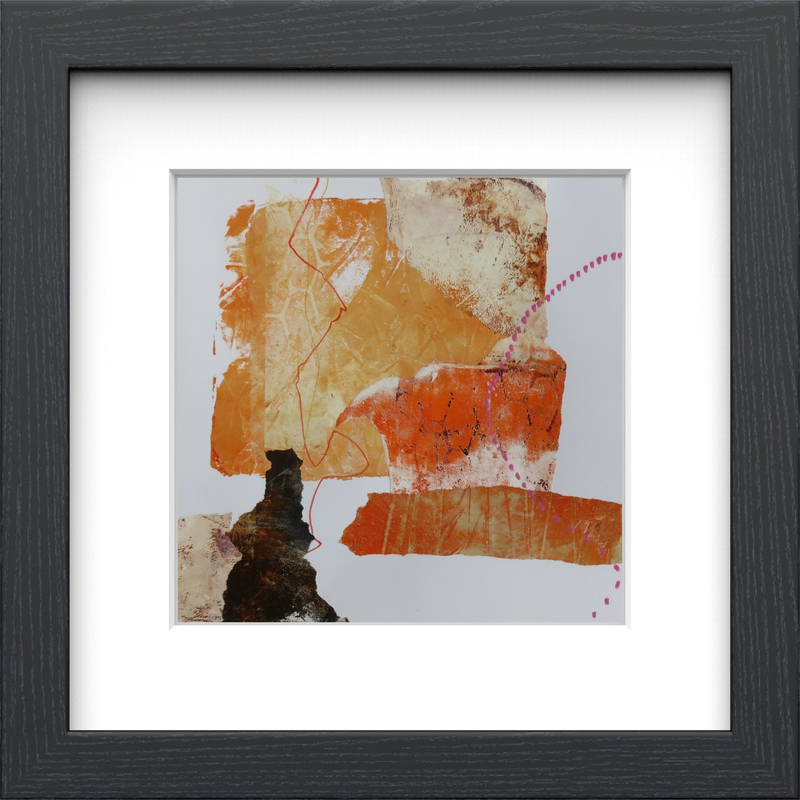 N°157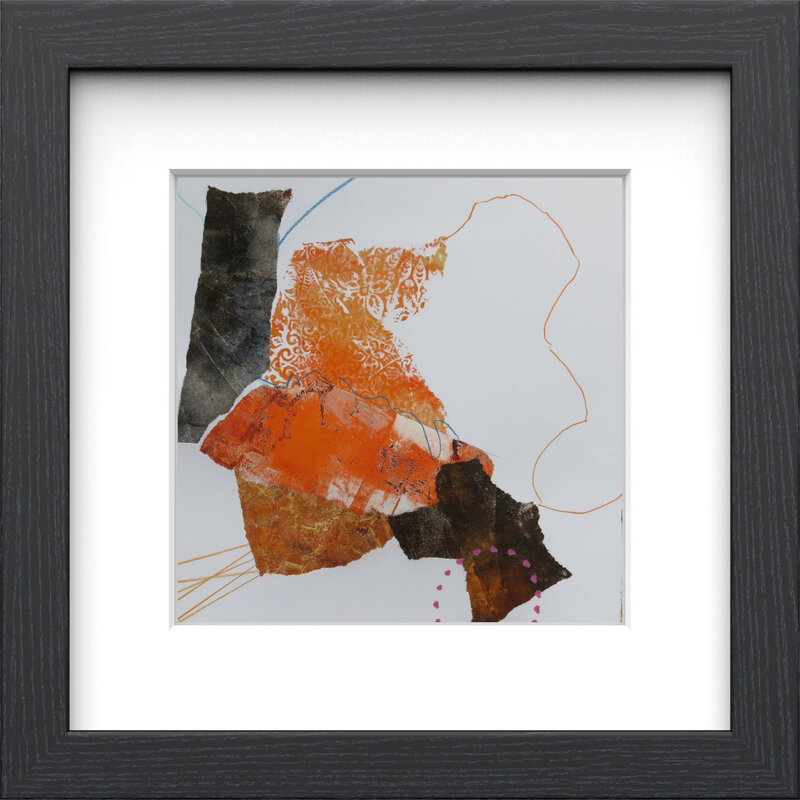 N°158

N°159