... dans notre chambre.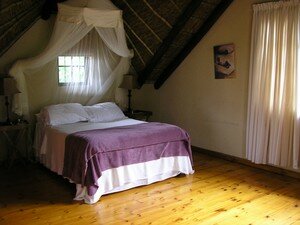 Le toit traditionnel en chaume fait très lodge, et dégage une odeur particulière quand il pleut ou quand il a fait très chaud.
En revanche, il y a beaucoup d'inconvénients. Je ne vais pas casser le rêve en vous en faisant la liste ici!
---
South African atmosphere in our bedroom.
The traditional thatch roof reminds of a lodge, and there's a special smell when it rains or when it's been hot.
However, there are lots of drawbacks. I'm not going to list them here and shatter this dream-picture.