(English version below)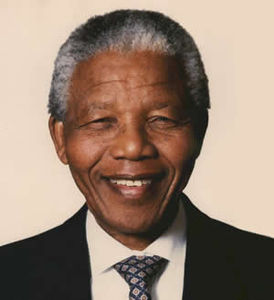 Aujourd'hui c'est l'anniversaire de Madiba, Nelson Mandela. Depuis plusieurs semaines, la radio que j'écoute demande à ses auditeurs de laisser un message pour son anniversaire. Que diriez-vous à Madiba pour son anniversaire? Et ils interviewent des personalités en posant cette même question.
Et à chaque fois que j'entends ce que les gens disent, j'ai les larmes aux yeux. Pour ce qu'il a fait, pour ce que tous ces gens ont subi, pour cette dévotion, pour ce que le pays est devenu, pour toutes les personnes qui ont souffert... Je ne sais pas trop, mais entendre les gens parler de lui de cette façon est vraiment émouvant.
Happy Birthday, and thank you.
---
Today is Madiba (aka Nelson Mandela)'s birthday. For weeks now, the radio I listen to, has been askingpeople to leave a message for his birthday. What would you say to Madiba for his birthday? And they also interview famous people asking the same question.
And each time I hear what people say, I feel like crying. For what he has done, for what people had to bear, for this devotion, wfor what the country has become, for all the people who suffered... I don't quite know, but hearing people talk to him in such a way is really moving.
Happy Birthday and thank you.