C'est le thème d'un des Carnets Baladeurs... que j'avais oublié!! Quelle honte! Je viens de le retrouver et d'y mettre ma participation:
This is the theme of one of the Wandering Sketchbooks... that I had completely forgotten!! Shame on me! I've just found it and added my contribution: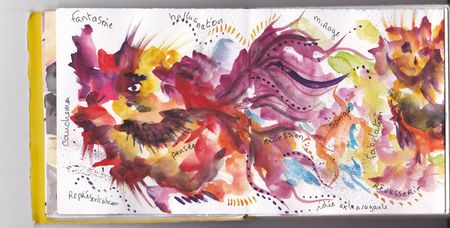 voici une moitié de ce que j'ai imaginé sur ce vaste thème... l'autre partie sur le blog des carnets baladeurs.
here's the first half of what I imagined on this vast theme... the other half you'll find it on the blog of the Wandering Sketchbook.