Still focusing on decluttering, I tried the rectangle size; I think the first three look look better in a landscape format.
Toujours dans l'idée d'épuration, j'ai essayé quelques composition en format rectangle; les 3 premiers fonctionnent mieux en format paysage à mon avis.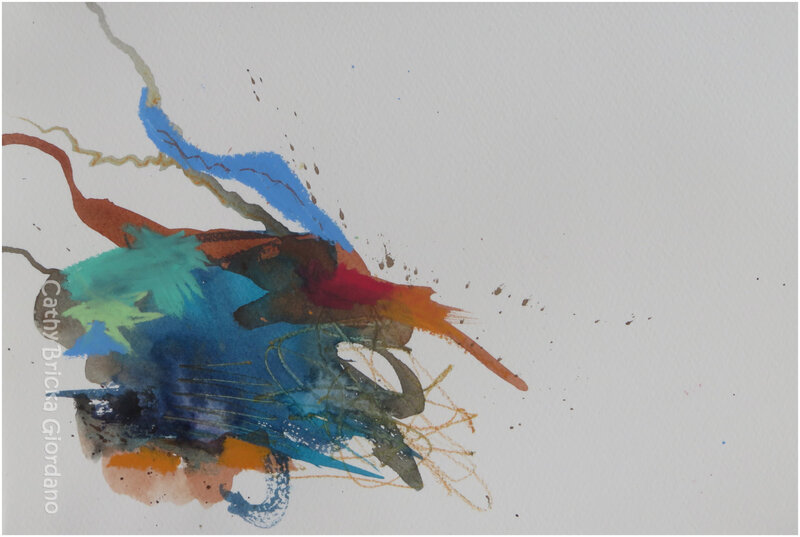 N°94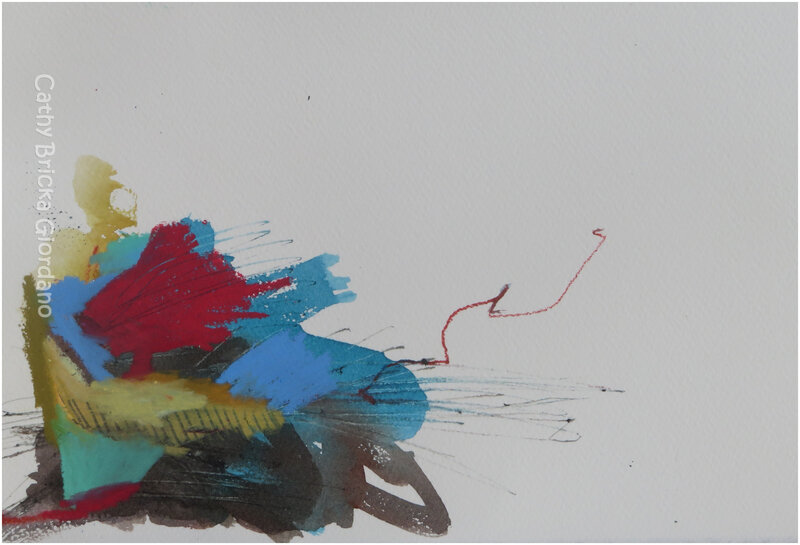 N°95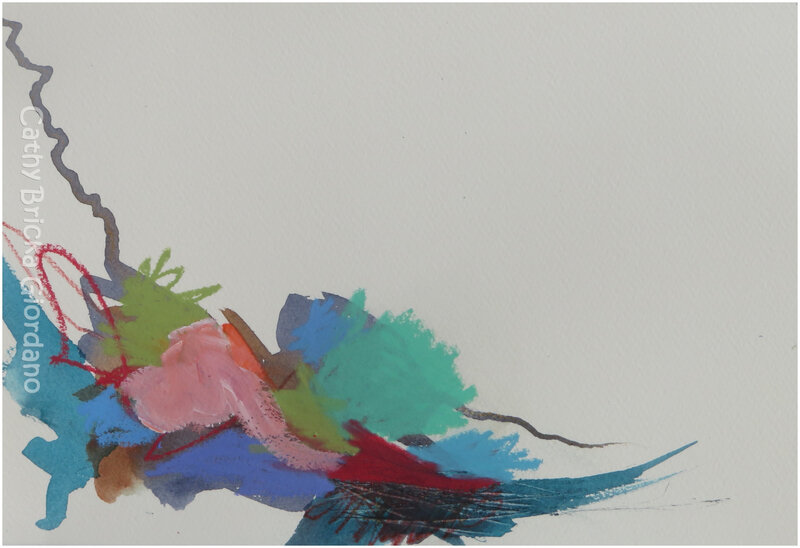 N°96
J'ai aussi fait des essais dans le même style mais avec de l'aquarelle, medium que pour l'instant j'ai toujours réservé pour mes carnets de voyage.
I also tried some using watercolour, which so far I had used only for my travel sketches.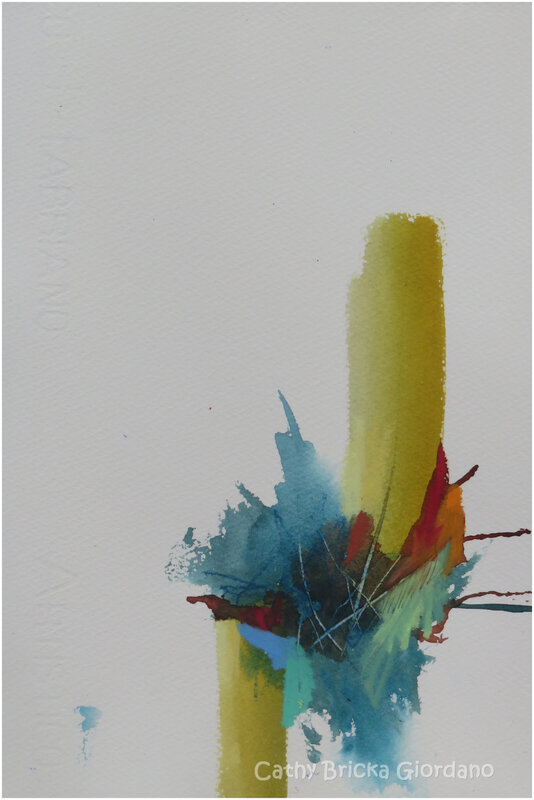 N°97
J'aime beaucoup le résultat
I really like what happened there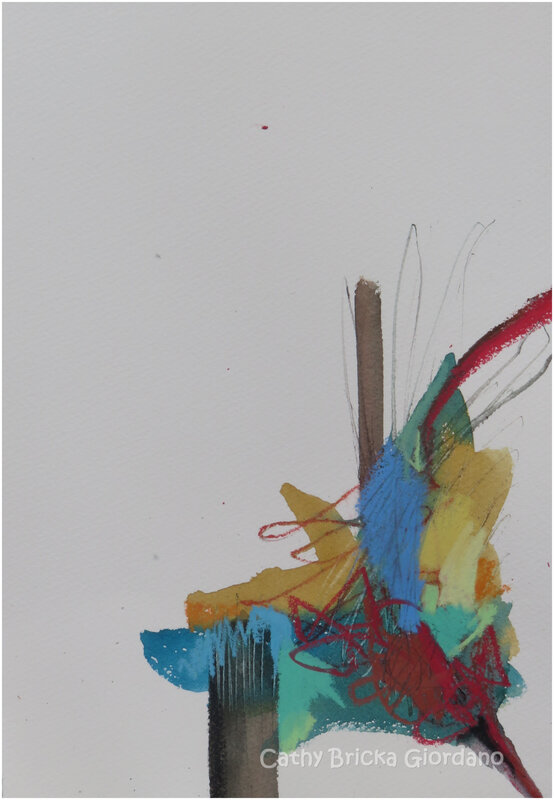 N°98
l'ajout de pastels donnent de beaux contrastes entre la transparence et l'opacité des couleurs
the addition of watercolour crayons gives some nice contrasts between tansparent and opaque colours.
J'étais tellement contente du résultat que quelques jours après j'ai recommencé avec aquarelle et pastels aquarellables, mais on sent que la couleur gagne du terrain et cela perd (à mon avis) en spontanéité. De plus, j'ai souvent trop centré mes compositions.
I was so satisfied with the result that a few days later, I tried again using watercolour and watersoluble crayons but the shapes are getting too big, and I think it feels less spontaneous. What's more, I too often centered my compositions.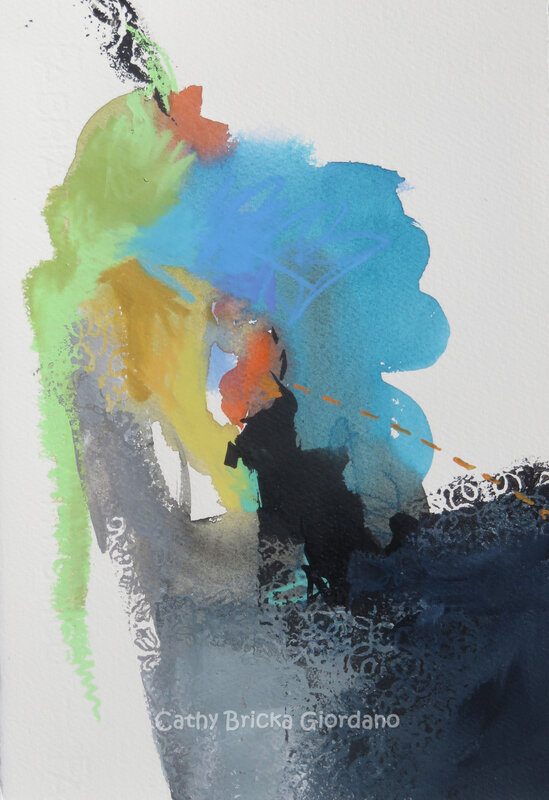 N°100
l'ajout d'une masse grise a permis d'équilibrer la composition qui était trop centrale mais elle est un peu lourde non?
the addition of grey mass at the bottom helped balance the composition which was too centered, but I'm afraid it's a little overwelming, don't you think?
Certains sont encore en cours mais vous donneront une idée de mon travail:
Some are still in progress but they'll give you an idea of my work: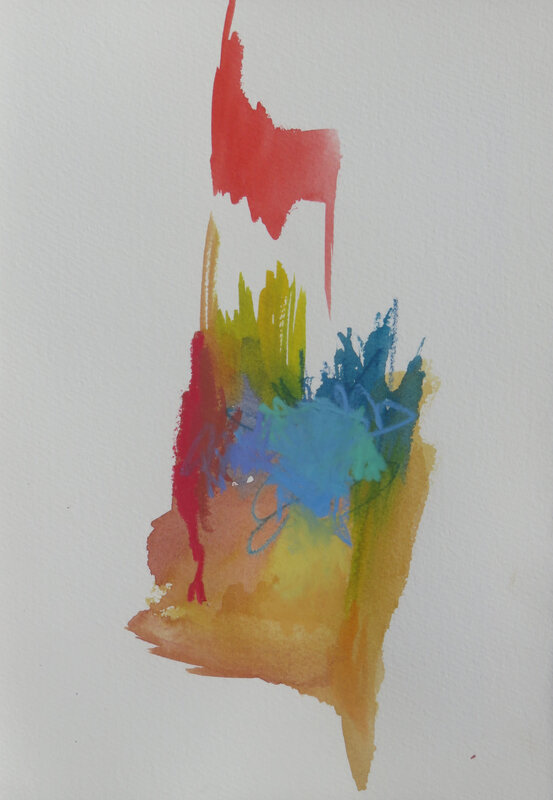 N°101
est encore en cours, la composition est bien trop centrée, il faut que je fasse quelque chose... J'aime bien cette forme rouge qui semble s'être détachée en haut.
still in progress, the composition is much too centered, I need to do something. I quite like that red shape that seems to float above the rest.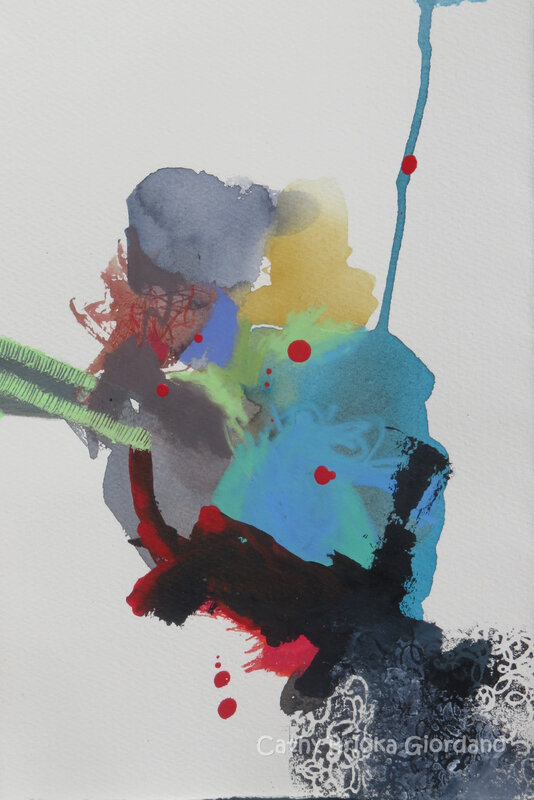 N°102
je ne sais pas encore s'il est fini ou pas, j'attends un peu.
I'm not so sure about this one; we need to wait.
N°103 est encore en cours, les formes étaient centrales, mais l'ajout de gris sur 2 côtés a fait du bien
still in progress; the shapes were too centered but I added grey on two sides and it already looks way better.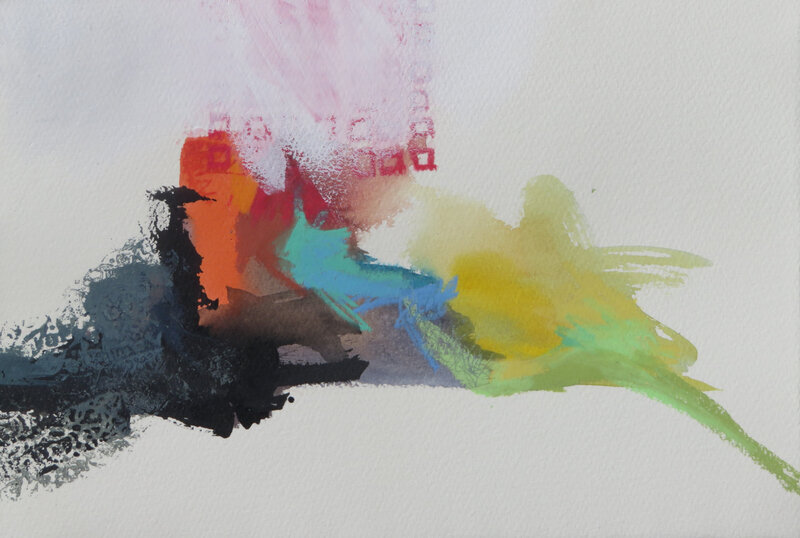 N°104
encore en cours; forme trop centrale au départ, j'ai rajouté le noir/gris d'un côté qui rajoutent de la profondeur et des contrastes, et un motif de carrés rouge sur un autre côté - trop présent; jai voulu l'atténuer avec du blanc, mais pour l'instant c'est pas encore gagné. A suivre.
Still in progress; the composition was too centred once again. I added grey and black giving depth and contrast, and apattern of red squares - that was too present; i wanted to knock it back with white, but so far it's a mess. To be continued...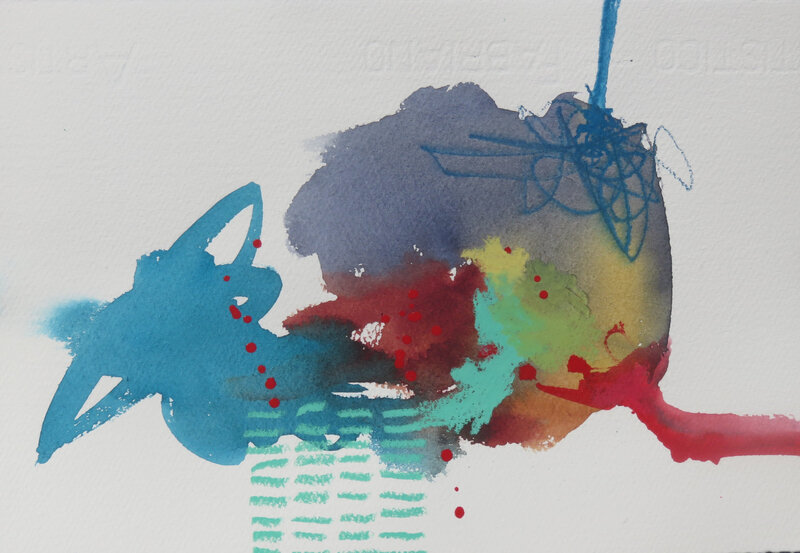 N°105
je ne sais pas encore s'il est fini ou pas, j'attends un peu.
I'm not so sure about this one; we need to wait.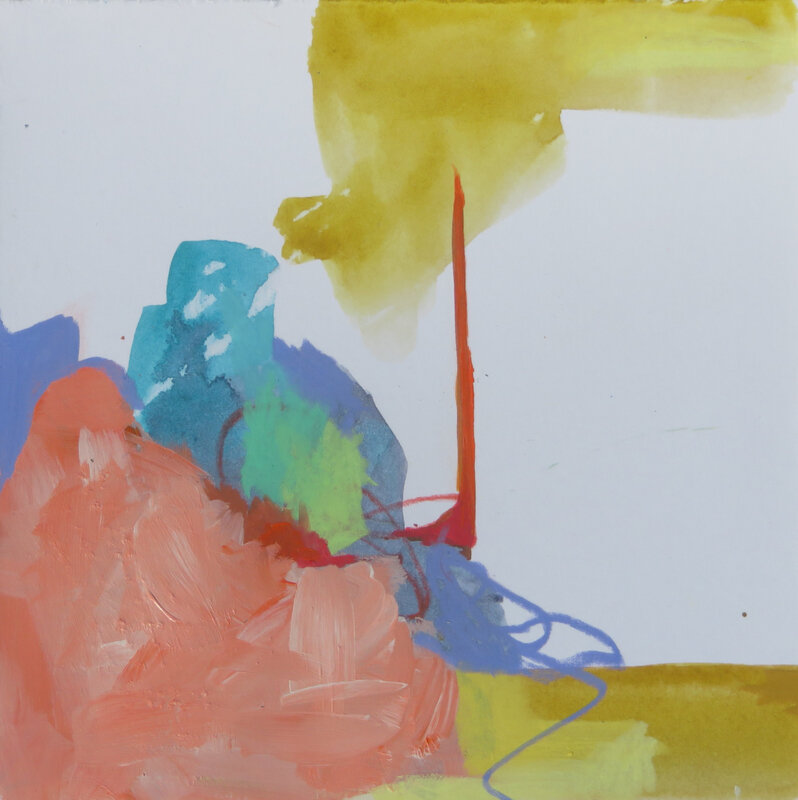 N°106
un format carré encore en cours, il manque nettement de contraste. J'aime beacoup ce trait rouge vertical qui relie le bas avec la partie jaune qui descend.
Square format still in progress. Too many mid-tones, it needs contrasts. I like that vertical red line linking bottom and top.
Voici une idée de ce qu'ils donneraient encadrés:
Here's what they'd look like when framed: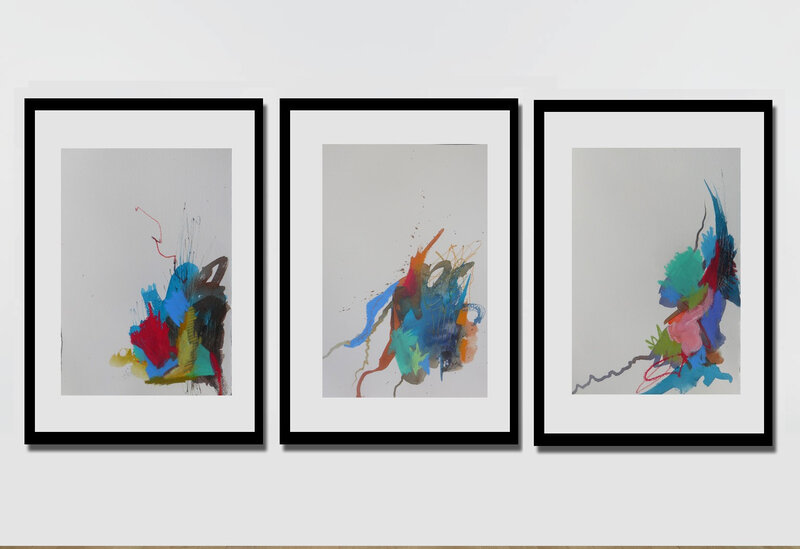 N°94, 95, 96 en portrait / in portrait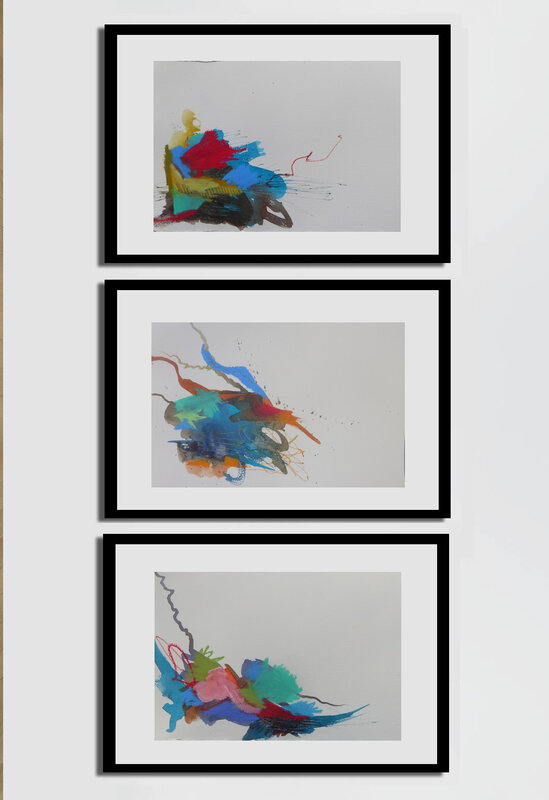 N°94, 95, 96 en paysage/ in landscape
N°97
N°98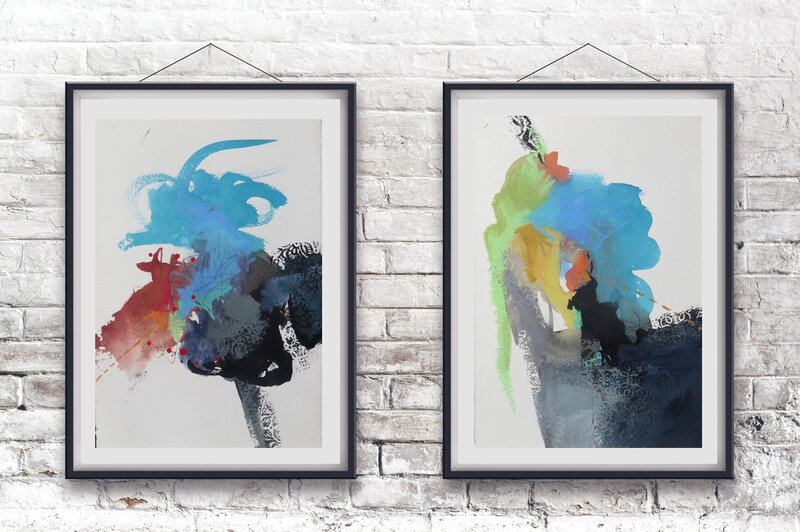 N°99-100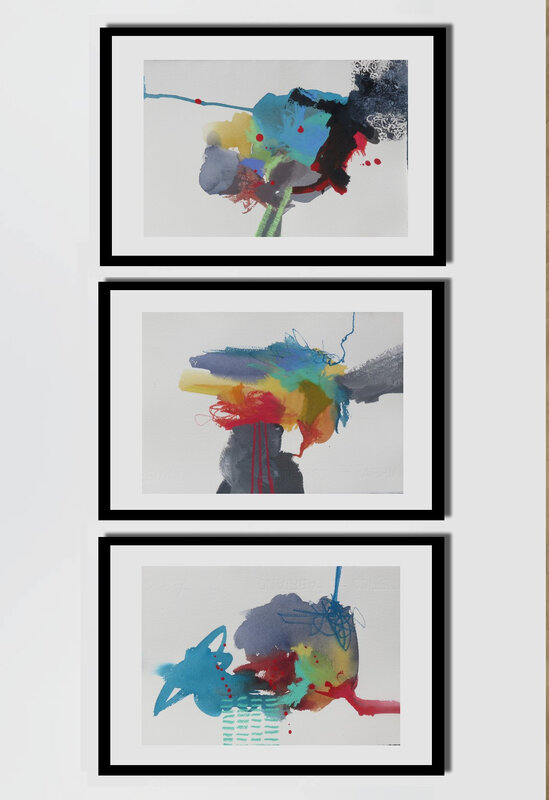 N°102-103-105 en paysage / in landscape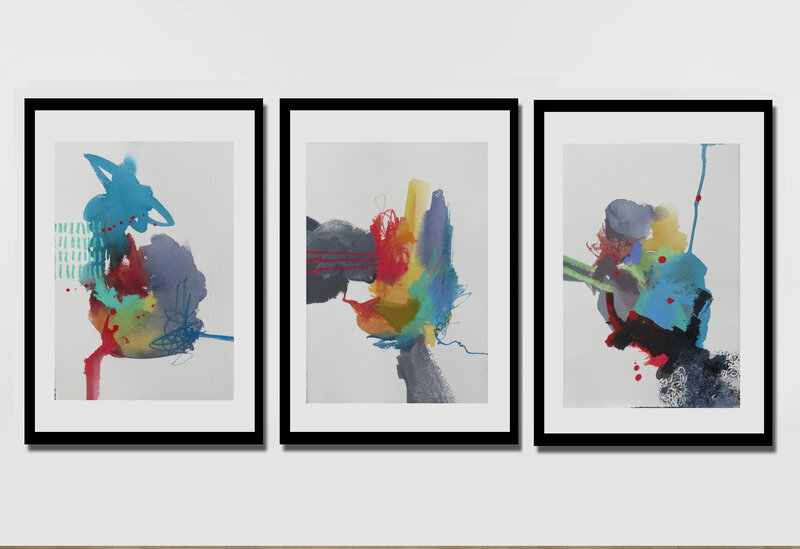 N°102-103-105 en portrait / in portrait