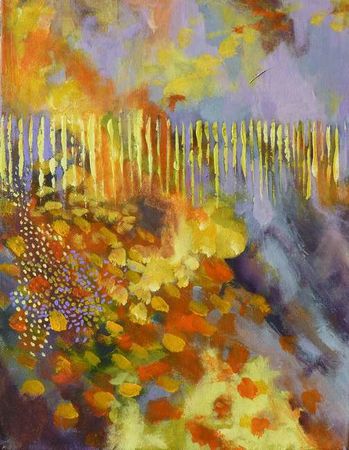 Summer Wind
Acrylique sur toile / Acrylic on canvas
35,5 x 45,5 cm
Me voici de retour en France, mais le blog, lui, est toujours à la même adresse. J'ai longuement hésité, changer de blog? pas changer? mais finalement, cela me semble plus logique de continuer celui là en lui refaisant une petite toilette plus adaptée à ma nouvelle vie. Car finalement, ces 5 années en Afrique du Sud sont en moi, et vous allez certainement encore longtemps en sentir les traces dans mes croquis et tableaux. D'abord, j'ai plein de choses à vous montrer que j'ai fait là bas avant mon départ (comme cette toile par exemple). Et puis l'Afrique va se diffuser lentement sur mon travail, comme un parfum tenace, comme un pigment qui ne peut s'effacer et transparaît sous toutes les couches de couleur qu'on applique.
Here I am back in France, but the blog is still at the same address for you. I hesitated for a long time, create a new blog? Keep this one? and it makes so much more sense to me to keep this one, only freshening it up a little so as to face my new life. These 5 years in South Africa are in me, and you'll certainly feel signs of them for a very long time in my sketches and in my paintings. First I have lots of new things to show you that I painted before leaving, like this painting for example. And then Africa will probably keep diffusing like a persistent perfume, like a stubborn pigment that shows through despite all the layers of paint you apply.